Where to Stay in Zermatt: Best Areas & Hotels
This quaint vacation village in the Alps is home to the mighty Matterhorn mountain, which dominates the vista. Visitors should stay on one of the three principle streets downtown running parallel to the Matter Vispa River, and close to the two train stations: Gornergrat, the highest open-air railway in Europe, and Sunnegga, a steep-riding tunnel funicular.
Even though this is a car-free town, electric vehicles and horse-drawn buggies service the population, and an area at the edge of town is set aside for touring motorists. Hotel rates are generally higher across all categories, but excellent choices are still available in each, and hospitality reigns in this charming community.
Where to Stay in Zermatt for Luxury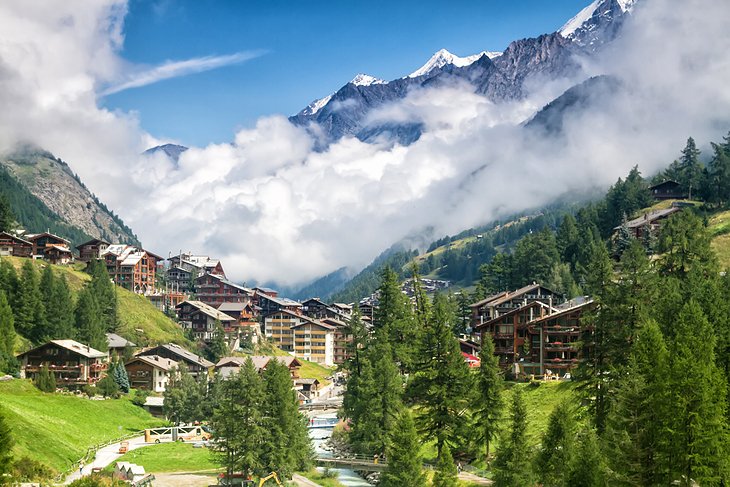 Hotel Firefly is a family-run luxury suite hotel, and the attention to detail here makes it memorable. From palatial square footage, personal kitchen facilities, and placing your complimentary breakfast order to be delivered precisely when you would like it, to the in-house lap pool, awesome wellness center, and hip décor throughout, this is the jazziest hotel choice in downtown.
Sixteen uniquely crafted units spare no consideration, with free Wi-Fi, DVD players, espresso coffee makers, hydrotherapy shower heads, barbecues, babysitting, and video-game consoles.
Hotel Mont Cervin Palace could double as town center as it radiates a regal air. The hotel features traditional Swiss construction and décor, trimmed with inviting balconies and dormers, overlooking downtown, the windswept peak of the Matterhorn, the church, and museum.
Warm and welcoming staff members escort guests to dream-like suites spread over four buildings, in a setting fit for kings and queens. On-site gourmet dining is led by a Josper charcoal grill ready for your mouth-watering order. The textures, layout, artwork, and services here are unmatched.
CERVO Zermatt is the only ski-in, ski-out luxury hotel location in the village, and after traveling up the Ubungslift or magic carpet from downtown, guests arrive at perhaps the most exclusive address in town overlooking the Matterhorn.
Each of the 36 rooms and suites comes with its own spa, espresso coffee machine, Loewe flat-screen TV with surround sound system, Le Labo toiletry products, and fireplace. Simple elegance is the key, and white-glove service standards here leave nothing to be desired.
Staff members are multilingual and run an awesome room service from the gourmet restaurant on-site, allowing guests to sink into their outdoor hot tub and be spoiled in this dreamy perch.
Where to Stay in Zermatt: Mid-Range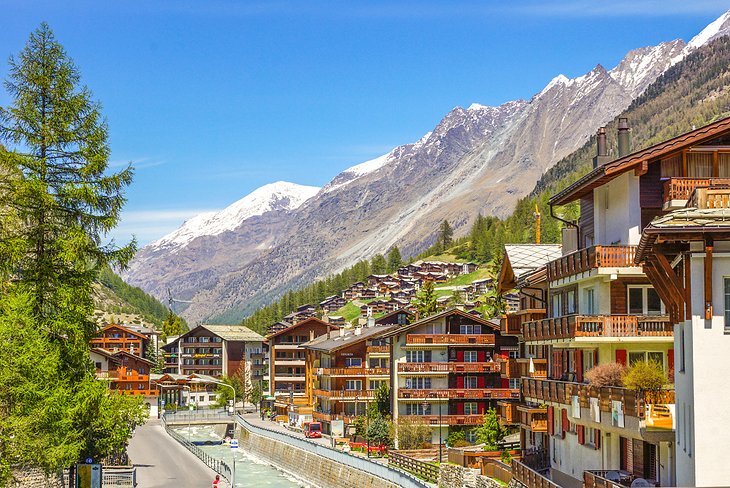 Bella Vista Hotel is owned by two sisters and occupies a typical Swiss brown wooden structure minutes outside downtown, dressed lovingly to welcome guests from around the world. Twenty-one unique rooms have been painstakingly decorated, from antique-filled units to ones feeling more at the forefront of contemporary architecture. Rates include pickup at the train station, breakfast daily, and access to spa services.
Bellerive is a refuge of delights, centrally located just off the main street downtown, and run by a young family determined to welcome travelers across all demographics. Rooms and suites are designed for singles, couples, and families, and every allowance has been made for comfort, service, and price.
Complimentary breakfast is supplemented by free Wi-Fi, a huge DVD library, herbal toiletries, luggage storage, and Jacuzzi tubs.
Hotel Alpenhof is near the cable car Sunnegga and close to the Gornergrat train station; at the edge of downtown on the Matter Vispa River. Sixty-two units fill this newly renovated alpine wood structure, most with balconies, and all with a complimentary full breakfast.
Daily gourmet five-course menus are a highlight, along with a luxe cigar lounge featuring a four-sided fireplace and nightly pianist. The property boasts an immense indoor pool and private Jacuzzi tubs ensuite.
Where to Stay in Zermatt on a Budget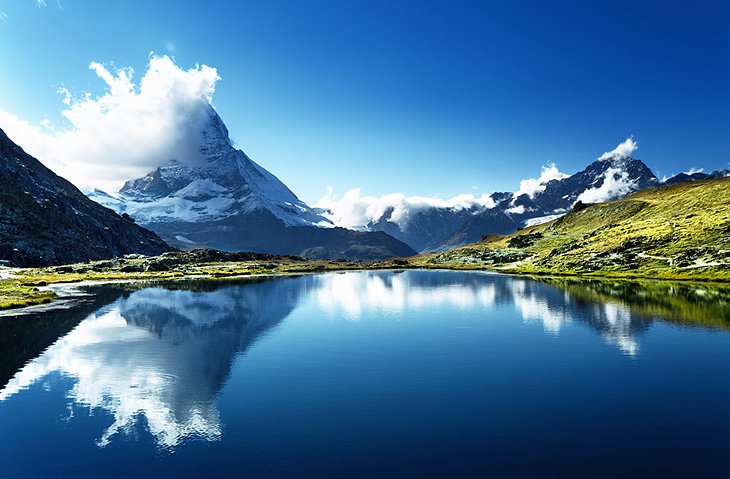 Hotel Tannenhof may offer smallish rooms, but hospitality at this downtown locale is legendary. Mountaineers, hikers, and skiers alike have stayed here for 100 years, welcomed by the same family. Rooms are basic, clean, well-heated, and come with private bathrooms. The lobby has free Wi-Fi, and prices included a hearty breakfast. Pets are welcome, too, and the building is non-smoking.
Hotel Carina is five minutes to the Sunnegga funicular train to ski slopes or an equal stroll to the Gornergrat train. Double rooms, apartments, or single rooms all come with ensuite bathrooms, and larger ones feature balconies overlooking the Matterhorn.
A hearty breakfast is included, plus the spa contains a sauna, hammam, and shower room. Skiers will delight in safe luggage and ski storage with boot heaters, while free Wi-Fi and laundry services seal the deal.
Hotel Artemis Garni calls itself a base camp for returning guest skiers, mountaineers, and snowboarders, but the trio of sister-owners are the number one asset on-site. There are 24 clean, comfortable, quiet, and spacious rooms at the edge of downtown, with free internet, plus breakfast available, and even a shuttle from the train station, which is about a 10-minute walk away.
Where to Stay in Zermatt for Families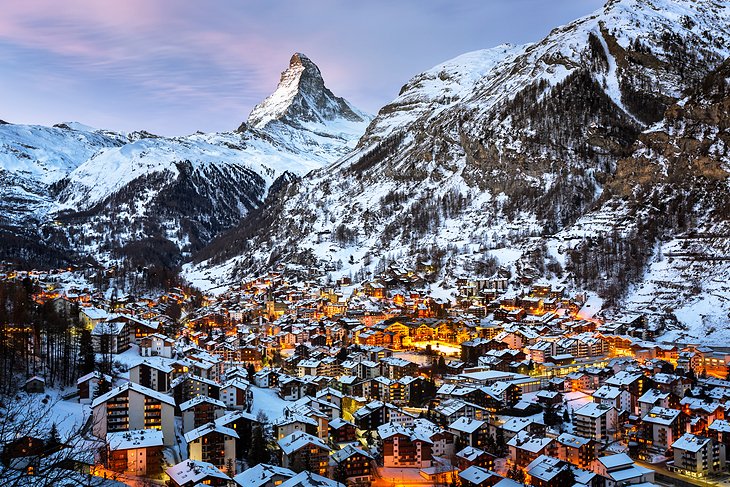 Best Western PLUS Alpen Resort Hotel supplies a free taxi to the Matterhorn as part of a vast menu of amenities for traveling families. Purchase your ski lift tickets here as well to avoid lineups at the hill. More than 300 kilometers of trails from this edge of downtown address are enjoyed, while on-site goodies include a fitness center with two pools (a shallow one for children), sauna, steambath, and Jacuzzi.
Family rooms with views of the mountain come filled with high-quality features: ultra comfortable bed linens, big screen TVs, free Wi-Fi, and room service with a children's menu.
Hotel Bristol attracts families with its on-site children's programs, babysitting, laundry service, and free breakfast. It is also a pet-friendly establishment, so pooch or kitty are welcome.
Family rooms allow numerous sleeping variables, room amenities are first-class, staff members are amazingly helpful, and the location couldn't be better on the river within walking distance to all sights, attractions, and services.
The Romantik Hotel Julen is a 4-star boutique property that is family friendly but also has a romantic vibe parents will appreciate. The hotel is about a 15-minute walk from the railway station and the chairlifts up the mountain.
Accommodation is in chalet-style rooms (there are just 36 of these), and they feature modern Alpine style with nice pops of color, like the red tables and chairs on the private balconies. They come in a variety of sizes, including family rooms, and all feature upscale amenities like Nespresso machines. The Hotel Julen is also pet friendly should you be traveling with a pup.
Amenities include free breakfast, a heated swimming pool, sauna, and a restaurant. There is also a three-story spa that will take care of your massage and facial and body treatment needs.
Where to Stay in Zermatt for Couples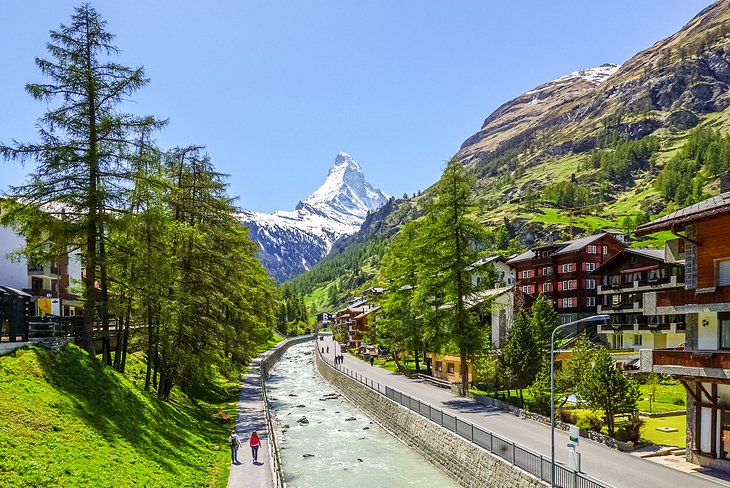 Backstage Hotel Vernissage is a romantic work of art, with original architecture, lovingly handcrafted furnishings, an in-house movie theater, and a Michelin-starred dining experience. Rooms and apartments supply a unique level of sensory comfort, and the hotel offers impeccable concierge service and wellness spa facilities at the very heart of downtown, overlooking the Matterhorn. Breakfast is also included.
Schlosshotel Life & Style lies at the center of all sights, attractions, and services in the downtown core of this thriving vacation village, overlooking the Matterhorn.
Surrounded by charming cafés, restaurants, boutiques, and with quick access to both train stations, this stylish contemporary wooden structure, with its own indoor pool and spa, delivers a romantic harmony of amenities sure to guarantee comfort, nourishment, and relaxation.
The Omnia is a 5-star hotel with a modern mountain ambience throughout. It features amazing attention to detail, whether it is the decor in the posh rooms and suites or the services guests receive, like handwritten cards in their rooms upon arrival. The views are also excellent, and The Omnia is a great choice for a couples getaway or honeymoon.
Amenities include a fine-dining restaurant serving four-course dinners, a spa with a range of luxurious treatments and massages and a gorgeous glass-enclosed indoor swimming pool with fire-lit torches that add even more romantic ambience. Breakfast is also included.