Where to Stay in Geneva: Best Areas & Hotels
Geneva spreads along both sides of the Rhone & Arve rivers as they empty into Lake Geneva (Lac Leman), with gorgeous views of the surrounding Alps and Mont Blanc. Visitors wondering where to stay should look to the City Center, within walking distance to fun sightseeing quarters, such as Vieille Ville (Old Town), Les Pâquis, Rive Gauche/Carouge, and Les Eaux-Vives.
Hotels in the City Center allow access to better rates for families, groups, couples, or single nomads, as well as close proximity to Gare Cornavin, the city's main train and bus station, and only one train stop from the airport.
Where to Stay in Geneva for Luxury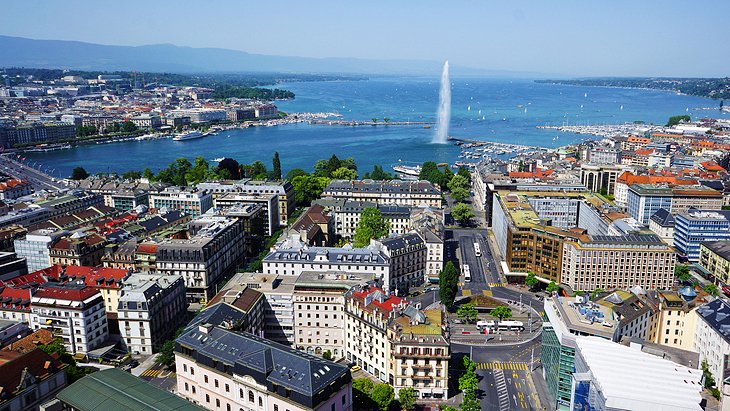 Hotel d'Angleterre occupies a picture perfect setting in the City Center, as it allows guests stunning views across Lake Geneva and the impressive Jet d'Eau water fountain. Immediate foot access leads to Quai Mont Blanc, the pedestrian bridge to Old Town, and even nearby Bains des Paquis, a popular spot summer or winter for swimming, massages, and communal fondues.
Accommodations in this tiny hotel gem (only 45 rooms/suites) are individually decorated with plush finery and gorgeous artwork. Five-star service standards prevail, and the fine dining and cigar lounge are impeccably luxurious.
Four Seasons Hotel des Bergues Geneva delights guests with its famous perch over Lake Geneva from the rooftop restaurant, or an escape from the street crowds via their peaceful inner courtyard, plus the dazzling delights of a sensational spa operation.
This is the oldest hotel site in Geneva (1834) and offers high-end patrons waterfront strolling along Quai des Bergues; immediate access to Old Town sightseeing across two bridges; and a superior level of service, amenities, and dining to suit their rich legacy.
Hotel Bristol provides the ultimate traveler haven backing legendary Mont Blanc Square in the City Center. The epitome of savoir-faire and sophisticated charm, this elegant structure has been welcoming guests since 1851 and continues to attract new generations of clients for their wellness center, full-service spa, dining excellence, and deep understanding of hospitality. Ask about their private fishing tours on Lake Geneva.
The old-world, elegant Hotel Beau-Rivage has been in operation since 1865 and is a top luxury choice. The 72 rooms and 23 suites in this historic 5-star property are decorated in Victorian-era decor, with gold and crimson hues and plush drapes and upholstery. The location in the city center is prime, and rooms have lake or mountain views. Amenities include a restaurant, fitness center, and spa services. The hotel is also pet-friendly if you are traveling with a dog.
Where to Stay in Geneva: Mid-Range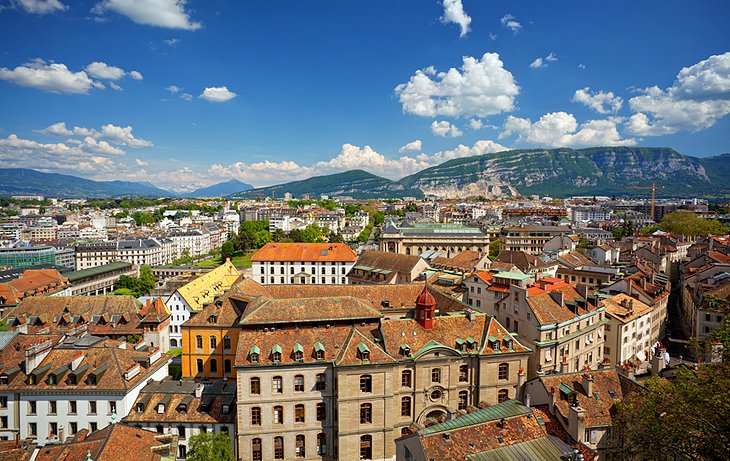 Hotel N'vY offers idyllic views of Lake Geneva and a convenient location at the edge of the City Center, ready for sightseeing, shopping, or tours. Within walking distance to park and waterfront promenades, the hotel puts you near legendary Bains des Pâquis, where urban explorers find baths, massages, and communal fondues, plus departure points for the UN Segway Tour and others. Ultra hip rooms come decorated with iconic cultural images, designer colors & fabrics, and tech toys in abundance.
Ibis Styles Geneve Gare underlines value with a full complimentary buffet breakfast, preparing guests for their day of sightseeing. Nearby are City Center attractions, boutique temptations, and Lake Geneva boat tour options. As the name suggests, this chain property is conveniently located near the main train station and offers attentive service, a full inventory of amenities, and an attractive price point.
Hotel Kipling - Manotel Geneva sets a dramatic stage for guests, dressing the building with art, souvenirs, and furnishings from exotic destinations. With the main train station nearby, travelers gain access to a throng of City Center museums, monuments, churches, and shops when checking into this colorful address, and the hotel provides free local travel passes as well.
Where to Stay in Geneva on a Budget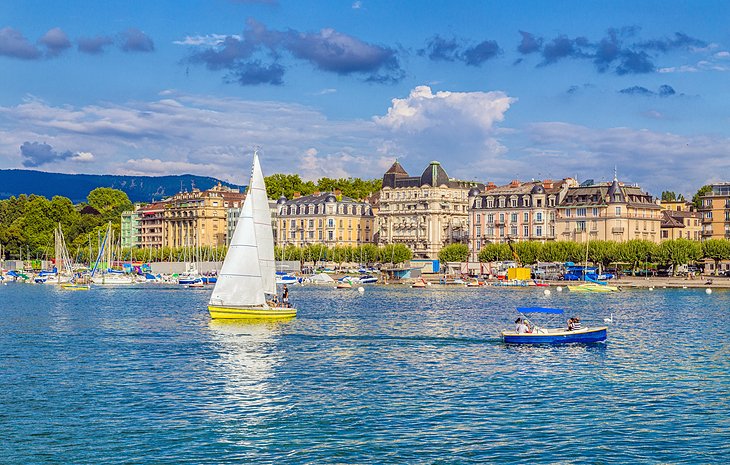 Hotel Le Prince is near the University of Geneva in Old Town, with clean units and free Wi-Fi service. A healthy breakfast is available from this family-run operation. Connections via the city's tram service are easy here, and the location invites strolling through the surrounding historic streets.
Hotel Carmen creates a fun atmosphere for a great price, being so close to the farmers market in the district of Plainpalais, an open park setting, and also a popular meeting spot near the Arve River. Super clean rooms and free Wi-Fi headline this wheelchair accessible building in central-south Geneva, near Victoria Hall and The Grand Theatre.
Hotel Central is one of the best deals on the edge of the Old Town, marked by the free delivered breakfast, full kitchen, washer dryer ensuite, free travel pass for all public transport, and a low room rate. It is also near museums, two supermarkets, and in the center of the best shopping district.
Where to Stay in Geneva for Families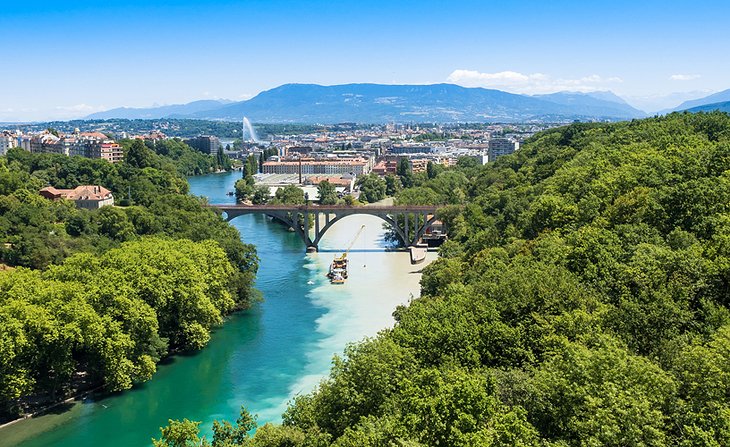 Pet-friendly Hotel Astoria lays the welcome mat out for families coming to Geneva, starting with interconnected rooms, breakfast included in the nightly rate, and an ideal location near the train and tram station, which also boasts a supermarket open late and on Sundays.
Free Wi-Fi is an added bonus, air conditioning soothes those who are heat-sensitive, and room service is always a therapeutic option when needed, plus free public transport cards are a nice touch.
Novotel Geneve Centre is a non-smoking sanctuary for families. Extra touches make all the difference when traveling as a family, so having a concierge who understands the intricacies of troop travel is heavenly, and the on-site kids program keeps the children entertained.
The spa and fitness center can reduce stress levels considerably, and room service; free Wi-Fi; and a City Center location ideal for sightseeing, shopping, and dining make this a great choice.
Where to Stay in Geneva for Romance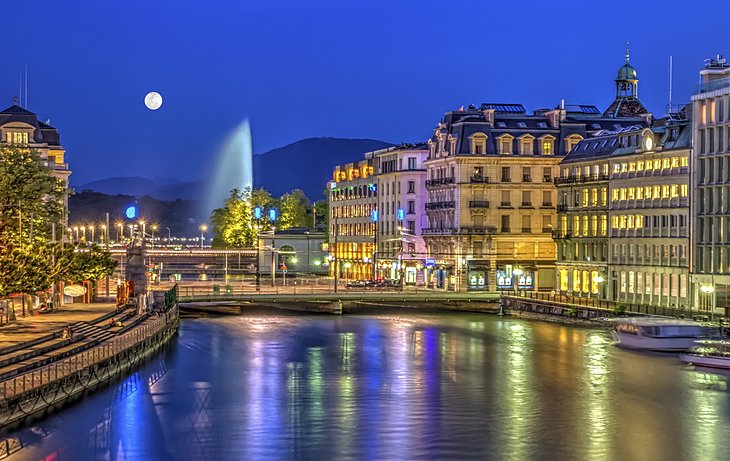 Mandarin Oriental, Geneva serves up an idyllic view of Lake Geneva, the Rhone River, and the Quai des Moulins, all five minutes from the principle Old Town sights and activities. Michelin-starred dining offers a five-star experience without leaving the premises, and guests can explore watch shops, museums, art galleries, and more by foot in this perfect location.
Hotel Rotary Geneva - MGallery positions visitors within a romantic walk to both captivating Old Town sightseeing across Pont de Mont Blanc two blocks away, and the energy and excitement of City Center shops, museums (don't miss the Swatch Museum), chocolate artisans, and a full inventory of historical curiosities.
Rooms and suites present a level of comfort fit for contemporary kings and queens of the world, and the five-star service professionals make hospitality look easy. Enjoy world-class live music and gourmet dining in or out, and even your pooch is welcome here.
Right on the shores of Lake Geneva and backed by Mont Blanc, the Ritz-Carlton Hotel de la Paix is a romantic property with a storied reputation dating back to 1865. The 5-star hotel offers rooms and suites with lake or garden views. Decor is contemporary-posh, and some rooms have fireplaces. Butler service is available.
The hotel is pet-friendly. Amenities include a restaurant, workout room, off-site bowling, and valet parking. The location, walking distance from numerous top attractions, is also excellent.
Where to Stay in Geneva near the Airport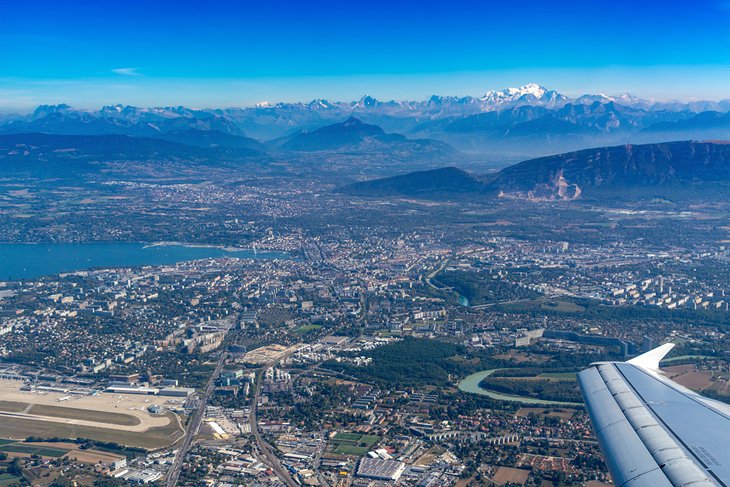 Across the highway from Geneva's airport, the Ibis Style Geneve Palexpo Aeroport is a trendy, budget-focused hotel that is also adjacent to the Palexpo Convention Center. While walking to the airport from the hotel takes about 10 minutes, the free shuttle service gets you and your luggage there in no time.
From its artistic exterior facade to bright-hued rooms with hip wall graphics, the hotel has a creative vibe throughout. And whether you are traveling with the kids or the family dog, the three-star hotel welcomes all. On-site amenities include a restaurant. Breakfast is available for an extra fee.
NH Geneva Airport is also near the airport and runs a free shuttle service between the hotel and terminal every 20 minutes. It's equally easy to get into Geneva from here, as the airport is just 20 minutes by tram to both the lake and city center. The four-star NH Hotel has 190 rooms and suites that are contemporary affairs, with hardwood floors and comfy beds.
Families will like the junior suites with more space for the kids and pullout sofas-some of these even come with kitchenettes. On-site amenities include a glass-roofed restaurant. The hotel is also pet-friendly.
One of the hotels nearest to the airport is the Holiday Inn Express Geneva Airport. The hotel operates a free shuttle service to and from the terminal, and breakfast is also included in the rate. The three-star hotel offers good-value rooms, with bright colors, that look less bland than the usual Holiday Inn. For families with kids there are a number of rooms with pullout sofas that can accommodate two children.