Where to Stay in Stockholm: Best Areas & Hotels
We may earn a commission from affiliate links ()
One of the best places to stay in Stockholm is the downtown Norrmalm district, with its constant activity, restaurants, shopping, and unending distractions. The historic old town, Gamla Stan, home to the Royal Palace and many other popular sightseeing attractions, is a good choice, too, with its central location and easy access by water to the outlying sights.
Although Stockholm is a relatively expensive city, the Mariatorget district is a more peaceful and affordable option that offers a large park with an observation deck and beautiful streets for strolling. The Slussen and Östermalm neighborhoods are just outside the center of activity but also have some good hotel options that are still ideal for sightseeing.
When booking a hotel, it is good to remember that the older buildings may not have an elevator and that more traditional European lodgings tend to have guest rooms that are smaller than those North Americans are accustomed to - but the service at Stockholm's hotels and guesthouses is unparalleled.
Note: Some businesses may be temporarily closed due to recent global health and safety issues.
Where to Stay in Stockholm for Luxury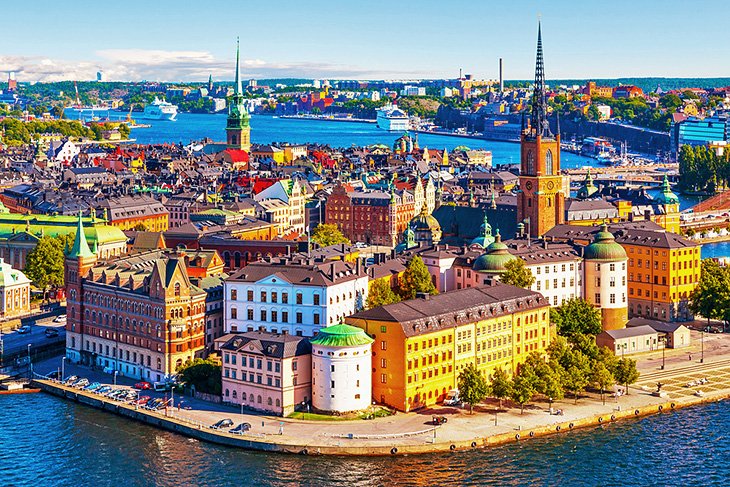 The Norrmalm district is the city's most lively, full of hotels, restaurants, and shopping, most notably the retail paradise of Drottninggatan Street. Just a few blocks from the historic canal-side Strandvagen neighborhood, the Lydmar Hotel has a chic, modern décor yet manages to make you feel completely at home, like a guest in a family home.
Guests will enjoy the high ceilings and plentiful artwork and photography in each individually furnished room. The hotel has a full range of five-star services, including babysitting, a relaxing courtyard with a graceful fountain, and amazing views across the canals.
Just steps away, the Grand Hotel has an indoor heated pool that looks like a secret grotto, and spacious rooms with modern furnishings. West-facing rooms look out across the canal to the Medieval Museum and Parliament, and the hotel is just a block from the Kungstradgarden Park recreation area.
Located on Norrmalmstorg square, next to Hallwyl Museum and Berzelii Park, the Nobis Hotel on Norrmalmstorg is surrounded by restaurants and activities. Rooms include an exceptionally generous and varied breakfast buffet, and the reception staff provides truly five-star service.
The Sheraton Stockholm Hotel is one of the city's top green hotels and has a full range of five-star services and amenities, including an excellent spa and large fitness center. It is conveniently located just a two-minute walk from the train station and less than ten minutes from Gamla Stan.
Where to Stay in Stockholm: Mid-Range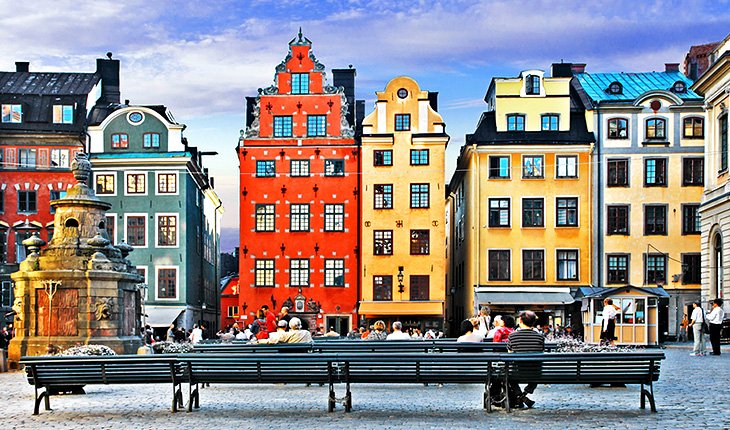 Situated between the train station and the canal, Norrmalm's Radisson Blu Waterfront Hotel is surrounded by restaurants and is a popular stop for visiting dignitaries with its comfortable rooms and business amenities. Be sure to request a room facing the water to avoid the sound of trains and get the best views across to Riddarfjarden and Stockholm's City Hall.
Adjacent to Kungstradgarden Park and surrounded by shopping, the King's Garden is in central Norrmalm, close to the visitor center. Guests can lavish in stately Gustavian rooms and will enjoy a generous complimentary breakfast spread in the elegant atrium dining area.
The Sven Vintappare Hotel is centrally located in the heart of the Gamla Stan old town, within minutes of landmarks like Stortorget, the Nobel Museum, and Stockholm Cathedral. This small boutique hotel is housed in a historic 1607 building and offers personal service and a complimentary homemade breakfast, including fresh pastries baked at the on-site café.
In Slussen, just five minutes by foot to the old town, the Hilton Stockholm Slussen provides stunning views across the canal, as does the nearby landmark Katarina Hissen. The ultra-modern and comfortable rooms have floor-to-ceiling windows, and the hotel offers a full range of amenities, including Wi-Fi and a fitness center.
Where to Stay in Stockholm on a Budget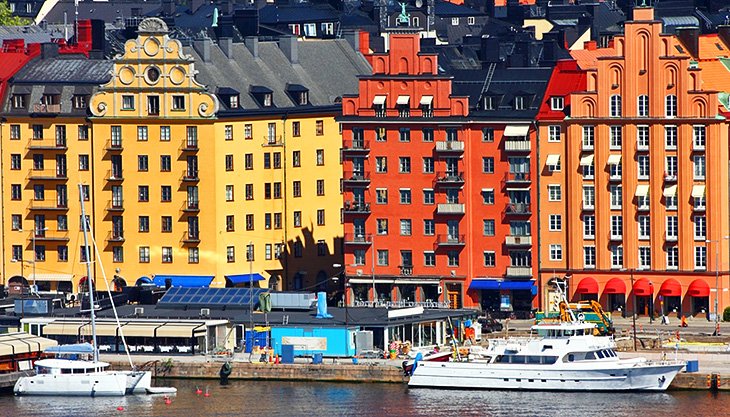 For travelers who want a unique experience, there are several budget hotels literally right on the water in the Mariatorget district. These floating hotels have cabin-size rooms but an ambience that cannot be beat and are convenient to the water taxi stop, which provides not only swift transport but a lovely tour of Stockholm's canals.
The Rygerfjord Hotel and Hostel comprises three boats and offers efficient but comfortable rooms, Wi-Fi, and a restaurant with deck dining.
This and the nautically themed Red Boat Hotel and Hostel are just steps from the Monteliusvagen scenic lookout and the Ivar Lo-Johansson Museum & Park. On the same stretch of canal, the Loginn Hotel includes breakfast and fabulous views from the top deck.
Across the canal in the Kungsholmen neighborhood, the land-anchored First Hotel Fridhemsplan offers a more traditional budget hotel with clean, modern rooms and a complimentary breakfast buffet. It sits conveniently close to the train stop, as well as the large public park Rålambshovparken, and is happy to accommodate families.
Where to Stay in Stockholm for Couples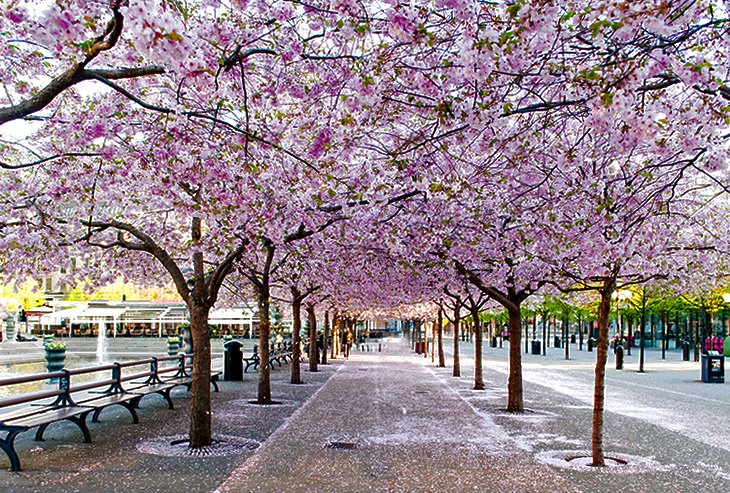 The Miss Clara by Nobis in Norrmalm is a romantic modern hotel that offers every luxury in its modern, Art Nouveau-inspired setting. With lovely views of the neighboring church and grounds, it is close to St. Johannes Kyrka park, as well as plenty of shopping and restaurants.
Near Seriegalleriet in Mariatorget, the Hotel Rival is a boutique hotel with exquisitely decorated, charming rooms and breakfast included in the stay. Couples will be content to stay put, with its excellent bistro, tennis court, and on-site cinema.
Just outside the city center in the Ostermalm neighborhood, the Hotel Diplomat is a five-star luxury experience infused with Art Nouveau touches, like stained-glass accents and a hand-carved wooden banister, in a common area and lobby that looks like a museum.
It is a convenient walk to most attractions, including the Vasa Museum, as well as the Royal Stable Museum, the Swedish Museum of Performing Arts, and the Army Museum.
Seclusion seekers will relish a stay at the Hotel Skeppsholmen, one of the few lodgings located on the island that is home to some of the city's most celebrated museums, including the Fotografiska Museet, Moderna Museet, Museum of Far Eastern Antiquities, and several more.
The hotel features beautiful grounds, a tennis court, and fitness center, and is a leading green hotel that strives to operate sustainably.
Where to Stay in Stockholm for Families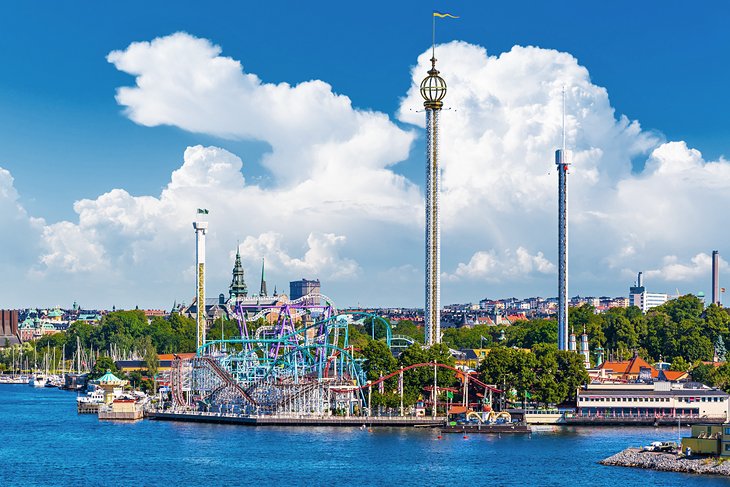 Kids love the fun camping-themed rooms and suites at Downtown Camper by Scandic. This family hotel is located in the city center, within walking distance of major attractions and public transport. The digs here have a retro vibe and come in a number of shapes and sizes.
Families will like the rooms with bunk beds, or the suites, which have more space to spread out. Not all rooms have windows, so make sure you check what you are booking. Other on-site amenities include a restaurant, fitness center, and free breakfast. There are also bike rentals for exploring the city on two wheels.
Elite Eden Park Hotel is a luxury hotel in a city center location next to Humlegarden park. The modern rooms here are larger than average for Stockholm, which is a perk if you're traveling with kids. They also offer suites with kitchenettes for families, and they are clean, with comfortable beds.
On-site amenities include two restaurants, one serving English fare, another modern Asian, as well as a gym and sauna. And chocolates are served at night.
At Six is another hotel that is popular with families. If you're looking for space, book one of their suites, which are oversized and come with lots of luxe amenities, like custom-designed lounges. They also offer a divine pillow menu with enough choices to please even the pickiest of sleepers - and we know how much parents need a good night's rest. Away from the rooms there is an international restaurant, a low-key cafe, and a fitness center open 24/7.
Freys Hotel is a good-value choice within walking distance of the main train station. Each room is uniquely decorated, and they have a suite for families with a kitchenette, separate living space, and a furnished patio. Other perks for parents include a complimentary breakfast buffet.
Where to Stay in Stockholm near the Airport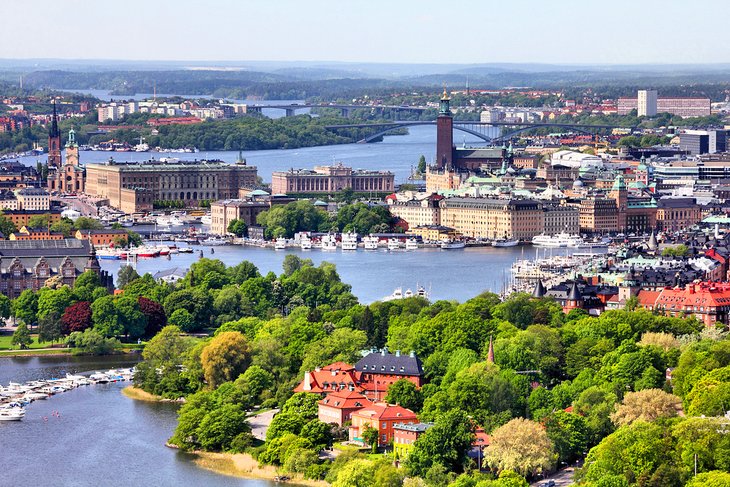 Stockholm's airport is about 25 miles north of the city center, which means if you are arriving in the city late at night or departing on an early morning flight, it makes sense to book a hotel near the airport for the night.
Luckily there are a number of options either at or very near Stockholm's Arlanda International Airport. The Radisson Blu Airport Terminal Hotel is located between Terminals 4 and 5 at the airport and is a perfect choice if you just want to go from plane to bed or vice versa. It is also super convenient if you are just in Stockholm for an overnight layover.
The luxe hotel has 260 soundproof rooms and suites that are comfy and modern. There is an on-site restaurant with views of the runway, and a fitness center on-site. If you prefer to dine in your room, room service is also offered.
Also right at the airport in SkyCity between Terminal 4 and 5, but in a less expensive price bracket, the Comfort Hotel is another excellent choice. The budget-friendly property has clean and comfy rooms and suites with blackout curtains.
There are also 10 super-sized family rooms, and kids stay free. Breakfast is also complimentary. The gym here stays open 24/7 and don't skip a trip to the 13th floor where you can see the flights taking off surrounded by Stockholm city views.