9 Top-Rated Resorts in St. Kitts
Home to a dormant volcano, a crater lake, lush rainforests, and a mix of gold-sand and volcanic beaches surrounded by clear turquoise seas, St. Kitts is a dreamy West Indies vacation destination that has resorts for all budgets and styles of travelers.
The larger of the two-island nation of St. Kitts and Nevis in the eastern Caribbean, St. Kitts' resort scene is still quite small when compared to say resorts in the Dominican Republic. You won't find any big brand all-inclusive properties here. Instead, the resorts tend to be on the boutique side, some with just a handful of rooms, but lots of resort amenities.
The lack of mega resorts makes a vacation to the island feel very exotic and private. Some of the best resorts in St. Kitts are hidden away on cliffsides overlooking the sea or on secluded beaches without another resort in sight.
Whether you are booking a romantic getaway, a destination wedding location, or a family vacation, these are our picks for St. Kitts best resorts.
1. Park Hyatt St. Kitts Christophe Harbour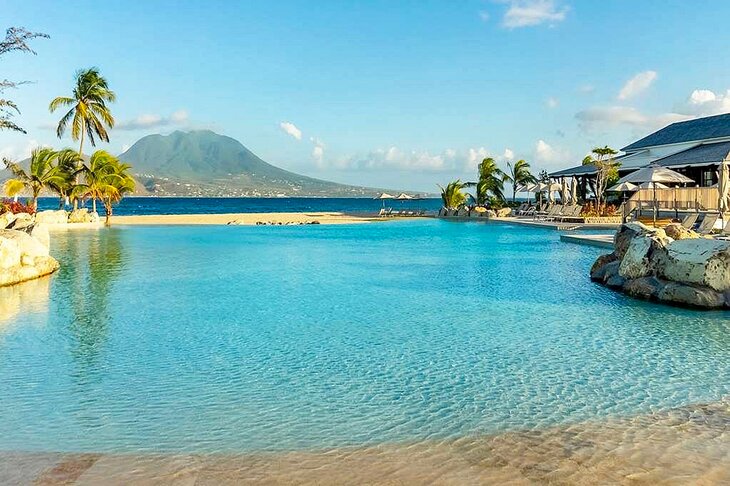 Accommodation: Park Hyatt St. Kitts Christophe Harbour
In a secluded location apart from other resorts, the Park Hyatt St. Kitts Christophe Harbour is about a 20-minute drive from the airport in a residential and vacation home development.
Staying here feels almost like being on your own private island. The resort sits on a golden-sand beach that overlooks the straight separating St. Kitts and Nevis.
The luxury resort has a striking modern design, with a fantastic lobby and reception space featuring a koi pond lined with a polished white stone walkway lit by candle lanterns at night.
The rooms and suites are equally impressive. All come with chic Caribbean beach décor and offer sea views from large furnished balconies. Book one of the premium suites for a private balcony plunge pool.
There are three restaurants on-site, including one reserved exclusively for adults. Other amenities include two swimming pools, water sports, and the Sugar Mill Spa & Sanctuary with a full range of treatments and wellness programs.
Families will find the Park Hyatt child friendly. There is a kids' club, an indoor play area, and kid-focused island excursions can be booked. Babysitting is also available.
Address: Banana Bay, South East Peninsula, 7000 St. Kitts
2. Sunset Reef St. Kitts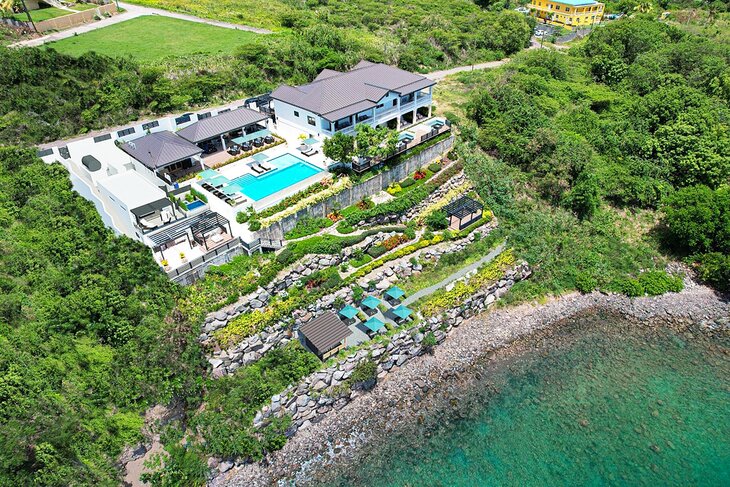 Accommodation: Sunset Reef St. Kitts
Opened in August 2022, Sunset Reef St. Kitts is the newest luxury property on the island. Set on a cliffside overlooking the sea, the boutique luxury resort has just seven suites. The location is secluded on Palmetto Point. The resort caters to couples, as well as families.
The lushly landscaped grounds have paths winding down to a clear turquoise blue swimming spot, but there isn't really a beach. Instead, guests can relax in or around the infinity pool facing the sea.
Suites vary from one-to-four bedrooms, and all have stunning sunset views from comfy, furnished patios. The interiors are beautifully appointed, with mother-of-pearl inlays in the showers and beachy contemporary décor. They also feature kitchenettes and living and dining space.
Owned by a husband-and-wife team, Sunset Reef St. Kitts puts sustainability high on its priority list. The property uses hydrogen generators, solar panels, and wind turbines to help power itself. The hotel restaurant focuses on locally sourced proteins and produce.
Pampering is equally important here, and guests can expect five-star service. Ask the concierge to arrange adventures around the island, from trips to its volcano beaches to amazing snorkeling and diving excursions. Other amenities include a spa, a gym with Peloton bikes, and a yoga deck.
Address: 2160 Trinity Palmetto Point, 2160 St. Kitts
3. Belle Mont Farm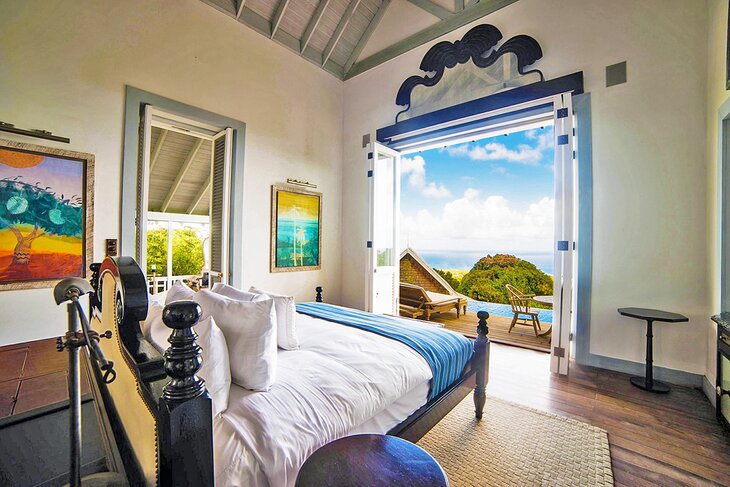 Accommodation: Belle Mont Farm
Calling itself a "farm to table hotel," sustainable living is the focus at the luxury Belle Mont Farm. Designed to blend into the surrounding lush, green rainforest landscape, the resort has marvelous ocean and mountain forest views from public spaces and rooms and suites. The boutique 5-star resort is located on the edge of Basseterre.
Accommodations come in the form of cottages, villas, and a farmhouse. All were designed by an award-winning architect. The villas have two, three, or-four bedrooms, and are a great choice for groups of friends or families.
The farmhouse has four separate guest cottages along with the main building and is great for a petite destination wedding party. All rooms have wrap-around verandahs, plush bedding and rainwater showers (part of its eco-friendly dedication).
Since the resort doubles as a 400-acre organic farm, you can expect an excellent food and beverage program. There are a few dining venues on the grounds. All serve farm fresh Caribbean flavored fare made with organic produce and many locally sourced proteins. For something special, book the resort's Farm Table, where you'll watch your dinner prepared and get to chat with the head chef.
Amenities are also plentiful at Belle Mont. There is an infinity pool with sun-loungers and umbrellas. Indigenous-inspired spa treatments are offered in the privacy of cottage. The resort also offers guided fitness walks through miles of farmland, forests, cane fields and fruit groves. All sorts of island activities can also be arranged including surfing, snorkeling, and fishing trips.
Address: The Village Kittitian Hill, Basseterre St. Kitts
4. St. Kitts Marriott Resort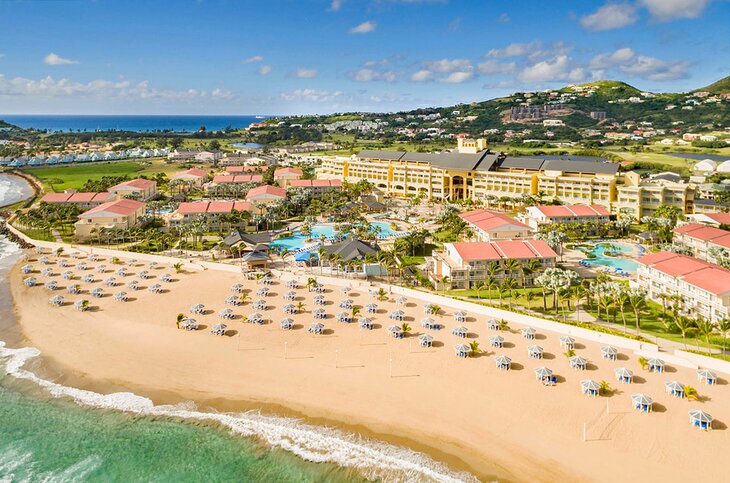 Accommodation: St. Kitts Marriott Resort
On a private beach removed from other resorts, St. Kitts Marriott Resort is an upscale property in the Frigate Bay area. The resort is filled with amenities. If you want to hit the fairways, you can book tee time at the Royal St. Kitts Golf Club. Rather just relax? There is a full-service spa with plenty of therapeutic treatments to choose from. The resort can also arrange activities from zip-lining to scuba diving to climbing an active volcano.
There are plenty of sun-loungers on the gold sand beach and you can swim in the sparkling turquoise waters out front. But the resort also has three swimming pools if you want a change of scenery.
The hotel has a mix of comfortable rooms and suites with garden, pool, resort or ocean views. It also has newly renovated suites that have modern style, separate living and dining spaces, furnished balconies, and whirlpools.
With seven restaurants, you won't get bored quickly dining at the Marriott. There is a new-style steakhouse with an impressive dry-aged steak menu. And an Italian restaurant with a seasonally inspired menu with some popular pasta and wood-fire pizza choices. There is also a casual pizza restaurant that is great for kids. The lobby sushi restaurant is also worth experiencing.
Address: 858 Frigate Bay Road, Frigate Bay St. Kitts
5. Koi Resort Saint Kitts, Curio Collection by Hilton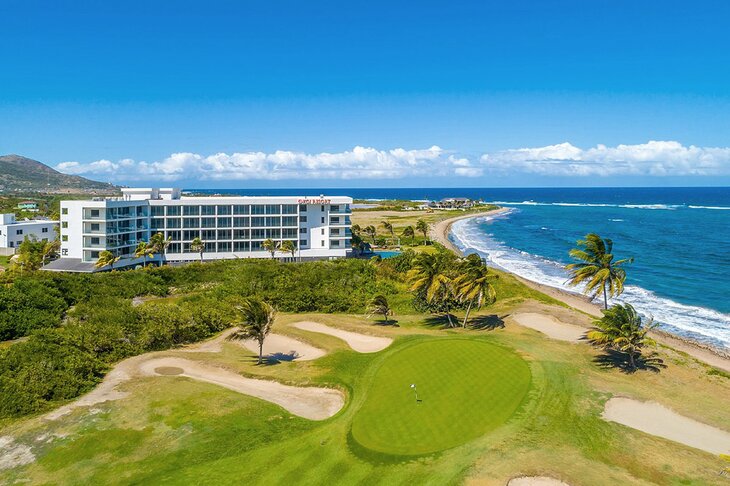 Accommodation: Koi Resort Saint Kitts, Curio Collection by Hilton
Part of Hilton's Curio Collection, Koi Resort Saint Kitts overlooks the ocean in Half Moon Bay by Basseterre but is not directly on the beach. The 4-star resort features a modern look throughout.
Rooms and suites have Zen-inspired décor. Many rooms have ocean views and furnished balconies. The suites add separate living space. All come with spa-style soaking tubs and rainfall showers.
The resort is adjacent to the Royal Saint Kitts Golf Course, so if you want to spend some time on the fairways, you can book a tee time at the 18-hole course. Other amenities include a spa, offering a full range of treatments; a fitness center; and a swimming pool with sea views.
For dining, you'll have a few choices. You can grab a casual meal at the Poolside Bar & Grill. Or book a table at Koi Restaurant. It serves Japanese and Asian fusion fare.
If you want to explore the island, the concierge can help book all sorts of adventure activities and tours.
Unlike many St. Kitts resorts, this property is pet friendly. It allows up to two small dogs per room for an extra fee.
Address: 100 Koi Resort Drive, Basseterre St. Kitts
6. Marriott's St. Kitts Beach Club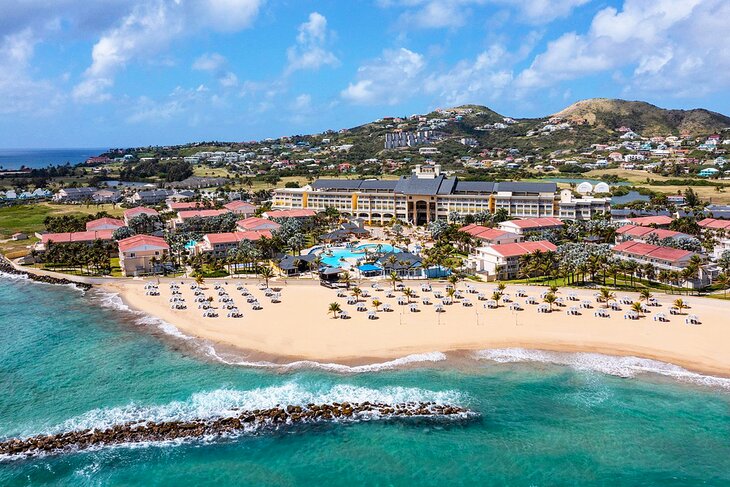 Accommodation: Marriott's St. Kitts Beach Club
On the same grounds as the Marriott Resort in Frigate Bay, the St. Kitts Beach Club offers two- and three-bedroom villas. These are nicely appointed and a great choice for families, friends, and anyone looking to do some of their own cooking. Each villa has a full kitchen. They also have separate living and dining spaces and furnished balconies.
The white-sand beach here is lovely, and there are plenty of sun loungers and umbrellas in the sand facing a jade-meets-turquoise sea. If you'd rather swim in fresh water, check out one of the resort's three pools. There is also a hot tub.
Other amenities include an 18-hole championship golf course, a spa with a full range of treatments, a 24-hour fitness center, and multiple dining options.
Parents can take advantage of the kids' club. And resort staff can arrange everything from snorkeling and diving to windsurfing and fishing excursions.
Address: 858 Frigate Bay Road, Frigate Bay, St. Kitts
7. Royal St. Kitts Hotel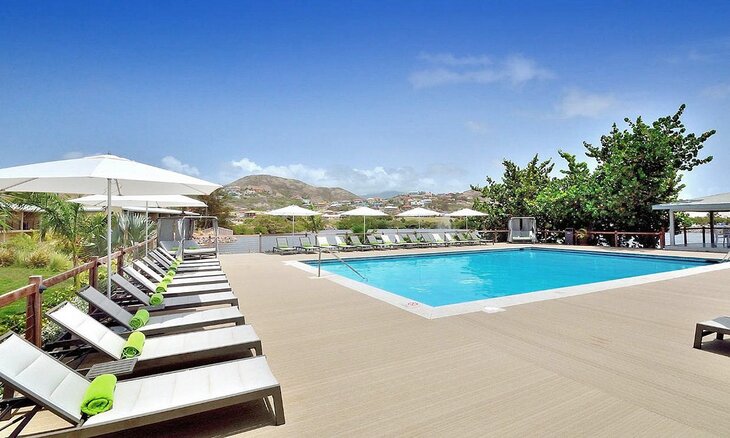 Accommodation: Royal St. Kitts Hotel
In Frigate Bay, Royal St. Kitts Hotel is a solid mid-range property. The resort has studios and one- and two-bedroom suites to choose from. These are colorful affairs that are very clean and stylish. The African-style prints on the curtains and decorative bed-runner along with the turquoise accent walls give it a unique look.
Dining in St. Kitts can be pricy, so one of the best perks of staying at this property is that every room comes with a fully equipped kitchen. Having a few DIY meals means you'll be able to spend more other times.
If you are traveling with a small child, cribs are also available upon request. Families will also appreciate the sleeper sofas in the one- and two-bedroom suites.
The hotel has two swimming pools. One is a warm saltwater pool, the other a large traditional pool. There is also a full-service spa and beauty salon on the grounds and a gym.
Grab a bite at one of the four on-site dining spots. The Livingroom and Splash Pool Bar & Grill serve Caribbean-inspired tavern fare, while Tiranga cooks up authentic Indian fare. The Sweet & Savory Bistro has everything from croque monsieurs to macarons.
Address: Zenway Blvd, Frigate Bay K0M 1N0, St. Kitts
8. Timothy Beach Resort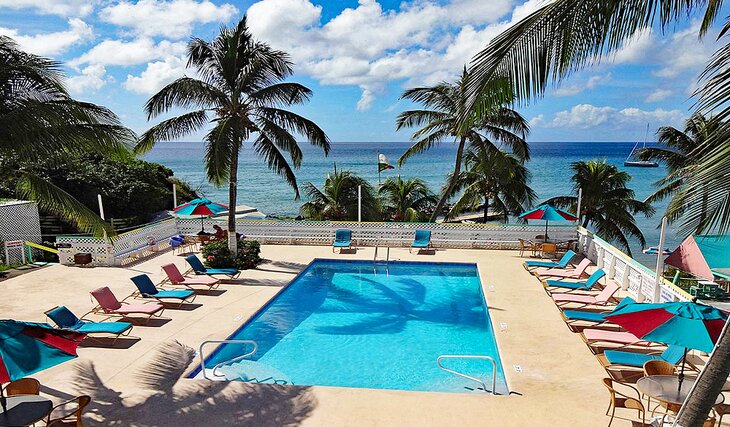 Accommodation: Timothy Beach Resort
On the gold sands of South Frigate Bay Beach, which is St. Kitt's most acclaimed, Timothy Beach Resort is a great mid-range choice. The only hotel in the Frigate Bay Golf Community, it is an affordably priced, well-maintained 3-star property, with friendly staff.
The resort offers a range of accommodation options. The rooms are spacious and have a retro vibe with their bright colored drapes and flower-patterned bedspreads with matching chair cushions.
One-bedroom suites have a similar look, but more space. They also feature Kittitian Rainforest Showers and spacious furnished balconies. There are also two-bedroom suites and townhouses that can accommodate two couples or a family of up to six.
The swimming pool looks out at the sea and is surrounded by sun loungers and umbrellas. The main restaurant has ocean views and serves three meals a day plus snacks. There is a second dining spot on the beach. It features live entertainment on Sundays.
Address: Frigate Bay St. Kitts
9. Bird Rock Beach Hotel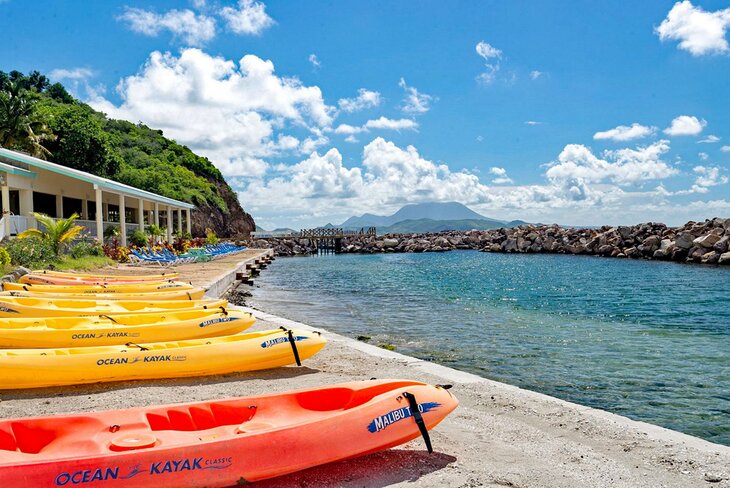 Accommodation: Bird Rock Beach Hotel
The family-owned Bird Rock Beach Hotel is a boutique 3-star property.
It is popular with divers, as it is also home to one of the island's top dive shops. It caters to all levels of divers, and the boat docked in front of the center is a convenient perk.
The hotel runs dive and room packages that include a week of accommodation, breakfast, or all-inclusive meal plans, and five days of two tank morning boat dives and one night dive.
Not diving, no problem. Bird Rock also offers some of the most affordably priced rooms on the island. These are not fancy, but they are comfortable and have sea views. There is a restaurant on-site, as well as a swimming pool. The hotel staff can also arrange non-scuba-related activities, from rainforest hikes to volcanic crater tours.
Address: South Pelican Drive, Basseterre, St. Kitts
Map of Resorts in St. Kitts
St. Kitts And Nevis - Climate Chart
Average minimum and maximum temperatures for Basseterre, St. Kitts And Nevis in °C
J
F
M
A
M
J
J
A
S
O
N
D

27

24

27

24

28

24

28

24

29

26

31

26

31

26

31

26

31

26

31

26

29

25

28

24

PlanetWare.com
Average minimum and maximum temperatures for Basseterre, St. Kitts And Nevis in °F
J
F
M
A
M
J
J
A
S
O
N
D

81

75

81

75

82

75

83

76

85

78

87

79

87

79

88

79

88

79

87

78

85

77

82

76

PlanetWare.com