11 Top-Rated Beach Resorts in Sri Lanka
We may earn a commission from affiliate links ()
Located off the coast of India in the Indian Ocean, the island nation of Sri Lanka is a magical place to visit. Beautiful scenery and outstanding beach resorts combined with an ancient culture; amazing local cuisine; and warm, welcoming people make it one of the world's most popular vacation destinations. In most cases, it's either on people's travel bucket list or on their list of the greatest destinations they've ever visited.
The best time to visit Sri Lanka depends on which part of the island you plan to spend time in. There are two monsoon seasons: one from May through September and one from October through February. Areas on the east and north side of the island should be avoided from October through February, and resorts in the west and southwest get their monsoon season from May through September.
For ideas on where to stay near the surf, sand, and sea check out our list of the best beach resorts in Sri Lanka.
1. Shangri-La's Hambantota Golf Resort & Spa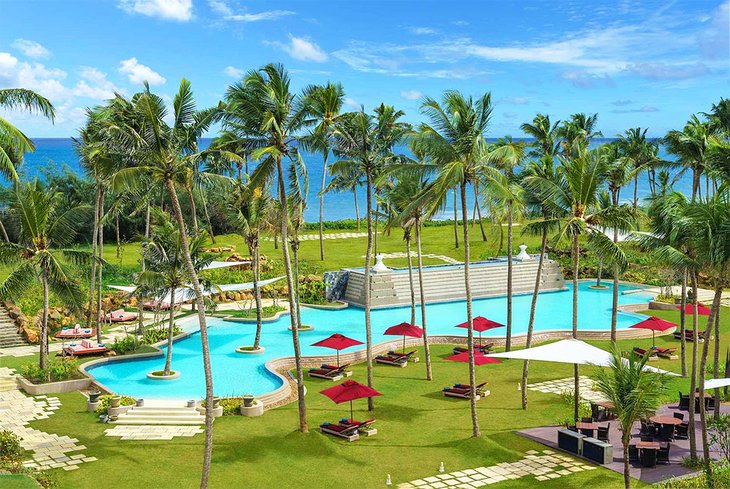 Accommodation: Shangri-La's Hambantota Golf Resort & Spa
Shangri-La's Hambantota Golf Resort & Spa is probably the closest thing Sri Lanka has to a mega resort. It's a large resort in terms of size (the largest resort in Sri Lanka), with a wide range of activities, amenities, and dining, but it still retains an intimate, luxurious feel, as there are only 274 rooms (including 20 suites). It's also home to the island's only 18-hole resort golf course, making it the best beach resort for golfers.
The rooms and suites are luxuriously appointed, and all have great views - some look out onto the lush tropical gardens, some have golf course views, and some face the ocean. They all have a tropical style with the Asian influence the brand is known for.
More than just some pools and a beach, the Shangri-La has a wide range of activities. There's a circus trapeze and a full water park. There's also an artisan village, which supports local craftspeople. You can visit and learn about (and buy) local artwork and crafts, and at night there are music and dance performances.
Kids are welcome at the Shangri-La with a kids' club supervised children's program. They stay free in your room, and kids under six eat free at the buffet (kids six to 12 are charged 50 percent of the adult price). Bojunhala is the resort's casual all-day dining restaurant (three meals a day) and Sera, open for dinner, serves Southeast Asian cuisine.
Shangri-La also has a hotel located in downtown Colombo, the Sri Lankan capital city. Travelers sometimes choose to spend their first or last night in Sri Lanka here, as it's closer to the airport.
The resort is a four-hour drive from CMB (or a 20-minute air taxi flight on Cinnamon Air).
2. Anantara Peace Haven Tangalle Resort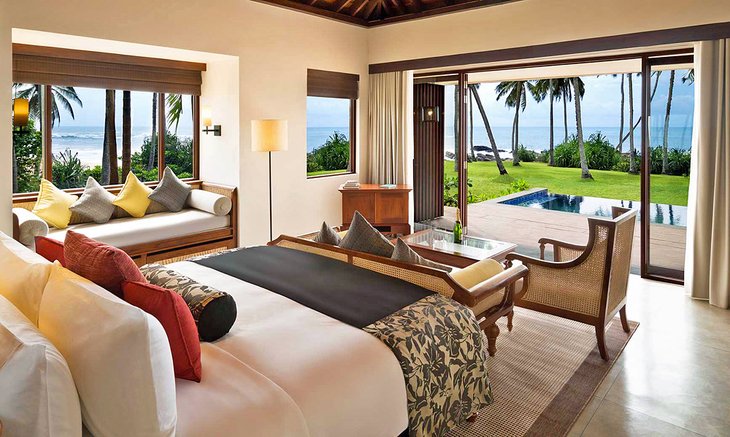 Accommodation: Anantara Peace Haven Tangalle Resort
This resort is also in Tangalle, but closer to the town itself. The Anantara Peace Haven Tangalle Resort occupies a 42-acre former coconut plantation on the southern coast of Sri Lanka. Like a postcard, it sits on a magical crescent-shaped stretch of golden-sand beach with turquoise water, backed with a line of palm trees and grassy areas.
There are 152 rooms and villas; all face the ocean. The villas are freestanding luxury units with their own private plunge pools. Some face the ocean, and some have direct ocean access. All the villas come with a butler, called a Villa Host.
All rooms have a large, furnished balcony or terrace with ground floor rooms providing direct beach access. The resort is wrapped around a central ocean-facing infinity pool. Sun loungers are lined up on an expansive wooden deck.
Anantara Resorts are known for their spas, and the Anantara Spa has a wide range of beauty and body treatments. A selection of Ayurvedic healing treatments are also available. The spa has a yoga studio and a schedule of yoga classes.
There are three restaurants to choose from along with a lobby lounge and a poolside grill. You can also do their Dining by Design personalized dining experiences in unique locations like a clifftop or the beach. The resort's Spice Spoons program matches guests with local culinary experts and chefs to collaborate in a cooking class/dinner.
3. Aditya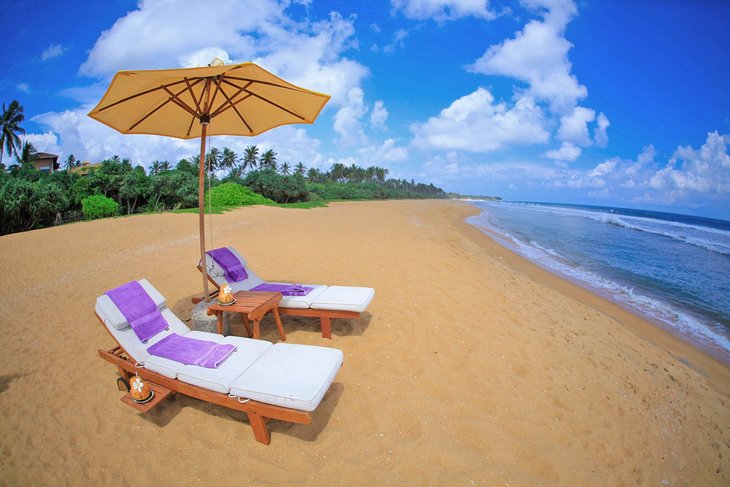 Accommodation: Aditya
This all-suite luxury boutique beach resort is in Rathgama near Hikkaduwa, which is near the colonial town of Galle.
There are 16 suites and villas, all offering a lot of space. The villas are on two-levels with over 7,500 square feet of living space. The rooms are all different - some have balconies, some have terraces, and some have private plunge or lap pools.
Aditya has a main restaurant, open 24 hours with dining on demand and a la carte service. Basically, you can order anything you want anytime you want, like a diner. There are regular serving times for breakfast, lunch, and dinner.
You can swim in the resort's infinity pool or relax in the library or lounge. There's a large outdoor garden with multiple hammocks and a private beach. The resort can set up various excursions and tours to discover the local area and culture.
4. Chena Huts by Uga Escapes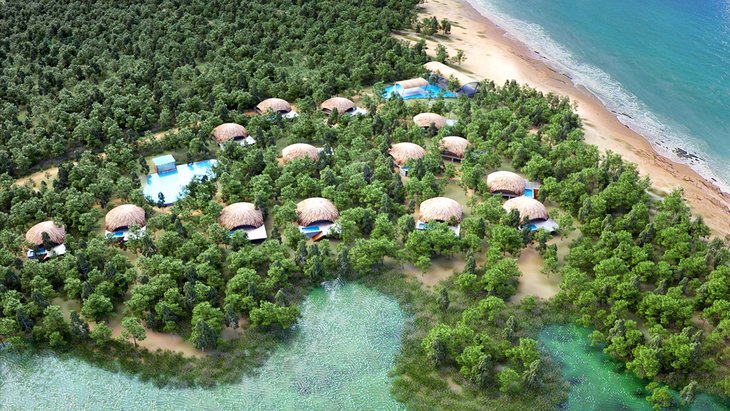 Accommodation: Chena Huts by Uga Escapes
Chena Huts is a luxury cabin resort from Uga Escapes, which operates several hotels and resorts in Sri Lanka. It combines two of the best things about Sri Lanka: the incredible wildlife and magical, unspoiled beaches.
It's directly adjacent to Yala National Park and right next to the beach. There are only 14 cabins on seven acres of land, offering privacy and seclusion, which can be hard to find at some of the larger resorts.
The cabins are large and can accommodate families of up to four people. Each luxurious cabin has its own private plunge pool, a large living space, and a full bathroom with a freestanding tub.
Aside from the beach, the big thing to do here is safari expeditions into the tropical jungle of the national park. Yala National Park has the world's largest population of leopards, and guests can go on photo safaris and game drives to find them and the hundreds of other animals found here.
When you want to relax, the resort has a surprisingly full-service spa, along with a large outdoor pool with waiter service. There is one main restaurant called Basses, the resort will also prepare and serve meals on the beach and at other locations by request.
5. Amanwella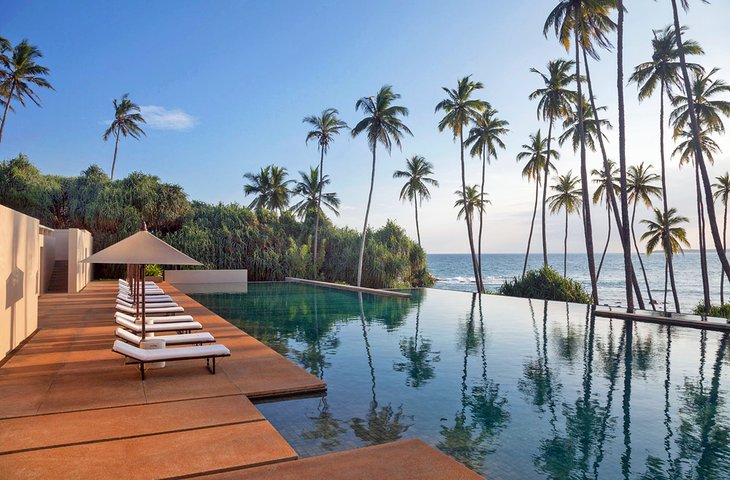 Accommodation: Amanwella
Part of the ultra-luxury Aman chain of resorts, the Amanwella is a boutique ultra-luxury, all-villa resort in Tangalle. Like other Aman properties, the design is part of the experience. Amanwella reflects a stylish, Asian-influenced mid-century modern aesthetic called Tropical Modernism.
There are 30 individual villa suites, each with its own private courtyard and plunge pool and a sun terrace. The suites completely open, with floor-to-ceiling sliding glass doors on both ends, providing an indoor/outdoor experience with gentle air flow. There isn't a separate spa, but the resort offers a range of in-room massages and treatments.
Although Amanwella offers privacy, you can walk a few minutes to the village for a local experience.
The Restaurant and Beach Club specializes in local seafood and dishes that highlight the use of Sri Lankan spices and curries.
6. Uga Bay by Uga Escapes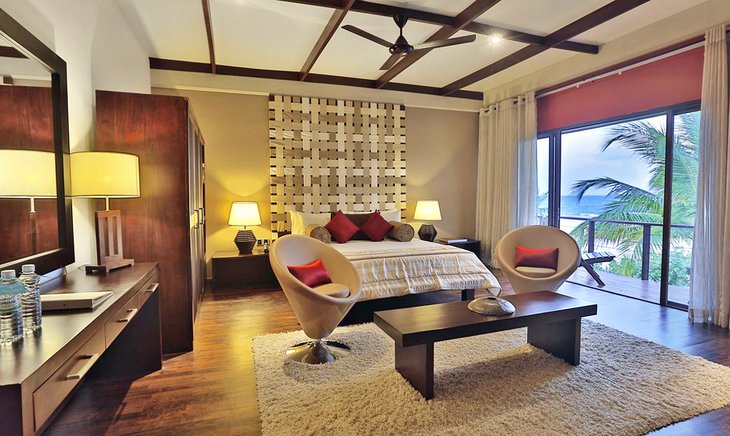 Accommodation: Uga Bay by Uga Escapes
Another Uga Escapes property, Uga Bay is a very reasonably priced luxury resort on legendary Pasikuda Bay. It's a very popular destination because the bay is very shallow, and you can wade quite a ways out to the reef.
The resort has tropical Balinese-style fourplex units, with beach-view villas upstairs and garden-view villas downstairs. The units are spacious, with wood floors, ceiling fans, and open floor plans. You can also choose a Bay Suite or a two-level Beach Villa; both are larger, premium accommodations.
Uga Bay has its own more-than-a-mile-long stretch of private beach and offers the usual range of water sports and beach activities. It's also close to some of Sri Lanka's best diving and snorkeling locations.
Food at Uga Bay is served in an elegant restaurant overlooking the pool, with a la carte dining anytime of the day. The menu has a focus on fresh seafood, caught near the resort.
Private dining is also available in your room or at locations like the beach. They also offer a sand dining experience, where the staff creates the dining set (table and chairs) out of sand, using only a single piece of wood for the tabletop. You're then encouraged to destroy everything after the meal, like a kid knocking down a sandcastle.
7. The Sandhya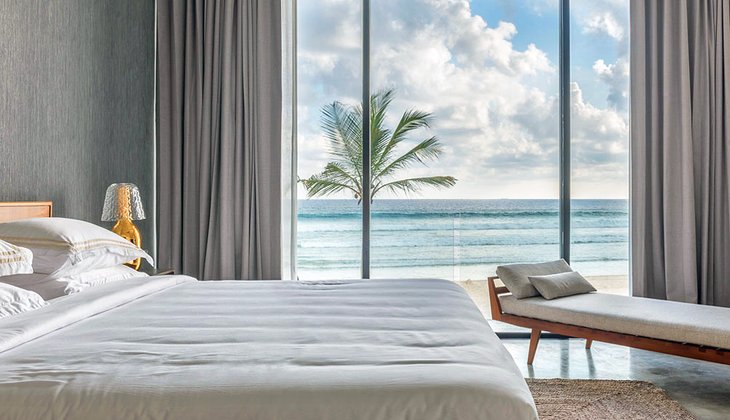 Accommodation: The Sandhya
This stylish micro-boutique beach resort packs a lot of value into its excellent mid-range price. It's right on the Kabalana Surf Beach and has nine rooms, one of which is a suite. All the rooms have direct ocean views and either a balcony or patio. The entire property has a contemporary mid-century modern style and vibe.
Luxe amenities abound in these rooms, things like 500-thread-count sheets, a spa-like bathroom with a freestanding soaking tub, and a Harman Kardon Bluetooth sound system.
Aside from the beach and water sports, there are all kinds of things to see and do near the resort. Nature preserves and rain forests are close by; historic Galle Fort is only 30 minutes away. Both Yala and Udawalawe National Parks can be visited in a half-day trip, getting back to the resort in time to enjoy a late lunch.
The Sandhya's Dining Room features freshly made breakfast, lunch, and dinner made with local ingredients. The menu also features Western specialties.
8. Mermaid Hotel & Club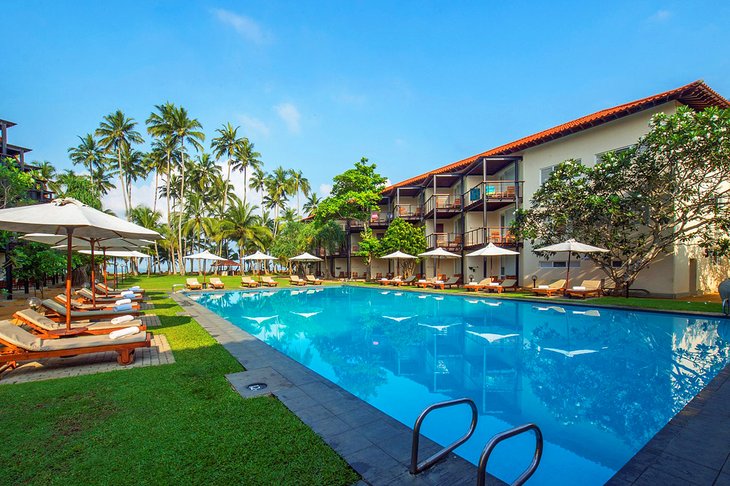 Accommodation: Mermaid Hotel & Club
On a gold-sand beach backed by coconut palms on the Kalutara coastline, the Mermaid Hotel & Club is located in a fishing village about 45 minutes from the international airport. The 4-star property offers an all-inclusive experience to guests.
There are less than 100 rooms on-site, which gives the resort a boutique feel. Choose from standard or sea-view rooms in a few different categories. All are spacious and colorful, with wood floors, large windows with doors leading onto furnished patios, and lots of bright colors.
Meals are taken at the restaurant, which has an outdoor dining area. There is direct beach access with sun loungers and umbrellas for guests. More sun loungers surround the two swimming pools. Other amenities include a sports center with a range of activities on offer. You can also work out in the gym, check out the game room, or book a massage at the spa.
9. The Surfer Surf Camp Sri Lanka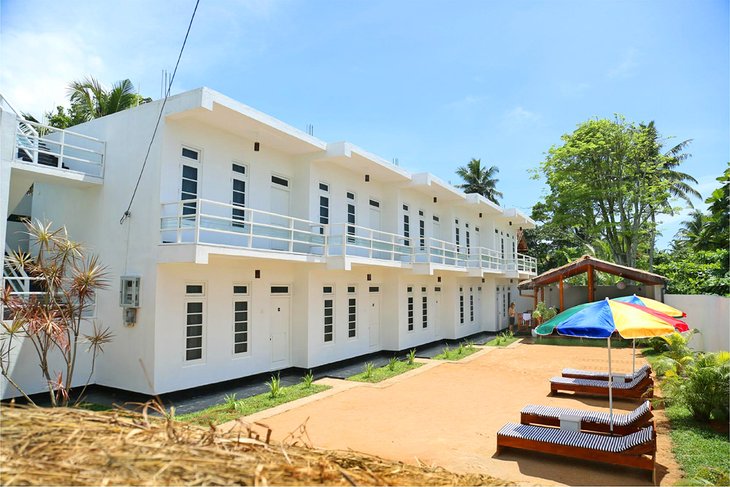 Accommodation: The Surfer Surf Camp Sri Lanka
Can you guess the theme and main activity at this resort in Weligama? Yes, it's surfing. Geared towards first-timers, beginners, and intermediate level surfers, The Surfer Surf Camp Sri Lanka is on the beach, in front of a gentle surf break. The resort has a staff of surf instructors and focuses on lessons and training, but expert surfers can use their guide services.
Accommodations can be booked bed-and-breakfast only or as part of surf packages, with lessons, gear, and even meals included. Experienced surfers can take advantage of their surf guide packages, which include daily, guided trips to secret surf spots instead of lessons. Yoga classes can also be combined with or added to surf packages. Most of the packages include breakfast and dinner.
There are two parts to the Surfer Surf Camp resort: the Beach Camp and TS2 Weligama Surf Camp, which is about five minutes away. It's like a satellite accommodation area. All the surfing, activities, yoga, and dining is done at the Beach Camp. A free shuttle operates between the two locations.
Rooms have an ultra-modern style, with white walls and mostly white cabinetry and furnishings. There are 12 rooms at the Beach Camp location; a few have dormitory-style accommodations. If you want air-conditioning, you need to get one of the deluxe top floor rooms as not all of them have it.
The accommodations at the TS2 location are all large three-bedroom apartments with multiple bathrooms.
10. Villa Saffron Hikkaduwa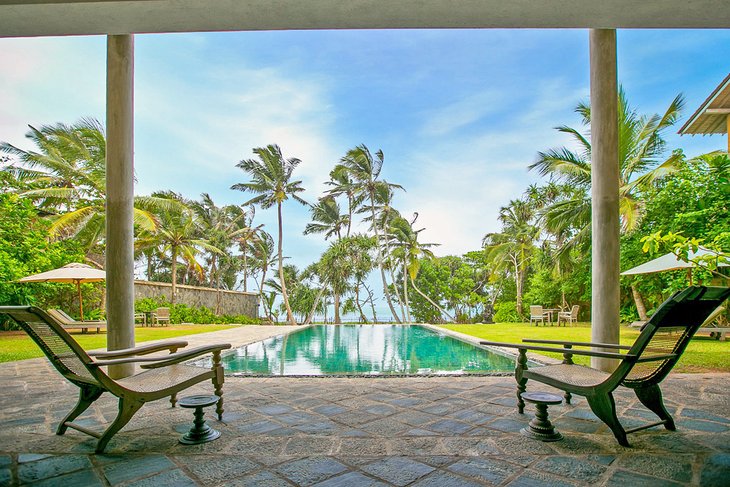 Accommodation: Villa Saffron Hikkaduwa
Villa Saffron, a beautiful boutique luxury villa designed by a Sri Lankan architect, is a tropical design hotel on the beach in Hikkaduwa. In fact, the design and style are so popular, the owners have a design store in Battaramulla. There you can buy antiques, artwork, furniture, and other accessories designed or curated by the hotel's owners.
The boutique hotel feels more like staying with a wealthy friend, as there are only five bedrooms. Each is large, with its own terrace and spa-like bathroom. They each have slightly different styles, and some have ocean views. While there are only five rooms, you have amenities like a 24-hour staffed front desk and daily housekeeping.
For your convenience, there is free Wi-Fi, and the hotel will arrange all kinds of excursions, tours, and experiences (and handle airport pickup/drop-off) on your request.
Dining is a bespoke experience, as the villa's chefs will prepare any style of food you desire, be it Western, Asian, or local Sri Lankan.
11. Amaranthe Bay Resort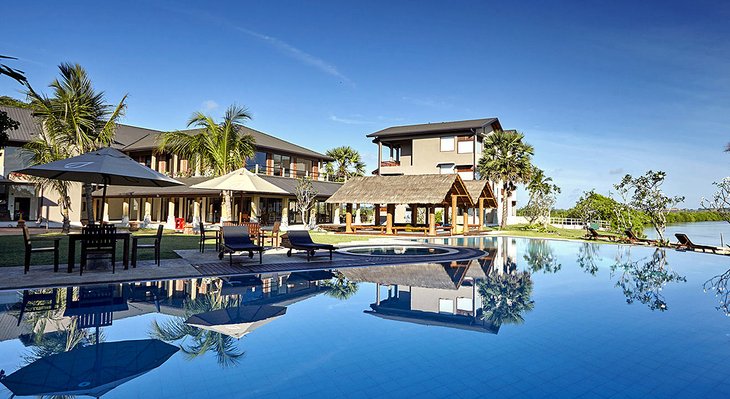 Accommodation: Amaranthe Bay Resort
This popular budget resort isn't quite on the beach, but it has a tiny man-made beach on a river lagoon and a large infinity pool. It's on the east coast of Sri Lanka in the somewhat remote area of Uppuveli, about three miles from the town of Trincomalee, a popular place for budget accommodations.
Accommodations at the Amaranthe Bay Resort are clean and modern, starting with basic twin rooms and including executive and junior suites. The executive suites are great for families, as they have private terraces and private outdoor Jacuzzi tubs along with a second bedroom with twin beds.
Junior suites have a large bedroom and additional living area with a private balcony and glass-enclosed Jacuzzi in the bathroom. They're on the upper floors and have great views of the surrounding landscape.
The resort has a small spa with Ayurvedic-focused beauty and skin treatments along with massages.
Activities include visiting the beautiful Marble Beach, a short walk away, or the local Hindu temple, also close by. You can go diving or squid fishing or head out very early in the morning for a 4am visit to the Trincomalee Fish Market.