Where to Stay in Valencia: Best Areas & Hotels
We may earn a commission from affiliate links ()
Tourists who are visiting Valencia for its historic attractions will want to stay in or near the Ciutat Vella (Old Town), home to popular sites like the Catedral de Valencia and Mercado Central. The Old Town is nestled within the elbow of what used to be the riverbed of the Turia. When it dried up, what remained was a fertile strip of land that is today a beautiful green space full of walking paths and interesting sites like the Antiguas Ruinas (ancient ruins).
Around two miles from the old town, Valencia's maritime district takes advantage of a prime location on the Balearic Sea. It has been recently revived and is popular for its sandy beaches and marina, which serves boats to and from all the tourist attractions of the Balearic Islands. All recommended hotels offer free Wi-Fi and have friendly, English-speaking staff.
On This Page:
Where to Stay in Valencia for Luxury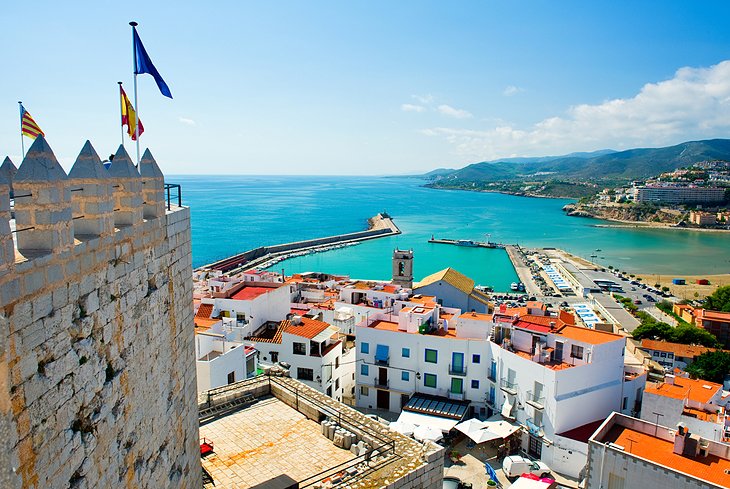 In the heart of the Ciutat Vella, the Caro Hotel is close to major historic sites, like the Catedral de Valencia and Iglesia de Santo Tomás y San Felipe Neri, and is adjacent to the old riverbed area close to the Archaeological Museum and Antiguas Ruinas.
This 5-star luxury boutique hotel balances the old and new by retaining elements from the building's original historic features, resulting in an interesting mix of the ancient and ultra-modern minimalist. Property amenities include an in-room or buffet breakfast and free Wi-Fi. Guest rooms feature private balconies and are equipped with safes and refrigerators.
The Hospes Palau de la Mar Hotel is updated and stylish with tall ceilings, sweeping staircases, and spacious rooms. It sits just outside the Old Town on the edge of the Turia Riverbed park, convenient to the city's tops attractions and surrounded by shopping.
Amenities include a spa, fitness center with lap pool and hot tub, and a restaurant. Rooms are outfitted with safes and a mini-fridge, and suites have private balconies. This hotel is located within a just a few minutes' walk of several landmarks, including the Puerta de Mar, Edificio de los Dragones, and the Iglesia de Santo Tomás y San Felipe Neri.
The Hotel Las Arenas Balneario Resort is one of Valencia's premiere waterside hotels in the city's maritime district. In addition to prime beach access, the hotel has both indoor and outdoor pools and a hot tub. Among the plentiful amenities is a fitness center, spa, and restaurant. This luxury resort's grounds are lined with palm trees and are spotted with fountains that are lit up at night, and the hotel offers family rooms and suites, including the option to have a balcony room overlooking the sea.
The SH Valencia Palace has a good location across from Turia Park, not far from the Palau de la Música concert hall and within a 10- or 20-minute walk to most of the city's points of interest. The hotel has contemporary style throughout and a rooftop swimming pool.
The rooms and suites are spacious and done up in natural tones with wood floors and light wood panelling. You'll want to book a premium category for park views, however. Amenities include a restaurant that does a range of paellas among other entrees. There is also a fitness center with great views from floor-to-ceiling windows and a spa with a hydromassage pool and sauna.
Where to Stay in Valencia: Mid-Range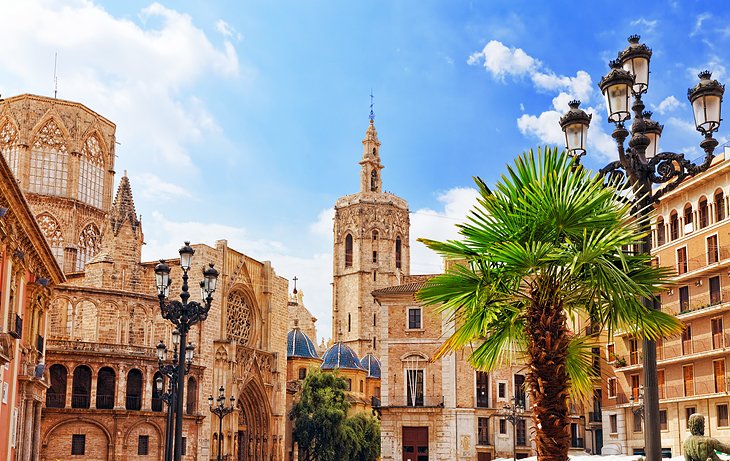 Some of Valencia's best mid-range hotels are centrally located in or within walking distance of the Ciutat Vella, and the MD Design Hotel - Portal del Real is in an ideal spot at the edge of the old town next to the Turia Riverbed Park. Guest rooms feature blackout curtains and soundproofing for privacy and quiet, as well as private balconies and conveniences like a fridge and electric kettle.
The hotel has a lovely rooftop terrace and a snack bar. Guests can easily walk to top old town tourist attractions like the Alimona Archaeological Center and Valencia Cathedral, as well as "new town" attractions including the Museo de Bellas Artes and the Museum of Natural Sciences.
In the very center of the old town close to the Plaza de España, Vincci Mercat has rooms that are ultra-modern and spotless and include a mini-fridge, electric kettle, and safe. Rates include a generous breakfast spread with freshly squeezed Valencian orange juice, and guests can relax in comfortable seating by the rooftop pool.
There is paid parking available on-site, and the hotel has an in-house restaurant and coffee shop. Nearby tourist attractions include the Central Market (Mercado Central) and the Plaza Ayuntamiento, as well as the Ateneo Viewpoint.
The nearby Hotel One Shot Mercat 09 is a 22-room all-suite boutique hotel that is convenient to Mercado Central and La Lonja. Features of the historic building have been retained, while interesting and unique artwork, muraled ceilings, and hardwood floors combine to create an elegant yet welcoming atmosphere.
Hotel amenities include a lovely rooftop pool and terrace, as well as an on-site restaurant, which serves a breakfast buffet. Rooms include a mini-fridge and safe, as well as private balconies.
Where to Stay in Valencia on a Budget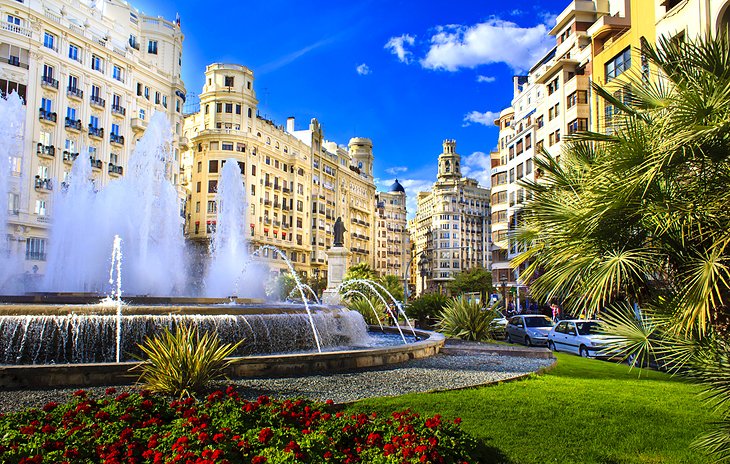 Unlike many cities, Valencia has several good budget hotels that are in prime locations convenient to the city's top tourist attractions and ideal for sightseeing. Hotel Sorolla Centro sits on the outer edge of the Old Town, just one block from the Plaza de Toros and North Station and under five minutes' walk to Plaza Ayuntamiento.
Rooms are spotless, and since the hotel is in a pedestrian area there is no traffic noise, so you can open the door to your balcony (there is one in every room) to let in the evening breeze.
The Hostal Venecia offers surprisingly affordable rooms right in the heart of the old town, just steps from the Ateneo Viewpoint tower and very close to the Plaza Ayuntamiento and the Mercado Central.
Guest rooms are generally compact but well-appointed and updated, featuring soundproofed windows and private balconies, many offering views over the beautiful fountain, the Fuente Luminosa Plaza del Ayuntamiento. Hotel amenities include a breakfast buffet, free Wi-Fi, and vending machines.
Guest rooms are well-soundproofed at Hotel Adhoc Carmen, a wallet-friendly option located near the Torres de Serranos, the Archaeological Museum, and the cathedral. Also close to the riverbed park, it is within walking distance of the Museo de Bellas Artes and has numerous restaurants close by.
The hotel's 21 rooms are housed in a beautiful historic building with enormous wooden doors and rustic touches of exposed beams and brick. This is a smoke-free hotel, and offers free Wi-Fi, private balconies, and bicycle rentals for guests.
Where to Stay in Valencia for Families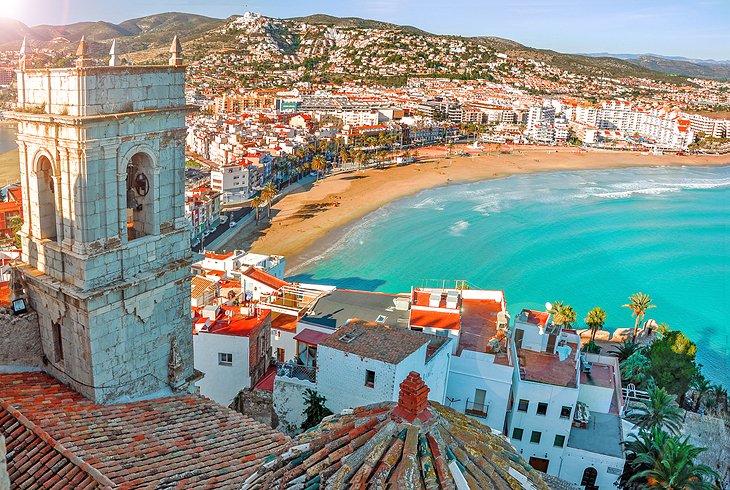 Families who want to focus on the historic sites will love the welcoming Petit Palace Ruzafa, located in the center of the Old Town, just a few blocks from the Mercado Central and La Lonja. Kids are welcomed with little gifts and thoughtful accessories, like step stools in the bathrooms. Comfortably sized family rooms have bunk beds for the kids, and coffee is available all day for the parents. The hotel also has a limited number of bicycles that guests may borrow free of charge, and this is a pet-friendly lodging.
Although a bit removed from the center, Hotel Melia Valencia is only four blocks to the old riverbed and the old town attractions just beyond. Occupying the tallest building in Valencia, it has fantastic views from its affordable rooms and suites, which are updated and modern. Hotel amenities include a well-equipped fitness center, indoor pool, business center, concierge, and room service. Guest rooms include mini-fridges and electric kettles for tea and coffee.
Nearby tourist attractions include the Palacio de Congresos Valencia and the family water park Piscina Parque Benicalap, and there is an abundance of restaurants within a two-block radius.
The Sweet Hotel Continental is within walking distance of all the top tourist attractions and surrounded by shopping. Rooms are basic but very clean and not too small, and when you aren't out sightseeing you can enjoy the rooftop terrace.
Staff members are incredibly attentive, and babysitting is available; this hotel is also wheelchair accessible. Nearby landmarks include the Central Post Office (Edificio de Correos) and the Ateneo Viewpoint, both located on the Plaza Ayuntamiento.
The Westin Valencia is a family-friendly luxury hotel set in a historic building in the city center. The property has a mix of rooms and suites, including family room options. The beds are very comfortable. If your kid is of the four-legged and furry variety, The Westin is also pet friendly. Amenities include a nice courtyard area with palm trees and outdoor seating, a good restaurant, a pool, hot tub, and a spa with a sauna.
Where to Stay in Valencia for Romance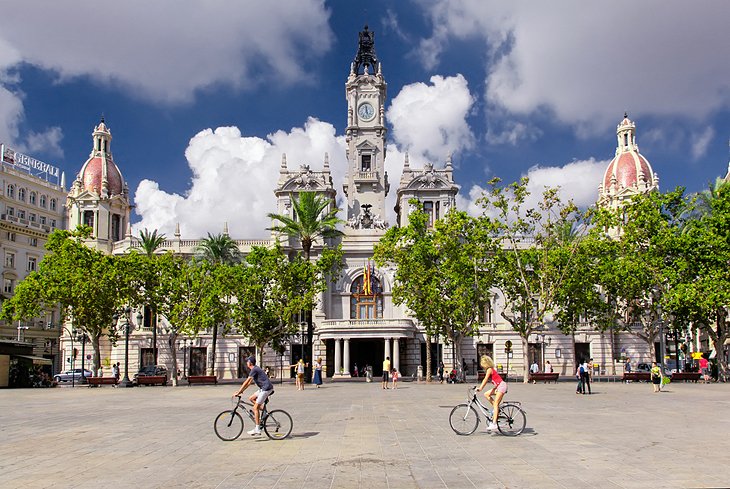 The elegant simplicity of the Vincci Lys hotel is just one of the things that makes this an ideal spot for couples to enjoy their stay in Valencia's Old Town. Located on a quiet pedestrian street, the hotel is near the Plaza de Toros and Town Hall Square, convenient to the city's top attractions.
Suites are enormous and come with thoughtful extras, like complimentary snacks. Rooms with private balconies are available. Amenities include a generous breakfast buffet with plentiful fresh fruit, room service, concierge, and a secure hotel-managed parking garage.
On the east side of the Ciutat Vella only two blocks from the Palacio del Marqués de Dos Aguas (Ceramics Museum), Vincci Palace Valencia exudes an ambience of royalty, with deep purple furnishings contrasting hardwood floors and bright white walls.
Guest rooms have a modern opulence and romantic touches like dimmable lights, as well as conveniences like a mini-fridge and safe. For extra special occasions, ask for a corner room to enjoy the views from its huge windows. Lodgings include a full breakfast buffet with treats like espresso & fresh Valencia orange juice.
Located in the maritime district right on the Playa de la Malvarrosa, Hotel Balandret is a trendy beachfront hotel with views of the Mediterranean. The sound-proofed guest rooms and suites feature private balconies, mini-fridges, and safes.
Hotel amenities include use of the beach, free Wi-Fi, and a complimentary breakfast buffet. Nearby tourist attractions include the Museo de la Semana Santa, the Museo del Arroz, and the city's historic port buildings.