Where to Stay in Seville: Best Areas & Hotels
Seville's charming Juderia neighborhood, also known as Barrio Santa Cruz, sits adjacent to the UNESCO World Heritage sites that include the cathedral and Alcazar. This Old Town area is the best place to stay in Seville. Here, grand old houses have been turned into boutique hotels, which are convenient for sightseeing, and many have rooftop terraces that look out over the historic city.
Unlike other popular destinations, Seville has a wide range of lodgings to choose from in its city center. So whether you are with the family or on a romantic getaway, you won't have to travel far to reach your hotel, regardless of how much you can spend. Even among most good budget hotels, proximity to the city center is not an issue.
Where to Stay in Seville for Luxury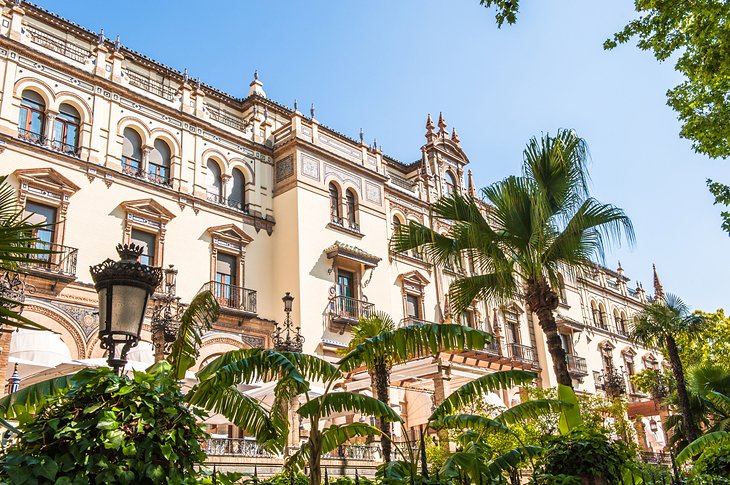 Every inch of the Hotel Alfonso XIII is glamorous, from the stately exterior to the grand staircases and arched doorways. The interior walls are decorated with detailed tile work, including the spacious central courtyard.
Large guest rooms are decorated authentically in three distinct styles - Castilian, Andalusian, and Moorish, and the hotel could not be better situated in its spot between the Alcazar and Palacio de San Telmo and close to the Plaza de Espana and Parque de Maria Luisa.
Marble columns and stone archways give way to the stunning courtyard at the luxury Boutique Hotel Casa del Poeta, which has balconies overflowing with plants and a classical guitarist to serenade guests by the fountain. The hotel is centrally located, just a ten-minute walk from the Alcazar and the cathedral and surrounded by shopping, museums, and several flamenco shows.
The newly opened Mercer Hotel Sevilla has already caught the attention of luxury travelers, located in a restored 19th-century palace, which sits close to the Plaza de Toros, Seville's historic bullring. Rooms are bright and feel exceptionally spacious, with high ceilings and plenty of windows. Guests will not want to miss out on at least one meal at the hotel's restaurant, María Luisa, which uses locally sourced products to create new twists on Andalusian favorites.
The décor at Hotel Casa 1800 Sevilla can only be described as classic, with a perfect balance of clean lines and ornamentation. Located in the Barrio de Santa Cruz, it is close to the UNESCO sites, as well as shopping and several tour centers, including horse and carriage rides. Standout features include complimentary afternoon tea, spectacular service, and stunning views of the cathedral from the roof at night.
Barcelo Montecastillo Golf hotel looks like a castle and is located in the Jerez, Cadiz area. This ultra luxe property boasts elegant design in its rooms and suites. If you are traveling with kids or as a group, there are also villas that can be rented here. Butler service is also offered.
Amenities at this country estate include a golf course, tennis courts, a heated swimming pool, hot tub, and fitness center. There is also a full-service spa with everything from massages to facial treatments, and you can use the steam room and sauna here as well. An on-site restaurant serves three meals a day, and there is an all-inclusive package guests can take. Finally, the Barcelo is pet friendly should you be traveling with a pup.
Where to Stay in Seville: Mid-Range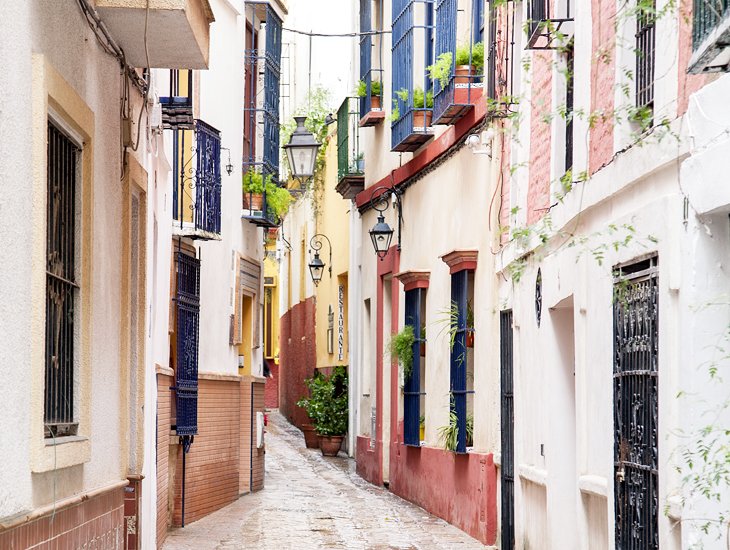 The beautiful courtyard at El Rey Moro Hotel Boutique Sevilla is adorned with torrents of plants from the inward-facing balconies. This is a luxury hotel in every way but the price, with rooms that are fun and bright and each uniquely decorated. The location is ideal for sightseeing, adjacent to the Alcazar and cathedral, as well as several museums and flamenco shows.
Families and business travelers alike enjoy the homey, comfortable rooms at the environmentally conscious Hotel Becquer. Plentiful amenities include a large rooftop pool, plasma TVs, 24-hour room service, and even a trouser press.
Just a few blocks south is the spotless Hotel Adriano Sevilla, known for its especially accommodating and helpful reception staff. Situated in an 18th-century manor house, just steps from the Plaza de Toros in the old town, it is also convenient to several shopping venues.
Tucked away on a narrow street in the picturesque Barrio Santa Cruz, near Casa de Salinas, is Hotel Amadeus. As the name suggests, it has a classical music theme, which tastefully dominates the décor throughout and creates a lovely atmosphere in its many common areas and rooftop terrace. You may not want to leave the peaceful oasis, but those who do will find most of the major attractions within a 15-minute walk.
Where to Stay in Seville on a Budget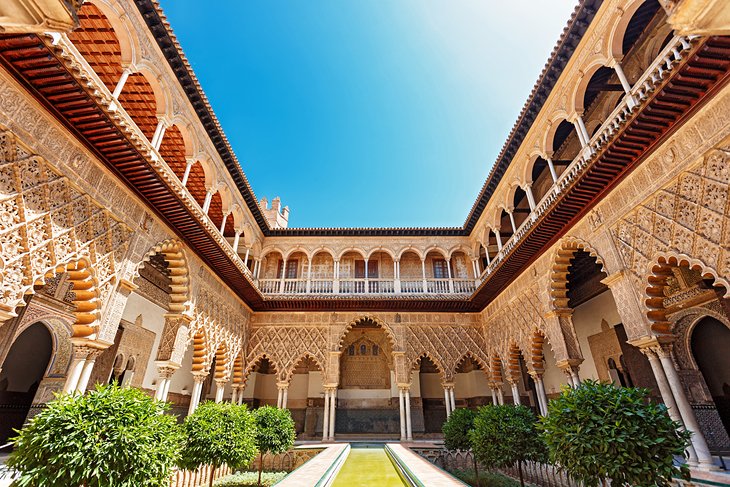 The Hotel Zaida truly is a hidden gem, where budget rates do not require compromising on the important things. It is centrally located in a historic neighborhood, with plenty of restaurants and shopping close by, just a few blocks from the Seville Museum of Fine Arts and only a 10-minute walk to the cathedral and Alcazar. Traditional Moorish architecture, quiet rooms, and a cozy rooftop terrace make it especially popular with couples.
Hotel Goya is equally affordable and well situated on a lively street, just minutes from the Alcazar and convenient to the Guitar Museum and the Casa del Flamenco.
Just a few blocks from Las Dueñas and even closer to the fantastically unique wooden sculpture Metropol Parasol, sits the quiet Hotel Abril, a budget hotel where the friendly staff serves breakfast and replenishes the free coffee bar all day.
A ways out from the city center, visitors can depend on the consistent quality and modern comfort of the Ibis Sevilla, which serves a continental breakfast.
If you want a hostel experience in a great location in the historic center of Seville then check out the Black Swan. The dorm beds here are larger than those at other hostels, and slightly more private. They are pretty comfy and also come with reading lights and a plug to charge your electronic devices. Dorm rooms also come with large personal lockers to store your valuables. They also have private rooms with balconies.
Amenities include a rooftop terrace with great views, a garden patio, and a fully equipped communal kitchen. The hostel is committed to sustainable tourism and uses recycled products. Bikes can also be rented.
Where to Stay in Seville for Couples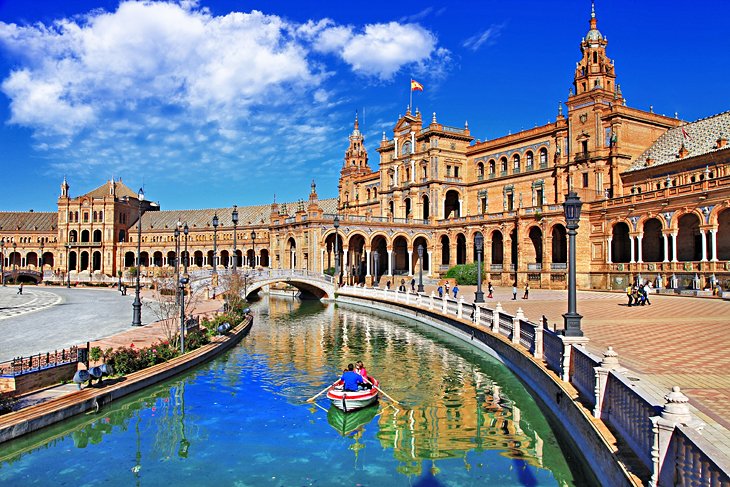 Couples will fall in love with the old-world atmosphere at El Rey Moro Hotel Boutique Sevilla, a classic Seville mansion with layers of rooms opening out onto a central courtyard. The hotel entrance is nestled on a narrow street of the Barrio Santa Cruz next to the cathedral, which can be admired from the rooftop Jacuzzi.
In this same neighborhood, the Hotel Palacio de Villapanes treats every guest like royalty. This Baroque palace was built in the 18th century with marble floors, grand entrances, vaulted ceilings, and huge ornate wooden doors. When you are not enjoying the spacious rooms equipped with the most luxurious amenities and latest technology, treat yourself to pampering at the spa or a relaxing dip in the rooftop pool that overlooks the heart of the city.
The ultra-boutique hotel Corral del Rey has only six rooms, but offers an unforgettable experience in its carefully restored 17th-century palace. Lazy vacation mornings are encouraged here with breakfast served until noon, and seclusion seekers will not have to worry about crowds at the pool. If you do get around to sightseeing, the Flamenco Museum is just a block away and the cathedral is a five-minute walk.
Outside of the bustle of the tourist areas, the Hotel Ateneo Sevilla is a secluded haven in a fully restored historic building with stone arches, marble columns, and frescoes. Rooms are outfitted with antique furniture and ornate decorative touches like gilded mirrors and flowing canopies over king-sized beds.
Where to Stay in Seville for Families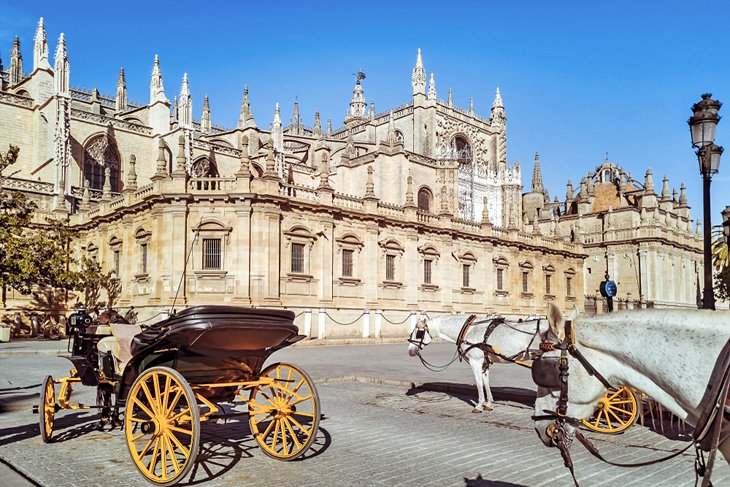 If you are looking a luxury family hotel, try Hotel Las Casas de El Arenal on a quiet street in the city center within walking distance of Seville's top shopping streets and numerous restaurants. This elegant four-star hotel is set inside two 18th-century homes connected via galleries and courtyards. The rooms come in a few different sizes and styles, but all come with period furnishings and modern amenities. Cribs can also be arranged.
On-site amenities include an outdoor swimming pool, workout room, and a dining room that serves breakfast (only) for a fee.
Gran Melia Colon is another luxe kid-friendly hotel in the heart of the city center. This five-star property in a historic building originally built for the 1929 Expo is contemporary in decor with designer flair and a dramatic black, red, gold, and white color scheme.
For families, suites with interconnecting rooms and a lounge offer more space, and the best come with terraces and awesome views. There are also family rooms with two double beds. Amenities include a triangle-shaped rooftop pool, which stays open year-round; a restaurant; gym; spa; and parking.
In the Los Remidios district, Monte Carmelo Hotel is another family-friendly option. It is about 15 minutes by foot from Giralda Tower and the Seville Cathedral, on a street filled with shops.
The hotel offers a range of rooms and junior suites, which come with contemporary decor and a soothing white and neutral toned color scheme that incorporates natural wood into floors and headboards. Guests also have access to a pillow menu.
There is no on-site restaurant, but many are within walking distance. The hotel does offer a giant breakfast buffet for a fee. Paid parking is also available.
Finally, check out Alminar Hotel in a fantastic, pedestrianized Old Town alley location right by the Seville Cathedral. This small hotel inside a 19th-century home offers just 11 charming and well-maintained rooms with exposed wood beams and contemporary furnishings. For kids, cots and extra beds can be arranged. Children under 13 sleep free, while those over 13 pay a supplemental fee.