Where to Stay in Madrid: Best Areas & Hotels
When deciding where to stay in Madrid, it's important to consider the layout of the city. Although Madrid's metropolitan area is the third largest in the European Union, it's not intimidating for tourists because nearly all the major attractions lie within the relatively compact city center. This area stretches from the vast Retiro Park on one end to the Royal Palace on the other.
Near Retiro is the Passeo del Prado, known as the Mile of Art for all the major art museums that lie along it. Across this park-lined avenue begins the old city center, filled with narrow streets of shops and restaurants. Here, you'll find Plaza Mayor and Plaza del Sol, two lively spots you'll want to visit. Beyond these, the Royal Palace and cathedral are bounded by another large park. Along the northern edge of this central area runs Gran Via, a busy shopping street. Hotels near any of these landmarks are well-located for sightseeing.
Happily for tourists, finding a hotel in this area is quite easy, and some of Madrid's best places to stay are right in the historic heart of the city. And although you can, you don't need to walk between all these points, for the efficient Metro has stations at or within a few blocks of almost all Madrid's top attractions.
Those arriving by train or on the bus from the airport will find several hotels along the Paseo del Prado, close to Atocha station. Even along this art-filled boulevard, you'll find hotels in all price ranges. Whatever your budget and whether you're traveling with the entire family or visiting Madrid on your own, this guide will help you find just the right place to stay.
Where to Stay in Madrid for Sightseeing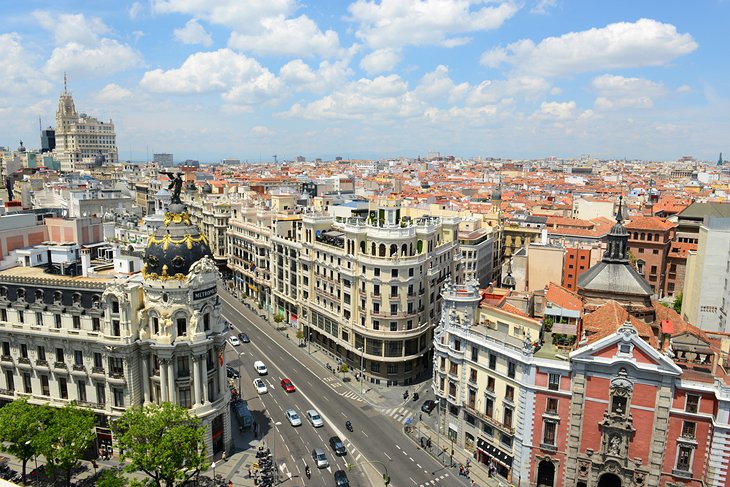 On the Gran Via between Retiro Park and the Royal Palace, The Principal Madrid is a stylish hotel with modern decor and a rooftop terrace, and serves guests a sumptuous, free afternoon tea. It's within walking distance of Puerta del Sol, Retiro Park, and the art museums.
Locations don't get much more central to attractions than that of the highly rated Catalonia Las Cortes, halfway between the Prado and Plaza Mayor. Although you can walk everywhere from here, rooms are quiet at night. Throughout the late afternoon and evening, the hotel offers guests free tapas, sandwiches, and tea cakes.
The NH Collection Paseo del Prado is on Paseo del Prado, handy to the Atocha rail station and airport transort. Its small gym is on the roof, with great city views.
The boutique Vincci The Mint is a stylish modern hotel on Gran Via, close to Paseo del Prado and its museums, as well as to a number of restaurants. Its rooftop terrace has views of the city, and little details such as the pillow menu and the excellent a la carte breakfast make it a favorite.
Where to Stay in Madrid for Luxury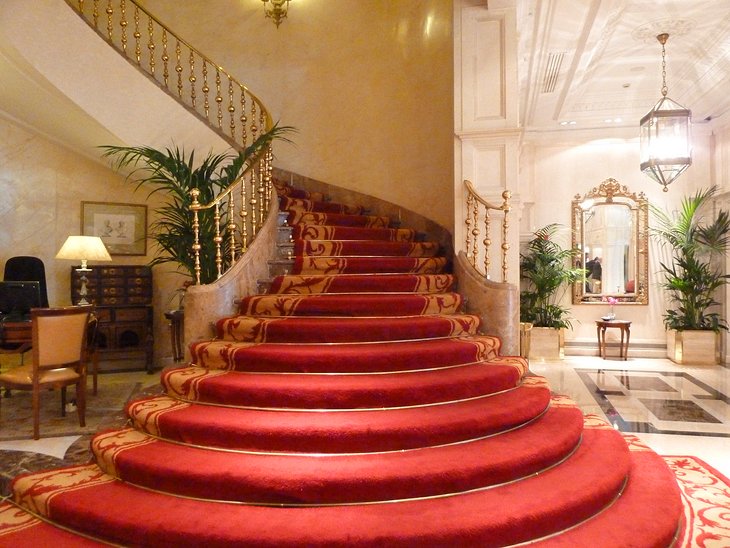 Madrid doesn't lack luxury hotels, many of them in the new business and commercial neighborhood near the stadium, and not handy for sightseeing. But there are a number of good choices for tourists.
Overlooking Plaza De Colon in the smart Salamanca district, Gran Melia Fenix is close enough to stroll to Paseo Prado and its art museums. Its luxuriously furnished rooms and stunning rotunda lobby are just what you'd expect from a member of Leading Hotels of the World. A bonus for shoppers, the hotel is one minute from the high-style shops of Calle de Serrano.
For a boutique hotel in the Salamanca district, a few blocks from Retiro Park and Alcala and handy to high-end shops, Hotel Unico Madrid has a Michelin-starred restaurant and is located in a 19th-century palace. The property has just 44 rooms, but these are regal in design and feature high ceilings and large windows. Take a break from the city with a seat in the quiet garden area on the property. On Sundays, brunch is served in a glass pergola overlooking the garden.
The BLESS Collection Hotel Madrid is another top hotel in the vibrant Salamanca district. It offers stylish and contemporary rooms with unique headboards behind comfy beds, and fun art on walls. There is a rooftop pool with city views, as well as a restaurant and spa. If you are traveling with a dog, the hotel is pet friendly.
Dedicated shoppers will also like the ultra-luxe Rosewood Villa Magna, on Paseo de la Castellana, near the high-end shopping area and connected to the Corte Ingles department store. The hotel re-opened in 2021 after a rebranding and a thoughtful refurbishment that elevated its luxury appeal. Amenities here include a restaurant, a spa with a sauna, and a fitness center. If you are traveling with kids, it is family friendly.
The highly rated Gran Melia Palacio de Los Duques, a member of The Leading Hotels of the World, is next to The Royal Palace and the Opera House, but seems more like a resort than an urban hotel. The contemporary update of a 13th-century convent and a 19th-century ducal palace creates an oasis of luxury, set around a huge green patio. A state-of-the-art fitness center and a rooftop pool with views of the Royal Palace complete the resort atmosphere.
Where to Stay in Madrid: Mid-Range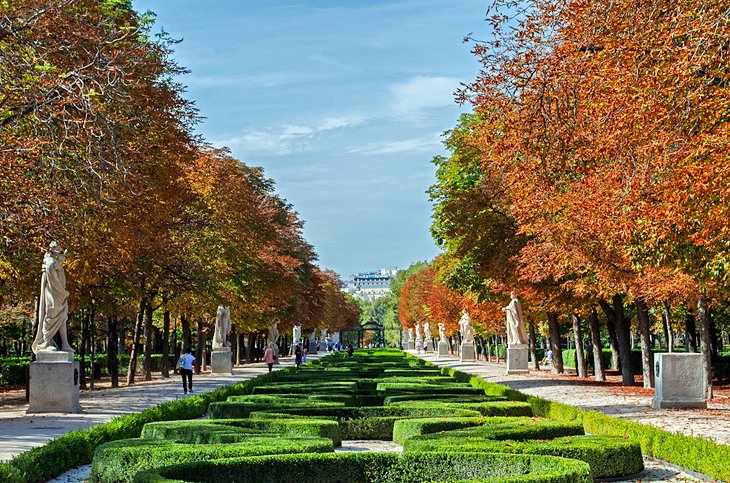 Between the Royal Palace and Porto del Sol, a few minutes' walk from Gran Via, Room Mate Laura is near several metro stations and has interesting shops and restaurants nearby. Guest services are excellent, with plenty of advice, free walking tours, and a complimentary Wi-Fi hot spot to carry around with you.
With luxury facilities and services (think plush robes, slippers, and a well-equipped gym) at mid-range prices, Only YOU Hotel Atocha borders Retiro Park, opposite the Atocha train station, where airport buses arrive and leave. Some rooms overlook an attractive inner courtyard, and the hotel has jazz nights in the lobby.
The mid-range Ibis Styles Madrid Prado has comfortable, basic rooms, some of which have balconies, near Paseo del Prado.
Where to Stay in Madrid on a Budget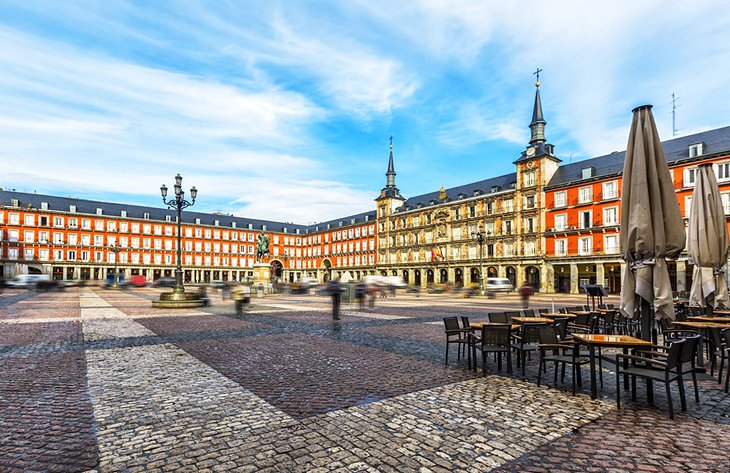 South of the historic center and a 10-minute walk from the Reina Sofia Museum and Atocha station, Artrip Hotel has large modern rooms and a boutique atmosphere. Close to Plaza Mayor in the heart of the historic center, Mayerling Hotel also has large rooms, with a minimalist décor and excellent service.
On the upper floors of an older building, the modest Luz Madrid Rooms bed-and-breakfast has comfortable rooms and a small elevator to help get luggage to your room. The location is very convenient, a short walk from the Royal Palace in one direction and to Plaza Mayor in the other.
Between the Royal Palace and the Gran Via shopping district, Room Mate Mario is chic and modern, with cutting-edge design and a cool, young vibe. Also in the area between the Opera, Royal Palace, and Puerta del Sol, Hotel Francisco I is surrounded by shops and restaurants on a traffic-free street.
Where to Stay in Madrid for Couples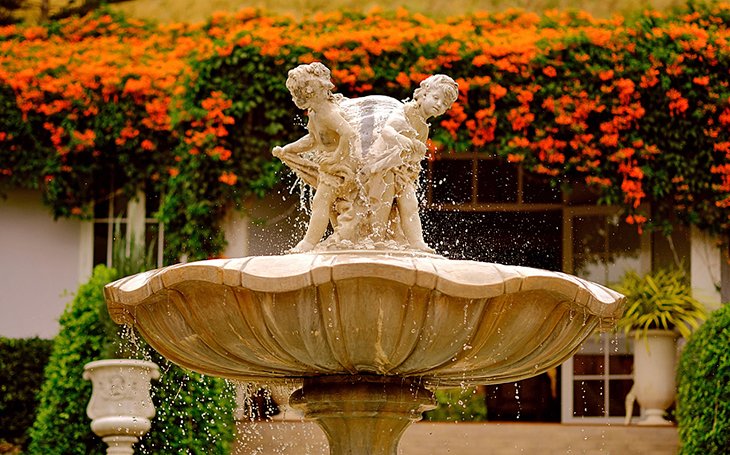 In an elegant Belle Epoch building on Paseo del Prado, The Westin Palace Madrid is opposite the Thyssen-Bornemisza Museum and a five-minute walk from the Prado. Sit under the stained-glass dome of the Rotunda to savor breakfast of fresh-baked pastries and juice freshly squeezed from Valencia's famous oranges.
Halfway between Plaza Mayor and Paseo del Prado, Gran Hotel Ingles is one of Madrid's most highly rated hotels. Although it dates back to the 1880s, a complete modern renovation makes it a top choice, as do the top-of-the-line fitness center, complimentary smart phones for guests, and thoughtful turndown gifts on the pillow each night.
Balconies of the nicely decorated rooms of the luxury Hotel Atlantico, on Gran Via in the heart of the shopping district, overlook the busy shopping street. There's a rooftop terrace with romantic city views at night. The hotel is an easy walk from all the major attractions and offers free airport pickup.
The boutique Relais & Chateaux Hotel Orfila is on a quiet street at the edge of the Salamanca neighborhood, but within walking distance of the Prado and Retiro Park. Romantic rooms are furnished with antiques and original art, and there is a charming patio.
Where to Stay in Madrid for Families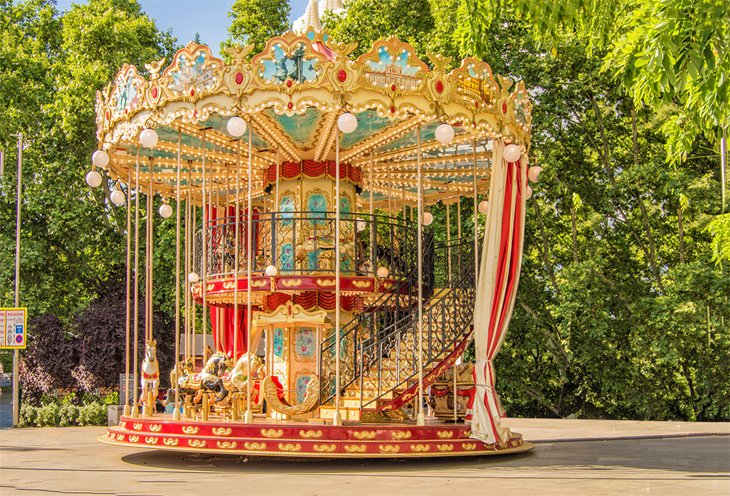 A short walk from Gran Via and the Metro, L&H Gran Via Selection offers apartments with well-equipped kitchens and plenty of space for families. Luxury details include Hermes toiletries, bright decor, and fresh flowers, and the hotel's terrace overlooks lovely views of the Royal Palace and gardens.
At the end of the gardens surrounding the Royal Palace, ApartoSuites Jardines de Sabatini is a bit of a walk from the Metro, but it's within walking distance of the palace and on a bus line. Breakfast is included in the rate, and the apartments have kitchens. A supermarket is also nearby.
Between Plaza Mayor and the Prado, Catalonia Las Cortes has spacious family rooms and offers free snacks throughout the day, good for children who haven't adjusted to Madrid's late dining hours. This luxury hotel was once a palace and retains some of its frescoed ceilings in the public rooms.
Where to Stay in Madrid for Art and Design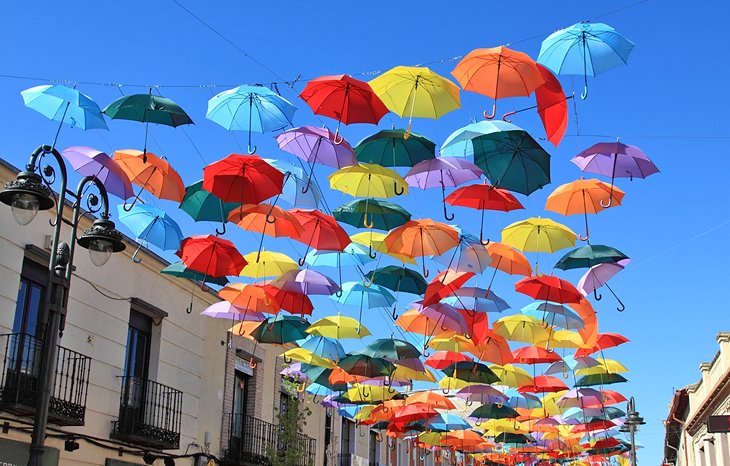 Madrid is so filled with art museums spotlighting Spain's illustrious legacy of painters that include Goya, Velasquez, El Greco, Picasso, Dali, and Miro, that art lovers can spend an entire trip reveling in the city's artistic heritage. Thanks to two newly opened hotels, they can now stay in art-filled surroundings as well.
The décor and artwork in VP Plaza España Design, on Plaza de España, is by some of Spain's leading contemporary artists, and includes collages by Nacho Zubelzu, photo montages by Héléne Bergaz, and an eight-story waterfall designed by Pere Gifre. Gardens highlight both the inside and outside, and those arriving by car will appreciate the indoor parking.
Spanish designer Lázaro Rosa-Violán is responsible for Madrid's other newly opened design hotel, the flamboyant Only YOU Boutique Hotel Madrid. Various periods and styles of Spanish art appear throughout the hotel, which features an Art Nouveau reception desk and breakfast room, azulejos tiled walls, and Cubist and Surrealist works.