13 Top-Rated Family Resorts in Ibiza
We may earn a commission from affiliate links ()
The resort island of Ibiza may be best known for techno music and dancing, but it's also filled with a lot of great family resorts and fun things to do with kids. Ibiza is one of the Balearic Islands, a group of four mainly resort islands in the Mediterranean Sea, about 160 kilometers off the coast of Spain.
Ibiza Town (or simply Vila) is main city on Ibiza, located on the south part of the island. Other major resort areas (each with their own beaches) include Portinatx in the north, San Antonio in the west, and Santa Eulalia in the east.
Families visiting Ibiza can choose from a wide range of accommodations, from apartment-like condo units to luxury beach resorts. Many offer separate adult sections and adult pools to provide a bit of peace to guests without children (and parents who need a break).
Ibiza is a good family destination, as it has lots of beautiful beaches and fun ocean-related activities, along with miles of hiking trails for exploring other parts of the island. Many hotels are kid-friendly, with special amenities and programs just for youngsters.
Plan your next vacation with our list of the top family resorts in Ibiza.
1. Hard Rock Hotel Ibiza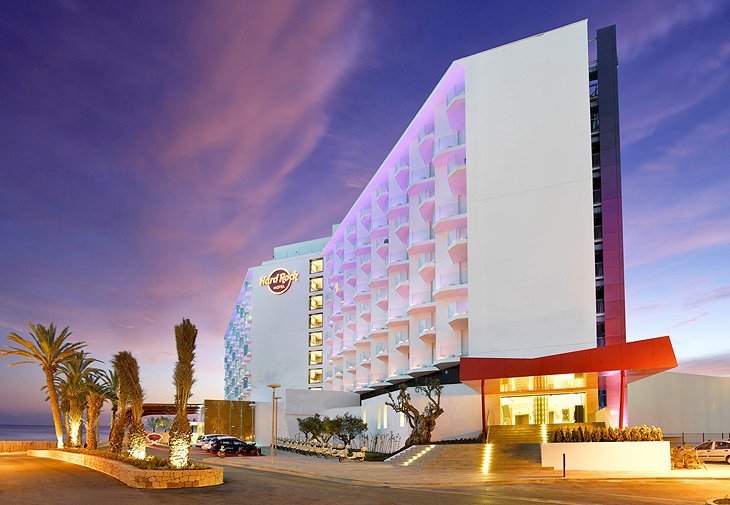 Accommodation: Hard Rock Hotel Ibiza
While you may not think of a Hard Rock Hotel as a place for kids or families, the Hard Rock Ibiza welcomes younger guests. Kids even stay free in their parent's room. The beachside resort has a very lively atmosphere with a lot of musical concerts and DJ performances.
The hotel's Hard Rock Roxity Kids Club provides a clubhouse environment for kids, as well as organized programs and activities, some focusing on music. The hotel is a few steps away from the longest beach on the island, and there's a wide range of water sports available to hotel guests. It's also near the Aguamar Water Park, which is an excellent place to take children. The hotel itself has a huge pool and a dedicated kiddie pool as well.
Address: Platja d'en Bossa, s/n, 07817 Sant Jordi de ses Salines, Islas Baleares
2. Grand Palladium Palace Ibiza Resort & Spa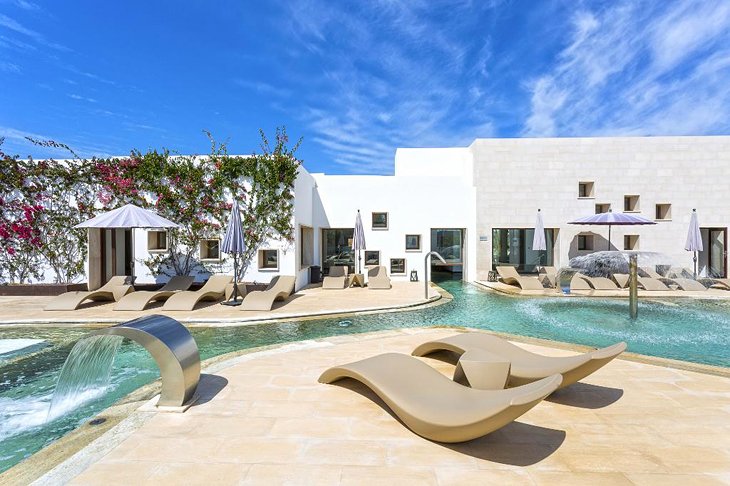 Accommodation: Grand Palladium Palace Ibiza Resort & Spa
Ibiza's largest all-inclusive beach resort offers an easy, single-stop vacation for families, as everything is included. It's located across from the main Playa d'en Bossa beach. The resort has some large suites, including two-bedroom units, perfect for big families.
There are four freshwater pools and the Splash Mini Club small water park. The resort has a lot of organized activities, with both a mini club for little kids and a junior club for older kids and teens. Kids can also enjoy all the regular resort activities including water sports, archery, beach volleyball, and more.
There are four Palladium resorts in various parts of Ibiza, and guests can access the amenities (and restaurants) of each. This is especially good with regards to their neighboring Grand Palladium White Island Resort and Spa, where you can enjoy the amazing beach.
Address: Platja d'en Bossa, S/N, 07817 Sant Jordi de ses Salines, Islas Baleares
3. Aparthotel Playasol Jabeque Soul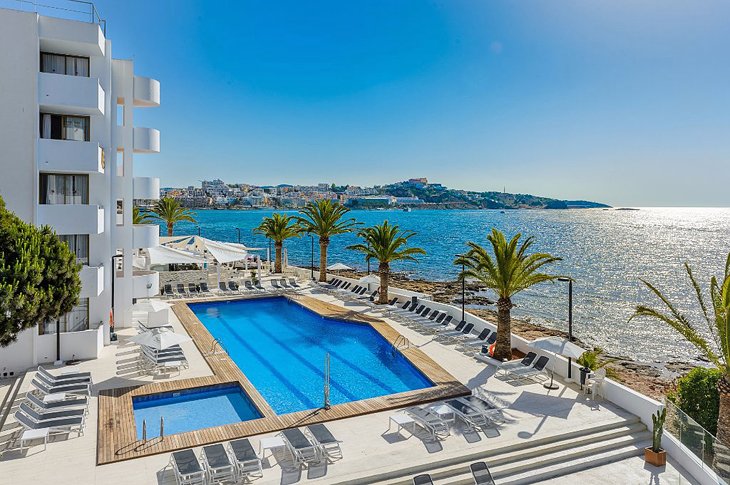 Accommodation: Aparthotel Playasol Jabeque Soul
Sometimes it's better, easier, and cheaper for families to stay in a more apartment-like property. The Playasol Jabeque Soul Aparthotel is a combination apartment and hotel, located between Playa d'en Bossa and Figueretas, two of the island's best beaches (filled with fun family beach activities). It's also a 15-minute walk to the downtown area of Vila.
They offer one-bedroom and two-bedrooms units, both smaller units for one or two people and larger units for three and four people. All the apartment-like units have balconies with sea views and kitchenettes. Families can save a lot of money by eating some meals in the apartment instead of in a restaurant. Other amenities add to the value of a stay, things like free Wi-Fi and free buffet breakfast (included in some room rates).
Address: Calle de Carlos Román Ferrer, 25, 07800 Ibiza, Islas Baleares
4. ME Ibiza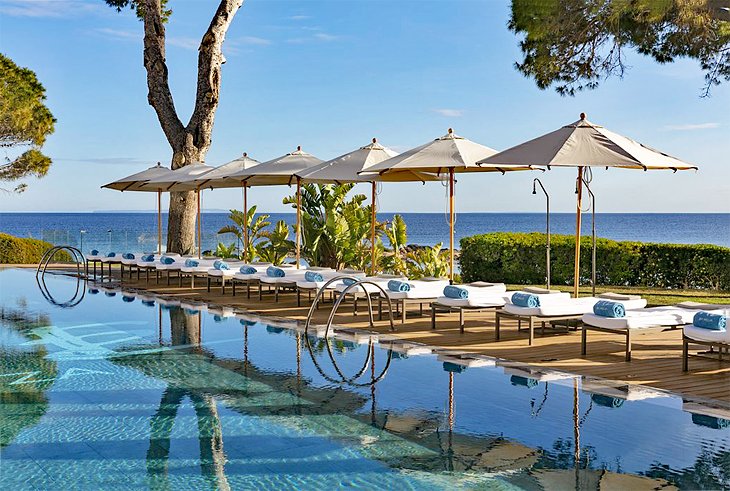 Accommodation: ME Ibiza
This boutique, luxury resort is in Santa Eulalia del Rio on the eastern coast of the island. It's on a bay, reachable by boat or car. The hotel welcomes kids and families with things like available connecting family rooms and a Kids' Club activities center. The hotel will also customize an itinerary including tours, museum visits, and activities, based on your family's interests.
ME Ibiza is focused on wellness (with special programs and a healthy menu at the restaurant), so it's a good chance to introduce kids to healthy eating and a healthy, active lifestyle. The hotel has a beautiful pool, a spa, and its own stretch of white-sand beach.
Address: Avinguda de s'Argamassa, 153, 07849 s'Argamassa, Illes Balears
5. Sud Ibiza Suites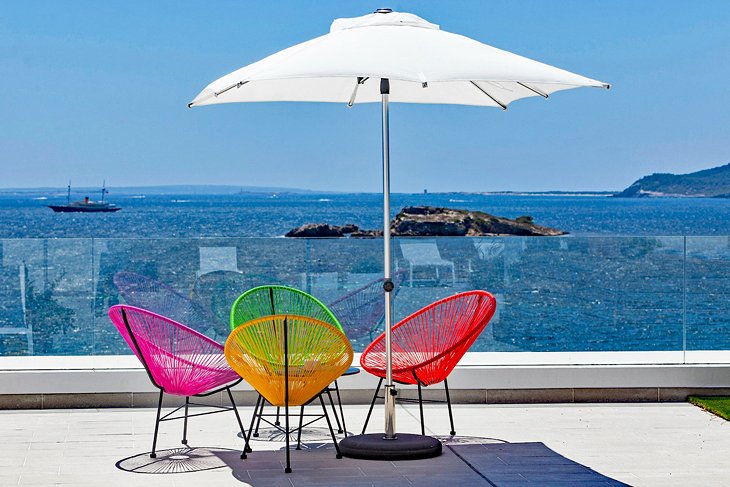 Accommodation: Sud Ibiza Suites
This boutique, luxury apartment/hotel has 34 studios and apartments. The big draw here is the central location, right in the heart of Ibiza Town. It's also only a five-minute stroll to the beautiful Figueretas beach and the blue Mediterranean. This means families can easily walk to the beach and to the town's interesting museums and historic sites. Figueretas beach is filled with water sports, from kite-boarding to surfing, sea kayaking, and canoeing.
The apartments are perfect for families, with a lot of space and well-equipped kitchenettes. You get some helpful amenities like free Wi-Fi, staff available 24 hours a day, and even free bikes. Subject to availability, you can also check-in early and check-out late.
Address: C/ Ramón Muntaner, 34, 07800 Ibiza, Islas Baleares
6. Paradiso Ibiza Art Hotel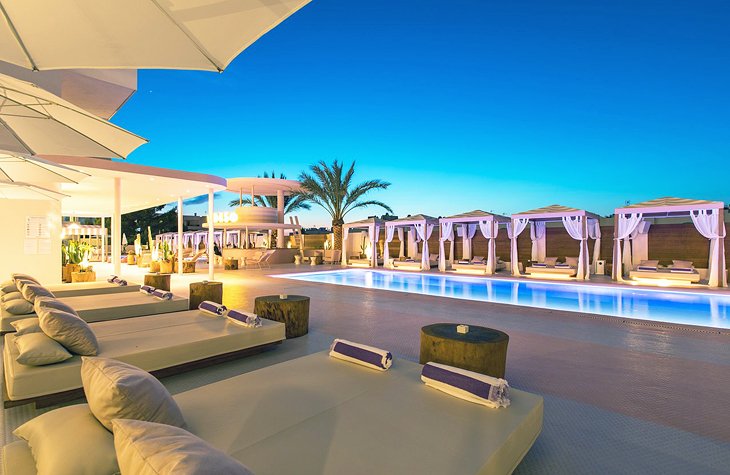 Accommodation: Paradiso Ibiza Art Hotel
The island's first art hotel, the Paradiso Art Hotel is in the San Antonio Bay area and it showcases the work of local artists. It's a chance to introduce kids to the art world outside of a museum. The all-suite property is great for families, as it has one- and two-bedroom suites, even the one-bedroom units are large, with a double sofa bed in the living room area. These suites have large kitchenettes.
Andy's is the hotel's restaurant, and it features a big, outdoor dining area. They also serve guests in the hotel's huge Dream Beds (poolside daybeds).
There are two swimming pools, both painted pink. The entire property has a fun 1970s design and vibe, with a lot of bright colored furniture. Kids may want to try a night in the hotel's Zero Suite Project. It's a free room/performance art project, created from a glassed-off section of the lobby. Although the bathroom is private, the rest of the room puts you on display for other guests.
Address: Es Caló, 70, 76, 07829 Sant Josep de sa Talaia, Islas Baleares
7. S'Argamassa Palace Suite Hotel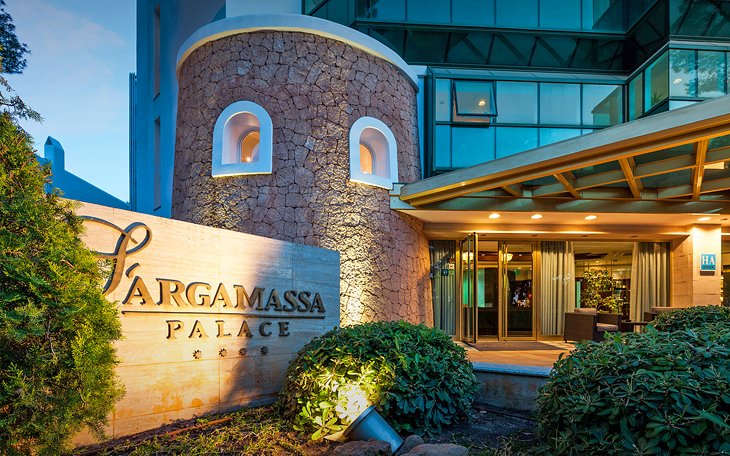 Accommodation: S'Argamassa Palace Suite Hotel
This all-suite, luxury boutique hotel is unique in that it's a bit up in the hills from the beach, surrounded by the island's iconic pine trees. It gives the 24 rooms and suites a more natural setting and a different vibe than the beachfront resorts.
Some rooms have incredible forest views. Kids and families are welcomed here, as some of the suites are large and can easily accommodate up to six or even eight people. Wi-Fi is free as is the buffet breakfast each morning.
The hotel has a modern Mediterranean restaurant with a children's menu. When the family is ready to have some fun in the sun, there's a big Jacuzzi, a sun deck, an adult pool, and a kiddie pool. The beach and all the ocean activities are only a 10-minute walk away.
Address: Avinguda de s'Argamassa, 82, 07840 Santa Eulalia del Río, Illes Balears
8. TUI Magic Life Club Cala Pada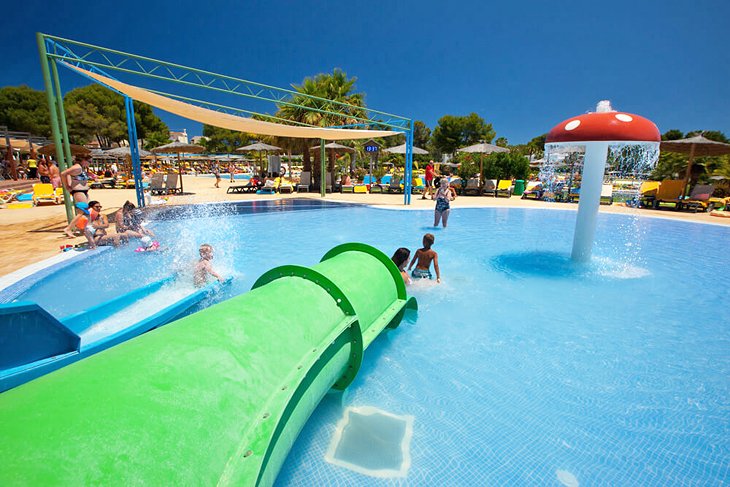 Accommodation: TUI Magic Life Club Cala Pada
This large, all-inclusive resort is one of the biggest on the whole island; it overlooks the bay at Santa Eulalia and is only a short walk down a path from the beach.
They have a lot of excellent programs and amenities aimed at kids and families. There's a daily entertainment program of movies and media, plus a daily camp-like MAGIC group where kids can go on their own. There's even a mini disco, which is a supervised kids' zone open at night, so mom and dad can have some alone time.
Gamers will be excited that they have eSports (video game) tournaments. There are programs for little kids, young children, and even teenagers up to 16. Teenage programs include cool stuff like a DJ class. There are also a lot of family group activities like soccer games, pool games, and archery competitions.
The resort is all-inclusive, so all your food and most drinks are included in the price. There are three buffet-style restaurants to choose from, and the food is better than what you might expect at an all-inclusive resort.
Address: Carrer de Cèsar Puget Riquer, Km 3, 07840 Santa Eulària des Riu, Illes Balears
9. Portinatx Beach Club Hotel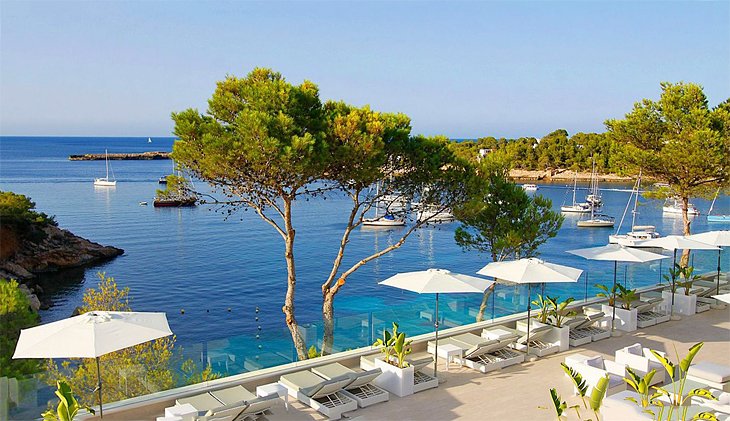 Accommodation: Portinatx Beach Club Hotel
Located in the quieter Portinatx area in the north of the island, this small resort allows families to have a slower-paced Ibiza experience.
Parents can get some alone time on the hotel's adults-only terrace area with a pool just for adults. There's another larger main pool for everyone and a separate Splash Zone just for kids. Food is served on the adults-only terrace, and there is a main restaurant where families are welcome.
Kids can learn to play tennis on the resort's two courts or challenge them to a game of ping pong on one of the tables. The beach, with windsurfing, sea kayaking, and other water sports is only a few steps away.
Address: Cala Portinatx, 14, 07810 San Juan Labritja, Islas Baleares
10. Invisa Hotel Club Cala Blanca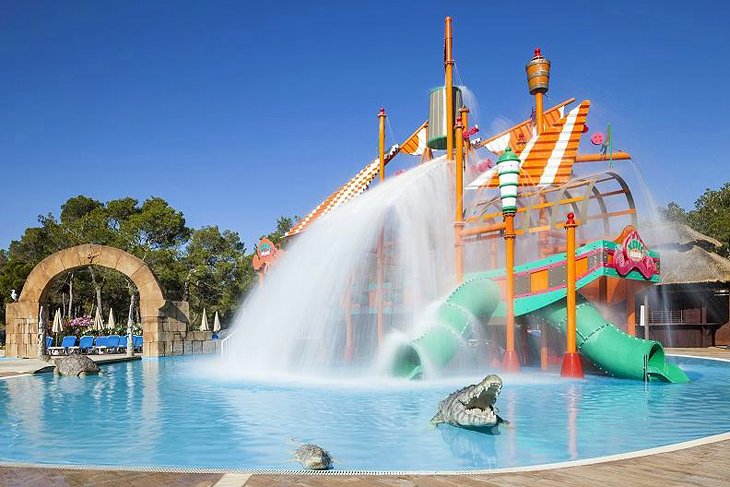 Accommodation: Invisa Hotel Club Cala Blanca
There are five Invisa hotels spread across the island, but the Invisa Cala Blanca is the best for families. It's on Es Figueral Beach just outside the quaint village of San Carlos.
The hotel has a lot of kids' amenities and activities, including a whole children's pool and little water park with spraying water and a play area. There's a whole kids' Pirate Cove hiking trail with rope ladders and other climbing obstacles. There are supervised camp-like kids' club programs offered during the day, so parents can get time to have fun on their own.
Sign up for the Invisa loyalty program (free) to get free Wi-Fi during your stay. There's a buffet restaurant and a nightly barbecue. Accommodations can be booked bed and breakfast, half-board (breakfast and dinner are included but not lunch), or full-board with all meals and drinks included.
Address: Playa de Es Figueral, s/n, 07840, Balearic Islands
11. Hotel Ole Galeon Ibiza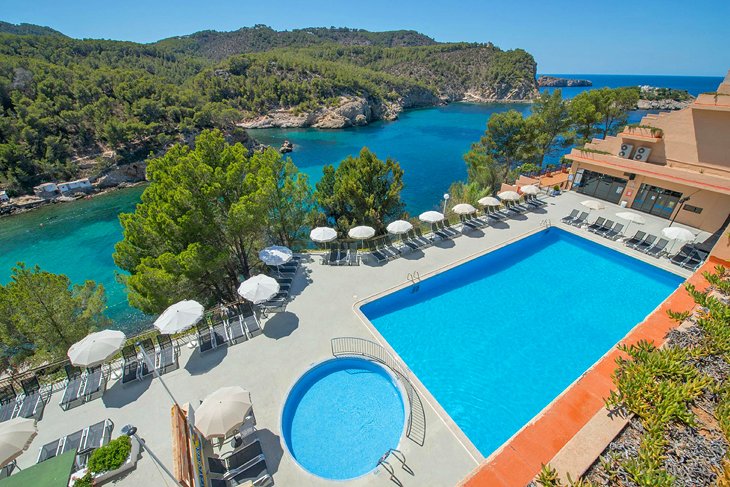 Accommodation: Hotel Ole Galeon Ibiza
This kid-friendly, boutique, resort hotel is in Playa de San Miguel, above the blue Bay of San Miguel. It's a beautiful, tiny cove with crystal-clear water and a really cool, compact beach. All the rooms and suites (and even the public areas and restaurants) have amazing views of the blue water.
The rooms are large and have kitchenettes, allowing you to have some meals in the room. The resort's accommodations are either all-inclusive or half-board (which means only breakfast and dinner are included; you're on your own for lunch). All the rooms and suites have their own private balconies or terraces with ocean views.
The hotel is in a grove of pine trees above the beach; you just walk down a dirt path for about two minutes to get there. Kids have access to the beach water sports and there's a dedicated kiddie pool and play area. The Ole Galeon offers organized, supervised Mini Club group activities for kids, which include outdoor sports and an entertainment program of indoor creative and crafts endeavors. Adults have their own chill-out zone, a sunbathing area with Balinese beds, and a hot tub.
Address: Puerto San Miguel, S/N, 07815 Ibiza, Islas Baleares
12. Alua Hawaii Ibiza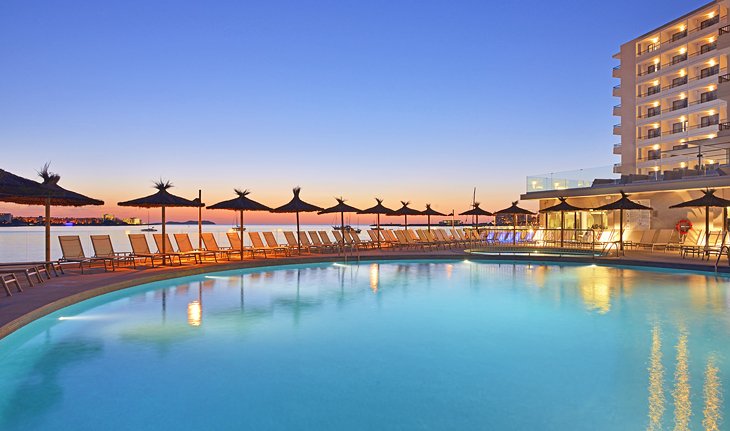 Accommodation: Alua Hawaii Ibiza
On the bay of San Antonio, near the Es Puet oceanfront promenade, the Alua Hawaii Ibiza is a good mid-range hotel option for families. The rooms all have terraces with sea views (except for a few tiny, single rooms), and the hotel offers accommodations with just breakfast or as full- or half-board.
The Alua has sea-view family rooms, larger spaces closer to the beach and in the quiet part of the hotel (the pool can be loud). These easily accommodate up to four people.
Adults can be with other adults in the large chill-out area and sun terrace and in the adults-only swimming pool. Kids will enjoy the main pool, the kids-only pool, and the pool table and ping pong tables. The hotel has a mini club for kids 4-12 with organized, supervised activities and a dedicated play area. Families will enjoy the live music and entertainment (of all types) happening all day and into the night.
Address: Carrer de s'Embarcador, S/N, 07820 Sant Antoni de Portmany, Illes Balears
13. Insotel Fenicia Prestige Suites & Spa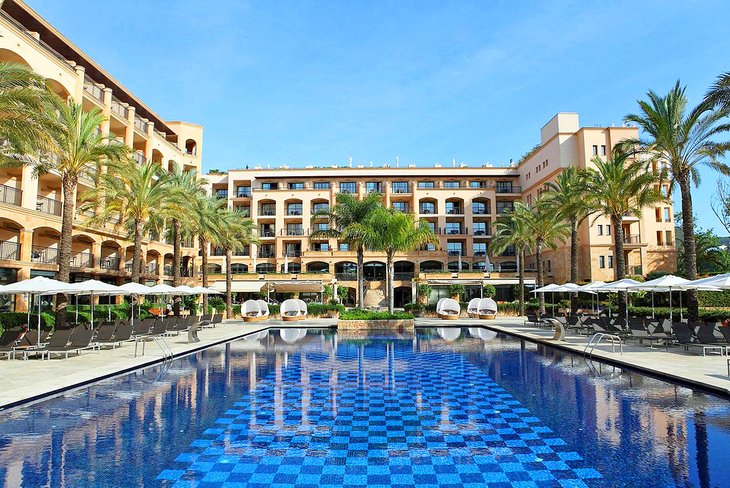 The suites come in a few different layouts. The two-bedroom family suite can sleep up to five people and is a multi-level affair with a kitchenette and separate living space. You'll love the spiral staircase leading to the upper deck that has its own private hot tub. The master bedroom also features a Jacuzzi tub, and the decor is contemporary throughout. Even the junior suites here come with hot tubs on private decks.
The property offers half-board options and has three a la carte and one buffet restaurant. Other amenities include a kids' club, a swimming pool, a fitness center, and evening entertainment. A full menu is also served poolside. If you need a little pampering, check out their full-service spa. Breakfast is complimentary as is parking. Airport transport can also be arranged.
Address: Calle Narcisos S/N, 07840 Siesta, Ibiza Spain
More Related Articles on PlanetWare.com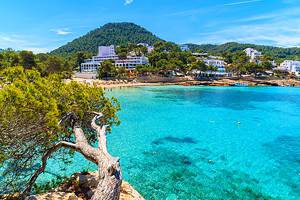 The Beaches: Beaches on Ibiza have different characteristics and character. If you have time to spare and want to venture off your resort, have a look at our list of the best beaches on Ibiza.