15 Best All-Inclusive Resorts in Spain
We may earn a commission from affiliate links ()
Relaxation, rejuvenation, and recreation await on your next all-inclusive vacation in Spain. Whether you are seeking languorous seaside bliss or an action-packed agenda, Spain offers the perfect backdrop of sunshine, stunning scenery, and spectacular sights, while an all-inclusive accommodation provides the pampering and entertainment.
For the ultimate vacation, choose one of Spain's best all-inclusive resorts. These highly rated hotels provide gourmet meals, top-notch amenities, and concierge services, which allow you to soak up the paradisal setting without worrying about a thing.
Most of Spain's all-inclusive resort properties are four-star or five-star hotels located along the coast, ideal for a beach vacation. If not on the beach, the resorts are usually just a short drive from the seashore.
Many resort hotels draw vacationers because they're near some of Spain's best beaches. Other resorts are on the Spanish islands; some are destinations in themselves.
Guests are treated to world-class amenities such as multiple outdoor swimming pools, recreational sports facilities, top-notch spas, and gastronomic restaurants.
Find the best place to stay with our list of the top all-inclusive resorts in Spain.
1. Grand Palladium Palace Ibiza Resort & Spa, Ibiza Island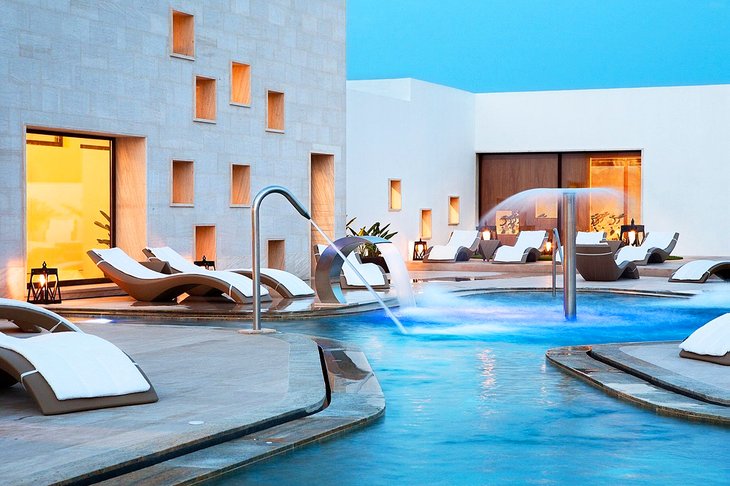 Another selling point is that some of the island's most popular hot spots are located near the hotel, since many travelers come to Ibiza just for the nightlife. The hotel also offers nightly entertainment including live music concerts and shows.
All-inclusive accommodations are available with the Infinite Indulgence program, which covers all meals. Guests can take advantage of their meal plan at the hotel's buffet restaurants. The hotel also offers à la carte dining at an upscale Italian restaurant, a trendy Mexican restaurant with outdoor patio, and a Mediterranean restaurant that focuses on seafood.
Unlike other hotels on Ibiza Island, the Grand Palladium Palace is a family-friendly resort with several outdoor swimming pools. Children will enjoy the splash pool, a special pool in the Mini Club, and a section reserved for kids in the main pool.
Parents and adult guests will appreciate the poolside service, including complimentary sun beds, umbrellas, and beach towels.
For guests who want to stay in shape, the Grand Palladium Palace Ibiza Resort has tennis courts, beach volleyball courts, and activities such as aerobics and Zumba classes.
For those who need pampering, the hotel's Zentropia Spa features an indoor hydromassage pool, a Jacuzzi, an outdoor swimming pool, and a Finnish sauna. The spa also offers beauty treatments and has a fitness center with an outdoor terrace for exercising.
2. Hotel RH Princesa & Spa, Benidorm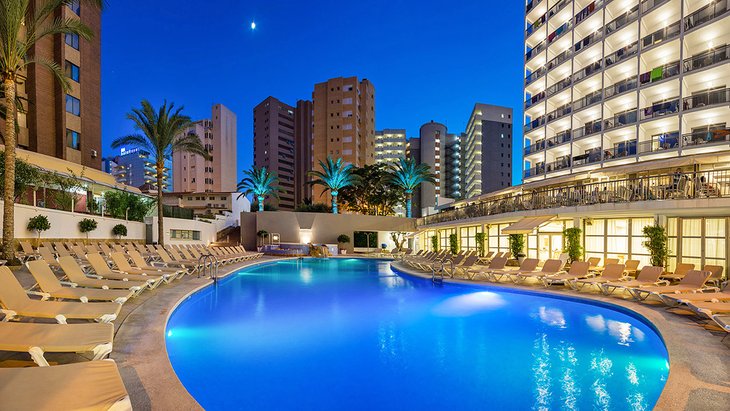 The four-star amenities at this family-friendly resort include a café, buffet restaurant, Game Center, outdoor swimming pool, children's pool with waterslide, splash pool for toddlers, water games, and kids' club with activities to keep little ones entertained.
The on-site spa features two indoor pools, a Jacuzzi, Finnish Sauna, steam bath, and fitness area.
3. PortBlue Club Pollentia Resort & Spa, Mallorca Island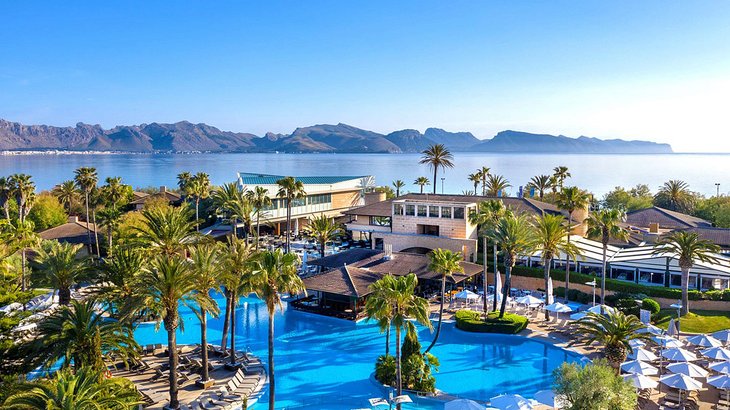 This four-star resort hotel is found in Alcúdia between the Albufereta Natural Park and the Bay of Pollença.
The resort's lodgings and facilities are spread out on beautiful grounds with landscaped gardens and natural environments. Sporty types can take advantage of the resort's tennis courts, swimming pools, and fitness center.
Guests also enjoy other recreational activities such as beach volleyball, cycling, archery, and bird-watching. Boating, kitesurfing, and sailing enthusiasts will find the water is just right on the Bay of Pollença. The hotel offers water sports lessons and equipment rentals.
For a relaxing vacation, the hotel offers the choice of half-board or all-inclusive accommodations. Services include a concierge, bicycle rentals, and a free shuttle bus to the beach. Guests can also take the bus (for a small fee) to the town of Alcúdia.
4. Gran Castillo Tagoro Family & Fun, Canary Islands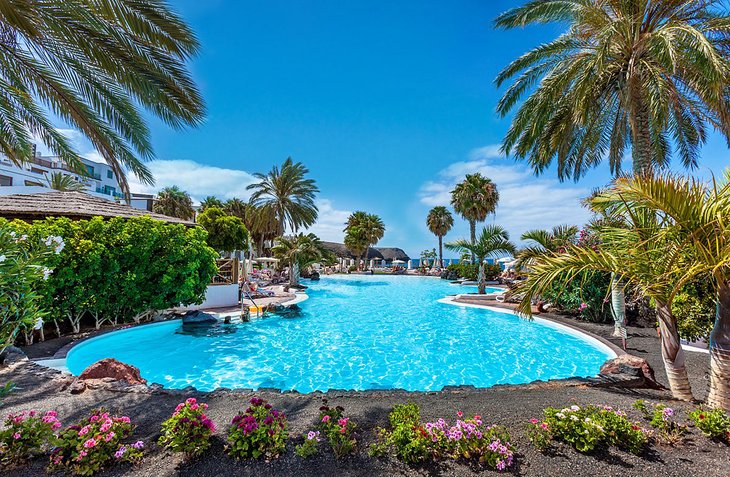 This five-star hotel fronts the Playa Blanca on Lanzarote Island, one of the Canary Islands, featuring an expansive resort property with six swimming pools and three restaurants. Other amenities include Balinese beds, a 5D cinema, a fitness center, and a recreational sports area.
The all-inclusive accommodations at the Gran Castillo Tagoro include breakfast and dinner, as well as refreshments. Meals are served at the hotel's buffet restaurant, which specializes in international cuisine.
5. Barceló Cabo de Gata, Almería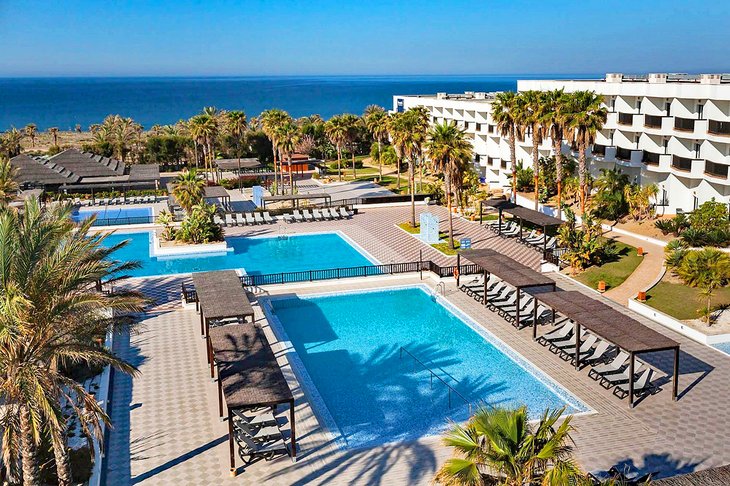 Set along the coastline of the Andalusia region (a 10-minute drive from the Almería airport and two-hour drive from Granada), this four-star resort boasts expansive gardens, a full-service spa, a fitness center, and four outdoor swimming pools.
Tucked away in a picturesque seaside setting, the resort offers easy access to the beaches of the Almería area, which are regarded as some of the best beaches in Spain.
Another highlight of the location is its proximity to the Cabo de Gata Natural Park. The hotel offers guided hiking and trekking excursions in Cabo de Gata National Park as well as scuba diving courses.
Barceló Cabo de Gata offers half-board (breakfast and dinner included), full board (all meals included), and all-inclusive accommodations.
Meals are served at the hotel's buffet restaurant. Another restaurant offers à la carte dining on a terrace with sea views; the menu focuses on cuisine of the Almería area.
Bright and spacious, the guest rooms feature minimalistic contemporary-style décor. All of the rooms have large windows that look out onto the sea, the swimming pools, or the gardens.
6. Zafiro Palace Alcúdia, Mallorca Island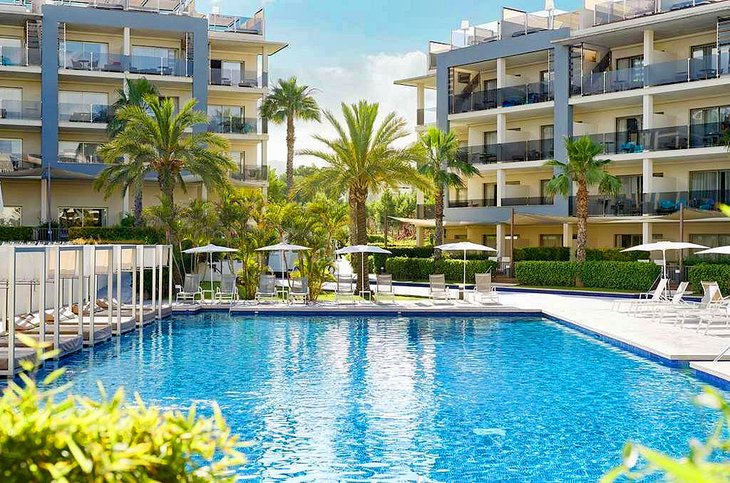 This chic, modern five-star resort hotel offers two different all-inclusive options: half-board (breakfast and dinner) or a premium all-inclusive program with three meals daily plus refreshments.
With any of the all-inclusive programs, guests may dine at the hotel's buffet restaurant (for breakfast, lunch, and dinner), at a fine-dining à la carte restaurant that serves Mediterranean cuisine (for dinner), or at a trendy Italian à la carte restaurant (for dinner).
Family-friendly amenities include the children's playground and kids' activities; children's pools, one with a pirates theme and another that features bubbles; and several outdoor swimming pools (one is adults-only).
Another highlight of the resort is the full-service spa with sauna, indoor pool, hydromassage pool, and Turkish baths.
7. Barceló Tenerife, Canary Islands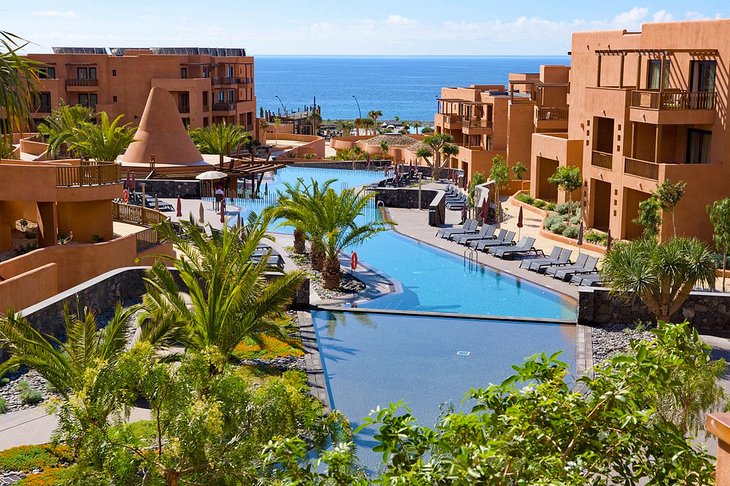 Highlights of staying at this resort hotel are the expansive grounds with seven outdoor swimming pools, a lake, beach access, and a beach volleyball court. The hotel also has a wellness area, recreational sports facilities, and a children's playground.
8. Ushuaïa Ibiza Beach Hotel, Ibiza Island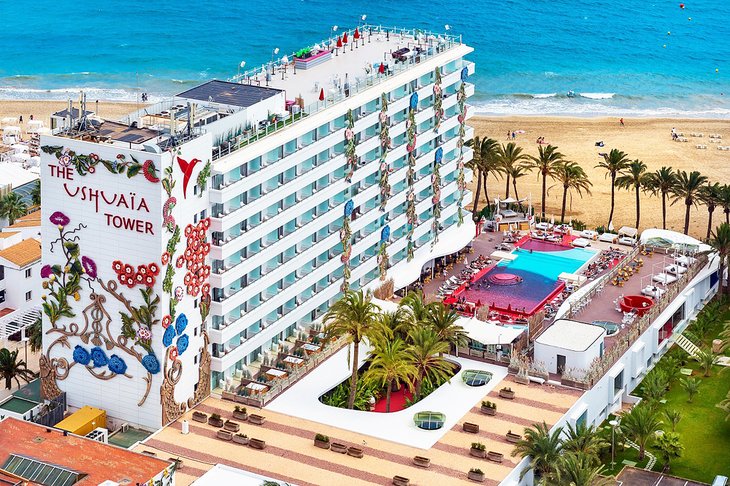 This five-star resort features a popular beach club with internationally renowned DJ music, an outdoor swimming pool, spa services, several trendy gastronomic restaurants, two outdoor swimming pools, a rooftop pool, and guest rooms decorated in cutting-edge style.
The hotel's all-inclusive option, called Ushuaïa Flavours, covers accommodations plus a gourmet fixed-menu meal at one of the hotel's restaurants: dinner at Montauk Steakhouse or lunch at The Beach by Ushuaïa (advanced reservations are required).
9. Iberostar Las Dalias, Canary Islands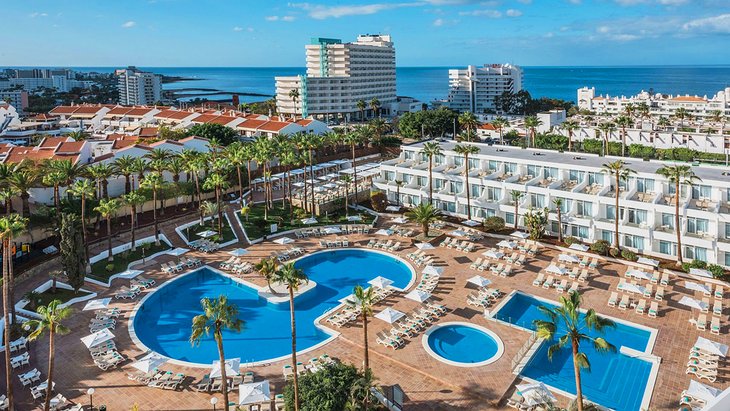 Highlights of this four-star resort property include a fitness center, two outdoor swimming pools, a children's pool, a children's playground, a game room, a gourmet restaurant, and a poolside snack bar. The resort is only a 10-minute walk to one of the finest beaches on the island.
Guest rooms feature minimalistic modern décor and extra amenities such as safes, telephones, minibars, and hair dryers. Large windows and balconies allow for wonderful views of the ocean, pool area, or the property's landscaping.
10. Hotel Helios Costa Tropical, Almuñécar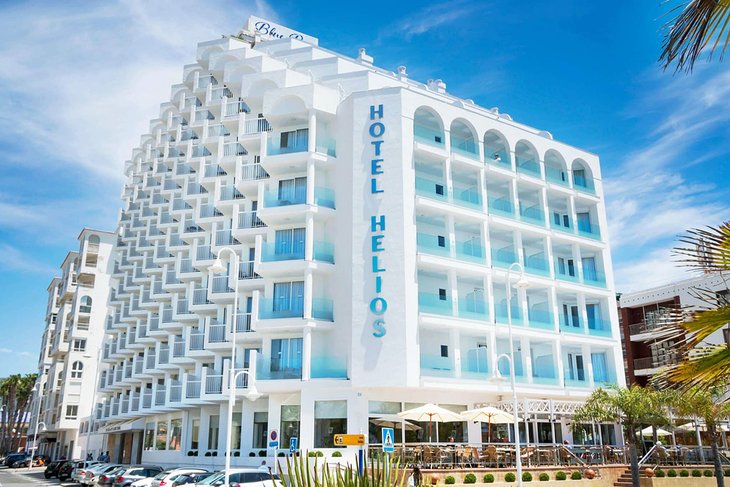 Guests may choose from two all-inclusive options, either half-board or full-board. Meals are served at the hotel's buffet restaurant, which serves a full hot breakfast and Mediterranean or international cuisine for lunch and dinner.
Amenities at this three-star beachfront resort hotel include an outdoor swimming pool and hot tub and a spa with a sauna, steam room, and Jacuzzi.
11. Sumus Hotel Monteplaya, Malgrat de Mar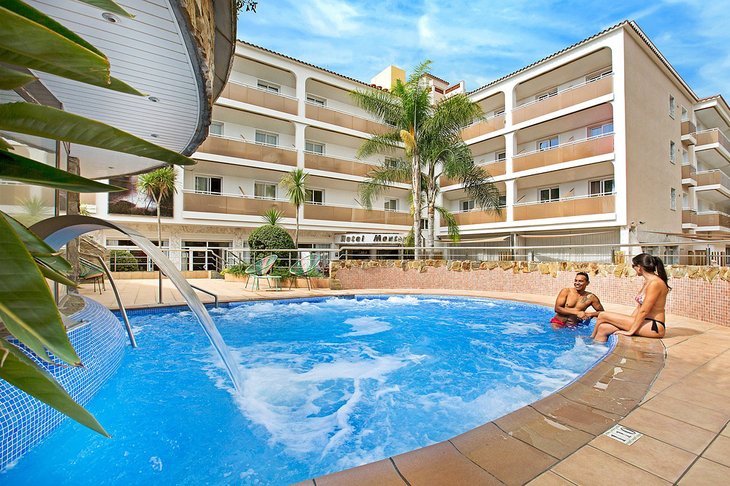 The location in Malgrat de Mar allows travelers to explore the nearby Costa Brava, the 200-kilometer coastline in the Catalonia region that draws many holiday-goers to its sandy beaches and quaint towns.
This all-inclusive hotel is designed for adults only. Guests appreciate the outdoor swimming pools and sundeck; the full-service spa that offers massages and beauty treatments; a relaxing Zen Garden; the squash, tennis, and mini-golf facilities; and the exercise classes such as yoga and pilates.
In the evenings, the hotel entertains guests with DJ music and live music concerts.
The resort offers three different types of accommodations with meals: half-board, full-board, and all-inclusive. Meals are served at the hotel's buffet restaurant, which features Mediterranean and international cuisines.
12. Iberostar Albufera Playa, Mallorca Island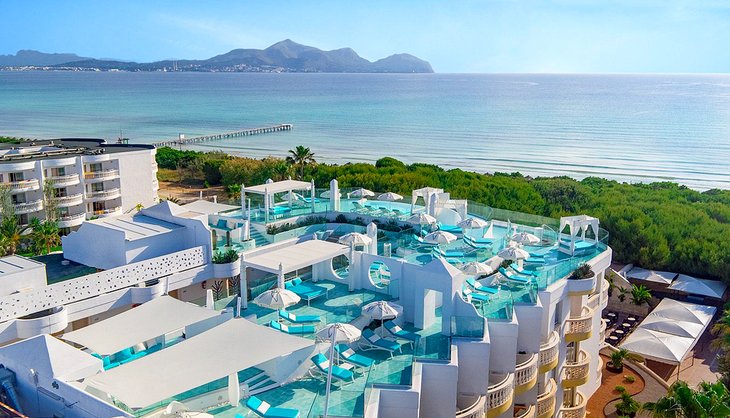 The property's spa features Balinese beds and an indoor pool. The hotel offers half-board, which includes breakfast and dinner, or all-inclusive accommodation, which covers breakfast, lunch, dinner, snacks, ice cream, and drinks.
The hotel's buffet restaurant offers international cuisine and traditional Mallorcan dishes. Guests can also choose to dine at the hotel's Mediterranean restaurant or poolside snack bar.
About a 15-minute drive from Puerto Alcúdia on the Island of Mallorca, the hotel is just steps away from the pristine Muro Beach, which has been awarded a Blue Flag for water quality and safety.
Nature lovers will also appreciate the resort's proximity to the Albufera Nature Reserve, a short drive or bike ride away from the hotel.
13. Hotel Aigua Blava, Costa Brava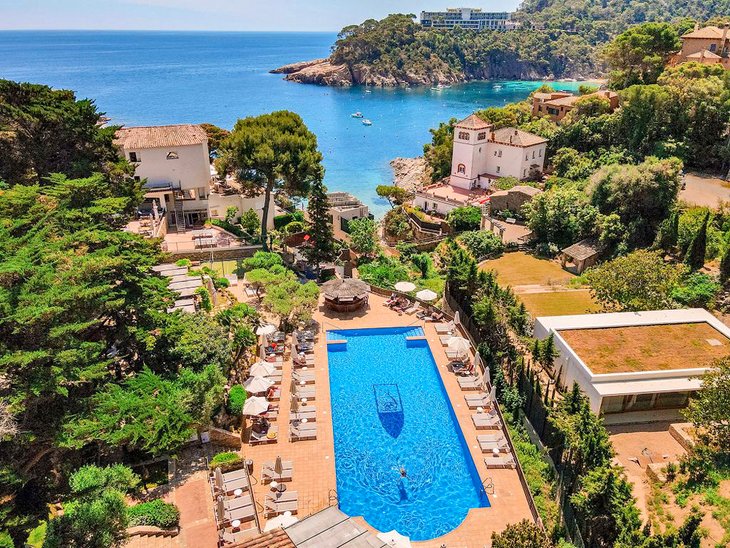 The spacious guest rooms feature private balconies and vistas of the coastline or gardens. This hotel's most desirable rooms (Junior Suites and sea-view rooms) require half-board bookings during the high season, from June 1st through September 23rd.
This four-star all-inclusive resort hotel is renowned for its fine-dining restaurant that serves traditional cuisine of the Catalan region. The Hotel Aigua Blava Restaurant's shaded outdoor dining terrace and romantic garden patio overlook the mesmerizing turquoise waters of Aigua Blava Bay, which is disturbed only by the movement of sailboats and other recreational vessels.
The Hotel Aigua Blava Restaurant makes this resort unique among all-inclusive accommodations, as the restaurant is more upscale and gastronomic than the typical all-inclusive buffet restaurant. It's quite special for an all-inclusive meal plan. Guests can choose from half-board accommodations or bed & breakfast.
Half-board accommodations include a buffet or continental breakfast and dinner at the hotel's restaurant. During the high season, guests with half-board accommodations may choose to have dinner alfresco on the garden patio of the hotel's restaurant.
14. AluaSoul Mallorca Resort, Mallorca Island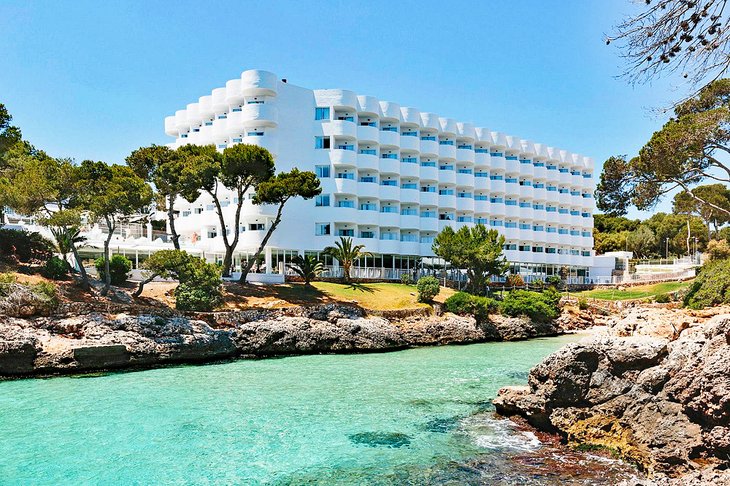 Guests can choose half-board accommodations, which included breakfast and dinner. The best value, however, is the all-inclusive option, which provides breakfast, lunch, and dinner at the hotel's buffet restaurant, as well as snacks, drinks, and one meal at the hotel's à la carte restaurant.
This four-star hotel provides top-notch amenities, including a fitness center, wellness area, outdoor swimming pools, and entertainment. Guest rooms feature minimalistic modern décor, large windows (for admiring views of the sea, pool, or landscaped grounds), and private balconies.
15. Palasiet Thalasso Clinic & Hotel, Benicàssim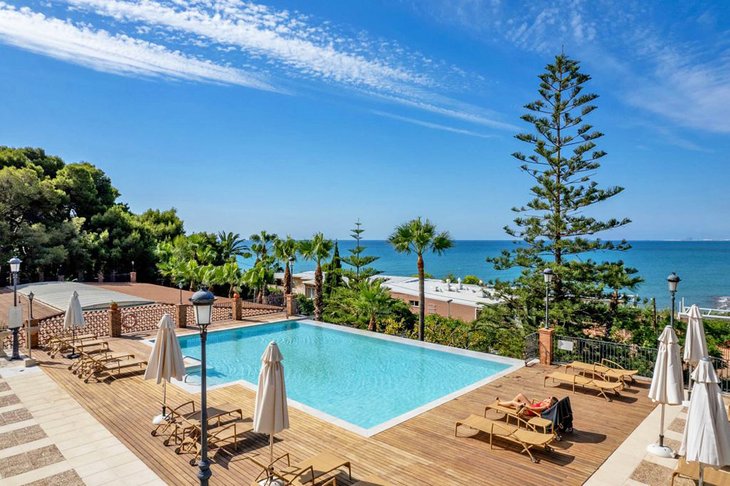 Besides its all-inclusive accommodations with full-board meals, the hotel also offers wellness getaways and yoga retreats.
Nestled in the gardens of a 19th-century villa, the hotel is just a short walk from the beach and features spectacular sea views.
The resort fronts the shoreline of the Benicàssim Bay in the seaside resort town of Benicàssim, about an hour drive north of Valencia.