Where to Stay near Mount Rushmore: Best Areas & Hotels
The Mount Rushmore National Memorial of South Dakota attracts more than three million visitors a year. Whether it's the history, symbolism, or eye-catching appeal that attracts such a crowd, there is no denying the stoic faces add to a remarkable landscape.
It's not just the marvel of engineering that makes Mount Rushmore such a fun place to visit. It's the surrounding Black Hills National Forest that makes a beautiful backdrop for a great adventure. This adventurous region of South Dakota is a major tourism destination in the summer months, with hundreds of hotels and places to stay.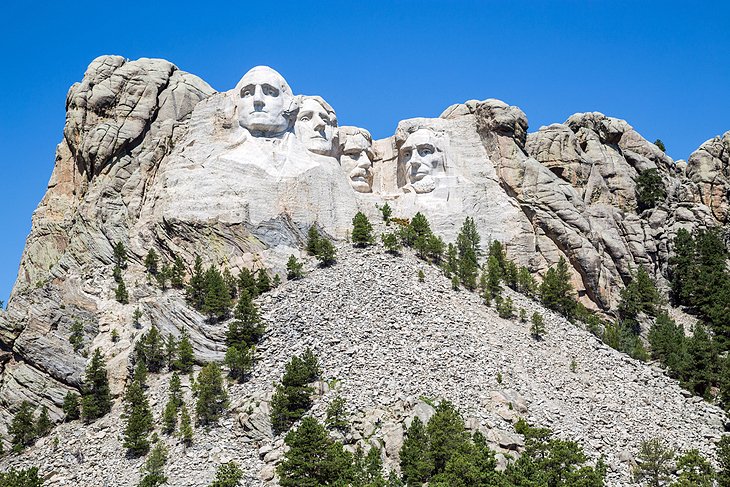 Whether searching for a quality budget hotel or romantic place to spend the weekend, the cities surrounding the memorial have plenty of options. These cities include Keystone, Custer, Hill City, and Rapid City. Each of these fun places to visit also include access to many other Black Hills attractions including caves, gold mines, and the largest state park in South Dakota.
Where to Stay near Mount Rushmore: Mid-Range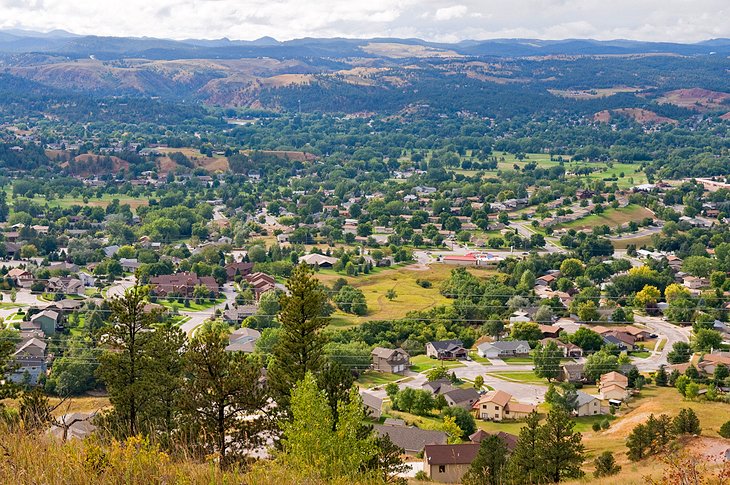 South of Mount Rushmore, the city of Custer provides a dense collection of hotels near the monument. Custer hotels also provide quick access to many other Black Hills attractions, including the 71,000-acre Custer State Park.
On the northwest edge of the city, the Bavarian Inn, Black Hills is a scenic getaway worthy of its postcard surroundings. This local hotel provides beautifully furnished rooms and a pancake bar to enjoy each morning.
Located closer to Custer's city center, the Rocket Motel offers retro lodging options that are a blast from the past. Each room at the Rocket Motel comes with modern conveniences and a cleanliness that lends to a comfortable overnight stay.
Northeast of Mount Rushmore, Keystone is the closest town to the memorial. Each overnight option here comes with great views of the surrounding Black Hills. The K Bar S Lodge, in particular, gives an up-close look at the nearby Needles formation and provides modern, spacious rooms with an unequivocal Black Hills feel.
A 30-minute drive from Mount Rushmore, Rapid City provides the most amenities of any city surrounding the memorial, with plenty of accommodation options. One of the best values here can be found at the Cambria Hotel & Suites Rapid City. This stylish hotel features clean and comfortable rooms, as well as a fitness center, spa services, and heated pool to really make for a relaxing stay.
Located 14 miles from Mount Rushmore, Hill City was founded during the Black Hills Gold Rush in 1876. Alongside this rich history, it presently offers annual events, great dining options, and excellent hotels. For one of the best stays in Hill City, the Comfort Inn & Suites provides a modern space with decorative rooms and suites. The hotel features a full free breakfast, indoor pool, and fitness center.
Where to Stay near Mount Rushmore on Family Vacations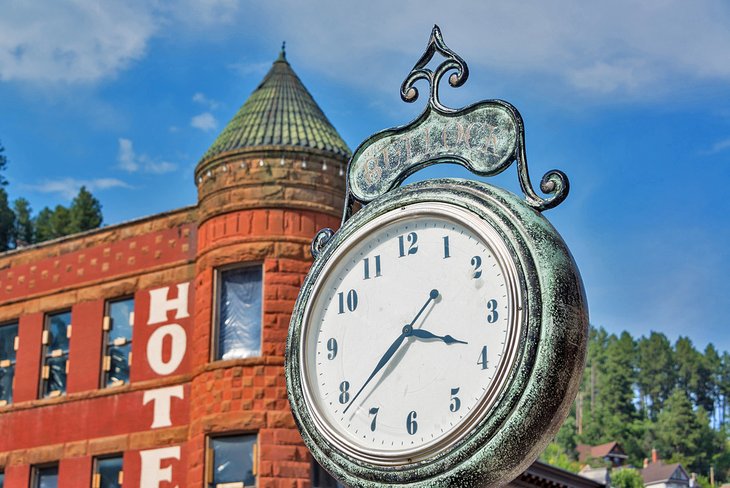 The Holiday Inn Express and Suites in Custer is a popular hotel for family vacations. Alongside an affordable price, the hotel is surrounded by all the top attractions of the area. Mount Rushmore is only 30 minutes away. For some family time between adventures, the hotel has a spacious indoor pool, beautiful backyard, and game room.
The Lodge at Deadwood is also popular with families. This resort-like hotel features several amenities catering to both children and adults. For the younger visitors, the elaborate Indoor Water Playland is always a big hit. And the in-house Oggie's sports restaurant features kids' menus for all three meals of the day.
Both the Comfort Suites and Grandstay Residential Suites in Rapid City also entice family travelers. These two reputable hotels feature larger rooms that ensure plenty of space. Both properties also have large indoor pools, perfect for burning off any extra energy at the end of the day.
Where to Stay near Mount Rushmore on a Budget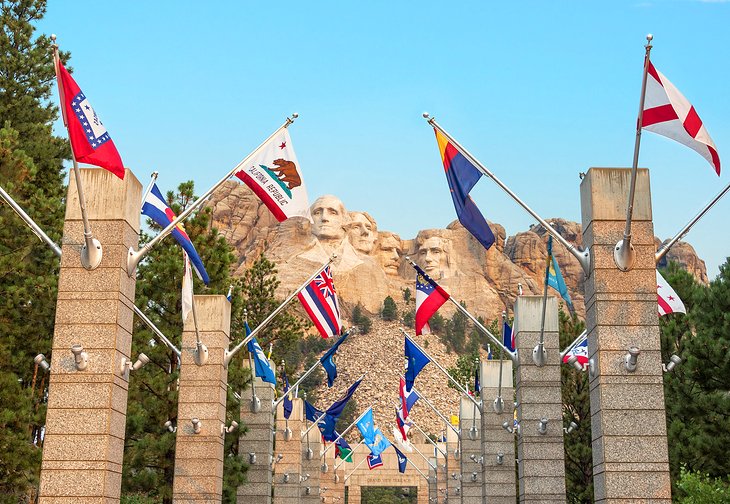 If you are looking to maximize your vacation dollars on your next trip to Mount Rushmore but don't want to trade price for quality, the Brookside Motel in Keystone delivers on affordable rates and clean rooms. Only 10 minutes away from the memorial, the Brookside Motel has garnered a reputation for its well-maintained facilities, comfortable beds, and proximity to other major Black Hills attractions.
The city of Custer has many affordable hotels to choose from, including the Super 8 Custer/Crazy Horse Area on Mount Rushmore Road. This chain motel features quiet rooms, free breakfast, and is one of the best values in town.
Towards the center of Custer, the Chief Motel provides air-conditioned rooms, a beautiful indoor-pool area, and proximity to many local restaurants. At the center of the city, the affordable rates at the Econo Lodge Custer include breakfast, Wi-Fi, and a business center, as well as clean and comfortable rooms.
Just under 30 miles from Mount Rushmore, the Days Inn Rapid City provides affordable rates on the outskirts of the Black Hills. With pickup and drop-off services to the nearby Rapid City Regional Airport, in combination with clean rooms, comfortable beds, and room-service, the Days Inn Rapid City provides the perfect beginning or end to a Black Hills vacation.
Where to Stay near Mount Rushmore for Romance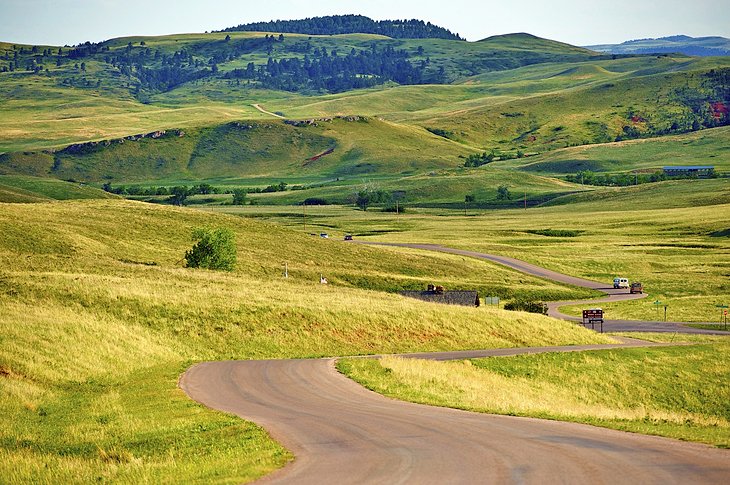 Just over 20 miles north of Mount Rushmore, Rapid City provides the most luxurious of all romantic hotel options near the Black Hills. Hotel Alex Johnson Rapid City, Curio Collection by Hilton is listed on the National Register of Historic Places and features upscale rooms and suites. This romantic retreat also features in-house spa services and fine dining just off the lobby.
If you are looking for a romantic overnight outing in the Black Hills, Coyote Blues Village B&B in Hill City is a good choice. This B&B features themed rooms, secluded surroundings, and private patios. In addition to the pristine location in the Black Hills, Coyote Blues provides cozy and comfortable rooms and one of the best breakfast spreads you'll find in the area.
On the other side of Hill City, High Country Guest Ranch also provides a romantic experience through their rustic facilities and wide-open surroundings. Outside of their log-cabin accommodations, visitors to High Country Guest Ranch enjoy access to the outdoor pool, the attached High Country Grille, and the guided trail rides on horseback.