Where to Stay in Myrtle Beach: Best Areas & Hotels
We may earn a commission from affiliate links ()
Myrtle Beach has a remarkably wide range of lodging options for every type of traveler, from high-end luxury villas to ultra-affordable budget hotels that don't skimp on service or cleanliness. The best hotels in the area are just a short distance from family attractions, highly-rated golf courses, a variety of restaurants, and shopping galore.
Most tourists are in town to enjoy the beach, and the majority of hotels are found along the shore or within just a few blocks. At the northern end of the beach is the upscale Grand Dunes area, whereas the central section of the beach is more crowded but convenient to the top tourist attractions, like the Boardwalk, the pier, and the towering Skywheel.
The southern end of the beach, although slightly removed from the action, is still within a reasonable distance of main attractions and tends to be more popular with families.
The area surrounding Broadway at the Beach is also a good option for those who want to be close to a variety of things to do, including shopping, dining, family favorites like Ripley's Aquarium and WonderWorks, and activities like mini-golf.
On This Page:
Where to Stay in Myrtle Beach for Luxury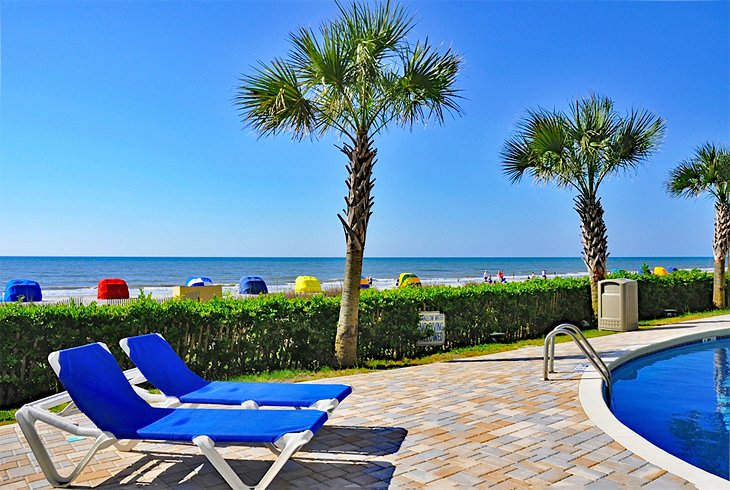 At the northern end of Myrtle Beach in the Grand Dunes area, Marriott's OceanWatch Villas at Grande Dunes offers luxury beachfront villas, which provide all the comforts of home, including a full kitchen and separate dining and living areas. Everyone can enjoy the pools as well thanks to the designated adult-only "serenity" area and the kids' pool, as well as a pool for all ages.
The OceanWatch and neighboring luxury hotel Myrtle Beach Marriott Resort & Spa at Grande Dunes share an exclusive spa, which offers a full range of services, including in-room treatments.
This resort has all the charm of an island retreat, complete with a guests-only beach and network of both indoor and outdoor pools serviced by attentive waitstaff. It is also welcoming to younger guests, with a fun kids' club, where they can participate in a variety of activities, from baking to creating their own unique souvenirs and keepsakes.
Another excellent beachfront luxury option is Hilton Grand Vacations Club Ocean 22 Myrtle Beach, which sits farther south along the shore, under ten minutes by foot from the Skywheel and Ripley's. This all-suite hotel offers every convenience, from a full kitchen and washer/dryer in each guest suite to a kids' activity center and free DVD rentals. Other top amenities include an on-site deli and market, a variety of pools, and a large fitness center.
At the north end of Myrtle Beach is Royale Palms Condominiums by Hilton. These are located within the Kingston Resorts complex, which is home to nine different swimming pools, restaurants, and a health club. There is also beach access. If you wish to play golf, the concierge can arrange tee times at Myrtle Beach's numerous golf courses.
The suites come with private balconies, and many of them feature direct ocean views. All come with kitchenettes and separate living and dining spaces. The property is family friendly and has some children's activities.
Island Vista is also located centrally on the beach in a quieter residential area and has one- to four-bedroom suites, which are all equipped with a full kitchen and washer/dryer. In addition to an on-site spa and oceanfront restaurant, this hotel has spacious pool areas with a variety of comfortable, shaded seating options and staff-facilitated kids' activities and games.
Where to Stay in Myrtle Beach: Mid-Range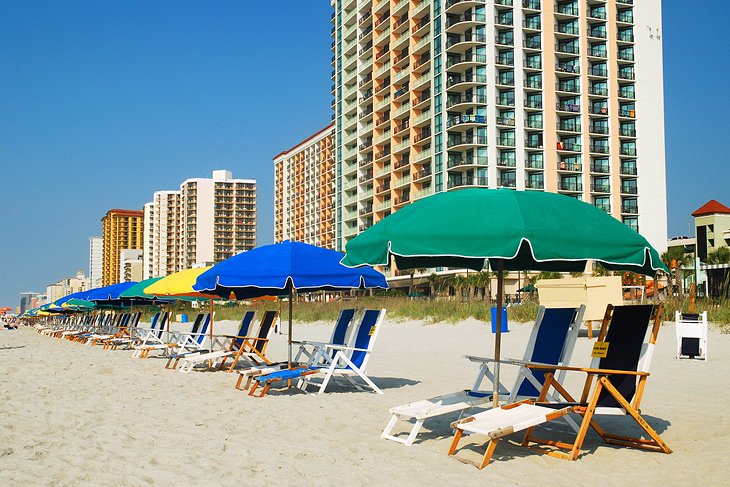 The Anderson Ocean Club and Spa, Oceana Resorts is a good mid-range option, which is centrally located along the beachfront within a reasonable stroll to the Skywheel and other local attractions, including golf and restaurants. This condo-style resort offers two- and three-bedroom units with full kitchens and has a wide range of amenities including an excellent day spa and multiple pools, as well as a lazy river for a relaxing float.
Although it does not sit on the beach, the Hampton Inn Myrtle Beach - Broadway At the Beach is another excellent mid-range option for those who want to be close to the activity and attractions of the Broadway area.
Sitting next to Pavilion Park, this hotel is close to family attractions like Ripley's Aquarium and WonderWorks, as well as several highly rated restaurants and shops. In addition to indoor and outdoor pools, the hotel offers a free shuttle service to and from the beach, as well as other perks like free breakfast and parking.
The Homewood Suites by Hilton Myrtle Beach Oceanfront is located right on the Boardwalk, just steps from the beach. It boasts an indoor kiddie water park and playground, as well as an outdoor water park that features waterslides and a lazy river. Guest suites are updated and stylish, and suites include a dining and seating area, as well as private balconies. There is free parking for guests, and amenities include a fitness center, water sports equipment rentals, and complimentary use of beach chairs and umbrellas.
Where to Stay in Myrtle Beach on a Budget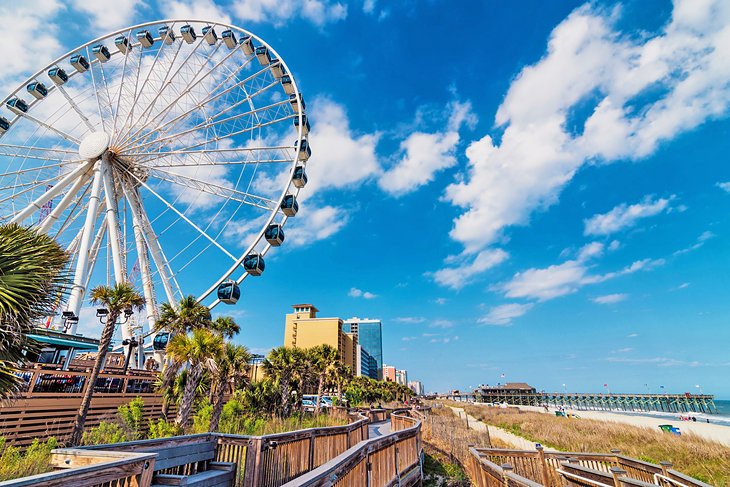 The best places to stay on a budget are at the area's remaining mom-and-pop accommodations, all of which have endured the influx of big chain hotels by remaining dedicated to personal service, cleanliness, and exceptionally reasonable prices.
Located in the central section of Myrtle Beach near the Skywheel and the pier, the Admiral Motor Inn is a small, privately owned beachfront property, which offers free parking and Wi-Fi and exceptionally clean rooms. For those who would like to stretch their dollar even more, there are kitchenette units, which include a small stove and full fridge. Guests should note that there are no elevators.
The Vancouver Motel is also a smaller beachfront option in this area, which has a large outdoor pool, free parking and Wi-Fi, and a microwave and mini-fridge in each room. The Vancouver is pet-friendly, and the unique tile floors in guest rooms are a clever way to keep away the common mildew-scent that seems to plague waterfront lodgings.
Another small beachfront hotel, located near the Vancouver Motel on the southern end of the beach, is the Sea Hawk Motel Myrtle Beach. It also offers free on-site parking, Wi-Fi, and has a pool, as well as self-serve laundry facilities. Small pets are welcome.
Where to Stay in Myrtle Beach for Families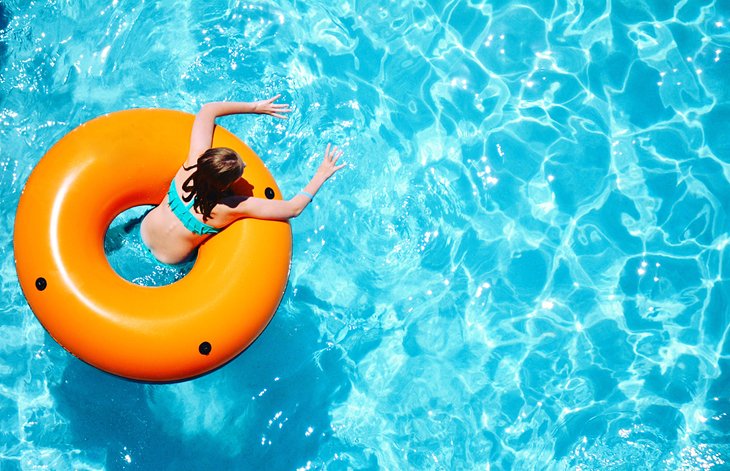 Although it is not a fancy resort loaded with amenities, Waikiki Village Motel makes the top of the list for family accommodations because of its excellent service and value. It is set just one block back from the beach, close to the popular family attraction Radical Ropes Adventure Park at the south end of Myrtle Beach.
The newly renovated property features free parking, a heated pool and indoor hot tub, bocci-ball court, and self-serve laundry. For added convenience and value, kitchenette rooms are available and there are also outdoor grills.
Just a couple of blocks away, Hampton Inn & Suites Myrtle Beach/Oceanfront is a higher-end property, which caters to families, featuring seven pools and two lazy rivers, as well as a beachfront playground, with plenty of shaded seating for everyone. Family rooms and kitchenette suites are available, and a complimentary breakfast is offered as either a sit-down meal or pre-packed for when you are on the go.
For a family-oriented resort experience, the Dunes Village Resort has everything you could want right on the property, including two restaurants and a cafe. Parents can fully relax while the kids participate in the resort's supervised recreation programs, enjoying a couple's day at the spa or getting in a game of tennis or basketball.
The crowning jewel, however, is the resort's indoor water park, which features areas for all ages, from a tots-only pool to full-size water slides, a lazy river, waterfalls, and even water basketball.
Where to Stay in Myrtle Beach for Romance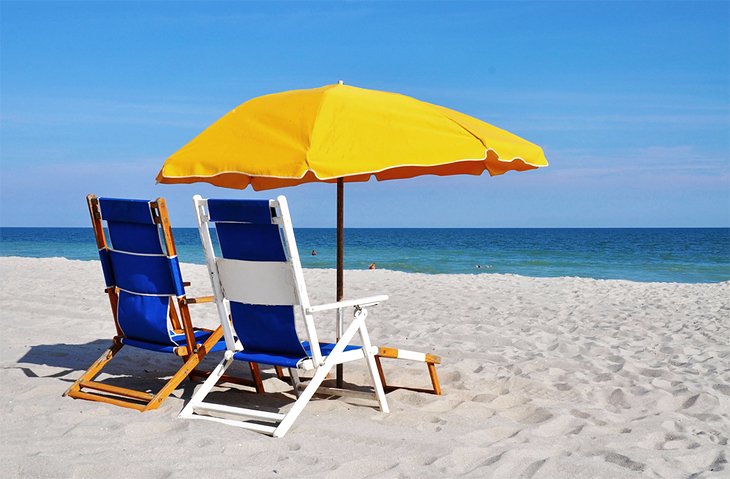 For a romantic beachfront vacation, Coral Beach Resort & Suites offers a variety of room options, multiple in-house dining venues, and plenty of things to do. Couples can relax in the his-and-hers saunas or adult-only Jacuzzis and enjoy live entertainment by the pool and nightly karaoke. The resort also features fun games like foosball and air hockey, as well as pool tables and an eight-lane bowling alley.
Those who want to get away from the bustle and inevitable population of families at the beach will enjoy the Marina Inn at Grande Dunes, located along the more subdued intracoastal waterway next to a large marina. The resort provides shuttle bus service to a private guests-only beach, as well as complimentary towels, chairs, and umbrellas, but couples may not want to bother leaving this luxury resort.
Among the excellent amenities are in-room spa services, a sauna and fitness center, tennis courts, and a championship golf course.
Oceans One Resort bills itself as a romantic resort and features creatively decorated rooms and suites with accent walls and ocean views. They also come with kitchenettes. The hotel is right on the beach and has sun loungers for guests to use.
Other amenities at Oceans One include a heated outdoor swimming pool and hot tub, as well as a fitness center. There is a vending machine on-site, but no restaurant. However, the central location means you can walk to a number of different restaurants, as well as the Myrtle Beach Boardwalk and Promenade. If you need to do laundry, there are coin-operated machines.
Where to Stay near Myrtle Beach Airport (MYR)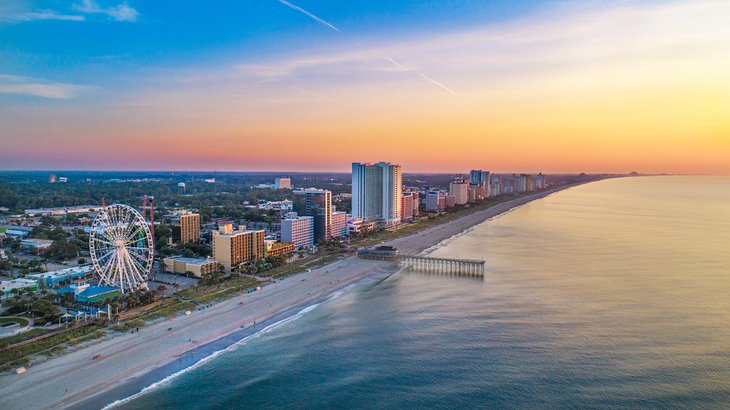 Conveniently located right next door to a large mall full of shopping and dining options, the Homewood Suites by Hilton Myrtle Beach Coastal Grand Mall offers free transportation to and from the nearby airport. There is also an on-site convenience store, and suites include a kitchenette with a dishwasher and dining area. This hotel is also pet-friendly, with amenities including both self-service laundry and laundry service, a fitness center, Wi-Fi, and free breakfast. For guests who want to take a dip without driving to the beach, there is a beautiful outdoor pool, which features a fountain and spacious sun deck.
The Hilton Garden Inn Myrtle Beach/Coastal Grand Mall is close by and slightly less expensive than its neighbor. It offers a convenience store, as well as an on-site restaurant that serves breakfast and dinner and provides room service. The hotel features two pools, one indoors, plus a whirlpool and an outdoor fire pit with a comfortable seating area. Rooms include a small fridge and microwave, and pets are welcome.