14 Top-Rated Resorts in the Seychelles
We may earn a commission from affiliate links ()
If a visit to the Seychelles isn't on your bucket list, it should be–no mistakes were made when creating this picture-perfect archipelago. Boasting sugar-white sandy beaches and turquoise water so clear, you can spot marine life from shore, this 115-island haven is fittingly dotted with some of the best resorts in the world.
From opulent spas to helicopter rides to being pampered on the best beaches in the Seychelles, there's no end to the magnificent amenities offered at these top resorts – we're talking butler service, private islands, and top-notch cuisine.
Can you see yourself lounging poolside in a secluded jungle villa? How about practicing yoga in a beachside hut? The top Seychelles resorts offer all this and so much more. A stay at one of them is literally the stuff of dreams, but be warned, they may forever ruin your take on regular hotels.
Before you leave, use our list of the best resorts in the Seychelles to choose the perfect spot for your next island getaway.
1. Four Seasons Resort Seychelles, Baie Lazare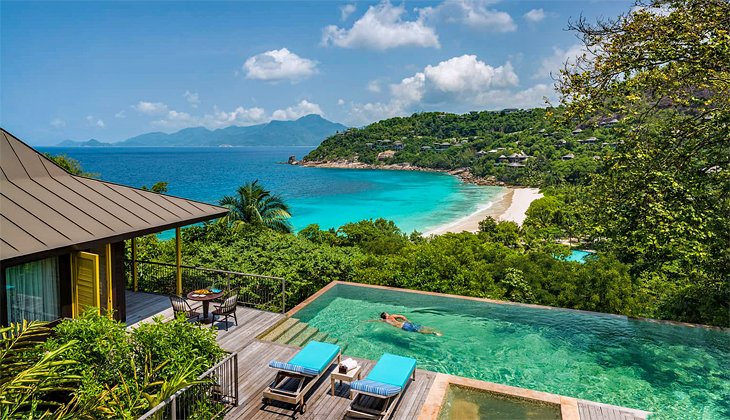 Staying put would be a shame, however, as the idyllic Petite Anse beach lies just below the resort. Hop on a shuttle or wind your way down the forested path to the softest sand you'll ever feel. Seriously, it's like getting a foot massage with each step.
If relaxing seaside isn't enough to brush off life's stresses, head to the spa for a shell massage or marine mineral facial. When hunger strikes, the two main restaurants won't disappoint. Enjoy your palate-pleasing meal with a side of spectacular views – either of the verdant hills or glistening beach.
From surfing lessons to hiking and sailing excursions, there's no lack of things to do at this luxe resort. Looking to up the romance factor? Enjoy a couple's treatment at the spa, whip up a meal in the Creole cooking class, or luxuriate in a bath made by your private bath butler.
2. Six Senses Zil Pasyon, Félicité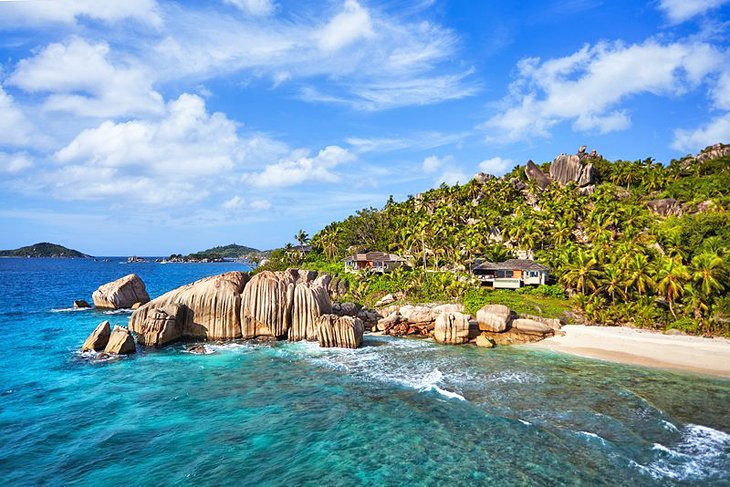 You won't have to fight crowds on the immaculate coral-ringed beaches. Each of the resort's villas (28 one-bedroom and two two-bedroom) come equipped with private pools, decks, and unbeatable views of either the garden or ocean.
Those who book one of the larger two-level residences will enjoy even more impressive design features, as well as a kitchen, dining room, large patio, and sweeping vistas.
It wouldn't be paradise without a spa. Choose between the five treatment villas–Rock, Cave, Nature, Ocean, and Floating–which reflect the island's ecosystem.
Other activities include island hopping cruises, kayak trips to the marine protected Coco island, Creole language lessons, yoga classes, diving excursions, and beachside movie nights.
When it comes to dining, the three restaurants are worth every calorie. Non-meat eaters will love Ocean Kitchen, which celebrates the area's "aquatic surroundings" by featuring local fish, fruit, herbs, and veggies.
Location: Felicite Island, Seychelles
3. Anantara Maia Seychelles Villas, Mahé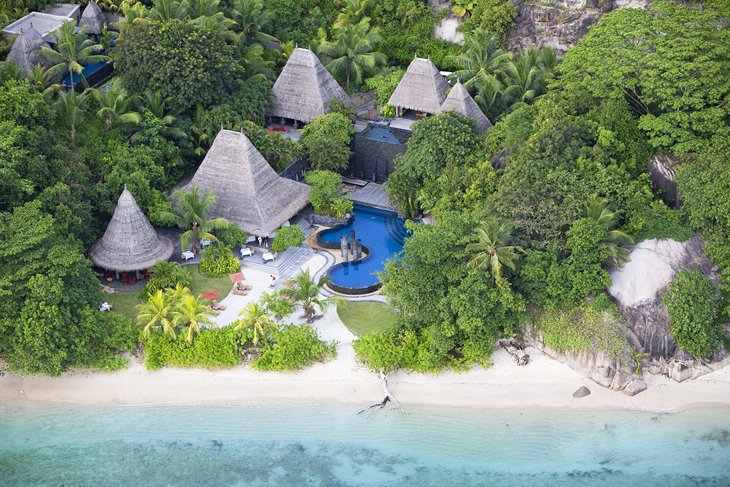 Its 30 secluded villas are so plush, you'll forget what it's like to live below the lap of luxury. Even the bath products are lavish–Hermès anyone? Remember the private pool? It's actually two–one of which is a shallow wading area complete with water lounge chairs; the other an infinity pool.
Now let's get back to that butler. In addition to booking dinner reservations, stocking the fridge with drinks and snacks, and arranging spa services, he or she can also arrange off-site activities and excursions. The resort's butler policy is: "whatever, wherever, whenever;" and they truly mean it.
The TecTec restaurant is the only dining establishment on the resort grounds. It offers five menus, and the five chefs are open to making items not featured on any. The food can also be served (and sometimes cooked) in your villa, enjoyed on the beach, or eaten at a romantic table set on the helipad. The Sunset Pool Bar is a convenient place to grab a light snack or beverage while you swim.
4. Hilton Seychelles Northolme Resort & Spa, Mahé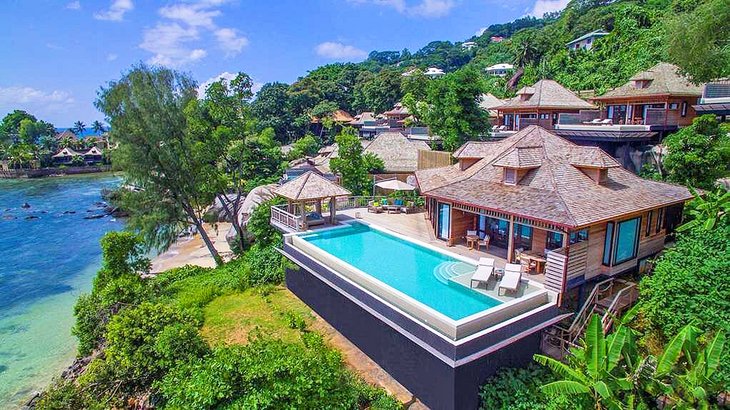 The resort's lavish villas are set on stilts, hovering serenely over the lush tropical forest. Four-poster beds, plush bathrooms featuring soaking tubs, and balconies boasting breathtaking ocean views entice visitors to stay inside for just a little longer.
The property is home to a pristine beach, large infinity pool, luxury spa, and fitness and business centers. Complimentary kayaks and snorkel equipment are provided.
5. Constance Lemuria, Praslin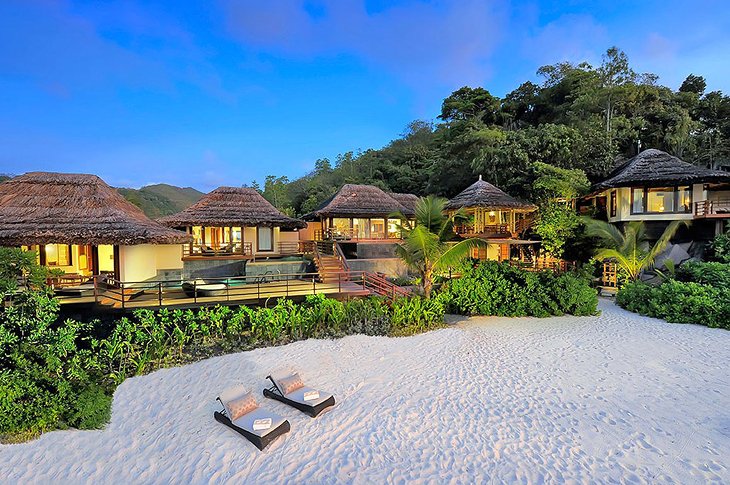 The resort was renovated in 2016, transforming the accommodations into a luxurious modern experience while retaining the island's unique feel with materials like local wood, granite, and thatch palm.
Restaurants include the buffet-style The Legend (you'll never look at breakfast the same way again); the laid-back Takamaka on Petite Anse Kerlan (shoes optional); and the Diva, a modern restaurant featuring delectable international cuisine. Up your romance game by booking a private table at The Nest's deck "on the rocks," where you'll dine among boulders while gazing out at the tranquil azure water.
Another bonus: this resort boasts the only 18-hole championship golf course in the Seychelles. Tip: The view is best from the 13th hole.
6. Raffles Seychelles, Praslin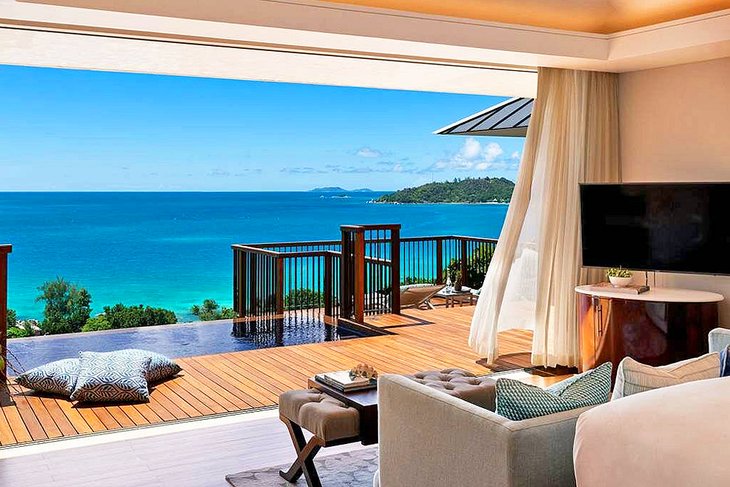 With private plunge pools, outdoor pavilions, day beds, and a rain shower, you'll be hard-pressed to find a more authentic (and lavish) hotel experience. Each villa also comes stocked with a yoga mat, as well as an easel and sketch pad–the staff know just how inspiring the impeccable view can be.
Want an even more extraordinary experience? Book one of the resort's higher-end, one- or two-bedroom villas. They come with 24-hour butler service (or you can pay an extra fee per night for the same service in a lower class of stay).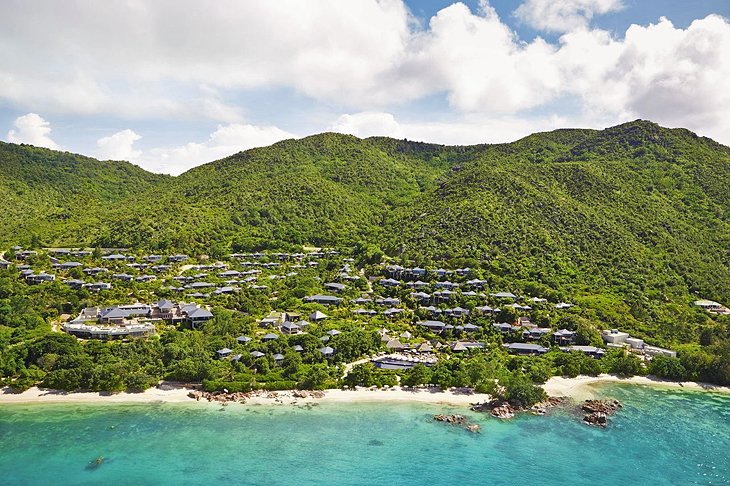 In true Raffles style, the resort doesn't miss a beat in terms of service and five-star facilities (including the food). The Losean Restaurant features a Seychellois night-time menu "inspired by the Indian Ocean," featuring locally caught seafood. Among the resort's other restaurants are a rooftop terrace, poolside dining, and beachfront sushi.
7. Banyan Tree Seychelles, Mahé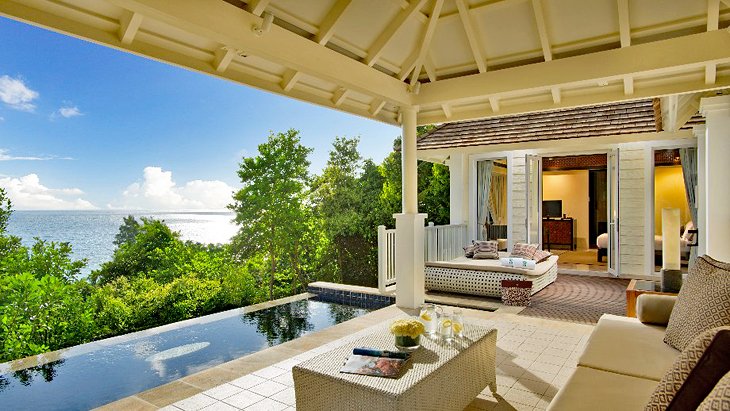 From holistic pampering treatments at the Banyan Tree Luxury Spa (i.e. a rain shower, invigorating body scrub, and oil massages) to the soothing private pool, hot tub, and outdoor shower at your Creole-style villa, relaxing is a must in this paradise.
Situated by the pristine Intendance Bay, you'll want to spend hours snorkeling, swimming, or relaxing on the shimmering white sand.
When you're not spending time beachside, get up close and personal with the protected wildlife on a Wetland Tour of the Wildlife Conservation and Rehabilitation Center, visit the resort's organic farm garden, or take a cooking class to learn the art of creating Seychellois fare.
8. North Island, Seychelles, North Island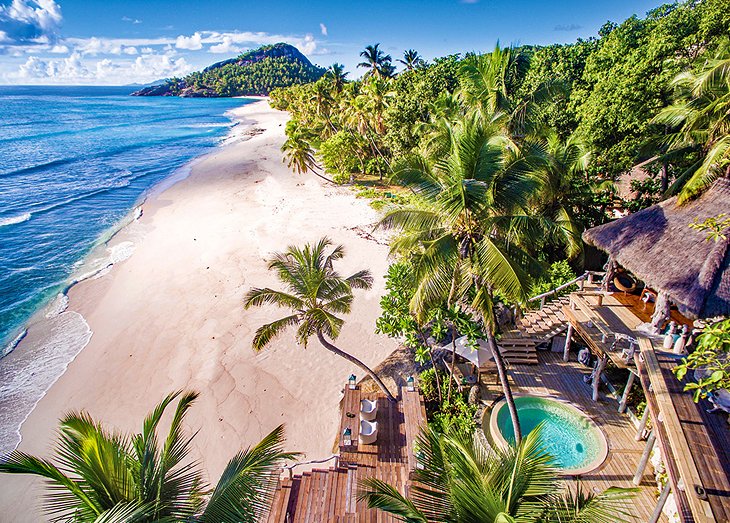 The hefty price tag makes it a top choice for A-list celebs (like the Clooneys and Beckhams) looking for an intimate getaway. No wonder Prince William and the Duchess of Cambridge honeymooned here in 2011. With three private beaches to choose from, even the sandy shores are private.
Each of the spectacular villas boasts beach access, a private garden, plunge pool, outdoor shower, and unbeatable views of the spectacular Ile Du Nord eco-reserve. The resort itself has a spa, fitness center, dive center, infinity pool, and library; all beautifully built into the natural granite rocks.
The staff, including your butler, are more than willing to create the perfect bespoke holiday. They'll plan activities–like the usual Seychellois pastimes of snorkeling, swimming, paddleboarding, yoga, scuba diving, fishing, and boating.
If you've brought the kids along, they'll be well entertained in the "Beach Buddy program," which tailors activities (like pizza-making and pirate treasure hunts) to your child's wishes. As for food, choose from one of the resort's two restaurants: The Piazza and Sunset Beach.
9. Constance Ephelia, Mahé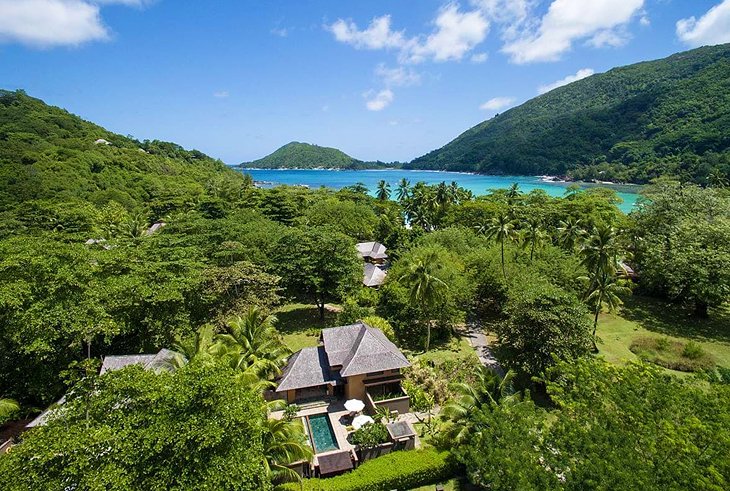 With great size comes great opportunity for added splendor. The resort, which is set within 120 hectares of land, sits on two spectacular beaches overlooking Port Launay, a marine national park. It also lays claim to a variety of pools (five to be exact); restaurants (again, five); and boutique shops selling locally made crafts, art, and clothing. You'll also find a gym and wellness center.
Perhaps most well-loved, though, is the U Spa by Constance, a spa village with 18 treatment rooms, a sauna, pool, and steam room. Kids are welcome, too, with special treatments designed for them.
10. JA Enchanted Island Resort, Round Island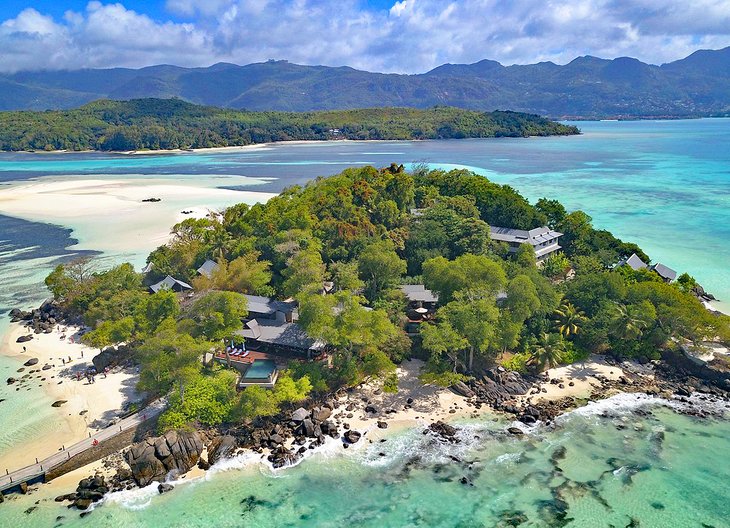 Each lavish one- or two-bedroom pool villa is resplendent in its natural architecture, with the area's local wood and unbeatable ocean views taking center stage. Guests enjoy their own pools, as well as direct beach access and balconies or decks. Private, open-air bathrooms make it easy to soak up the environment as you bathe.
A dedicated personal butler is primed to see to your every need, which means you can become as involved or uninvolved with other guests as you see fit. Speaking of fit, head to the fitness center for a workout or indulge yourself at the spa. If you're feeling more active, the water sports center will arrange for stand up paddleboards, kayaks, and other fun sports equipment.
11. Le Domaine de L'Orangeraie Resort & Spa, La Digue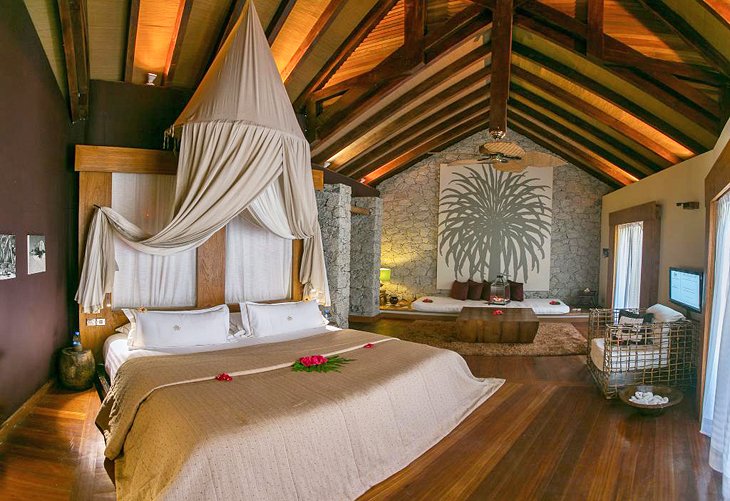 Accommodations include 63 private villas mere steps from the gorgeous Anse Severe beach with its glistening sand and rolling ocean waves. The main, lagoon-like infinity pool is large and gorgeous.
Combava Restaurant is arguably the best place to dine. Situated on a roof terrace, the impeccably designed spot offers unsurpassable views and deliciously fresh food à la carte. That said, Restaurant Santosha offers a more casual buffet experience, with themed dinners that are often cooked in front of guests.
Eden Rock Spa and Wellness center offers a tranquil respite from the heat. It's located on a hill, serenely set among the giant granite rocks native to this region. But the resort's main feature is best enjoyed barefoot. Sink your feet into the beach's soft sand, take a dip in the warm water, or snorkel out from shore.
12. Hilton Seychelles Labriz Resort & Spa, Silhouette Island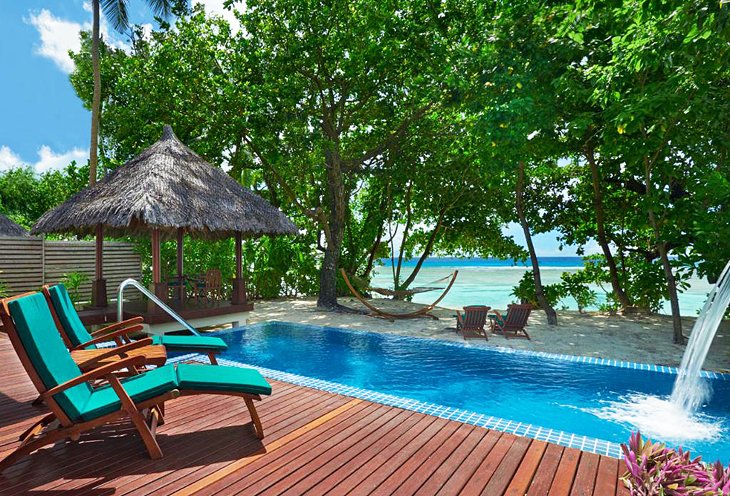 Reachable by helicopter or boat, this friendly spot makes it easy to feel at home. From an active kids' club to a PADI Five-Star Dive Center, and guided hikes through the rainforest, there's plenty for families to enjoy. Plus, the on-site bikes (free to rent for the first hour) make getting around the island that much more fun.
One of the resort's best attributes is afforded by Mother Nature herself. The island, which is an established marine national park, is home to several pristine, white-sand beaches peppered with giant granite boulders, backed by dramatic mountains, and hugged by verdant rain forest. Animals are protected, so don't be surprised to see hermit crabs waddling along or turtles swimming nearby.
Looking to unwind? Head to the hilltop spa. You'll find a quieter plunge pool along with stunning treatment rooms. Tip: Don't miss out on the spa's complimentary tea; it's divine.
13. Kempinski Seychelles Resort Baie Lazare, Mahé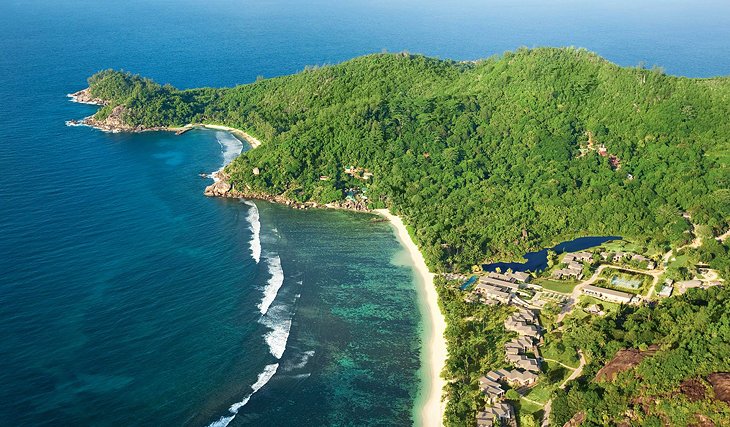 The resort's hill-view rooms offer balconies with vistas of a natural lagoon backed by incredible rock formations, mountains, and a verdant forest. Sea-view rooms are similar but face the ocean, which lies just ahead of the perfectly manicured gardens.
Three restaurants cater to resort guests, as does a luxury spa with six treatment rooms (including one exclusively for couples). Those looking to stay active can choose between a variety of activities, like tennis, beach volleyball, yoga, paddle boarding, surfing, swimming, scuba diving, and hiking.
14. Story Seychelles, Mahé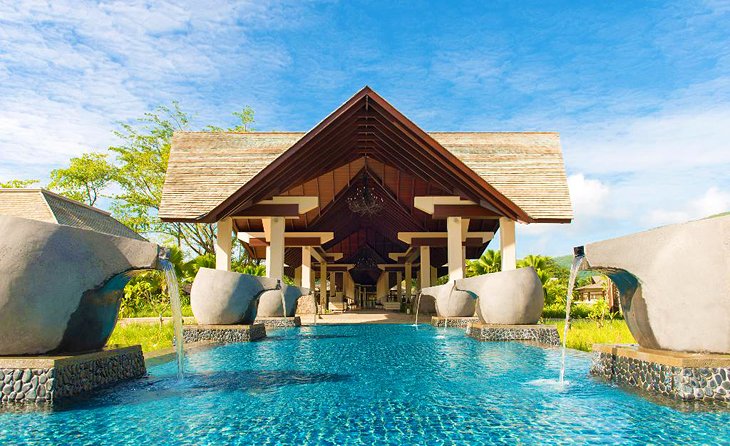 This boutique resort isn't as lavish as some of the others on this list–you're not going to find yourself floating in a private pool with a butler ready to jump at your every command. Sometimes referred to as the H Resort Beau Vallon Beach Mahé Island (confusing, we know), the Story resort has other attributes. It boasts an impressive infinity pool, fitness center, diving activities, spa and wellness center, sauna, a tennis court, and kids' club.
Located a mere 10 minutes from Victoria (the capital), guests at the Story Seychelles will have plenty of dining and shopping options off campus. Visit Market Street, Kenwyn House, or the National History Museum while you're near.
More Related Articles on PlanetWare.com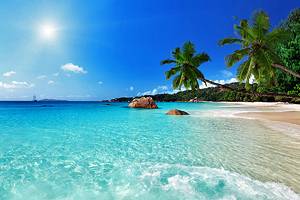 More on the Seychelles: If you are still in the process of planning your trip and want to learn more about the destination, see our article on the Top Tourist Attractions in the Seychelles. Beach lovers will also want to see our list of the Best Beaches in the Seychelles.