10 Top-Rated Resorts in Rhode Island
Whether you are visiting Rhode Island for a beach holiday, history lesson, or a spot of city life, there are resort options for all types of travelers, from budget to luxury and families to couples.
Most of the best resorts are found in or around swanky, beautiful Newport, which is located right on the water and filled with mansions from America's famous Gilded Age when it was a favorite vacation spot for the country's most wealthy families. The Breakers, which was the Vanderbilt family's summer home, is here. You'll also find properties like The Chanler at Cliff Walk, Castle Hill Inn, and Gurney's Newport Resort & Marina in Newport, which are great for a romantic weekend getaway.
And despite Newport's reputation for glitz and glamor, there are some value-conscious, family-friendly options in town. If you're bringing the kids and maybe the grandparents, take a look at the Wellington Resort for good value, while Forty 1° North and the OceanCliff Hotel are good options if you don't mind spending a little more for a luxe, modern vibe. Rhode Island resorts are also often pet-friendly, so you don't have to leave your four-legged family members at home.
Summer is the most popular time to visit Rhode Island, especially for the beaches and coastal attractions, as the temperature for both the air and water are warmest. Winters can feel harsh and cold, especially along the coast. Snow is definitely possible in winter. Rhode Island gets about the same amount of precipitation year-round.
See the top places to stay in this beautiful state with our list of the best resorts in Rhode Island.
1. The Ocean House, Watch Hill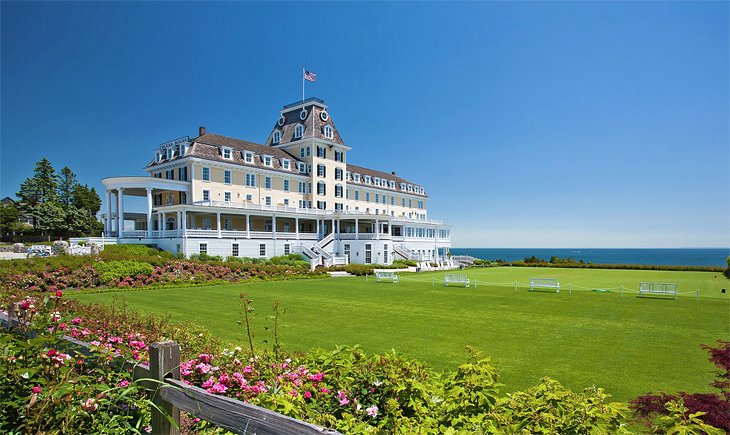 Accommodation: The Ocean House
For a luxury retreat in the quiet town of Watch Hill, The Ocean House, with a storied history, sits on a lovely white-sand beach backed by beautiful grounds. Built in Victorian-style, the property first opened in 1868 and has been meticulously renovated over the years.
The rooms, suites, and studios here are spacious and elegantly decorated but also feature modern amenities, like flat-screen TVs and loaner iPads. The best rooms come with balconies boasting ocean views.
Away from the accommodations, on-site amenities include a full-service spa, swimming pool, a croquet lawn, and a gym.
The Ocean House also offers a few different dining choices: Try Coast for sophisticated fine dining and The Bistro for something a bit more laid-back. Both focus on fresh and seasonal ingredients from Rhode Island.
2. The Chanler at Cliff Walk, Newport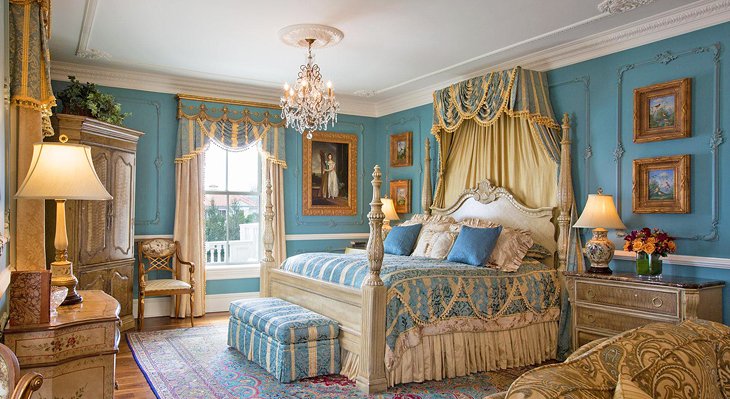 Accommodation: The Chanler at Cliff Walk
In a charming 19th-century mansion that is just a few minutes' walk from Easton Beach and overlooking Newport's charming Cliff Walk, The Chanler at Cliff Walk is another luxury option. It is perfect for a romantic getaway, with a Gilded Age ambience throughout.
There are just 20 rooms, and each is individually styled with different historic themes harkening back to the Roaring (19)20s. All feature sea views, antique furniture, and opulent fabrics with plenty of golden hues. The best come with fireplaces and giant bathrooms with heated floors and whirlpool tubs.
There are a few different dining options on-site, including a gourmet restaurant called Cara. It features a fusion of French and Italian fare, has an open-kitchen concept, and also boasts Atlantic Ocean views from its windows.
3. Weekapaug Inn, Westerly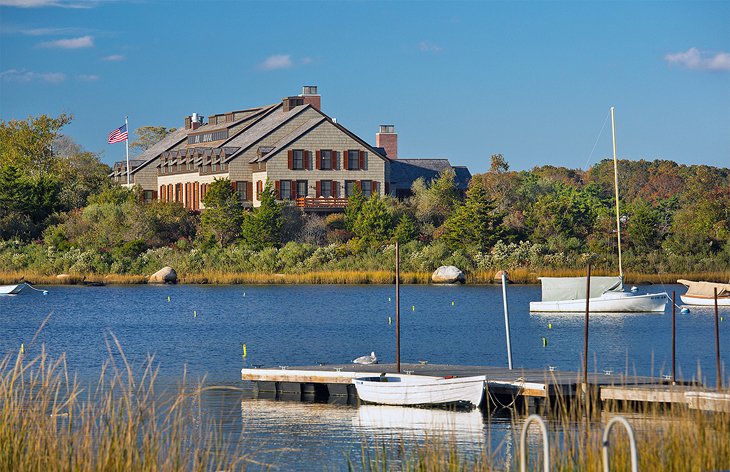 Accommodation: Weekapaug Inn
Right on the waterfront in Westerly, the Weekapaug Inn is another great historic sleep that is also family- and pet-friendly. The property dates back to 1899 and has a two-mile-long private beach for wandering, as well as a large pond, which can be toured with the staff naturalist.
There are just 31 hotel rooms, and these come with comfortable beds, antique furnishings, and amenities like a pantry stocked with free snacks.
On-site amenities include a seasonal outdoor lap pool, complimentary cruiser bikes for use during your stay, lawn games, and a gym.
Simply called The Restaurant, the dining establishment here focuses on farm-to-table fare that changes with the seasons. It serves three meals a day, and in summer, you can dine outside.
4. Castle Hill Inn, Newport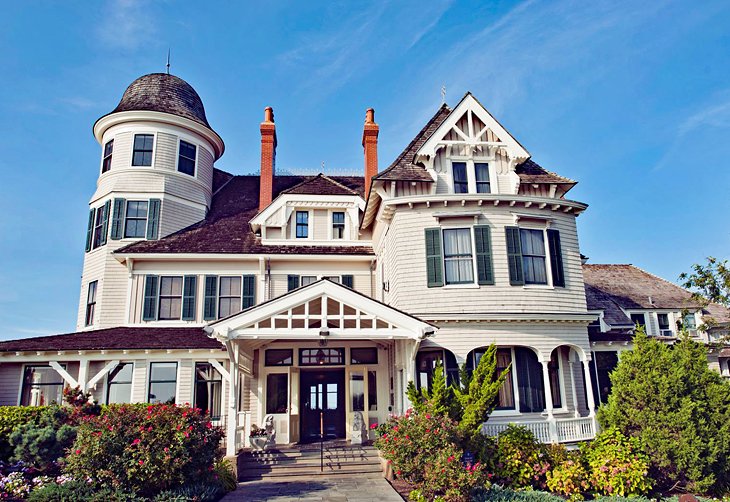 Accommodation: Castle Hill Inn
Located in a beautiful Victorian-era estate just over a mile from Brenton Point State Park, Castle Hill Inn is a charming property with a choice of individually decorated rooms in the mansion or cottages with kitchenettes fronting Narragansett Bay.
This is a very romantic property, and couples will like that a number of rooms come with fireplaces and soaking tubs designed for two. The grounds here are beautiful and come with a beach reserved for guests. There is also an oceanfront dining room serving a top-notch chef's tasting menu and an included full breakfast and afternoon tea.
5. Grace Vanderbilt, Newport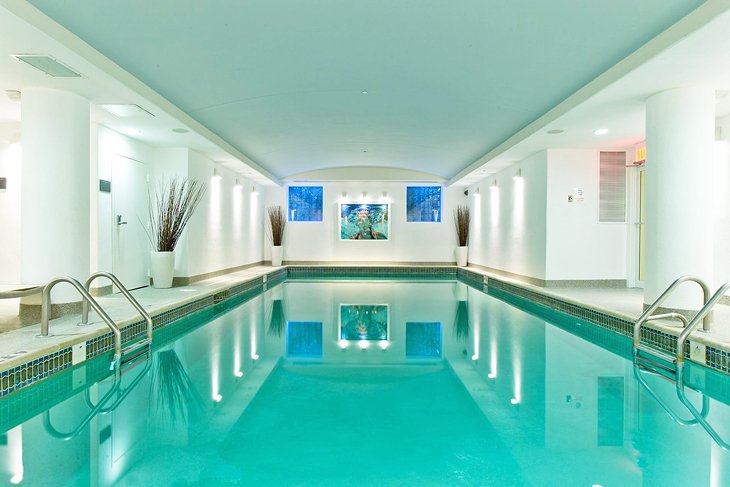 Accommodation: Grace Vanderbilt
Inside a red-brick mansion dating back to the 1909 Gilded Age, Grace Vanderbilt is another luxe pick in Newport. The property is in a great location in the town's Historic Hill neighborhood and less than a 10-minute walk from attractions like the Museum of Newport history and the ferry pier.
Inside, the hotel features museum-quality artwork in its lobby and an elegant, old-world ambience that feels like you've stepped back in time. It features posh contemporary rooms and suites, with kitchenettes, flat-screen TVs, and free Wi-Fi. The best suites here are bi-level and offer harbor views.
Beyond the accommodations, Grace Vanderbilt also features some appealing amenities. The Vanderbilt Grill serves modern takes on New England classics with a focus on fresh and local. In summer, you can dine outside on their garden terrace.
There are also indoor and outdoor swimming pools, a gym, and a spa on-site.
6. Forty 1° North, Newport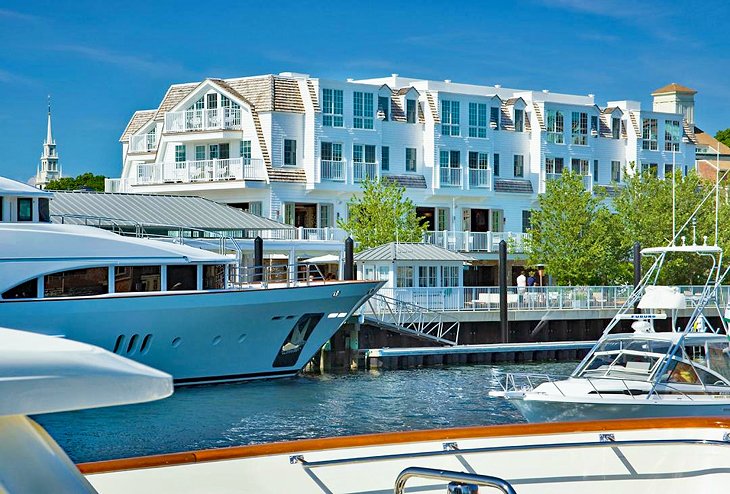 Accommodation: Forty 1° North
While many Newport resorts go with a bygone-era theme, Forty 1° North embraces the contemporary, with its luxe, elegant, modern design. The property features panoramic views of Thames Street and Newport Harbor and is just a 10-minute walk from the Long Wharf Mall Shopping Center or the Block Island ferry terminal.
The rooms and suites are modern chic, with cool coloring and amenities like in-room iPads. Many of the suites come with floor-to-ceiling windows and spacious balconies boasting ocean views. There are also lofts and cottages with kitchens available for families or larger groups. On-site amenities at this eco-friendly hotel include two restaurants and the option of in-room spa services.
7. Renaissance Providence Downtown Hotel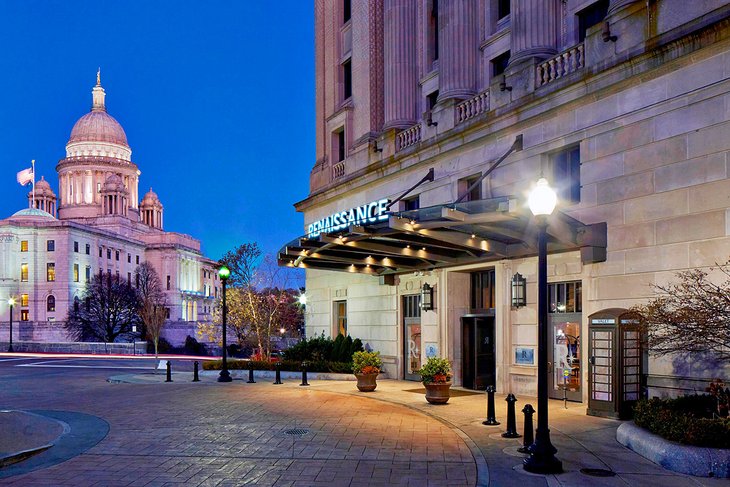 Accommodation: Renaissance Providence Downtown Hotel
Constructed in the 1920s, the Renaissance Providence Downtown Hotel once served as a Masonic Temple. Located in the CBD, it offers easy access to Brown University and the Rhode Island School of Design if you are in town to visit a student.
The hotel does a good job of blending its historic architecture with modern amenities. The rooms and suites are soundproof and feature sleek decor and marble baths. Suites have separate living and dining space and are a great choice for families. Babysitting is available.
Amenities include a restaurant serving gourmet American fare in a cool beaux arts space, with a black and white checkered floor and arched windows. The menu can also be ordered as room service. There is also a snack bar, gift shop, salon, and a fitness center on-site. Valet parking is offered for an extra fee, and the desk stays open 24 hours.
8. Gurney's Newport Resort & Marina, Newport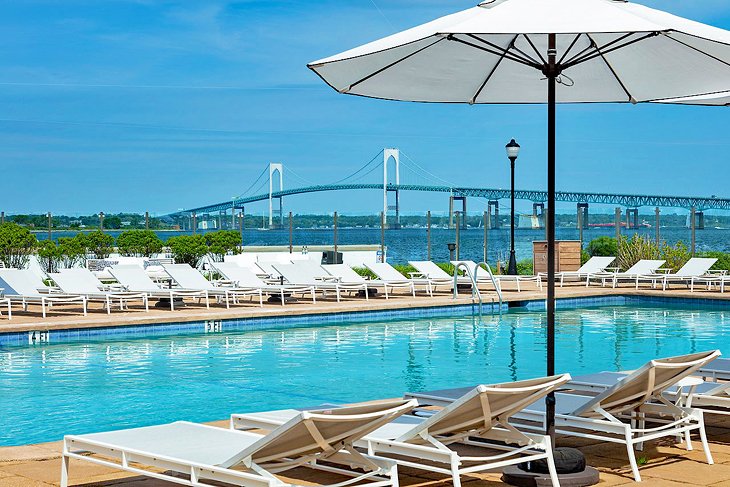 Accommodation: Gurney's Newport Resort & Marina
Gurney's Newport Resort & Marina is on historic Goat Island, just a few minutes from downtown Newport. It is a gorgeous, modernist-designed resort with a working lighthouse on the grounds, as well as a pale yellow tower and two wings that encircle its gardens and pool deck to create a private space overlooking Narragansett Bay.
Rooms and suites are luxe, with nautical designs and comfortable beds, and suites feature jetted tubs and private balconies. On-site amenities include an outdoor saltwater pool, indoor pool, spa, and two restaurants, as well as a coffee shop.
9. OceanCliff Hotel, Newport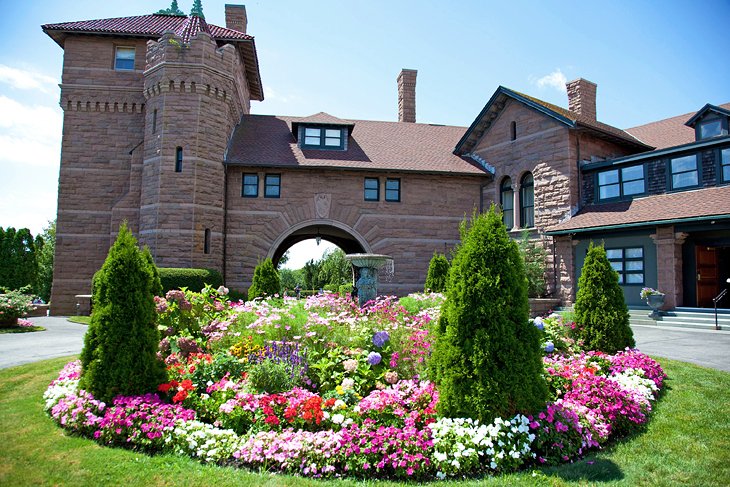 Accommodation: OceanCliff Hotel
OceanCliff Hotel sits on a 10-acre estate once owned by the wealthy industrialist responsible for the Trans-Siberian railroad's construction. Today, it is a unique property set on beautiful rolling hills, with manicured lawns and gardens.
Its 24 stylish and modern family-friendly suites come with either one or two bedrooms and feature dining spaces, kitchenettes, and Jacuzzis. They also offer beautiful oceanfront views of Narragansett Bay. The property is a popular destination wedding venue.
On-site amenities include a restaurant, glass-enclosed swimming pool and hot tub, basketball courts, horseshoes, and laundry facilities. There is also a complimentary area shuttle.
10. Wellington Resort, Newport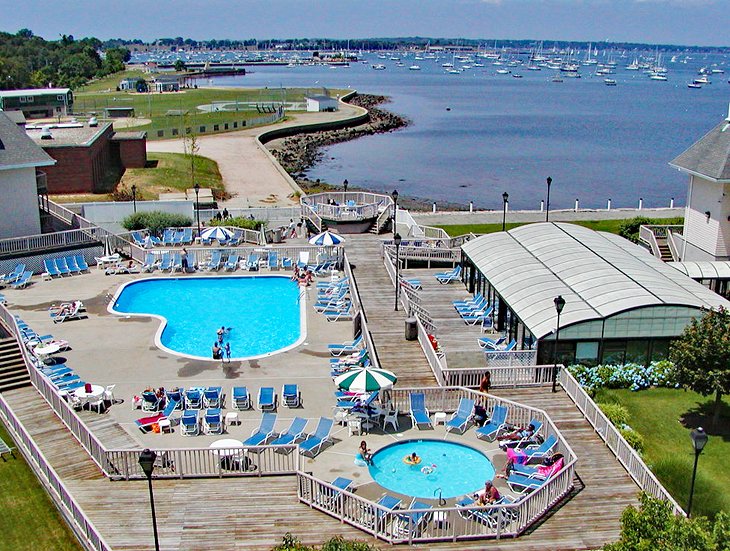 Accommodation: Wellington Resort
Wellington Resort is a solid mid-range pick, which can sleep the entire family in its spacious one- and two-bedroom apartment-style rooms. These all come with private balconies, which are especially awesome at sunset, and while slightly dated are clean and comfortable.
The sprawling resort complex is also in a great location fronting Newport Harbor and is right on Thames Street, which is an easy walk from numerous restaurants and boutiques. On-site amenities include indoor and outdoor swimming pools; a clubhouse; and a gym with Cybex equipment, which faces the water.