Tanzania in Pictures: 20 Beautiful Places to Photograph
No other country in Africa has the wildlife and birdlife diversity you'll find in Tanzania. The wildebeest migration – perhaps the most stunning animal event in the world – crosses through the Serengeti every year. And those with a thirst for adventure can head to Mount Kilimanjaro, Africa's tallest mountain, for the climbing experience of a lifetime.
As the world's oldest continent, Africa is also home to ancient ruins and cities, the Maasai people of East Africa, and some of the best safari parks you could ever ask for. Photographers won't have any trouble creating beautiful images. The picture possibilities are everywhere.
Whether you're heading to Tanzania for nature, history, or culture, here are some of the most beautiful places to photograph.
1. Serengeti National Park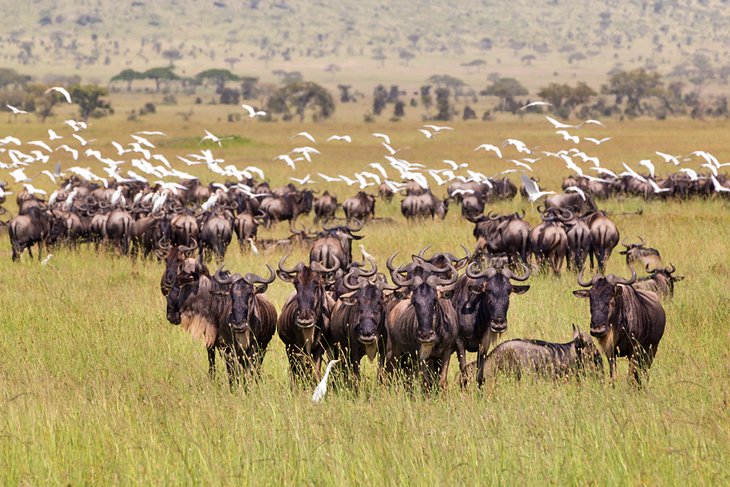 Wildlife is always in motion in the Serengeti. During the annual migration, over one million wildebeest and 250,000 zebras move across the park in search of greener, wetter pastures - if the Nile crocodiles don't get to them first. The Maasai people, who inhabit the park, are responsible for its name as well - the Maasai word siringet means "the place where the land runs on forever."
2. Lake Manyara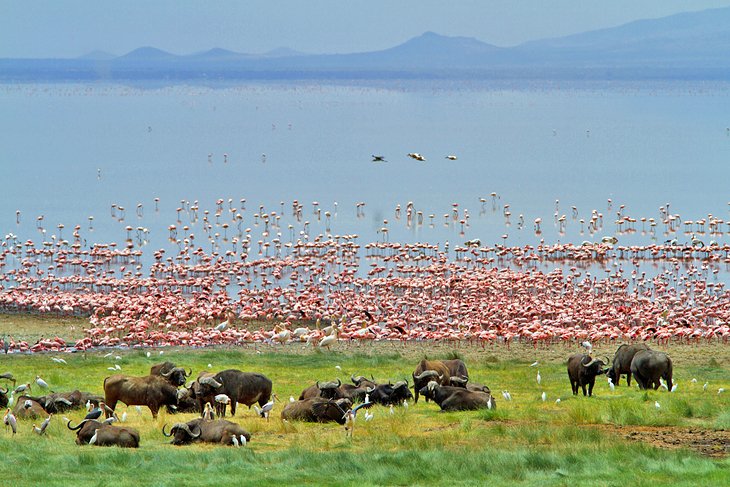 Another great place for wildlife photography, Lake Manyara National Park is home to over 350 bird species, including massive flocks of flamingos, pink-backed pelicans, and yellow-billed storks. All major mammals, including elephants and hippos, share a space of 325 square kilometers within the park boundaries.
3. Mount Kilimanjaro National Park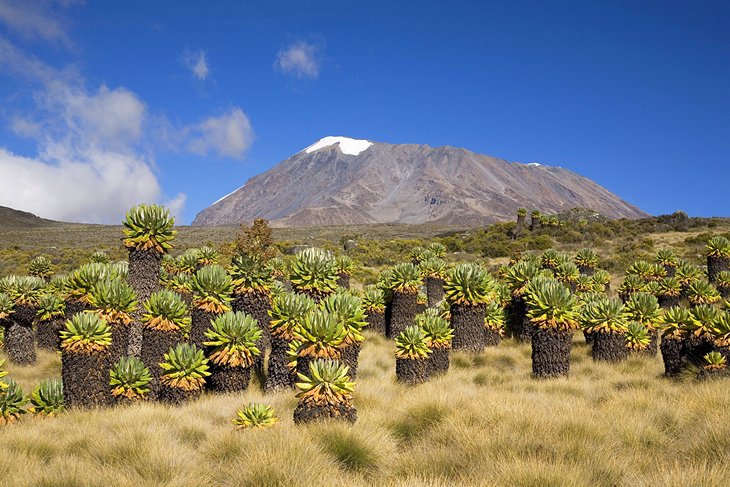 A dormant volcano, Mount Kilimanjaro is a major climbing and trekking destination. Most of the mountain is covered in forest, but new vegetation is gaining terrain as glaciers and ice fields melt away over the years. The Mount Kilimanjaro National Park, which surrounds the mountain, is home to a variety of animals, including Cape buffaloes and the rare blue monkey.
4. Ngorongoro Crater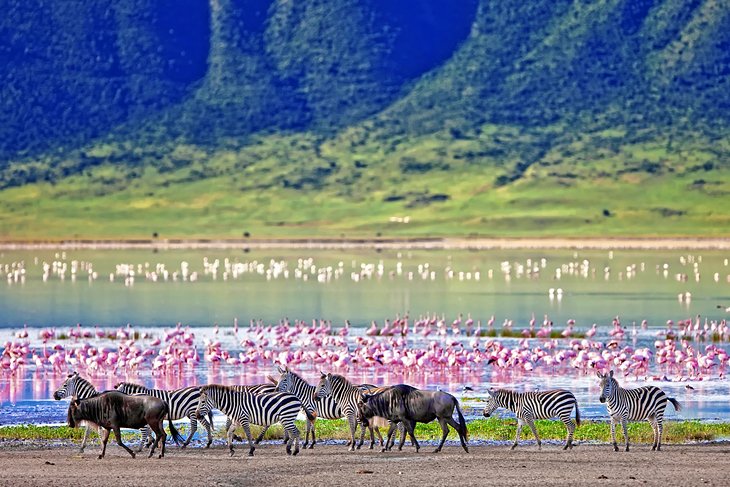 The Ngorongoro Crater is the world's largest inactive volcanic caldera. From zebras grazing on Ngorongoro's grassland to the world's densest population of lions, the land around the crater is rich with natural wonders. Lake Natron, located within the park, is part of the largest breeding ground for flamingoes in East Africa.
5. Lake Victoria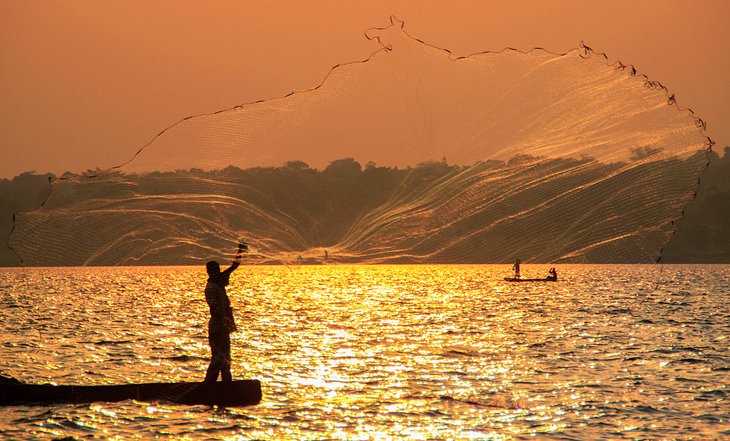 Africa's largest lake – so large that it also occupies part of Kenya and Uganda – is a stunning sight at sunset. A source of food and life for many species of animals, Lake Victoria is home to hippos, Nile crocodiles, the giant cane rats, and a number of rare turtle species.
6. Stone Town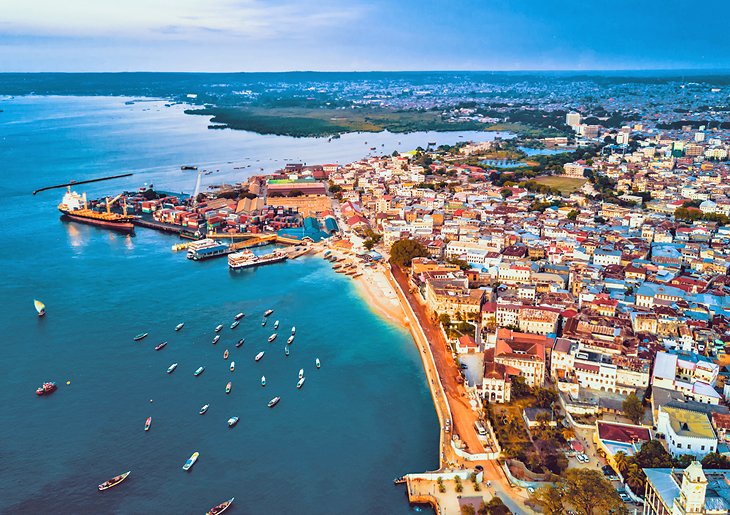 Stone Town is the Old Town section of port city Zanzibar. An area known for its architecture, Stone Town is home to a heavy stone fortress, buildings with Indian influence, stunningly carved wooden structures, and lots of stained glass. Once the center of the East African slave trade, Zanzibar now hosts an important museum and memorial chronicling that part of their history.
7. Kilwa Kisiwani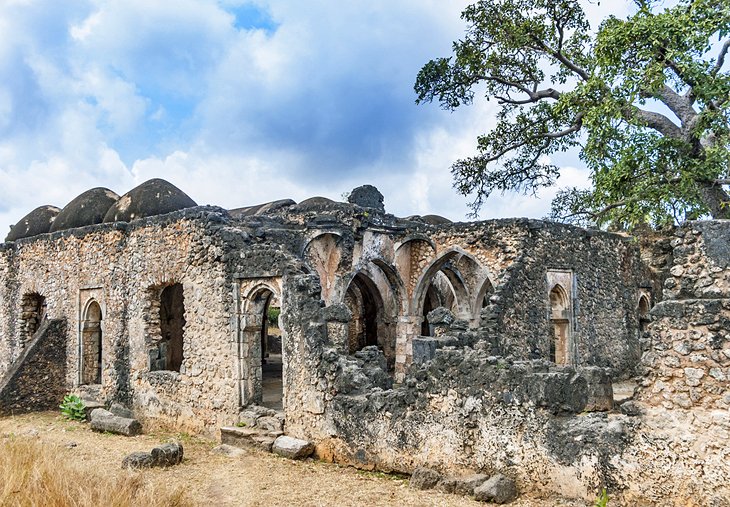 Among the ruins of this medieval sultanate, the 10th-century Great Mosque of Kilwa is particularly stunning. Some of the original pillars were carved from coral, with timber and lime mortar making up most of the walls and floors. Many parts of the ruins are not yet excavated.
8. Mahale Mountains National Park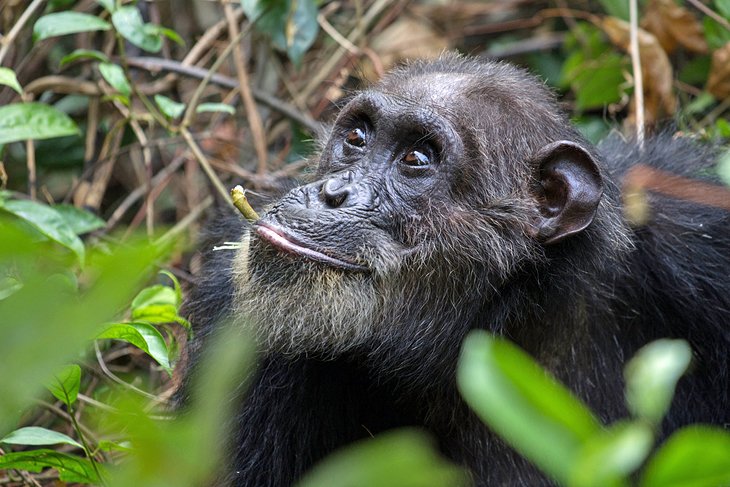 One of only two protected areas in Tanzania for chimpanzees, the Mahale Mountains National Park can only be experienced on foot. There are no roads here, no infrastructure or shortcuts to get you to your destination. Travelers arrive by boat and then join a guided chimpanzee trek deep into the tropical jungle.
9. Arusha National Park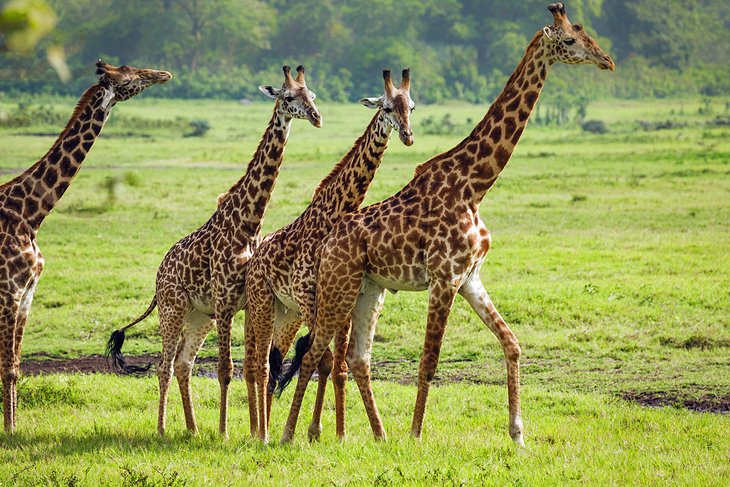 Although small at just 137 square kilometers, the park still offers a stunning game-viewing experience, with zebras, giraffes, and elephants taking over the landscape. Tanzania's second-highest peak, Mount Meru, is located within the park boundaries.
10. Nungwi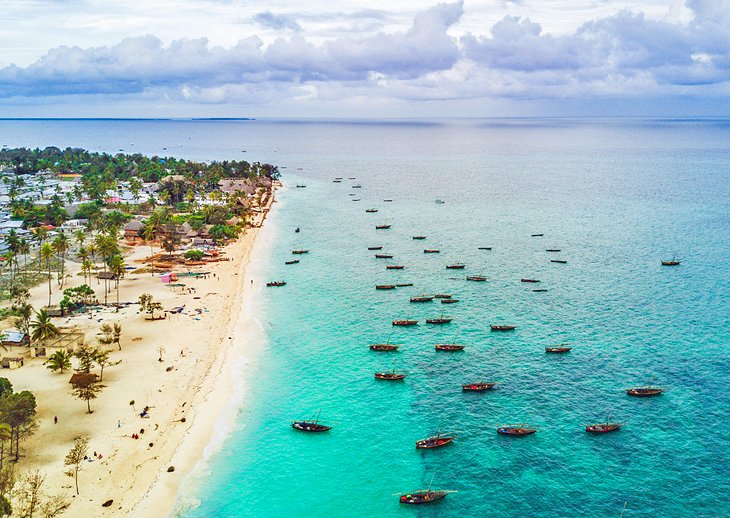 The Nungwi village in Zanzibar is home to one of the most beautiful beaches in Africa. Cotton-soft, white sand; calm, reef-rich waters; and secluded corners attract snorkelers and swimmers all year long.
11. Lake Natron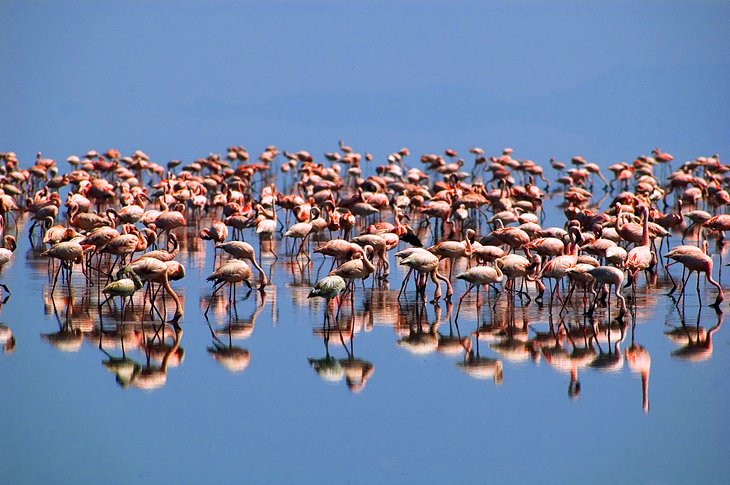 Salt Lake Natron is too dense and too alkaline to support most forms of life – except for the vast population of lesser flamingoes that call the area home. Over two million flamingoes depend on this location as their only breeding and feeding area (thanks to the large concentration of spirulina), resulting in stunning shades of pink against the horizon.
12. Zanzibar Archipelago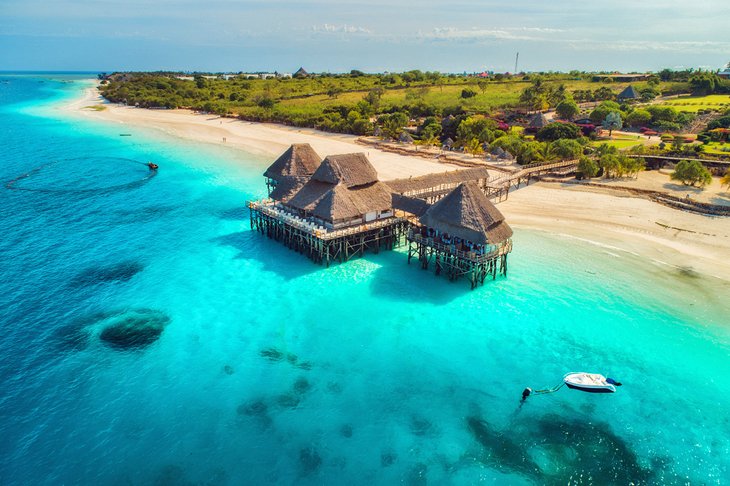 Facing the Indian Ocean and surrounded by picture-perfect coastline, Zanzibar is one of the most popular beach destinations in Africa. In addition to stunning golden sands, the archipelago is also famous for its spice production – the island is a major exporter of cloves, nutmeg, and cinnamon.
13. Kendwa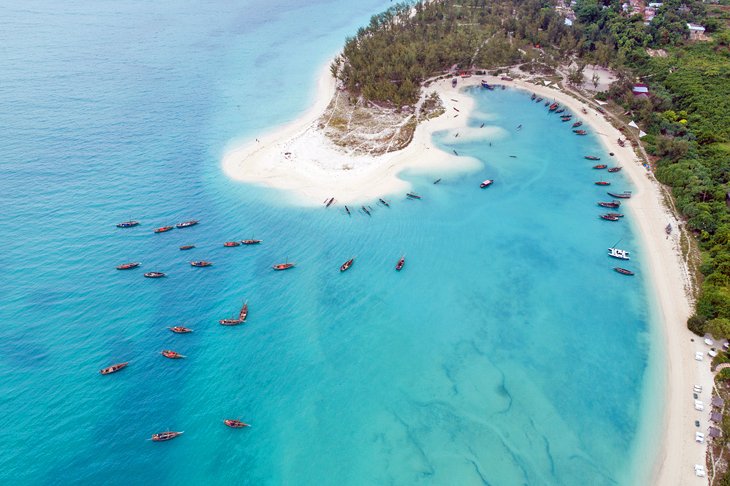 The sleepy fishing village of Kendwa still retains its traditional charm, even though its wide beach has become a popular tourist destination. Diving and snorkeling are popular here, but the village is also the starting point for many adventure tours, spice tours, and cultural trips to see how the local tribes live.
14. Pemba Island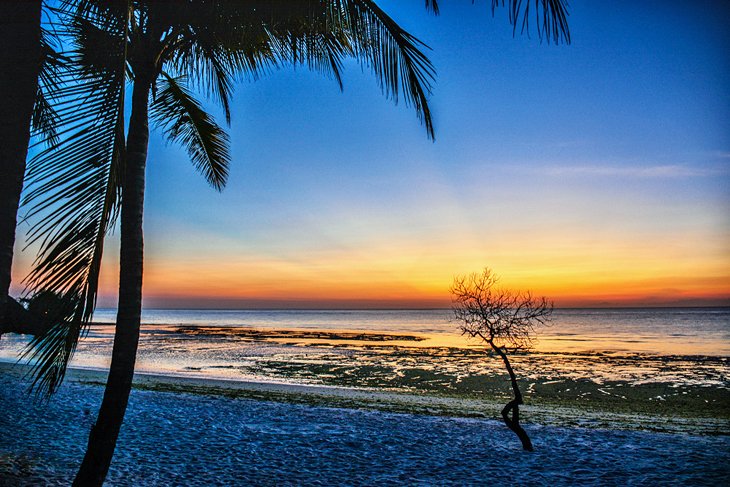 An off-the-beaten-track island that was once just known for its small-scale farming and traditional witchcraft medicine, Pemba is now a much-loved diving destination. Pemba features untouched coral, steep diving sites, and thick mangroves that roll into the golden sands.
15. Lake Tanganyika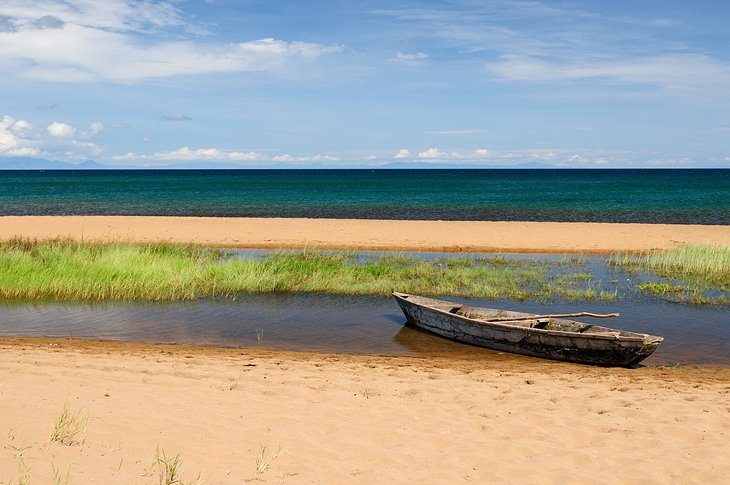 The second-oldest freshwater lake in the world, Tanganyika is biologically unique and home to many rare species. Almost 16 percent of Earth's freshwater sits here. Palm-fringed, white beaches and colorful marine life make this one of the best lakes in Africa. It's a stunning destination for both adventurers and lovers of photography.
16. Unguja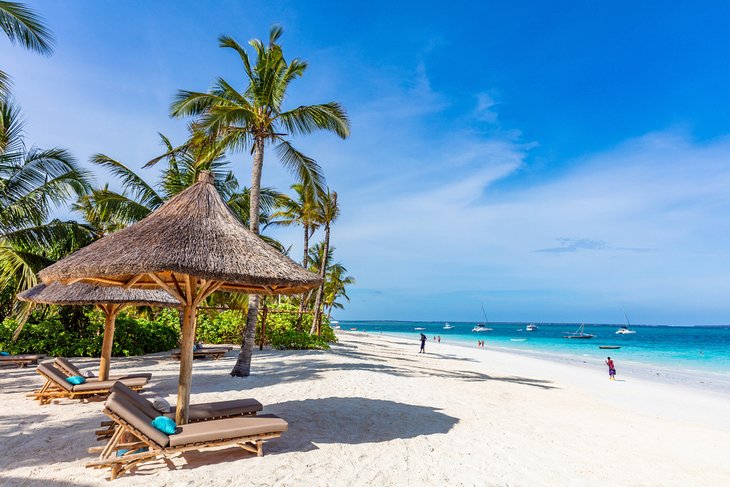 As Zanzibar's largest island, Unguja is certainly popular. Home to luxurious hotels and beautiful beaches, the archipelago also offers evergreen forests and diving opportunities for adventurers, as well as the old Stone Town for those wanting to explore history and culture. Spice farms and thick mangroves share the land here and make for some fascinating exploration.
17. Olduvai Gorge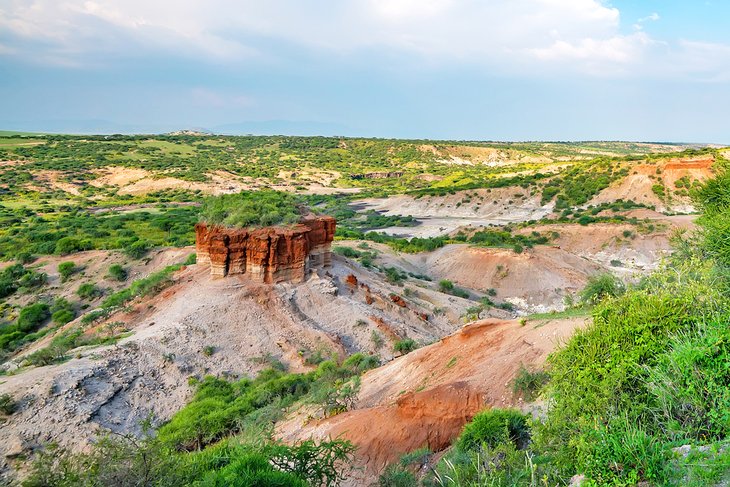 An important paleoanthropological site, the Olduvai Gorge holds one of the best records of human evolution in all of Africa. This steep ravine, made up of red clay and sandstone, is 48 kilometers long and runs across the Serengeti Plains.
18. Usambara Mountains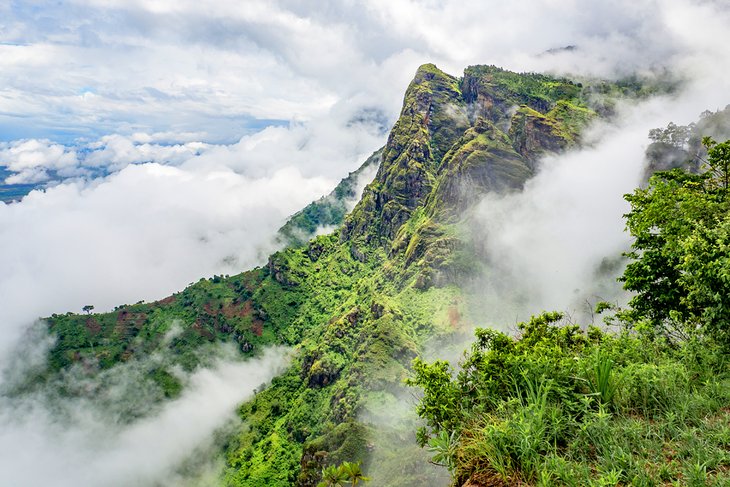 The Usambara Mountains are densely covered in virgin tropical rainforest and home to a large assortment of plants and animals. Picturesque nearby villages offer visitors a chance to discover colorful markets and plantations and can be used as starting points for trekking and adventure tours. Local guides can also organize more advanced treks.
19. Mafia Island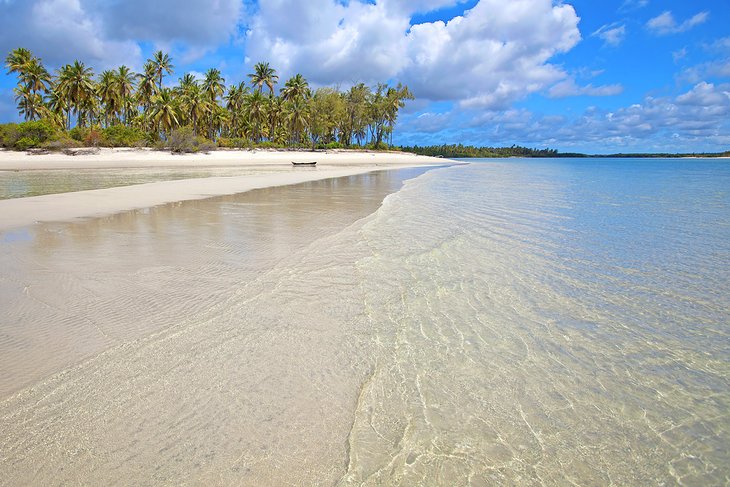 Mafia Island's spectacular reefs make this a world-class snorkeling and diving destination, though the many kilometers of unspoilt beaches don't hurt either. The island's mangroves offer unique opportunities for bird-watching, or you can catch a boat to see whale sharks or rent a kayak to explore the turquoise waters on your own.
20. Ruaha National Park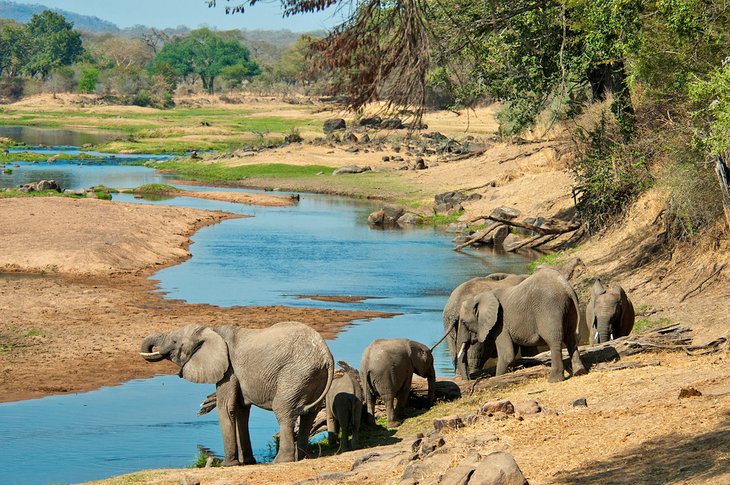 A massive 20,226 square kilometers in size, the park is home to many migratory birds, as well as excellent wildlife viewing that includes spotted hyenas, cheetahs, hippos, giraffes, and many other animals. The park is officially considered a Lion Conservation Unit, and it's one of the best places in Africa to encounter wild dogs.