Nepal in Pictures: 16 Beautiful Places to Photograph
From the Himalayas to the streets of Kathmandu, Nepal offers incredible opportunities for photography. Trekking in the mountains is the goal of many visitors, and it is the best way to see and experience the mountains. Villages and Buddhist sites along the hiking routes cast against the soaring, snowcapped mountains are highlights of a trip to Nepal.
Even if you don't venture into the mountain regions, cultural attractions and scenes of daily life in the cities of Kathmandu, Bhaktapur, and Patan make for outstanding pictures. Pokhara, on the doorstep of the Annapurna region, is also worth a visit. And for wildlife and a look at a little different side of Nepal, take a trip to Chitwan National Park.
For more ideas on where to go to take beautiful pictures, see our list of the best places to photograph in Nepal.
Note: Some businesses may be temporarily closed due to recent global health and safety issues.
1. Annapurna Region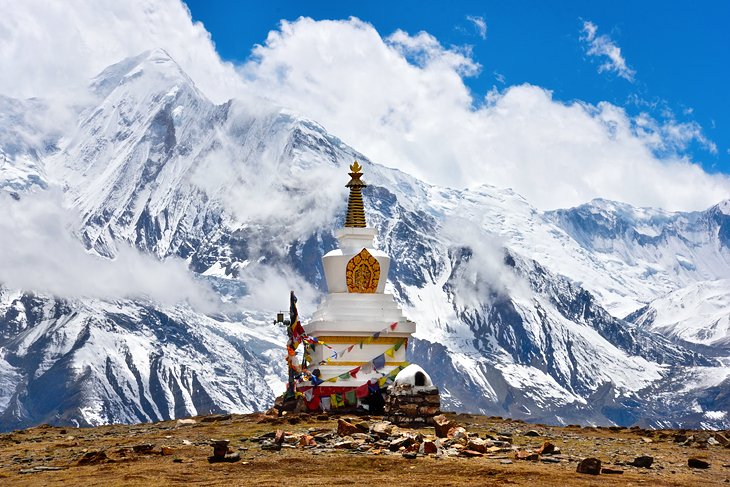 Hiking is the best way to experience the Annapurna region and capture some of the most outstanding images of mountains in Nepal. Home to 13 peaks over 7,000 meters and one over 8,000 meters, the jagged, snow-covered mountains tower over the villages and prayer flags flapping in the wind. On a sunny day, it's almost impossible not to take incredible photos.
2. Mount Everest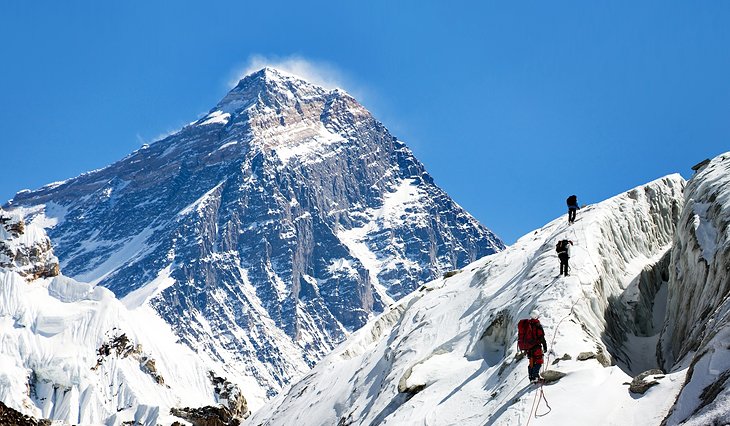 The highest mountain in the world, Mount Everest is a bucket-list sight for photographers. If you aren't up for the hike to base camp to bag this shot, don't worry. You can see Mount Everest from hill stations like Nagarkot, although the view is from a distance. If you are staying at a lodge with a view of the mountain, staff will often wake you on clear mornings at sunrise to see the mountain in the early morning light.
3. Boudhanath Stupa, Kathmandu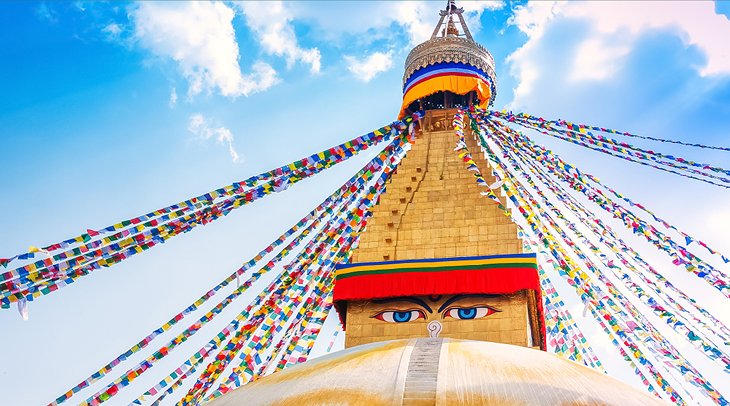 Prayer flags stream off this famous stupa in Kathmandu once again, following restoration after the 2015 earthquake. The white dome and colorful flags make this one of the top attractions in Nepal.
4. Durbar Square in Kathmandu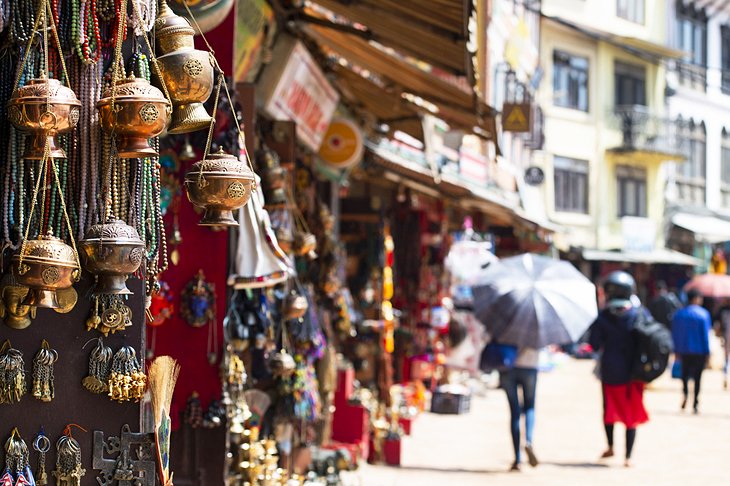 Capture scenes of daily life in Durbar Square in Kathmandu. Shops and street sellers display trinkets and other goods. Old buildings in various states of decay or restoration line the streets. And something is always happening in this lively area.
5. Swayambhunath, Kathmandu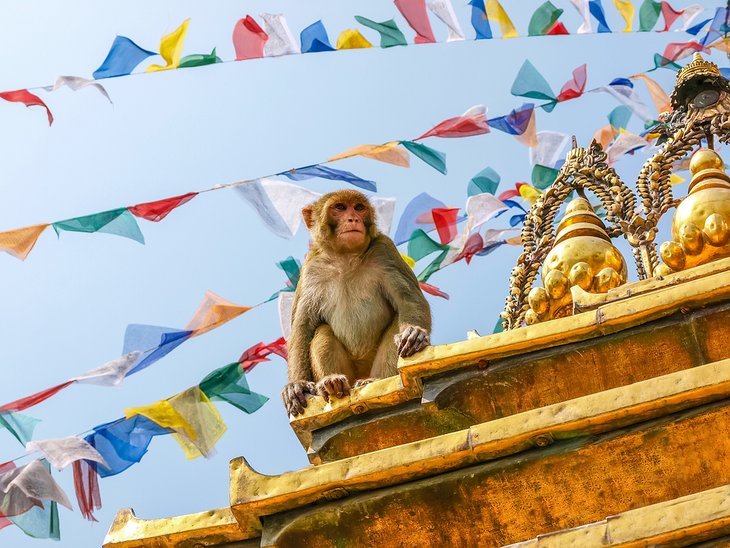 Also known as the Monkey Temple, Swayambhunath presents an assortment of picture opportunities for visitors. Key among these are the mischievous monkeys that roam the complex. You can often find them perching in perfect positions for great images. Look for them in front of prayer flags and statues or on ledges with interesting backgrounds in the distance.
6. Langtang Region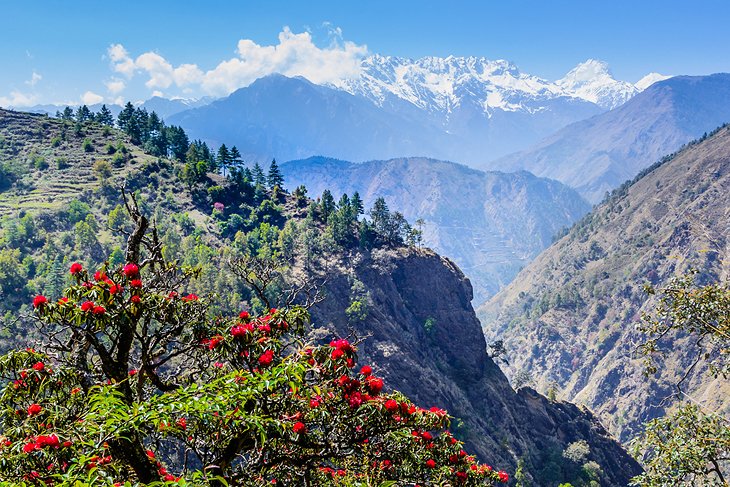 Another great place for hiking in Nepal is the Langtang Region. This outstanding area is incredibly scenic, with mountains and valleys, and trails that wind their way up and down the hillsides. In the spring, a forest of rhododendrons comes into bloom.
7. Helambu Region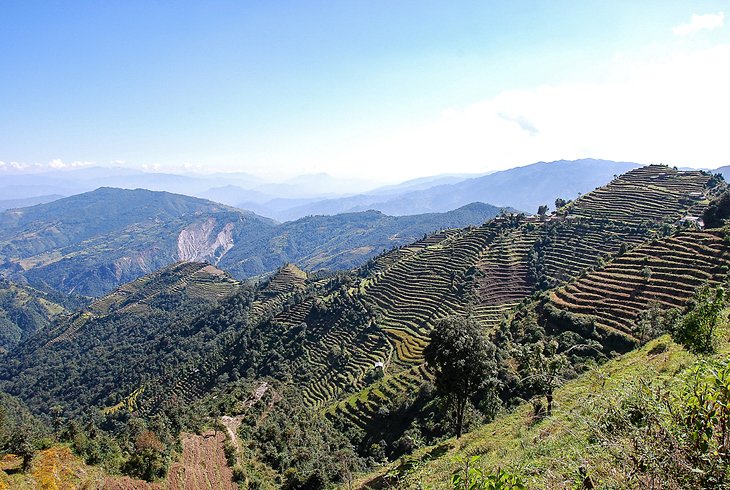 The Helambu Region is also known for its trekking. Villages, Buddhist monasteries and stupas, terraced hillsides, and the mountain scenery make for beautiful pictures. Trails connect the Helambu and Langtang regions when conditions allow.
8. Mountain View from Pokhara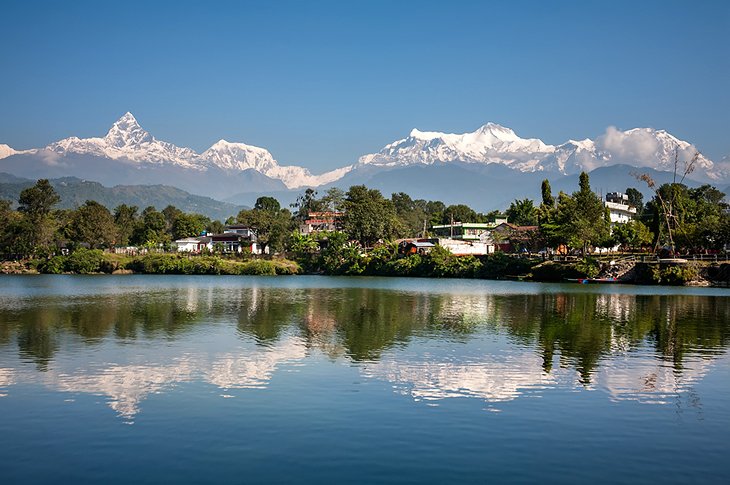 Gateway to the Annapurna Region, Pokhara is a lovely city set on the shores of Phewa Lake. The mountains in the background, some of the highest on the planet, reflect in the still water on calm days.
9. Phewa Lake, Pokhara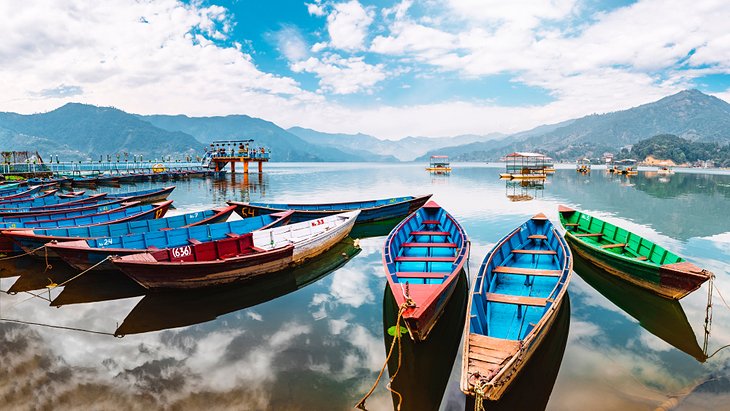 With the impressive mountain views from Pokhara, it's easy to forget about the Lake Phewa. Wander down to the shore to see boats, or come here in the early morning or late afternoon to catch the colorful reflections of sunrise or sunset mirrored on the water.
10. Chitwan National Park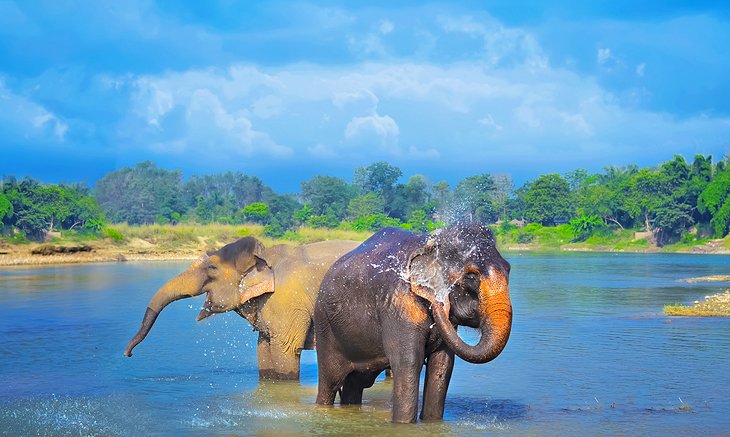 Chitwan National Park is a stark contrast to the alpine regions and also the busy city of Kathmandu. Visitors come here to see elephants, rhinos, and other wildlife. You can stay in a lodge and do easy walks or simply soak up the scenery. If you are overlanding from Kathmandu to India, this park makes a nice stop on your way.
11. Bhaktapur's Durbar Square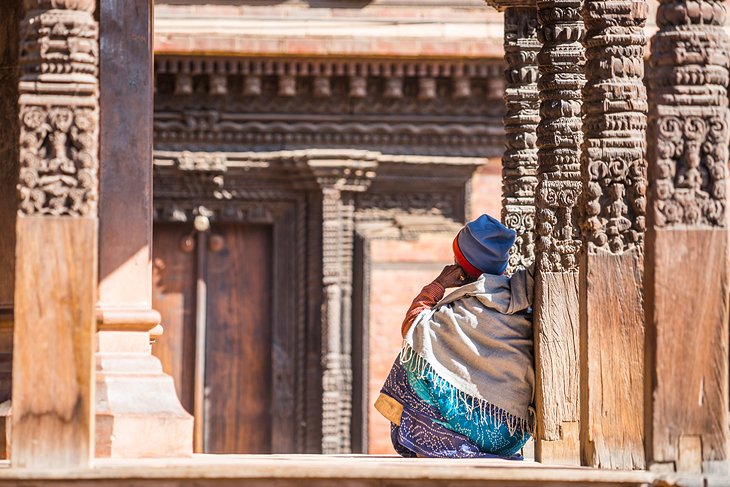 Just outside Kathmandu is the ancient city of Bhaktapur, one of Nepal's three Royal Cities. Bhaktapur's Durbar Square offers a wealth of sights, from temples to scenes of daily life. The area was damaged during the 2015 earthquake but this is still a fantastic area to explore, and like much of Kathmandu, it's once again open for tourists to visit.
12. Namche Bazaar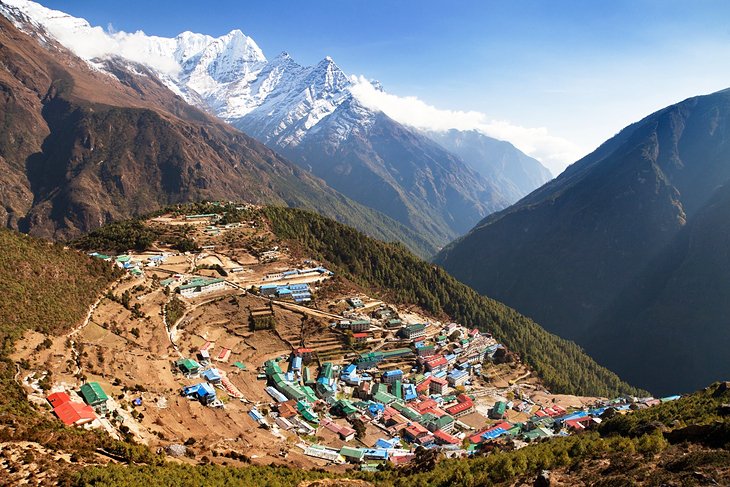 This village in the Khumbu region is the gateway to Mount Everest. Although most people simply regard it as a staging area for their trek to base camp, the town is itself interesting, scenic, and photo worthy.
13. Upper Mustang Region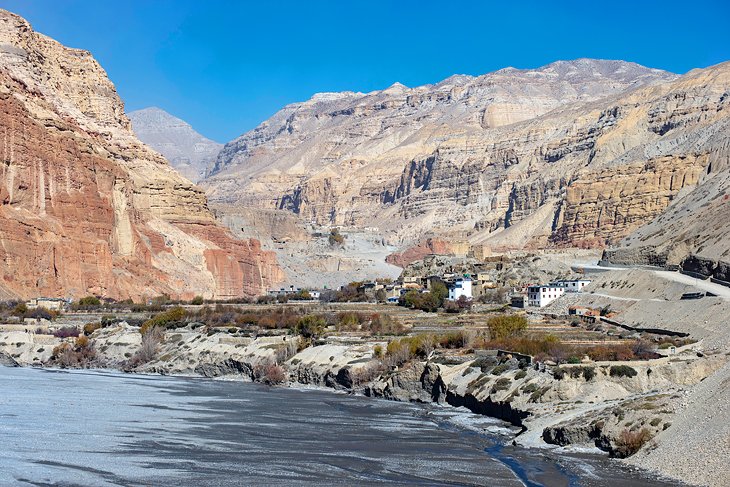 The Upper Mustang region can look like a lunar landscape, but there is something so different about this region that it holds its own attraction. Villages and monasteries break up the landscape, but you can walk great distances in this area without spotting a single tree.
14. Lumbini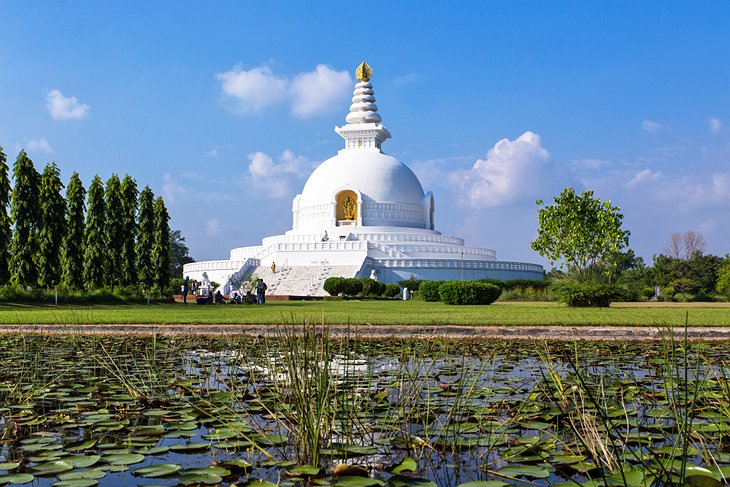 A sacred place for many and a pilgrimage site, Lumbini is the birthplace of Buddha and a UNESCO World Heritage Site. One of the most impressive sights here is the World Peace Pagoda.
15. Yaks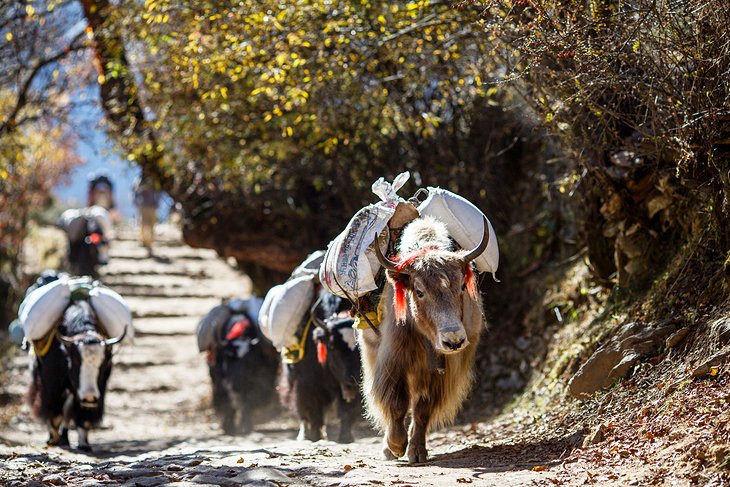 Yaks are part of Nepal's transportation system, and they also make good photo subjects. They are often seen on the hiking trails carrying supplies from one village to the next. You can't really plan for it, but when you see them, pull out your camera.
16. Annapurna Circuit Trek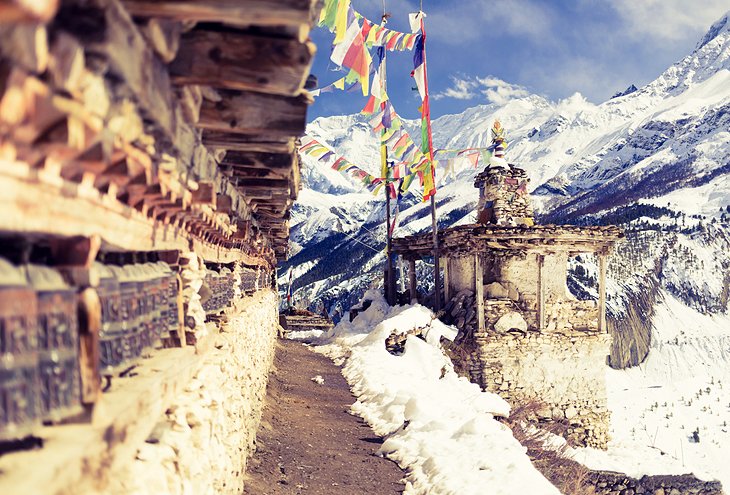 One of the most popular things to do in the Annapurna region is hike the Annapurna Circuit Trek. This is a two- to three-week hike that takes you through a mix of landscapes. If you want to photograph mountain scenery, and you only have time for one hike, this is the one to do.