11 Top-Rated Resorts in the Philippines
A Pacific Ocean tropical paradise of more than 7,000 islands, the Philippines is a popular vacation destination that is home to numerous resorts for all types of travelers. The Philippines caters to couples on romantic vacations, as well as it does to families.
The destination is divided into three main island groups: Visayas, Luzon, and Mindanao, with most tourists heading to islands in Luzon and the Visayas. The capital city of Manila, where you will find a slew of resorts for all budgets, is located in the Luzon group.
The islands of Palawan and Coron are also in the Luzon group. Both are famous for their diving opportunities, as well as pristine white-sand beaches juxtaposed against sparkling turquoise lagoons. You'll find numerous dive-focused resorts, as well as plenty of luxury resorts on both islands.
Boracay and Cebu are other top vacation destinations in the Philippines located in the Visayas group. Each boasts some of the country's best resorts, as well as more incredible scuba diving and snorkeling. Boracay is also home to White Beach, which is considered one of Asia's most beautiful beaches.
Check out this list of our picks for the top resorts in the Philippines to help you decide which resort is best for you.
1. Amanpulo, Pamalican Island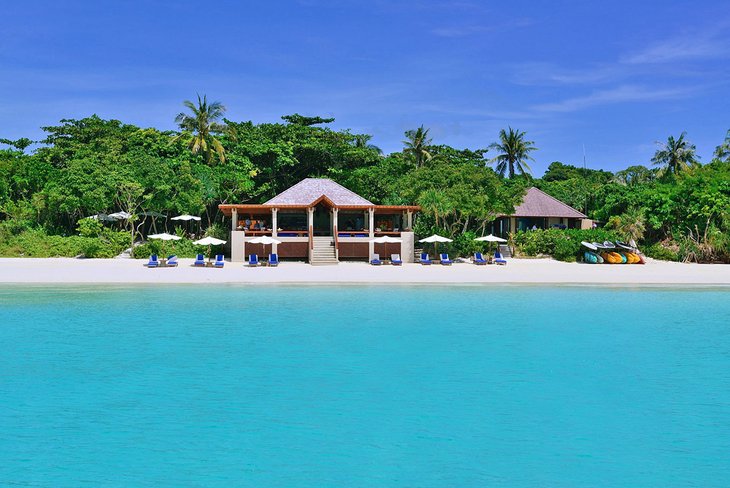 Accommodation: Amanpulo
Tropical birds, palm trees, white-sand beaches, and clear turquoise waters on a remote private island make Amanpulo a dreamy honeymoon destination.
The 5-star resort on Pamalican Island near Palawan is accessible only by the resort's 15-seater private plane. There are twice daily flights from Manila. The flight takes about an hour and is an additional cost.
The boutique resort by the ultra luxe Aman brand is built to blend into the island's natural environs. From the moment you arrive, you'll be made to feel like royalty. Guests have their own personal assistants who can help with dining reservations and activity requests. Diving is popular here.
Accommodation is in spacious casitas or oversized villas. These are all well spread out, so you pretty much feel like you are in a private paradise even when the resort is at capacity. The villas have private swimming pools and come with chefs and butler service.
Although Amanpulo has a romantic ambience it is also popular with families. There is a kids' club on-site with supervised activities. Other amenities include a beautiful spa and a large swimming pool.
Address: Palawan Province 5318 Philippines
2. The Lind Boracay, Boracay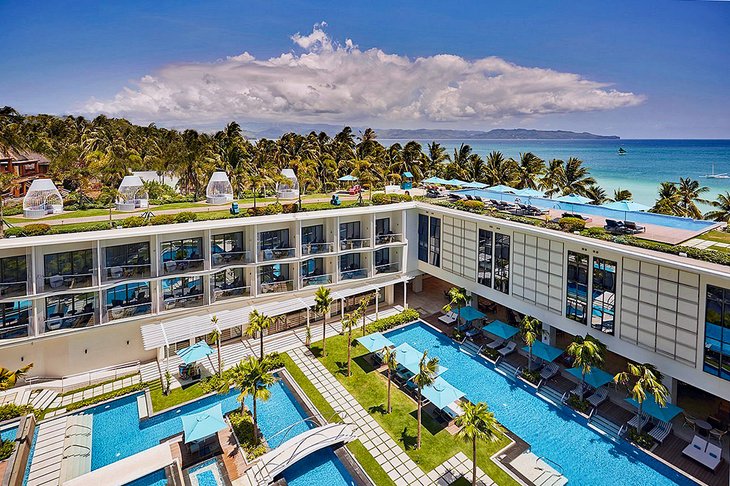 Accommodation: The Lind Boracay
The Lind Boracay has a great locale on the quieter northern end of the island's famed White Beach, one of the most beautiful beaches in the Philippines. The location allows you to be close to the numerous dining and entertainment action in the central section of the beach without having to listen to late night noise.
The 5-star resort caters to couples and families. Couples will love the suites with private plunge pools for romantic getaways. While families will like the supervised activities at the kids' club. There is also a kiddie section of the main swimming pool.
The 119 rooms and suites are stylish with modern decor. They all have a luxe vibe and furnished balconies. Choose from garden, pool, or sea views.
Amenities at The Lind are plentiful. Grab a bite to eat anytime at the resort's main restaurant, Tartine, which serves an all-day buffet. There is also an al fresco café specializing in wood-fired pizza. If you are in need of pampering, there is a full-service spa.
Whatever you do, don't skip the rooftop on the fourth floor for sunset. Here, you'll find an infinity pool surrounded by a garden terrace that faces the sea below.
Address: Station 1, Balabag, Malay, Aklan Province 5608 Philippines
3. Shangri-La Mactan, Cebu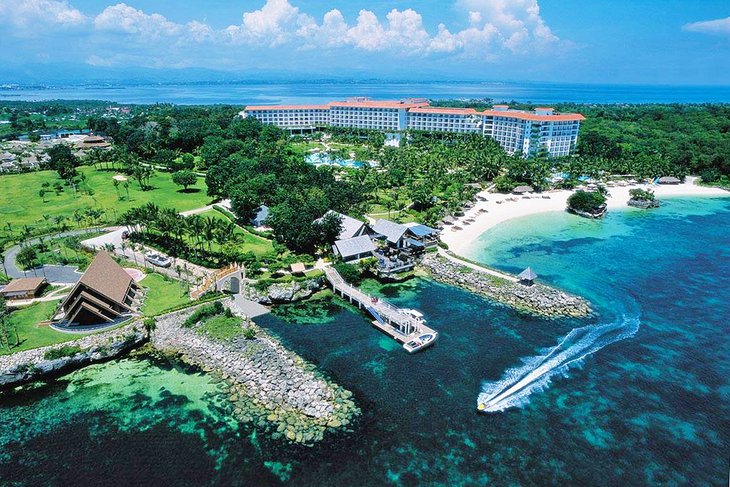 Accommodation: Shangri-La Mactan, Cebu
Shangri-La Mactan is one of the top luxury resorts on Cebu Island. Set on a pretty section of white-sand beach, the resort maintains a six-hectare marine sanctuary with about 160 species of fish plus clams and coral. It is a snorkeler's paradise within swimming distance from shore.
Rooms and suites are modern, with Filipino-style touches. They come in a variety of shapes and sizes and have either sea or garden views. For families there are interconnecting rooms that can accommodate children.
Other family-friendly amenities include an aqua park area with a waterslide in one of the two swimming pools.
Adults will love CHI, The Spa, which has a full range of treatments. There is also a six-hole golf park for a little tee time, and a few different restaurants. Activities including diving can be arranged.
Address: Punta Engano Road, Lapu Lapu 6015 Philippines
4. Henann Crystal Sands Resort, Boracay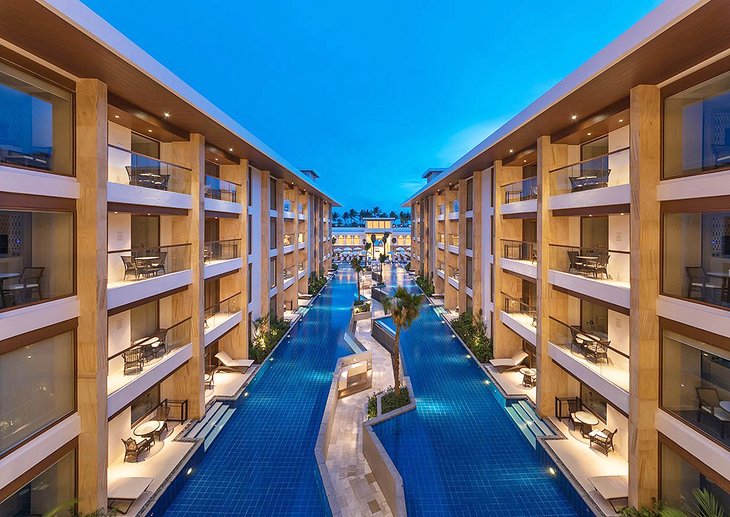 Accommodation: Henann Crystal Sands Resort
On Boracay's revered White Beach, Hennan Crystal Sands Resort has a prime location in the center of the island's entertainment scene. It is a good choice if you want to stay at a 5-star resort but still be within walking distance of dozens of restaurants, shops, and nighttime venues.
The rooms and suites are trendy luxe. Some have direct access to one of the property's three gorgeous swimming pools. All feature neutral color tones and wood elements and have either beach or pool views. If you are traveling with kids, they stay free.
The resort fronts a pretty section of white sand and has sun loungers and umbrellas set up for guests. There are more chairs around the swimming pools, and one of the pools has a swim-up beverage area. There is also a restaurant, spa, and a fitness center on the grounds.
All sorts of activities, including diving and snorkeling, can be arranged.
Address: Beachfront Station 2, Malay, Aklan Province 5608 Philippines
5. Conrad Manila, Manila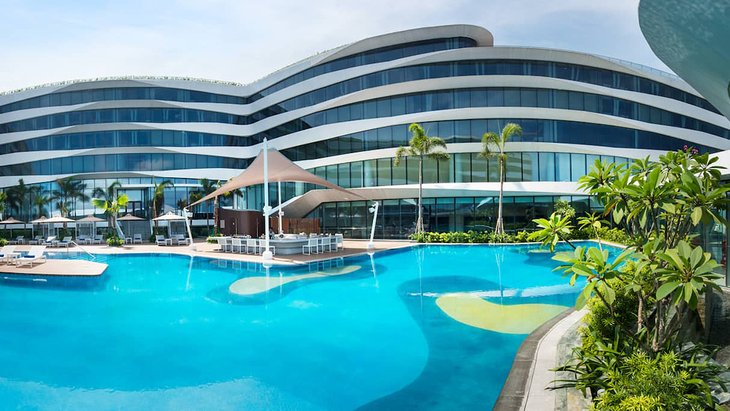 Accommodation: Conrad Manila
If you are spending some time in the Philippine capital city, the Conrad Manila is a top 5-star resort choice. It has a great location with gorgeous views of Manila Bay from floor-to-ceiling windows in its rooms and suites. The property is away from the bustle of the city center but still convenient at just 15 minutes from the international and domestic airports.
The resort is beautiful and luxurious. Art lovers will enjoy the curated collection of 700 Filipino art pieces on display around the property. The rooms and suites are modern and stylish and come with ocean, pool, or city views.
If you are traveling with the family, kids stay free here. There is also a kids' club.
Amenities include a complimentary breakfast, gourmet restaurants, and a holistic wellness program that includes the Conrad Spa, known for its unique treatments and relaxing environment.
Address: Seaside Boulevard Corner Coral Way Mall of Asia Complex, Pasay, Luzon 1300 Philippines
6. Two Seasons Coron Island Resort, Coron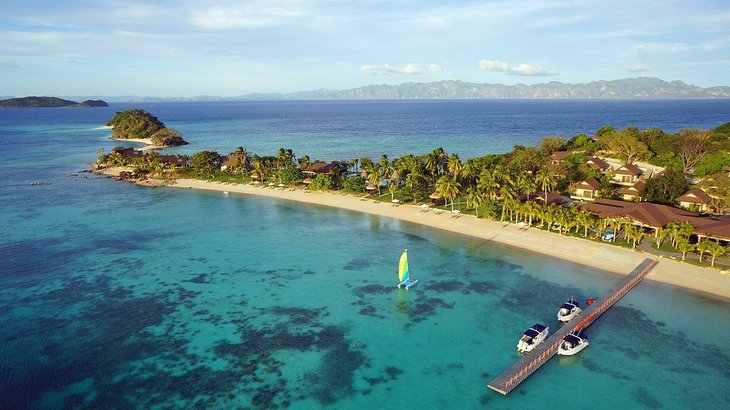 Accommodation: Two Seasons Coron Island Resort
Coron is renowned for having some of the best dive sites in the world. It is especially famous for its sunken shipwrecks. The wrecks have come to rest at varied depths, which means that some are even accessible to snorkelers.
The Two Seasons Coron Island Resort is a luxury property on a pristine stretch of beach backed by lush tropical gardens on one side and turquoise sea on the other. It is a short boat ride from Coron Town.
The resort has a dive shop and organizes trips to the wrecks and other sites. There is also good snorkeling close to shore. If you'd rather explore the ocean from a vehicle, there are submersible scooters and transparent kayaks to book. An eco-friendly property, it also is home to a turtle and giant clam sanctuary.
Accommodation is in 42 bungalows with Filipino-design and high ceilings. Many have stunning ocean views.
Other amenities on the property include two beaches – one has great sunrise views, the other great sunsets. There is also a large swimming pool with a section for kids, a spa, fitness center, and restaurant.
Address: Malaroyroy, Coron, Busuanga Island 5316 Philippines
7. Shangri-La Boracay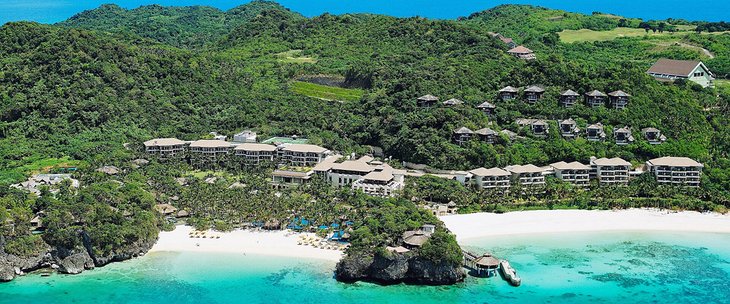 Accommodation: Shangri-La Boracay
For a remote luxury beach getaway in Boracay, check into the Shangri-La. The 5-star resort is on the northern part of the island but it runs a free shuttle service to White Beach (about 15 minutes away) if you want to check out the dining, shopping, and entertainment there.
Accommodation here is in stylish rooms, suites, or villas. All the villas are gorgeous and come with butler service. The Tree House Villas are our favorites, however. They are enclosed in glass and have panoramic sea views plus outdoor whirlpools.
Amenities are plentiful. There are three swimming pools, including one exclusively for adults. Activities from diving to jet skiing and parasailing can be booked. There is also a kids' club, multiple restaurants, a gym, and a spa on the manicured tropical gardens.
Address: Barangay Yapak, Malay, Aklan Province 5608 Philippines
8. El Nido Resorts Pangulasian Island, Palawan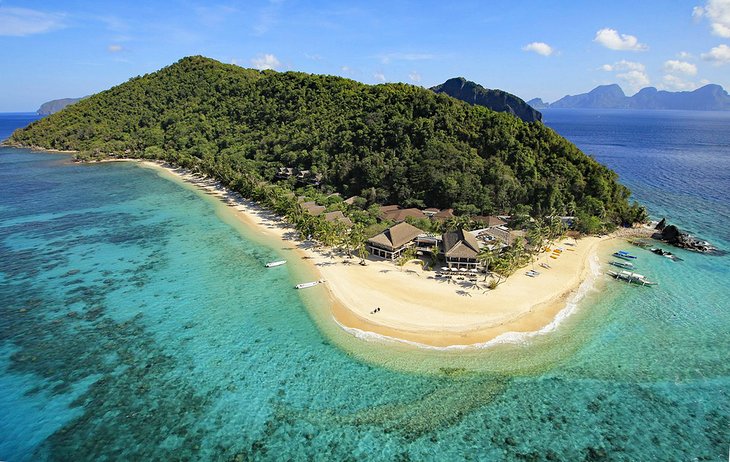 Accommodation: El Nido Resorts Pangulasian Island
On Pangulasian Island in Bacuit Bay off the Palawan mainland in Bacuit Bay, El Nido Resorts offers a secluded luxury resort experience. The boutique resort has just 42 villas and a romantic vibe. It caters mostly to couples. The villas have elegant Balinese-inspired decor and are quite large.
Guests staying here rarely leave the resort as there are no other services on the island. But there is much to keep you entertained on the grounds. Besides a gorgeous beach, the infinity swimming pool faces the sea and is surrounded by sun loungers.
There is a spa offering a full range of treatments and a game room for rainy days. Activities including sailing, sunset cruises, and diving and snorkeling, and jungle hikes can be arranged. The restaurant serves an international menu with a focus on local ingredients.
Address: Bacuit Bay, El Nido, Palawan Island 5313 Philippines
9. Crimson Resort & Spa Mactan, Cebu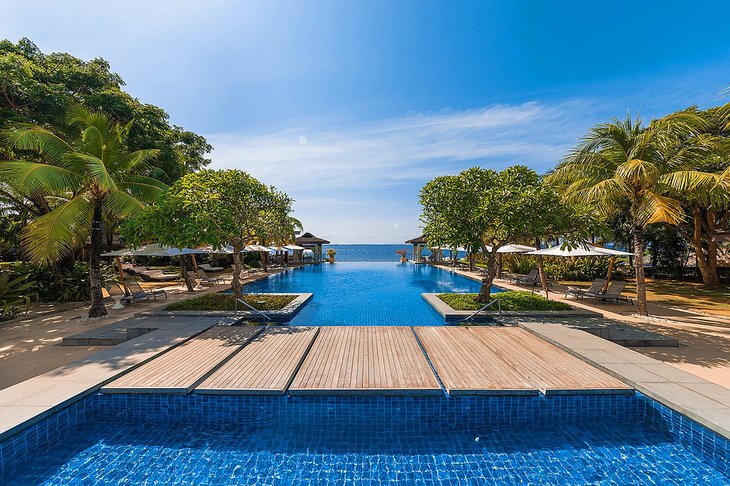 Accommodation: Crimson Resort & Spa Mactan, Cebu
About a 30-minute drive from Cebu's airport, Crimson Resort & Spa is set on 15 manicured acres. The resort has a Filipino-inspired elegant ambience throughout.
There are 290 rooms and suites in a number of configurations. All are luxe and comfortable, but the Ocean Front Private Pool Villa Suites are the top of the class. These come with infinity plunge pools on spacious balconies.
The beach area here is small but well laid out. The star of the show is the resort's three-tiered infinity pool. From its top level, you get fabulous turquoise sea views.
At this family-friendly property, there is a children's play area on the grounds. Other amenities include four restaurants, a well-equipped gym, and a spa with treatments done in open-air cabanas.
Address: Seascapes Resort Town, Lapu Lapu 6015 Philippines
10. Princesa Garden Island Resort & Spa, Palawan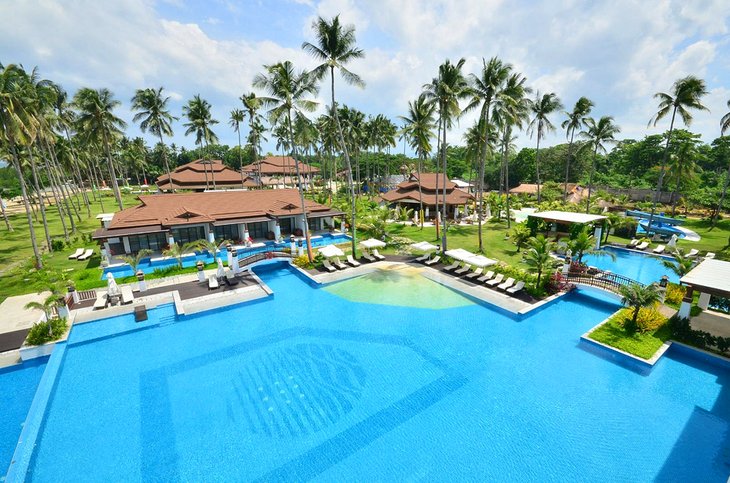 Accommodation: Princesa Garden Island Resort & Spa
In Palawan, Princesa Garden Island Resort & Spa is set on four landscaped hectares where the ocean meets the jungle. The property was in its soft opening phase at the time of writing but will be opening completely in the coming months.
Amenities here include a saltwater swimming pool, water sports, nightly entertainment, a spa, and a fitness center.
There are 78 rooms, suites, and villas that feature Asian-inspired design. The accommodation comes in a few different classes, with the luxury category being the most posh. Suites in this category have private lanais.
When it launches, the Water Villa will be the top category room and have 180-degree sea views from floor-to-ceiling walls of window. It will also boast an outdoor soaking tub on a wood deck.
The property is family friendly, and children under 12 stay free in a room with an adult.
Address: Caniguiran Brgy. Bancao-Bancao, Puerto Princesa, Palawan Island 5300 Philippines
11. Discovery Shores Boracay, Boracay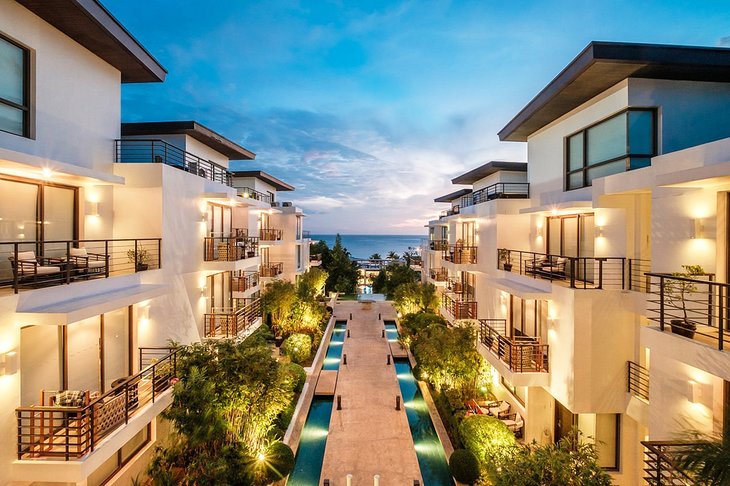 Accommodation: Discovery Shores Boracay
At the northern edge of White Beach, Discovery Shores Boracay is a boutique resort with just under 100 suites. These are all spacious and luxe and come in a few different configurations. Expect modern decor, high-quality linens draped over spacious beds, and floor-to-ceiling windows in all. Many have sea views, and some have Jacuzzis on furnished balconies.
The resort offers free shuttle service to the airport, as well as to Stations 1, 2, and 3 on White Beach.
Other amenities include a pool with an area for children and another with swim-up beverage service. There is a kids' club for children 12 and under. There are two restaurants, a fitness center, and a spa on the grounds as well.
Address: Station 1, Barangay Balabag, Malay, Aklan Province 5608 Philippines
Map of Resorts in the Philippines