10 Top-Rated Resorts in the Poconos for Couples
We may earn a commission from affiliate links ()
It's easy to see why the Poconos is dubbed one of America's top honeymoon destinations. Set serenely near the eastern border of Pennsylvania, this natural wonderland is peppered with views so romantic, they're best enjoyed hand in hand. Couples looking for a loved-up vacay have flocked here for decades, drawn by the area's charming inns, cozy hideaways, and romantic resorts (yes, some still boast heart-shaped tubs).
Whether you're looking for amorous accommodations that include a private fireplace and a spa featuring couples' treatments, or hope to stay in a luxurious resort boasting mountain views and cooking classes, you'll find plenty of dreamy options to enhance your passionate time away.
Choose the ideal spot for your next romantic vacation with our list of the best resorts in the Poconos for couples.
Note: Some businesses may be temporarily closed due to recent global health and safety issues.
1. The Lodge at Woodloch, Hawley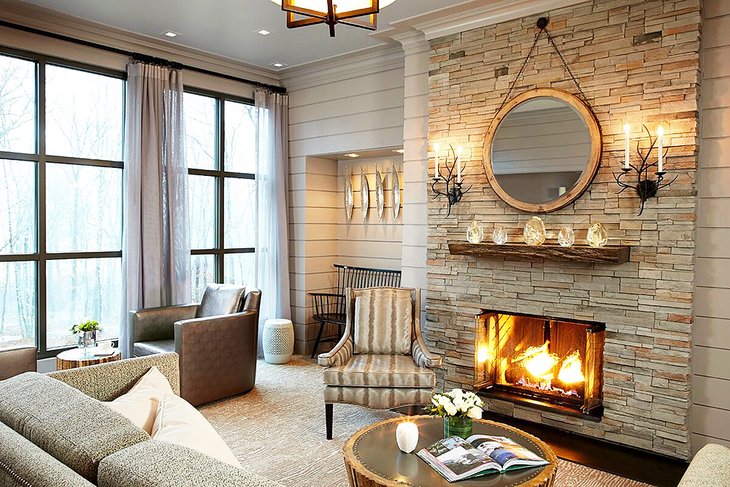 Sometimes, life presents you with a resort so tranquil and rejuvenating, you can't help but dream about it years after your vacation. The Lodge at Woodloch in Hawley is this kind of haven. An all-inclusive destination spa resort, this luxe retreat offers couples an environment so relaxing, they can't help but decompress.
The resort's main goal is to destress its guests, enticing them to refocus on themselves and their own wellness. More than 35 daily classes allow couples to explore their passions, be it cooking, strength training, yoga, watercolor painting, or meditating.
Unscheduled events encourage guests to explore the outdoors, whether they go birding, play disc golf, practice archery, kayak, bike, or hike nearby trails. A stay here also includes daily meals, access to speakers and workshops, and guided outdoor excursions.
Each of the 58 rooms is a nirvana, featuring plush furnishings, marble bathrooms, and private verandas. The suites offer up even more space to stretch out, and include a living room. Not surprisingly, this has been deemed one of the best resorts in the Poconos.
Address: 109 River Birch Lane, Route 590 East, RR1, Hawley, Pennsylvania
Accommodation: The Lodge at Woodloch
2. Hotel Fauchère, Milford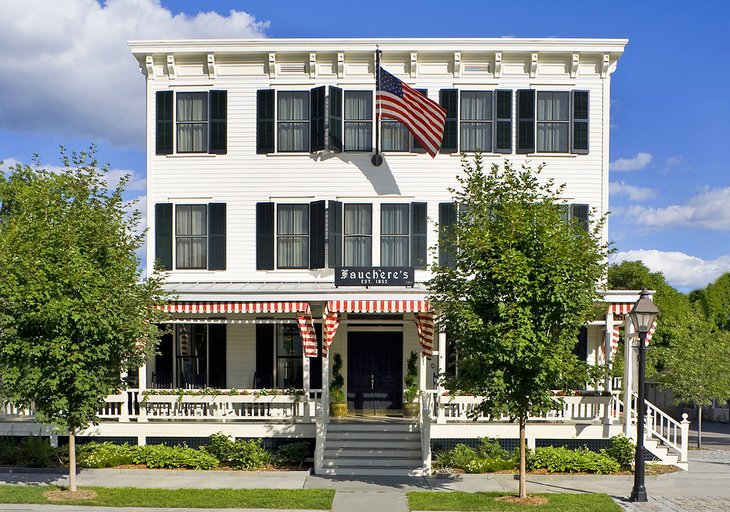 A private romantic getaway sits in the heart of Milford, less than a mile from the Delaware Water Gap National Park. Its lavish rooms, three impressive on-site eateries, and in-room spa treatments (for suite, premier, and deluxe guests only) make this one of the best resorts in the Poconos for couples.
While visitors are centrally located, within walking distance to the town's restaurants and shops, the rooms are so comfy and plush, they're hard to leave. Hardwood floors, marble bathrooms, and down comforters are just a few of the perks.
Splurge on a premium room for added space and privacy. You'll be rewarded with a soothing garden view from your balcony, as well as heated towel racks and radiant bathroom floor heating.
Enjoy some canoodling in the conservatory, a dreamy spot located at the back of the hotel. You'll be lulled by the rushing fountain as you sip afternoon tea. And don't miss exploring the notable artworks hung throughout the property. The Galerie Fuachère is particularly inviting and located along the hotel's first floor hallway.
Address: 401 Broad Street, Milford, Pennsylvania
Accommodation: Hotel Fauchère
3. Woodfield Manor, a Sundance Vacations Property, Cresco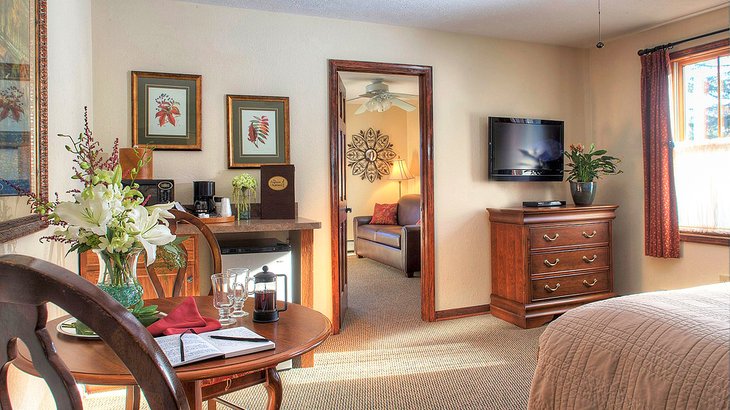 Woodfield Manor Poconos is an intimate resort, perfect for couples who prefer to step back from the hustle and bustle of everyday life. This quiet retreat is surrounded by lush woodlands and features 10 quaint cottages, six suites, and four apartment-style rooms.
Also on the grounds are a restaurant (The Frogtown Chophouse), grills, and two seasonal outdoor swimming pools – one dedicated just for kids, which leaves the other in a more tranquil position.
Gas fireplaces add ambience to the guest rooms, while the comfy beds and garden views make it even harder to make yourself head outside. For a truly romantic getaway, book a single cottage. This stand-alone cabin boasts a kitchenette, gas fireplace, and plush queen bed, as well as a porch and lovely views. Up the romance by adding a cheesecake, bouquet, or dozen roses to your room.
Plenty of board games are available to borrow and take back to your unit or enjoy in one of the common areas.
Address: 472 Red Rock Road, Cresco, Pennsylvania
Accommodation: Woodfield Manor, a Sundance Vacations Property
4. Silver Birches Resort, Hawley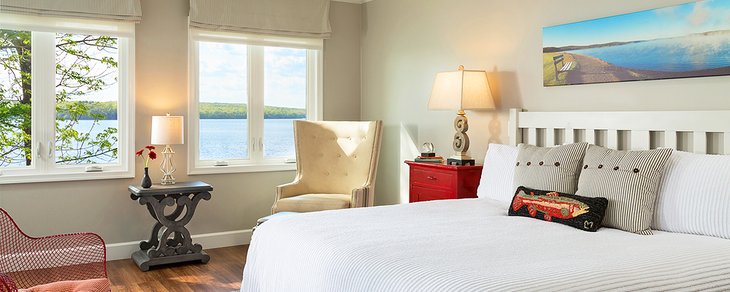 Silver Birches Resort is a newly renovated resort set on the sparkling shore of Lake Wallenpaupack in Hawley. Dating back to the 1920s, its magnificent and newly renovated accommodations, and endless activities, make it easy to leave the stress and worries of city life behind. Take a yoga class, book an in-room massage, play shuffleboard, or lounge in an Adirondack chair.
Settle into your lakeside deluxe king room, a romantic hideaway featuring an electric fireplace and either a private porch or whirlpool bathtub. A rustic restaurant, The Dock on Wallenpaupack, is a welcome respite for those looking to tuck into some fantastic fare while ogling the glorious view. An on-site coffeehouse serves baked goods, as well as coffee and tea daily.
On summer weekends, guests can enjoy live music at the shore. The resort's sister property, The Settlers Inn, offers another fab restaurant serving farm-to-table food nearby.
Address: 205 Route 507, Hawley, Pennsylvania
Accommodation: Silver Birches Resort
5. The Settlers Inn, Hawley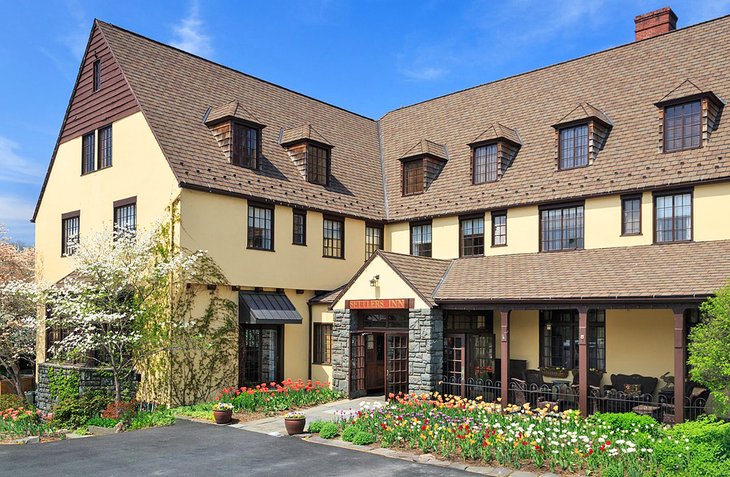 The Settlers Inn is a perfect setting for a romantic couples' retreat. Set in a restored Arts and Crafts-style lodge, the resort's exposed wood beams, antique furniture, and lovely gardens enhance the amorous surroundings, while the friendly staff make it easy to feel at home.
Opt for the Starry-Eyed Romance Package to ensure your visit is as dreamy as you hoped. You'll be set up in the resort's nicest available room, receive a dining credit to the in-house farm-to-table restaurant, breakfast for two, a lovely floral arrangement, and a sprinkling of rose petals to add even more romance to your stay. If you're lucky, you'll be booked into a room with a fireplace and whirlpool tub.
Borrow bikes to tour the area, stroll along the banks of the Lackawaxen River, or soak up the area's natural beauty from a picturesque deck.
Address: 4 Main Avenue, Hawley, Pennsylvania
Accommodation: The Settlers Inn
6. The French Manor Inn and Spa, South Sterling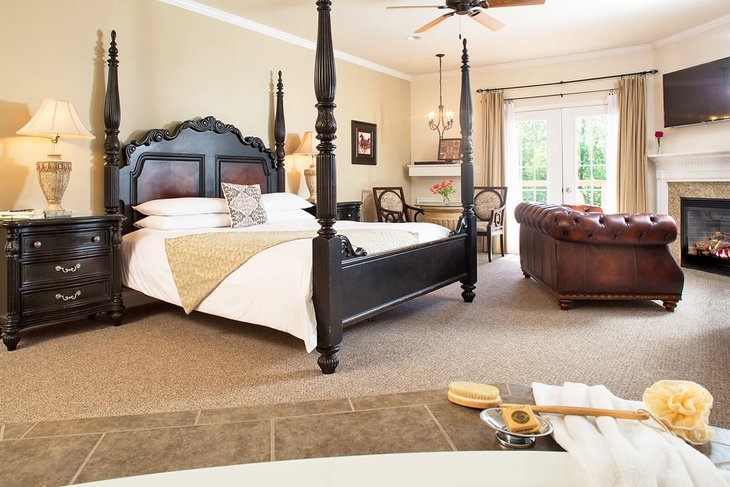 A delightful stone château houses guests of The French Manor Inn and Spa in South Sterling. A quaint bed and breakfast, this enchanting spot oozes romance. Imagine gazing at the lush Pocono Mountains from your private balcony, the cool breeze tickling your face as you feel your beloved's arms wrap around you. It doesn't get much more amorous than that.
Whether you choose a country-style room in the Carriage House or a Victorian Manor chamber, you'll be spoiled with luxurious amenities. We're talking whirlpool tubs and fireplaces and wood-paneled walls that evoke an antique allure. Elegant spa suites are even more luxurious and guarantee their guests a tranquil spot in which to enjoy each other's company.
Outside your suite lies the peaceful Le Spa Foret, a hot tub, steam sauna, and indoor saltwater pool, perfect for year-round enjoyment. Snuggle up to your honey during a self-guided hike through the area trails, head out snowshoeing, or take a yoga class on a Saturday morning during the Summer and Fall.
The French Manor Restaurant is utterly romantic, featuring deliciously fresh meals by candlelight on a covered outdoor terrace. Throughout the summer, guests can enjoy live jazz while they dine on a Tuesday evening.
Address: 50 Huntingdon Drive, South Sterling, Pennsylvania
Accommodation: The French Manor Inn and Spa
7. Stroudsmoor Country Inn, Stroudsburg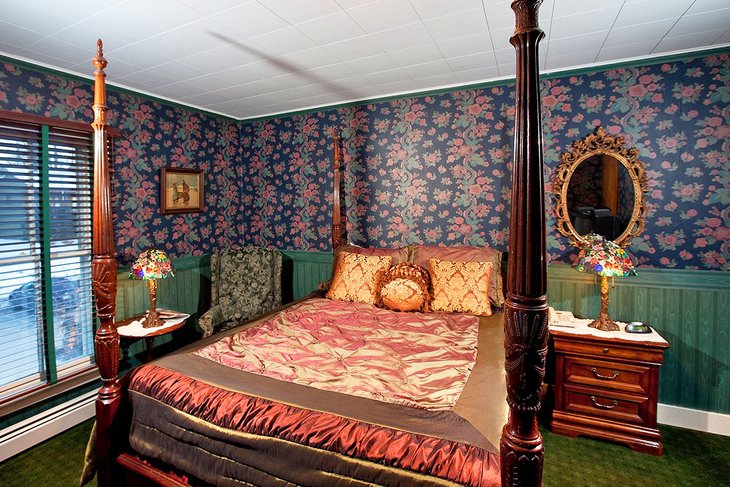 Escape to Tuscany at the Stroudsmoor Country Inn. An idealistic destination oozing Tuscan charm, this lovely boutique resort ups the romance factor so well, you'll be tempted to tie (or retie) the knot on their stunning, 350-acre mountain estate. It's easy to do in one of their six gorgeous wedding and event facilities near the Appalachian Trail.
The enchanting cabins and suites evoke old-world charm and make it easy to cozy up on large, comfy beds. The Cabins on the Common is perhaps the most romantic option for those looking to canoodle in the privacy of their own cottage, complete with a private porch (with rocking chairs, of course), a fireplace, and whirlpool bath.
Gourmet meals can be enjoyed on-site at SCI, a delightful restaurant serving a grand buffet each weekend and delectable à la carte Italian and American cuisine so tasty, you'll want seconds. Amenities include a spa, indoor pool, fitness center, bike rentals, hiking trails, and lawn games.
Address: 257 Stroudsmoor Road, Stroudsburg, Pennsylvania
Accommodation: Stroudsmoor Country Inn
8. Cove Haven Resort, Lakeville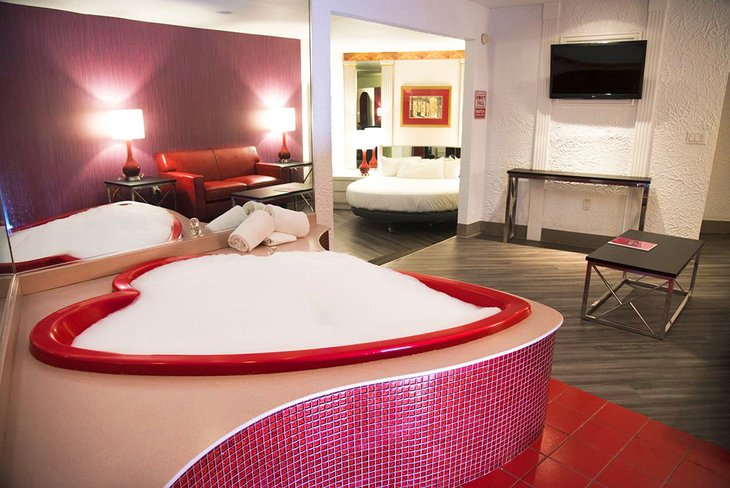 A literal haven for couples, this unique resort brings romance to a whole new level – we're talking themed rooms and bubble baths. Apparently, Cove Haven Resort is the "birthplace of the heart-shaped hot tub." It is also said to be responsible for creating the seven-foot-tall Champagne Tower bathtub – don't knock it until you try it.
While staying in with the "do not disturb" sign on your door is one of the top things to do at this passionate resort, there are plenty of activities to peak your sense of adventure outside your suite. Swim in the pool, play mini golf, paddleboard in the lake, hit the tennis and basketball courts, or try your aim at archery when the weather is warm.
During winter, head out on a snowshoeing adventure, try snow tubing, or cross-country ski. Remember, you can warm up later in that heart-shaped tub! An on-site spa will help you both relax, and breakfast, dinner, and nightly entertainment is included at each of the Cove Haven properties: Cove Haven Resort, Pocono Palace Resort, and Paradise Stream Resort.
Address: 194 Lakeview Drive, Lakeville, Pennsylvania
Accommodation: Cove Haven Resort
9. Pocono Palace Resort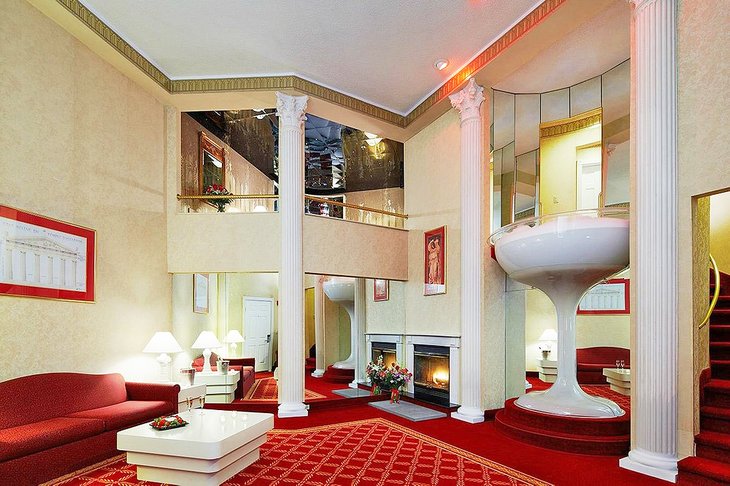 Set within the heart of the Poconos, the Pocono Palace Resort offers its guests a quiet and amorous retreat perfect for a romantic couples' getaway. Hearkening back to the days when fantasy suites reigned supreme, this resort boasts everything you never knew you needed for a starry-eyed getaway.
Ever wanted to sleep on a round bed or soak in a heart-shaped tub? Yes, those still exist, and they're featured in the cozy, updated rooms. The romantic kitsch doesn't stop there – the champagne tower suite hosts the famed seven-foot-tall champagne tower hot tub and a private, heart-shaped pool. It, too, has a round king-sized bed, plus a massage table, log-burning fireplace, and dry sauna. Hello, 70s dream vacay!
Another Cove Haven Resort, Pocono Palace includes breakfast and dinner in its rates, as well as access to all the amenities, including restaurants, at the other three properties.
Address: 206 Fantasy Road, Marshalls Creek, Pennsylvania
Accommodation: Pocono Palace Resort
10. Paradise Stream Resort, Cresco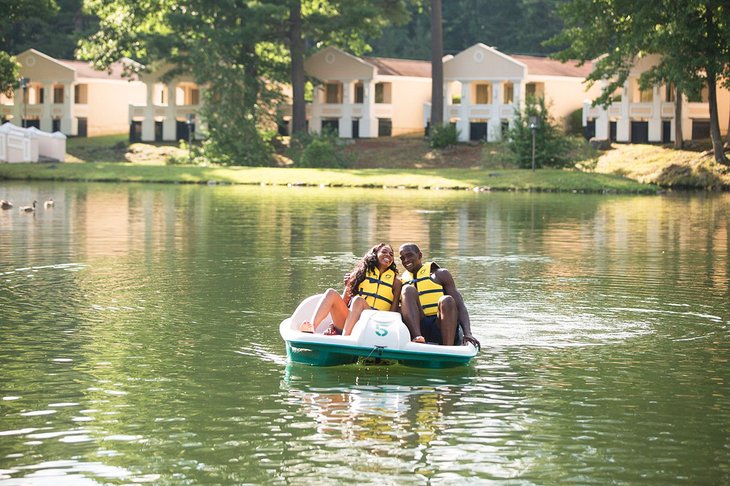 This Cove Haven Resort is as romantic as its sibling properties, with the bonus of being set on the shimmering shores of private Lake Eden. On its grounds, guests will find the romantic suites this resort group is known for – heart-shaped tubs and giant champagne tubs included.
The Garden of Eden Apple Suite has a log-burning fireplace, round bed (with a mirrored headboard, of course), private heated pool, and a dry sauna.
The resort is also home to two restaurants and a slew of loved-up activities. Hold hands on a pedal boat, try your luck at fishing, or visit the Island of Love. You can also take a dip in the indoor or outdoor pool.
Address: 6208 Paradise Valley Road, Cresco, Barrett Township, Pennsylvania
Accommodation: Paradise Stream Resort