12 Top-Rated Resorts in Oregon
We may earn a commission from affiliate links ()
The best resorts in Oregon offer luxurious comfort and stunning outdoor environments. Oregon is rich with natural landscapes, and the state's resorts capitalize on these surroundings. From family-friendly resorts to more intimate quarters, Oregon has a great selection of sumptuous places to stay.
The rugged Oregon Coast provides an excellent backdrop to several of the best resorts in the state. Alongside beachside rooms, these coastal getaways offer everything for an all-inclusive beach vacation. Winter along the coast features lower room rates than summer, and the best resorts have window views of the dramatic seasonal storms.
Inland resorts in Oregon gravitate near recreational regions like Bend and Mount Hood. These woodsy resorts feature a rustic appeal with pampering modern comforts. Alongside amenities like spas, guided horseback rides, and golf courses, these resorts also connect guests to the surrounding national forestland.
Find your next weekend getaway with our list of the best resorts in Oregon.
Note: Some businesses may be temporarily closed due to recent global health and safety issues.
1. Stephanie Inn, Cannon Beach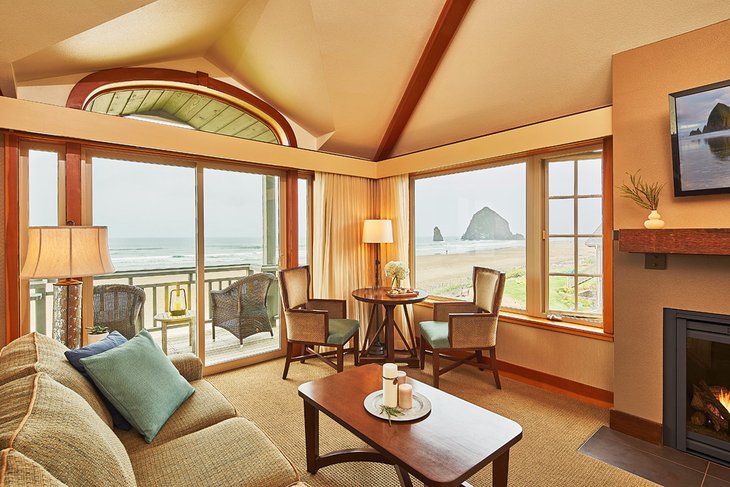 Among the many fantastic places to stay in Cannon Beach, Stephanie Inn provides the most inclusive experience. Guests at this four-star luxury boutique hotel indulge in spa services, gourmet dining, and social gatherings. And all the hotel's amenities include a view of the ocean and Haystack Rock.
Rooms at Stephanie Inn range from mountain-view corner suites to ocean-view carriage houses. Many of the rooms feature dormer-style windows that let in ample natural light. And alongside modern furnishings, all rooms come with Jacuzzi tubs, gas fireplaces, and lavish bathrobes.
The Stephanie Inn Spa features dozens of massage services. A signature 50-minute massage is available that is sure to please. Specialty treatments like lava rock and prenatal massages offer other moments of relaxation. This Aveda Exclusive Spa also provides body wraps, scrubs, and facials.
Accommodation: Stephanie Inn
2. Headlands Coastal Lodge & Spa, Pacific City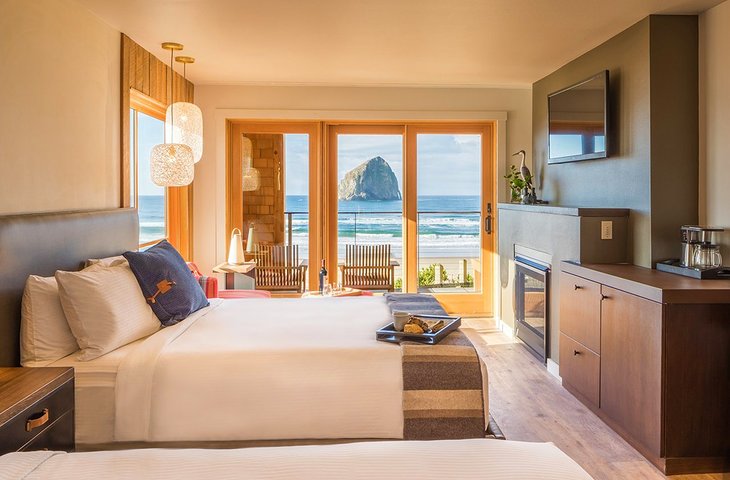 Pacific City enjoys a surreal view of Cape Kiwanda and a more mellow atmosphere than other tourist destinations on the Oregon Coast. The best place to enjoy this Pacific City splendor is Headlands Coastal Lodge & Spa. This upscale hotel enjoys an excellent reputation for its superior service and coastal luxury.
Private balconies at the resort offer great views of the surf. And the interiors of each overnight space enhance the ocean vibe with minimalist but comfortable decor. Common areas in the resort also lend to coastal comfort with floor-to-ceiling windows and curated sitting spaces.
Gourmet meals at the Meridian Restaurant are some of the resort offerings at Headlands Coastal Lodge. This atmospheric dining area offers a new catch of the day with each visit. The restaurant also hosts culinary experiences, including a room delivery of a Northwest Brunch Board.
Spa services at the on-site Tidepools Spa include massages, facials, and body wraps. The Tidepool Wellness branch of the spa also offers fitness classes and private yoga sessions.
Accommodation: Headlands Coastal Lodge & Spa
3. Sunriver Resort, Sunriver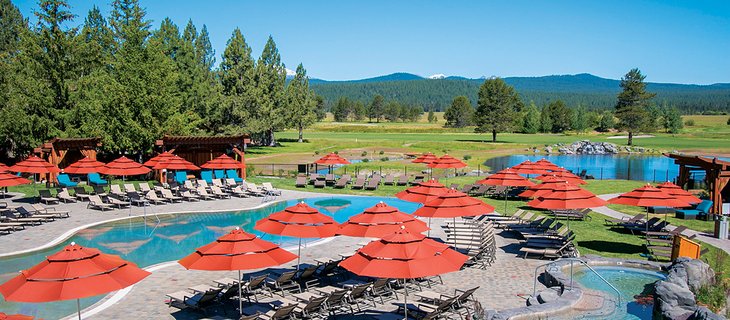 Sunriver Resort is near the stunning Central Cascade Mountains, 15 miles south of Bend. This sprawling resort has four signature golf courses that entice links-lovers from across the country.
The resort also takes advantage of the sunny weather in the region with several other things to do besides golf. Other outdoor activities at Sunriver Resort include tennis, horseback riding, lake boating, and skiing at the nearby Mt. Bachelor.
Massages, facials, and body wraps are also available at the on-site Sage Springs Club & Spa. The resort's Cove Pool is also a great place to relax throughout the day. This private swimming area blends into the beautiful countryside with features like an artificial waterfall.
The grounds of the hotel have several options for dining. From casual poolside menus to the upscale offerings at The Grille at Crosswater, guests never need to leave the resort to quench an appetite.
Accommodation: Sunriver Resort
4. Running Y Ranch Resort, Klamath Falls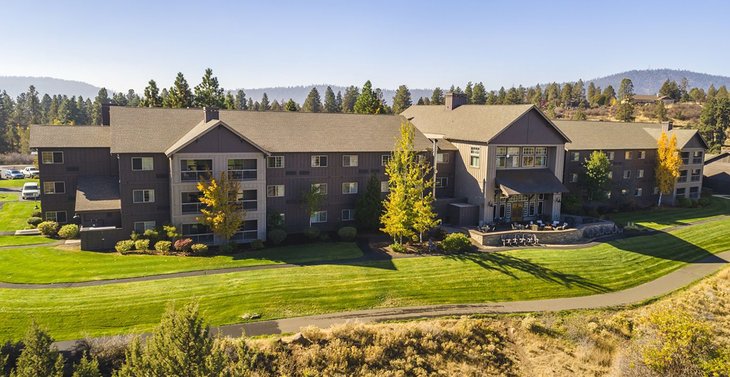 This four-season resort near Crater Lake is one of the most popular getaways in Southern Oregon. With the sunny weather in the region, the resort offers plenty of ways to enjoy the surrounding landscapes. Activities like golfing, horseback riding, and skiing at the nearby Mt. Ashland are available with each stay (depending on the visit).
This modern resort also partners with local outfitters to provide bigger Oregon day trips like kayaking and fly fishing. Other ways to stay active include an on-site ice rink and sports complex. For relaxing moments between adventures, the resort features comfortable guest rooms and suites. Larger chalets and townhomes are also available.
For extra pampering, the Sandhill Spa at the resort provides an "Oasis at Klamath Lake." This tranquil spa features a variety of services, including massages, facials, and waxing.
The on-site Ruddy Duck Restaurant offers menus for all three meals of the day. Though casual enough for the whole family to enjoy, Ruddy Duck's dinner menu does offer upscale entrees like filet mignon.
Accommodation: Running Y Ranch Resort
5. Salishan Coastal Lodge, Gleneden Beach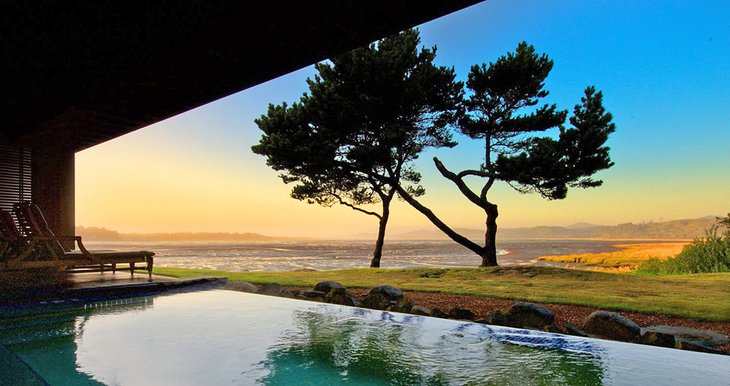 Tucked between Siletz Bay and the Pacific Ocean near Lincoln City, this luxury resort offers a complete coastal getaway. Golfing, spa treatments, and private beach access entice guests to the Salishan Coastal Lodge. But it's the ambience of this stylish resort that brings visitors back for repeat visits.
Built with local wood and stone, the Salishan Coastal Lodge blends perfectly into its oceanic surroundings. With a rustic touch, the resort offers contemporary furnishings throughout each room and every common area.
Overnight offerings at the Salishan include traditional and deluxe rooms and signature suites. All rooms overlook either the forest or the bay. All rooms also come with private balconies, gas fireplaces, and flat-screen TVs.
Several eateries at the resort cater to all types of appetites. The resort also caters to athletic endeavors, with an indoor pool, tennis center, and full-scale workout facility. When it comes time to explore the ocean, visitors enjoy the exclusive access by private road down to the shores.
Accommodation: Salishan Coastal Lodge
6. The Lodge Hotel at Eagle Crest Resort, Redmond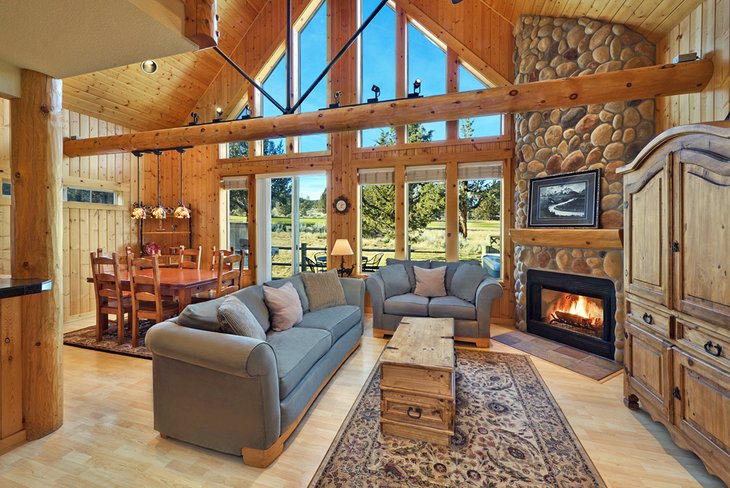 Thirty minutes north of Bend, The Lodge Hotel at Eagle Crest Resort is an all-in-one vacation destination. The resort features stylish rooms in a Main Lodge, as well as chalet, townhome, and custom home vacation rentals. Alongside ample places to stay, this sun-drenched resort also provides plenty of ways to play.
Eagle Crest is home to three 18-hole golf courses. The signature par-72 course at the resort, The Ridge, is open throughout the year thanks to its low elevation and high desert location. Other activities offered by the resort include horseback riding, bicycle renting, and nearby trail hiking.
Spa services are available at The Spa at Eagle Crest. These rejuvenating treatments include massages, facials, and waxing. The resort offers other wellness amenities like an outdoor pool and sports complex. The resort also features racquetball, tennis, volleyball, and basketball courts.
Accommodation: The Lodge Hotel at Eagle Crest Resort
7. Hallmark Resort, Newport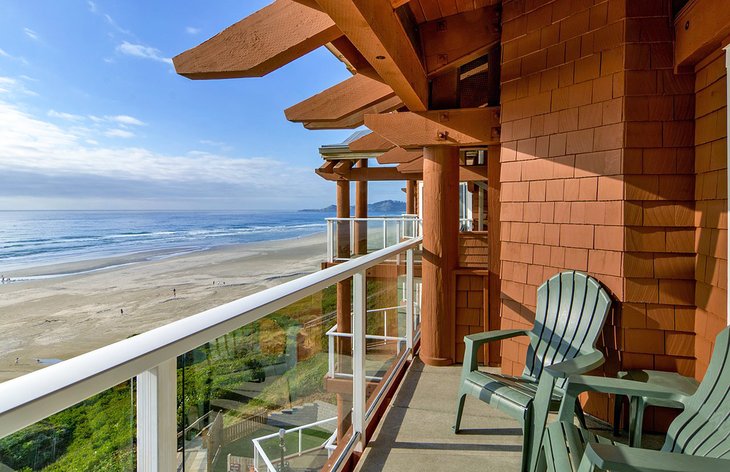 Every room comes with a view of the Pacific Ocean at this popular resort on the Oregon Coast. Rooms range in size and style, from traditional queen rooms to upscale admiral suites complete with a two-person spa tub. With such a variety of places to stay, the Hallmark Resort also caters to a wide range of vacation budgets.
A wide, sandy beach is right at the backdoor of this coastal resort. The resort is also near attractions like the Oregon Coast Aquarium and the Yaquina Bay Lighthouse. The resort's excellent location is also within walking distance to several fresh seafood restaurants.
Guests don't have to leave the resort's property for a freshly caught meal, however. The award-winning Georgie's Beachside Grille is on-site and provides menus for all three meals of the day. Room service is available from Georgie's, but the dining room's panoramic ocean view adds to the experience of eating in the restaurant.
Accommodation: Hallmark Resort
8. Oregon Garden Resort, Silverton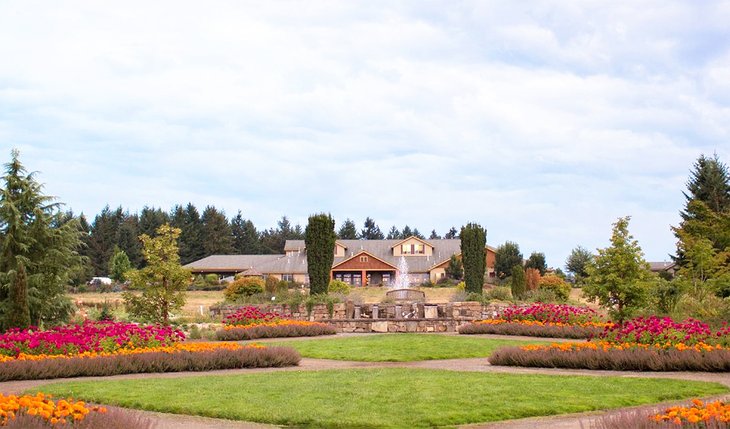 This charming resort overlooks 80 acres of The Oregon Garden, 15 miles east of the state capital of Salem. Offering a tranquil escape and garden getaway, the coziness and quietness of the resort caters to romantic weekends and parents' vacations.
If the landscape doesn't set the mood for a romantic weekend, the Fireside Lounge will. The in-house Moonstone Spa also tends to loosen things up and add to the relaxing feeling sought on vacation. For a leisurely morning breakfast after a late night or full night's sleep, the Garden View Restaurant purveys coffee and fresh menu options amid beautiful landscaping.
The resort offers a special romance package that comes with deluxe accommodations and special dinner offerings. When it comes time to leave the room, guests at the resort receive free admission to The Oregon Garden. Friday night live music at The Oregon Garden also offers a great date night without leaving the resort.
Accommodation: Oregon Garden Resort
9. Overleaf Lodge & Spa, Yachats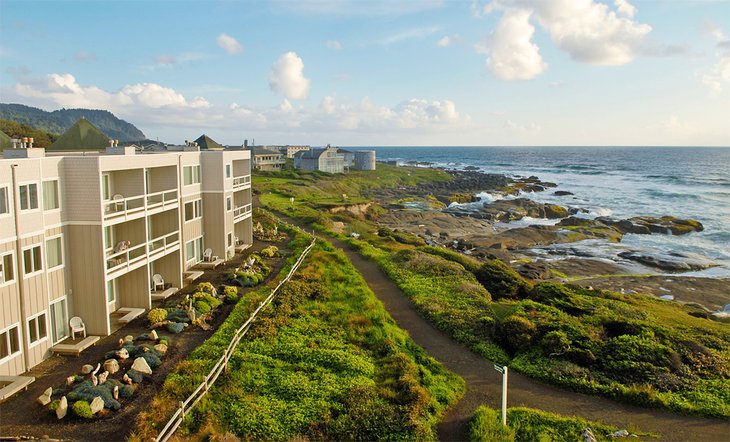 This resort on the central Oregon Coast overlooks a stunning oceanfront scene. The tide ebbs and flows against a rocky shoreline here, offering seaside entertainment for hours. A meandering hiking trail connects to the property and provides several vantage points of the rock-pounding surf.
Every room at Overleaf Lodge & Spa offers excellent views of the raging waves. Overnight accommodations at the resort include uniquely themed rooms and suites. Sunset suites at the resort feature a full kitchen, extra dining space, and a Jacuzzi tub with a window view.
Other offerings at this eco-conscious resort include massages at the Overleaf Spa. For appetite quenching, a delicious homemade breakfast is delivered to the room each morning. The resort also partners with local anglers to offer fresh seafood every day in the lobby. For a special treat, the resort also provides pre-packed gourmet picnic baskets to enjoy on the beach.
Accommodation: Overleaf Lodge & Spa
10. Surfsand Resort, Cannon Beach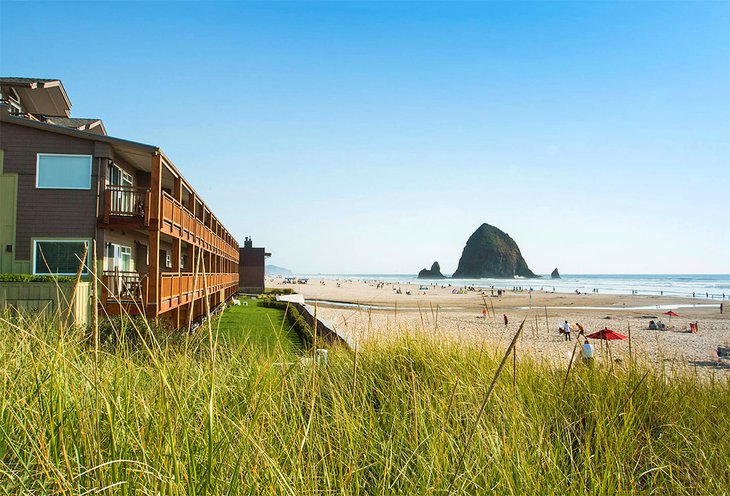 Surfsand Resort is another popular place to stay within eyesight of Haystack Rock in Cannon Beach. This beach-adjacent resort is particularly popular for families. Surfsand has several activities for kids, ranging from family bonding events to supervised experiences that allow parents to enjoy their own time.
Family-friendly activities at Surfsand include nightly bonfires, ice-cream socials, and guided tide pool expeditions. The resort also offers complimentary beach cruisers for a family ride, and the milk and cookies at the front desk always draw interest from young visitors.
Surfsand isn't just for kids, however. With fantastic ocean views and a modern motif, adults find plenty of relaxing moments during their stay. The on-site Surfside Spa adds to this comfort with services like massages and sauna access.
The on-site Wayfarer Restaurant includes views of the ocean and menu items catering to every appetite.
Accommodation: Surfsand Resort
11. Brasada Ranch, Powell Butte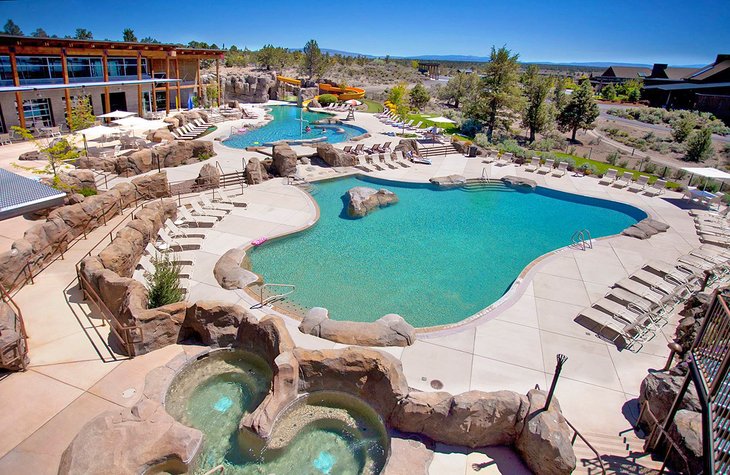 In Oregon's High Desert, 20 miles northeast of Bend, this sunny-weather ranch comprises over 2,000 acres of beautiful terrain. This plentiful space offers several activities and fun ways to enjoy the outdoors.
Ranch activities include golfing, guided horseback rides, and fishing in the resort's fully stocked ponds. Brasada also hosts daily yoga, meditation, and wellness classes throughout the summer. And the outdoor pool area at the ranch is a true oasis, with stunning rock landscaping.
Brasada Ranch has cabins, suites, and guest rooms, all with great views of the not-so-distant Cascade Mountains. A sleek Ranch House is home to the suites and guest rooms, and also features a guest-exclusive fire pit and hot tub area. The Ranch House is adults-only, with no children under the age of 14 allowed to stay the night.
Accommodation: Brasada Ranch
12. Mt. Hood Oregon Resort, Welches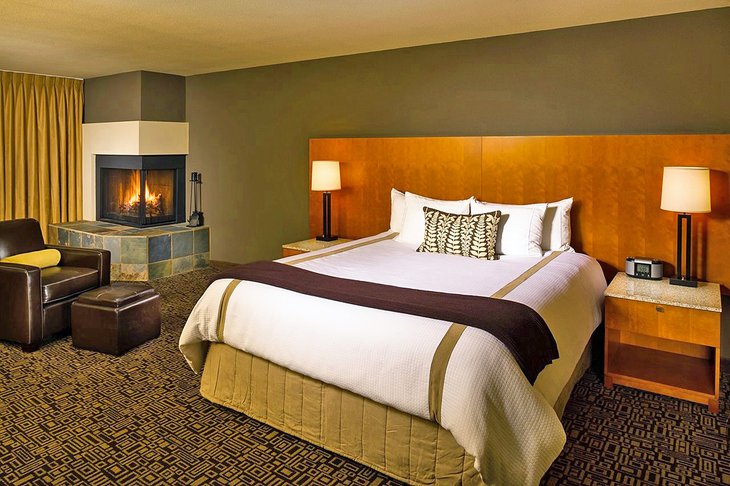 On the western flank of Mount Hood, an hour from Portland, this resort offers a forested getaway not far from the city. The lush countryside surrounding the property mixes well with the modern yet rustic appeal of the resort. And with several ways to enjoy the landscape, the Mt. Hood Oregon Resort caters to various vacation needs.
The 27 holes of golf at the resort offer one of the most popular activities while visiting. The Spa at Mt. Hood Oregon Resort also draws considerable interest with a variety of services. The rugged beauty of Mount Hood National Forest is also right at the backdoor of this luxury resort, including several ski areas on the mountain.
The resort features over 150 stylish guest rooms overlooking the 300-acre property. Rooms range from traditional resort rooms with king beds to sunrise suites with extra space. All overnight accommodations at the resort come with plush linens and private patios.
Accommodation: Mt. Hood Oregon Resort