14 Best Beach Resorts on the Oregon Coast
We may earn a commission from affiliate links ()
With wide sandy beaches, densely forested headlands, and a never-ending rhythm of the tides, the Oregon coast is a rich collection of beautiful landscapes waiting to be discovered. One of the best ways to add to the experience of nature on the coast is an overnight stay at a beachside resort.
Many of the best beach resorts can be found in the top small towns on the Oregon coast, including the tourist-friendly communities of Cannon Beach and Newport. Add to your Oregon coast vacation, with a full-service spa experience or 18 holes of golf overlooking the ocean.
If relaxing is high on your list of things to do, places like the Surfside Resort offer access to a long stretch of sandy beach, perfect for laying a towel down. For wildlife and whale watching, Depoe Bay has more than one great place to stay, including the incredible Whale Cove Inn with a perfect patio space to spot the spouts of the resident whales nearby.
Find the best place to stay on your next vacation with our list of the top-rated beach resorts on the Oregon Coast.
1. Salishan Coastal Lodge, Gleneden Beach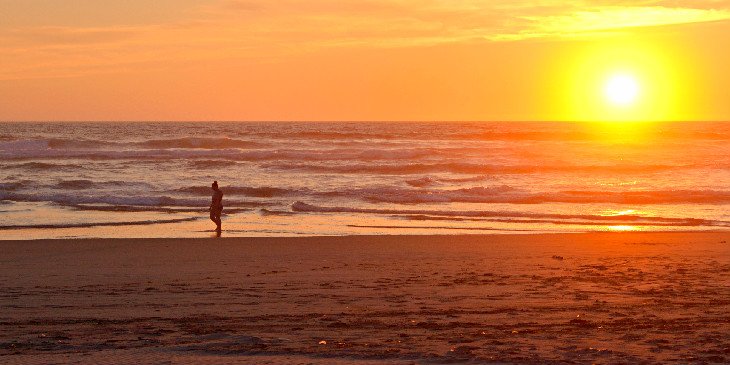 Hiking, wellness retreats, and romantic weekends are some of the reasons to visit this four-star hotel and longstanding resort on the Oregon coast. The 18 holes of their signature golf course overlooking the ocean also offer a good incentive to visit. Packages are available to make the most out of your stay.
The intricate wood and stone décor of Salishan Coastal Lodge pairs well with the modern art found on the walls. This aesthetic ambience makes the resort a popular wedding venue throughout the summer season. It also adds to its popularity as a honeymoon destination.
Five options for dining can be found at this stylish resort, ranging from fresh on-the-go items to fine-dining experiences. Provisions Market, at the resort, offers fresh breakfast items and patio seating.
2. Stephanie Inn, Cannon Beach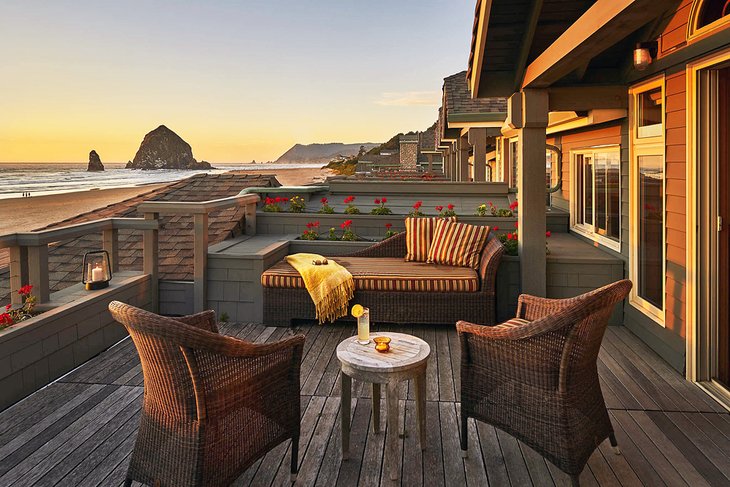 The hotel has a number of sizes and shapes to its rooms, but the ocean-view ones are best. These come with furnished balconies from which you must watch the sunset. Other in-room perks include Jacuzzi bathtubs, gas fireplaces, and a complimentary breakfast that can be served directly to your room.
The on-site restaurant is open for dinner only. It offers two evening settings for the chef's tasting menu. This changes nightly but there is always one meat, fish, and vegetarian selection.
Other amenities include a spa with a full range of treatments, a sauna, bike rentals, and a relaxing lounge space with board games and puzzles. The beach is also just steps from the property and perfect for early morning or sunset walks.
3. Whale Cove Inn, Depoe Bay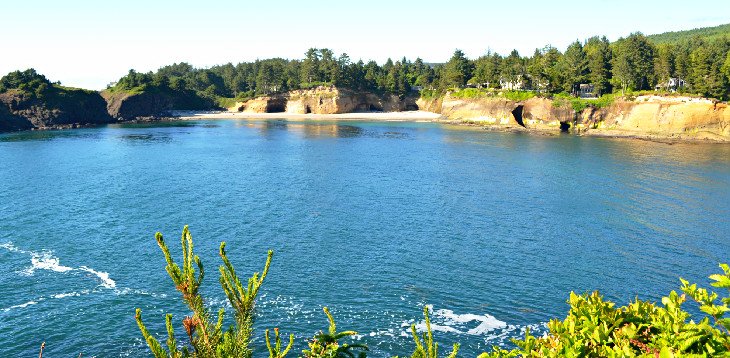 This luxurious boutique inn on the coast offers seven comfortable and spacious suites with private decks to enjoy the view. Each suite is uniquely furnished with tasteful ocean décor, and each features a private balcony with a Jacuzzi spa. Whale Cove Inn also has a three-bedroom premier suite that accommodates four guests comfortably.
For fine dining, guests can enjoy the on-site Restaurant Beck. This first-class dining experience features stunning ocean views and aromatic entrees.
Every aspect of Whale Cove Inn caters to an intimate getaway. Couples looking for a romantic place to stay will surely enjoy the comfortable furnishings of this first-class hotel. No guests under the age of 16 can stay at the hotel.
4. Hallmark Resort & Spa Cannon Beach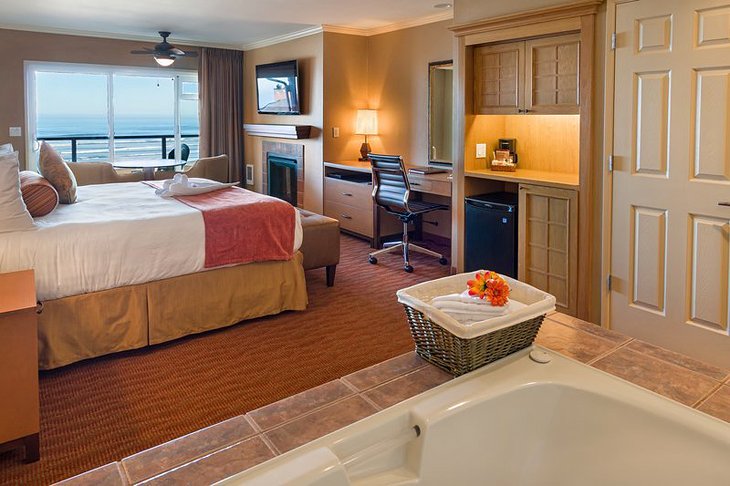 With a variety of accommodations, from king-size traditional rooms to oceanfront suites with personal spas and kitchen areas, Hallmark Resort caters to every type of traveler. Off-site suites are also available for more private accommodations.
On the hotel grounds, two saltwater pools and the full-service Elements by the Sea Spa offer extra pampering during a stay. And complimentary cruiser bike rentals from the resort provide an easy way to explore the sand and city of Cannon Beach.
Half the rooms are pet friendly at Hallmark Resort, and other pet-friendly amenities, like a dog wash station, cater to canine companions. Guests are limited to two dogs per reservation, and the hotel donates portions of the minimal pet fees to local animal shelters.
5. Adobe Resort, Yachats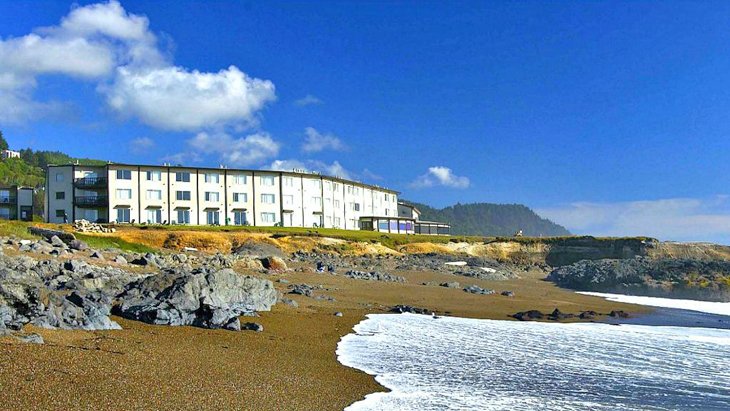 This independently owned, full-service resort features whirlpool suites, apartment rooms, and oceanside overnight spaces. Premier suites at the resort all have their own private balconies overlooking the ocean scene.
The on-site restaurant at Adobe serves breakfast, lunch, dinner, and Sunday brunch options. Several tables in this casual restaurant square up to big bay windows facing the waves.
The immediate coastline outside the Adobe Resort encourages all day spectating. And several other breathtaking ocean scenes surround this first-class resort including Cape Perpetua, Sea Lion Caves, and miles of sandy beaches.
6. Surfsand Resort, Cannon Beach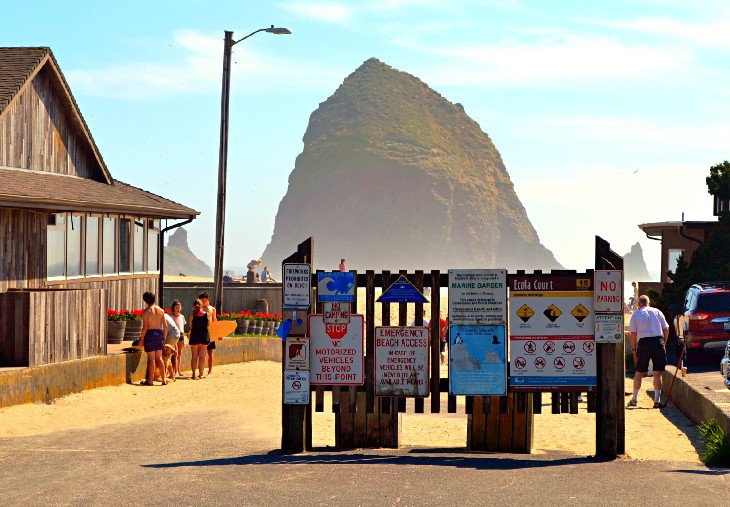 Rooms at Surfsand Resort range from two-bedroom studios to patio suites with stunning ocean views. The resort caters to family vacations with extra amenities like nightly group fires, Saturday ice-cream socials, and lanterns in every room for coastal exploring after dark.
The Wayfarer restaurant next door is a great place to grab a bite to eat. And the resort provides complimentary fruit, saltwater taffy, and fresh-baked cookies in the lobby.
The Surfsand Cabana Service is an extra perk, which includes beach chairs, towels, toys, and an umbrella. Alongside these free rentals, the staff at Surfsand are quick to point out some of the best spots to enjoy the surf and sand of Cannon Beach.
7. Hallmark Resort, Newport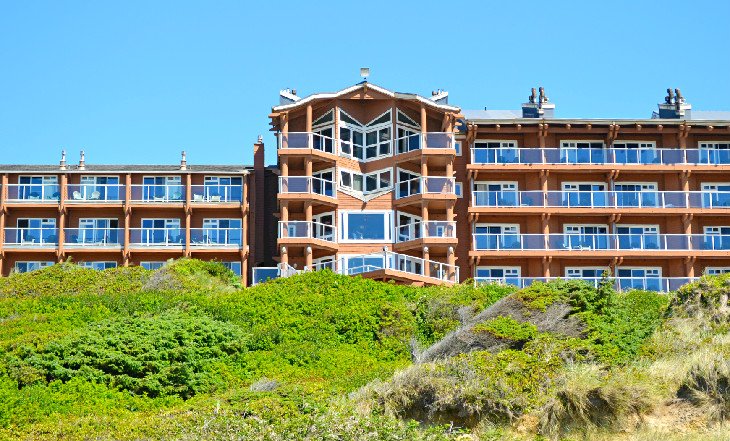 With plenty of space and variety of rooms, Hallmark Resort caters to both family vacations and couples looking for a romantic retreat. The resort features a saltwater pool, pet amenities, and on-site dining at Georgie's Beachside Grill.
Special rates are available for the winter season. The beachside rooms make for a great viewing platform of the wild winter surf this time of year.
8. Inn At Spanish Head, Lincoln City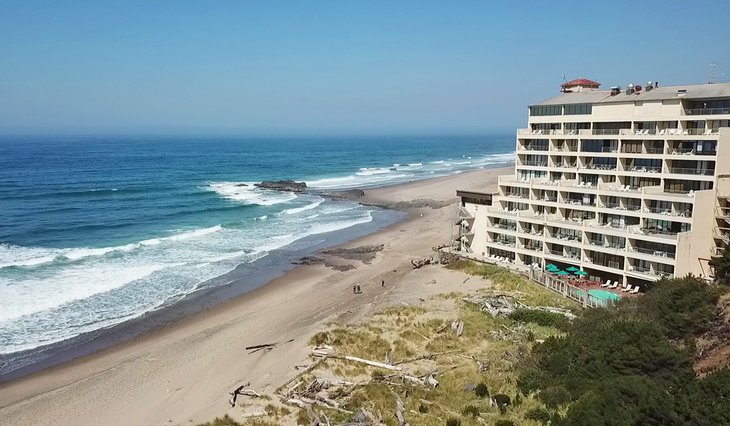 While the location in Lincoln City provides access to many fun cultural outlets close by, with the exquisite Fathoms Penthouse Restaurant on-site, as well as the enclosed ocean-view spa, a full vacation experience can be enjoyed without ever leaving the property.
For younger visitors, an arcade and games room can be found on the ground floor adjacent to the outdoor heated pool. When it comes time to enjoy the surf, the resort's elevator delivers guests down to the beach.
9. Hotel Elliott, Astoria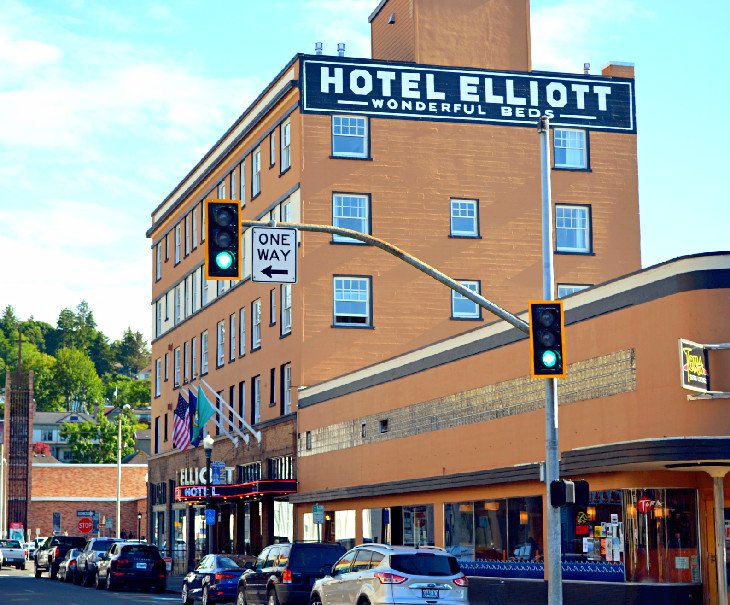 The 32 uniquely decorated rooms at Hotel Elliott range from deluxe guest quarters to premium suites complete with fireplaces, two-person soaking tubs, and views of the nearby Columbia River. Common spaces at this stylish hotel feature fine wood furnishings and welcoming American decor.
Right outside the front doors of the Hotel Elliott, many of the top-rated tourist attractions of Astoria, including downtown Astoria, can be found within easy walking distance. One of the first places to visit, the Astoria Riverfront, is two blocks away.
10. The Ocean Lodge, Cannon Beach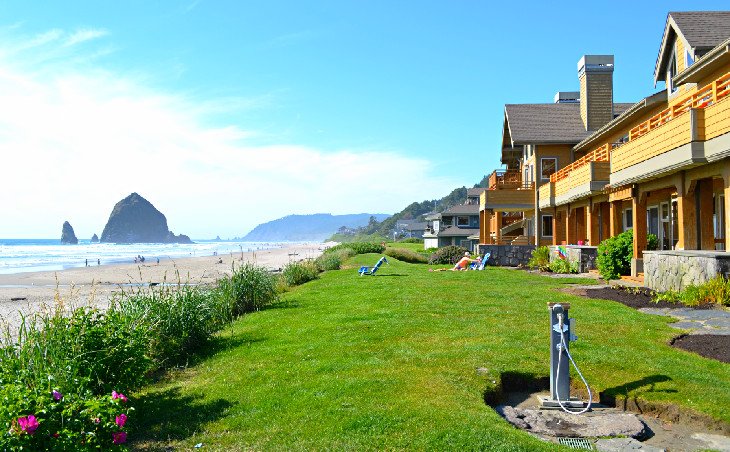 Rooms at The Ocean Lodge range from partial and full ocean-view studios to pet-friendly suites. Oceanfront rooms on the property feature walk-out decks with excellent views of Haystack Rock. All rooms at the resort offer a subtle ambience that matches the mood of the sun setting against the ocean.
As an extra bonus, guests at The Ocean Lodge receive member privileges at the nearby Astoria Golf and Country Club. Guests also receive one daily free class at Cannon Beach Yoga Arts.
11. Best Western Plus Ocean View Resort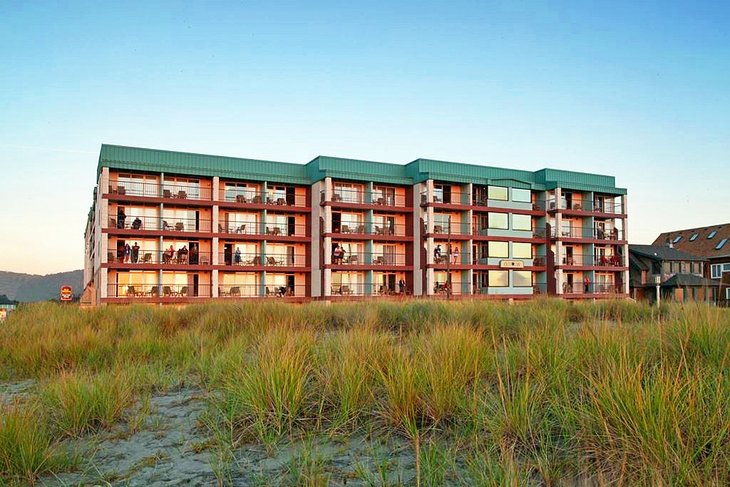 Rooms come in a variety of price brackets, and the least expensive rooms don't have views. If you want to see the sea, make sure to book a full ocean view with a balcony. Most rooms can accommodate up to four people. All come with pillow-top mattresses, a refrigerator, and microwave. The suites add kitchenettes and living space.
Amenities include a heated indoor swimming pool, a restaurant, coffee shop, fitness room, and a convenience store. Parking is also free.
12. Clarion Inn Surfrider Resort, Depoe Bay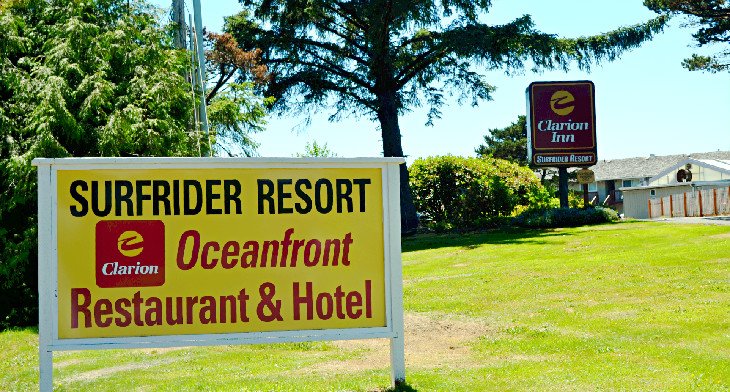 The Surfrider Resort has single and double-bed rooms. Each room features great ocean views and an aquatic blue décor to match. Every room also features a balcony overlooking the Pacific splendor, and the single-bed rooms have a cozy fireplace.
The resort also includes easy beach access, an indoor pool and hot tub, and an on-site restaurant serving breakfast, lunch, and dinner. Great coastal activity surrounds the resort, particularly in the neighboring world's smallest harbor of Depoe Bay, where patrons can book a whale watching tour or fishing excursion.
13. Surfside Resort - Rockaway Beach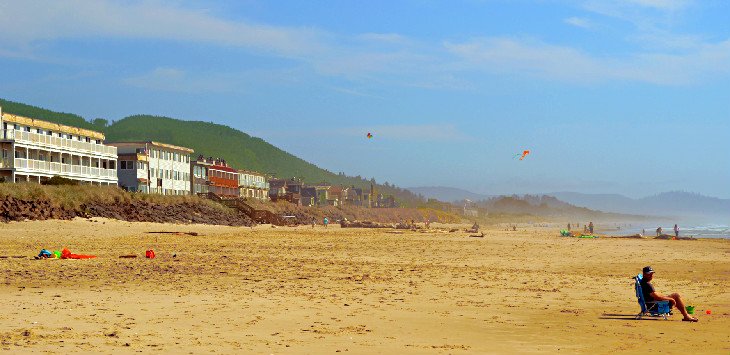 Suites at Surfside range from two-bedroom family suites to non-ocean-view king suites. All suites at the Surfside Resort include fully equipped kitchens and gas fireplaces. Sleeping rooms at the resort feature a comfortable bed and nightstand and offer an affordable place to stay next to the ocean.
Recreation options easily accessed from the resort include chartered fishing excursions and plenty of picnic spots near the beach. The resort also offers a wide variety of free-to-use beach toys to check out.
14. Lanai at the Cove, Seaside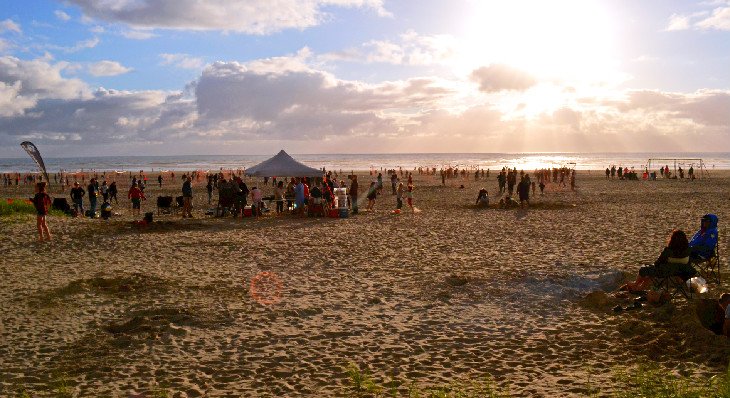 Downtown Seaside and its numerous attractions are also easily accessed from Lanai at the Cove, including the fun-on-a-rainy-day Seaside Aquarium. The biggest appeal of this oceanside resort comes from the sunsets at the end of the day, though, and the ability to watch them from the comfort of your own personal vacation space.
More Related Articles on PlanetWare.com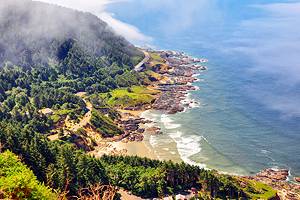 More on the Oregon Coast: Explore more of the Oregon Coast with our article on attractions & things to do on the Oregon coast and find out where to base yourself with our list of the best small towns. Cities like Astoria, Seaside, and Newport all provide their own unique attractions, and through our Best Beaches on the Oregon Coast article, it becomes clear that no two sandy spots are the same.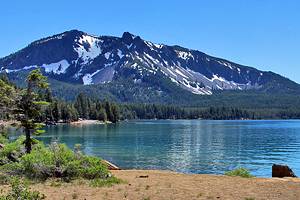 Other Adventures in Oregon: The state of Oregon has a wide range of terrain to explore. From coastal surroundings to lava-infused natural spaces like those found around Bend and in Mount Hood National Forest, there is enough activity in Oregon to satisfy the deepest wanderlust. Discover some of the best hiking trails in Oregon along with some of the state's most impressive waterfalls and hot springs.