11 Best Resorts near Bend, Oregon
Bend is one of Oregon's best cities. Set in the most captivating high desert landscape, this is a haven for outdoor adventurers, and it's packed with exciting things to do. Bend also boasts a slew of great resorts, which makes it easy to enjoy a weekend getaway here.
If you're looking for thrills, you can ski at the nearby resorts, mountain bike, hike, river raft, fly fish, or rock climb, depending on the season. When you're exhausted from a day of fun, head back to a resort that will satisfy all your vacation needs.
Whether you're looking for a romantic cabin for two, a family-friendly lodge with a playground, or an activity-packed mountain resort boasting spectacular views, you'll find it, and so much more, at one of the spectacular resorts near Bend.
Find the ideal accommodation for your next vacation with our list of the best resorts in Bend, Oregon.
1. Brasada Ranch, Powell Butte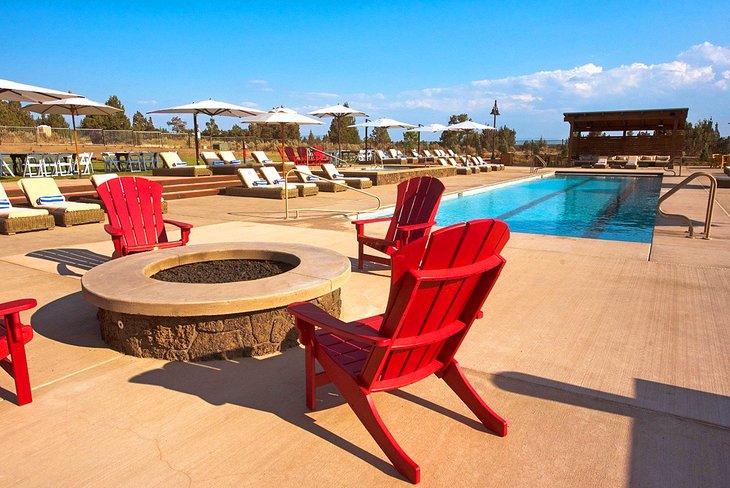 Accommodation: Brasada Ranch
The scenery is captivating at the Brasada Ranch. One of the best resorts near Bend, this rustic spot lies about 25 miles away in Powell Butte. A stunning 1,800 acres welcome visitors to tie the laces on their hiking shoes and head out to explore the remarkable trails winding through the wilderness of the high desert.
Speaking of being active, guests of Brasada Ranch can spend time sweating it out in the large fitness center, swimming laps in the indoor and outdoor pools, aiming for par on the 18-hole golf course, trotting on a horseback ride, or getting blissed out in the spa. Kids will love roasting S'mores by the fire, and the farm-to-table meals are exceptional.
The adults-only suites are airy and contemporary, with rustic highlights to remind you of your surroundings. Many come with a fireplace, and all are centrally located in the heart of the resort.
Those traveling with kids will enjoy the extra space offered by the one- to four-bedroom Sage Canyon Cabins. They come with a fully stocked kitchen, washer, and dryer, as well as a private deck, hot tub, and grill.
Not ready to leave Fido at home? You're in luck! Bend is one of the best dog-friendly vacation spots in the United States, and this resort will love your four-legged family members as much as you do. Book a pet-friendly cabin for your stay.
If you're not up for cooking, grab a bite in one of the on-site restaurants or order a chef-prepared ranch platter to be enjoyed in your cabin.
Address: 16986 SW Brasada Ranch Road, Powell Butte
2. Juniper Preserve, Bend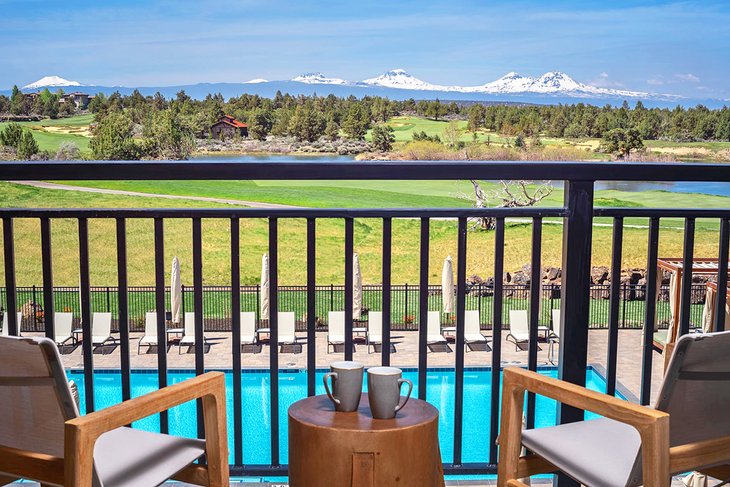 Accommodation: Juniper Preserve
If you're searching for a peaceful escape in Oregon, you'll find it at Juniper Preserve. Tucked serenely within a 1,000-year-old juniper forest, this luxurious four-star resort tops the list of the best places to stay in Bend. In addition to its remarkably beautiful locale, which includes 640 acres in the high desert, this condo resort makes it easy to feel at home.
Three restaurants will tempt your palate, while the two outdoor pools will help you work off the over-eating you were helpless to resist. A full-service spa invites weary travelers to unwind, while the resort's golf course is a must-play for those who love to spend time on the greens.
Rooms come complete with a kitchen or kitchenette, fab mountain views, comfy beds, free Wi-Fi, and a fireplace. If you're staying for a while, you'll want to book a vacation condo. One-, two-, or three-bedroom vacation rentals are up for grabs. They are clean, spacious, and tranquil, a perfect spot for families to spread out.
A hotel-like environment with all the resort amenities, Juniper Lodge offers a perfect place to stay if you're only here for a few days. Rooms feature impeccable vistas of the Cascade Mountains, which can be enjoyed from a private balcony.
Bringing the whole family? Rent a luxury vacation home. These spacious accommodations offer full kitchens, comfy outdoor space, and plenty of room for everyone to spread out.
Address: 65600 Pronghorn Club Drive, Bend, Oregon
3. Tetherow Hotel, Bend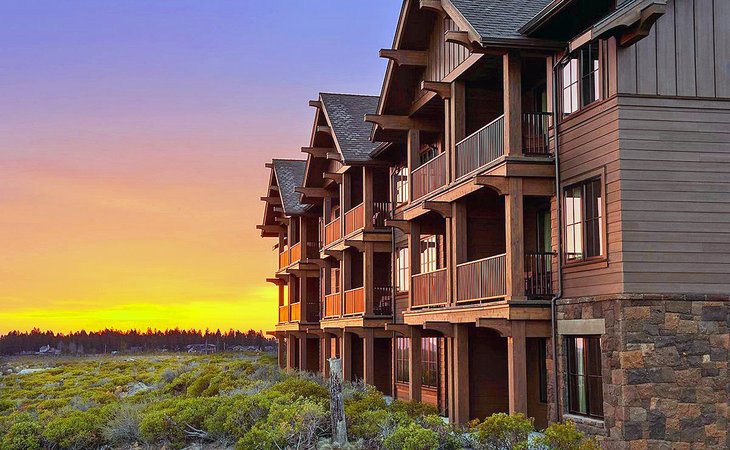 Accommodation: Tetherow Hotel
The four-star Tetherow Hotel is one of the best resorts in Bend, Oregon. It's perfectly located, just 10 minutes from downtown and 20 minutes from Mount Bachelor. The Tetherow also boasts a golf course, which will please anyone who likes a little challenge with their view.
The resort's sprawling, 700-acre property includes a fitness center, yoga classes, a heated outdoor pool, and event spaces in case you're looking for somewhere to host a big party. When you're feeling hunger pangs, head to one of the three restaurants.
As for accommodations, guests can choose from luxurious and expansive vacation homes (30 to be exact) in addition to 50 boutique rooms for those who don't need as much room to spread out. If you're looking to stay awhile, we'd suggest booking a vacation home, which boasts a hot tub, private patio, and fire pit, as well as up to five bedrooms.
Address: 61240 Skyline Ranch Road, Bend, Oregon
4. Five Pine Lodge & Spa, Sisters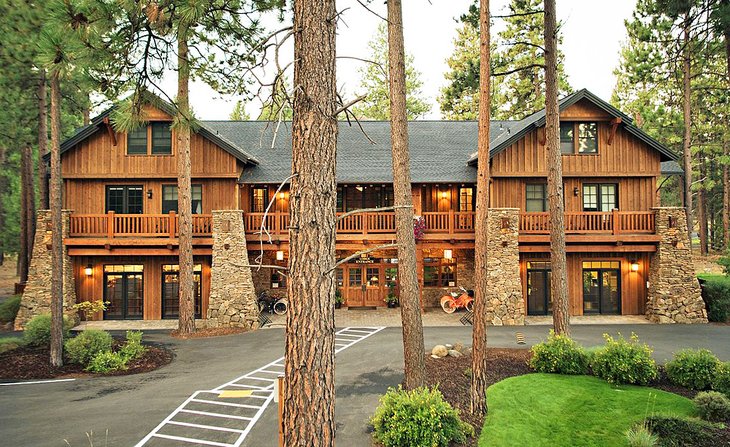 Accommodation: Five Pine Lodge & Spa
Five Pine Lodge & Spa is conveniently located only 21 miles from Bend, in the adorable small town of Sisters. As the resort's name implies, guests are given access to a relaxing spa during their stay. They're also treated to an incredibly romantic atmosphere, which makes this one of the best resorts near Bend for couples.
Private cabins ensure you won't be awakened by noise from your neighbors while granting you the privacy you need to truly unwind. The Amish furniture is a nice touch, as are the waterfall tubs.
The Romance Cabin is especially amorous if you're looking for a couples retreat you won't forget. The complimentary breakfast is a particular treat, especially since it's delivered to your door. Also, there are two dining establishments to fulfill your cravings at other times of the day.
The Sisters Movie House is a four-screen theater offering food and film to guests. There's also an outdoor pool and an athletic club on the property. For those who like to explore, Sisters boasts fun activities nearby, including skiing, hiking, and shopping.
Address: 1021 Desperado Trail, Sisters, Oregon
5. WorldMark Bend – Seventh Mountain Resort, Bend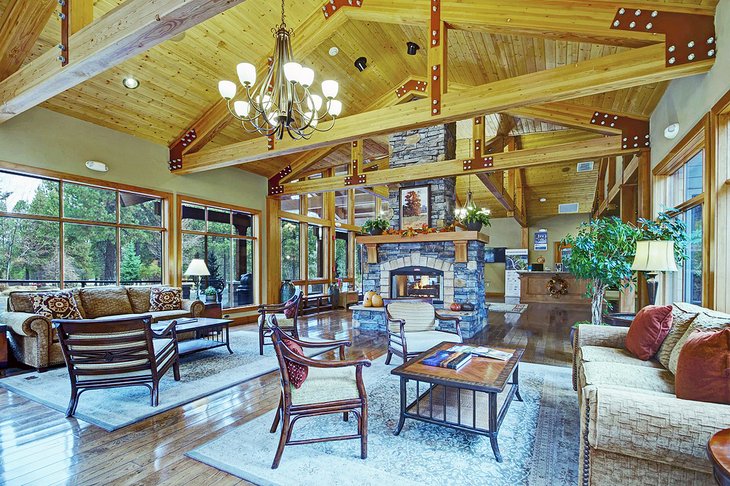 Accommodation: WorldMark Bend – Seventh Mountain Resort
Spending the weekend in Bend is one of the best things to do in Oregon. Staying at the WorldMark Bend – Seventh Mountain Resort while you're in town is another list-topper.
Surrounded by jagged mountain peaks, lush meadows, and sparkling lakes, it's hard to beat the setting found at the Seventh Mountain Resort. The closest accommodations to Mount Bachelor, this three-star resort lies seven miles from downtown and boasts a seasonal shuttle to the mountain on weekends and holidays. This comes in super handy if you're using the resort as a base for a ski trip.
Choose from a regular hotel room or a larger family suite. These privately owned units are available for rent and come with a fully equipped kitchen or kitchenette, a dining table, a balcony, and anywhere from one to three bedrooms.
In the summer, enjoy a swim in the outdoor pool, or rent a bike and explore the nearby trails, some of which are the best hiking trails near Bend. Canoeing is another popular activity at this family-friendly site, which also boasts a children's pool, playground, mini golf, and tennis courts.
Address: 18575 SW Century Drive, Bend, Oregon
6. Riverhouse on the Deschutes, Bend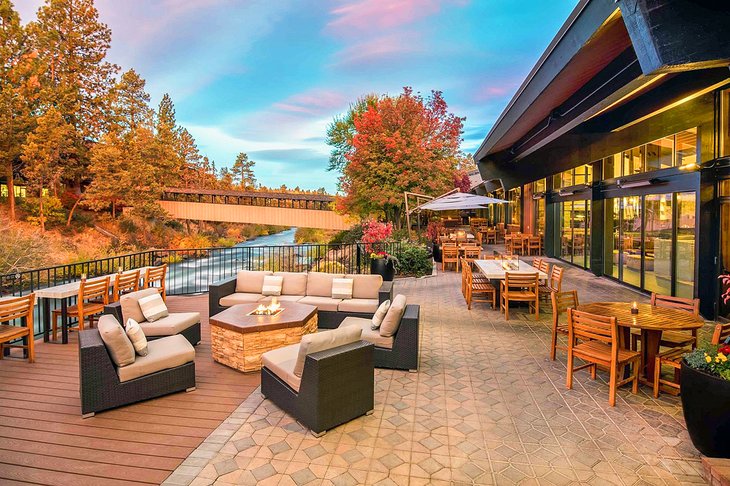 Accommodation: Riverhouse on the Deschutes
The serene Riverhouse on the Deschutes is one of the best resorts in Bend for those looking to unwind. It's hard to feel stressed when warming yourself by an outdoor fire pit. Add a flowing river to the mix, and you've pretty much found nirvana.
This pretty locale feels much more luxe than you'd expect from a three-star resort, especially when you're lounging in the indoor or outdoor pool or relaxing in the hot tub. A fitness center, lounge (with both a pool and shuffleboard table), and easy access to the Deschutes River trail make it easy to stay busy while on the resort's grounds.
The accommodations are clean and comfy, with earth-tone décor to complement the majestic scenery. Each of the 221 rooms includes a microwave, fridge, fireplace, private balcony, or patio. Those with a view of the Deschutes River make it easy to fish for trout from your room.
CURRENTS restaurant boasts upscale dining that can be enjoyed alfresco on the scenic outdoor patio even during cool nights. There are heaters and fire tables on offer to help cut the chill. If you'd prefer to stay in your cozy room, no one will blame you, and you can order room service to help quell those hunger pangs.
Address: 3075 N. Business 97, Bend, Oregon
7. Mount Bachelor Village Resort by Meredith Lodging, Bend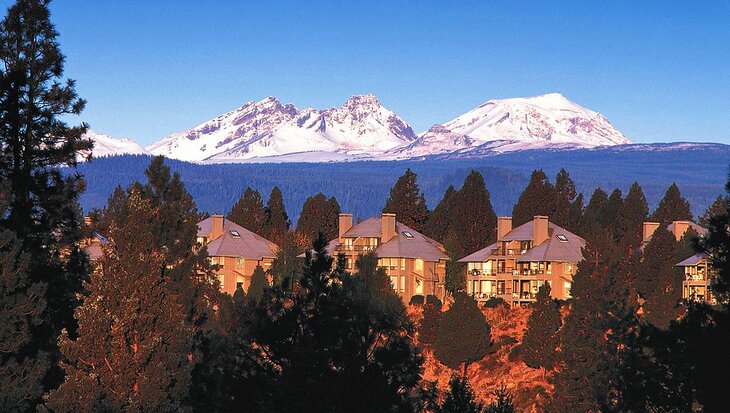 Accommodation: Mount Bachelor Village Resort by Meredith Lodging
Those looking to stay close to Oregon's top ski resorts should consider booking a few nights at Mount Bachelor Village Resort by Meredith Lodging. Nestled near the Mount Bachelor Ski Area, the slopes are easy to reach and the downtown shops and restaurants are only a short walk away.
Accommodations come in the form of condo-style vacation rentals. Choose between a comfy studio or a one-, two-, or three-bedroom condo. Some include river views, a private hot tub, and a fireplace, which are definite perks if you're looking for a romantic couple's retreat.
Families may want to choose a condo that includes cruiser bikes for use during their stay. Children will also love splashing about in the outdoor pool.
While condos come with their own fully equipped kitchens, the Bistro 28 restaurant serves up tasty meals on-site. Guests are granted access to the nearby fitness center, outdoor pool, and squash courts at the Athletic Club of Bend.
Address: 19717 Mount Bachelor Drive, Bend, Oregon
8. Sunriver Resort, Sunriver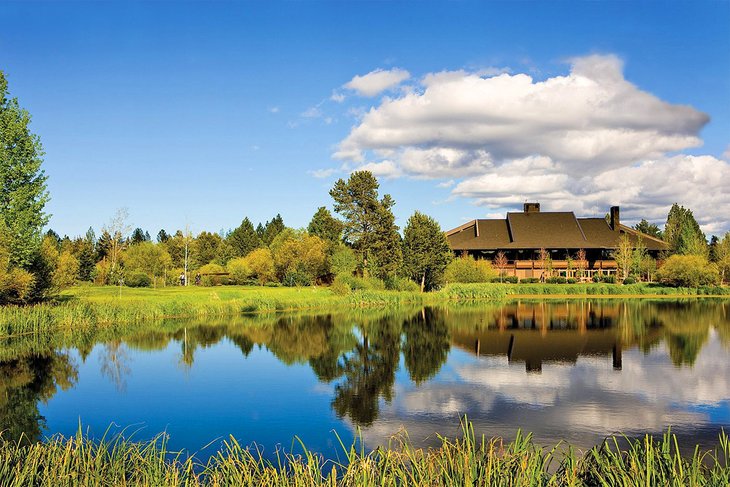 Accommodation: Sunriver Resort
Sunriver Resort lies just over 17 miles south of Bend, in the lush Deschutes National Forest. This is a gorgeous setting, perfect for those who prefer to spend their free time in nature. This vast, rustic property is home to wide, grassy spaces, perfect for running; access to more than 40 miles of paved trails; a marina; tennis courts; aquatic center; indoor golf simulator; horseback riding; and a toy bear factory where kids (or grownups — no judgment here) can stuff their own animal.
The Sage Spa will eliminate any stress that accompanied your arrival, while a day of golf will help ease your mind. Grab a bite at the multiple restaurants, some of which offer outdoor seating when the weather is optimal.
The resort is home to 245 rooms and suites, as well as plush condos and luxury home rentals to accommodate your vacation needs. They all boast magnificent views and fireplaces, as well as a private deck.
Address: 17600 Center Drive, Sunriver, Oregon
9. Elk Lake Resort, Bend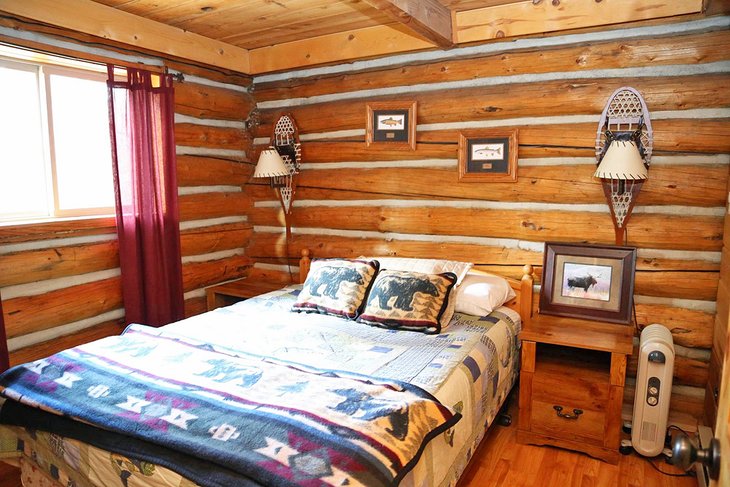 Accommodation: Elk Lake Resort
With such comfortable accommodations and so many activities on offer, it's easy to enjoy Elk Lake Resort year-round. This vast property lies by the lake of the same name, about 25 miles southwest of Bend. When the weather is warm, guests can enjoy water activities like canoeing, kayaking, and fishing. When the area freezes, snowshoeing, cross-country skiing, and snowmobiling become the activities of choice.
Didn't pack sports equipment? No worries. You can rent everything from bikes to canoes to kayaks to pontoon boats to snowmobiles to snowshoes at the resort. Also for rent is a floating day dock, which is a perfect venue for a picnic or party.
When it comes to resting your weary head after all that activity, there are plenty of choices. Whether you're hoping to camp, glamp, or stay in a rustic log cabin, you'll find the perfect spot for your Oregon vacation in this fun resort. Plus, the on-site restaurant and coffee bar ensure you'll never go hungry.
Address: 60000 Century Drive, Bend, Oregon
10. The Lodge at Eagle Crest Resort, Redmond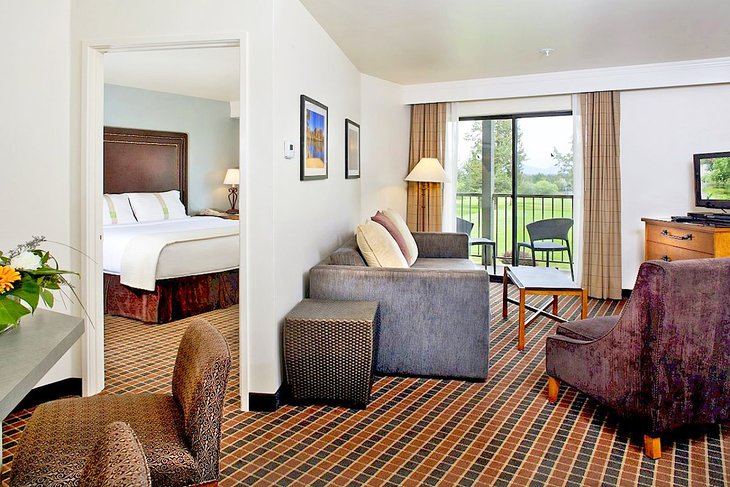 Accommodation: The Lodge at Eagle Crest Resort
Eagle Crest Resort lies 17 miles from Bend, in the town of Redmond. In addition to its close proximity to the city, this stunning, 1,700-acre property is a perfect jumping-off point for those looking to hike and explore one of the top attractions in Bend — Smith Rock State Park. A bonus: you get all the dramatic scenery without having to climb into the mountains.
Depending on how long you're staying, you can choose from a studio, suite, or a two- to four-bedroom rental home. The Lodge Hotel at Eagle Crest sits in the center of the property and offers pleasing golf course views. It boasts a rustic chic lobby with a large sitting area, café, and cozy fireplace.
You won't be bored while staying in this Redmond resort. On offer are three golf courses (because one is never enough!), a spa, three sports centers, and five swimming pools. Six restaurants and cafés will fill your belly with tasty food, while the Silverleaf Market is an easy place to shop for groceries to use in your kitchen.
Address: 1522 Cline Falls Road, Redmond, Oregon
11. Black Butte Ranch, Sisters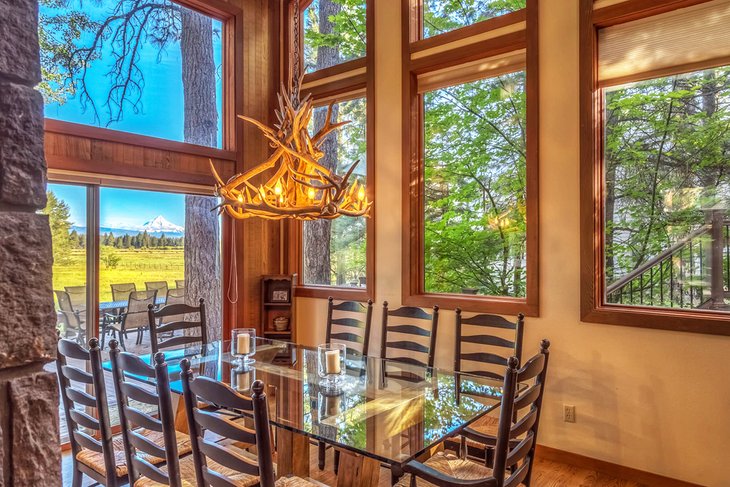 Accommodation: Black Butte Ranch
There's a lot to keep you busy at Black Butte Ranch. Located in Sisters, 30 miles north of Bend, this exciting ranch has two championship golf courses at the foot of the Cascade Mountains. This fun resort is perfectly positioned in the Deschutes National Forest, making it easy for adventurists to climb Black Butte Mountain or go rafting in the Deschutes River.
In summer, visitors can bike over 18 miles of trails, while winter transforms these into a wonderland for cross-country skiers and snowshoers. Winter warriors will love the easy access to sledding at Santiam Sno Park and downhill skiing at Mount Bachelor.
Other activities include swimming in the outdoor pool, unwinding in the sauna or hot tub, and playing pickle ball, bocce ball, basketball, or volleyball. Horseback riding, fishing, and kayaking are also popular things to do at this resort.
As for food, you won't be disappointed by the three on-site restaurants, although only two stay open during the winter season.
Choose from one of 120 vacation homes available for rent. The Summit offers high-end luxury amenities, while the Trailhead homes and condos are better on your budget while still offering an enjoyable, yet slightly less plush stay. Not in need of extra space? Stay in a smaller, yet comfy Lodge Room.
Address: 13899 Bishops Cap, Sisters, Oregon
Map of Resorts near Bend, Oregon
Bend, OR - Climate Chart
Average minimum and maximum temperatures for Bend, OR in °C
J
F
M
A
M
J
J
A
S
O
N
D

4

-5

7

-4

11

-3

14

-1

18

2

23

5

27

8

27

8

22

4

17

0

8

-2

4

-5

PlanetWare.com
Average monthly precipitation totals for Bend, OR in mm.

45

29

23

18

23

19

16

15

12

16

37

45

Average monthly snowfall totals for Bend, OR in cm.

25

10

11

5

1

0

0

0

0

1

14

22
Average minimum and maximum temperatures for Bend, OR in °F
J
F
M
A
M
J
J
A
S
O
N
D

40

23

44

25

51

27

57

30

65

36

73

41

81

46

81

46

72

39

62

32

46

28

40

23

PlanetWare.com
Average monthly precipitation totals for Bend, OR in inches.

1.8

1.1

0.9

0.7

0.9

0.8

0.6

0.6

0.5

0.6

1.5

1.8

Average monthly snowfall totals for Bend, OR in inches.

9.8

3.8

4.3

2.0

0.3

0

0

0

0

0.2

5.6

8.7