12 Top-Rated Resorts in Oklahoma
Whether you are heading to a big city like Tulsa or Oklahoma City for business or a weekend escape, or are hoping to take a relaxing fishing-focused vacation on a lake in the countryside, Oklahoma has resorts for all styles of trips, as well as different budgets.
For a luxury stay in Oklahoma City, whether you are on a business trip or a romantic getaway, The Skirvin Hilton Oklahoma City is an excellent pick. But if you are seeking something more contemporary and artsy, you'll want to book the just-opened boutique 21c Museum Hotel.
If you want more of a family-style retreat in the country, check out properties like Long Lake Resort, in a wooded area on a privately owned, fully stocked, natural lake near Poteau. Or for a spa getaway, as a couple or with a group of friends, the Echo Canyon Spa Resort is a great choice, with rooms and cottages and a fine-dining restaurant in a woodsy, natural setting.
Whatever you want to do on your next vacation, find the best place to stay with our list of the top resorts in Oklahoma.
1. Ambassador Hotel Tulsa, Autograph Collection, Tulsa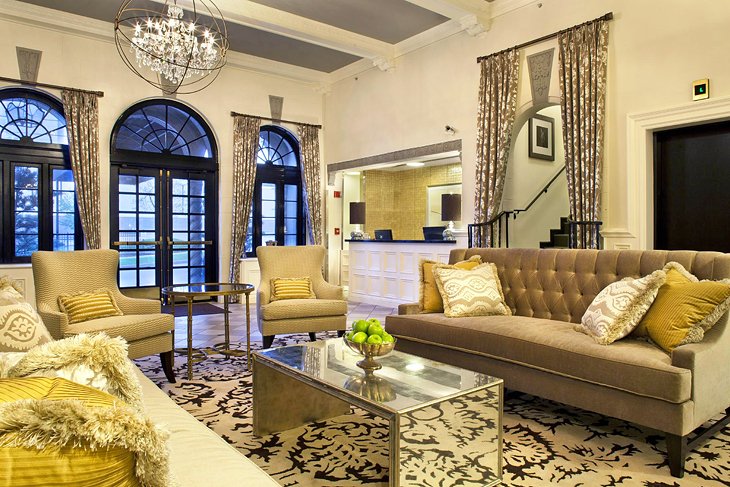 Accommodation: Ambassador Hotel Tulsa, Autograph Collection
In a historic building, the Ambassador Hotel Tulsa is a luxe boutique property. It features modern and elegant rooms and suites, which come with comfortable beds, space to move around, and amenities like flat-screen TVs along with Keurig coffee makers. Suites here also have separate living rooms and Jacuzzi tubs in the bathrooms.
There is a free, local luxury car service between the airport and the hotel, which will also take you anywhere in a five-mile radius during your stay. Other amenities include The Ambassador restaurant. It has been a staple on the Tulsa dining scene since the 1970s and is known for its fresh and creative dishes. There is also a gym and a business center on the grounds.
2. Colcord Hotel, Oklahoma City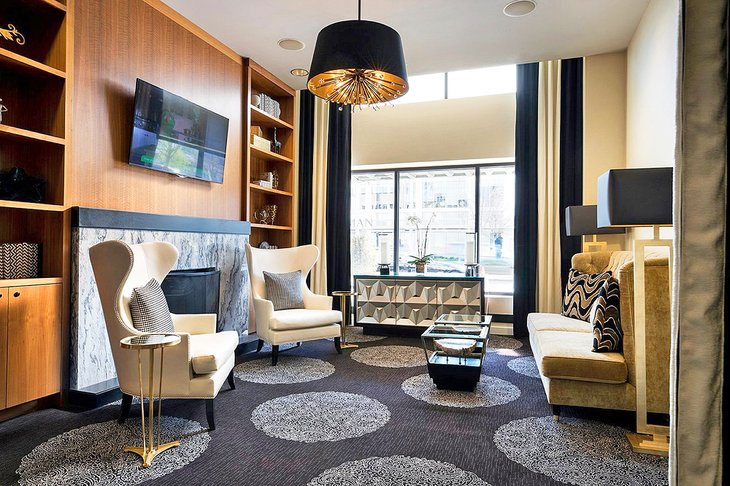 Accommodation: Colcord Hotel
When the building that the Colcord Hotel now occupies opened in 1910, it was Oklahoma City's first skyscraper, with a height of 12 stories. Today the 4-star hotel pays homage to its 100-plus-year-old past with the original marble columns and walls and crown plaster ceiling in the main lobby, nickel and bronze letterbox out front, and elevator doors.
Rooms and suites are thoroughly modern, with a cozy feel and a fun use of bold color pops and custom artwork against an overall neutral grey, brown, and white color scheme. Beds are comfy, with Euro-top mattresses and quality linens, and bathrooms are stocked with L'Occitane toiletries. If you are traveling with kids, there are also family rooms.
Amenities include a restaurant, workout room, and concierge services. The hotel is also pet friendly, welcoming dogs up to 50 pounds for a fee of $75 per stay and a max of two pups per room.
3. Ambassador Hotel Oklahoma City, Autograph Collection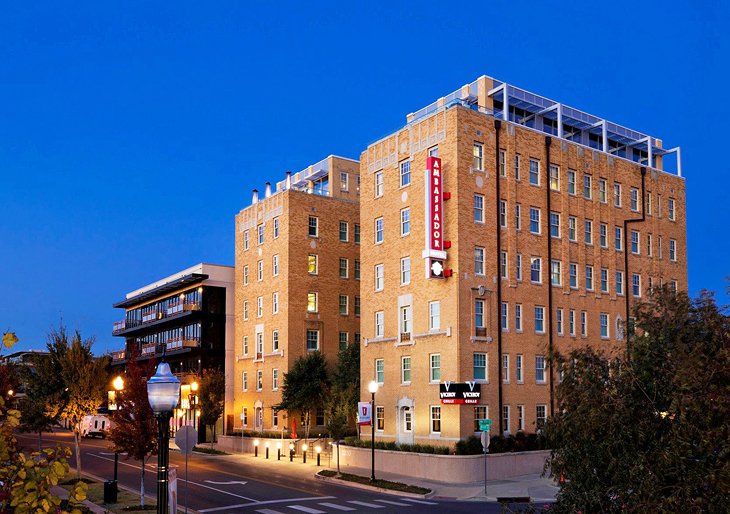 Accommodation: Ambassador Hotel Oklahoma City, Autograph Collection
In Oklahoma City's Midtown district, the Ambassador Hotel Oklahoma City is a luxe property in a historic Art Deco building. Although not within walking distance of much, it is just a quick drive to reach the city's most popular dining, shopping, and entertainment venues, and the hotel offers a free, luxury shuttle service to hot spots within a three-mile radius.
Rooms and suites are stylish, with a mixture of contemporary and period furnishings, marble countertops in the bathrooms, and amenities like free Wi-Fi and Keurig coffee makers. There is also an outdoor pool, a rooftop restaurant, and a 24-hour fitness center.
4. 21c Museum Hotel Oklahoma City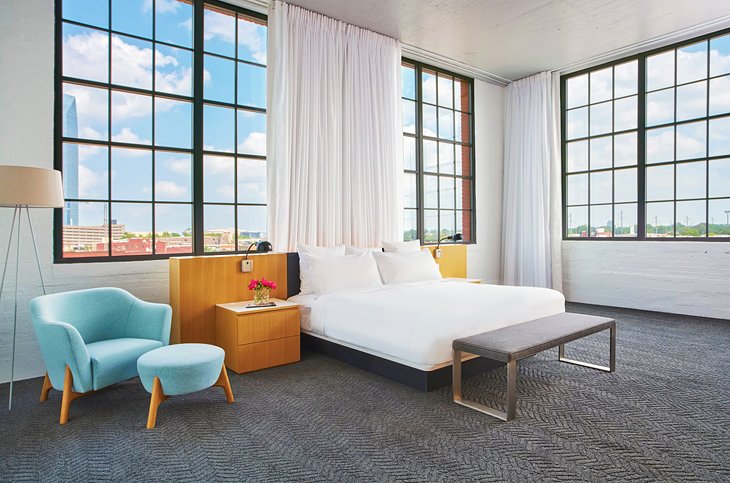 Accommodation: 21c Museum Hotel Oklahoma City
This recently opened boutique property is a fun and unique concept stay, where you sleep in a remodeled Ford Motor Company Model T assembly plant, which now doubles as a hotel and contemporary art gallery. The 135 rooms and suites and the public spaces are filled with modern artwork curated by an art world pros.
The rooms and one- and two-bedroom suites all feature luxury amenities, like Nespresso coffee machines, giant HDTVs, and designer bath amenities. Away from the rooms, you'll find a chic indoor/outdoor restaurant in the plant's original showroom and a wellness center with a spa, sauna, steam room, and gym.
5. Hard Rock Hotel Tulsa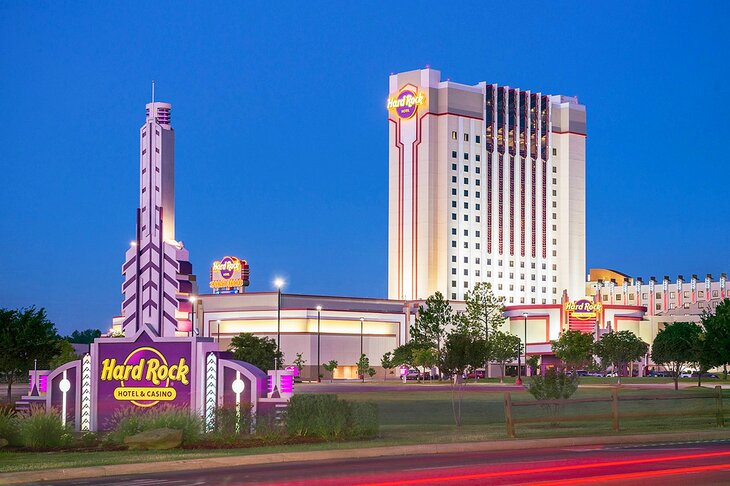 Accommodation: Hard Rock Hotel Tulsa
A destination resort, the Hard Rock Hotel is a trendy AAA four-diamond property on the outskirts of Tulsa. The hotel is near Tulsa International Airport and runs a 24-hour shuttle service for guests.
The brand is known for its music theme, and this resort also features Hard Rock Live, which is a concert experience attracting big-name artists, from Stevie Wonder to Blake Shelton and KISS.
The Hard Rock has 454 rooms and suites that are decorated with a distinct rock-and-roll vibe in several different styles. Think bold patterns and lots of cherry-red and dark hues. Aside from regular suites, there is a VIP suite class that is even more over-the-top, with Jacuzzi tubs and the best views.
The Cherokee Hills Golf Club is adjacent to the resort and has tree-lined fairways and dramatic elevation changes. Guests can book tee times to play the 18-hole, nearly 100-year-old course.
Other amenities include an adults-only, heated outdoor swimming pool; a fitness center; and multiple dining options. McGills on 19 is the fine dining choice, serving upscale steakhouse fare with panoramic views. There is also a buffet choice and a diner serving American classics for breakfast, lunch, and dinner.
6. The Skirvin Hilton Oklahoma City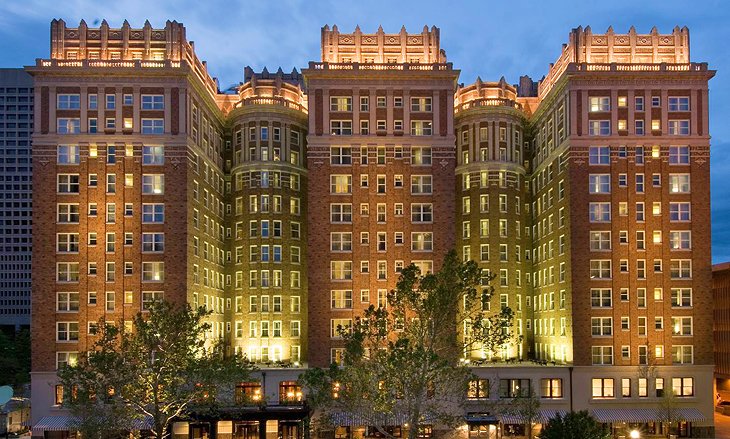 Accommodation: The Skirvin Hilton Oklahoma City
The Skirvin Hilton Oklahoma City, a landmark property, dates back to 1911 and exudes historical luxury in a great location in the heart of the city center. The 14-story property, which underwent massive renovations about a decade ago, has 225 spacious, comfortable, and elegantly appointed rooms with custom-designed furnishings and local art.
Amenities include a restaurant focusing on American and Southern fare, a heated indoor pool, and a fitness center. There is even live jazz music on-site some evenings.
7. The Mayo Hotel Tulsa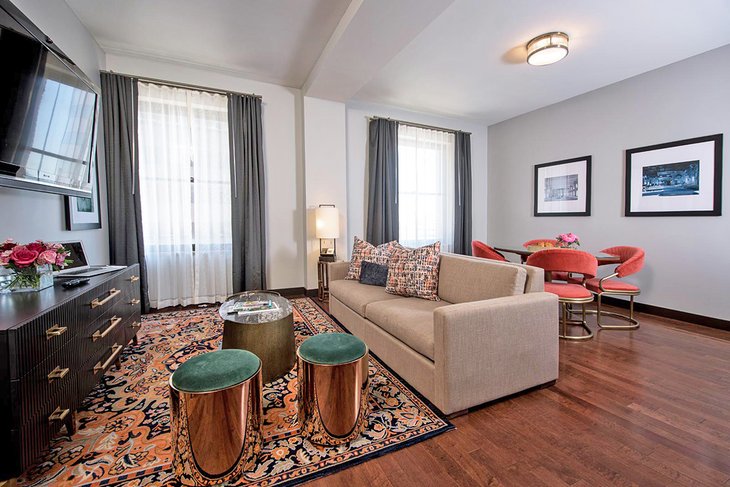 Accommodation: The Mayo Hotel Tulsa
The historic Mayo Hotel dates back to 1925 and occupies a lovely Art Deco-style building in downtown Tulsa. The lobby area is truly impressive, with bright patterned carpet, lots of marble and crown molding, and dazzling chandeliers.
There are half a dozen different room configurations, starting with luxury doubles and moving up to 1,000-square-foot suites with fully equipped kitchens. Regardless of what style you choose, expect stylish design elements with a Jazz-Era-meets-mid-century-modern look.
If you're hungry there are different dining options on-site. Try The Boiler Room, which serves modern American fare, including excellent steaks and salads. It is open for breakfast, lunch, and dinner.
8. Shangri-La Resort, Grand Lake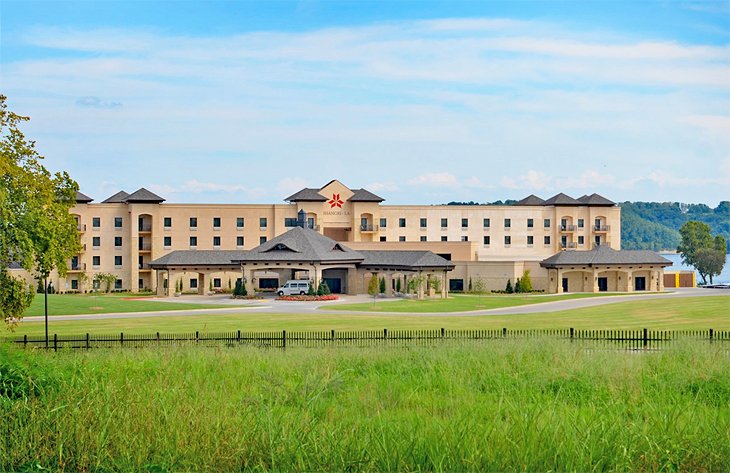 Accommodation: Shangri-La Resort
At the tip of Monkey Island, on tranquil Grand Lake in the northeastern portion of the state, Shangri-La Resort & Conference Center is a wonderful destination property if you're looking for a mix of relaxation and activities. The 119 rooms are clean, comfortable, and spacious with modern amenities.
Away from the rooms, you'll find three championship golf courses, as well as water-focused activities like boat and Jet Ski rentals and parasailing. There are also two swimming pools, a spa, a fitness center, and five different restaurants.
Try The Summit for a fine-dining experience. This signature restaurant cooks up award-winning American cuisine that is beautifully presented Friday through Sunday nights. The views are also phenomenal.
9. Echo Canyon Spa Resort, Sulphur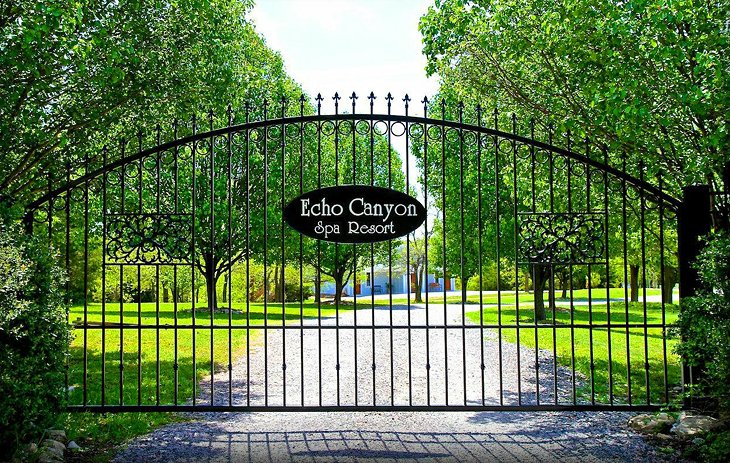 Accommodation: Echo Canyon Spa Resort
Echo Canyon Spa Resort is a popular pick for an elegant, romantic spa getaway. The property is surrounded by orchards and woods and is about 16 miles from Turner Falls National Park, which is Oklahoma's only national park.
Echo Canyon offers charismatic, individually decorated suites in its main manor house or accommodation in romantic cottages with Jacuzzi tubs and private decks.
The resort is home to a 5,000-square-foot, full-service luxury spa that offers a range of treatments with a Hawaiian focus. Choose from massages, facials, or full-body wraps. There is also a gourmet steakhouse restaurant on the grounds serving a number of different cuts of beef. An outdoor pool and hot tub round out the amenities offered.
10. Long Lake Resort, Poteau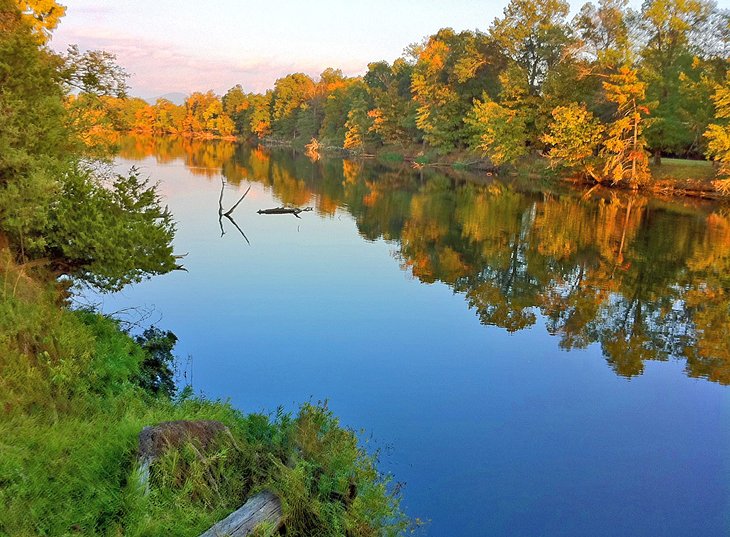 Accommodation: Long Lake Resort
For a fishing getaway, check out Long Lake Resort, which sits in a wooded area on a privately owned, natural lake off US-59. Choose from individually decorated cabins or duplexes. The cabins feature one or two bedrooms and come with full kitchens.
If you're on a romantic getaway, check out the couples cabins, which have Jacuzzi baths and fireplaces and are in a secluded location on the property. On-site amenities include an 80-foot-long fishing pier, which extends into the fully-stocked Long Lake, as well as fire pits and a picnic area.
11. Southern Oaks Resort, Grand Lake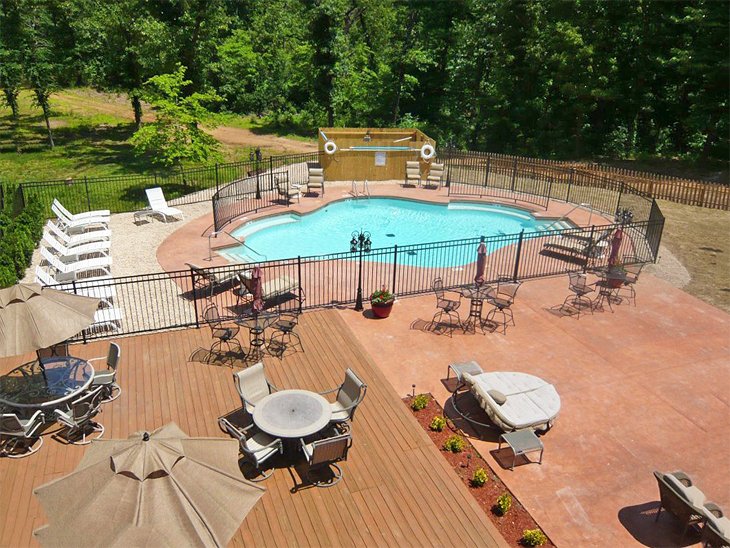 Accommodation: Southern Oaks Resort
In northeastern Oklahoma, Southern Oaks Resort sits on 30 woodsy acres just a few minutes from Grand Lake.
This family-friendly property offers accommodations in 17 different cabins and cottages, which come in varying sizes and with different amenities. Some have kitchens, furnished decks, and living spaces with pull-out sleeping sofas. Others have private hot tubs, and a few come with fireplaces and loft space.
On-site amenities at this pet-friendly property include a seasonal saltwater swimming pool, an arcade games room, horseshoe pits, and picnic tables. There are also hiking trails on the property, and in-room massages can be arranged with notice.
12. Candlewyck Cove Resort, Grand Lake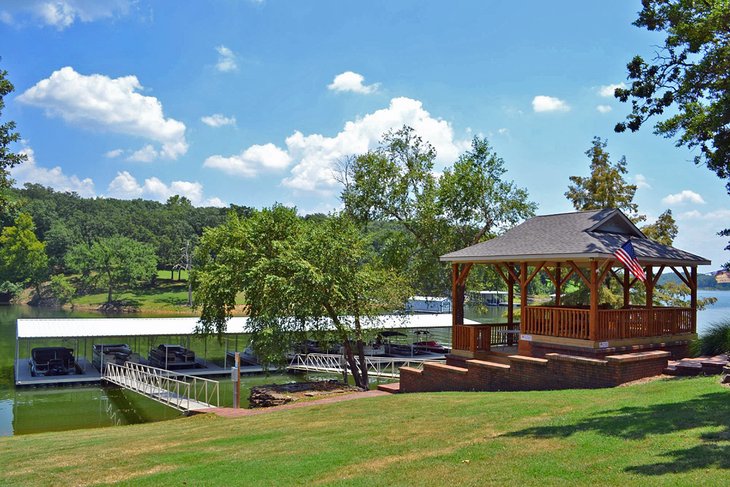 Accommodation: Candlewyck Cove Resort
On popular Grand Lake, in northeastern Oklahoma, the Candlewyck Cove Resort sits on seven acres and is a relaxed family- and pet-friendly property. It offers spacious and comfortable rooms and suites with kitchenettes and decks or patios. The suites come with free Wi-Fi and also outdoor hot tubs.
For families, there are also cabins and townhouses for rent, with full kitchens and, in some cases, hot tubs. Breakfast is included in the rate and on-site amenities include an outdoor pool and hot tub, lakeside docks, boat and jet ski rentals, and manicured grounds for strolling.
Map of Resorts in Oklahoma