12 Top-Rated Resorts in Ohio
We may earn a commission from affiliate links ()
Ohio offers vacationers – as well as business groups and conventioneers – a great deal of choice when it comes to great places to stay. From high-end developments that include everything from luxury spas to real estate for sale – such as Aurora's 5-star Inn Walden – to more intimate destinations like the adults-only Cherry Ridge Retreat in New Plymouth.
Another popular option, particularly for those traveling with friends and family, are the spacious accommodations found at places like The Lodge at Geneva-on-the-lake. This popular resort offers a great mix of luxury lakeshore-view rooms and spacious suites with plenty of room in which to spread out.
Consider yourself a nature lover? Some of the best places to visit in this part of the US include options such as Maumee Bay Lodge & Conference Center. This lodge-style resort is a great choice for its location in one of Ohio's state parks.
To help you make the most of your time, we've put together this list of Ohio's top resorts and hotels.
1. Inn Walden, Aurora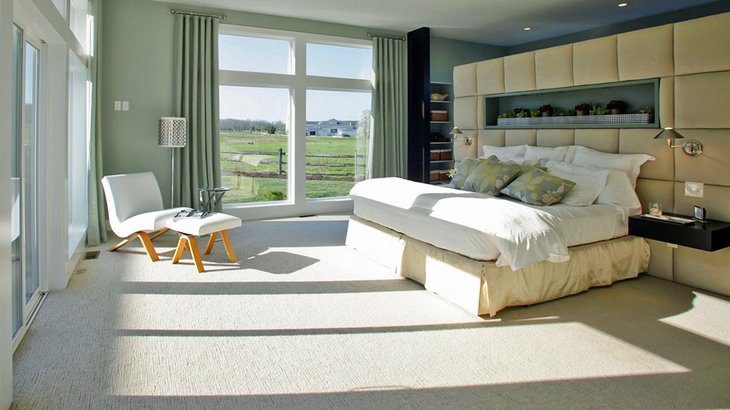 Accommodation: Inn Walden
The award-winning, 5-star Inn Walden in Aurora, Ohio – just a short drive from downtown Cleveland – offers guests an unsurpassed luxury experience in the midst of the state's Western Reserve Park.
Centered on what's billed as a "spa-lifestyle," this high-end development consists of deluxe accommodations, a world-class spa, a yoga center, residential units, and a golf club. In addition to its many spa services and experiences, the resort also offers guests other things to do including access to its golf course, equestrian center, and fitness facilities. Both fine- and casual dining options are available, and the grounds make for a perfect backdrop for weddings.
Inn Walden itself is the biggest draw for vacationers. The accommodations are sumptuous and consist of a variety of spacious suites suitable for everyone from couples to large groups and families traveling together. Among the most popular options are the contemporary Equestrian Suites. These large, spacious open-concept units are beautifully decorated and come with walk-in showers, huge jet bathtubs, and cozy fireplaces.
Also worth checking for availability are the roomy Loft Suites. These popular units come with plenty of living space, as well as large dormer windows, private breakfast patios with lovely garden views, and separate living rooms. A great full breakfast is included with your stay.
Address: 1119 Aurora Hudson Road, Aurora, Ohio
2. The Lodge at Geneva-on-the-Lake, Geneva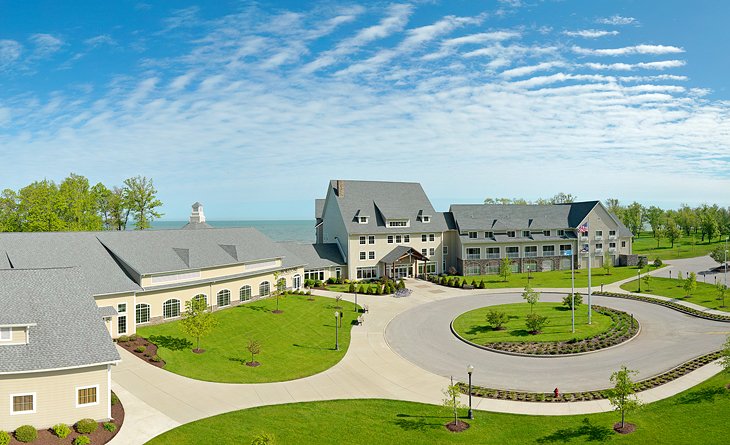 Accommodation: The Lodge at Geneva-on-the-Lake
Located on the shores of Lake Erie, the 4-star Lodge at Geneva-on-the-Lake has long been one of Ohio's leading vacation destinations. The lodge offers 109 rooms and suites, with a popular choice being the delightfully decorated standard rooms. These bright, modern rooms come with two queen beds and handy in-room amenities, including mini-fridges and coffee makers.
Also worth considering are the larger premium suites. These spacious units feature king beds, electric fireplaces, and separate seating areas. A number of even larger queen and king suites are also available, too. These spacious units come with a cozy living area, a pullout sofa bed, as well as a kitchenette with a mini fridge, microwave, and sink.
Other amenities guests are encouraged to make use of include large indoor and outdoor swimming pools, hot tubs, on-site dining, and a fully-equipped fitness center. Feel like some pampering? Check out the luxurious spa facilities and treatment rooms, or indulge in services such as couples' massages.
Nearby activities include bike rentals and trails, along with snowshoe and ski rentals. There's even a zipline adventure park.
Address: 4888 N Broadway, Geneva, Ohio
3. Belamere Suites Hotel, Perrysburg
Accommodation: Belamere Suites Hotel
For those looking for an authentic home-away-from-home experience, Belamere Suites in Perrysburg certainly delivers. Accommodations consist of 35 large and well-appointed suites boasting their own private entrance. Interior highlights include magnificent vaulted ceilings, cozy fireplaces, and large bathrooms with Jacuzzi tubs and walk-in showers (both big enough for two).
Fancy splurging? Then why not upgrade to one of the even larger Presidential, Royal, or Grand Royal Pool Suites? Each of these sumptuous accommodations boast their own personal heated swimming pool and sauna.
Other guest amenities worth mentioning include private parking in your own attached single-car garage, in-room breakfast and late-night snack service, 24-hour concierge, and satellite TV. Other available services include in-suite massages for couples. A continental breakfast is included with your stay, while tasty fresh-baked treats are also available for a fee.
Address: 12200 Williams Road, Perrysburg, Ohio
4. Great Wolf Lodge, Sandusky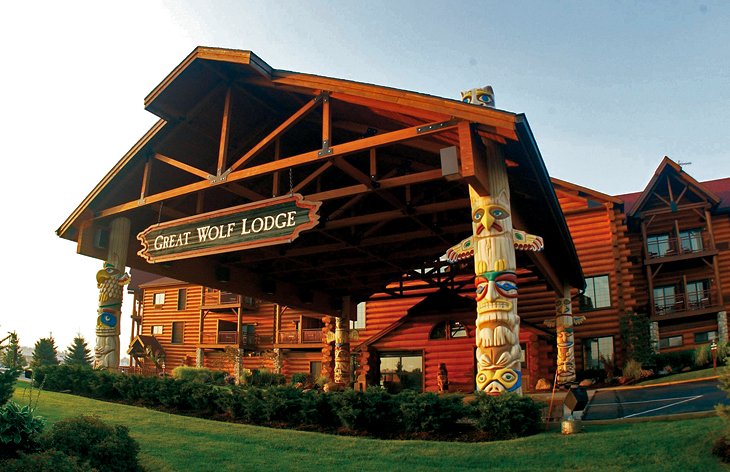 Accommodation: Great Wolf Lodge
Part of one of North America's best-known family vacation brands, Great Wolf Lodge in Sandusky is one of Ohio's top resorts for families. And yes, this place really is all about the kids. Not to say that parents can't have fun, though. Young and old alike are spoiled for choice with so many great things to do here, from the indoor water park to activities and programs to keep everyone busy.
The resort also boasts a variety of dining options, including some just for mom and dad (yes, babysitting services are available). Other on-site activities include working out at the fitness center, or shopping for souvenirs. Spa services are also available, and include an ice-cream spa option for kids.
When it comes to bedtime, the fun continues in-room thanks to the wonderful themed accommodation options on offer. Among the most popular are the spacious family suites. These plush units come complete with two queen beds, a pullout sofa bed, and plenty of space to spread out in the living area.
Children love the KidCabin suites, too. These fun units come with their very own mini log cabin for play and sleep, and include bunk beds. There are also a number of two-story lofts, each with their own fireplaces and living areas.
Address: 4600 Milan Road, Sandusky, Ohio
5. Maumee Bay Lodge & Conference Center, Oregon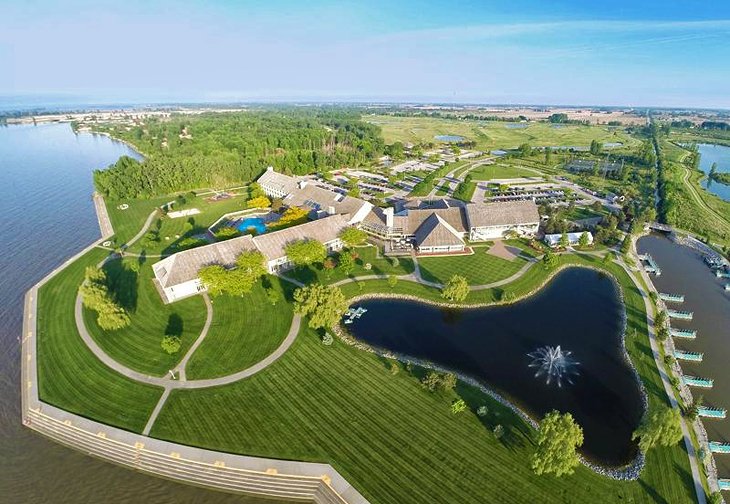 Accommodation: Maumee Bay Lodge & Conference Center
One of Ohio's larger resorts with convention and meeting space attached, Maumee Bay Lodge & Conference Center in the city of Oregon is popular for its unique location in Maumee Bay State Park. Open to guests year-round, this sprawling complex is popular with families and larger groups due to its first-rate facilities and spacious rooms and suites.
Accommodation options include standard single and double rooms in the main lodge building. These come with a private balcony or patio (if available, ask for a unit with a lake view). If traveling as a larger group or family, opt for one of the lovely two- or four-bedroom cabins. Each of these attractive units feature full kitchens, living rooms, gas fireplaces, charcoal barbecues, and screened-in porches. Traveling with pets? A number of these comfortable standalone units have been designated as pet-friendly.
There's also much to do outdoors, too, from playing a round of golf to exploring the park on foot via its extensive trail network. In addition to the park's abundant wildlife, guests can also enjoy some downtime with the kids on a number of great beaches, stroll some two miles of boardwalks, or hope aboard a paddleboat.
Other activities include grabbing a canoe rental to explore the resort's 57-acre inland lake, fishing, and exploring endless hiking and biking trails. There's also a first-rate nature center that's worth a visit.
On-site amenities include indoor and outdoor pools and hot tubs, saunas, a splash pool area for kids, a playground, tennis and basketball courts, and spa services. Dining is also available at the on-site restaurants, and a gift and snack shop are located on the property, too. Also fun are the "murder mystery" packages the resort offers from time to time.
Address: 1750 State Park Road #2, Oregon, Ohio
6. Salt Fork Lodge & Conference Center, Cambridge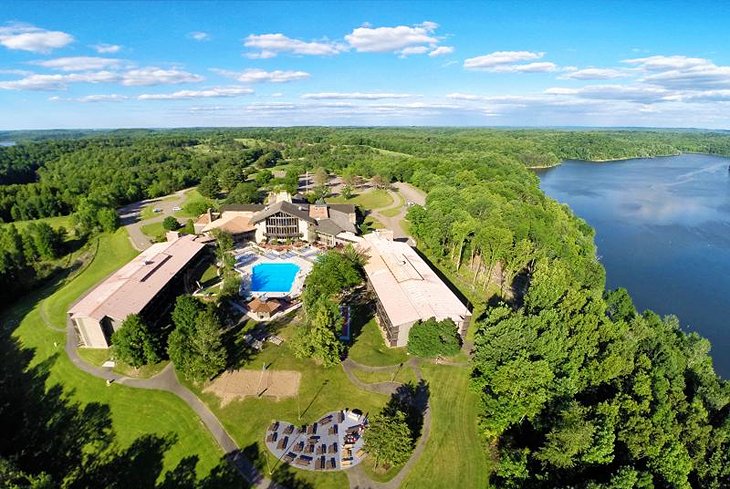 Accommodation: Salt Fork Lodge & Conference Center
Comprising 148 spacious guest rooms plus 55 charming chalets and cabins, the massive Salt Fork Lodge & Conference Center is set in a heavily wooded area deep in the heart of Ohio. Popular for nature and outdoors lovers, this sprawling complex offers plenty of room to spread out and explore, including a 22-kilometer network of hiking trails, as well as a beach suitable for kids.
The real draw, though, is having access to the resort's 3,000-acre lake. This spectacular body of water includes two marinas offering boat rentals and launches, while canoeing and fishing adventures are also available.
Other things to do include visiting the Kennedy Stone House Museum, joining in with a guided nature tour and educational program, or enjoying some horseback riding. Turkey and deer hunting are also available in season.
The resort's large dining room serves meals throughout the day, with casual- and fine-dining options available. Also on-site are a gift shop, ample parking for RVs, meeting rooms, and an 18-hole golf course. There are also indoor-outdoor swimming pools, a fitness center, and a volleyball court. When the snow flies, guests can enjoy winter activities including sledding, skating, and cross-country skiing, to name but a few.
As for accommodations, Salt Fork Lodge can easily handle everything from couples' romantic getaways to large groups and conventions. Popular options include standard double and king rooms, and the bunk rooms with two double beds and a set of bunk beds. For those traveling as a family or with friends, the even larger two-bedroom chalets are worth considering. These spacious, well-appointed units come with everything from a full kitchen to a fire pit and magnificent views over the lake.
Address: US Route 22 E, Cambridge, Ohio
7. Landoll's Mohican Castle, Loudonville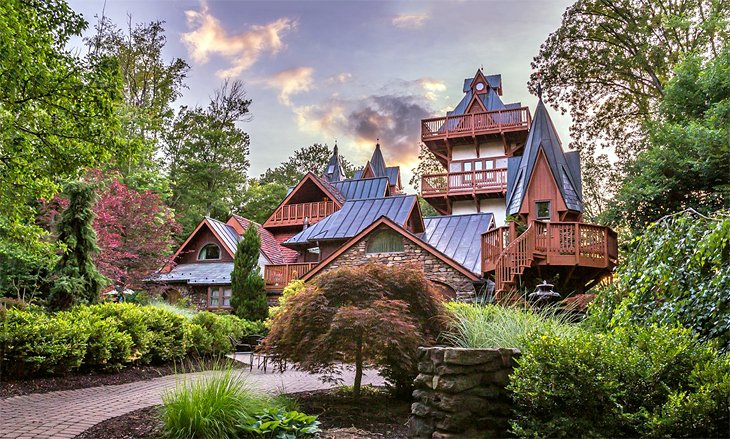 Accommodation: Landoll's Mohican Castle
Landoll's Mohican Castle is a wonderfully quirky luxury resort that's well worth visiting. Located in Loudonville, this secluded Gothic-style resort offers a variety of themed lodgings that add a degree of fun to the pampering on offer.
Consisting of 11 sumptuous suites in the main "castle" itself, plus a further four in a separate building and two stand-alone cottages, Landoll's offers guests a variety of amenities to enjoy, too. These include a heated indoor swimming pool, a hot tub, sauna, fitness center, and a variety of massage services. There's also an on-site restaurant with a patio for al fresco dining.
For couples seeking an additional dash of romance, a little extra cash can secure private use of the pool and sauna, or flowers and sweet (or savory) treats delivered to your room. The resort also hosts regular themed events, including murder mysteries, comedy evenings, and ghost walks, so try to time your stay accordingly if you are interested. A variety of Christmas packages are also available.
While no two rooms at Landoll's are the same, each comes with its own distinct charm and character. Favorites include the elegant Hess Suites. These elegant units each come with nice flourishes such as original artwork, oriental rugs, medieval-style Chinese tiles, hardwood floors, beamed ceilings, stone fireplaces, kitchenettes, and large separate living areas.
For something truly memorable, opt for the Macbeth Cottage. Features of this exquisite, pet-friendly, stand-alone building include a Jacuzzi tub, private porch, and deck. There's even an intimate dining nook.
Address: 561 Township Road 3352, Loudonville, Ohio
8. Hueston Woods Lodge & Convention Center, College Corner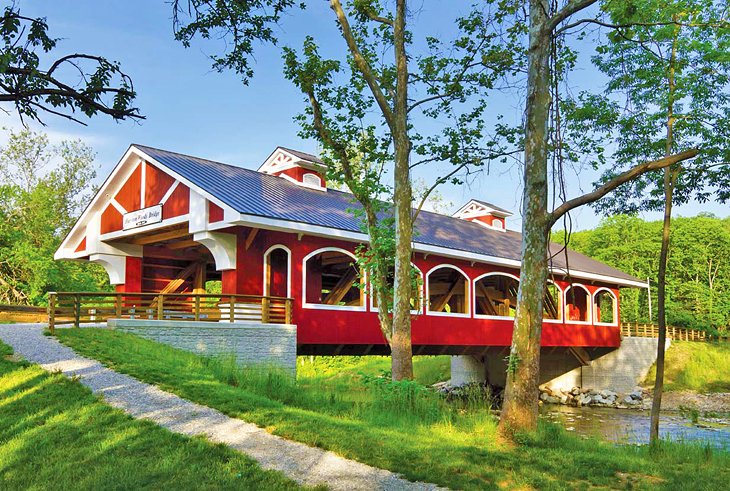 Accommodation: Hueston Woods Lodge & Convention Center
Set amid rolling countryside adjacent to its own private lake, Hueston Woods Lodge & Convention Center offers a high degree of peace and tranquility. Comprising 92 rooms, the resort is as popular for those wanting a quiet, romantic getaway as it is for those seeking a little outdoor adventure.
Accommodations include standard queen and king rooms with lovely lake views and balconies to elegant luxury suites featuring separate bedrooms. These larger accommodations also feature separate living areas, plasma TVs, plush bathrobes, and private balconies. Those not wanting to venture out to the resort's fitness center can make use of their in-room treadmill.
Larger groups and families may want to consider booking one of the resort's quaint stand-alone two-bedroom cabins. These charming units come complete with a kitchen and screened-in porch. A number of cozy couples' cabins are also available and are perfect for romantic weekend getaways, honeymoons, and anniversaries.
Whether traveling as a couple or a family, there's no end of fun things to do here, too. Resort amenities include indoor/outdoor swimming pools, a games room, a restaurant offering a great buffet lunch and dinner, a gift shop, golf course, badminton court, kids' playground, and nature trails. Popular with teens and young adults, the paintball facility offers plenty of fun.
Address: 5201 Lodge Rd, College Corner, Ohio
9. Kalahari Resorts & Conventions, Sandusky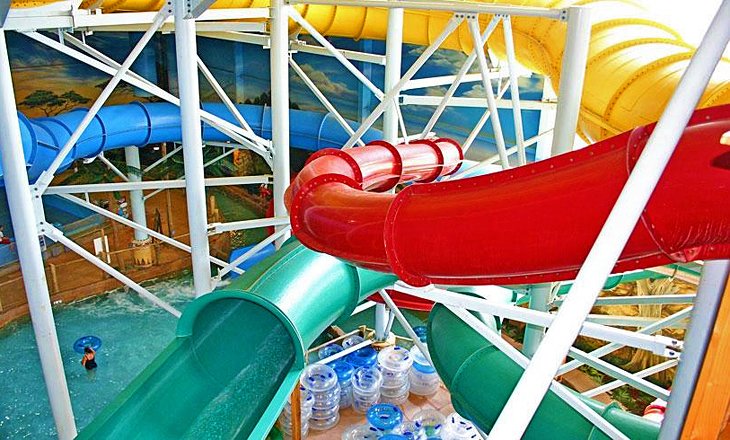 Accommodation: Kalahari Resorts & Conventions
Another of Sandusky's popular vacation spots, the Africa-themed Kalahari Resorts & Conventions is as much an area attraction as it is a resort. The resort is part of a vast complex that includes two huge waterparks - one indoors, one outdoors - as well as the Safari Outdoor Adventure Park animal park, complete with mini-zoo and ziplines. Water rides are rated from calm to extreme, ensuring that everyone from toddlers to teens are entertained.
The resort also offers a unique take on its accommodation offerings. Each of its spacious suites come with king or queen beds and separate living areas, and for larger groups of friends or families traveling together, multiple units can be combined to configurations of up to 10 bedrooms, including a kitchen.
Another option for large groups is to shoot for the Entertainment Villa. This spectacular two-level building is set apart from the main resort and comes with an impressive five bedrooms, four bathrooms, a spacious kitchen, seven flat screen TVs, a recreation room featuring a pool table, and private patio.
Address: 7000 Kalahari Drive, Sandusky, Ohio
10. Hotel Breakers at Cedar Point, Sandusky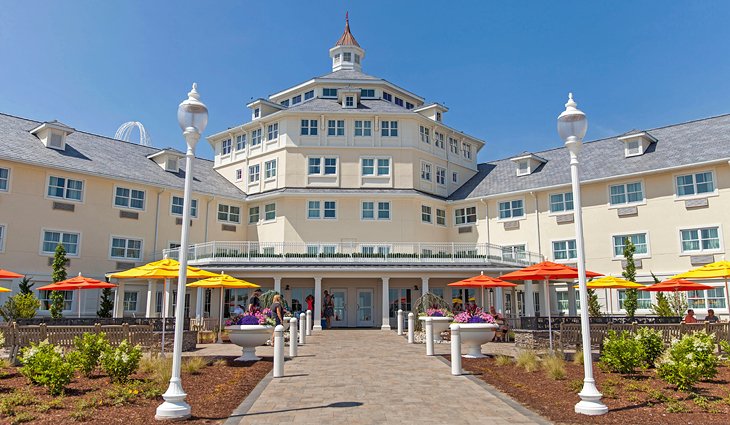 Accommodation: Hotel Breakers at Cedar Point
One of Ohio's largest resorts, Cedar Point's Hotel Breakers in Sandusky is very much focused on families, and family fun. Totally refurbished in 2015, this 511-unit hotel is perfectly situated just steps away from two of the state's most popular attractions: the spectacular Cedar Point theme park - dubbed the "world's roller coaster capital" - and the equally popular Cedar Point Shores Water Park.
In addition to its standard accommodations, this popular hotel also offers those needing more space a choice of larger suites and cabins with extra beds and separate living areas. Guest perks and privileges include free Wi-Fi, use of indoor and outdoor swimming pools and hot tubs, and splash zones for the kids
Guests also have direct resort access to the theme parks. Best of all, ticket discounts plus early admission to beat the crowds are offered as part of your stay. The hotel also has a Starbucks on-site, along with restaurants and a shuttle service when the urge for off-site dining strikes.
Address: 1 Cedar Point Drive, Sandusky, Ohio
11. Cherry Ridge Retreat, Hocking Hills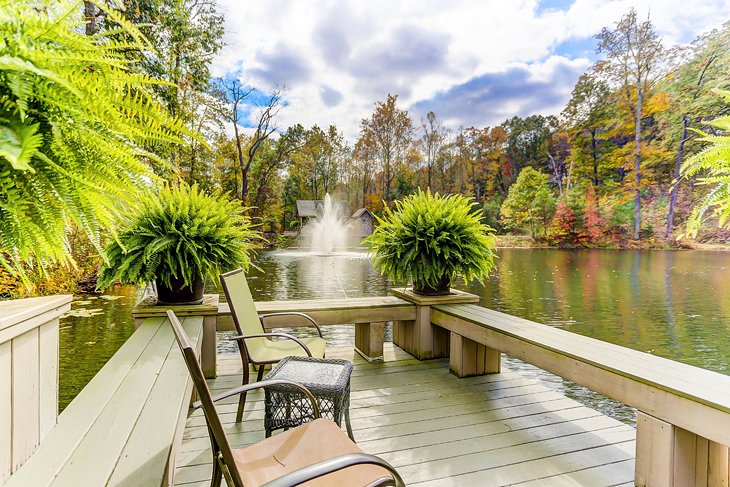 Accommodation: Cherry Ridge Retreat
Tucked away on 140 acres of treed land in Hocking Hills, Cherry Ridge Retreat is an equally popular destination for those seeking a romantic getaway with their spouse or partner as it is for groups of friends.
Set in what can best be described as a country estate-like backdrop, guests can choose from any one of eight private, stand-alone, adult-only cabins, each tucked far enough away from its neighbor to ensure the utmost privacy.
Cabin options include luxurious affairs with all-glass, walk-in showers, private pools, hot tubs, and patios. A few units are also available that come with fire pits and gazebos overlooking a private lake. On-site amenities and services include access to miles of private woodland trails (maps provided), secluded picnic spots, catch-and-release fishing, an ample supply of firewood and fire starter, and flower delivery.
Address: 22097 Cherry Ridge Road, New Plymouth, Ohio
12. Ravenwood Castle, New Plymouth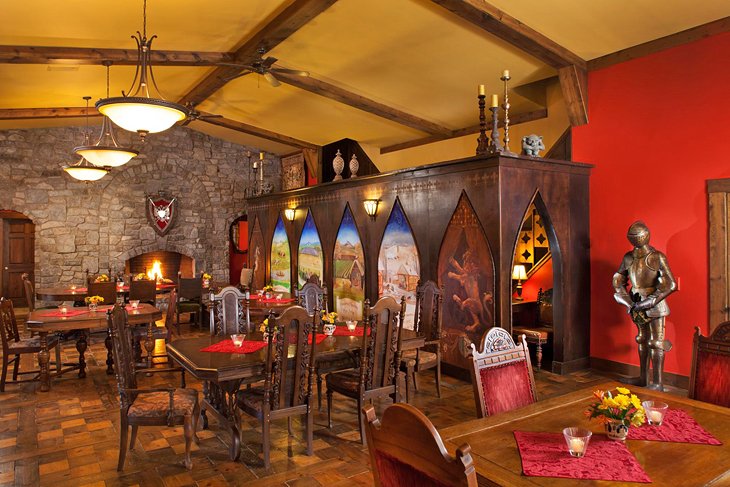 Accommodation: Ravenwood Castle
Located in the pretty Hocking Hills area, Ravenwood Castle adds a fairy-tale quality to any vacation. Built to resemble a medieval English fortress, this country inn offers guests an array of wonderfully themed accommodations to choose from. In the fortress-like main building, exquisitely furnished luxury options include the spacious Rapunzel's Tower (yes, it's on the top floor) with a queen bed and elegantly furnished living area and fireplace.
Also worth considering is the refined Queen Victoria Suite, complete with 19th-century furniture, a queen bed, fireplace, and private deck overlooking the treed grounds. Then there's the huge King Arthur Suite, a two-story affair featuring a king bed on the upper floor (complete with Arthurian mural) and balcony.
Other options include a number of exquisitely decorated Medieval Village Cottages. These include the lovely Cinderella's Coach House, a favorite for brides and wedding parties. Located above the property's tearoom, this large suite even comes with stained-glass windows. A number of traditional rustic cabins are also available in Huntsman's Hollow, a pleasant "village" set next to a creek.
On-site amenities include a restaurant, dining hall, and games rooms (not surprisingly, Ravenwood is a popular location for Dungeons and Dragons-style gaming). A hearty complimentary breakfast is included with your stay, and weekend guests are treated to homemade cinnamon rolls on Sundays. Nearby attractions include a number of national and state parks.
Address: 65666 Bethel Road, New Plymouth, Ohio