Where to Stay in Asheville: Best Areas & Hotels
Tourists coming to Asheville to enjoy the Asheville Urban Trail, the city's eclectic mix of shopping and restaurants, and other downtown tourist attractions will want to stay close to the city center, and there are several good options near Patton Avenue and Broadway Street.
Those traveling to the area primarily to visit the Biltmore Estate will want to stay just outside the city, ideally in the up-and-coming Biltmore Village, which is also full of things to do.
There are also several good hotels in varying price ranges that are close to major routes, and lodgings along Tunnel Road are especially convenient for those who want to have easy access to the Blue Ridge Parkway and the area's surrounding parks and nature areas.
Where to Stay in Asheville for Luxury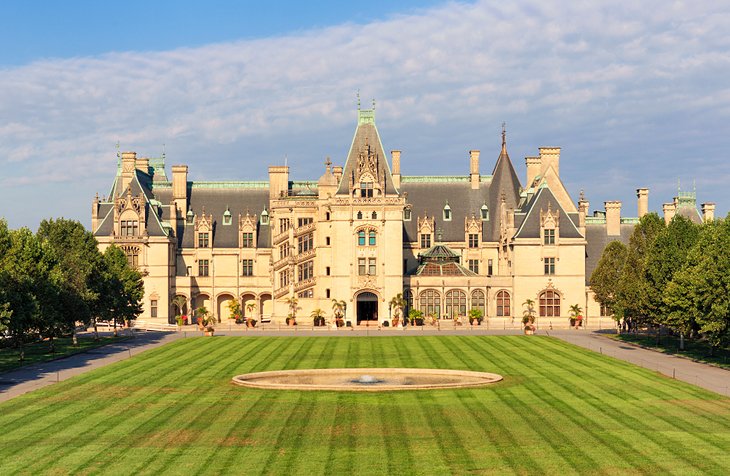 Located in the heart of downtown Asheville, the Haywood Park Hotel, Ascend Hotel Collection is convenient to museums, shopping, fine dining, and other popular things to do. This four-star hotel will pamper you with extras like turndown service, complimentary hand-made chocolates while you enjoy your spacious suite, and staff will even send you off with a gift bag upon departure.
Another excellent place to stay in downtown Asheville, especially for those planning on a longer stay, is The Windsor Boutique Hotel. Centrally located right on Broadway Street, the Windsor specializes in luxury apartment suites, which include all the amenities of home while providing impeccable service to guests. The hotel also offers in-room spa services, including massage, and welcomes families with a "kids stay free" policy and free strollers on lend.
Those who want an immersive experience at the area's most popular attraction will want to stay at The Inn on Biltmore Estate. Guests have access to the Biltmore home, as well as the rest of the 8,000-acre estate, enjoying complimentary transportation throughout its expanse. This is one of the best resorts in North Carolina
The inn features on-site dining, a fitness center, pool and hot tub, and a veranda with stunning views of the mountains. There is also a full-service spa on-site. If you are looking for both space and privacy, book one of the Biltmore Estate's exclusive private cottages for the height of luxury. They include full kitchens and accommodate up to five people.
Seclusion-seekers may prefer the Grand Bohemian Hotel Asheville, Autograph Collection, a small 4-star boutique hotel located in Biltmore Village, which embraces its Tudor ambience. There is an on-site restaurant offering room service for those nights you just want to stay in, and an in-house spa that offers a range of treatments, from facials to couples massages. Guest rooms feature top-notch amenities, including allergy-free bedding and plush bathrobes.
Where to Stay in Asheville: Mid-Range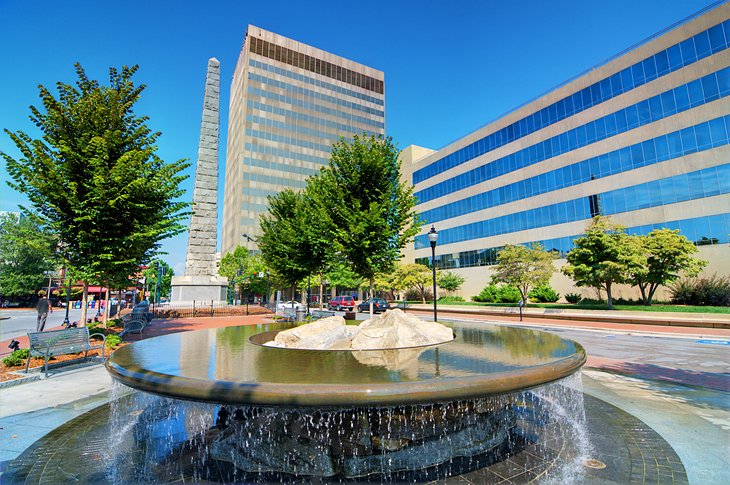 An excellent mid-range hotel in the heart of the city is Cambria Hotel Downtown Asheville, just a block from the Pinball Museum and around the corner from dozens of specialty shops, including the Battery Park Book Exchange and the Asheville Bee Charmer, purveyor of all things honey. The Cambria features chic extras like text-message valet service and Bluetooth speakers in the bathroom mirrors.
Tourists will enjoy the dependably attentive service at the Hampton Inn & Suites Asheville Biltmore Village, convenient to the shops and restaurants of the trendy area. The hotel offers great amenities, including free Wi-Fi and parking, in-room fridges, an indoor pool, fitness center, and a lovely outdoor patio area with a fire pit and plenty of seating, as well as complimentary hot breakfast.
Just a short drive from the Blue Ridge Parkway and the North Carolina Arboretum, the Hilton Asheville Biltmore Park is an excellent choice for those who will be exploring by car but also want to be close to things to do, like shopping, restaurants, and even movie theaters.
In addition to an on-site spa and signature restaurant, the hotel features a heated indoor pool and hot tub, offers complimentary Wi-Fi and airport shuttle service, and welcomes dogs.
Where to Stay in Asheville on a Budget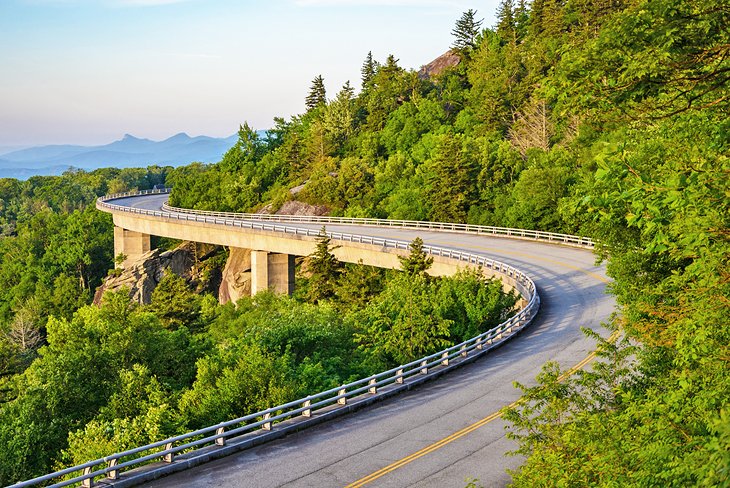 Tourists hoping to stay in the center of Asheville on a shoestring will appreciate the Downtown Inn & Suites located on Patton Avenue, close to shopping, restaurants, and many tourist attractions. To add to this already great value, guests enjoy free parking (a rarity in any city), and breakfast is included as well. Hotel amenities include an outdoor pool and in-room microwave, and those traveling with four-legged family members will find that dogs are welcome.
Quality Inn Asheville Downtown Tunnel Road may not actually be located in downtown Asheville, but it is positioned for easy access to all major routes and is just a few minutes from the city center. Guests enjoy reasonably spacious rooms with a microwave and mini-fridge, a fitness center, self-serve laundry facilities, free Wi-Fi, and complimentary breakfast.
Quality Inn & Suites Biltmore East provides the same amenities and excellent service, plus an outdoor pool and business center. This location is also pet-friendly. As its name implies, it is located east of the city and the Biltmore area, however it is just a short drive to the Western North Carolina Nature Center and only five minutes from the Blue Ridge Parkway Visitor Center.
Where to Stay in Asheville for Families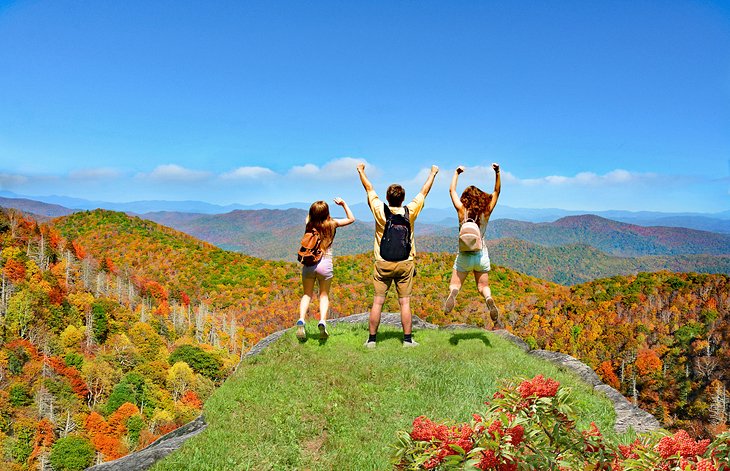 The Omni Grove Park Inn is a great place for a high-end family vacation, providing a full resort experience in a picturesque historic stone building, which looks like a sprawling castle. Kids will be fascinated by the hotel's original vintage elevators, and have fun on the playground, in the pool, or participating in the kids' activities.
Parents can utilize babysitting services and enjoy some quiet time in the spa or adults-only pool or play a round of golf on the resort's Donald Ross-designed course. The resort is located next to Grovewood Village, and the property offers stunning views of the Blue Ridge Mountains.
A great moderately-priced hotel that is ideal for families is the Hilton Garden Inn Asheville Downtown. Located within a 10- to 15-minute walk of the city center, the hotel also offers a free shuttle service to downtown Asheville and the area's tops tourist attractions.
The entire family (Fido included) is welcome, and suites and family rooms are available to ensure everyone has the space they need, equipped with conveniences like mini-fridges and microwaves. Other amenities include a pool, fitness center, free Wi-Fi, and on-site dining.
A good budget option for families is the Best Western Asheville Tunnel Road, located east of the city and close to the junction with I-240. Kids will enjoy the pool and free Wi-Fi, while parents will appreciate the savings and extra value of a complimentary breakfast.
Where to Stay in Asheville for Romance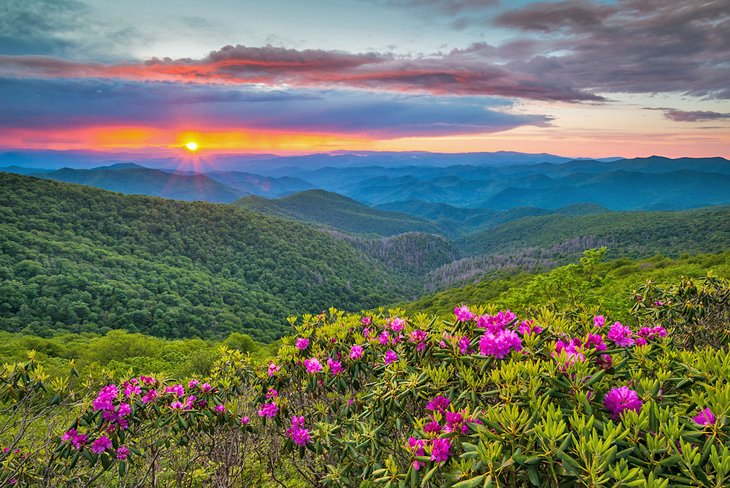 For couples who want to stay close to the action while retaining some privacy, the Princess Anne Hotel is the perfect choice. This 16-room boutique hotel is located in the quiet Charlotte Street neighborhood, within walking distance or a short ride to downtown attractions. Couples will appreciate the personal attention of this charming hotel, which offers a complimentary hot breakfast and afternoon Hors d'oeuvres, free parking, and a lovely porch area with ample seating.
For an even more exclusive experience, couples can try the Biltmore Village Inn Bed and Breakfast, housed in a stunning Victorian mansion in the heart of Biltmore Village. Furnished with antiques and authentic décor, this is a popular place for weddings and honeymoons. Highlights include over-sized soaking tubs, fireplaces, and excellent views of the surrounding countryside.
Where to Stay in Asheville near the Airport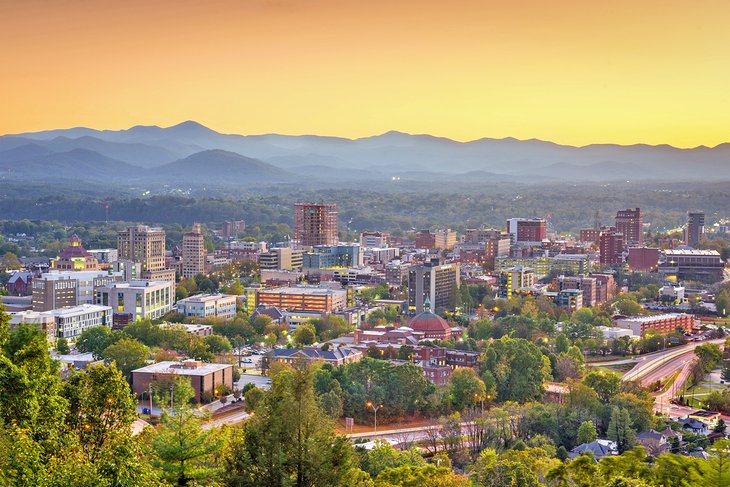 Booking a hotel near the Asheville airport makes catching an early morning flight a lot more convenient.
The Hampton Inn & Suites Asheville Airport is a great 3-star option with mid-range prices that is located just off I-26. This property offers complimentary transport to Asheville Regional Airport, which is less than five minutes away, and guests can enjoy free parking, breakfast, and Wi-Fi as well. It is pet-friendly and family-friendly, offering connecting rooms, an indoor pool, and an on-site restaurant for extra convenience.
Another good option is Wingate by Wyndham Fletcher at Asheville Airport. Just across the road from the airport, this good-value hotel offers a free shuttle service.
The rooms and suites include options for families, with interconnected rooms. They are clean and comfortable, with fridges and microwaves. There is a free breakfast each morning, as well as a heated indoor swimming pool. The on-site convenience store sells snacks, sandwiches, and beverages.
If you are looking for a budget option, the Comfort Inn Asheville Airport provides dependable, clean rooms with updated amenities. Breakfast and Wi-Fi are free, as well as parking, and there is self-serve laundry on-site. It's pet-friendly and has an outdoor pool for the kids. Rooms are equipped with blackout curtains and both mini-fridges and microwaves for convenience.