12 Top-Rated Mountain Resorts in North Carolina
Jam-packed with natural beauty, North Carolina is a hot spot for vacationers who love to spend their time outdoors. Majestic mountains span its western edge, towering above verdant valleys, sparkling lakes, and dense forests. Sweet mountain towns pepper the area, offering great restaurants, shops, and endless activities, not to mention a slew of fabulous mountain resorts to house tourists.
Whether you're hoping to hit the slopes at North Carolina's ski resorts, hike the trails, or climb the Appalachian Mountains' Blue Ridge, Black Mountain, Pisgah, or Great Smoky ranges, you're in for a treat when you stay at one of North Carolina's best mountain resorts. J
From family-friendly cottages to luxurious four-star resorts with full-service spas and swimming pools, you'll find the perfect place to stay with our list of the best North Carolina Mountain Resorts.
1. The Inn on Biltmore Estate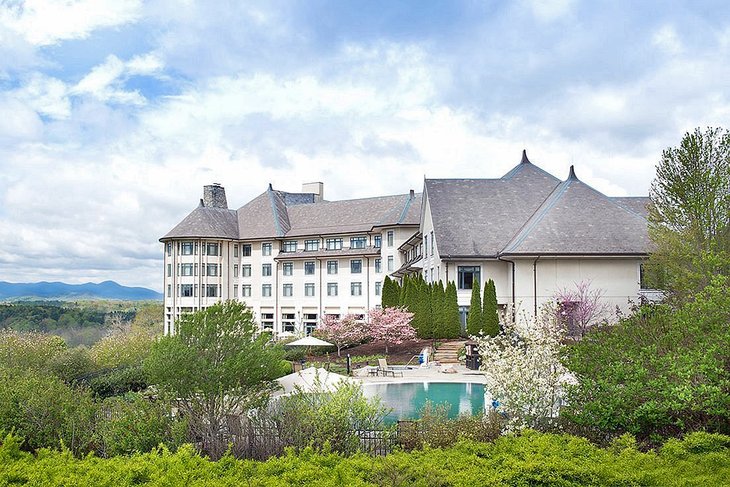 Accommodation: The Inn on Biltmore Estate
If glitz and glam top your list of must-haves for a top mountain resort, the Inn on Biltmore Estate won't disappoint. Located in Asheville and a highlight of the Blue Ridge Mountain Range, this lavish resort was once home to the Vanderbilts. Today, it's one of the most popular tourist attractions in Asheville.
The immaculate grounds and splendid gardens cover 8,000 acres peppered with walking, biking, and hiking trails, as well as a heated outdoor pool and hot tub. Kids will love the Pisgah Playground, falconry shows, and bike rentals, while it's easy for adults to get lost for a few hours in the tranquil spa. This truly is one of the top mountain resorts for families in North Carolina.
A variety of accommodations are available to cater to your every need. A more reasonably priced stay can be enjoyed at the Village Hotel, while four-star luxury is on hand in the glamorous Inn. The private Cottages are a must if you want to feel a bit more secluded. They come with a dedicated concierge, and a chef can be made available to cook and serve dinner in your cottage for a fee.
The Dining Room offers a pricier, four-star experience featuring fine china and white linen tablecloths, not to mention a stellar view. Guests can also choose to dine by the pool, where they'll find an amenable children's menu, or in their room.
Address: 1 Antler Hill Road, Asheville, North Carolina
Read More: Best Resorts in Asheville
2. Old Edwards Inn and Spa, Highlands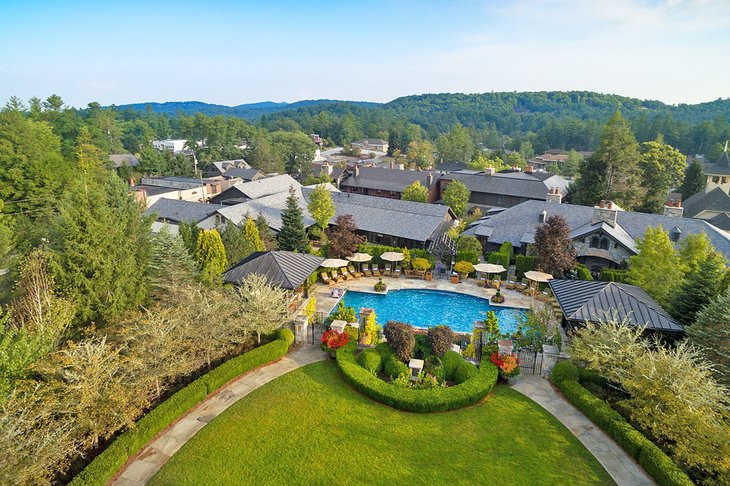 Accommodation: Old Edwards Inn and Spa
Old Edwards Inn and Spa is a scenic mountain resort nestled near the town Highlands in the Blue Ridge Mountains. One of the top resorts in North Carolina, this lavish locale is well-equipped to help its guests de-stress. The staff here are kind and helpful; the grounds are breathtakingly magnificent; and the spa services are so luxurious, you'll want to book in for a full day.
If that wasn't enough to let your shoulders relax, check out the serenity solarium, expansive furnished terrace, and fireside lounge. Then head back to your room, suite, or uber luxe cottage for some plush downtime. The resort boasts a European ambience complete with stone walls, Italian bedding, and antiques. No matter which type of room (or cabin) you choose, you're in for a treat.
Those who prefer to stay active on their mountain holidays will enjoy the golf course, heated outdoor mineral pools, fitness centers, tennis courts, and hot tubs. Take a short drive to see some of North Carolina's most spectacular waterfalls. Send the kids to the Kelsey Game & Theater Room if you want to win the parent of the day award.
You won't have far to go to find five-star nourishment when hunger strikes. This idyllic North Carolina mountain resort is home to multiple restaurants. If you'd like to take things slow and easy, grab a bite poolside, or try room service. The Spa Café is particularly refreshing.
Address: 445 Main Street, Highlands, North Carolina
3. The Omni Grove Park Inn, Asheville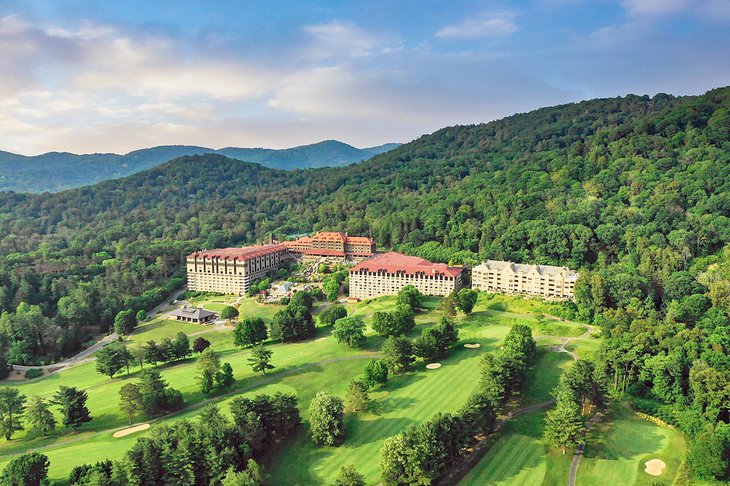 Accommodation: The Omni Grove Park Inn
As soon as you glimpse its magical surroundings, you'll understand why the Omni Grove Park Inn is one of the best mountain resorts in North Carolina. This luxurious AAA Four Diamond property is a beautiful gem bursting with the charm of a European mountain château.
The Blue Ridge Mountains form a stupefying backdrop to the dramatic stone buildings set atop Sunset Mountain. Visit in the fall if you really want to be wowed. The already spectacular grounds come alive with vibrant foliage so colorful, your camera will go into overdrive.
Southern hospitality is found around every corner, and the five-star rooms are as plush as you'd expect from a resort that's played host to celebrities and presidents for over a century. Book a corner room if you want a view to remember and extra space to stretch out.
The property is also home to a Donald Ross-designed golf course; 43,000 square-foot subterranean spa; 50,000 square-foot sports complex with a fitness center and pool; indoor and outdoor tennis courts; and the Nantahala outdoor center, which will help you book awesome activities like ziplining, canopy tours, and whitewater rafting.
Blue Ridge, Sunset Terrace, Edison, and Vue 1913 offer food so good, you'll crave seconds, and the Spa Café is a great option for breakfast, a snack, or a light lunch.
Address: 290 Macon Avenue, Asheville, North Carolina
4. Grand Bohemian Hotel Asheville, Autograph Collection, Asheville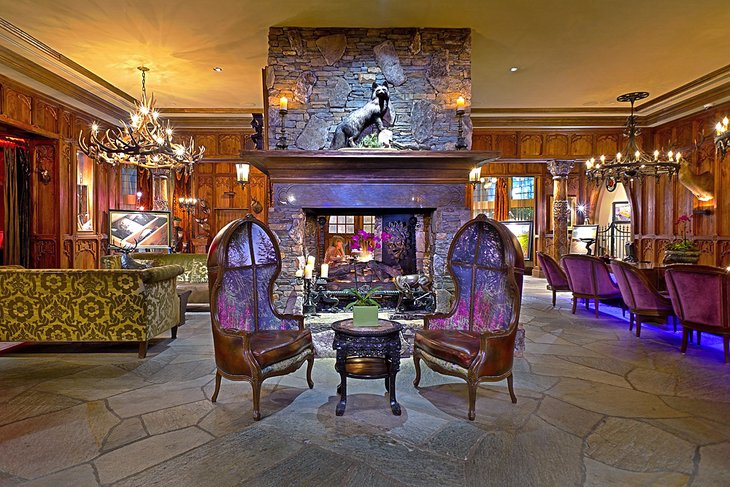 Accommodation: Grand Bohemian Hotel Asheville, Autograph Collection
The Grand Bohemian Hotel Asheville neighbors the glamorous Biltmore Estate. Set within the Blue Ridge Mountains, this boutique, Autograph Collection resort is a real gem, with Tudor-inspired architecture and romantic stone floors.
The delectable Red Stag Grill restaurant, full-service Poseidon Spa, and an art gallery make it easy to keep busy on the glorious grounds of this sprawling estate. Other amenities include a business center, conference facilities, and fitness center.
The rooms are elegant and airy, with some boasting private balconies to further enjoy the marvelous view. They all come with soaking tubs, comfy bathrobes, and luxury bedding. Up the romance with a stay in the separate King Manor House.
Address: 11 Boston Way, Asheville, North Carolina
5. Skyline Lodge, Highlands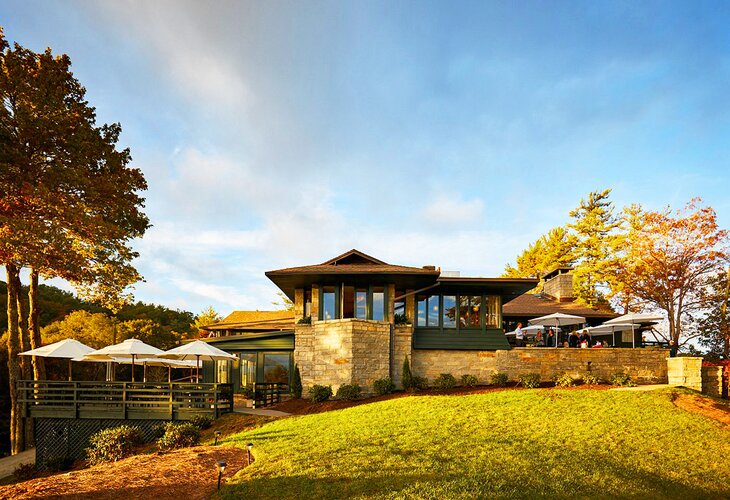 Accommodation: Skyline Lodge
Given its name, you can easily decipher what kind of view to expect while staying at Skyline Lodge in Highlands. Nestled serenely atop a Blue Ridge mountain and surrounded by towering trees, this tranquil spot is the perfect resort for couples looking for a natural retreat.
The lodge features intriguing designs by famed architect Frank Lloyd Wright, and the rooms are spectacular. Floor-to-ceiling windows make the most of the breathtaking view, furnished balconies allow you to be one with nature while enjoying a morning coffee, and custom-crafted mattresses ensure a good night's rest.
The grounds at this pretty mountain resort are dazzling. Fairy lights lead guests to the courtyard where you can cozy up in a chair by the fireplace, snuggling under one of the soft blankets provided for your outdoor use. Gaze up at a sky filled with stars and exhale all the tension that may have accompanied you on your journey.
The main restaurant serves mouth-wateringly good fare featuring the freshest of ingredients. It's a popular place to visit, so you'll want to book a reservation in advance. Butler's is a treat for those looking to enjoy first-rate food in a more casual environment for lunch.
Address: 470 Skyline Lodge Road, Highlands, North Carolina
6. Haywood Park Hotel, Ascend Hotel Collection, Asheville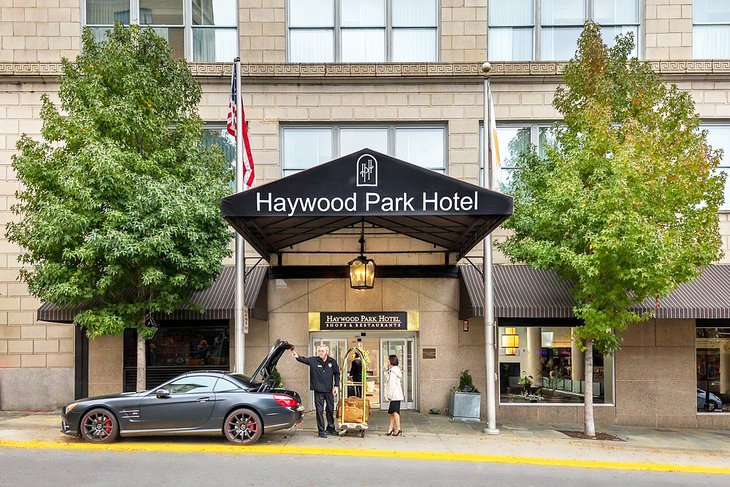 Accommodation: Haywood Park Hotel, Ascend Hotel Collection
The boutique Haywood Park Hotel, Ascend Hotel Collection resides in what was once the popular Bon Marche department store in downtown Asheville. Some rooms at this plush, four-star hotel give a lovely nod to their historic roots, offering up comfortable luxury with an added burst of old-world charm.
The Deluxe city view suites are more modern and expansive, boasting cosmopolitan vistas enhanced by giant windows that also feature distant mountain scenes. The 48 suites range in size from 475 to 1,200 square feet. And nightly turndown service includes a handmade chocolate on your pillow. Chivalry isn't lost!
Isa's French Bistro, the on-site upscale restaurant, will tempt your palate. You can work off that extra serving in the fitness center or, better yet, book a treatment at the Skin Spa Asheville.
Address: 1 Battery Park Avenue, Asheville, North Carolina
7. Chetola Resort, Blowing Rock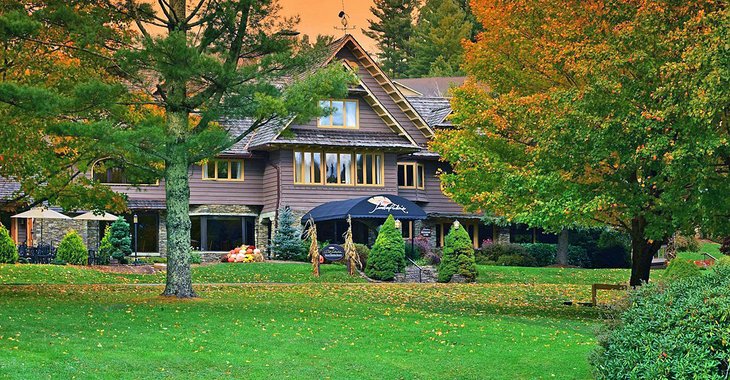 Accommodation: Chetola Resort
Chetola Resort more than lives up to its name, which means "Haven of Rest" in Cherokee. The resort is set on 78 acres on the banks of Chetola Lake, with the rugged Blue Ridge Mountains as a stunning backdrop. It's hard to feel stressed while you're on these grounds.
Have tight muscles that need some attention? Visit the Spa, where you can have any remaining tension pampered away. Then placate yourself with a delicious meal at one of the two on-site restaurants.
Included with your resort fee are seasonal access to water sports like paddleboarding, kayaking, and fishing, as well as an indoor pool, sauna, Jacuzzi, disc golf course, children's indoor and outdoor play areas, lawn games, and a shuttle to Appalachian Ski Mountain in winter.
Three types of accommodations are available to suit your various needs: Chetola Lodge offers rooms with mini-fridges, a microwave, and a coffee maker, while Chetola Premier Condominiums are a perfect spot for families who'd like a little extra space. They come with a fireplace, kitchen, and washer/dryer to make a stay feel just like home.
The Bob Timberlake Inn is a more elegant bed-and-breakfast type of accommodation. A large estate home, this comfy retreat includes daily breakfast and access to the Inn's library, lounge, and pantry, which has tasty treats (including ice cream).
Guests are granted access to the 67-acre Chetola Sporting Reserve, where they can practice their aim at archery or head out on a fly-fishing excursion.
Address: 185 Chetola Lake Drive, Blowing Rock, North Carolina
8. Hilton Garden Inn Asheville South, Asheville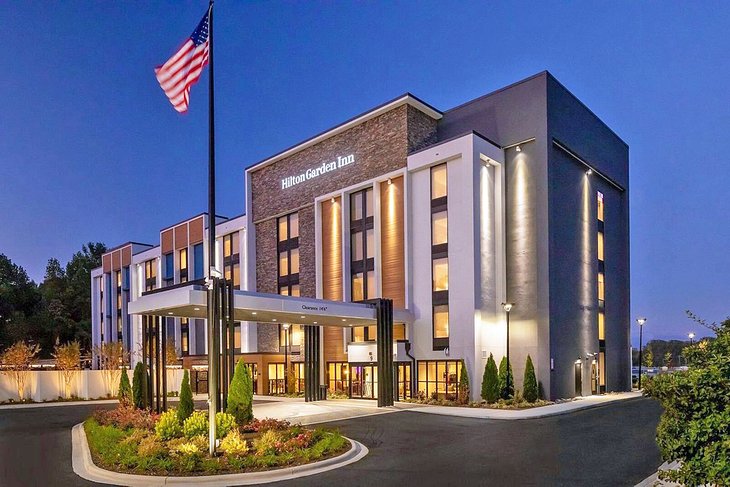 Accommodation: Hilton Garden Inn Asheville South
The Hilton Garden Inn Asheville South makes the most of its scenic locale, boasting a large outdoor entertainment area with impressive views and, of course, easy access to that fresh mountain air.
The rooms are clean, the décor contemporary and bright, with a chic color pattern and cozy carpet. The sheets are soft (250 thread count to be exact), and you'll find a mini fridge, microwave, and Keurig coffee machine on hand.
While this resort isn't as charming and cozy as a log cabin, you know what you're getting at this Hilton Garden Inn, and you'll be happy you stayed.
Added perks include a restaurant, free shuttle to the airport and local areas of interest, a fitness and business center, and room service.
Address: 9 Rocky Ridge Road, Asheville North Carolina
9. High Hampton Resort, Cashiers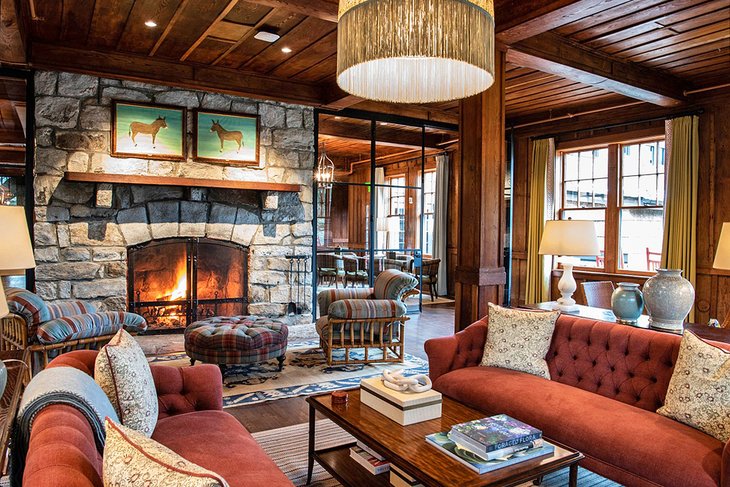 Accommodation: High Hampton Resort
The setting at High Hampton Resort is so spectacular, you'll think you've walked into a postcard. Sitting serenely in the foothills of the Blue Ridge Mountains, this pretty 1,400-acre property includes a 35-acre lake so inviting, you'll want to relax by its shores (or better yet, head into, or on, the water) for hours.
A perfect resort for couples, families, and friends, this versatile resort is located just two miles from the charming village of Cashiers and offers a variety of room types. The historic Inn hosts a range of cozy, rustic-chic rooms on their second floor. They include a king or queen-sized bed and private bathroom but vary in size.
Cottage rooms are a more luxurious upgrade, located just outside the Inn. Two queen beds, one king, or one queen are available, depending on your needs. Or book a cottage suite, which comes with multiple bedrooms, a perfect option for those traveling with kids.
Reserve a House if you're looking for extra space and privacy. They come with a full kitchen, dining room, and living room. The Log Cabin is a must if you're hoping for romance. It has a porch and deep soaking tub to help get you in the mood.
Resort amenities include a spa, health club, golf course, tennis courts, hiking trails, and access to the Fly Fishing Trail of North Carolina.
Address: 1525 Highway 107 South, Cashiers, North Carolina
10. Etowah Valley Golf & Resort, Etowah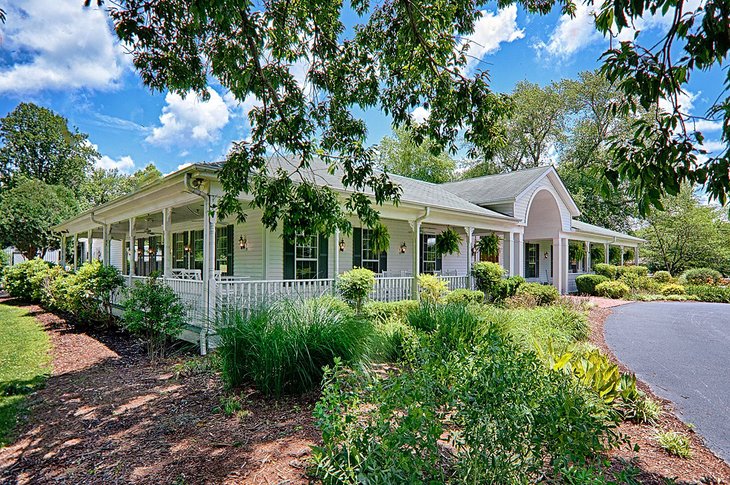 Accommodation: Etowah Valley Golf & Resort
Another gorgeous mountain resort in North Carolina, this Etowah-based gem is a perfect place to stay if you'd like to add a few rounds of golf to your stay. Home to a 27-hole golf course, this premier mountain golf resort makes the most of its glorious grounds.
Each room is either set on the golf course or offers great views of it, so you'll never feel too far removed from the game. Book a stay and play package for the best deal.
Choose from 65 regular, well-priced guest rooms, or book a much larger and more upscale Lakeview or Overlook Cottage if you're traveling with friends or family or want to enjoy more space.
Zeke's Greenside overlooks the golf course (in case you didn't figure that out from its name). You can enjoy a meal on the outdoor patio and if you plan it well, live entertainment on Wednesday, Thursday, or Saturday night from April through October.
Amenities include a driving range, putting greens, a pro shop, a heated swimming pool, and tennis courts.
Address: 470 Brickyard Road, Etowah
11. The Lodge at Flat Rock, Flat Rock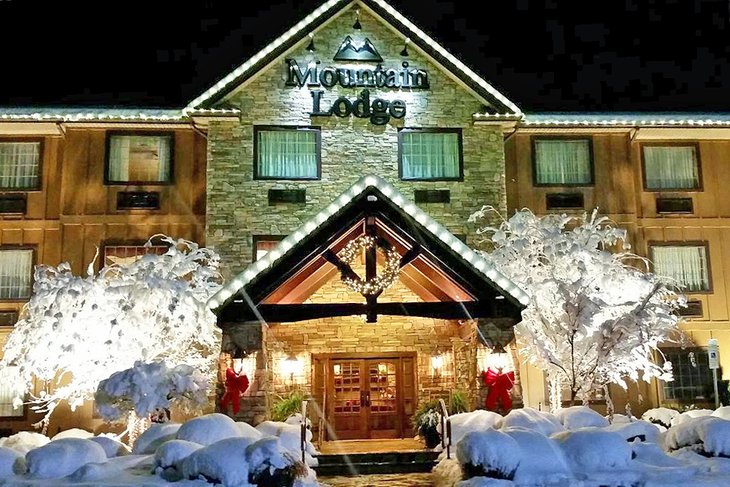 Accommodation: The Lodge at Flat Rock
There's no mistaking you're in a mountain locale during a stay at the idyllic Lodge at Flat Rock. This all-suite resort is highlighted by a lobby with a massive stone fireplace, an outdoor pizza oven, a waterfall courtyard, and encapsulating mountain views. It's basically the stuff dreams are made of.
The rooms are as cozy as you'd expect from a mountain lodge. Earthy tones, plush beds, and soft carpets make you feel warm in the cooler months, and they enhance the beauty you see through your window. The one-bedroom King Suite is a must if you're in the market for extra space. It comes with a full kitchen, sleeper sofa, work area, and living room section.
Amenities include an indoor pool, BBQ area, and an exercise room. There's no restaurant on-site, but you'll find many close by, and your private kitchen makes it easy to enjoy a dinner (or lunch) in.
Address: 42 McMurray Road, Flat Rock, North Carolina
12. The Esmeralda Inn, Restaurant, & Spa, Chimney Rock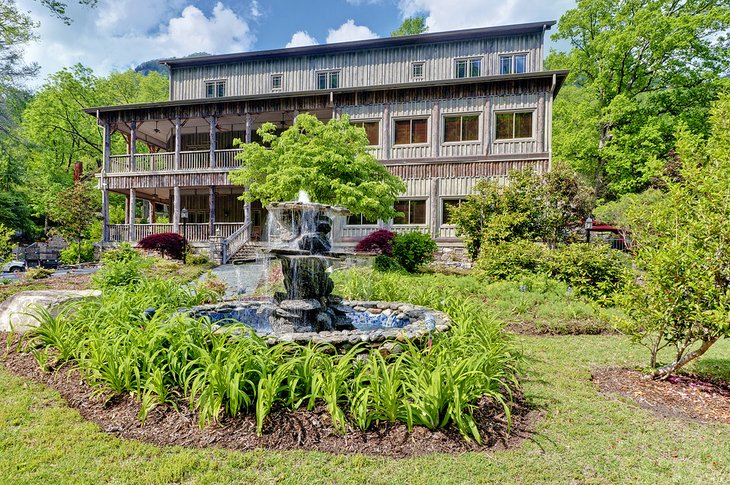 Accommodation: The Esmeralda Inn, Restaurant, & Spa
NOTE: This resort is currently undergoing renovations and closed through the end of 2023. Check with the resort for a reopening date.
The lovely Esmeralda Inn, Restaurant, & Spa lies deep in the Hickory Nut Gorge, a captivating section of the Blue Ridge Mountain Range. Just 23.5 miles from Asheville, this pretty spot is a perfect place for travelers wishing to get the most out of both the city and a more rustic, mountain countryside.
Hiking trails, a hot tub, spa, meeting rooms, and a game room are added perks that up the list of fun things to do for guests of all ages at this top North Carolina mountain resort. When you've worked up an appetite from all that activity, head to the charming Esmerelda Restaurant.
Accommodations range from traditional guest rooms perfect for a romantic night (or three) away to larger, more upscale terrace rooms and premium mountain-view rooms offering stunning vistas and more space. If you're traveling with kids, other family members, or friends, consider staying in one of the intimate cabins.
The Rocky Broad River Cabin is adorable. A log cabin boasting impressive views, this two-bedroom locale is utterly relaxing with the calming sound of the river nearby.
A gourmet breakfast is included with your stay no matter which type of room you choose, as are fireplaces.
Address: 910 Main Street, Chimney Rock, North Carolina
Map of Mountain Resorts in North Carolina