11 Top-Rated Resorts on Lake George, NY
Spanning 45 square miles of Adirondack mountains and majesty, Lake George is one of the top destinations in New York, no matter the season. Thousands of visitors flock here every year to marvel at the beauty of the shimmering lake. To accommodate these thousands of visitors, the villages and towns surrounding the lake are packed with hotels, resorts, and bed and breakfasts. If you're looking for a beautiful resort on Lake George, this is a good place to start.
No matter the season or budget, Lake George has a resort to fit the bill. Some of the resorts on Lake George date back more than a century and have been part of the fabric of the community ever since. Others are more modern, but still exude small-town charm. The one thing they all have in common is that they celebrate their enviable locations right on the banks of one of the most beautiful lakes in the country, and they make it easy for guests to enjoy the natural splendor of the region.
Get ready to explore the very best that Lake George has to offer with our list of the top Lake George resorts.
1. The Sagamore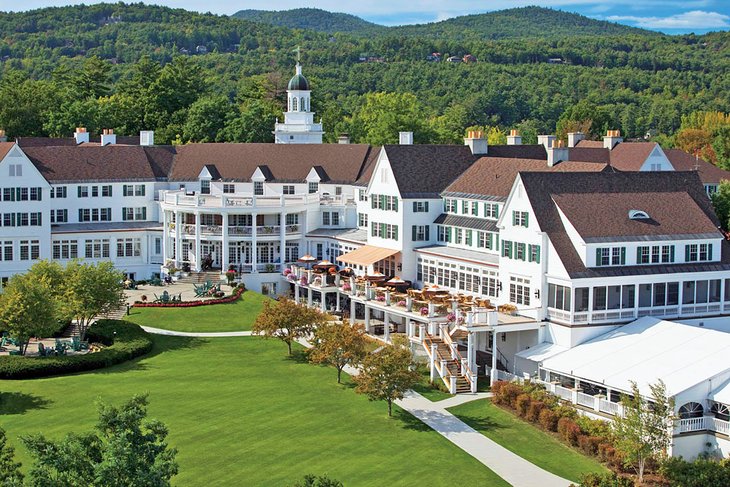 Accommodation: The Sagamore
Old-world elegance meets supremely modern luxury at this iconic luxury hotel on its own private island on Lake George. The Sagamore has been around since 1883 and is on the National Register of Historic Places. Visitors arrive up a stately private road that leads over a small bridge to the private island, where they are greeted by the grand Victorian building, dressed in white and trimmed with green shutters.
The lobby evokes visions of American high society, with wood floors, plush navy furniture, and rugs with pops of red. A spacious patio out front is lined with Adirondack chairs, and the view of the lake is probably the best in town. You're on it, after all.
Guests will find a wide variety of room categories here, including condos; a private carriage house called Hermitage; and a six-bedroom home called The Castle, thanks to its Tudor design. Lodge Suites have kitchens and balconies with views of the lake, as well as fireplaces. All rooms include Wi-Fi, flatscreen televisions, and coffee and tea stations.
The Sagamore leaves no room for boredom on its grounds, with an 18-hole golf course, eight restaurants, indoor and outdoor pools, a gym, billiards, rock climbing, and a kids' club. And just in case you wanted to actually spend time on Lake George, The Sagamore has on-site boat rentals and a dock for fishing. Or you can book a sail aboard The Morgan, which is the resort's 72-foot replica of a 19th-century ship. The best part? Cruises are included with the resort fee.
Address: 110 Sagamore Road, Bolton Landing, New York
2. The Fern Lodge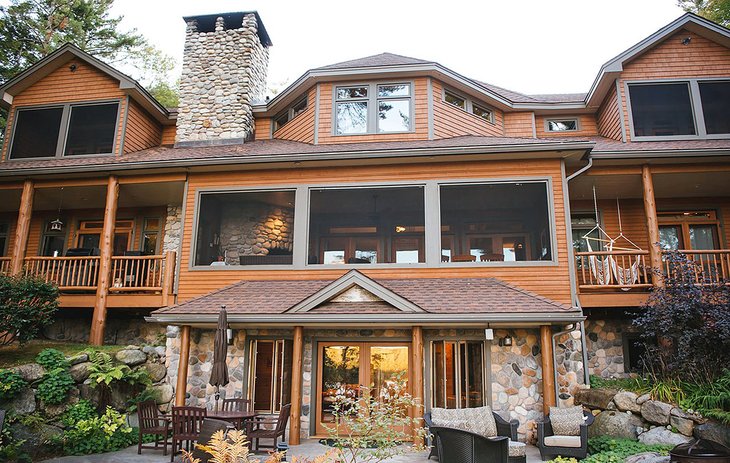 Accommodation: The Fern Lodge
The Fern Lodge takes that Adirondack mountain cabin vibe and spins it with a delightful luxury twist. Perched on Friends Lake (not far from Lake George), The Fern Lodge is built around a stunning Adirondack Great Room, complete with vaulted ceilings and a stone fireplace at its center. The common areas also include an outdoor fireplace, game area, patio, and outdoor hot tub. Other amenities include a movie theater, sauna, and fitness center.
Around the Great Room are five guest rooms, with king-size beds, stone fireplaces, land and/or mountain views, and Jacuzzi tubs. The nightly rates also include breakfast, evening hors d'oeuvres with a boat tour of Friends Lake (or fireside if it's in the winter), nightly turndown service with chocolate truffles, and s'mores at the fire pit.
Separate from the lodge and its rooms are two houses that are available for rent, like the Gore Mountain Vacation Home, which can sleep up to 12 people and has views of the mountains from its outdoor hot tub. A second home, the Creekside Cabin, can sleep up to 10 people in its five bedrooms. It has an outdoor hot tub and fire pit right beside the creek, and a living room with a roaring stone fireplace, as well.
Address: 46 Fiddlehead Bay Road, Chestertown, New York
3. The Inn at Erlowest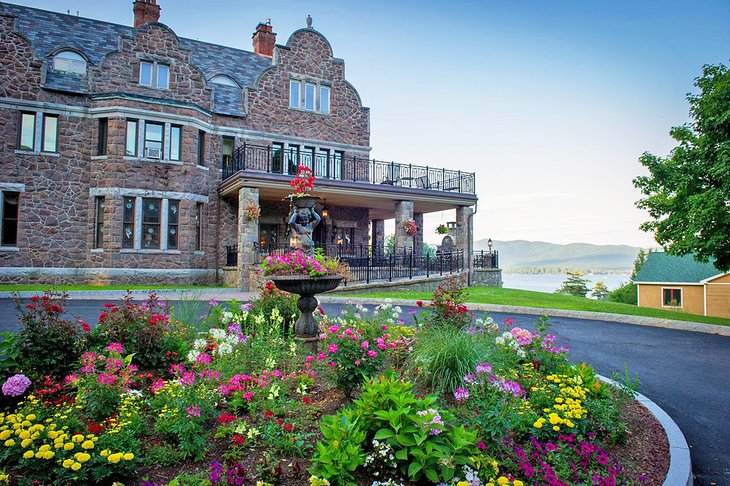 Accommodation: The Inn at Erlowest
Turns out, Highlands Castle is not the only castle protecting the lake. The Inn at Erlowest is yet another gorgeous property that will conjure up visions of the days of yore. The beautiful stone structure sits on a perfectly manicured hill that overlooks Lake George and the misty Adirondack mountains in the distance.
The castle has 10 suites, each decorated in its own style. The Erlowest Suite, for example, is a king suite with its own fireplace, two-person Jacuzzi tub, and glittering chandelier. The Montcalm Suite has a Lakeview balcony, along with a fireplace and Jacuzzi tub.
The Erlowest has a lovely fine dining restaurant, but guests often opt for the Igloo dining, which is a favorite in winter. The heated igloo structures are perfect for dining in the snow or under a blanket of stars.
Address: 3178 Lake Shore Drive, Lake George, New York
4. Boathouse Bed & Breakfast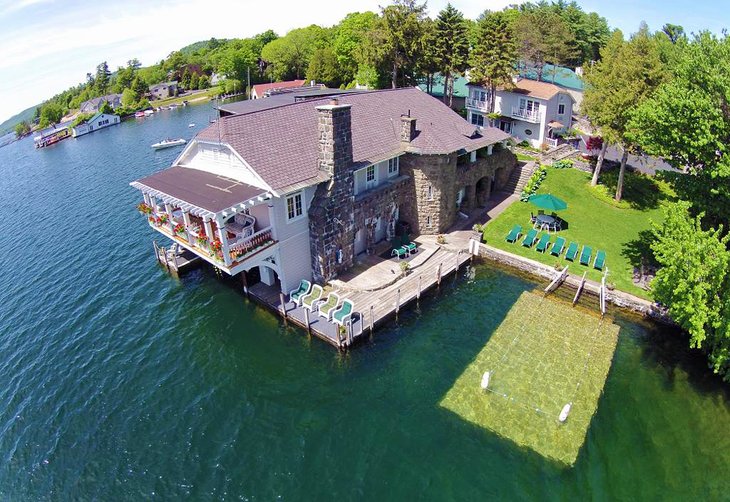 Accommodation: Boathouse Bed & Breakfast
Of the many bed and breakfasts in the area, Boathouse Bed & Breakfast is arguably one of the very best. The Boat House Bed & Breakfast has been on the banks of Lake George for nearly 100 years.
The historic property offers lovely guest rooms and suites, each one uniquely decorated. All rooms feature luxury sheets, robes, Wi-Fi, refrigerators, and televisions. The luxury Carriage House Suites are right on the banks of the lake and offer private balconies and extra space.
If guests want to tour the lake, they can rent the B&B's private boat, Miss Boathouse. The custom-made boat is a 33-foot Hacker Craft Sport motorboat and adds a touch of old-world glamour to a day on the lake.
A stay at the Boathouse means you get to use some of the services at The Sagamore, like the golf course, spa, and restaurants. Plus, from the B&B you can walk to the restaurants and shops in town.
Address: 44 Sagamore Road, Bolton Landing, New York
5. Fort William Henry Hotel and Conference Center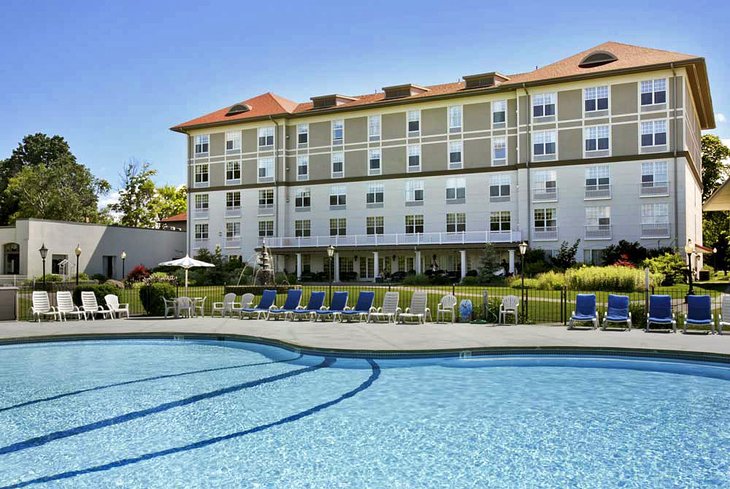 Accommodation: Fort William Henry Hotel and Conference Center
The Fort William Henry Hotel and Conference Center is one of the more upscale accommodations offered in Lake George. The stately hotel is historic and elegant, offering comfortable rooms with loads of amenities, sweeping views of the Adirondacks, restaurants, and plenty of activities.
The rooms and suites are across three different levels, from the Grand Hotel to the Premium East wing and Standard West Motel. It's all about luxury in The Grand Hotel. This original structure is known for its upscale style, and guests love to congregate by the Great Room fireplace in the evenings, or out on the veranda during the warmer months. The East Wing is a separate building near the indoor pool and game room. It's not far from the Fort William Henry Museum, as well.
The Standard West Motel is also just a few steps away from The Grand Hotel, but each room has its own entrance, as well as decks and patios on both the lake and mountainsides.
Additional hotel amenities include an indoor and outdoor pool, sauna, on-site dining, and an on-site museum.
Address: 48 Canada Street, Lake George, New York
6. Blue Water Manor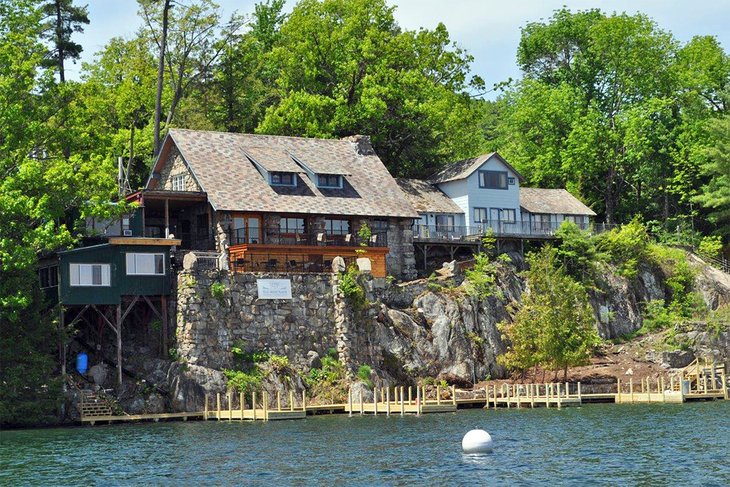 Accommodation: Blue Water Manor
Overlooking Lake George and the surrounding mountains, Blue Water Manor is a family-run resort and restaurant with 49 rooms. Guests can book rooms in the North Lodge, which are year-round, or the Flower Cottages, which are seasonal.
The North Lodge rooms have two queen-sized beds, private bathrooms, and individual heating and air conditioning. The Flower Cottages are located on the lake, as well, but are separate from the Blue Water Manor property.
Blue Water Manor has three restaurants, including Tavern on the Lake, The Bolton Barrel, and Pumpernickel's German Restaurant.
Address: 4436 Lake Shore Drive, Bolton Landing, New York
7. The Lodges at Cresthaven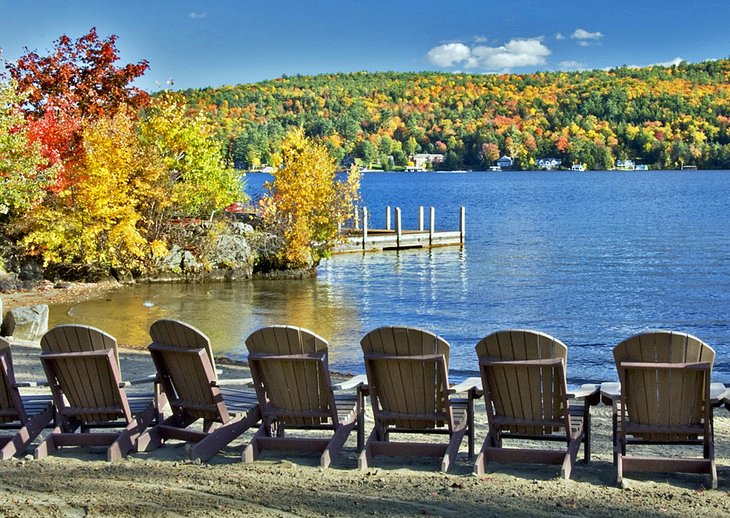 Accommodation: The Lodges at Cresthaven
Perched on 11 hilly acres of prime lakefront, the Lodges at Cresthaven offers 50 two-bedroom rooms decked out in upscale lodge style. Think wood and log-beamed ceilings, cozy blankets, gas fireplaces, and plenty of rugs. Each unit has a kitchen with refrigerators, microwaves, oven ranges, and dishwashers. All can sleep up to six people.
The main draw to the lodge is the stretch of lakefront, which has its own private beach area. The resort has several Adirondack chairs scattered about the property, as well as kayaks and canoes. The hotel has a fitness center, as well as a game room for kids.
For dining, guests have the option of eating at the waterfront restaurant, known as the Boathouse, but the Lodges at Cresthaven are just two miles from Lake George's village, which is replete with lovely restaurants and cafés.
Address: 3210 Lake Shore Drive, Lake George, New York
8. The Holiday Inn Resort Lake George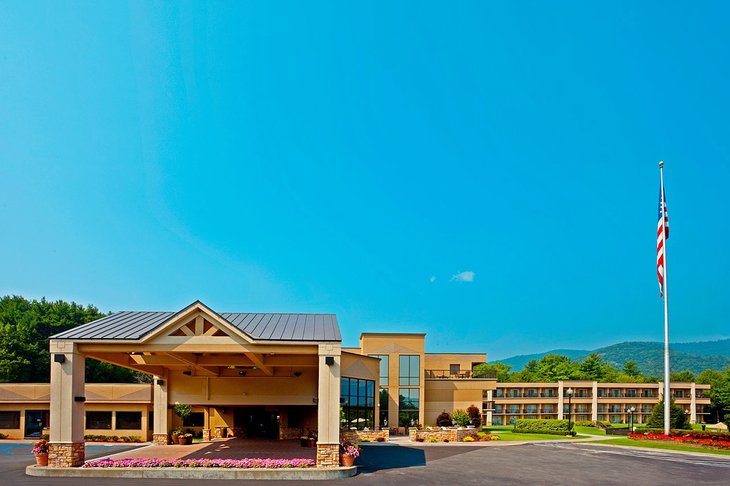 Accommodation: The Holiday Inn Resort Lake George
With a perfect setting next to the village and the lake, and a robust offering of amenities, the Holiday Inn Resort Lake George is a really solid option for travelers looking for top Lake George resorts. The Holiday Inn has an expansive piece of property, and guests are greeted by the warm-and-welcoming lobby, complete with a stone fireplace and huge banks of windows.
The Holiday Inn has 105 rooms and 24 suites, many of which have balconies or patios with Lakeland mountain views. Room decor is a bit generic, but the rooms are clean, spacious, and comfortable. Plus, the hotel is about a 15-minute walk to Million Dollar Beach, so it's perfect for guests coming to play outside.
As for features, the family-friendly hotel has both an indoor and outdoor pool, as well as an outdoor whirlpool. Other amenities include a basketball court, fire pit, playground, putting green, game rooms, and a 24-hour fitness center. A restaurant and lounge serve food and snacks, while a gift shop sells various sundries, snacks, coffee, and tea.
Address: 2223 Canada Street, Route, 9, Lake George, New York
9. Dunham's Bay Resort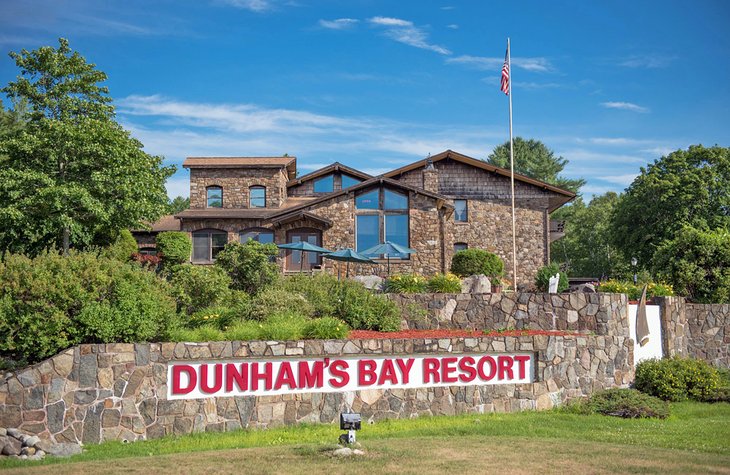 Accommodation: Dunham's Bay Resort
Overlooking Lake George, Dunham's Bay Resort is all about spacious rooms, lovely scenery, and a restaurant with a view. The resort has a wide variety of accommodations, from Traditional King rooms to two-bedroom Porch Cabins, and spacious Adirondack Cabins. The two-bedroom Adirondack Cabins are the most lovely, with the best views of the lake and the resort.
Resort amenities include an indoor heated pool and Jacuzzi, a fire pit, grills, a play area for kids, a bocce ball court, tennis court, and much more. The View restaurant is a family-friendly spot that is open to the public. It's known for its freshly made pizzas, as well as its hearty dinner options, like the bone-in ribeye steak and grilled meatloaf.
Address: 2999 NY-9L, Lake George, New York
10. Marine Village Resort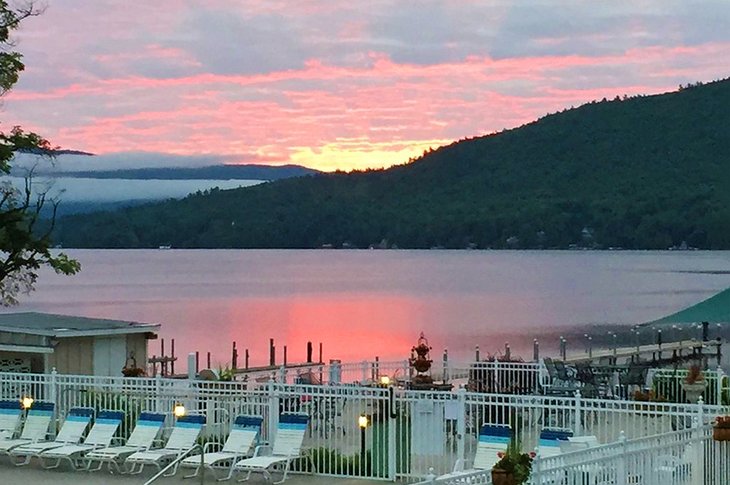 Accommodation: Marine Village Resort
Located on 300 feet of prime Lake George beachfront, the Marine Village Resort is a budget-friendly, clean, and comfortable resort in Lake George, especially for families traveling together.
The resort has a collection of lakefront suites, cottages, and standard and poolside rooms. All rooms have heat and air conditioning, coffee makers, microwaves, refrigerators, and free Wi-Fi.
With such an enviable location, the resort offers many activities for guests. On-site recreation includes barbecues, fireworks, and s'mores, as well as swimming, fishing, kayaking, and other water sports. The resort has a 30-foot-by-55-foot heated pool, as well, so guests have ample opportunity to soak up the rays.
A seasonal on-site restaurant, The Morgan, is open for breakfast from July through Labor Day. Of course, Marine Village Resort is right in the heart of Lake George Village making it easy for guests to stroll into town to sample the many great restaurants there.
Marine Village Resort offers guests a variety of seasonal packages, as well, so be sure to check what's available when you're making a reservation. You could be entitled to extra perks like a free boat ride or a discount on room rates.
Address: 370 Canada Street, Lake George, New York
11. The Quarters at Lake George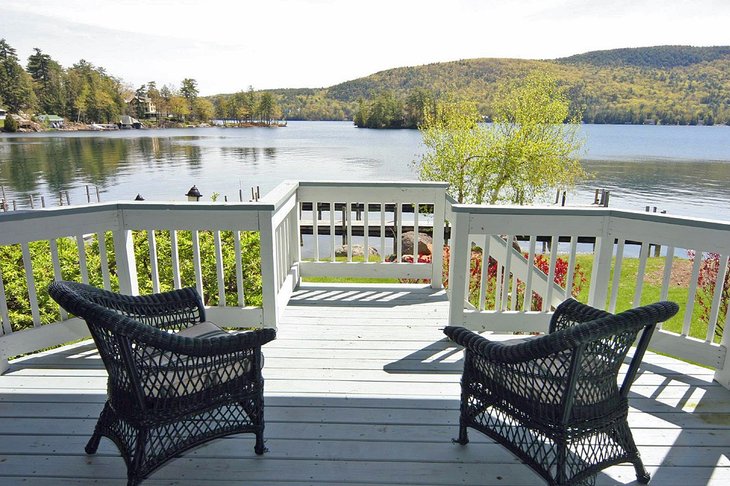 Accommodation: The Quarters at Lake George
The Quarters at Lake George give travelers the best of a vacation rental and a resort all rolled into one. These vacation rentals are perfectly situated, with views of both the lake and the Adirondack Mountains.
Rental options can sleep anywhere from two to six people. These rooms have fireplaces, full kitchens, as well as Jacuzzis. The larger units are perfect for groups of friends or family getaways, while the smaller rooms are perfect for couples or small families. Guests of The Quarters have access to the amenities of the property, as well.
Lounge on the lakeside sundeck and dock. This is a great spot for docking your own boat or casting a fishing line. The resort has a private sandy beach, as well. An outdoor pool is also available, with views of the mountains and lake.
Other amenities include a coin laundry on-site, grills for guest use, as well as a small gym. If you really enjoy your stay and want to make it somewhat permanent, The Quarters has units available for fractional ownership.
Address: 3014 Lake Shore Dr, Lake George, New York
Map of Resorts on Lake George, NY
Lake George, NY - Climate Chart
Average minimum and maximum temperatures for Lake George, NY in °C
J
F
M
A
M
J
J
A
S
O
N
D

-1

-12

2

-11

7

-6

15

1

22

7

26

12

28

14

27

13

23

9

16

3

8

-2

2

-8

PlanetWare.com
Average monthly precipitation totals for Lake George, NY in mm.

89

66

94

95

112

106

107

109

103

92

103

88

Average monthly snowfall totals for Lake George, NY in cm.

47

37

28

5

0

0

0

0

0

0

10

47
Average minimum and maximum temperatures for Lake George, NY in °F
J
F
M
A
M
J
J
A
S
O
N
D

31

10

35

12

45

22

59

33

71

45

79

53

83

58

81

56

73

48

61

37

47

29

35

17

PlanetWare.com
Average monthly precipitation totals for Lake George, NY in inches.

3.5

2.6

3.7

3.7

4.4

4.2

4.2

4.3

4.1

3.6

4.1

3.5

Average monthly snowfall totals for Lake George, NY in inches.

19

15

11

2.1

0

0

0

0

0

0

4.0

19