12 Top-Rated Resorts in Upstate New York
We may earn a commission from affiliate links ()
Upstate New York — that portion of the "Empire State" located north of New York City — is where you'll find some of the most popular and romantic vacation destinations on the East Coast, including in the beautiful Adirondacks and Catskills regions. And the Adirondacks are in turn home to some of the top-rated resorts in the region.
Our favorites in the area include the splendid Whiteface Lodge in Lake Placid. Close by are the equally elegant Mirror Lake Inn Resort & Spa and Lake Placid Lodge properties.
Other resorts worthy of a stay in Upstate New York include the historic Glenmere Mansion in Chester, which offers a unique luxury stay in the heart of the Lower Hudson Valley, and the Italian-inspired Villa Vosilla in Tannersville, widely regarded as one of the state's top boutique hotels.
Find the best accommodation option for you with our list of the top resorts in Upstate New York.
Note: Some businesses may be temporarily closed due to recent global health and safety issues.
1. Glenmere Mansion, Chester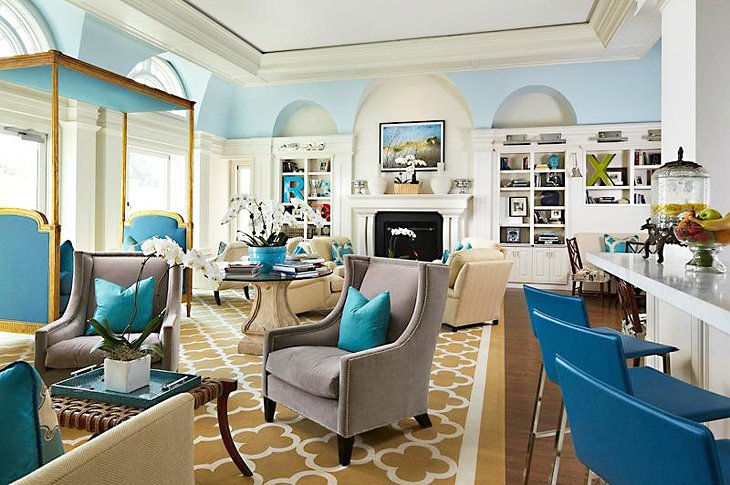 Located in the community of Chester, the elegant 5-star accommodations at Glenmere Mansion are a great choice for those looking for a romantic (and luxurious) Upstate New York break.
A highlight of a stay here is exploring the hotel's 150-acre lower-Hudson Valley property. This picture-perfect, country-like estate setting features quaint garden paths and plenty of places to sit and relax.
Afterwards, enjoy a culinary experience at one of the two restaurants, one of them fine dining, or in one of its private dining rooms. Alternatively, why not kickback and relax in the spa and bathhouse? Other activities, including hiking trails and numerous great golf courses, are an easy drive away.
With only 18 unique luxury accommodations, you're guaranteed plenty of peace and quiet during your stay. Features of these well-appointed and comfortable guest rooms include multiple bedrooms and spacious marble bathrooms with in-floor heating, living areas with fireplaces, and large furnished patios.
Accommodation: Glenmere Mansion
2. Lake Placid Lodge, Lake Placid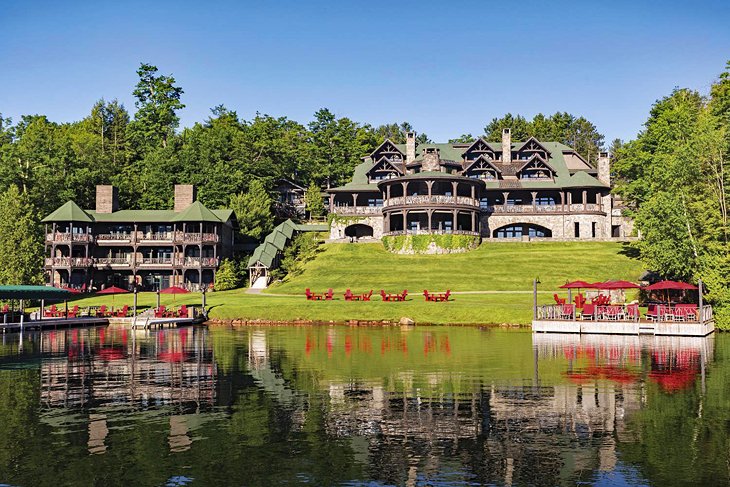 Charmingly rustic and authentic in its Adirondack-styling, Lake Placid Lodge is another must stay in Upstate New York. And it's exceedingly luxurious — as you'd expect from a 5-star Relais & Châteaux property.
From its exquisitely crafted main lodge lobby with its wood beams and local stone features, to its large meeting and function rooms, the attention to detail is visible everywhere.
Nowhere is this more evident than in the lodge's stunning accommodations. These sumptuous affairs come with king beds, large bathrooms with stand-alone showers and bathtubs, real fireplaces, and roomy private balconies.
There's plenty to commend the resort's amenities, too. Highlights of a summer stay include activities such as swimming, paddleboarding, canoeing, kayaking, fishing, and boat tours.
Come winter, it's all about wrapping up warm and hitting the nearby ski hills. Cross-country skiing, snowshoeing, skating, and snow-tubing are also popular things to do in the area. The resort also boasts a fine-dining establishment, plus casual food options.
Accommodation: Lake Placid Lodge
3. The Whiteface Lodge, Lake Placid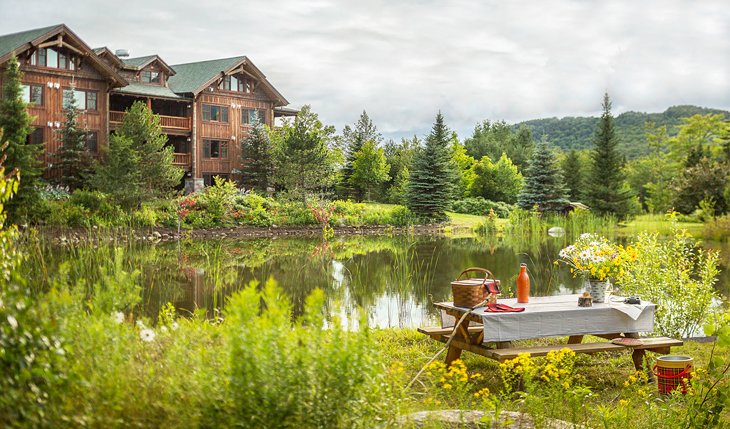 The 4-star Whiteface Lodge in Lake Placid is a great choice of resort for those looking for a luxurious Adirondack getaway. This rustic log-built location offers a variety of accommodation options, including a number of roomy one-bedroom suites.
These chic, custom-furnished, and spacious units are charmingly decorated in the classic Adirondack "camp" style and come with a choice of king or queen beds in a cozy bedroom area. They also feature living rooms with pullout queen-bed couches, and bathrooms with whirlpool bathtubs.
The lodge also boasts a variety of world-class amenities. Highlights include several different dining options (including in-room dining), a full-service spa, and a private movie theater.
Other amenities of note include an indoor/outdoor swimming pool, hot tubs, a well-equipped fitness center, tennis courts, a games room, and an ice-cream shop. Complimentary breakfasts and a handy shuttle service are also provided.
Accommodation: The Whiteface Lodge
4. Mirror Lake Inn Resort & Spa, Lake Placid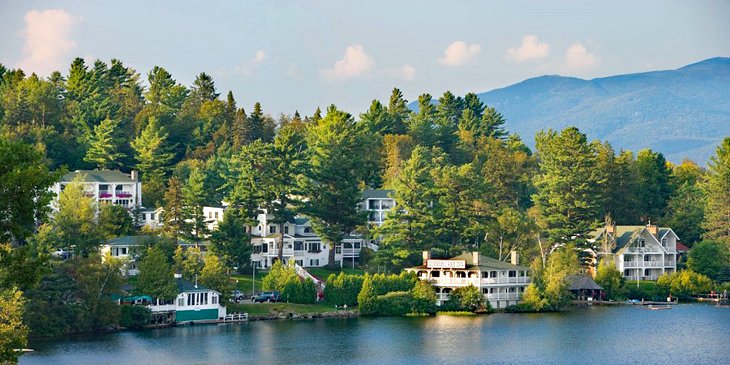 The chic 4-star Mirror Lake Inn Resort & Spa makes for an unforgettable vacation spot in lovely Lake Placid. Highlights of a stay include exploring the historic town, just minutes away on foot, as well as enjoying the resort's quality amenities.
These include a heated indoor swimming pool, hot tub, fitness center, and sauna. There's also excellent on-site dining. For sports enthusiasts, the resort is an easy drive to a number of golf courses, and in winter, it's a short trek to some of the best skiing in New York State.
The accommodations are distinctly luxurious. A great option for families are the spacious "Lookout Rooms," which comprise two comfortable queen beds with deluxe bedding. Other notable features of these bright, elegant rooms include floor-to-ceiling windows offering great mountain or lake views and a large living area that can be shut off from the bedroom, allowing the kids to sleep while parents relax.
Also popular are the exquisite family suites. Covering an area of 1,200 square feet, these split-level units feature three good-sized bedrooms, a full kitchen, plus two and half bathrooms. They also come with a spacious living area, the focal point of which is a cozy fireplace.
Accommodation: Mirror Lake Inn Resort & Spa
5. 1000 Islands Harbor Hotel, Clayton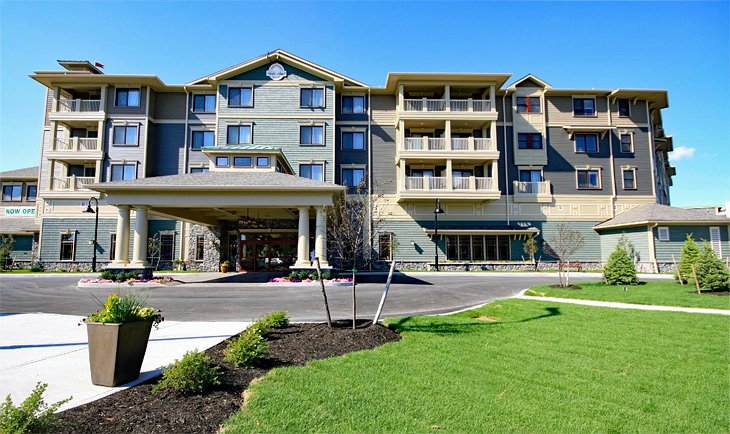 The 4-star 1000 Islands Harbor Hotel in Clayton is another popular luxury getaway destination in Upstate New York. Set in an idyllic location overlooking the St. Lawrence River, this fine hotel offers a number of different options when it comes to choosing your room.
In addition to its standard hotel layouts, a number of spacious and elegantly-appointed luxury suites are available. Features of note in these chic units are the separate bedroom, a comfortable living area, bathrooms with Jacuzzi tubs, and a wet bar with a mini-fridge and microwave. The nightly turndown service (treats provided) and 24-hour in-room dining are additional nice touches.
The amenities are also of a high-quality and include a large heated indoor swimming pool, hot tub, and a fitness center. Dining can be done indoors or, weather permitting, on the large patio overlooking the St. Lawrence.
Other notable services include a concierge, valet parking, and docking. A business center and meeting rooms are also available for nguest use.
Accommodation: 1000 Islands Harbor Hotel
6. High Peaks Resort, Lake Placid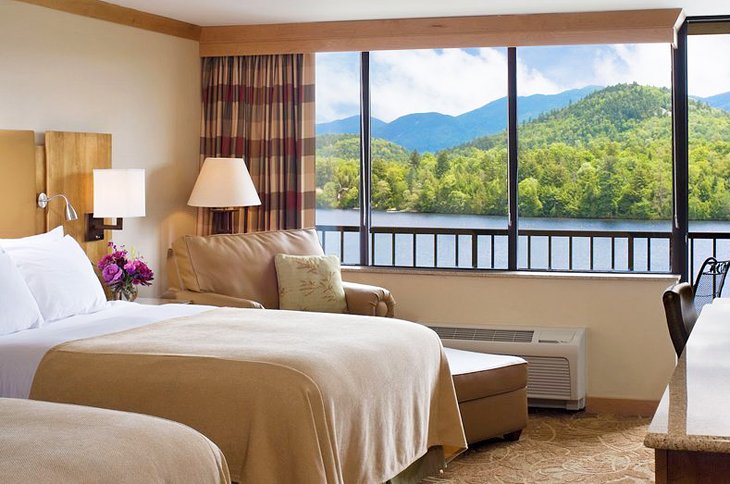 Spread across three different properties in Lake Placid, the 4-star High Peaks Resort is an excellent choice of getaway destination for those seeking a high-end and authentic Adirondack vacation.
In addition to being a great location from which to explore this beautiful area and its historic namesake town — it's just minutes' walk away from top attractions and great shopping — guests will enjoy a wide variety of on-site amenities. These include excellent fine-dining and casual dining experiences, four swimming pools (two outdoor, and two indoor), and a fitness center. Complimentary kayak and paddleboard usage is included with your stay.
As you'd expect from a luxury location such as this, the rooms are well appointed and elegantly furnished. Highlights include spacious one-bedroom suites that come with private entrances and foyers, separate sleeping and living areas, plus a dining table and chairs. They also feature a convenient wet bar with a microwave and mini-fridge, plus two good-sized furnished balconies with superb views.
Accommodation: High Peaks Resort
7. The Sagamore Resort, Bolton Landing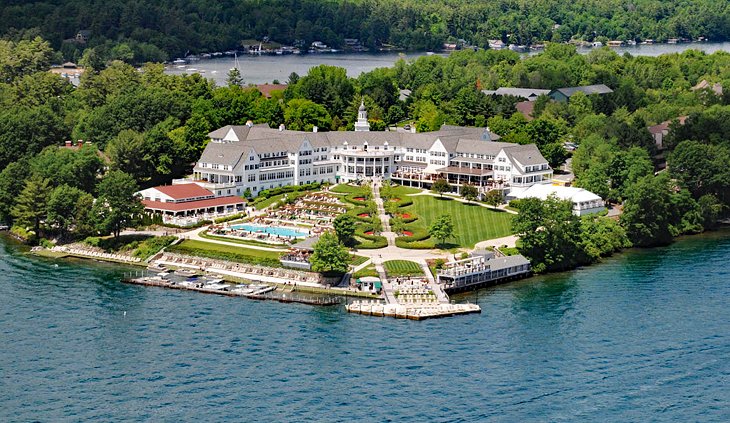 Set amid 70 acres of prime real estate in Bolton Landing, the beautiful 4-star Sagamore Resort on Lake George was built in 1883 and is one of the oldest surviving resorts in the Adirondacks.
This delightful location offers a choice of 137 Adirondack-themed rooms and suites boasting such features as large marble-accented bathrooms featuring stand-alone showers and bathtubs, good-sized living areas with pullout couches, as well as furnished balconies.
If you can swing it, check out the availability of the resort's uber-luxurious vacation home. Known as "The Castle," this 2,000-square-foot property includes six bedrooms, four bathrooms, and a full kitchen. There's also a dining room, living room, plus great views over the lake.
When you can drag yourself away from your comfortable accommodations, you'll enjoy on-site amenities such as great restaurants (both casual and fine-dining are available); a heated swimming pool; and outdoor adventures including fishing, kayaking, and canoeing.
Other activities include lake trips and tours, a full-service spa, five tennis courts, and a championship golf course.
Accommodation: The Sagamore Resort
8. Mirbeau Inn & Spa, Skaneateles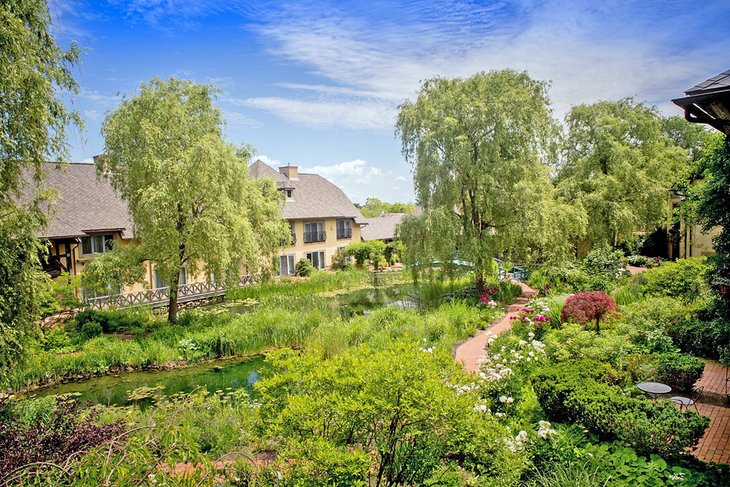 Located in the town of Skaneateles, the elegant, French chateaux-inspired Mirbeau Inn & Spa offers a variety of excellent accommodation options. Popular choices at this 4-star resort include the spacious king guest rooms.
These come with a living area with a fireplace, large bathrooms with separate soaker bathtubs and showers (plus luxury bath products and bathrobes), as well as HDTVs and high-end sound systems. A nightly turndown service is provided. A great upgrade is to the "Club" suites and rooms, which include snacks and treats, and a private lounge area.
On-site amenities include a large spa and fitness area offering a variety of services and classes, including yoga and Pilates. The gardens are a delight to explore, and include a number of walking trails, ponds, and places to sit and reflect — or simply admire the views.
Accommodation: Mirbeau Inn & Spa Skaneateles
9. The Lodges at Cresthaven, Lake George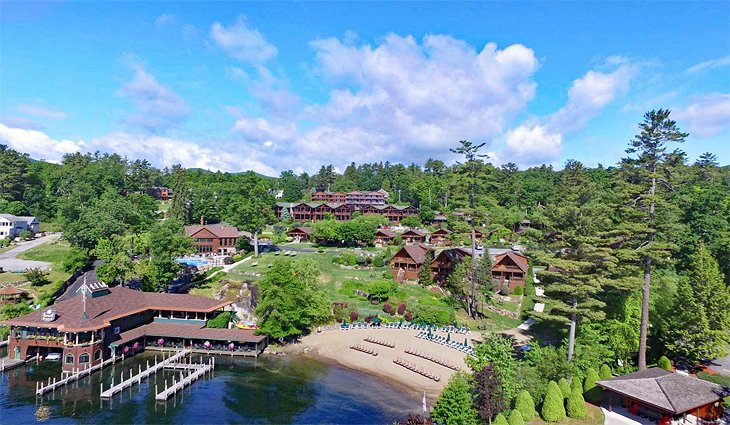 An authentic Adirondack experience can be enjoyed at the 4-star Lodges at Cresthaven in Lake George.
Consisting predominantly of well-appointed and spacious two-bedroom lodges, these comfortable vacation rentals come with full kitchens with modern appliances (including a dishwasher), two bathrooms, CD/DVD players, and three HDTVs. Also nice is the inclusion of a gas fireplace, laundry facilities, and a large covered porch.
There's also plenty to do around this 11-acre resort, from swimming and lounging about on the private beach or the swimming pool area, playing a round of horseshoes or a game of bocce, or challenging friends and family on the volleyball court.
Other notable amenities include barbecues, restaurants (be sure to try the Boathouse), a fitness center, docking, and a playground for the kids.
Accommodation: The Lodges at Cresthaven Lake George
10. The Otesaga Resort Hotel, Cooperstown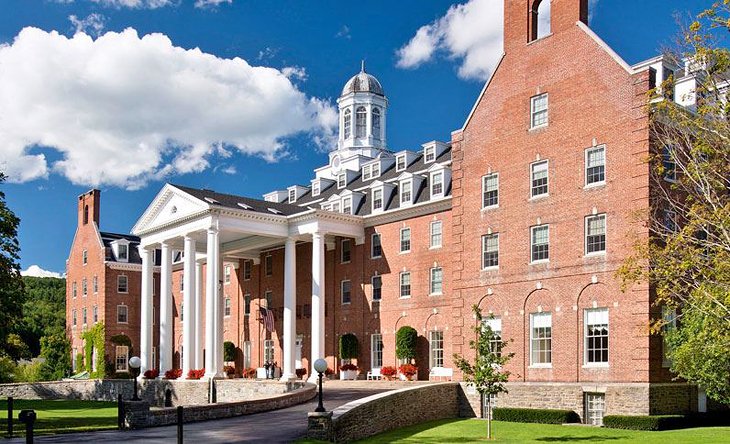 Built in 1909, The Otesaga Resort Hotel in Cooperstown is, quite rightly, ranked one of the top-rated 3-star hotels in the state of New York. Its location at the southern end of beautiful Otsego Lake gives it seemingly unending water views from its elegant lakeside rooms, which come in a variety of configurations.
In addition to its standard-sized hotel rooms, of which a number of deluxe upgraded versions are available, the Otesaga offers spacious suites, too. Notable features of these beautifully decorated suites include a delightful private parlor — the perfect place to enjoy a morning coffee, or a complimentary breakfast or afternoon tea. They also feature charming bedrooms, large bathrooms (bathrobes included), and blackout drapes. Nice perks include your choice of morning newspaper and a sumptuous breakfast.
The amenities are also world-class and include two fine-dining restaurants (in-room and private dining available). Also available for guests to enjoy are a heated outdoor swimming pool, along with swimming in the lake. Also included with your stay is free use of canoes and rowboats.
Fishing, a fitness room, two tennis courts, and a championship golf course, are also available for guests' use. A business center is also located on-site, as is a gift shop and spa services.
Accommodation: The Otesaga Resort Hotel
11. Mohonk Mountain House, New Paltz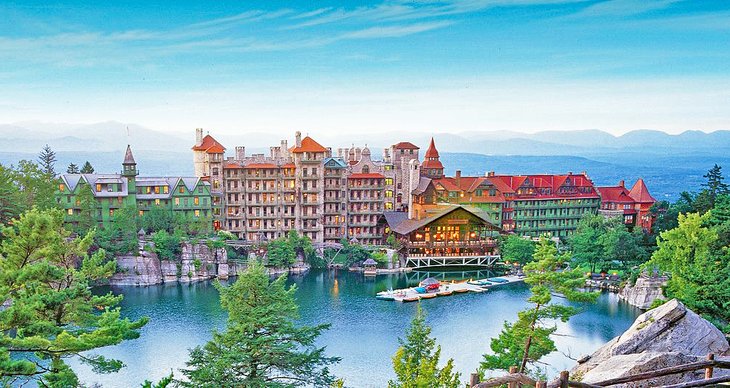 Those looking for a genuine Victorian castle experience will definitely want to book a stay at the Mohonk Mountain House in New Paltz. Sitting high atop a cliff overlooking its own lake, this upscale 3-star resort was built in 1869 and continues to offer plenty of great activities and amenities.
Top of your list of things to do should be exploring the surrounding 40,000 acres of natural beauty, either on foot, by bike... or even on horseback. Other outdoor activities include archery, basketball, swimming at the resort's private beach and in its pools, and boating. Indoor amenities include a billiard room, board games and games room, as well as a fun museum.
A variety of luxurious rooms and suites are available, as well as a number of quaint stand-alone cottages. Popular choices include the elegant lake-view suites, featuring cozy living rooms with real woodburning fireplaces, and wet bars. They also come with spacious bathrooms with classic claw-foot bathtubs and separate glass showers, and large furnished balconies with great views.
Accommodation: Mohonk Mountain House
12. Villa Vosilla, Tannersville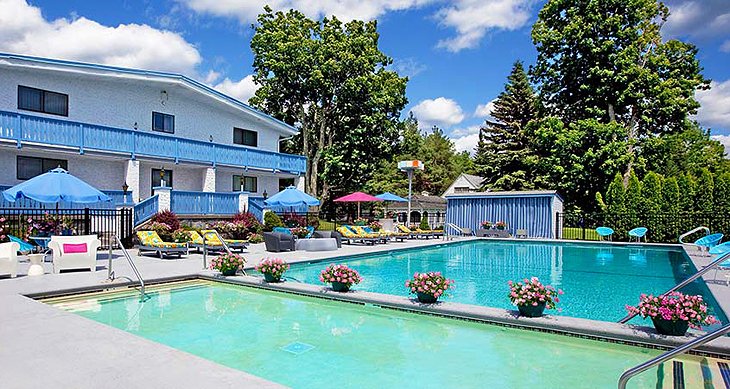 If you're looking for a great place to stay in the Catskills, be sure to make it the 3-star Villa Vosilla in Tannersville. Consistently ranked as one of the top boutique hotels in this vacation region, Villa Vosilla Resort is comprised of just 70 guest rooms.
Features include your choice of queen or king beds, large bathrooms, HDTVs, and good-sized balconies or patios. If more space is needed, be sure to check the availability of the larger one-bedroom suites, which come with extra space.
On-site amenities include indoor and outdoor heated swimming pools with terraces, a kids' pool, sundeck, hot tubs, and a sauna. There's great dining available, too, including fine dining and casual eateries, a well-equipped games room, gift shop, and card room.
Also worth checking out are activities such as biking and hiking and a fitness center offering classes such as yoga. Tennis, volleyball, and basketball are also available on-site.
Accommodation: Villa Vosilla