11 Top-Rated Resorts in the Hudson Valley, NY
We may earn a commission from affiliate links ()
New York's Hudson Valley caters to cultured travelers looking for an idyllic escape from city living. Quaint historic towns, gourmet restaurants, and a burgeoning art scene thrive amid the apple orchards and small farms of this bucolic region. Ideal for luxurious weekend getaways, the region boasts beautiful resort hotels that appeal to those who appreciate the finer things in life.
Spending a few nights in the Hudson Valley allows you to soak up the area's style and panache, while exploring trendy boutiques in happening villages and wandering through the pastoral landscapes. At every turn, you'll find enticing cafés, bakeries, fresh-pressed apple cider, wood-fired pizzas, and seasonal farm-to-table cuisine. You can also discover theaters and galleries that showcase the region's spirit of creativity.
There are two main types of resort hotels in the Hudson Valley: rural retreats in the quiet countryside and sophisticated urban lodgings that offer a pampering experience. Deciding where to stay depends on your preferences regarding the location and the amenities. Some resorts provide a wide range of facilities, whereas others focus on the natural setting.
The Hudson Valley region is less than two hours' drive north of New York City. Choose the right lodging for your next getaway in this picturesque area with our list of the best resorts in the Hudson Valley.
1. Glenmere Mansion, Chester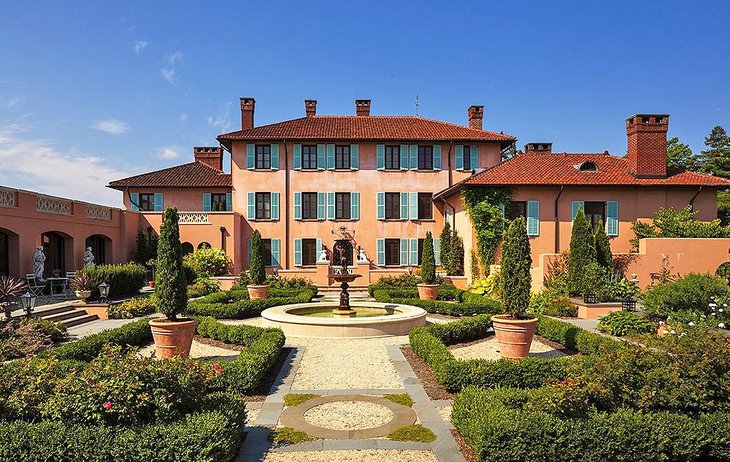 Accommodation: Glenmere Mansion
The 5-star Glenmere Mansion envelops guests in the tranquility and grandeur of a prestigious estate. Set amid 150 acres of rolling countryside in the lower Hudson Valley, this Gilded Age hilltop mansion is one of the most romantic getaway destinations in New York State.
The Glenmere Mansion was modeled after a Tuscan villa and has just 18 accommodations, which makes the hotel feel like a private home. The small scale ensures a high level of personal attention. All the accommodations (guest rooms, suites, and a penthouse) are elegantly decorated and feature lavish marble-clad bathrooms. Some accommodations have working fireplaces and a private terrace or private garden.
Remarkable for a small boutique hotel, the Glenmere Mansion provides the amenities of a large world-class resort. Highlights include its two fine-dining restaurants, a full-service spa with a hammam and Jacuzzi, tennis courts, bocce courts, a croquet court, and fitness center. With its expansive meadows, formal gardens, and panoramic views of the landscape, the estate itself is a main draw of staying at the Glenmere Mansion.
There are also many pleasant walking trails showcasing the grounds and gardens, along with numerous locations to take photos. Wedding parties and tourists alike can be seen posing on the grand old staircases and beautiful outdoor terraces. Activities such as hiking, biking, and golf are all within easy reach.
Address: 634 Pine Hill Road, Chester, New York
2. Buttermilk Falls Inn & Spa, Milton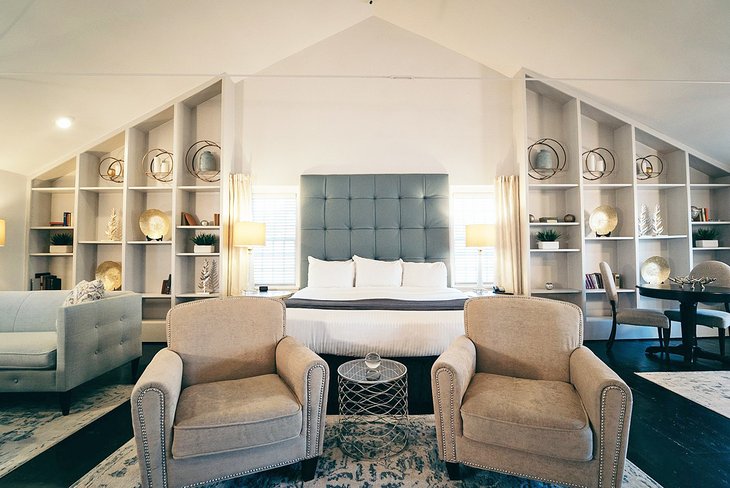 Families and groups of travelers can also choose from the resort's private accommodations: a two-bedroom cottage, four-bedroom house, and three-story mansion.
Tucked away on a 75-acre property near the Hudson River, the 4-star Buttermilk Falls Inn & Spa in Milton is a great place for a romantic getaway. The hotel blends modern comforts with historic charm. Some of the guest rooms occupy a house that dates back to the 1760s.
The spacious accommodations are decorated in minimalistic, contemporary style and have large windows that look out onto the garden or river. Guest rooms feature eclectic or classic decor such as rustic-chic Adirondack decor or Victorian-inspired furnishings.
A popular choice for couples are the spacious queen units. These elegant rooms come with mahogany beds and custom wood furnishings, built-in fireplaces, and great garden views. Some units have accessible showers for those with mobility issues.
Ideal for an outdoorsy vacation, Buttermilk Falls Inn & Spa includes well-marked hiking trails and an organic farm that is open to visitors. Guests may take a stroll through the orchards, and check out the livestock barn and aviary. Kids will love seeing the animals.
For such a small boutique hotel (with just 17 accommodations), the hotel has excellent amenities: conference rooms; a spa that offers massages, facials, and beauty treatments; and an indoor swimming pool, sauna, and hot tub.
The property's gourmet farm-to-table restaurant prepares seasonal dishes using fresh vegetables, herbs, and fruit from the property's organic kitchen garden and fresh eggs from the aviary. The restaurant also sources ingredients from other local farms in the Hudson Valley.
Address: 220 North Road, Milton, New York
3. Castle Hotel & Spa, Tarrytown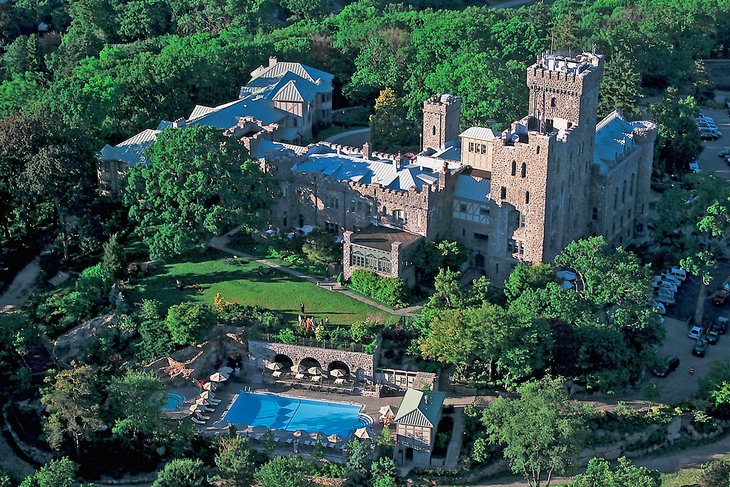 Accommodation: Castle Hotel & Spa
The Castle Hotel & Spa stands majestically on a hilltop like a medieval fortress, overlooking the Hudson Valley. Adding to the storybook appearance, 10 acres of lush gardens and forest surround the hotel.
Arriving at this idyllic estate just 30 minutes north of New York City, guests feel whisked away into another world where the rhythm of nature soothes the soul. This award-winning 4-star property has been selected by the association of Small Luxury Hotels of the World and by the National Trust for Historic Preservation for its prestigious Historic Hotels of America program.
The Castle Hotel & Spa immerses guests in an old-world ambience with its traditional decor and tastefully appointed accommodations. Guest rooms are outfitted with goose-down comforters, plush bathrobes, flat-screen televisions, Bose sound systems, and mini refrigerators.
Although the hotel has only 31 guest rooms and suites, it offers the amenities of a larger resort. Highlights of the property include the manicured walking paths, fitness center, outdoor swimming pool, and spa treatments such as Swedish massage. Guests can choose from the hotel's two private dining options with prix-fixe menus: New American cuisine and Japanese-Fusion cuisine.
Address: 400 Benedict Ave, Tarrytown, New York
4. Mohonk Mountain House, New Paltz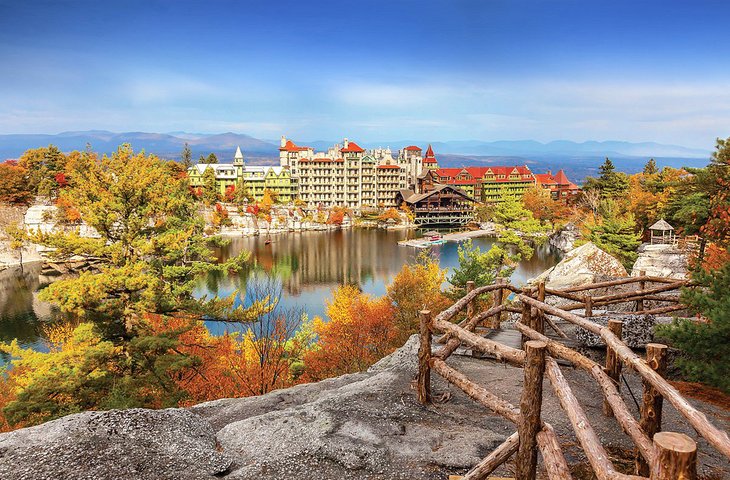 Accommodation: Mohonk Mountain House
From its 300-acre lakeside property, Mohonk Mountain House commands breathtaking views of the Hudson Valley landscapes, the Shawangunk Mountains, and the Catskill Mountains. The 3-star hotel is surrounded by 40,000 acres of lush protected forest, which gives guests the feeling of getting away from it all. The property includes 85 miles of hiking trails.
This iconic Hudson Valley resort dates back to 1869 and is registered as a National Historic Landmark. The accommodations have been renovated and refurbished in keeping with the hotel's original Victorian-era decor. Guest rooms feature antique-inspired furniture, plush sofas and draperies, and wood-burning fireplaces. Most of the rooms also have private balconies.
Relaxation and recreation are the main draws of staying at the Mohonk Mountain House. The all-inclusive accommodations come with three meals daily. Guests can easily spend their entire weekend getaway or vacation at the resort, participating in the on-site activities and being treated to delicious farm-to-table cuisine for breakfast, lunch, and dinner, as well as afternoon tea and cookies. There is even nightly entertainment.
The hotel offers guided hikes and nature walks and organizes guided rock-climbing outings. Other things to do on the property include swimming in the indoor pool, boating at the lake, golf, tennis, and horseback riding.
Those who come for a peaceful retreat in nature will appreciate the hotel's award-winning spa and wellness programs, such as yoga classes and mindfulness sessions.
Address: 1000 Mountain Rest Road, New Paltz, New York
5. Hasbrouck House, Stone Ridge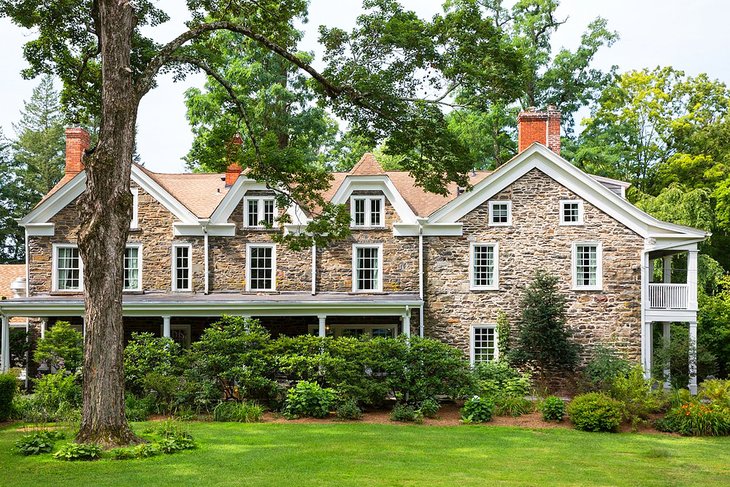 Accommodation: Hasbrouck House
Guests will enjoy the romance of staying at an 18th-century Dutch Colonial mansion in the historic village of Stone Ridge. The town is surrounded by farmlands and orchards and sheltered by the Shawangunk Mountains and the Catskills.
Full of character, the Main Street district of Stone Ridge (listed on the National Register of Historic Places) brims with old stone buildings and small locally owned eateries, cafés, and shops. Hasbrouck House is located on the Main Street just steps away from the shops.
The hotel is a five-minute walk from Stone Ridge Orchard, a historic farm where visitors can pick their own apples or purchase apple pies and other baked goods at the farm stand.
Ideal for a relaxing retreat, the Hasbrouck House has a lovely garden with an outdoor swimming pool and sundeck. The hotel also offers a wellness program that includes massages and yoga instruction.
This 3.5-star hotel has two dining options: The gourmet farm-to-table restaurant offers an eclectic menu that features authentic Italian pasta dishes, French specialties, local trout, and hearty American favorites. A casual snack bar, open during the high season, serves burgers, fries, crispy chicken, and other casual meals in a poolside setting.
Address: 3805 Main Street, Stone Ridge, New York
6. The Maker Hotel, Hudson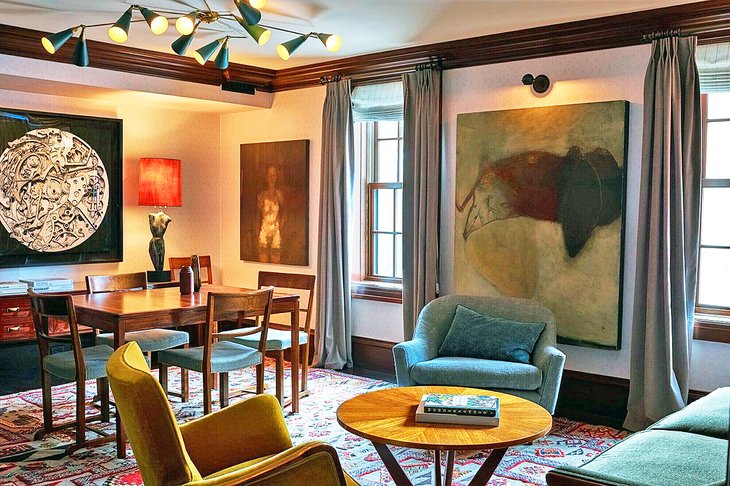 Accommodation: The Maker Hotel
At this special boutique hotel, guests feel like they are spending the night at the home of a wealthy relative. Every detail of the decor at The Maker has the quality of a personal residence, albeit one that is sophisticated and upscale with a touch of bohemian flair.
Located right in the downtown of Hudson on the bustling main street, The Maker occupies three historic buildings, including a Georgian Mansion. The common areas have the refined feel of an aristocratic mansion, with mahogany paneling, leather-upholstered seating, and a collection of vintage books. Each tastefully decorated guest room reveals its own design aesthetic, such as mid-century modern, 1920s Paris, or Hollywood Regency.
The hotel boasts excellent amenities, including a farm-to-table restaurant, a European-style café, and a refurbished 19th-century carriage house converted into a candlelit lounge.
The property also includes a well-equipped gym that offers fitness classes and massages, and has a juice bar that serves fresh-squeezed juice and protein shakes. A small swimming pool is hidden behind the hotel in a garden courtyard.
Address: 302 Warren Street, Hudson, New York
7. Inness, Accord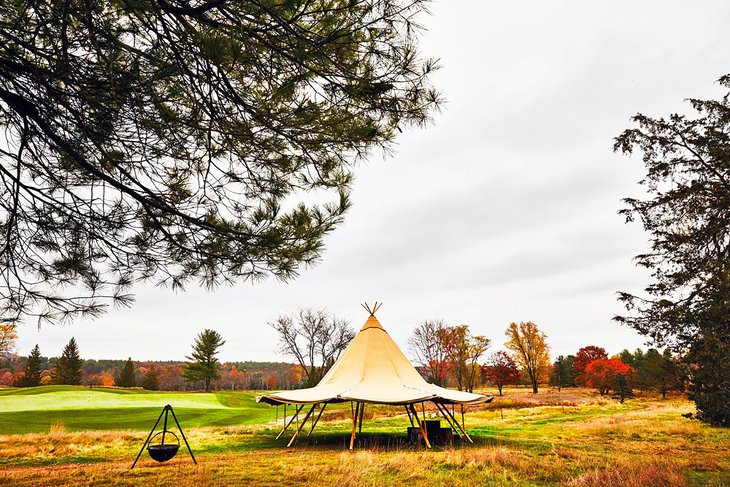 Accommodation: Inness
The recently opened Inness resort property nestles in a picturesque corner of the Hudson Valley, surrounded by apple orchards and wooded rolling hills in the rural community of Accord.
Designed to offer an authentic taste of pastoral life, the Inness resort provides lodgings in rustic-chic cabins or a traditional farmhouse with a front porch. Guest rooms feature modern amenities and windows that look out onto the beautiful landscape.
The resort allows guests to get away from it all, while still enjoying access to top-notch facilities. The property has a nine-hole golf course, an outdoor swimming pool, tennis courts, a fitness center, and a brand-new spa.
Foodies will appreciate the farm-to-table restaurant, which serves seasonal cuisine from locally sourced ingredients. The restaurant delights diners with its convivial ambience, featuring communal tables and a wood-burning fireplace. The dining room affords spectacular views of the Hudson Valley. At the dinner hour, guests enjoy watching the sun set over the Catskill Mountains.
Address: 10 Bank Street, Accord, New York
8. The Stewart House, Athens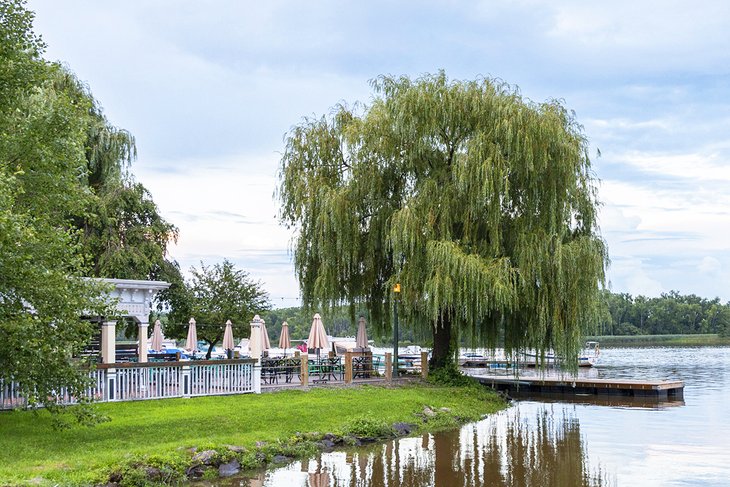 Accommodation: The Stewart House
Recently reopened (in 2018), The Stewart House welcomes guests to inviting accommodations in a refurbished 19th-century boarding house. The 3-star hotel enjoys a splendid waterfront setting in the quaint historic town of Athens, about two hours' north of New York City. The town is a short drive from the bustling town of Hudson and the artsy village of Catskill.
The nine guest rooms at The Athens House blend minimalistic, contemporary decor with antique furniture and cozy lounge chairs. All rooms are outfitted with smart televisions, fine bed linens, bathrobes, and locally made bath products.
Accommodations include a complimentary continental breakfast with seasonal fresh fruit, yogurt, and house-made granola. Spring water and gourmet coffee are available to guests throughout their stay.
The hotel's restaurant, 1883 Tavern, serves delicious farm-to-table cuisine in an Art Deco dining room. The restaurant often has live music, adding to the festive ambience. The chef trained at the Culinary Institute of America and believes in developing a supportive relationship with local farmers.
Address: 2 N Water Street, Athens, New York
9. Hutton Brickyards, Kingston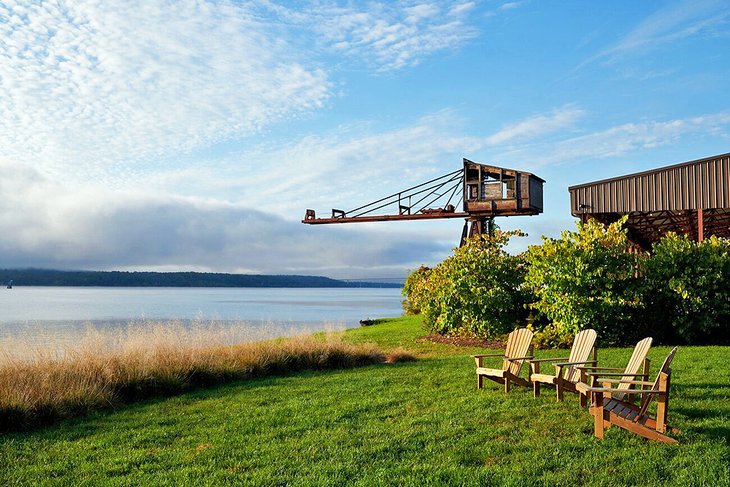 Accommodation: Hutton Brickyards
Hutton Brickyards offers an escape to nature just two miles from the charming town of Kingston, which has a lively restaurant scene and plenty of cafés, bakeries, and boutiques. Designed for a relaxing stay, this newly opened 73-acre retreat center provides cabins overlooking the Hudson River.
Accommodations feature contemporary, country-style decor with luxurious touches. The cabins have pine wood paneling and abundant windows to admire the bucolic surroundings. Some cabins overlook the woodlands, while others afford river vistas.
The 3.5-star resort's River Pavilion restaurant serves farm-to-table cuisine in a pleasant open-air riverside setting. The chef sources seasonal ingredients from the Hudson Valley, as well as other regions of New York such as grass-fed NY steak, chicken from Snowdance Farm, and duck from Long Island.
Guests can take advantage of the spa at Hutton Brickyards, as well as organized activities such as a Fall Cruise on the Hudson River. Those seeking a relaxing getaway can join the on-site yoga or meditation classes. Hutton Brickyards also hosts festivals and music concerts.
Address: 200 North Street, Kingston, New York
10. The Dutchess Inn & Spa, Beacon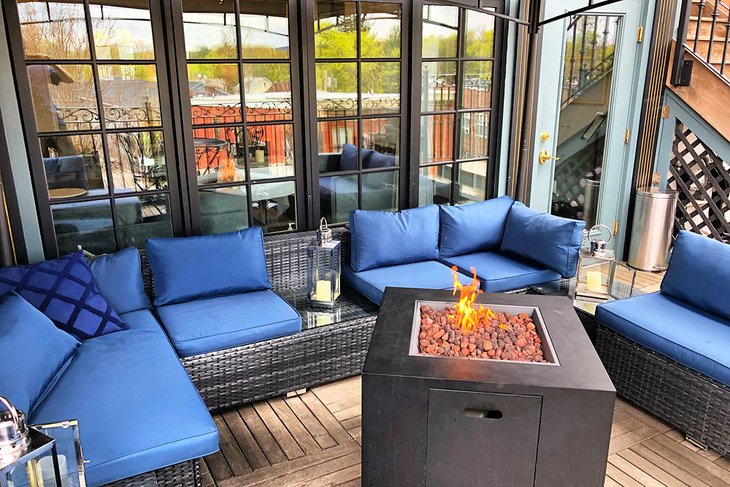 Accommodation: The Dutchess Inn & Spa
For those seeking European-style refinement, The Dutchess Inn & Spa delivers an oasis of indulgent luxury. The hotel is well situated on the flower-bedecked Main Street of Beacon. This historic downtown area has been updated in recent years and is now lined with upscale boutiques and gourmet restaurants.
This 3-star boutique hotel offers exquisite accommodations and a surprising range of amenities for such a small property. Highlights include the solarium with expansive windows and comfy couches; the rooftop deck with sweeping views of the Hudson Valley; and a spa that offers a Jacuzzi, facials, spa treatments, and massage therapy. The hotel also provides private yoga classes.
Traditionally decorated common areas and a fireplace-warmed living room give the hotel a cozy, inviting feel as if it's a private home. All 10 guest rooms have flat-screen televisions, fine bed linens, and plush bathrobes.
The town of Beacon is about a 90-minute drive from Midtown Manhattan. Beacon is also accessible on the Metro-North Railroad; it is less than a two-hour train ride from New York City.
Address: 151 Main Street, Beacon, New York
11. The Amelia Hotel, Hudson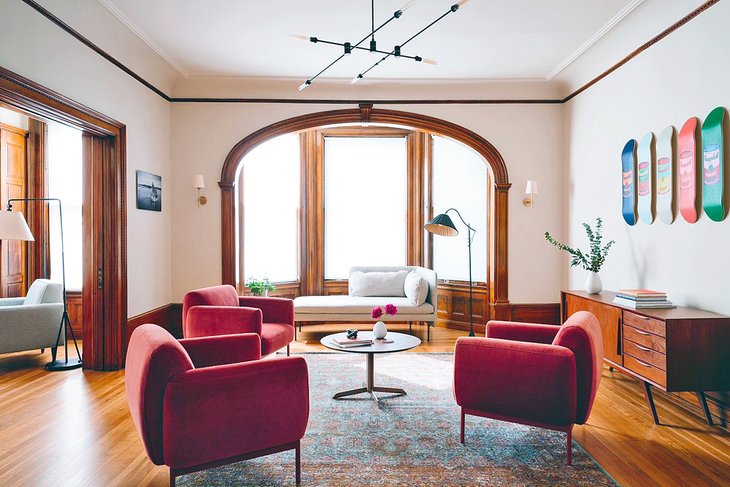 Accommodation: The Amelia Hotel
This recently restored urban hotel occupies a renovated Queen Anne Victorian, hidden on a quiet street in the bustling town of Hudson. This historic city, two-hours' drive or train ride north of New York City, is one of the top attractions of the Hudson Valley.
The hotel's bright, spacious contemporary-style guest rooms feature garden or cityscape views. Guest rooms feature designer bed linens and comfortable sitting areas. The updated bathrooms include luxurious Frette bath towels and Italian showers for a pampering stay.
Amenities include a lush flowering garden, outdoor swimming pool, sundeck with lounge chairs, and front porches. The hotel also offers a lending library in its common area, complimentary baked goods, and Nespresso coffee all day.
Throughout the year, the hotel hosts cultural events, such as music concerts, art shows, and book readings.
Address: 339 Allen Street, Hudson, New York