7 Top-Rated Resorts in the Catskills
Thanks to its rugged natural beauty, the Catskill Mountains in New York State have long been a tourist draw. In addition to its thick forests, abundant wildlife, and endless opportunities for outdoor adventure, the region boasts numerous excellent choices when it comes to accommodations.
Among the Catskill's top-rated places to stay are a number of fine luxury establishments offering plenty of pampering. Top-rated choices in this category are the romantic Glenmere Mansion in Chester, a popular spot for weddings, honeymoons, and couples getaways, and the Italianesque Villa Vosilla Resort, which would not look out of place in Tuscany.
While a little less opulent, locations such as Hotel Dylan in Woodstock and the delightful Buttermilk Falls Inn & Spa in Milton offer high-quality vacations in the Catskills and should certainly be on your list of places to consider when visiting the area. Find all the best options with our list of the top-rated resorts in the Catskills.
1. Glenmere Mansion, Chester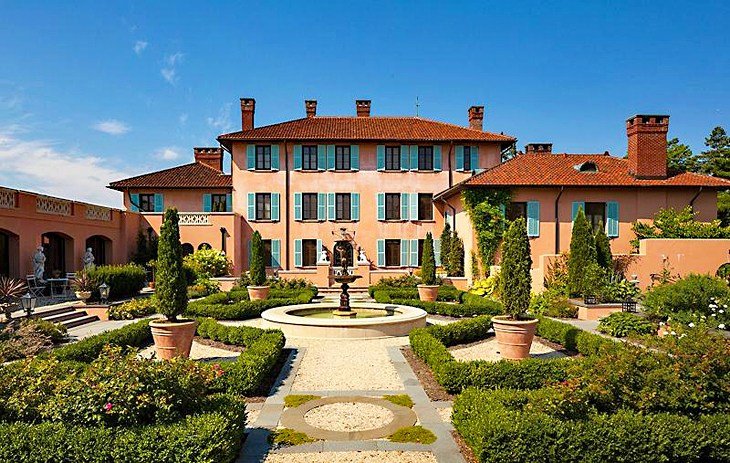 Set amid 150-acres of rolling countryside in the lower-Hudson Valley, the impressive Glenmere Mansion is undoubtedly one of the most romantic locations in New York State. This historic, hilltop mansion offers just 18 luxury accommodations, ensuring a high-level of intimacy, service, and tranquility. Each individually named suite is elegantly appointed and richly decorated and furnished, some boasting large private patios, as well as multiple bedrooms, bathrooms, and fireplaces.
The amenities are equally world-class. Highlights include its two gourmet restaurants; private dining rooms; a full-service spa plus bathhouse; pleasant walking trails showcasing the grounds and gardens; and numerous locations to grab a memorable photo or selfie, including on its grand old staircases and beautiful terraces with their amazing views. Activities such as hiking, biking, and golf are all located nearby.
Accommodation: Glenmere Mansion
2. Villa Vosilla, Tannersville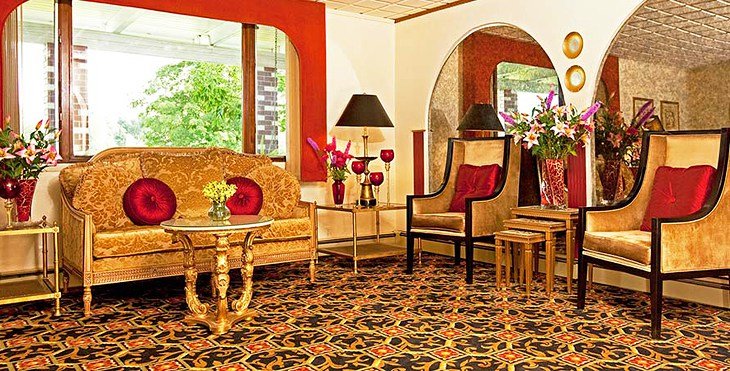 Ranked as one of the top boutique hotels in the Catskills – and rightly so – the Italian-inspired Villa Vosilla Resort is another great location for those seeking a quiet, authentic countryside getaway. The hotel consists of 70 luxuriously appointed guest rooms, each with its own unique character and charm. Standard features include a choice of king or queen beds, spacious bathrooms, air-conditioning, phone, HDTVs, and furnished balconies or patios. Some larger suites come with an additional bedroom and large living spaces.
The amenities are also worthy of note and include two heated swimming pools (one indoors, one outdoors, plus a kids pool); a sundeck, hot tubs, and sauna; a fine dining restaurant offering genuine Italian dishes; a games room with arcade style video games; plus a card room. There's also a boutique-style gift shop on-site, selling everything from jewelry to artwork. Other fun activities include hiking and biking; yoga classes; a fitness center; as well as hanging out in the indoor recreation center, with activities such as shuffleboard, air hockey, ping pong, bocce ball, billiards, and foosball. Outdoor sports facilities include tennis, volleyball, and basketball.
Accommodation: Villa Vosilla
3. The Roxbury, Contemporary Catskill Lodging, Roxbury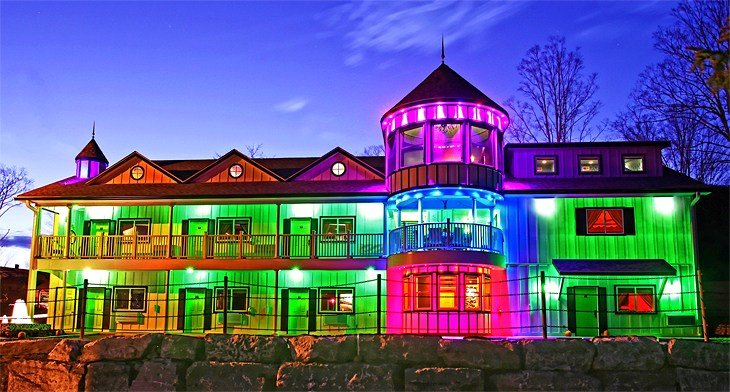 Billed as a "boutique motel resort," The Roxbury — located in the historic community after which it's named — is an excellent choice of accommodations for those who enjoy something a little different. A variety of uniquely designed and decorated room and studio options are available featuring separate kitchenettes, mini-fridges, and microwaves, pillow-top mattresses, HDTVs, and good-sized bathrooms.
For something entirely unique, book the three-bedroom, two-bathroom cottage. This quirky stand-alone accommodation offers a full kitchen, an outdoor shower, plus a large outdoor furnished seating area, and plenty of unusual artifacts. On-site facilities include an extensive DVD library (DVD players are provided in your room), and a nice perk is the inclusion of a continent breakfast and fresh-baked goods.
Accommodation: The Roxbury, Contemporary Catskill Lodging
4. Mountain Brook, Tannersville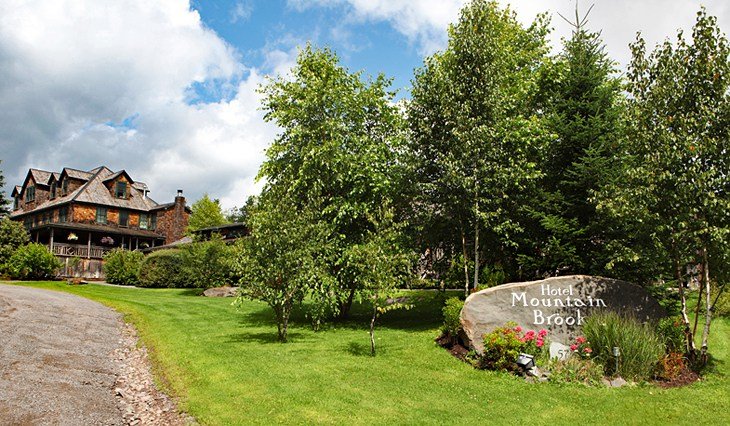 Another popular Tannersville location to consider, The Mountain Brook offers high-quality vacation and getaway experiences in a delightful old-Adirondack style lodge. A variety of room options are available, including larger deluxe suites that come with private entrances, king beds, spacious living areas with traditional real fireplaces, large bathrooms with jet tubs, and furnished porches or balconies. A number of cozy stand-alone cabins are also available.
In addition to its incredible views, a highlight of a stay is enjoying the sumptuous gourmet breakfasts in the authentic dining room with its original fireplace (dinners are also served here). Other amenities to enjoy include a peaceful library and a DVD library. The inn is located close to numerous activities such as golf, hiking and biking trails, as well as spas and shopping.
Accommodation: Mountain Brook
5. Winter Clove Inn, Round Top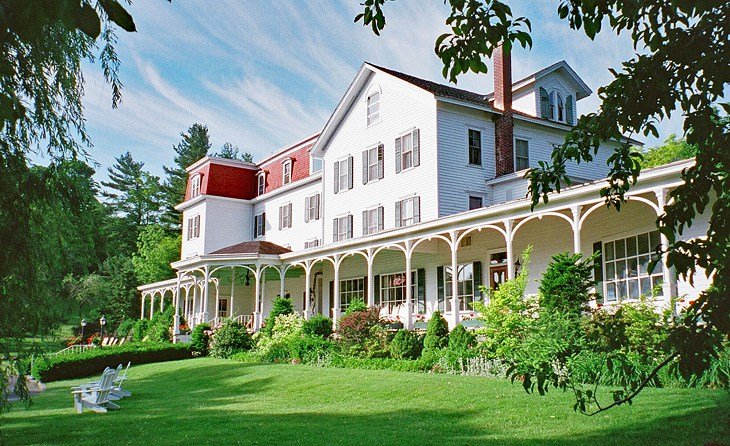 Boasting one of the most attractive settings in the Catskills, the historic Winter Clove Inn in Round Top is a mountain oasis just waiting to be explored. The delightful 300-acre property is wonderfully landscaped with well-manicured lawns and attractive gardens, all just steps away from a vast area of unspoiled wilderness, including a spectacular nearby waterfalls. During your stay, you'll enjoy an all-inclusive meal plan, heated outdoor and indoor swimming pools, and a great little nine-hole golf course. Other fun activities include an on-site antique bowling alley; a games room; as well as basketball, volleyball, and tennis courts. A nice perk is the inclusion of free cross-country ski gear when the snow falls.
A popular choice of accommodation if available is the resort's large three-bedroom suite in the former carriage house. This nicely decorated unit comes with two bathrooms, a large living room area, and a mini-fridge.
Accommodation: Winter Clove Inn
6. Buttermilk Falls Inn & Spa, Milton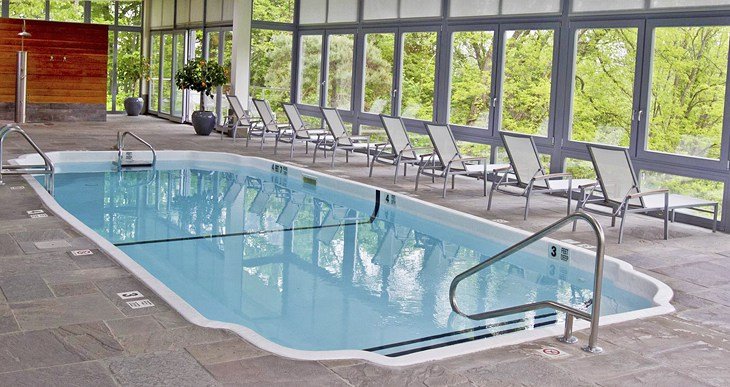 Located near what must be one of the best-named waterfalls anywhere, the historic Buttermilk Falls Inn & Spa in Milton — parts of the inn date as far back as 1764 — is a great place for a romantic getaway. There's plenty of exercise to be had exploring the inn's 75-acre property with its trails, as well as its animal sanctuary. You'll certainly work up an appetite before tackling a gourmet meal at the farm-to-table restaurant, located in the heart of the Hudson River Valley. A spa is also located on-site, along with an indoor swimming pool, sauna, and hot tub.
It's certainly an intimate affair, boasting just 18 accommodations. A popular choice of room for couples are the spacious queen units, with mahogany beds and custom wood furnishings, built-in fireplaces, and great garden views (some units have accessible showers for those with mobility issues). There are also a number of quaint stand-alone private cottages available, too.
Accommodation: Buttermilk Falls Inn & Spa
7. Hotel Dylan, Woodstock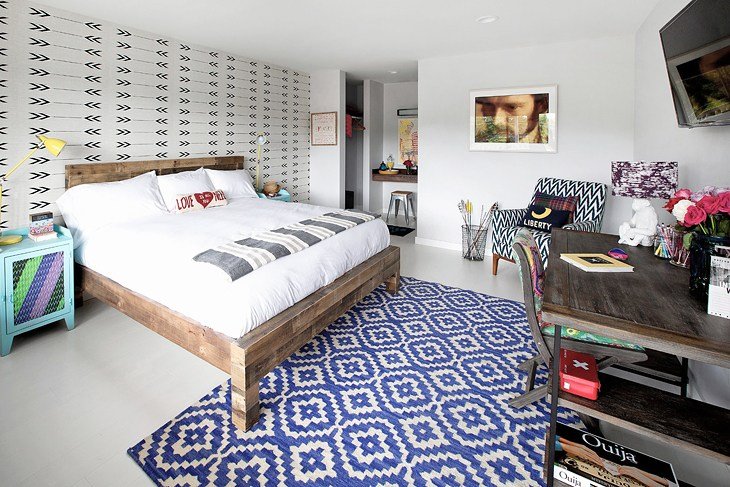 Located in Woodstock, perhaps one of the best-known small towns in New York State, Hotel Dylan is perfectly situated to explore this hotbed of artistic and creative talent. Recently extensively renovated, the guest rooms are each named after the music legends who made the town famous in the 1960s. Rooms come with mini-fridges, coffee makers, and breakfast.
The hotel's eclectic amenities include a lending library of books, games, and LP records; a funky outdoor swimming pool, with built-in speakers and a spacious lounge area; table tennis; and fire pits. A must-do is locating the hotel's hammocks and getting in some good old-fashioned relaxation. Guests also have access to a nearby fitness center, as well as privileges at area attractions and ski slopes.
Accommodation: Hotel Dylan
More on New York