15 Top-Rated Resorts in the Catskills, NY
We may earn a commission from affiliate links ()
The Catskills have been synonymous with carefree summer vacations for over a century. New York City dwellers began to flock here in the late 19th century to escape the sweltering urban heat and soak up the fresh country air, wide-open spaces, and beautiful scenery.
During the heyday of the Catskills (1940s - 1960s), the region was New York's premier vacation destination and counted over 500 hotels, from boarding houses and bungalow colonies to all-inclusive resorts. Families would come back to the same locale every summer, thrilled to reconnect with friends in the great outdoors.
A renaissance in tourism over the past decade has ushered in a sprinkling of rustic-chic hotels and trendy contemporary-style lodgings. Today visitors can choose from brand-new resorts and historic lodgings that have been refurbished to suit modern tastes. It's still possible to find resorts that offer the old-time Catskills vacation experience, complete with full-board meals, recreational activities, and entertainment.
Where to stay in the Catskills depends on your vacation preferences. The Great Northern Catskills region has some of New York's best ski resorts, hiking trails, and mountain landscapes. Within this area, the communities of Hunter, Windham, and Tannersville provide accommodations for outdoorsy escapes and ski vacations.
At the heart of the Catskill Park, the quaint bohemian village of Phoenicia puts travelers in a central location ideal for various outdoor activities. The famous town of Woodstock offers cultural attractions, cute boutiques, and great restaurants.
Nowadays, the Catskills are more than just a summer destination. You can enjoy the area in all seasons, whether fly fishing in the springtime, leaf peeping in the autumn, or skiing during the winter. For a getaway focused on fly fishing or water sports, some of the top places to stay are Roscoe, Livingston Manor, and Deposit.
Whichever location serves as your base, the Catskills region is sure to deliver a rejuvenating experience. Choose the accommodations that suit your preferences with our guide to the best resorts in the Catskills.
1. Winter Clove Inn & Resort, Round Top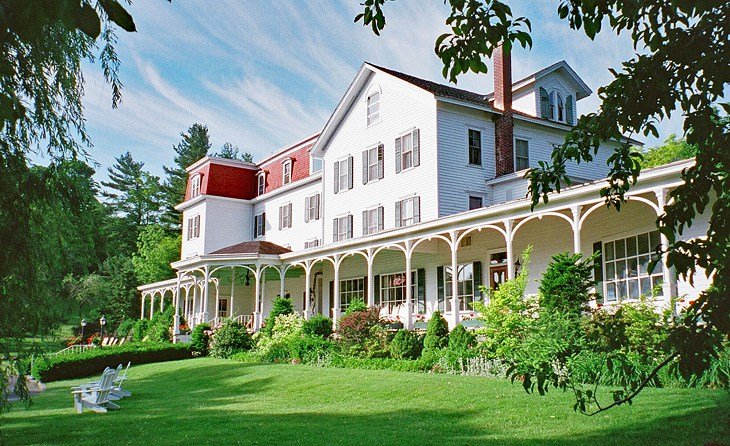 During your stay, you'll enjoy an all-inclusive meal plan (with three meals a day), heated outdoor and indoor swimming pools, and a beautiful 9-hole golf course with mountain views. Other fun activities include an on-site antique bowling alley; a games room; as well as basketball, volleyball, and tennis courts. A nice perk is the inclusion of free cross-country ski gear when the snow falls.
A popular choice of accommodation if available is the resort's large three-bedroom suite set in the former carriage house. This nicely decorated unit comes with two bathrooms, a large living room area, and a mini-fridge.
2. Emerson Resort & Spa, Mount Tremper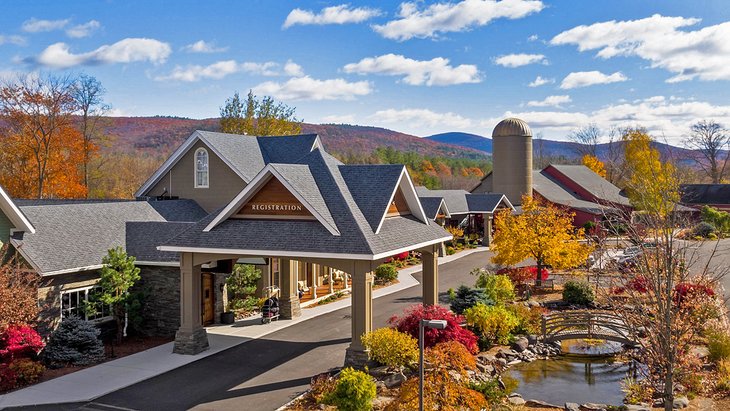 Guests may join guided nature walks on the resort grounds or spend some time birding. Bird-watchers can spot bald eagles or great blue herons on the property, gliding above the Esopus Creek. Complimentary binoculars are available from the front desk. The nearby Ashokan Rail Trail is another great place for birding.
The long list of amenities at the Emerson Resort & Spa includes a concierge; bicycles that guests may borrow free of charge; a hair salon; an outdoor swimming pool (open Memorial Day through Labor Day) with an area for sunbathing on lounge chairs; a casual restaurant that serves hearty American cuisine; a snack bar that offers smoothie fruit bowls and other healthy items; and a gallery of boutiques that sell clothing, home decor, toys, and local specialty-food products.
Blending contemporary minimalist style and classic decor elements, the resort's spacious yet cozy guest rooms are outfitted with private balconies, flat-screen televisions, and mini refrigerators. Accommodations are found in two separate buildings: the modern inn and the rustic log-cabin-style lodge.
3. Beaverkill Valley Inn, Lew Beach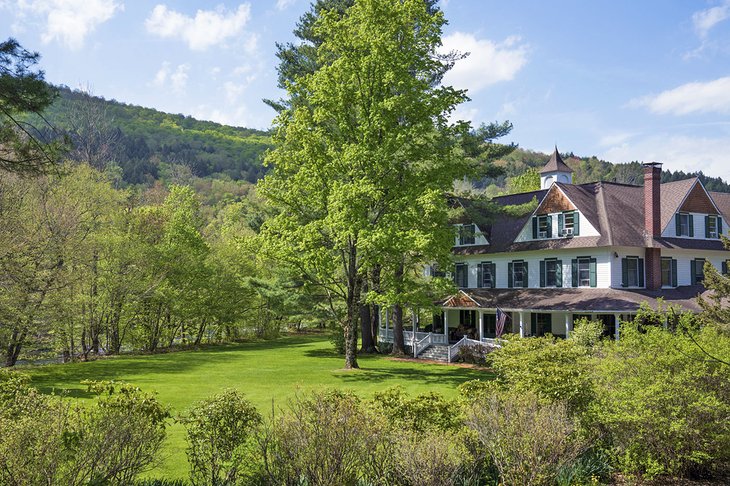 A destination for foodies, the Beaverkill Valley Inn has a noteworthy farm-to-table restaurant that uses ingredients from local farms and from the property's organic kitchen garden. House-made baked goods, pastries, and breads round out the tempting menu. The four-course dinner menu changes daily, reflecting the seasonality of the dishes.
This 19-room boutique hotel has top-notch amenities usually only found at larger resorts. Guests may take advantage of the clubhouse, children's play area, ice-cream parlor, tennis court, indoor basketball court, game room with billiards, and ping pong table. There's also an indoor swimming pool in a beautiful glass-roofed space that dates to the 1960s. In the wintertime, it's possible to go cross-country skiing on the property or skate on the on-site ice-skating rink.
There are also opportunities to bird-watch, play croquet, relax on the front porch, picnic, and go fly-fishing on a private one-mile stretch of the Beaverkill River. Guests can also take fly fishing lessons on the property on the Beaverkill River.
4. Hotel Mountain Brook, Tannersville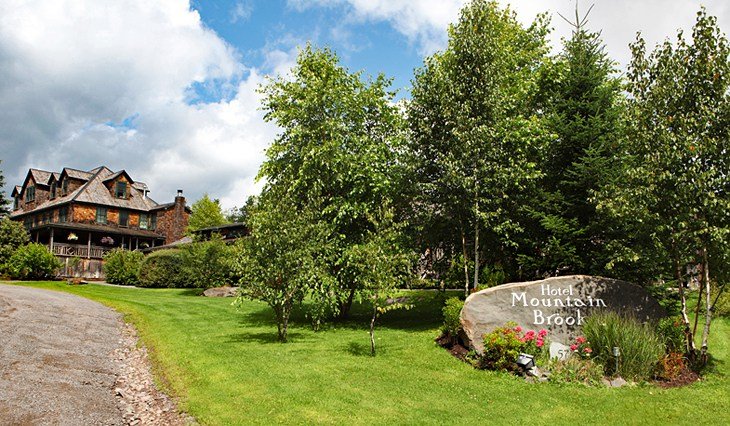 The traditional Adirondack-style lodge includes a variety of room options. The best of these are the larger deluxe suites that come with private entrances, king beds, spacious living areas with traditional real fireplaces, and large bathrooms with jet tubs. They also boast roomy furnished porches or balconies. Several private cabins are also available.
The picturesque grounds feature meadows that bloom with wildflowers and benches to admire the mountain vistas. Other amenities include an outdoor terrace and fireplace for roasting s'mores, a library with books you may borrow, and a cozy fireplace-warmed den.
In addition to the property's incredible views, a highlight of a stay at the Hotel Mountain Brook is the complimentary breakfast. This homemade gourmet meal, including continental-style options and a hot entrée, is served in the common areas or on the front porch.
The inn is located close to numerous activities such as golf and hiking and biking trails, and it's just a few minutes' walk from the town center, which has a good selection of shops, cafés, and restaurants.
5. The DeBruce, Livingston Manor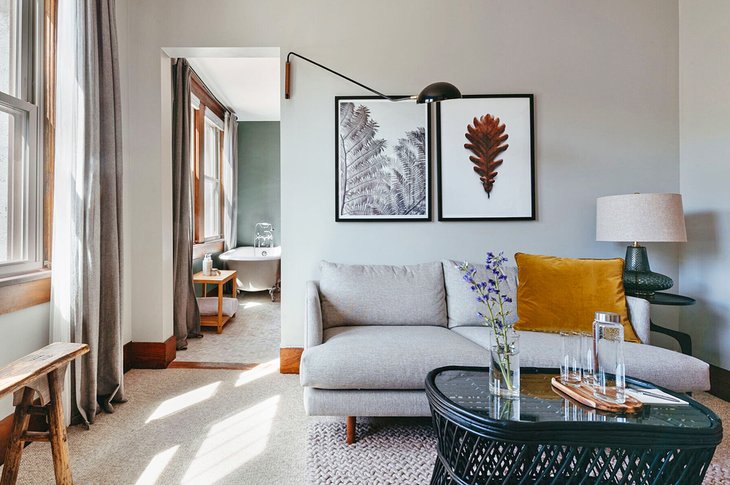 With only 14 guest rooms, The DeBruce feels like a boutique hotel but has the amenities of a larger resort hotel. Guest rooms are outfitted with sumptuous decor, including down comforters and fine Italian bed linens. Some rooms afford views of the Willowemoc Valley or glimpses of the Catskill Mountains.
True to its heritage as a classic Catskills summertime resort, The DeBruce offers all-inclusive lodging that includes half-board meals (breakfast and dinner). The property, which spans hundreds of acres, has an outdoor swimming pool and common areas with views of the picturesque Willowemoc landscape, a spa, a private five-mile hiking trail, and a half-mile of private access to the Willowemoc River for fly fishing.
Gourmands will appreciate the hotel's award-winning farm-to-table restaurant. The menu focuses on dishes prepared from seasonal ingredients grown in the region. The chef sources products from the property's garden, as well as from nearby farms.
6. Urban Cowboy Lodge, Big Indian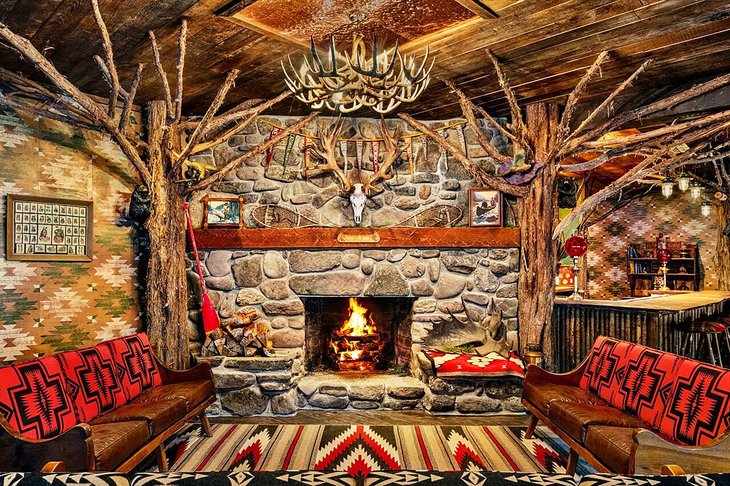 This stylish 3-star boutique hotel (with only 28 rooms) has an intimate feel but offers the amenities of a resort such as welcome refreshments, yoga classes, and wood-burning fireplaces in the common areas.
Spread out on 68 acres traversed by the Esopus Creek, this rural retreat includes private hiking trails. The remote setting means that there is no cell phone service. However, the hotel keeps its clientele entertained with DJ music on the deck.
Guests will appreciate the on-site restaurant, the Public House, which offers a small menu of local farm-to-table cuisine. There's also a renowned restaurant nearby, The Peekamoose, which serves refined American cuisine.
7. Scribner's Catskill Lodge, Hunter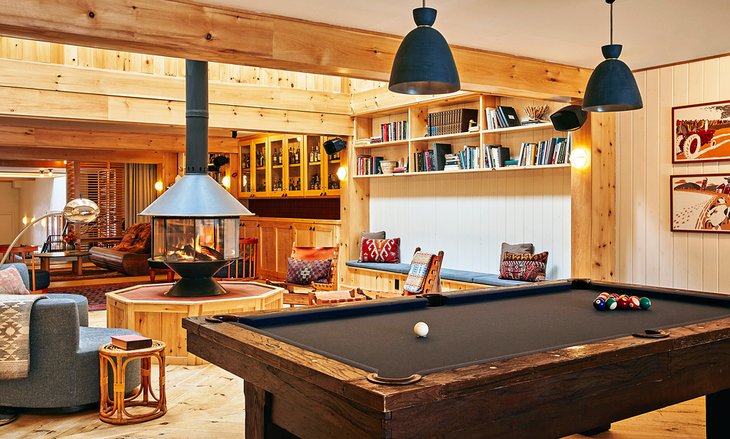 Many of the bright, spacious guest rooms have private balconies that look out onto the Catskill Mountains, and some rooms have fireplaces. The recently renovated bathrooms are decked out with terra-cotta tiles and Italian-style rain showers.
The 3-star resort property features an outdoor swimming pool, a kitchen garden, and pop-up gourmet food trucks. Other highlights of a stay at Scribner's include the special events, such as summertime bonfires, the fall food festival, guided meadow walks, and yoga classes.
The hotel's casual on-site restaurant offers contemporary farm-to-table cuisine, with ingredients sourced from local farms in the Catskills and the nearby Hudson Valley. The sleek modern dining room features floor-to-ceiling windows with sweeping views of Hunter Mountain. There's also outdoor seating on the cedar deck.
Scribner's Catskill Lodge is located in the Great Northern Catskills. From the hotel, it's a short (10-minute) drive to the Kaaterskill Falls trail and other popular Catskills hikes. The hotel is also less than a five-minute drive from Hunter Mountain Resort, convenient for ski vacations.
8. Shandaken Inn, Shandaken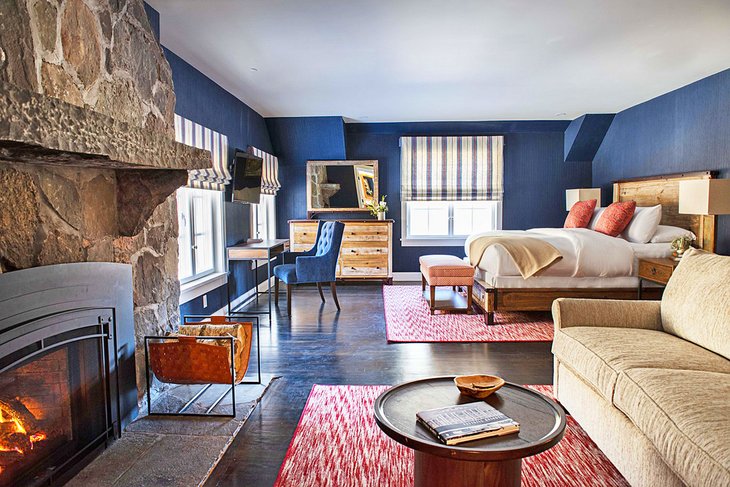 The hotel's main building was originally the clubhouse for a golf course that dates to the 1920s. Recently renovated and reopened in 2019, the Shandaken Inn exemplifies the Catskills Renaissance trend of refurbishing historic properties to suit today's visitors.
Blending modern and rustic elements, the guest rooms are furnished with handmade lodge-style furniture, contemporary-style designer wallpaper, oak wood floors, and fine Frette bed linens. Beautifully designed bathrooms include fancy bath products and cozy bathrobes. For the most luxurious stay, choose a suite with a fireplace and sitting area.
Recreational sports enthusiasts will appreciate the hotel's amenities, including a well-equipped fitness center, tennis court, and outdoor swimming pool. A short drive away are hiking trails in the Shandaken Wild Forest preserve.
The Shandaken Inn has a casual restaurant that serves hearty American cuisine prepared from top-quality seasonal ingredients. Accommodations include a complimentary breakfast.
9. The Roxbury, Contemporary Catskill Lodging, Roxbury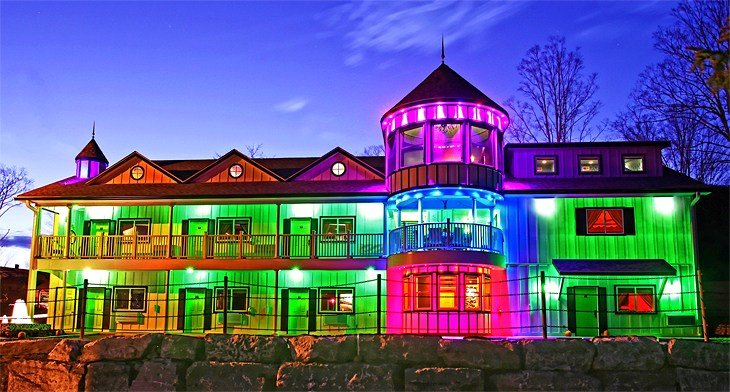 This 3-star resort features a variety of uniquely decorated guest rooms and studio options. Accommodations include separate kitchenettes, mini-fridges, and microwaves. They also come with comfy pillow-top mattresses, large-screen HDTVs, and good-sized bathrooms.
For something entirely unique, book the three-bedroom, two-bathroom cottage. This quirky stand-alone accommodation offers a full kitchen, an outdoor shower, plus a large outdoor furnished seating area and plenty of unusual artifacts.
On-site facilities include extensive television channels and complimentary continental-style breakfasts. Guests may use the Roxbury at Stratton Falls spa facility and outdoor swimming pool (for an additional fee), which is two miles from the Roxbury hotel.
10. Hotel Dylan, Woodstock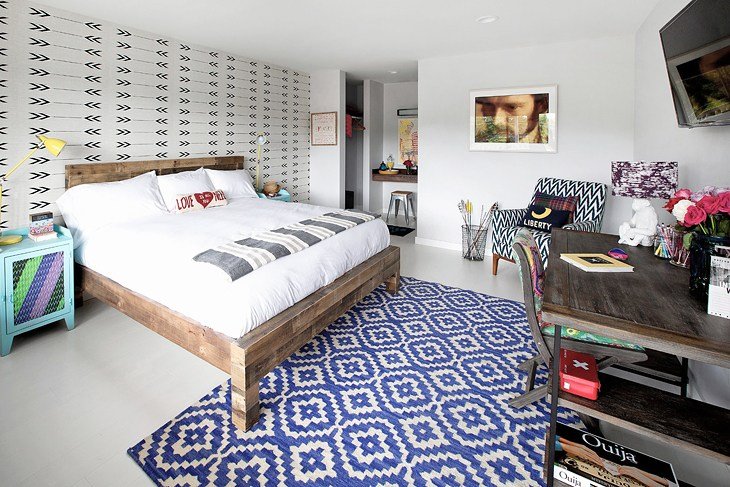 Recently extensively renovated, the guest rooms in this boutique hotel are each named after the music legends who made the town famous in the 1960s. Rooms come with mini-fridges, coffee makers, and breakfast.
The hotel's eclectic amenities include a lending library of books, games, and LP records; an outdoor swimming pool with a spacious lounge area; a ping pong table; and fire pits. Guests also love relaxing on the hotel's old-fashioned hammocks.
Guests also have access to a nearby fitness center, as well as privileges at area attractions and ski slopes. There's also an award-winning restaurant that specializes in Mexican cuisine.
11. Kenoza Hall, Kenoza Lake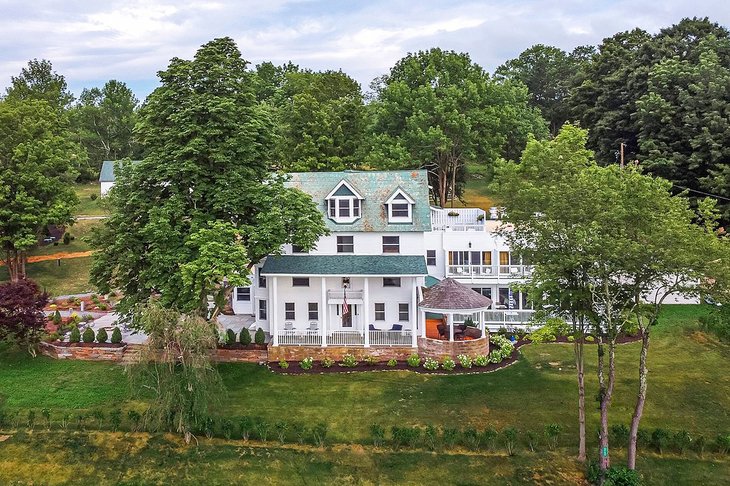 Kenoza Hall brings new life to a historic boarding house that was built in the late 1800s and opened in the early 1900s. The bright, contemporary-style guest rooms are accented with Victorian-inspired wallpaper and custom-built furniture that blends well with the original architecture and hardwood floors.
The hotel has only eight accommodations (including king, queen, and twin rooms and suites). All of the rooms have fine Italian bed linens and down comforters. Abundant windows offer views onto the garden or Lake Kenoza.
For such a small hotel, Kenoza Hall offers exceptional amenities typically found at a 3-star or 4-star resort. Guests will appreciate the concierge services, outdoor swimming pool with sundeck, and fine-dining restaurant with lake vistas.
The full-service spa, hot tub, and sauna ensure a pampering stay. Nature lovers can take advantage of the property's walking paths and hiking trails. There are also guided meditation and yoga classes.
12. Callicoon Hills, Callicoon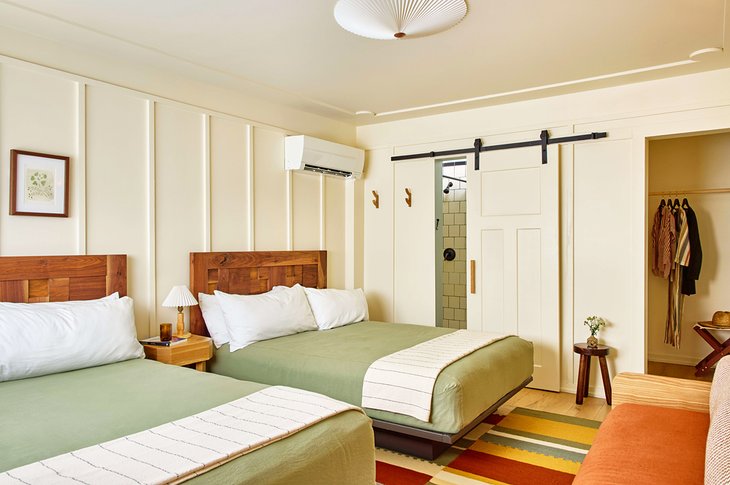 Nestled in a picturesque mountain valley near the quaint town of Callicoon, the Callicoon Hills resort has 65 guest rooms in five different buildings, including a refurbished Boarding House built in the early 1900s and a mid-century Pool House. The historic Boarding House has a coffee shop.
Guest rooms are decorated in a contemporary, artsy, eclectic style, with custom-built furniture. Some visitors may appreciate that the accommodations do not have televisions, adding to the quiet environment.
Amenities include an outdoor swimming pool and outdoor seating with amazing views of the wooded hillside. The hotel's casual farm-to-table restaurant sources fresh seasonal ingredients and food products from local farms and artisan purveyors.
13. Melour Resort, Tannersville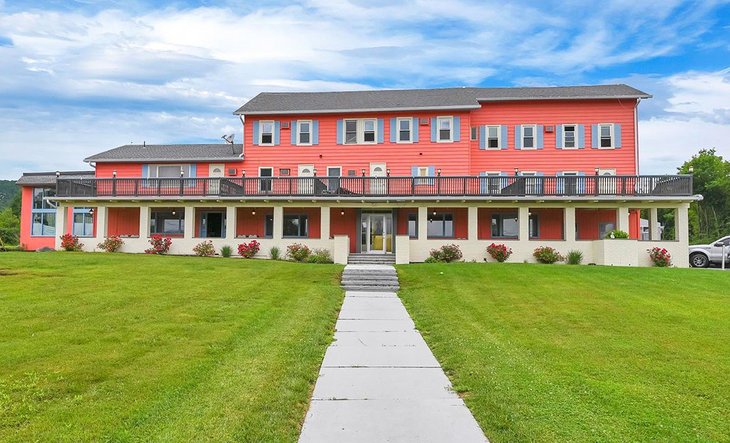 Amenities at the Melour Resort include an indoor swimming pool, three outdoor swimming pools (including one kids' pool) with sundeck areas, a Jacuzzi, outdoor fire pit, outdoor playground, tennis court, half basketball court, indoor playroom/game room, fitness center, and tea room that provides complimentary tea.
The Melour Resort is located in the Great Northern Catskills in the rural town of Tannersville which has a good selection of cafés, restaurants, and shops (more than most Catskill towns offer) on several blocks of the Main Street. The resort is a 10-minute drive to the Kaaterskill Falls hiking trail and another 10-minute drive in the other direction to the Hunter Mountain Resort ski area.
14. Albergo Allegria, Windham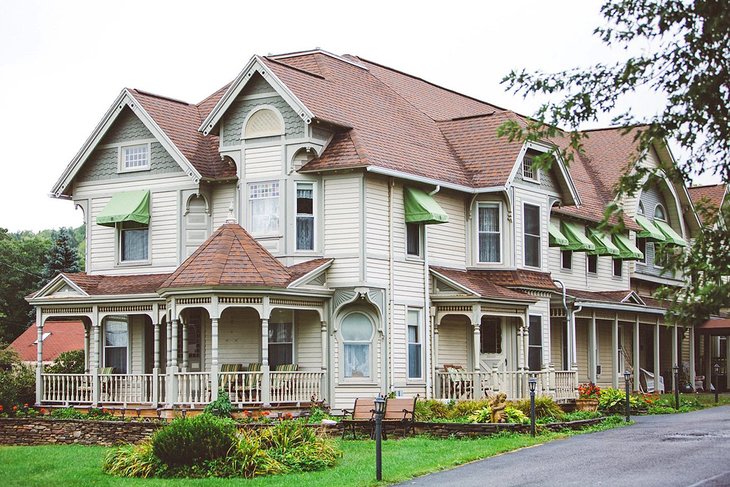 Set on two acres in the town of Windham in the Great Northern Catskills, the 3.5-star Albergo Allegria boasts fabulous mountain views and a great location near the Windham Mountain ski resort. The hotel is also just a short drive from the Five State Lookout, which affords sweeping views of the mountains and a 20-minute drive from the Zoom Flume Water Park.
Under new ownership since 1982, the family-owned property has been lovingly restored and updated. With the goal of creating a delightful country boutique hotel, the owners named this historic lodging the "Inn of Happiness."
The 21-room hotel combines traditional decor such as antiques and original stained-glass windows with modern amenities like whirlpool jet tubs. Accommodations feature fine bed linens made in the USA, mini refrigerators, and a wide selection of in-room movies.
Amenities include a picnic area, outdoor fireplace, front porch, garden with lounge chairs, and a restaurant that serves a gourmet breakfast and boxed meals to-go. Guests are also treated to fresh-baked cookies, snacks, and refreshments.
15. Villa Roma Resort, Callicoon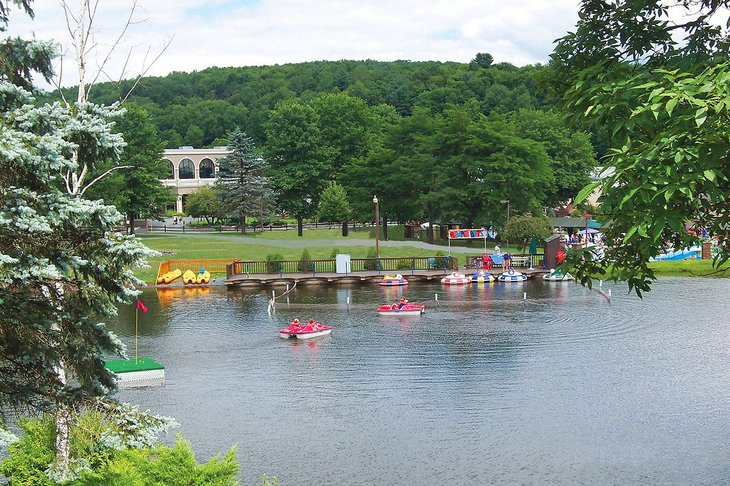 The Villa Roma Resort is an all-inclusive resort hotel in the classic Catskills vacation tradition. Accommodations include breakfast and dinner daily, along with daytime on-site activities and nightly entertainment. The resort also offers an abundance of recreational opportunities: archery, bowling, racquetball, bocce ball, shuttle board, tennis, handball, and horseback riding, and ziplining.
The property also has a golf course, game room, fitness center, indoor swimming pool, Jacuzzi, and two outdoor swimming pools that are open from Memorial Day through September. There is also a hair salon and spa.
Kids will love the bounce houses, waterslide, and children's pool. The resort also offers special activities for youngsters such as bumper boats and storytelling.
For meals and snacks, the resort offers four restaurants plus a poolside snack bar (open during summer), a ski chalet snack bar (open in winter), and a 1950s-style ice-cream parlor that's open year-round.