12 Top-Rated Resorts near Santa Fe, NM
We may earn a commission from affiliate links ()
Accommodation options abound in Santa Fe. Whether you are on vacation with the family or a couple celebrating a romantic anniversary, this unique, all-adobe city has hotels and resorts for all kinds of holidays and price brackets, from budget to mid-range to high-end luxury.
Santa Fe has a compact downtown that sprawls out from its central Plaza, where you'll find many restaurants, boutique shops, and some of the city's well-known art galleries. The rest of the galleries are on nearby Canyon Road, which is just a 10-minute walk from the Plaza and also hosts some top-notch restaurants.
Many of the resorts listed here are located between the Plaza and Canyon Road, making them convenient to both areas, with some properties, like La Fonda on the Plaza, located right on the main square.
Beyond the downtown, there are many more resorts just a short drive from the city center. Some of these properties, like the Four Seasons Resort Rancho Encantado and the Sunrise Springs Spa Resort, are purposely set outside town to offer a more secluded, back-to-nature resort experience.
To find what you're looking for have a read through our list of the best resorts in Santa Fe.
Note: Some businesses may be temporarily closed due to recent global health and safety issues.
1. Inn of the Five Graces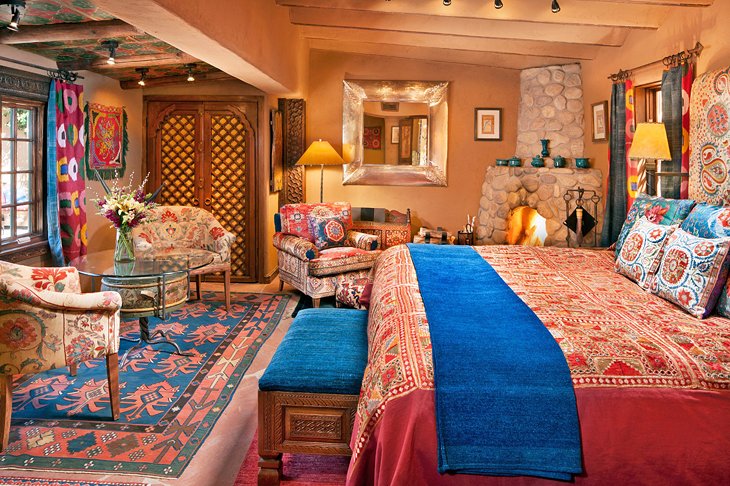 Just a few blocks from the downtown Plaza, the Inn of the Five Graces offers elegant and exotic Far East decor in a group of adobe and stone buildings.
There are just 24 rooms and suites at this luxury property, and these, along with the public spaces, are done up richly with original antiques and lavish fabrics from Asia and the Middle East. There is no swimming pool, but a spa offers Tibetan-inspired treatments.
The 315 Restaurant serves dinner only and also offers hotel guests room service during its evening hours. The restaurant is an intimate spot that is well suited for a date night but not a meal with the kids. It serves French fine dining with a focus on fresh, seasonal produce. Breakfast, which is included in the rate, is served in a separate space. Don't skip the red and green chile choices, which are a Santa Fe speciality.
Accommodation: Inn of the Five Graces
2. Four Seasons Resort Rancho Encantado Santa Fe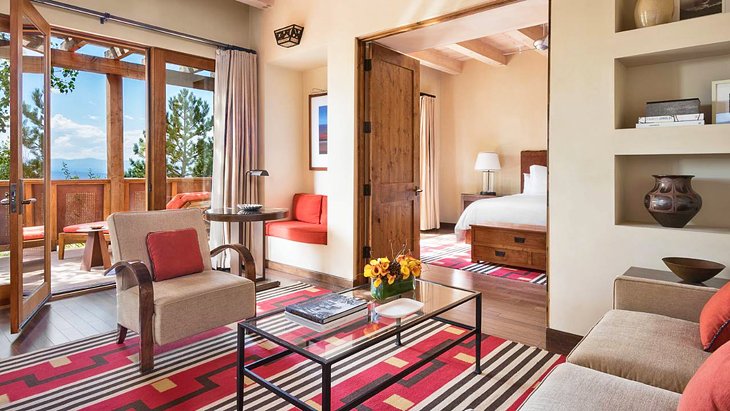 This Four Seasons property is the perfect pick if you want a back-to-nature setting. Located on 57 acres in the Sangre de Cristo Mountain foothills just north of downtown Santa Fe, it has a secluded vibe and fantastic views across the Rio Grande River Valley. The casita-style rooms are elegantly rustic and very comfortable, and each comes with a private terrace and fireplace, plus modern amenities like free Wi-Fi and iPod docking stations.
Also on-site is the Terra restaurant, a lovely outdoor swimming pool for summer, and an indulgent spa. The Four Seasons is about a 10-minute drive from downtown, and very convenient if you're in town for the Santa Fe Opera, which is just four miles away.
Accommodation: Four Seasons Resort Rancho Encantado Santa Fe
3. La Fonda on the Plaza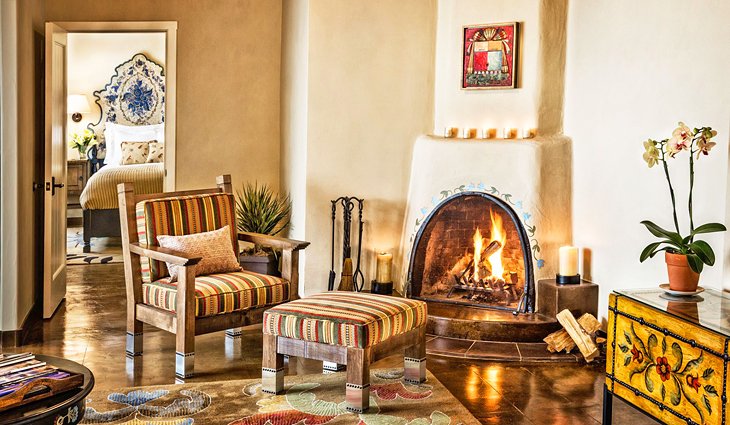 Right on the Plaza, La Fonda is a historic property dating back to 1922 and is adorned with original artwork and hand-painted furniture. The lobby is impressive and features a lounge made for people-watching.
The rooms and suites boast bright Southwestern decor and luxe amenities and services, like Keurig coffee makers, turndown, and a pillow menu. The resort is family-friendly and can even organize scavenger hunts for kids.
Beyond the rooms, La Fonda has three on-site dining options, although one is only open in summer, as it is located on the rooftop (the sunset views from up here are fantastic). La Plazuela is the main restaurant and serves innovative New Mexican fare.
There is also a heated outdoor pool and hot tub, and a fitness center with steam rooms on the grounds.
Accommodation: La Fonda on the Plaza
4. Rosewood Inn of the Anasazi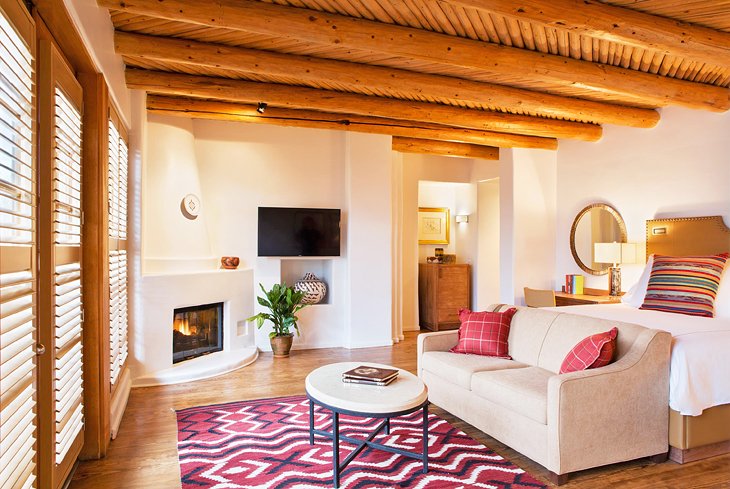 In a traditional adobe building just a block from the Plaza, the Inn of the Anasazi is a luxury property done up in contemporary Southwestern decor, with nods to the artistry of local Native American tribes.
Rooms are large and beyond comfortable with handcrafted beds and gas fireplaces, and the resort works well for families. The best rooms offer balconies with plaza views.
The on-site Anasazi Restaurant gets high marks for its Southwestern menu. Staff members are also excellent, catering to your every need and always happy to offer recommendations on what to do around Santa Fe.
Accommodation: Rosewood Inn of the Anasazi
5. Ojo Santa Fe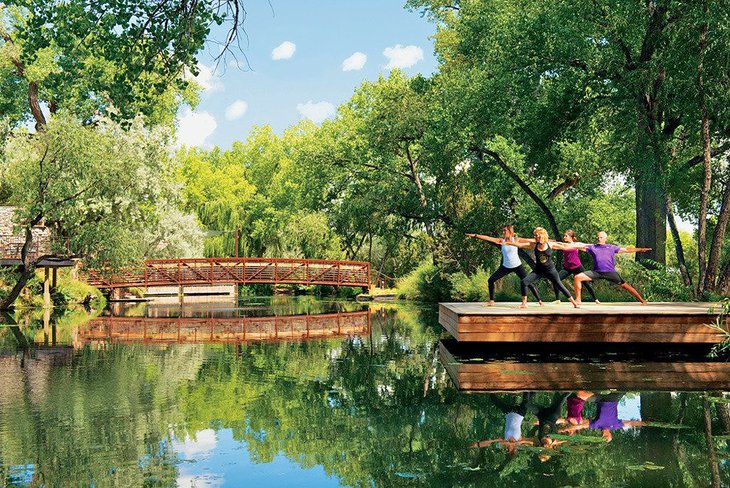 The former Sunrise Springs Spa Resort re-opened as Ojo Santa Fe in July, 2020. The luxe wellness-focused resort sits on 77 acres just outside downtown Santa Fe. It offers guests the chance to relax in spring-fed hot thermal pools and participate in everything from yoga to meditation, horticulture, and cooking classes. The resort also offers a number of packages including a Girlfriends Getaway and Workcation experience.
Choose from elegant rooms and larger casitas done up in Southwestern style. Casitas come in one- and two-bedroom sizes and have indoor fireplaces and private courtyards. Other amenities include a spa with a full range of treatments.
The on-site Blue Heron Restaurant serves three meals a day and focuses on seasonal fare that incorporates lots of local ingredients. Many of the dishes are health focused but also full of flavor. New Mexican fare is also on the menu. There is live music by local artists on select nights.
Accommodation: Ojo Santa Fe
6. La Posada de Santa Fe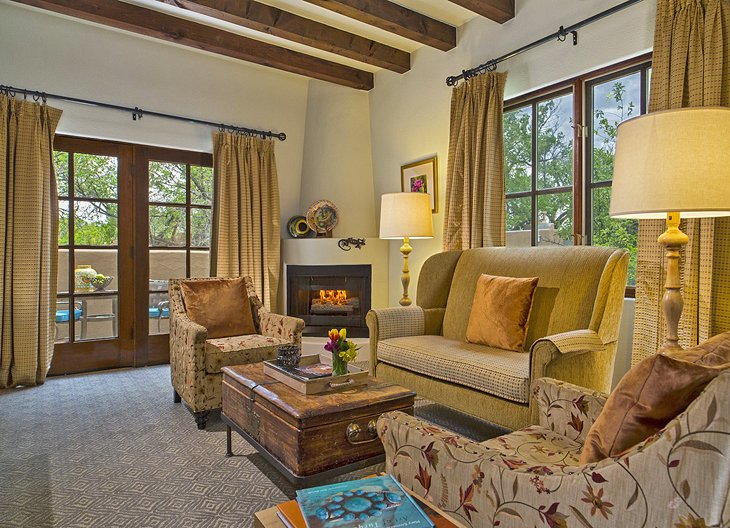 Dating back to the 1880s, La Posada is located about halfway between Canyon Road and the Plaza. It's a luxury property on six landscaped acres that is known for having a carefully curated on-site gallery, where local art is displayed and sold. Rooms and suites offer elegant Southwestern decor and modern amenities, like flat-screen TVs, and some have balconies or fireplaces.
There is an outdoor pool, and activities like history walks are available, as well as a 24-hour fitness center, spa, and a few different dining options. One is Julia, which serves up delicious New Mexican and Southwestern fare. The food is beautifully plated as well.
Accommodation: La Posada de Santa Fe
7. Hyatt Regency Tamaya Resort and Spa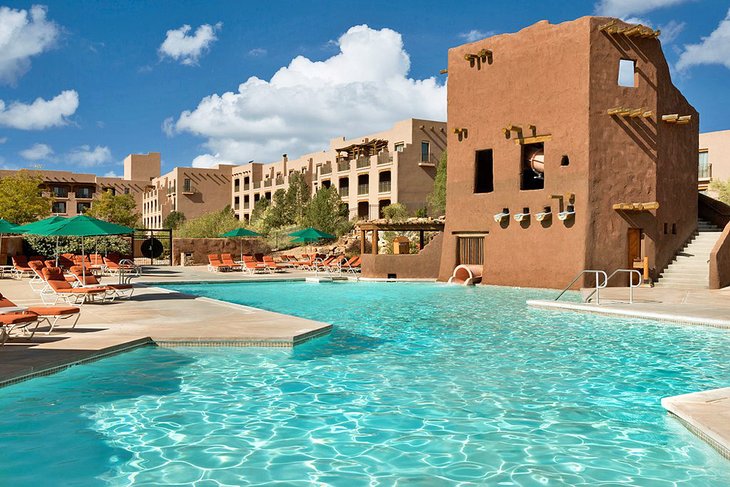 Offering Southwestern-style lodging, the Hyatt Regency Tamaya Resort and Spa is located about 30 minutes' drive south of Santa Fe on the land of the Native American Santa Ana Pueblo. It is a good-value choice that is especially appealing if you want to explore nearby pueblos or the attractions of Albuquerque along with Santa Fe.
Rooms and suites feature traditional Native American designs and warm colors, as well as Hyatt-branded pillowtop posturepedic beds, big flat-screen TVs, and free Wi-Fi. On-site amenities include a golf course, spa, three swimming pools, and multiple restaurants.
Accommodation: Hyatt Regency Tamaya Resort & Spa
8. Hotel Santa Fe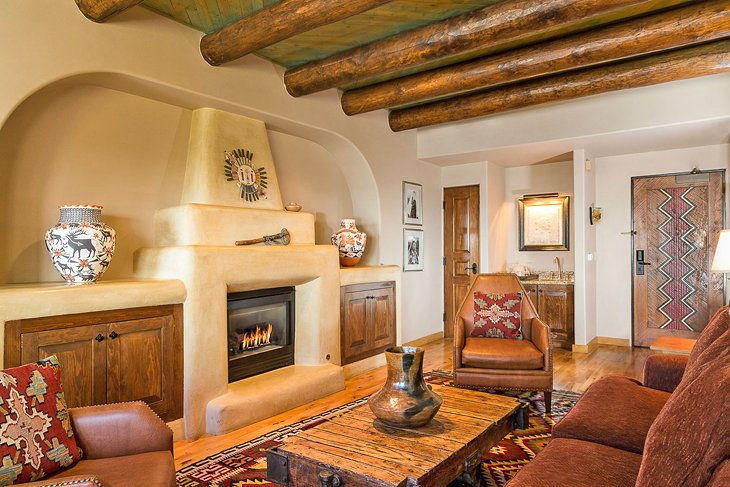 Downtown Santa Fe's only Native American-owned hotel, this friendly property is proud to share its traditional culture with guests. The staff is attentive, and a stay at Hotel Santa Fe introduces you to the art, architecture, language, and music of the Pueblo people.
Modern rooms and suites are beautifully decorated with natural pine furnishings and warm color splashes on blanketed beds and couches. The on-site restaurant, Amaya, focuses on contemporary Native American cuisine, while the spa features Pueblo-inspired treatments.
Accommodation: Hotel Santa Fe
9. Inn and Spa at Loretto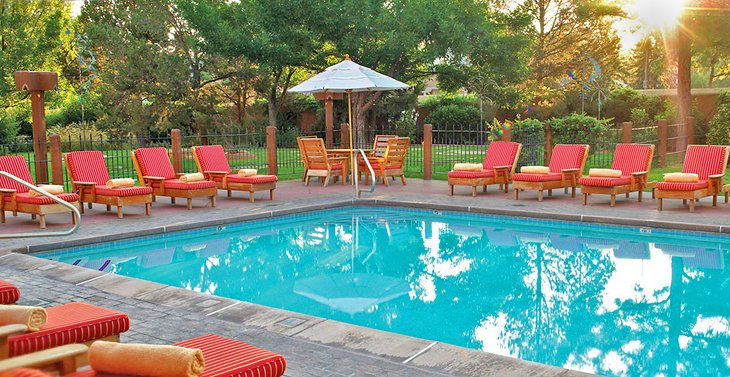 Within walking distance of the Plaza and Canyon Road, the Inn and Spa at Loretto is in an impressive adobe building that was inspired by the Taos Pueblo. The luxe property, next to the historic Loretto Chapel, offers elegant Southwestern rooms boasting bold colors and Native American patterns. The best rooms have kiva fireplaces and balconies.
Grab a bite to eat at their delicious Luminaria Restaurant, which has al fresco dining in summer. It serves authentic New Mexican fare that blends flavors creatively.
The spa here is also delightful. They do a range of massages, body treatments, and facials. There is also a large seasonal outdoor pool.
Accommodation: Inn and Spa at Loretto
10. Hilton Santa Fe Buffalo Thunder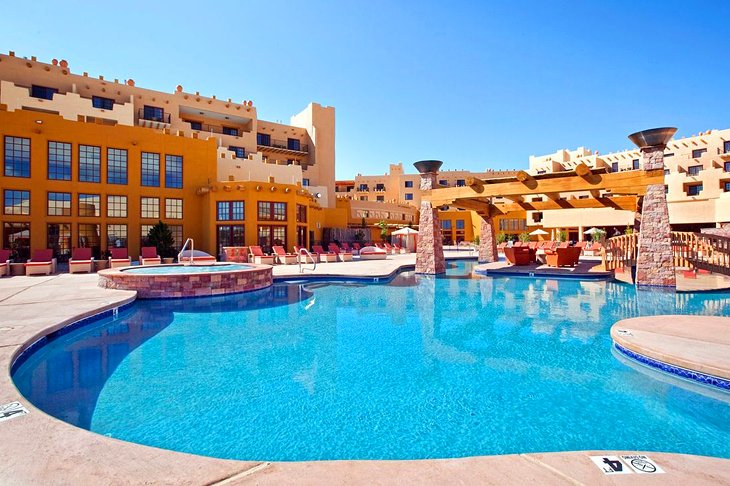 Located about a 20-minute drive from downtown Santa Fe, the Hilton Santa Fe Buffalo Thunder is a large pueblo-style property. The rooms and suites here are spacious and Southwestern flavored, featuring wood furnishings and bright color splashes, along with modern conveniences like flat-screen TVs.
The resort is set on more than 500 acres with mountain views. Amenities here include six restaurants, a spa featuring treatments with Native American elements, indoor and outdoor swimming pools, a sauna, and a 24-hour fitness center. The staff is friendly and helpful.
Accommodation: Hilton Santa Fe Buffalo Thunder
11. Eldorado Hotel and Spa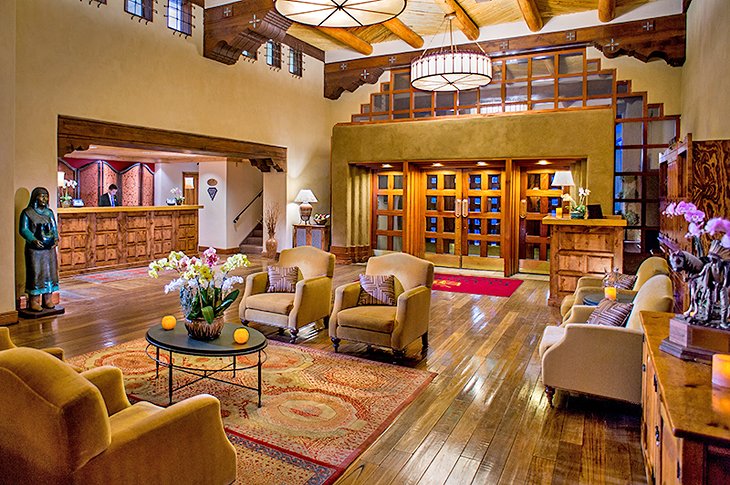 Just a few blocks walk from the Plaza and the Georgia O'Keeffe Museum, the Eldorado Hotel and Spa is another top pick in downtown Santa Fe. It offers modern rooms and suites with stylish, handcrafted wood furnishings and bold color accents. Some of the suites have working wood-burning fireplaces.
Beyond the rooms there is a heated rooftop pool and fitness center where you can workout with views. There is also a spa that uses native plants and herbs in its treatments and a restaurant serving global cuisine with locally sourced produce.
Accommodation: Eldorado Hotel & Spa
12. Inn of the Governors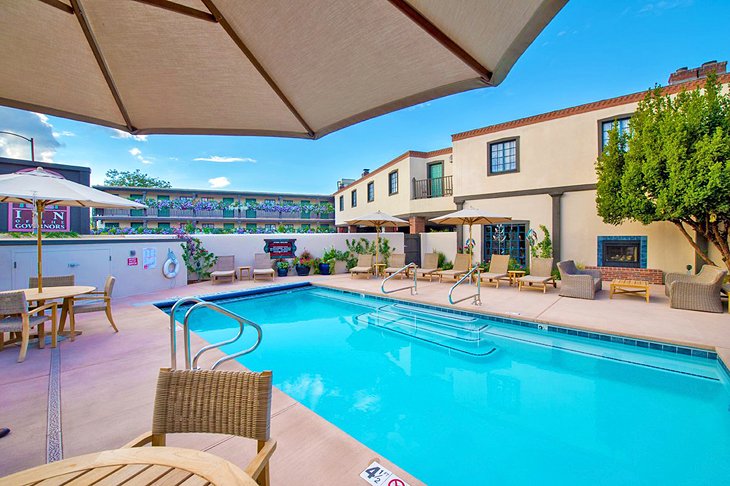 This is a great-value property right in town. Just a three-block walk from the Santa Fe Plaza, Inn of the Governors offers clean and comfortable rooms that are done up in Southwestern style with Native American rugs, hand-carved furniture, and decorative tin mirrors. Try to book one of the rooms with a wood-burning kiva fireplace and private balcony.
Beyond the rooms there is an on-site restaurant, Del Churro, which is a favorite with locals and guests alike. It is known for its New Mexican home cooking including green chile cheeseburgers. Other amenities include a heated outdoor pool. A hot breakfast is also included in the rate.
Accommodation: Inn of the Governors