12 Top-Rated Resorts in New Jersey
We may earn a commission from affiliate links ()
New Jersey offers plenty of great accommodation options for those looking for a base from which to explore the state and its many attractions. It's also a great place from which to visit popular neighboring destinations such as New York City.
Top places to stay in "The Garden State" include a variety of luxury offerings. Two of the most popular are the high-end ICONA Diamond Beach in the seaside resort town of Wildwood Crest, and Marriott's Fairway Villas near Atlantic City. Both offer a high degree of luxury and are in wonderful locations.
Those looking for an authentic New Jersey vacation couldn't do any better than booking a stay at the historic Virginia Hotel and Congress Hall. Both are located in beautiful Cape May. These two boutique hotels are among the oldest in the US, and each has been offering delightful seaside getaways for more than a century.
Whether you are looking for historic or contemporary accommodations, choose the best place to stay on your next vacation with our list of the top-rated resorts in New Jersey.
Note: Some businesses may be temporarily closed due to recent global health and safety issues.
1. ICONA Diamond Beach Resort, Wildwood Crest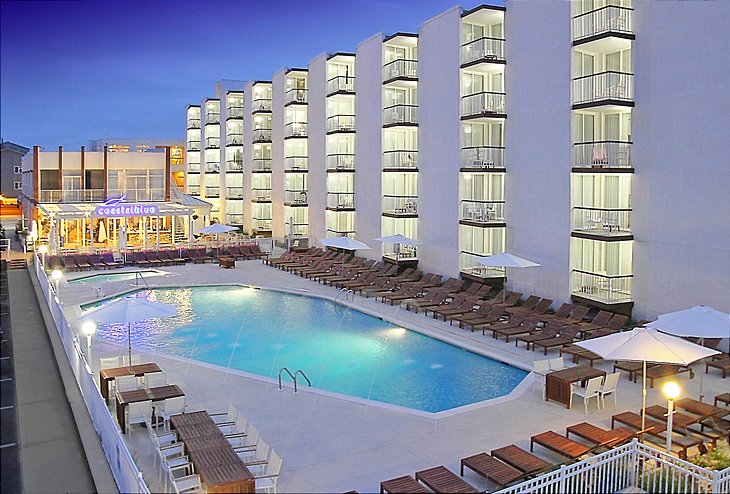 A popular vacation spot for its proximity to the sea, the top-rated ICONA Diamond Beach Resort in Wildwood Crest is also considered to be one of the best luxury resorts in New Jersey.
A highlight of a stay in this elegant 4-star resort is enjoying the 425-foot private beach and Beach Club (umbrellas and lounge chairs available), or sunbathing and relaxing around the heated outdoor swimming pool — there's even a kids' splash pool.
Also available is on-site dining in the ocean-view restaurant (including in-room and al fresco options), a snack bar, fitness center, laundry area, plus valet parking.
A variety of first-rate accommodations are available, including one- and two-room studio suites. The larger units come with separate sleeping and living areas, floor-to-ceiling windows, along with private furnished balconies with ocean views. Better still, check out the premium units. These sumptuous suites each come with a galley kitchen and appliances, dining area, and two bathrooms.
Accommodation: ICONA Diamond Beach Resort
2. Hyatt Regency Jersey City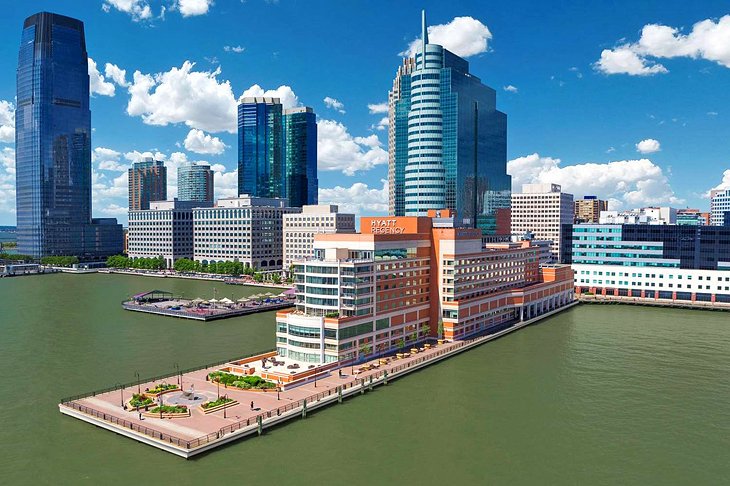 A great luxury location from which to explore New York City, the Hyatt Regency Jersey City boasts tremendous views over the Hudson River toward one of the most iconic skylines in North America. A variety of room configurations are available in this 4-star property, including one king or two double bed options.
Standard features include superb views, high-quality beds and bedding, work desks, and spacious bathrooms with granite bathtubs. A number of larger suites are available as upgrades and come with additional living space, handy wet bars with a mini fridge, and plush bathrobes. A number of mobility-friendly rooms are also available (be sure to make your needs known when reserving.)
The hotel's riverside location provides an opportunity to visit the sites of New York City via ferry.
When not out and about, you'll enjoy amenities such as a large fitness center plus jogging trails, an indoor swimming pool, on-site dining, and a handy business center and meeting space. A restaurant is available serving breakfast, lunch, and dinner.
Accommodation: Hyatt Regency Jersey City
3. Congress Hall, Cape May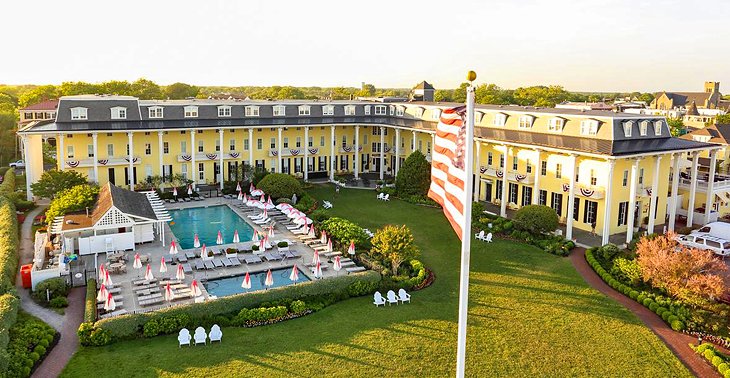 Said to be one of the oldest hotels in the US - it recently celebrated its 200th birthday - the historic Congress Hall is one of those authentic seaside destinations that simply must be experienced. Located in beautiful Cape May, this chic 4-star hotel features 108 luxury accommodations, ranging in size from standard hotel units to larger suites, and has earned a reputation as a first-rate wedding venue.
Decorated with bright blue and gray finishes that reflect their ocean views, the spacious superior rooms are a popular choice. Each of these bright units comes with large living areas and include a sofa bed (be sure to ask for an ocean view if available!).
The amenities are no less indulgent. Be sure to experience one of the wonderful private beach tents. These fancy beach-side shelters come with attendant services (complimentary loungers and umbrellas make for a great alternative).
Other features include a heated outdoor swimming pool, an exercise facility (be sure to try one of the beach workouts), a spa, free bike use, and a variety of restaurants. Be sure to also pay a visit to the hotels' nearby working farm.
Accommodation: Congress Hall
4. Caesars Atlantic City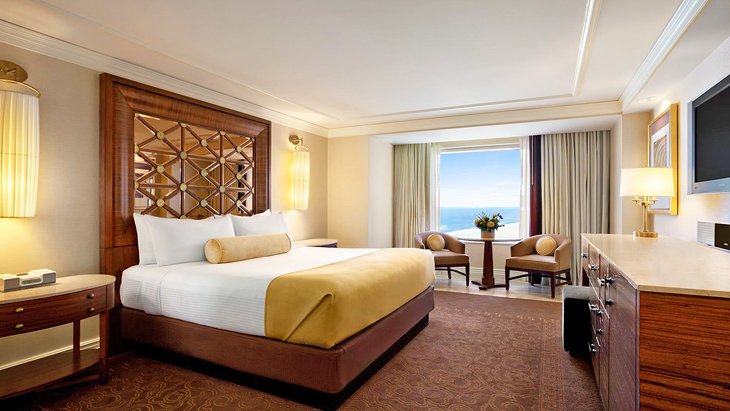 The 4-star Caesars Atlantic City is, as its name suggests, an ideal location for those wanting to experience a fun Atlantic City getaway. In addition to its location on the famous Atlantic City Boardwalk, this luxury hotel features world-class entertainment, as well as a variety of other amenities and services.
These include use of heated swimming pools, a full-service spa with Roman-style baths, great dining, and plenty of meeting and function space. The dining here is world-class, and includes a restaurant owned by famous British chef Gordon Ramsey.
A variety of high-quality rooms are available. A popular choice are the bright and spacious 675-square-foot "Tribune Suites." These include such features as custom furnishings, attractive marble flooring, large bathrooms, complimentary Wi-Fi, and HDTVs.
Accommodation: Caesars Atlantic City
5. The Water Club at Borgata, Atlantic City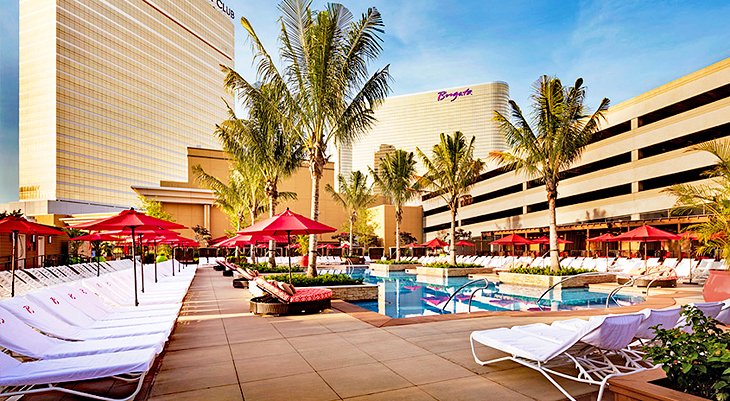 The Water Club at Borgata is another great 4-star location to consider when staying in Atlantic City.
Situated just a short walk away from the city's top dining, shopping, and entertainment, this big and luxurious place consists of 800 rooms and suites, along with great amenities. Highlights of the latter include a large full-service spa, plenty of meeting and function space, and no less than five heated swimming pools (outdoor and indoor).
There are also a variety of on-site shopping and dining opportunities for guests to enjoy, too. In need of some pampering? The resort also boasts two spas that offer a wide variety of treatments, including couples massages and in-room treatments.
The rooms are bright and elegantly appointed thanks to their floor-to-ceiling windows and include such features as large marble bathrooms, mini-fridges, quality beds and bedding, and HDTVs. A great option for those wanting additional space are the 1,000-square-foot suites. These spacious units come with an attractive foyer area and bigger bathrooms with separate bathtubs and a shower made for two, plus great ocean views.
Accommodation: The Water Club at Borgata
6. The Virginia Hotel, Cape May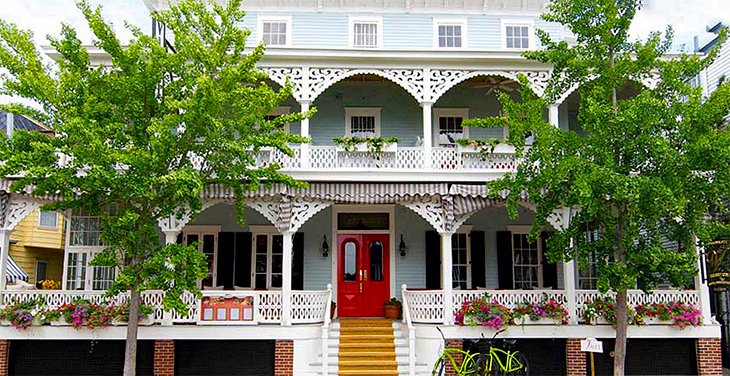 The Virginia in Cape May is one of the top luxury resorts in New Jersey. Built in 1879 and fully restored and renovated, the resort has a picturesque location just steps away from historic downtown Cape May and the beach. Those wanting to spend time at the beach can in fact rent private tents, and umbrellas and lounge chairs are provided.
Dining is available on-site (breakfasts included), and a must-do experience is enjoying a beverage and meal al fresco. A full-service spa is also available, as is a fitness center offering yoga classes.
Thanks to its total of only 24 rooms, the Virginia is certainly a tranquil spot for a romantic getaway. While no two rooms are the same, all include such quality features as king or queen beds, upgraded mattresses and bedding, custom furniture, luxury bath amenities, a refreshment bar, and HDTV.
Accommodation: The Virginia Hotel
7. The Reeds at Shelter Haven, Stone Harbor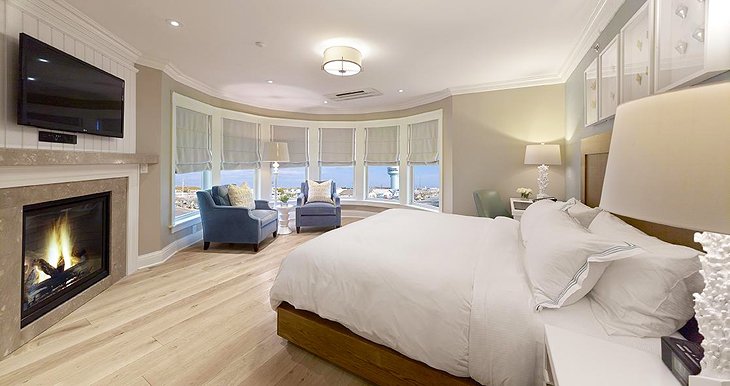 Another superb place to enjoy an authentic New Jersey coastal vacation is the elegant 4-star The Reeds at Shelter Haven. This all-season boutique hotel in Stone Harbor offers a choice of 37 luxury rooms and suites, each boasting magnificent ocean views.
A popular choice of room are the deluxe suites. These come with well-equipped kitchenettes (Keurig coffee makers, microwaves, mini-fridges, and wet bars included), separate living areas with fireplaces, dining tables, plus pull-out couches. Other notable features include oak flooring and spacious bathrooms with separate rain showers (plus bathrobes).
The amenities are of an equally high quality and include casual and fine-dining restaurants, docking for boats, use of beach chairs and umbrellas, and meeting space for groups and functions. A real treat is relaxing on the roof garden sundeck, which boasts a heated plunge pool plus two hot tubs.
A concierge service and complimentary valet parking are available. Guests also have free use of a variety of watercraft, including kayaks and paddleboards.
Accommodation: The Reeds at Shelter Haven
8. Ocean Place Resort & Spa, Long Branch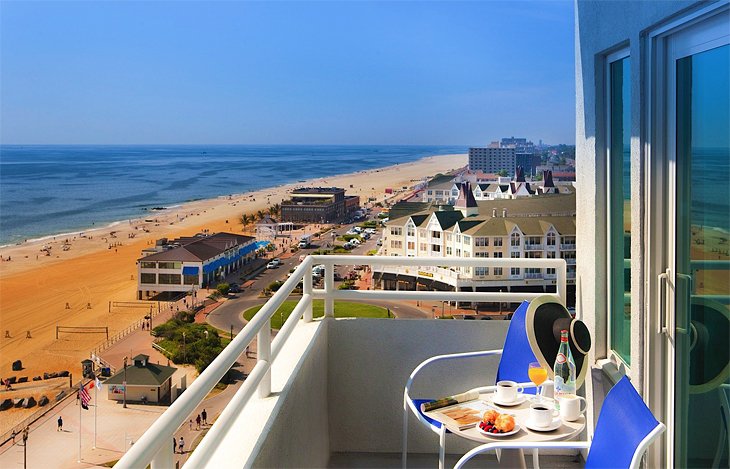 Set overlooking a beautiful stretch of beach in Long Branch, the recently refurbished 4 star Ocean Place Resort & Spa is a great place for families and couples alike who want to enjoy a seaside vacation.
The bright and elegant rooms and suites are a real treat, each featuring quality beds and bedding, spacious bathrooms with separate bathtubs and glass showers, HDTVs, mini-fridges, coffee makers, desks, and furnished private balconies.
On-site amenities include a restaurant with a terrace overlooking the ocean, a full-service spa, and two large heated swimming pools near the beach (one indoor, one outdoor). Other notable features and services include a free shuttle bus service, fitness center, and business center.
Accommodation: Ocean Place Resort & Spa
9. Seaview, a Dolce Hotel, Galloway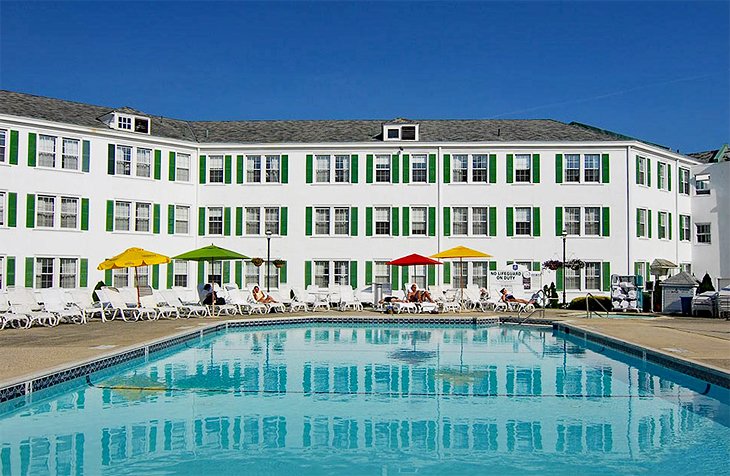 Another classic old resort worth considering, the 100-plus-year-old Seaview, a Dolce Hotel in Galloway is a must-stay for golfers thanks to its two championship courses.
Golf enthusiasts and non-golfers alike, though, will enjoy such world-class amenities as its function and convention spaces, casual and fine-dining restaurants, full-service spa, plus a fitness center. There are also outdoor and indoor swimming pools, three tennis courts, volleyball and basketball courts, and even an art gallery.
Consisting of 296 rooms and suites, the accommodations suit all needs and budgets. If available, opt for one of the 16 large suites, which come with a choice of a king bed or two double beds, a separate living room, handy wet bar with a mini-fridge, and an HDTV.
Accommodation: Seaview, a Dolce Hotel
10. Harrah's Resort Atlantic City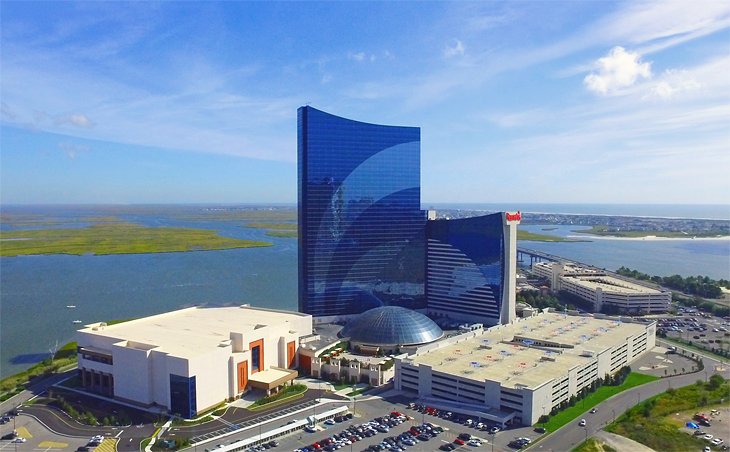 Atlantic City's 4-star Harrah Resort offers guests plenty of fun things to do on-site. Topping this large resort's list of guest amenities are its entertainment and live concerts, dining, full-service spa, fitness center, and swimming pool. A highlight is reserving one of the resort's personalized light shows, which take place in and around its iconic tower.
A great choice for those seeking a little added indulgence in their Atlantic City getaway are the deluxe rooms in the Marina and Harbor Towers. Features of these upgraded rooms include high-quality beds and bedding, expansive bathrooms with separate bathtubs and showers, and separate living areas.
Accommodation: Harrah's Resort Atlantic City
11. Marriott's Fairway Villas, Galloway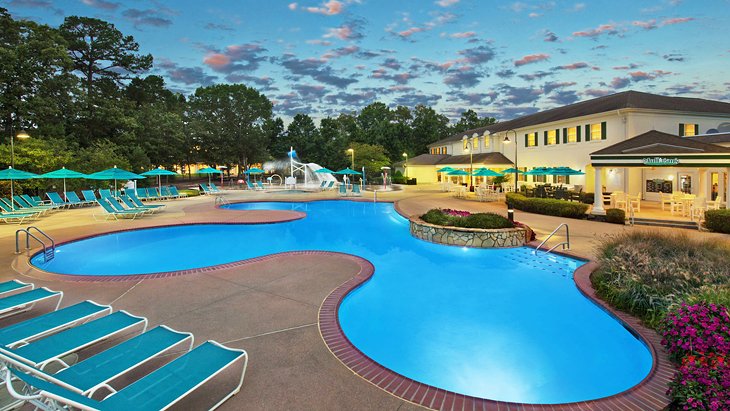 Located in the town of Galloway, the 3-star Marriott's Fairway Villas is a perfect place to stay for those looking to explore nearby Atlantic City. Accommodations comprise bright and spacious two-bedroom villas, each featuring a full-kitchen, laundry room, three HDTVs, a living room with a fireplace, and furnished balcony.
The amenities here are also high-quality. Notable among them are the full-service spa, indoor and outdoor heated swimming pools, and a fitness center. There's also a jogging trail on-site, along with a fun volleyball court. Activities for kids include outdoor movie nights and games, as well as a dedicated kids' pool and splash zone.
A casual restaurant is also located on-site, along with a snack bar and shop selling basic grocery items.
Accommodation: Marriott's Fairway Villas
12. Golden Nugget, Atlantic City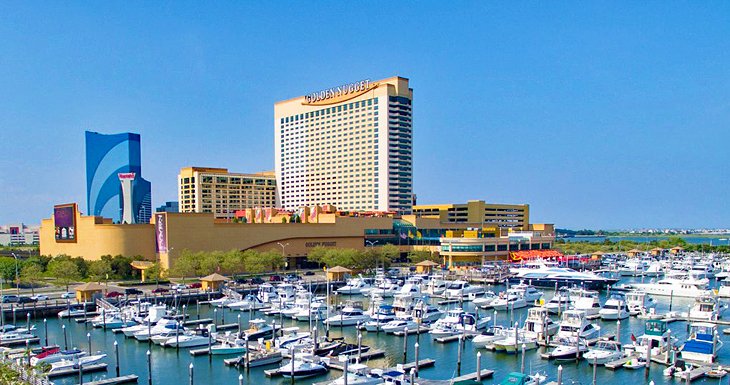 One of the top-rated large hotels in Atlantic City, the Golden Nugget is popular for its central location and proximity to the city's boardwalk and beach. A variety of high-quality accommodations are available, most offering superb views over the city's harbor area along with mini-fridges, HDTVs, and on-demand movies.
A great room choice are the luxury king rooms, featuring king beds with pillow-top mattresses and large bathrooms.
There are plenty of amenities to be enjoyed at the Golden Nugget, too. In addition to its many entertainment opportunities, guests can sample a variety of dining options, on-site boutique shopping, a marina, spa, and fitness center, plus a heated swimming pool.
Accommodation: Golden Nugget