11 Top-Rated Day Trips from Las Vegas, NV
Las Vegas isn't the only place worth visiting in Nevada. This massive state is blessed with stunning landscapes and an incredible history, offering fantastic opportunities to explore and discover natural attractions within easy day-tripping distance of Las Vegas. You can even pop into neighboring California.
Head west to the colorful Red Rock Canyon National Conservation Area or northwest to the magnificent landscape of Death Valley National Park. A day trip east or north of Las Vegas can take you to Lake Mead National Recreation Area, Valley of Fire State Park, and even to Zion National Park in Utah. For more ideas of places to visit nearby, see our list of the best day trips from Las Vegas.
1. Grand Canyon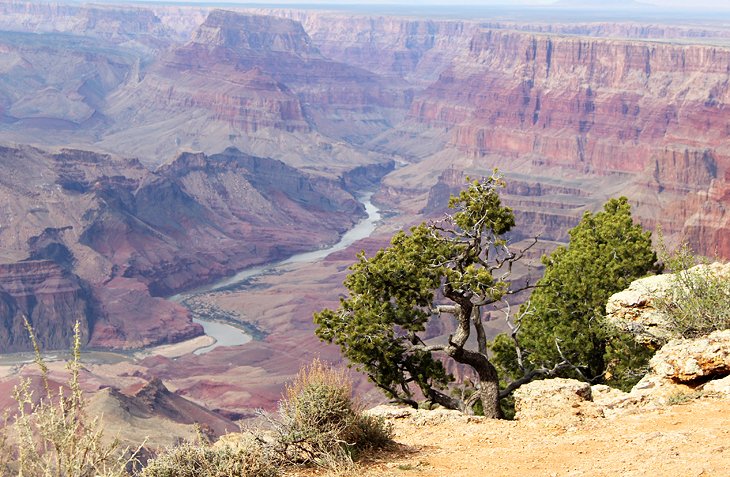 If you are only going to do one day trip from Las Vegas, a trip to the Grand Canyon is a must-do, especially if you have never seen this natural wonder. The closest area to visit if you are driving is the Grand Canyon Skywalk at Eagle Point, which is less than 2.5 hours from Las Vegas.
The more famous area is the South Rim of the Grand Canyon, a little over four hours away. Here, you'll find the main national park visitor center, a beautiful drive and walkway along the rim of the canyon, multiple lookouts, hiking trails, and several key attractions.
If you don't want to do this road trip on your own, you may want to take a tour. One of the most popular ways to see the canyon is on a Grand Canyon Helicopter Tour from Las Vegas. This 6.5-hour sightseeing tour offers hotel pickup in a limousine and takes you on a 45-minute helicopter flight over Hoover Dam, Lake Mead, and the West Rim of the Grand Canyon.
You will fly below the rim of the canyon and land on the floor of the canyon, where you'll enjoy a 15-minute boat ride along the Colorado River. The tour also lands at Eagle Point for time to look around and see the Skywalk, Eagle Point Indian Village, and have a buffet lunch.
Other great day trip options include an all-day Grand Canyon White Water Rafting Trip from Las Vegas for a once-in-a-lifetime experience of rafting down the Colorado River. If you want to do this trip yourself in a hassle-free fashion, consider the Grand Canyon West Rim, Self-Drive SUV Day Trip from Las Vegas, which includes the car rental, maps, instructions, and some passes.
Read More:
2. Hoover Dam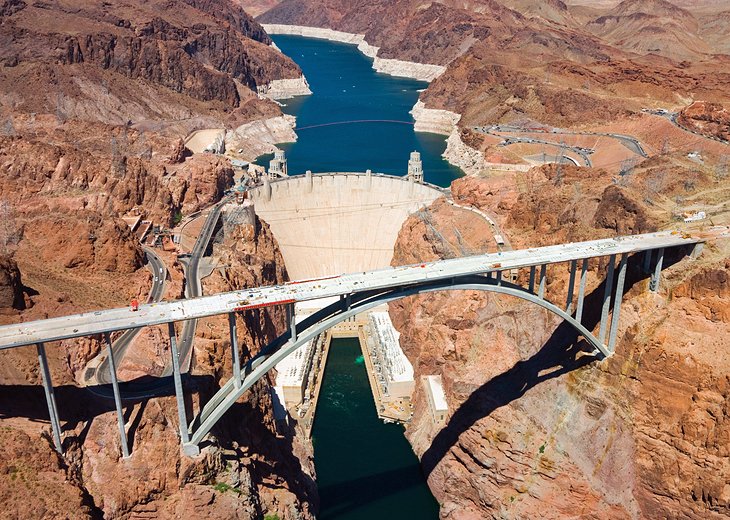 A marvel of modern engineering, Hoover Dam was built during the Great Depression partly as a way to put unemployed men back to work. More than 100 of those men died during the construction of the 726-foot-high dam.
A 45-minute drive from the center of Las Vegas, the dam contains Lake Mead, the largest reservoir in the United States. Today, the dam provides hydroelectric power to much of Nevada, Arizona, and California.
Near the dam is a visitor center and parking. From here, you can walk out on the dam for fantastic views. More than one million tourists visit every year. A popular way to visit this site is on an Ultimate Hoover Dam Tour from Las Vegas. This is a small-group, all-inclusive tour and includes transportation, a guided tour of the dam and the power plant, and lunch.
3. Death Valley National Park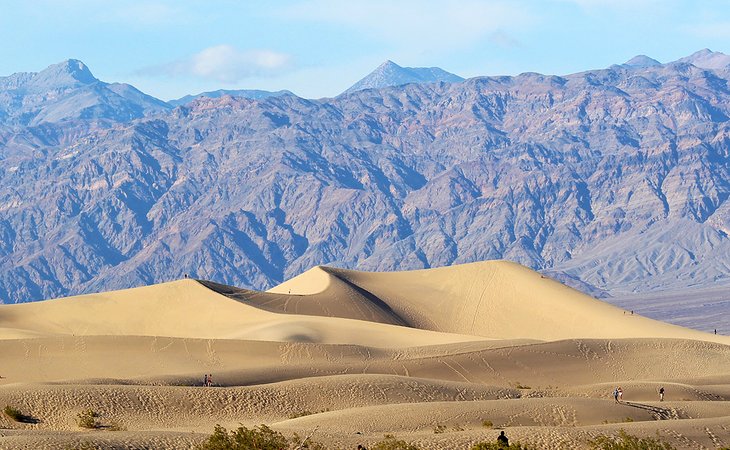 Although Death Valley is in California, you can easily visit the park on a day trip from Las Vegas. Death Valley is the largest national park in the United States outside of Alaska, and 95 percent of it is designated as wilderness to preserve its wild character.
The park has also been designated as an International Biosphere Reserve. Below sea level yet surrounded by snow-capped peaks, Death Valley is far from dead. This wildly diverse landscape ranges from dunes and fields of wildflowers to lakes that come and go with the rain. In spring, the valley bursts with life.
The sights in Death Valley are mostly set along the roadside and don't require anything more than a short walk to see. Some of the highlights are Badwater Basin, the moving rocks at the Race Track (high-clearance vehicle or 4WD required) the rolling hills at Zabriskie Point, the vista over the valley from Dante's View, and many others.
See our complete article on the Top Attractions in Death Valley for ideas on what to see and how to get there. You can also hit the major highlights on an organized tour. One of the best is the Death Valley Day Trip from Las Vegas. This includes hotel pickup, round-trip transportation, entrance fees, breakfast, and a boxed lunch.
4. Red Rock Canyon National Conservation Area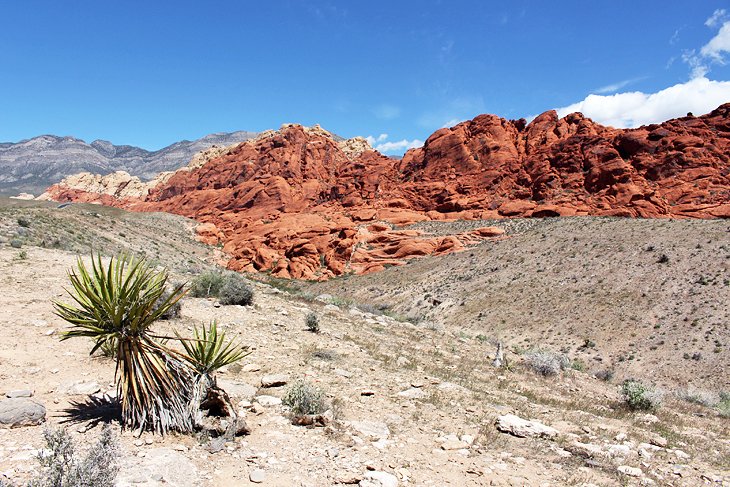 On the western edge of Las Vegas, Red Rock Canyon offers the quickest nature escape from the city and some of the best hiking trails in the Las Vegas area. You can see the red rock hills butting up against the mountains as you approach the park.
A one-way, 13-mile scenic drive loops through the park, with numerous areas to stop along the way. You can find some incredible hiking trails off this road, ranging from short family-friendly hikes to longer day hikes. You can hike to peaks, into box canyons, and through the red rock landscape to experience some spectacular desert scenery and beautiful vistas.
This is a particularly stunning area in the spring, when the desert turns green and the wildflowers come into bloom. If you are looking for a guided tour option, consider the four- or six-hour Red Rock Canyon Tour, which will pick you up right at your hotel, take you on a scenic tour of Red Rock Canyon, followed by a stop at Spring Mountain State Park, once owned by Howard Hughes.
5. Valley of Fire State Park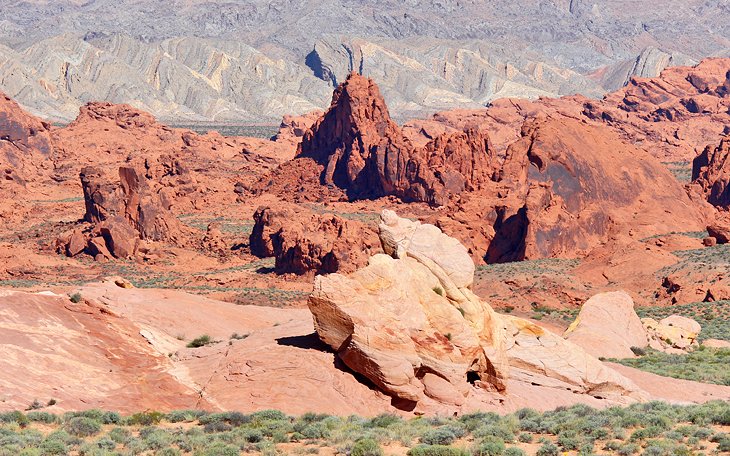 Hikers who want to explore some incredible scenery should put Valley of Fire on their itinerary. Hiking trails here are generally short but land you in some exceptional scenery. If you aren't a hiker, you can still appreciate the views from a drive through the park.
The park covers more than 42,000 acres of haunting sandstone formations created from sand dunes that settled and solidified here during the time of the dinosaurs. Human occupation of the valley dates back to approximately 3,000 year ago.
Highlights include the incredible red rock formations, petroglyphs, canyons (including a slot canyon), and opportunities to see wildlife. The park also offers camping, with campsites set at the base of the stone formations. To reach Valley of Fire, take Interstate 15 north from Las Vegas. The drive time is about one hour.
6. Zion National Park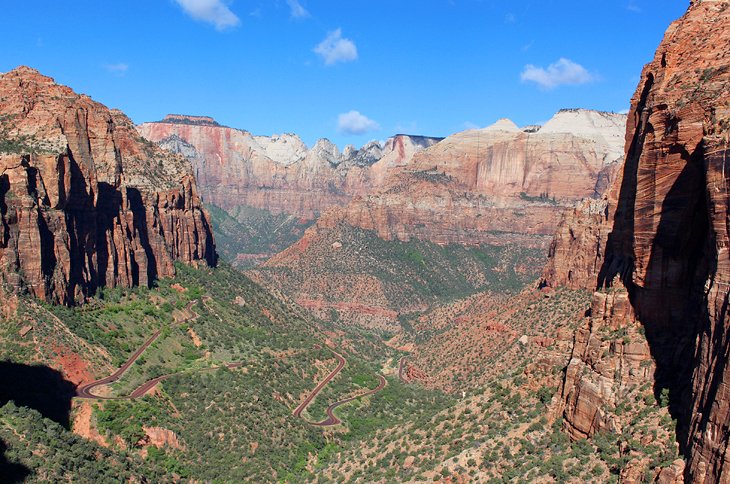 Visiting Zion National Park from Las Vegas makes for a long day, but it's well worth it if you've never been to this park. Zion is known for its incredible cliff walls, unique rock landscape, scenic lookouts, and outstanding hiking trails.
From March until November, a free shuttle bus transports visitors through the most popular area of the park, along the Zion Canyon Scenic Drive. This is perfect for day trippers. You can simply park your car and be shuttled to the stops, where you can see the sights or tackle some of the hiking trails.
Alternatively, you can drive along the Zion-Mount Carmel Highway, which will take up high above the canyon floor and over to a different region of the park.
For a look at how to spend your time at Zion, see our article on Things to Do in Zion National Park. The best way to experience the park in just one day is to take a Small-Group Zion National Park Day Tour from Las Vegas. This excursion will give you a good overview of the park, and it allows you to look around while someone else drives.
7. Lake Mead National Recreation Area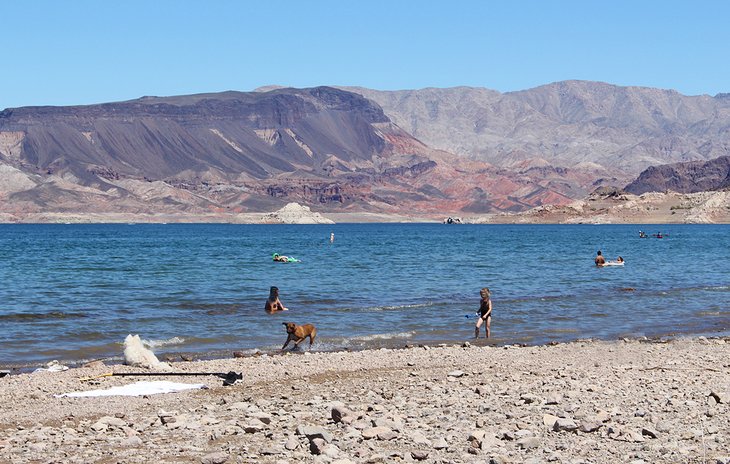 Lake Mead National Recreation Area is a scenic spot and offers a nice break from the city. On a hot day, you can come down here and set up a lawn chair on the shore or go for a swim. If the temperature is a little cooler, take in some of the scenery on the Lake Mead Railway Trail, a popular hike with historic tunnels.
You can get more information and begin the hike from near the Alban Bible Visitor Center near Boulder City. Lake Mead National Recreation Area is also one of the best places to camp around Las Vegas. Depending on where you go within the recreation area, the drive time is about 30 to 45 minutes from Las Vegas.
8. Joshua Tree National Park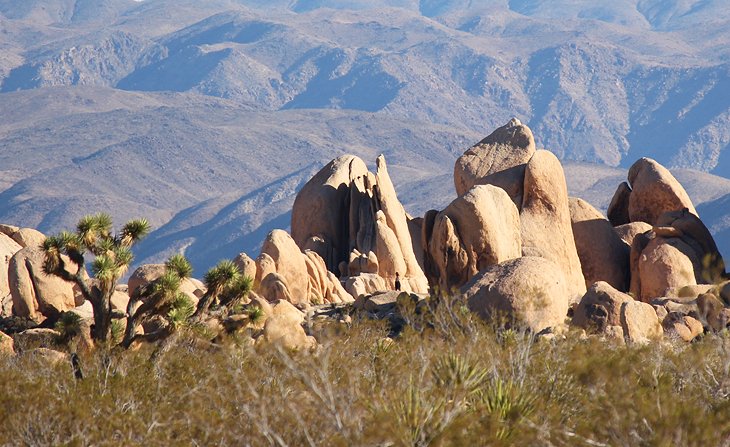 Joshua Tree National Park is approximately 3.5 hours from Las Vegas but it is impressive enough that it is worth making the trip. Ideally, visitors should plan on an overnight trip, since there are so many things to see and do here. Mountains and rock formations provide the stunning backdrop to the Joshua trees.
Like a scene from a fairy-tale, this park is unique and never disappoints visitors. The drive through the park is beautiful, and you can take your time to do short or long hikes and stop to see some of the most famous stone formations.
If you are so entranced you want to stay another day, you can either camp in the national park or a stay at one of the many hotels in Twentynine Palms nearby.
9. Mount Charleston & Lee Valley Ski Resort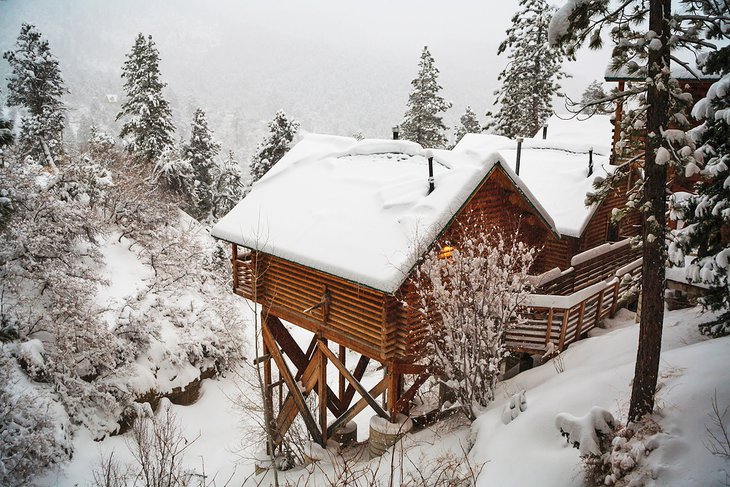 Downhill skiing in the desert near Las Vegas? Yes indeed! Las Vegas is known for an assortment of wacky pursuits, and this is no exception. Under an hour's drive from the Las Vegas Strip is Mount Charleston and the Lee Canyon Ski Resort.
Owing to the 7,504-foot elevation, snow falls here and stays from mid-November through until the end of February or longer. Two quad chairs and a triple chair service 26 runs.
If you don't know how to ski, tubing is available. And if you just want to see some snow and enjoy a bit of winter, this is a great place to come and relax.
Official site: https://www.leecanyonlv.com/
10. Drive the Extraterrestrial Highway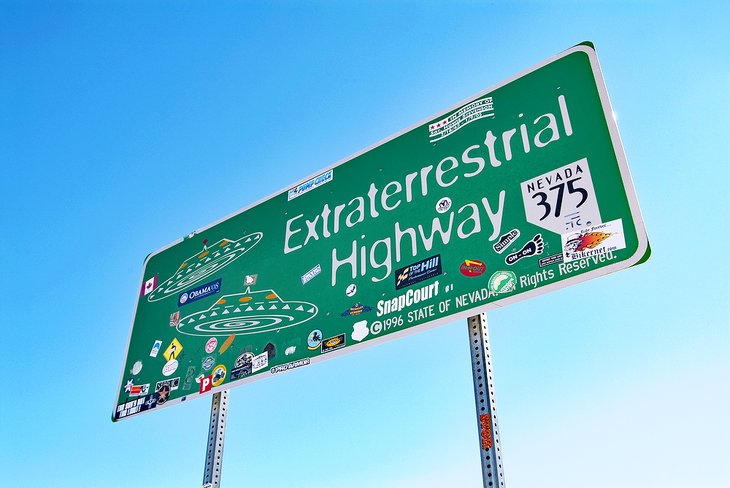 If Las Vegas wasn't wacky enough for you, perhaps a trip along the Extraterrestrial Highway might do the trick. This 2.5-hour drive between Hiko and Warm Springs is an exercise in observing oddities.
Along the way, you'll see aliens painted on walls, a giant alien beckoning you in to spend your hard-earned Earth dollars buying some kind of weird souvenir, and even an alien-themed hotel. You may even come across a broken down spaceship being towed to the local garage.
All this outer space research is hard work, and you'll definitely work up an appetite for an Alien Burger (contents of which have not been scientifically verified!).
11. Seven Magic Mountains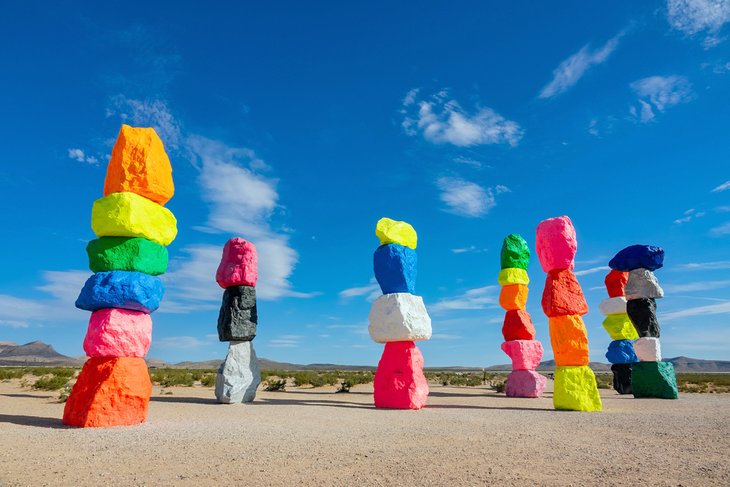 The desert surrounding Las Vegas can generously be described by some as beautiful and scenic; however, most folks look out the endless stretches of sand and scrub with disdain, preferring to think of the bright lights of Las Vegas ahead. One artist has done his best to alter the bad rap the desert gets by placing seven towers of day-glo colored rocks just off Interstate 15.
This three-million-dollar public art display was created over five years by dynamiting rocks in a nearby quarry and then picking the best 33 of the lot, stacking them, and then painting them in eye-bleeding colors.
Admission is free.
Map of Day Trips from Las Vegas, NV
More Related Articles on PlanetWare.com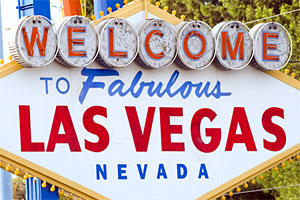 Las Vegas: While you're here, find fun and interesting things to do in Las Vegas. There is more to this city than simply the Strip, and our extensive list of attractions can point you in the right direction.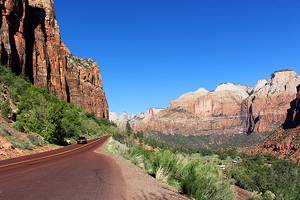 Neighboring States: Not far from Las Vegas are some incredible areas to explore in California. Begin with our ideas for things to see in California's Desert Region. If you are heading into Utah, be sure to see our collection of articles on Zion, beginning with our article on Things to Do in Zion National Park. Our top hiking trails in Bryce Canyon National Park will be of interest if you are setting out to explore this magnificent area. And if you are going over to Arches and Canyonlands National Parks, have a look at our extensive list of things to do in and around Moab.