Where to Stay in Marrakesh: Best Areas & Hotels
Visitors to Marrakesh, Morocco fall into two categories when choosing hotels: Those who want to experience the busy and exotic nightly spectacle of snake charmers, food stalls, and hawkers will want hotels near Djemaa el-Fna, the main square at the entrance to the large medina (old city), with its alleys and winding streets jammed with different souks (markets). The 12th-century Koutoubia Mosque is also nearby.
Most hotels are laid out in the style of a Moroccan riad, a peaceful oasis with a walled garden and rooms at the back or along an upper level arcade.
Choose the Sidi Ben Sliman area of the medina for a quiet and historic stay. Residential Hivernage and Bab Doukkala are close to The Bahia Palace. Ville Nouvelle puts you in range of restaurants and cafés, as well as the stunning gardens and Art Deco house at Le Jardin Majorelle, the former home of French designer Yves Saint Laurent.
Where to Stay in Marrakesh for Luxury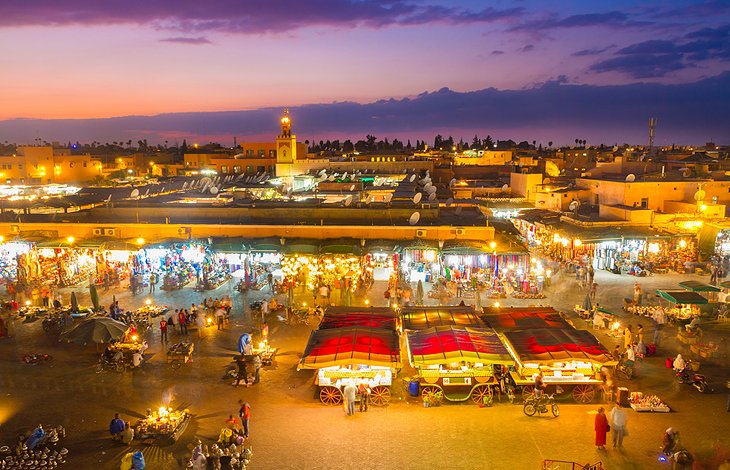 The rooftop pool (one of three pools on the property) and terrace provides a medina view in the 27-room boutique hotel La Villa des Orangers Hotel, while perfumed gardens dotted with fountains, and quiet areas tucked away, bring tranquility and relaxation. A former palace, this Relais & Chateaux property has luxurious decor featuring exotic wood, fine fabrics, and mosaics. Attentive staff provide exceptional service. The on-site restaurant serves French, Mediterranean, and Moroccan cuisine.
The Riad Dar Anika is a boutique, 12-room hotel in the heart of the medina that provides a peaceful getaway with a traditional riad layout. Have breakfast on the rooftop terrace to do some people watching in Djemaa el-Fna below. There's a courtyard pool ringed with alcoves filled with comfy seating, plants, and cafe tables. The hotel has a spa and traditional Moroccan hammam steam bath.
Located in the newer Hivernage area, Four Seasons Resort Marrakech sits on 16 acres of Moorish-style gardens. It has two pools, including one that's for adults only. There are a variety of room styles, including suites and villas with their own private pools. Some have butler service. There's dining, as well as a spa and fitness center on-site and a kids' club for families.
Where to Stay in Marrakesh: Mid-Range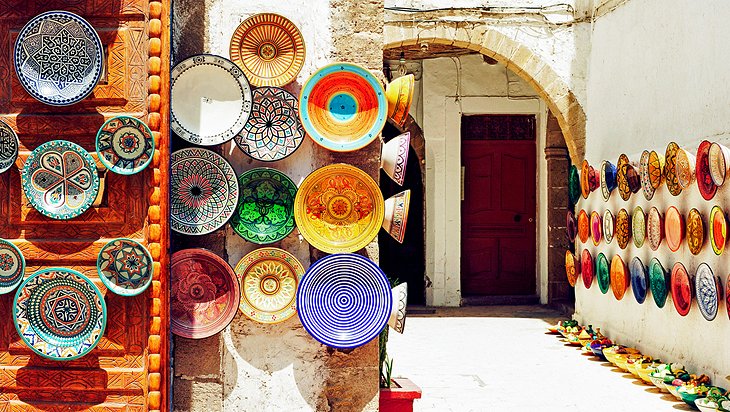 Riad Asna offers excellent value in the quiet residential neighborhood of Bab Doukkala, located outside the medina. It has a pool, and breakfast is included. The in-house restaurant serves both buffet and à la carte meals. It's a short taxi ride to the medina, El Badi Palace, or Ville Nouvelle. Relax on the rooftop terrace. Wi-Fi is free.
Also in Bab Doukkala, Dar Charkia has a choice of rooms and suites, many with fireplaces. Start the day with complimentary breakfast served on the terrace, overlooking an orange tree and fountain, before heading out to explore the nearby antique shops in the Dar el Bacha district. The hotel has a heated outdoor pool. The pavilion tent on the roof terrace is a lovely place to relax with a glass of mint tea in the afternoon. It's not far to the medina.
Located in the medina, in a building that dates to the 17th century, Riad Romance is close to the spice souk and the Museum of Marrakesh. There's a great view of the Atlas Mountains from the rooftop garden.
Thoughtful touches include mint tea and Moroccan pastries on arrival and the use of a free mobile phone with the hotel number and taxis in the contacts in case you get lost in the souks. The hotel has a pool, and breakfast is included.
Where to Stay in Marrakesh on a Budget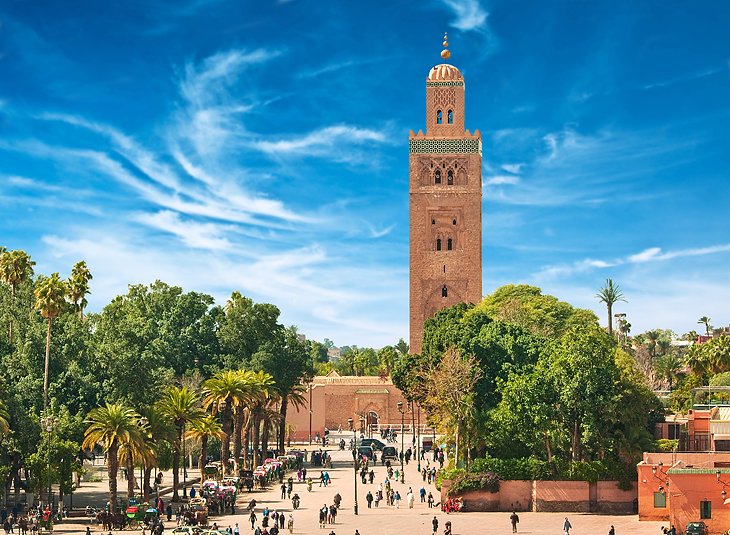 A short walk from Djemaa el-Fna, the surprisingly elegant, five-room Riad Dar Thalge has a small courtyard pool and patio framed by Arabesque arches. Rooms are air-conditioned, and breakfast is included. Renovated in 2011, this wallet-friendly hotel offers unexpected, thoughtful touches, like bathrobes and slippers. There are some adjoining rooms for families.
Riad Sapphire and Spa provides excellent value in the Sidi Ben Slimane neighborhood in the medina, with breakfast included, a large pool, two marble courtyards, and a lovely rooftop terrace. There's a spa and hammam on-site, and the hotel will arrange an in-house cooking class with its chef.
Located in the medina, close to shopping in the souks and across from the Bab Doukkala mosque, Dar Al Hamra has six air-conditioned rooms. Enjoy the complimentary breakfast on the terrace overlooking the city. The hotel offers good value in a simple stay.
Where to Stay in Marrakesh for Families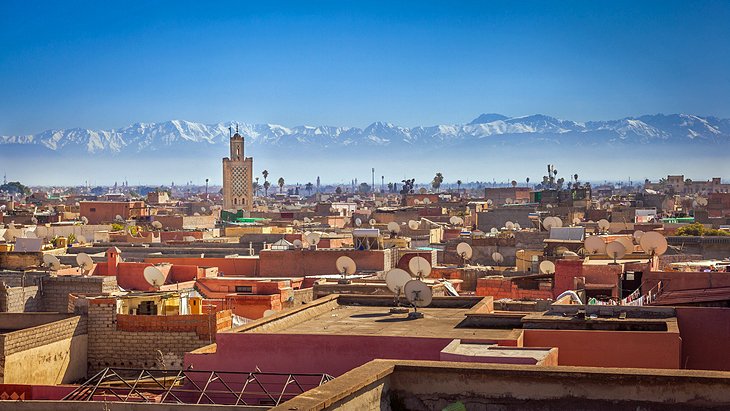 Kenzi Club Agdal Medina is a large, all-inclusive resort outside the city center with two pools, tennis courts, a basketball court, beach volleyball, and archery area. The activities staff leads games and contests to keep guests entertained.
There are 40 large family rooms and 20 junior suites, as well as two on-site restaurants. A free shuttle gets you into the heart of Marrakesh for shopping in the old medina. The hotel is close to the Oasiria Water Park.
Located about 15 minutes from the old medina, Eden Andalou Hotel Aquapark & Spa has 247 suites suitable for families, with a main bedroom and alcove for the kids. It's located at the Andalou Aquapark, which has a pirate-themed adventure pool for tykes and four slides and water games for older kids. Parents can relax in the Les Bains de L'Edens spa, which has a sensory pool and fitness area.
Where to Stay in Marrakesh for Romance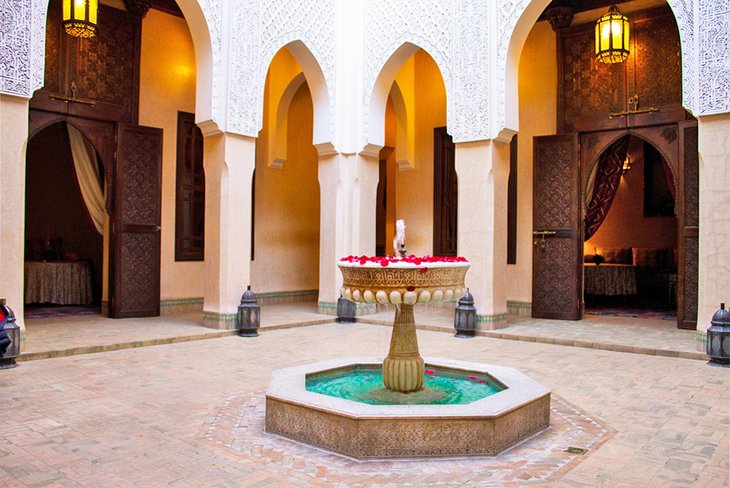 With rose petals in the rooms, some with their own private courtyards or terraces, Riad Nashira & Spa is a stay made for couples. Rooms overlook marble courtyards dotted with palm trees, and the lounge has a cozy fireplace.
Dine in the restaurant or on the terrace. There is an outdoor pool, a heated indoor pool, and a spa with a Jacuzzi and hammam. It's walking distance to Medersa Ben Youssef and Djemaa el-Fna Square.
Luxury hotel El Fenn is an indulgent boutique stay painted in rich colors, with luxury touches like artwork, stained glass, gold leaf detailing, and hand-stitched Egyptian cotton linen and bathrobes. There are a variety of room and suite styles and sizes, from cozy to two-level lofts, some with fireplaces.
Dine on the roof terrace. There are two marble-lined pools and a rooftop plunge pool with Berber tents for lounging, lush gardens, and a private movie screening room. Coffee or tea is left outside the room each morning, and afternoon tea is served in the courtyard daily. The hotel is a short walk to Djemaa el-Fna.
Where to Stay in Marrakesh near the Airport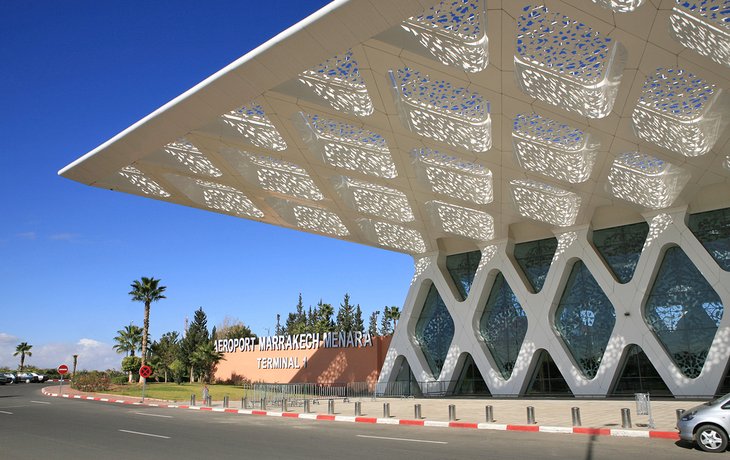 Marrakesh Menara Airport (RAK) is just five kilometers from the city center, making nearly all the hotels listed in this article accessible to the airport. But there are a few hotels that are very close, should you be arriving late or leaving early and just want to be as near to the airport as possible.
Check out Savoy Le Grand Hotel for five-star pampering before or after your flight. The hotel offers airport transportation from its location in the Hivernage quarter. Rooms and suites are posh and contemporary with an international feel to them. The hotel also features beautiful views of the Atlas Mountains. Breakfast is included in the rate, and there is also free parking and a swimming pool.
Another hotel very near to the airport is Oasis Lodges. This luxe boutique property has architecture that blends into the environment and lovely decor in its family rooms and suites. These are soundproofed and also have blackout curtains should you just need to sleep after a long-haul flight.
The Oasis is very family friendly and offers a kids' club, as well as babysitting services. There is even a water park on-site. Other amenities include free breakfast, a restaurant, swimming pool, and gym.