17 Best Places to Stay at Glacier National Park, MT
We may earn a commission from affiliate links ()
Encompassing over 1,500 square miles in northern Montana, Glacier National Park often takes several days to experience. And its remote nature makes finding a place to stay an essential logistic of planning a trip. Historic hotels and motor inns are within the park, and several other hotel options reside in the surrounding communities.
Iconic spots like Lake McDonald Lodge and Many Glacier Hotel offer a rustic charm in prominent areas of the park. These places to stay within Glacier book out months in advance and come at a premium during peak summer season.
Some of the closest hotels to Glacier are in communities like West Glacier, East Glacier Park Village, and St. Mary. These hotels are within minutes of park entrance gates, and also in proximity to resources like grocery stores and restaurants. Many of these hotels, like places to stay inside Glacier National Park, operate on a seasonal basis between May and September.
The most significant concentration of hotels near Glacier National Park are in the resort cities of Whitefish and Kalispell. The only four-star hotel in the region is in Whitefish, as well as several places to enjoy some nightlife. Places to stay in Kalispell also feature access to the magnificent Flathead Lake. Both Whitefish and Kalispell are within 30 minutes of the West Entrance of Glacier National Park. En route and even closer, the community of Columbia Falls also has hotels to spend the night.
On This Page:
Lodging inside Glacier National Park
1. Lake McDonald Lodge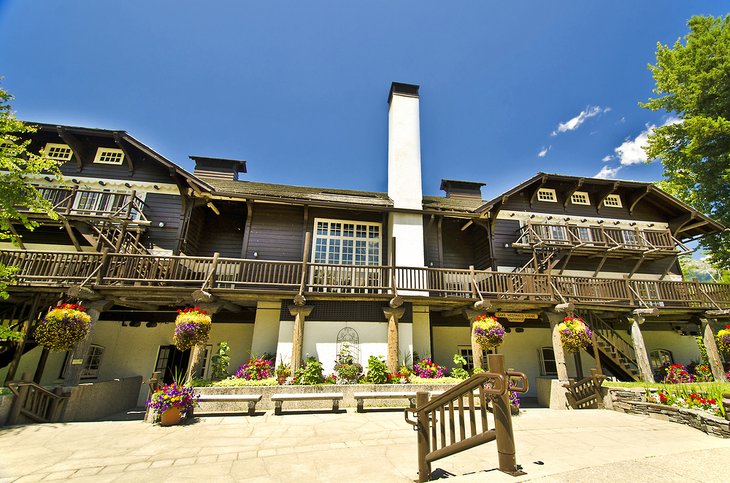 Lake McDonald Lodge is on the shores of Lake McDonald on the west side of the park. This historic hotel provides quite the memorable Glacier experience. Built in 1913, the iconic Swiss-chalet inspired architecture of the hotel comes into view immediately upon laying eyes on the lodge. The interior lobby, too, has a distinct cozy, wintry feel even in summer, much in thanks to log furnishings and a big stone fireplace.
2. Many Glacier Hotel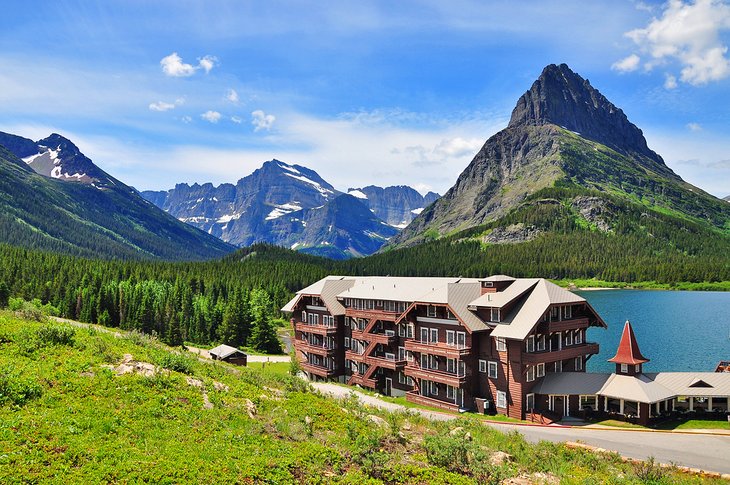 In the northeast Many Glacier region, this historic hotel provides one of the best views from any lodging inside Glacier National Park. It's on the shores of Swiftcurrent Lake and the imposing peak of Mount Grinnell is hard to miss from the hotel's back patio area.
Many of the hotel's 200-plus rooms offer personal views of this beautiful mountain scenery. The hotel also features a select number of suites and family rooms. And the Swiss-chalet decor of Many Glacier Hotel is further encouraged by staff dressed in lederhosen.
3. Village Inn at Apgar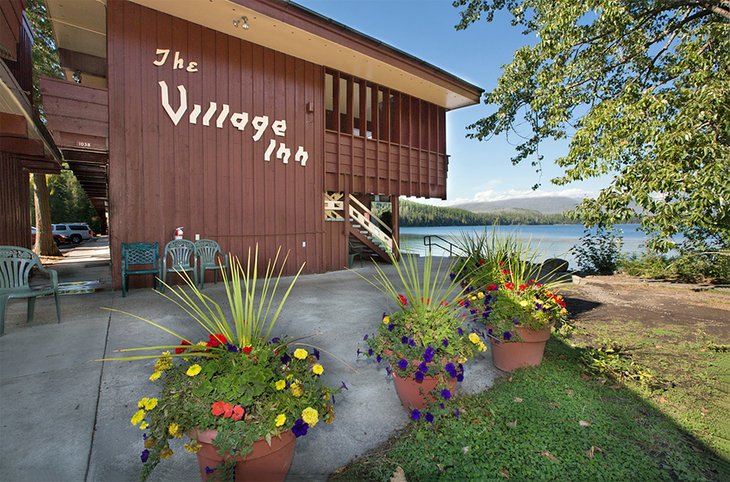 The Village Inn at Apgar features rustic lodging options and access to several amenities within Apgar Village. It's less than two miles from the West Entrance and features magnificent views of Lake McDonald. Thirty rooms and a dozen cabins are available. Lodge rooms range from single queen motel rooms to two-bedroom family units. All cabins and select rooms come with a kitchenette.
4. Swiftcurrent Motor Inn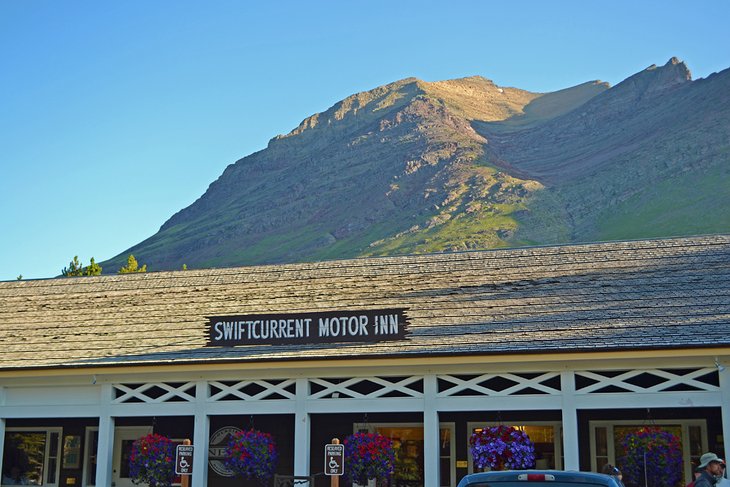 The Swiftcurrent Motor Inn is less than a mile from Many Glacier Hotel on the northeast side of the park. It features nearly 100 rooms and cabins at a reasonable price, making it an excellent value for those looking for an affordable basecamp in the park. And some of the best hiking trails in Glacier are in immediate proximity to the hotel, including the route up to Iceberg Lake.
5. Rising Sun Motor Inn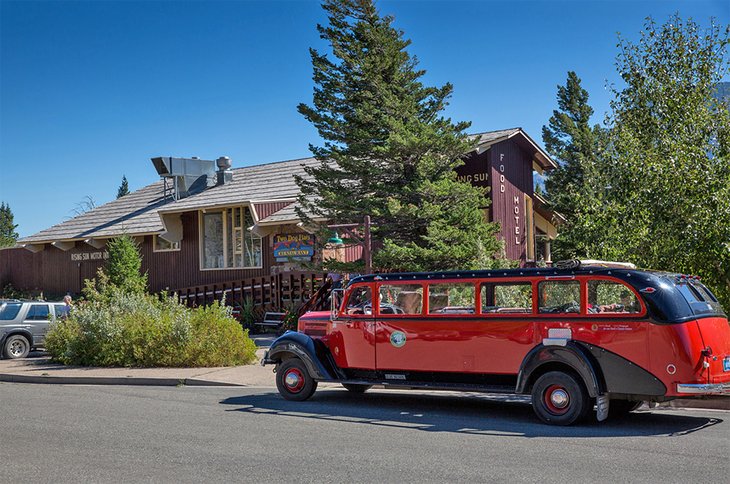 The historic Rising Sun Motor Inn is the closest hotel to the East Entrance of Glacier. The hotel is also within proximity to St. Mary Lake. Overnight accommodations range from motel rooms to shared-wall cabins.
The hotel first opened to the public in 1940. Like all historic places to stay in Glacier, no telephones, television, or air-conditioning are available in any of the rooms. But the views from the Motor Inn, and the immediate access to the park, offer plenty to keep guests entertained.
Hotels in West Glacier
6. Glacier Guides Lodge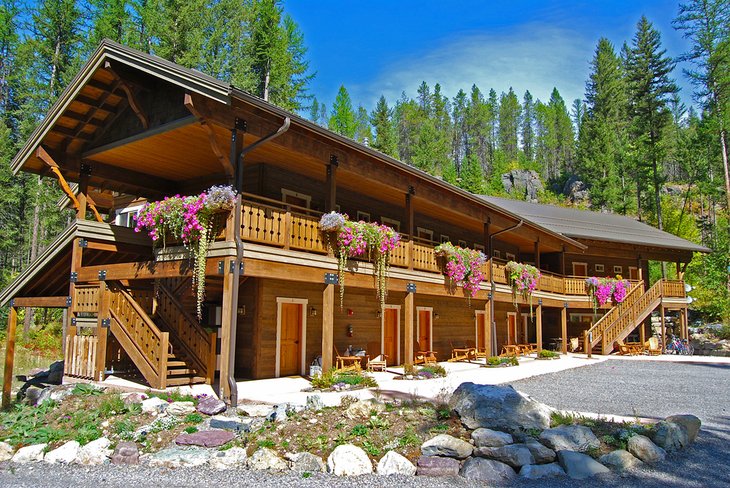 Adventure opportunity surrounds this commercial lodge less than a mile from the West Entrance of the park. Alongside modern accommodations, Glacier Guides Lodge also operates a reputable guiding company. Adventures led by Glacier Guides include fly-fishing, mountain biking, and whitewater rafting. This combination of a place to stay and things to do makes Glacier Guides Lodge one of the best hotels near Glacier National Park.
Glacier Guides Lodge sources local woodworkers and artisans for the furnishings and decor of the hotel. The rotating continental breakfast at the lodge is also locally sourced. Alongside a collection of standard lodge rooms, a separate Glacier Guides Guest House is available to rent on the property. It features a large outdoor patio that is perfect for enjoying the summer weather.
7. Vista Motel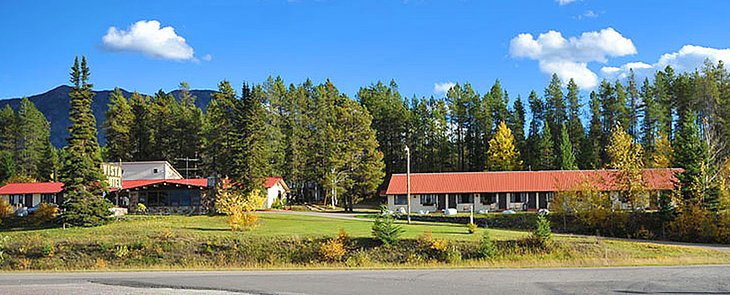 With a wide range of rooms at an affordable price, the Vista Motel caters to many types of travel. This cozy accommodation is less than a mile from the West Entrance of Glacier National Park. It features triple twin bedrooms and king cabins and easy access to the mountains.
Hotels in East Glacier Park Village
8. Mountain Pine Motel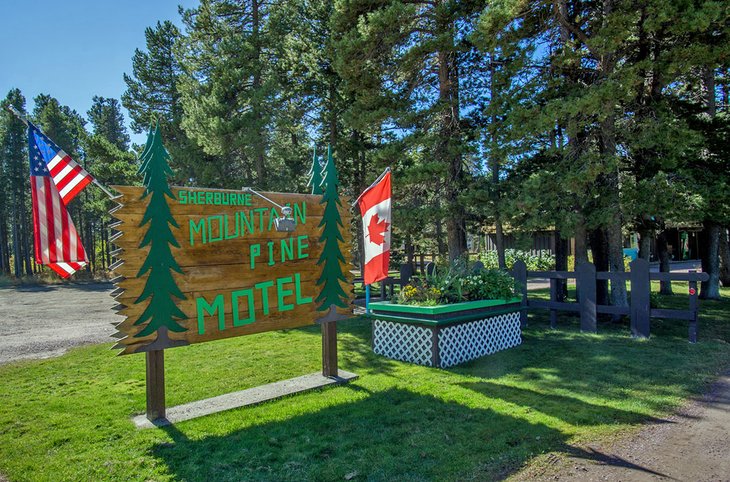 This cozy motel in East Glacier Park Village is minutes from the Two Medicine region of the park. An aromatic lodgepole pine forest surrounds the manicured grounds of the hotel. Alongside close access to Glacier National Park, the motel is also near restaurants and shops in East Glacier Park Village.
9. Whistling Swan Motel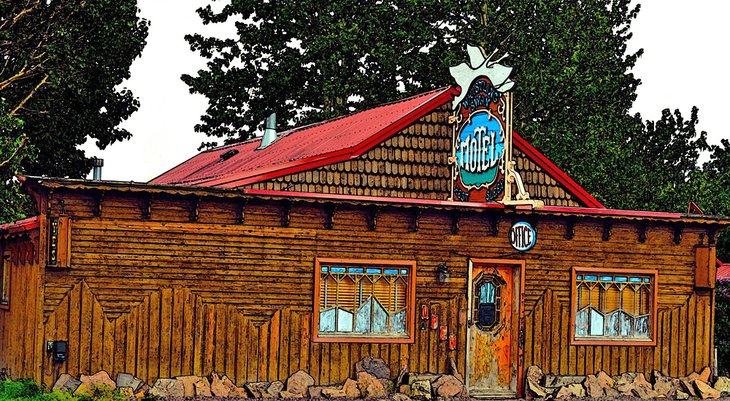 The family-owned Whistling Swan Motel is a treasured tradition for many East Glacier vacations. This long-running motel is near restaurants and the conveniences of East Glacier Park Village. The motel is also minutes from the Two Medicine entrance of the Park.
Hotels in St. Mary
10. St. Mary Lodge & Resort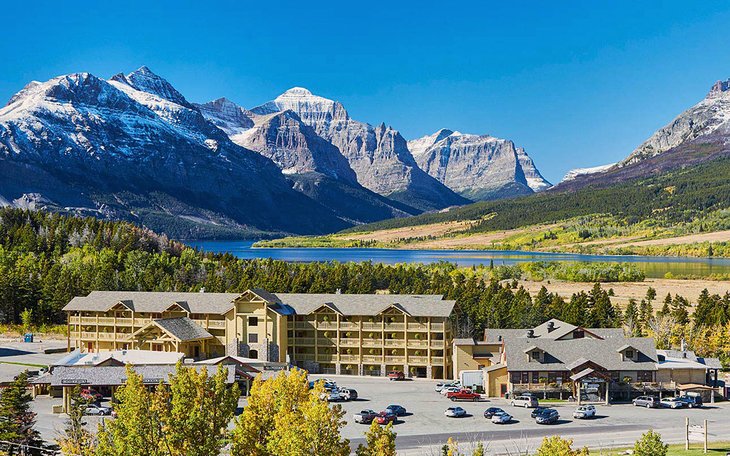 This popular lodge is near the St. Mary Entrance on the east side of the park. It features 127 rooms across seven different units and each overnight space has modern furniture and great views. With rooms ranging in price and layout between the seven units, the St. Mary Lodge facilitates several types of travel.
Hotels in Columbia Falls
11. North Forty Resort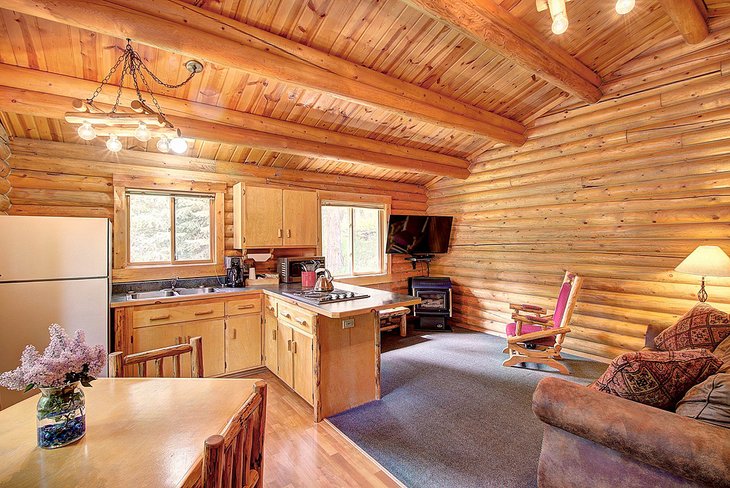 North Forty Resort is a popular place to stay, located on 40 acres in the Flathead Valley, approximately 22 miles from the West Entrance station.
The resort offers a combination of woodsy appeal and modern furnishings within its 23 individual log cabins. These fully furnished cabins have authentic log furniture and well-stocked kitchens. Most of the cabins accommodate five guests, while the largest has room for up to 10 people.
12. Cedar Creek Lodge & Conference Center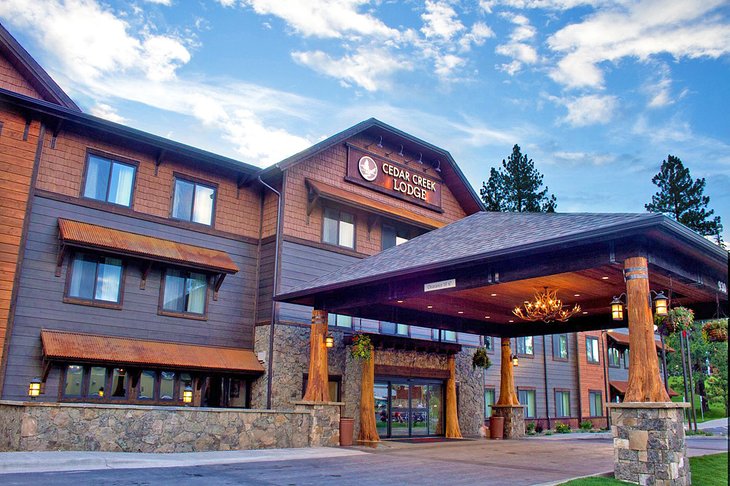 The Cedar Creek Lodge has an excellent location within Columbia Falls and the greater Flathead Valley region. Glacier National Park is a half-hour drive to the north, while other attractions like Flathead Lake and the Hungry Horse Reservoir are even closer. And the hotel reflects this nearby wild nature with a distinct lodge ambience and rustic appeal.
Hotels in Whitefish
13. The Lodge at Whitefish Lake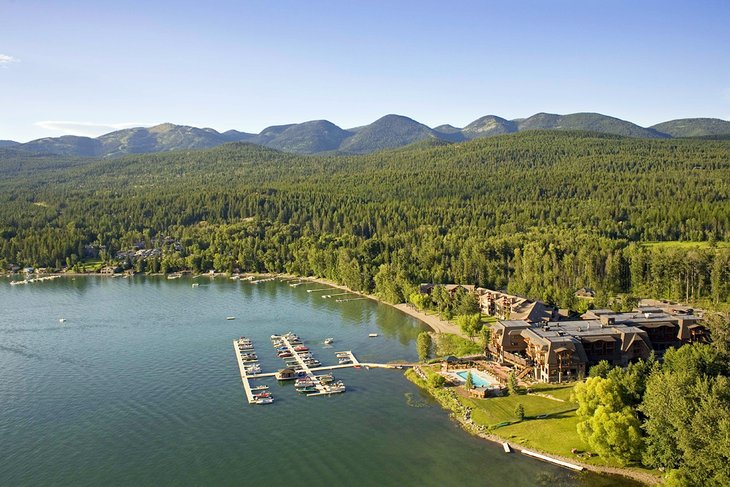 This four-star hotel is one of the most luxurious places to stay within an hour's drive of Glacier National Park. The lodge is also near many restaurants, boutique shops, and the nightlife of Whitefish. It's great for an extended Glacier vacation and the scenic surroundings of The Lodge at Whitefish Lake offer even more places to explore outside the park.
The shimmering water of Whitefish Lake is on full display from the Boat Club Dining Room at the lodge. Finger food is also available at the Lodge's Tiki Grill in the summer.
14. Hampton Inn & Suites Whitefish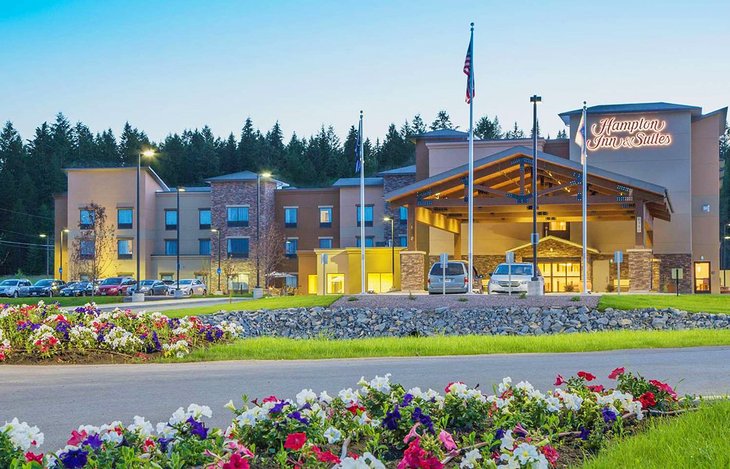 This Hampton Inn & Suites is south of downtown Whitefish and surrounded by nature. The hotel offers a free shuttle to downtown Whitefish and Glacier Park International Airport. When it comes time to visit Glacier National Park, the West Entrance and Lake McDonald are within a 30-mile drive.
15. Best Western Rocky Mountain Lodge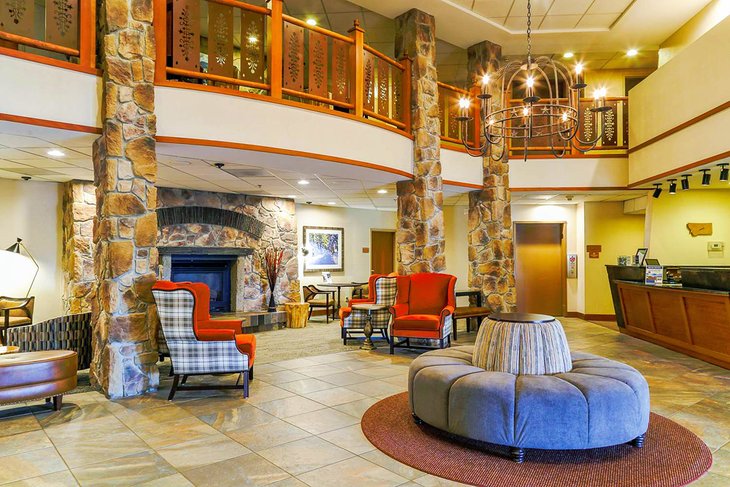 this Best Western provides Rocky Mountain appeal at an affordable value. A stylish lodge-style lobby welcomes guests the moment they walk into this hotel surrounded by mountains. The comforts continue into the rooms, with some deluxe accommodations featuring a fireplace and extra space to spread out.
Hotels in Kalispell
16. Country Inn & Suites by Radisson, Kalispell, Mt - Glacier Lodge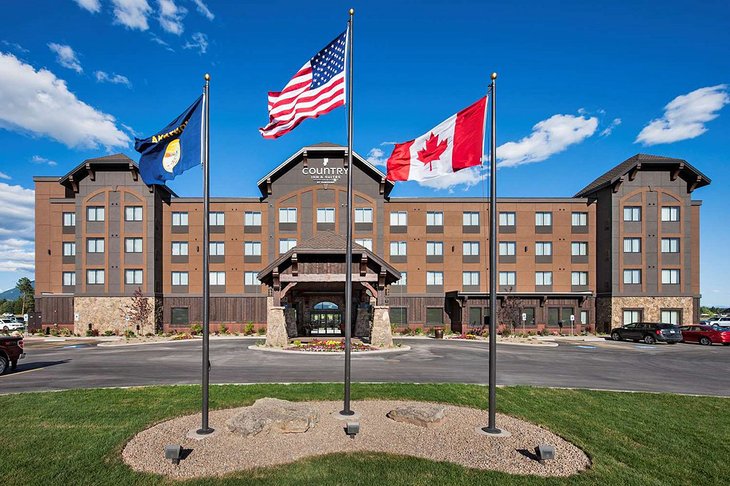 This Country Inn & Suites offers an authentic Montana experience less than 30 miles from the West Entrance of Glacier National Park. The lodge-like interior of the hotel is undeniably western, with features like a stone fireplace and log furnishings. The chic mountain decor is also throughout the property's 100 guest rooms.
17. SpringHill Suites Kalispell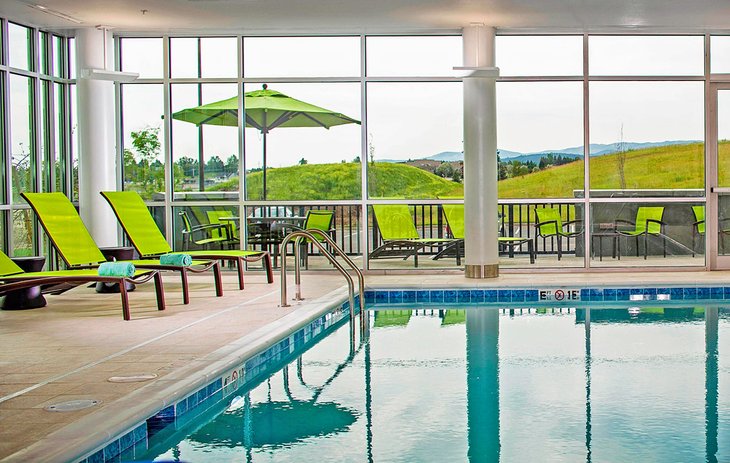 This suite-exclusive hotel in Kalispell is a 30-minute drive from the West Entrance of Glacier National Park. SpringHill Suites offers a stylish and clean place to stay with easy access to wild and rugged nature. Suites at SpringHill has either one king or two queen beds, and each room features extra living space to spread out some adventure equipment.
More Related Articles on PlanetWare.com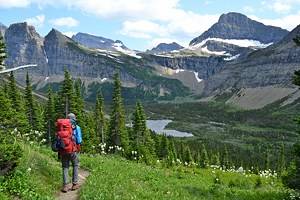 Exploring Glacier: To dive deep into the world of Glacier National Park, our guide to the best things to do in Glacier National Park is a good starting point. Hiking is one of the best and most popular activities in the national park, and the must-do hiking trails in Glacier highlight the best regions of the park. For a place to stay under the stars, the top campgrounds at Glacier National Park feature places to pitch a tent or park an RV.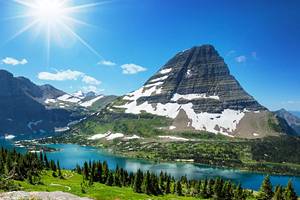 Montana Adventures: The beauty of Montana extends well beyond Glacier National Park. The top hiking trails in Montana lend a preview of all the rugged terrain to explore. Similarly, the best attractions in Montana provide a diverse number of things to do and places to visit. For camping and RV travel throughout the state, our guide to campgrounds in Montana is a valuable resource for outdoor adventures.