Where to Stay in St. Louis: Best Areas & Hotels
We may earn a commission from affiliate links ()
Like many large cities, St. Louis is made up of several distinct neighborhoods, each with a cluster of attractions and accommodation choices. First-time visitors who plan to sightsee would be wise to stay close to the downtown and riverfront area, where they are near Jefferson National Expansion Memorial Park and the Gateway Arch, among other important St. Louis attractions.
Close to Busch Stadium, this is also a good neighborhood for sports fans and concert goers for big-name events at The Dome at America's Center.
Visitors more interested in museums and in musical theater should choose the Forest Park neighborhood, west of downtown. This large park contains the museums of art and natural history; the St. Louis Zoo; and The Muni, America's oldest and biggest outdoor musical theater. Not far south of Forest park is The Hill, known for its many Italian restaurants.
Note: Some businesses may be temporarily closed due to recent global health and safety issues.
Where to Stay in St. Louis for Luxury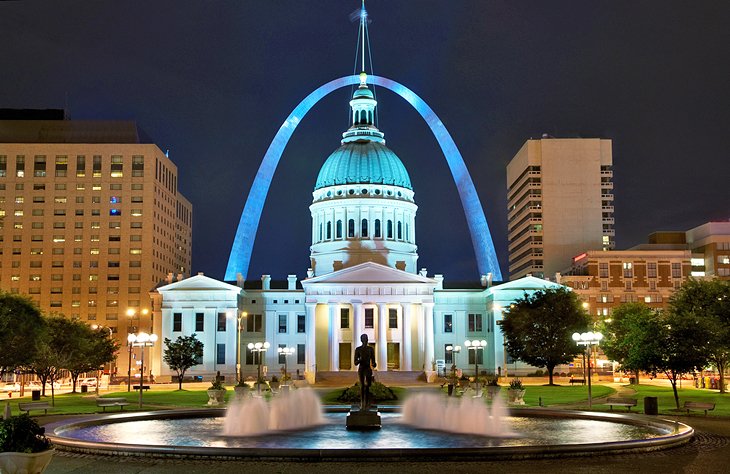 If creature comforts, superb service, and a touch of class are your top priorities in choosing a hotel, St. Louis can oblige. The elegant Four Seasons Hotel St. Louis has all the expected facilities and amenities of a deluxe hotel: a beautiful pool and terrace area; a well-equipped fitness center and workout room; a spa; and rooms with floor-to-ceiling windows, so you can enjoy views of the arch and sweeping downtown and river vistas.
Large guest rooms are furnished for comfort as well as style, with roomy arm chairs, cushy sofas, and spacious baths with deep tubs.
Service includes nightly turndown and thoughtful details like multiple luggage racks and providing child-sized robes for young guests. The location is minutes from the business district, The Dome at America's Center sports stadium, Gateway Arch, and the National Blues Museum.
In quiet surroundings west of Forest Park, The Ritz-Carlton, St. Louis is close to a Metrolink station on a direct line to the riverside and downtown areas. Forest Park's art and natural history museums, the zoo, and The Muni theater are all nearby in the lovely green space. The hotel is the picture of elegance, with glamorous chandeliers and walls of marble and deep-toned woods.
Suites are lavishly furnished in styles varying from classic elegance to chic contemporary. Bathrooms are sheathed in marble, and some suites have fireplaces and outside balconies with views of Forest Park and Gateway Arch.
Guests on the club level enjoy afternoon beverages and appetizers, light breakfast, and late evening desserts. Babysitting and children's activities make this also a good choice for families seeking luxury.
Overlooking Forest Park, a few steps from the Natural History Museum and close to the Art Museum, The Muni, and the zoo, The Chase Park Plaza Royal Sonesta St. Louis is also handy to the park's excellent public golf course. The hotel is in the Central West End, one of the city's most popular dining and entertainment areas.
The hotel itself is an urban resort, with a five-screen cinema, outdoor heated pool with poolside food service, a full spa, and well-equipped fitness facilities. Guest rooms are a nice combination of classic luxury hotel (the historic property is approaching its 100th birthday) and contemporary style.
Where to Stay in St. Louis: Mid-Range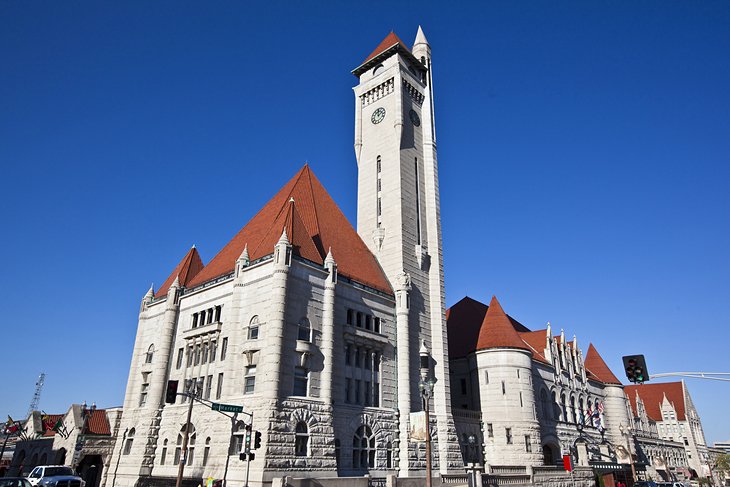 In the heart of the city, adjacent to Union Station and close to Gateway Transportation Center for those arriving by Amtrak trains, Drury Inn St. Louis at Union Station gives a lot of bang for your buck.
Not only is the generous breakfast included, so is an evening "Kick Back" with complimentary food and drinks, a selection of hot foods, which is enough for a light dinner. The lobby popcorn machine is always full, and soft drinks are available in the lobby at any time.
All rooms have microwaves and refrigerators and there's a heated indoor pool and hot tub, plus a well-equipped fitness center. The spacious lobby is decorated with models of vintage trains, conductor's uniforms, and other RR memorabilia, and its vintage architectural features have been preserved; the hotel was built in 1907 as a haven for railroad workers.
There is inexpensive secure parking, and the hotel is about a mile and a half from the Gateway Arch and a short walk from the Enterprise Center for concerts or games.
In the beautiful Forest Park area, Hampton Inn & Suites St. Louis at Forest Park is only three blocks away from the St. Louis Zoo and close to the science center. It is especially easy to access for travelers arriving via I-64, which runs alongside the park.
A plus for foodies is the hotel's location close to The Hill and its Italian restaurants. Good shopping is just a few streets away. The hotel's heated indoor pool, free parking, fitness center, and included breakfast with hot and cold selections are added bonuses to its moderate rates.
Right at the end of the park where the Gateway Arch is located, the Hampton Inn - St. Louis Downtown at the Gateway Arch couldn't have a better location for sightseeing. The National Blues Museum is up the street, as is The Dome at America's Center, and it's right at an exit from I-44.
The Metro link, with a direct line to Forest Park attractions and the airport, is two blocks away. The hotel has a heated indoor pool, fitness facilities, and a restaurant. Breakfast is included. For an extra treat, ask for a room overlooking The Gateway Arch.
Where to Stay in St. Louis on a Budget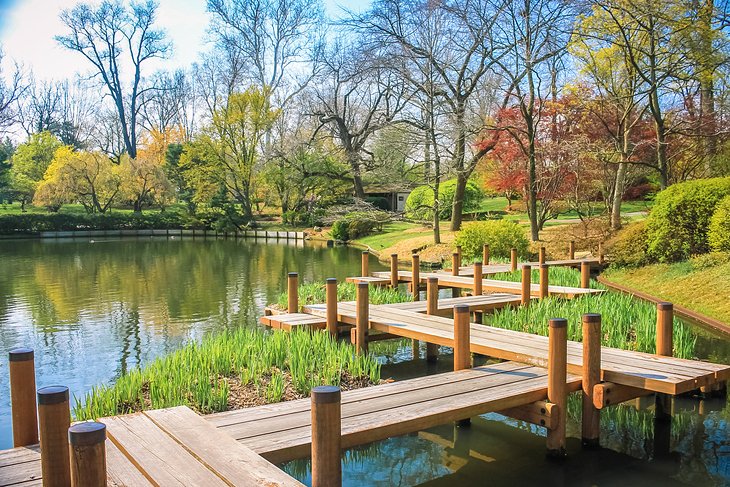 About a 10-minute drive from downtown and with direct access off I-44, the Red Roof Inn Plus St. Louis-Forest Park/Hampton Avenue is a few blocks south of Forest Park in The Hill neighborhood, a noted destination for Italian dining. The hotel has free parking, and a direct bus to downtown is just $3 for an all-day ticket.
Rooms at the Red Roof are comfortable, if plain, and the service is genial. For a bit extra, you can add some luxuries in a Premium Room: a business workstation, five-setting shower head, a larger flat screen TV, iron and ironing board, hair-dryer, coffee maker, microwave, refrigerator, and a snack box.
Closer to downtown, a block from the beautiful Lafayette Park and an I-44 interchange, is Hotel Avyan, a former Holiday Inn Express, with basic but comfortable rooms and free parking. The hotel is within easy reach of the Missouri Botanical Garden, the Arch, the Soulard District, and the ballpark.
Rooms are air-conditioned and have free Wi-Fi, as well as microwaves and refrigerators. King rooms are larger, with work desks, large bathrooms, a spacious vanity, and hair dryer. There are good restaurants and shops in this area.
In Berkeley, near the St. Louis-Lambert International Airport, the Travelodge by Wyndham St. Louis is a good choice for those arriving or leaving by air. It's 18 minutes from downtown by I-70, and you can take a direct Metrolink line from the airport to Union Station, the convention center, and downtown attractions.
The hotel has only two stars, but rooms are spacious and nicely decorated for a budget hotel and it offers free parking, Wi-Fi, and breakfast. Rooms have hair dryers, ironing boards, microwaves, coffee makers, and refrigerators and there is a laundry for guests' use.
Where to Stay in St. Louis for Families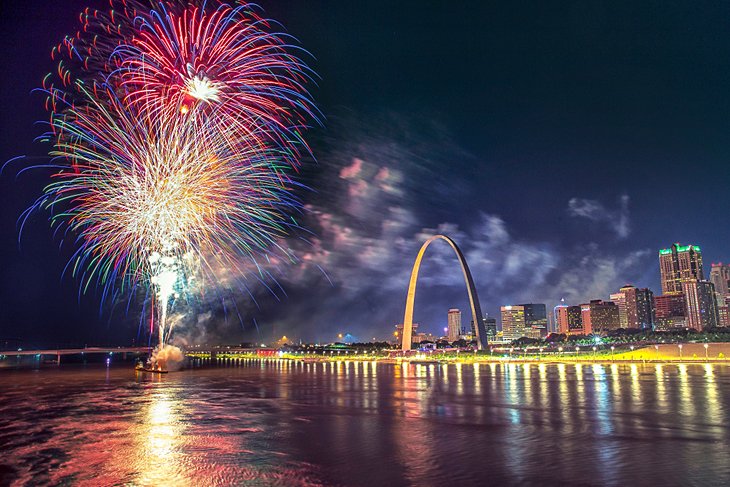 As the name suggests, the Drury Plaza Hotel St. Louis at the Arch is within easy walking distance of the Gateway Arch, as well as to Busch Stadium, the riverfront, and the beautiful City Garden. Kids especially enjoy the one-hour Riverboat cruise on the Mississippi, which you can board at the Arch.
Many rooms overlook the Arch, and the hotel is surrounded by restaurants. You can walk or ride the trolley to the City Museum, a must for kids when visiting St. Louis.
Well-decorated, comfortable rooms have microwaves and refrigerators, and there's a heated indoor pool, hot tub, and fitness center. A good hot breakfast is included, and there's a self-service laundry. A real plus for budget-watching families is the evening "Kick Back" hour, with complimentary food that includes such options as a taco bar, chicken tenders, and pasta dishes.
There's always complimentary fresh-popped popcorn and soft drinks in the lobby. For a special treat for the kids, take a ride through the city on one of the horse-drawn carriages that line up in front of the hotel in the evening.
Locations don't get much better than the boutique Magnolia Hotel St. Louis, halfway between the Arch and the City Museum, two of the top tourist attractions for children in St. Louis. For concert-goers, it's close to the Dome at America's Center, and for music lovers, the National Blues Museum is a block away. Family-friendly restaurants are all around the hotel.
Although it originally opened in 1924 and is on the National Historic Register of Historic Places, the Magnolia has a contemporary feel. It offers regular rooms and suites, which have large rooms separated by French doors, perfect for families.
Public areas have beautiful original ceilings, antique architectural features, and crystal chandeliers, complemented by chic, contemporary furnishings for an updated grand hotel feel. But it's the complimentary cookies and milk before bedtime that the kids will remember longest.
Where to Stay in St. Louis for Romance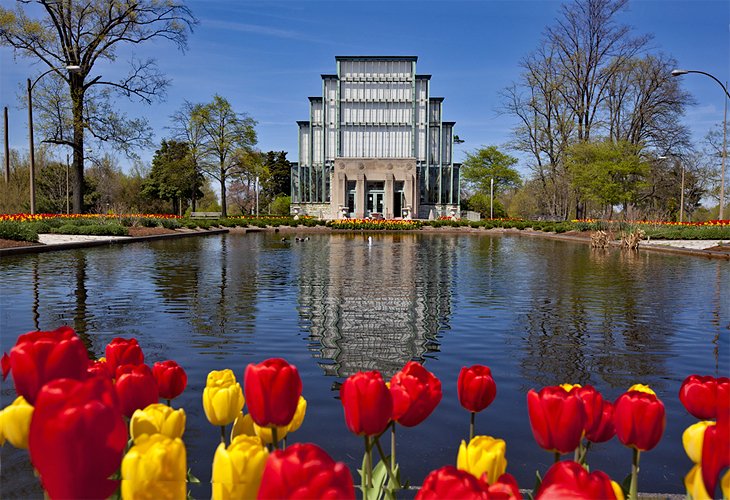 In the heart of downtown and close to the Gateway Transportation, the St. Louis Union Station Hotel, Curio Collection by Hilton is in the brilliantly re-purposed former Union Station. The Grand Hall of the rail station is now the magnificent hotel lobby, resplendent in stained glass and beautifully restored painted detail.
Several times each evening there are free laser light shows here and evening hourly pyrotechnic shows synced to music in the outdoor pond behind the hotel.
Rooms are stylishly decorated with beveled mirrors, plush chairs, and love seats, and the public areas have vintage tile work, sculptured ceilings, molded archways, and antique architectural features and decorative details. The pool area has a glass ceiling and cabana tents. If your romantic night out is in need of some sophistication, the Peabody Opera House is close by.
Add some whimsy to a romantic getaway with a quick trip to England, at The Cheshire, right at the edge of Forest Park, opposite the Hi Point Theater and handy to the exit off I-64.
Couples will enjoy the mix of updated country-house décor and smart contemporary, with each room themed around a British author, a particular book, or character. Choices include Passage to India; PD Wodehouse; Death on the Nile; Romeo and Juliet; the Sherlock Holmes Suite; or the James Bond Suite, with mod 1960s décor.
The British inn theme carries throughout the property, decorated in heraldic crests, stained-glassed windows, brass work, and rich wood tones. The pool is in an atrium, surrounded by comfortable upholstered sofas and sun loungers; the half-timbered walls and diamond glass-paneled windows give it the feel of an old English courtyard.
The inn's Boundary restaurant has evocative lighting and well-spaced tables for romantic dining.
Where to Stay in St. Louis near the Airport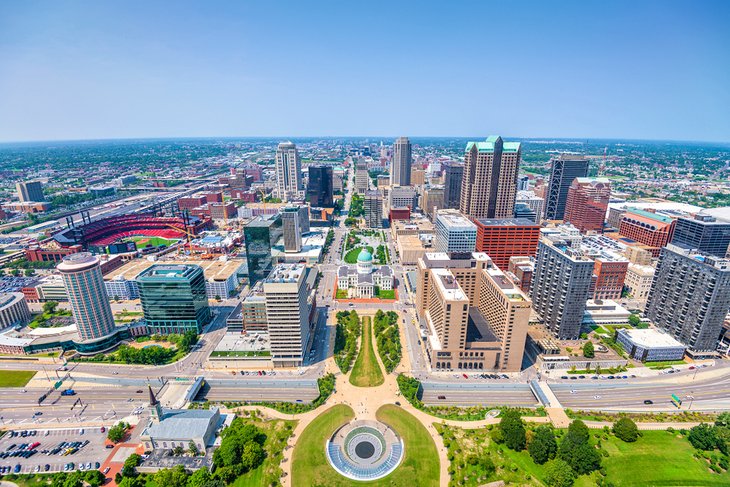 Lambert-St. Louis International Airport is a busy airport with many late night or early morning flights. If you have one to catch, it can make sense to book a hotel that is near the airport. Luckily there are a number of options for various budgets near the airport.
Try the Hampton Inn St. Louis-Airport for a clean and comfortable mid-range sleep. The rooms and suites have floor-to-ceiling windows and colored accent walls. Airport transport is complimentary. As is the breakfast each morning. Other amenities include a swimming pool, business center, and fitness room. The hotel is also pet friendly.
The Pear Tree Inn St. Louis Airport is another budget conscious good choice near the airport. It also features a free morning breakfast and complimentary airport transport. Rooms are tidy and come with comfy beds and modern style. Some have fireplaces. There is also a swimming pool on-site, workout room, vending machine, and bike rental. If you're traveling with a dog, the hotel is pet friendly.