Where to Stay in Mexico City: Best Areas & Hotels
We may earn a commission from affiliate links ()
Surrounded by white-capped mountains, vivacious Mexico City captivates at an altitude of more than 2,200 meters. For tourists, the best place to stay is in Zocalo or Centro Histórico de la Ciudad de México, a UNESCO Heritage Site and the oldest North American city, where you will find numerous hotels in every category. From here, you can explore more than 1,400 antique structures and monuments, as well as artisan shops, eateries, Templo Mayan ruins, and sprawling parks such as Chapultepec Park.
Another area to consider, especially if you're just passing through the city and traveling elsewhere, is near Mexico City International Airport, where there are a number of quality mid-range and luxury hotels.
Like a phoenix rising from the ashes of a former Aztec hub, contemporary Mexico City bubbles with the energies of multiculturalism inlaid with a veneer of Pre-Columbian tradition and Baroque architecture. From the hip bohemian neighborhoods of Roma and Condesa to the heritage-rich sightseeing zone of Polanco, with world-class museums, fashion boutiques, and Aztec curiosities, Mexico City's strength remains its mysterious layers of intrigue, spirit, and heritage–perfect companions across all traveler demographics. Don't miss the Paseo de la Reforma and Zona Rosa for memorable souvenirs.
On This Page:
Where to Stay in Mexico City for Luxury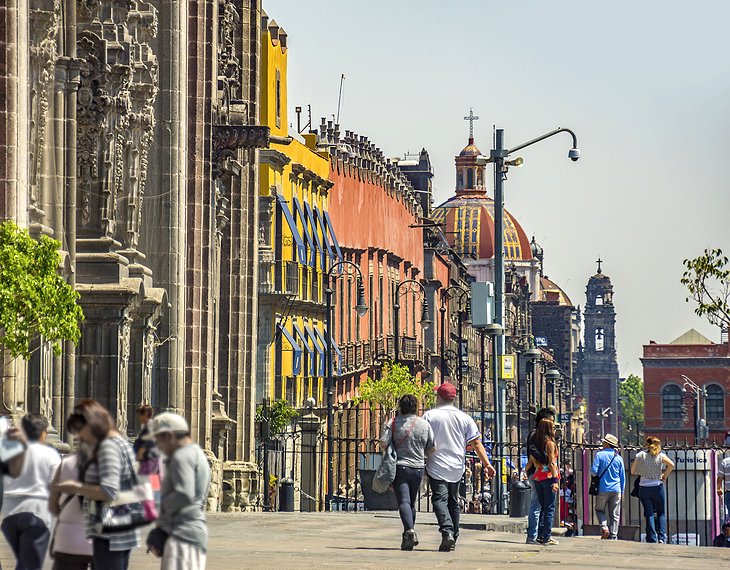 Feel the elegance of history embrace you upon entering Gran Hotel Ciudad de Mexico, replete with gilded Gustave Eiffel elevator cages, ornate balcony filigree, colossal stained glass skylights, and a mood spiked with savvy know-how to serve sightseers, business moguls, or the literati.
Enjoy the view over Centro Histórico de la Ciudad de México from their 5th-floor terraced dining area, watch the lobby floor show day or night, or ask the concierge about vintage shops nearby for collectables. Five-star service makes this "grand dame hotel" memorable.
If security is high on your mind, Las Alcobas is the best address in Mexico City. The upscale Polanco location, near embassies and the president's abode, is replete with visible security personnel.
Discover high-end fashion boutiques, as well as award-winning eateries and Chapultepec Park, one of the largest city parks in the Western Hemisphere and a superb place to stroll, picnic, visit the zoo, or meander through the Modern Art Museum.
Enjoy posh designer bedroom threads and organic bathroom amenities, along with a complimentary breakfast, and don't miss the spectacular view from their pool over the city.
The St. Regis Mexico City maintains its stately one-hundred-year-old posture over Paseo de la Reforma, now led by an incomparable 24-hour butler service. This is a smaller Polanco area hotel by some standards at only 189 rooms and suites, and staff thrives on responding to the patrons' every whim.
It is centered immediately in front of the Glorieta de la Diana Cazadora, a popular meeting spot between Chapultepec Park museums, the Polanco business district, and the hip Zona Rosa boutiques and curiosities.
Recently opened, the Sofitel Mexico City Reforma has a great central location right on the famed Avenida Paseo de La Reforma. The French luxury branded hotel offers elegant chic rooms and suites, many with panoramic city views from floor-to-ceiling windows. Rooms also have Nespresso machines and mini-fridges.
On-site amenities include an indoor swimming pool, a spa with a sauna, two restaurants, and a gym. If you are traveling with a dog, the hotel treats pups like royalty.
Where to Stay in Mexico City: Mid-Range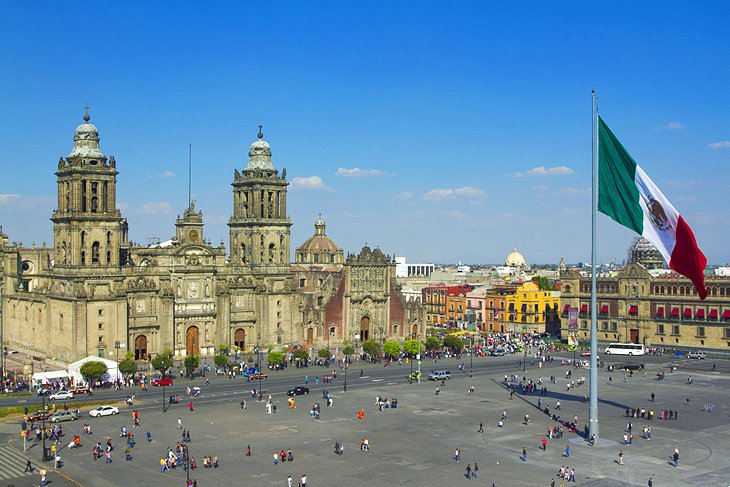 Zocalo Central is located at the core of the city, within easy access by foot to sightseeing enticements, plus it is regaled for its spectacular view of Zocalo Square and the surrounding mountains from their rooftop restaurant.
More than one hundred refurbished air-conditioned rooms and suites are decked out for families, groups, or singles, with a fresh palette of soothing colors, clean design lines, and helpful conveniences. Room service never closes, neither does the on-site gym. Free Wi-Fi and parking underline the savings here.
Hampton Inn & Suites Mexico City - Centro Historico is a stunning heritage edifice on the exterior but fully equipped family, group, or couple accommodation on the interior. It is a walkable jaunt to sensational cultural sites, such as the Templo Mayan ruins, lively squares, and a major library. Buffet breakfast is included in their rate, and together with revitalized digs and free Wi-Fi, this property is one of the best deals in town.
Historico Central is the classic tale of Aztec traditions meets contemporary global lifestyle, as this stately 300-year-old Zocalo area structure serves today's travelers with 24/7 assistance. Wander through the Centro Historico de la Ciudad neighborhood to discover sightseeing at its finest, then return to an inviting ambience led by Café Central, where families, groups, couples, or single guests may nourish themselves while surfing on house iPads.
Where to Stay in Mexico City on a Budget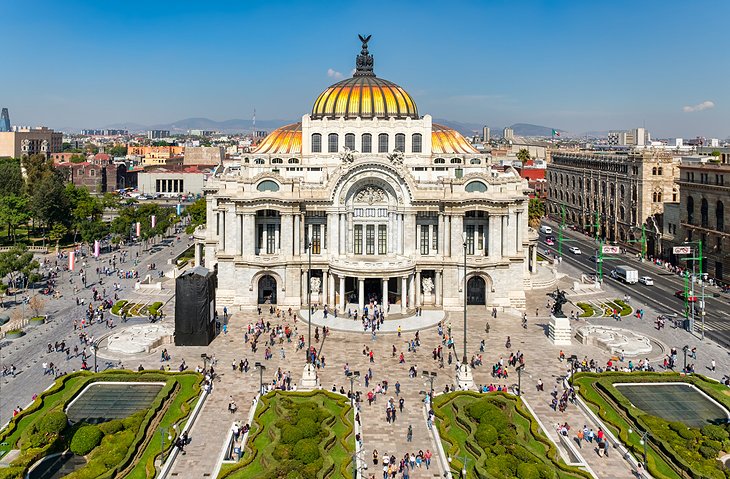 Fiesta Inn Centro Historico is near the cathedral; fronts Plaza de la Solidaridad; is caddy-corner to the largest city park, Alameda Central; and right next door to the Palacio de Bellas Artes, a combo concert hall/museum featuring captivating murals by Diego Rivera. The main floor here is a mall with boutiques and a coffee shop, while upstairs the rooms are spacious, comfortable, well-appointed, and clean.
One Ciudad de Mexico Alameda fronts a legendary park once favored by the upper classes and is within meandering distance to Zocalo Square, Palacio de Bellas Artes museums, eateries of every stripe, the subway, and shops galore. Small, clean rooms await travelers, who will love the friendly staff, breakfast buffet, and free coffee and water anytime in the lobby.
Ibis Styles Mexico Zona Rosa embraces patrons in their trendy Zona Rosa bohemian neighborhood, a few blocks from Paseo de la Reforma and directly across from the subway. Hip décor throughout leads to neat, well-equipped rooms with free Wi-Fi, while the "hood" is a never-ending flow of artists, intellectuals, and ex-pat characters weaving an entertaining tapestry.
Where to Stay in Mexico City for Families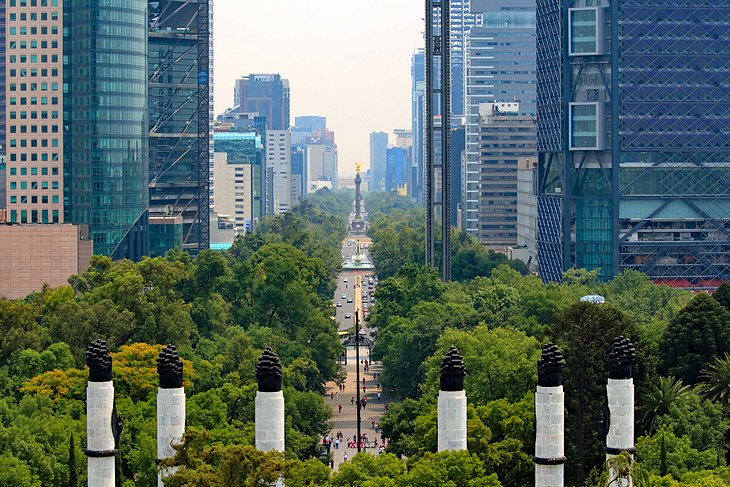 JW Marriott Hotel Mexico City is an elegant family choice for traveling broods seeking a safe, modern setting in the beautiful Polanco quarter. Chapultepec Park is within a short saunter. The hotel overlooks Winston Churchill Gardens, and Lincoln Park is one block away, featuring a pleasant outdoor concert bowl. Five-star service headlines an impressive inventory of amenities sure to keep families entertained and nourished.
Marquis Reforma Hotel & Spa overlooks Paseo de la Reforma near the famous Fuente de la Diana Cazadora statue and fountain, situated perfectly for a family visit to the zoo, wax museum, Chapultepec Castle, and the MUCHO Museo del Chocolate. Innovative rooms highlight stunning architecture, and with the support of a well-informed and courteous staff, a certain vintage charm lingers against a vibrant and fun backdrop.
Where to Stay in Mexico City for Romance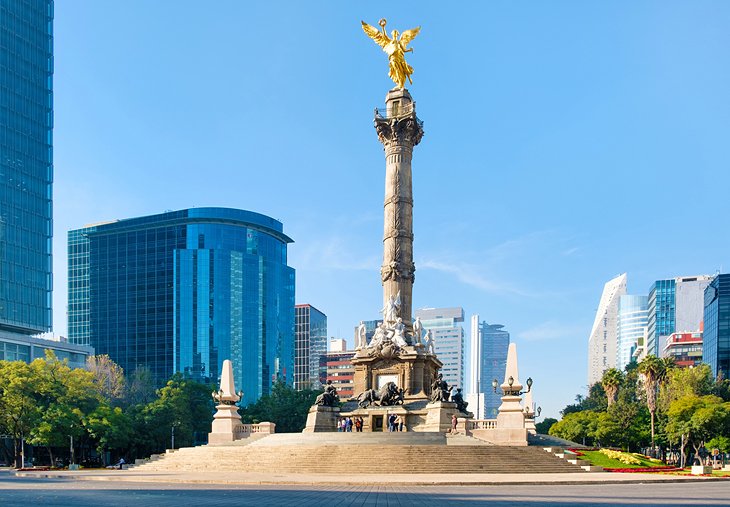 Four Seasons Hotel Mexico City occupies a magnetic perch along Paseo de la Reforma, especially on Sundays, when vehicle traffic is forbidden, allowing bikes and pedestrians to reign. Highlighted by a romantic interior courtyard, this heritage redux neighbors the bohemian district called Condesa and the high fashion shopping district of Polanco.
Sparkling fresh materials dress 240 rooms, including 40 suites, all with marble bathrooms, free Wi-Fi, and the professional services of a spa team ready to soothe. Meander the avenue to take in fascinating sightseeing, like the compelling sculpture El Ángel de la Independencia, or nourish yourself and your loved one with complete in-house comforts.
Live Aqua Urban Resort Mexico captures both the imagination of guests and their sensory selves. Hidden away in the posh high-rise neighborhood called Bosque de las Lomas (forest of hills) and connected to a dynamic shopping mall, this award-winning "green" property presents 135 exquisite rooms and suites, each designed and decorated with elegance, poise, and enchantment.
This is a dreamy location for lovers of life to indulge, relax, and allow the creative leisure team to pamper your every request. The cuisine, spa, gym, and service are all top-notch, and the hotel even offers aromatherapy.
In the trendy Condesa neighborhood, walking distance from many excellent restaurants and across the street from one of Mexico City's most romantic parks, Casa Mali by Dominion is another good choice for couples.
The boutique property has Art Deco flair and a mix of suite and studio accommodations. Breakfast is included. There is a hot tub and sauna on-site. If you are traveling with a pet, the hotel is dog friendly.
Where to Stay in Mexico City near the Airport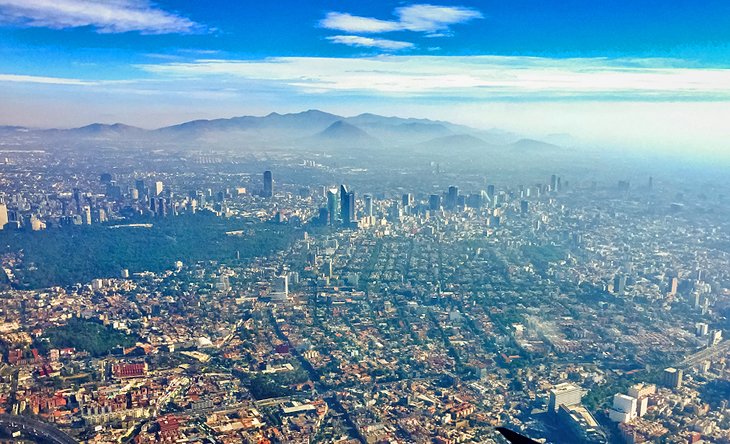 Hilton Mexico City Airport is right inside Mexico City International Airport's Terminal 1, making it super convenient for catching very early flights. The hotel also runs a free shuttle service to Terminal 2 if you are departing from here.
The rooms are well-maintained, with comfy beds and desk space. They also come with free Wi-Fi. For families, the suites have pullout sofas in the sitting area. On-site amenities include a restaurant and workout room. Parking is available for a fee.
Also in Terminal 1 at the airport is the popular Courtyard by Marriott Mexico City Airport. This hotel features spacious rooms and suites with soundproof windows and a contemporary vibe, with white walls and linens on comfy beds juxtaposed against wood bed frames and work desks.
For families, book one of the two-room suites with a pullout sofa in the living space. Wi-Fi is complimentary. There is an on-site restaurant serving both local and international fare and a fitness center that stays open 24 hours a day.
The four-star Fiesta Inn Aeropuerto Ciudad de Mexico is located just across from the airport and runs a shuttle between itself and the terminal every 30 minutes–coming from the airport head to the number 4 door in Terminal 1 or to the front of national arrivals in Terminal 2 to catch the shuttle to the hotel.
The Fiesta Inn offers clean and comfortable rooms in a variety of sizes. Some come with private balconies. There are also family rooms with separate living space, microwaves, and mini-fridges. The on-site amenities include a garden area with an outdoor swimming pool, a gym, and a restaurant serving international fare.