Where to Stay in Cancun: Best Areas & Hotels
We may earn a commission from affiliate links ()
There are two areas of Cancun where hotels are located, but should stay on the island section called Zona Hotelera for ultimate waterfront charm. Here, the major attraction is 14 miles of white sandy beach on a laguna-backed finger of land, studded with sea-view hotels for families, groups, couples, or singles seeking fun in the sun. Most lodging on the island is located along Kukulkan Blvd, itself sprinkled with golf clubs, restaurants, malls, and shops.
The other choice is El Centro, the more typical downtown area on the mainland. Visitors come here for sightseeing, shopping, and local dining plus shopping at Mercado 28, watching a bullfight at Plaza de Toros, or seeing a movie at Plaza las Americas.
On This Page:
Where to Stay in Cancun for Luxury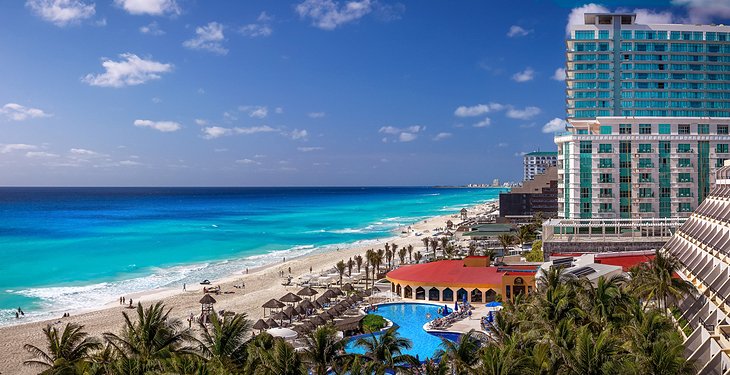 Secrets The Vine Cancun sets the comfort bar extremely high for luxury digs. From the inviting sweep of artful design elements to the impact of the décor palette, maximum effort is successfully mounted to embrace, nourish, and thrill the senses.
The Ritz-Carlton, Cancun continues their legacy with five-star service, sprawling across the long, white sandy beach like a castle of dreams. This magnificent hotel dignifies guests with a bonanza of the best amenities: from 400-count Egyptian cotton bed linen and goose down pillows and comforters to twice daily housekeeping visits, 24-hour in-room dining, and marble bathrooms.
Presidente InterContinental Cancun Resort is among the best deals on a luxury property in Cancun. Located near the start of Zona Hotelera, on a perfect white sandy expanse of beach, overlooking the Caribbean's azure waters and Isla Mujeres, this property simply makes guests feel deeply relaxed, spoiled, and entertained with a wide menu of attractions, amenities, and entertainment options. The lush greenery of their manicured grounds even smells dreamy.
Where to Stay in Cancun: Mid-Range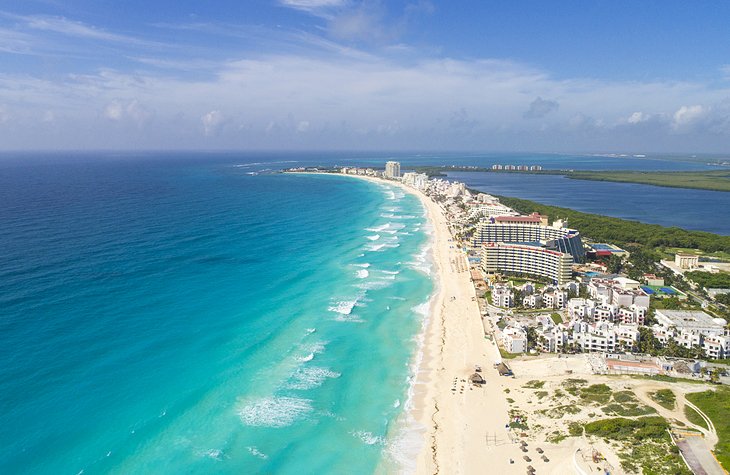 The Royal Islander All Suites Resort is a fabulous family bargain and very near the Maya Museum, one of the most entertaining sightseeing secrets of Cancun and a great place to watch the sunset. Offering full use of their Royal Caribbean sister property's five-star services, staying here is like an irresistible 2-for-1 deal of delights for the whole family.
Beachscape Kin Ha Villas & Suites is perched in the first section of Zona Hotelera, and offers its guests a multitude of fun options to suit everyone's needs. One-, two-, or three-bedroom units make it possible for families to stay as a troop, while frontage on calm ocean waters allow parents to truly unwind, and being a smaller hotel, staff have extra time to attend to guest needs.
Cancun Bay Resort dresses Linda Beach up to serve families, groups, and couples with an all-inclusive, value-added menu of offerings (ask about their adult-only Jacuzzi and popular romantic candlelight dinner). Surprisingly attentive staff offer a wide range of helpful suggestions, while live nightly shows increase the enjoyment factor, and close proximity to El Centro adds to an already idyllic location on a stunning beach beside a yacht quay. Dining options abound on-site, and there is a ballroom for celebration gatherings, a spa for those much-needed massages, and ping-pong tables.
Where to Stay in Cancun on a Budget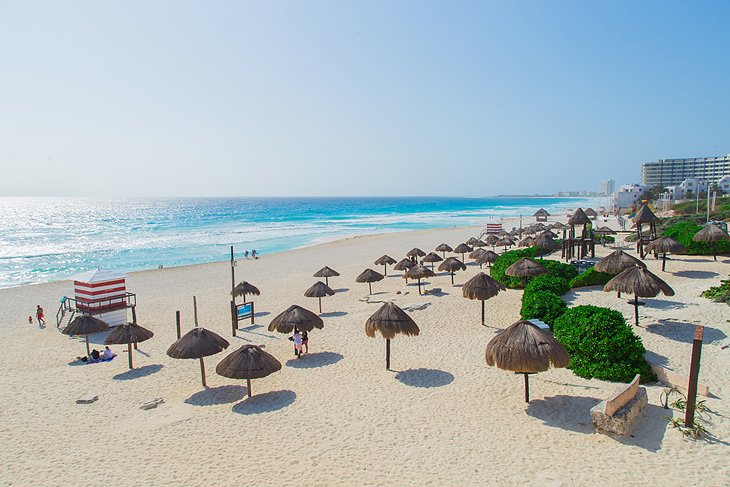 Selina Cancun Laguna assembles some of the finest of Cancun's attractions, amenities, and features for the best price. Situated on a unique peninsula-within-a-peninsula, overlooking the Nichupté Lagoon, this resort borders a fun strip of entertainment sites midway along the Zona Hotelera, including a large fresh produce market. Many of the clean, well-equipped rooms here overlook the lagoon and come with arched wooden shutters, so it's possible to eliminate all light for a sound sleep.
Aloft Cancun is ablaze with fresh designer looks throughout, including expansive common areas, inviting rooms, and brilliant color schemes. Attracting a more hip clientele, this hotel is close to the Cancun Convention Centre, boasts a rare rooftop pool area, yet is also close to the beach, shopping outlets, and evening distractions galore. There is even a grocery store immediately next door.
Hotel Faranda Imperial Laguna Cancun is a small basic lodging on the lagoon area of Zona Hotelera but comes with easy bus access to their sister property, Dos Playas, which is directly on the 14-mile white sandy beach near the turtle tour ferry terminal, adventure amusement center, and bungee ride. Being allowed to use the beach area and take advantage of the fun distractions available, makes this hotel a smart, cost-saving option for budget travelers.
Where to Stay in Cancun for Families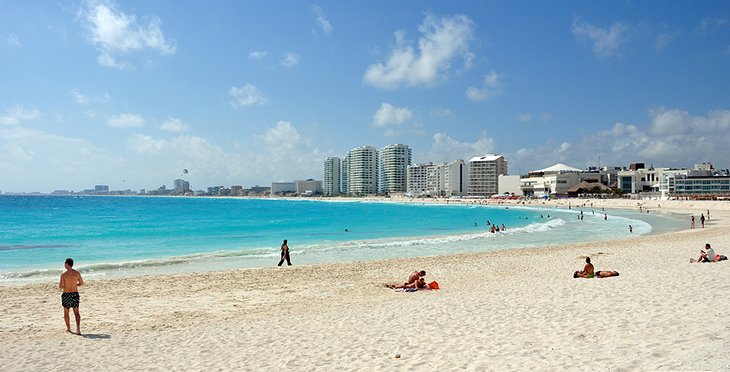 Club Med Cancun Yucatan is among the most popular all-inclusive locations to book for your family vacation in Cancun. Lavish amenities and dining choices keep the adults happy day and night, while a mammoth inventory of activities entertain younger ones, including tennis, swimming, archery, basketball, diving, and much more. This Club Med also offers cultural tours and some of the best excursions to El Meco ruins.
Grand Fiesta Americana Coral Beach Cancun is the essence of this popular international destination and graces the active Zona Hotelera entertainment district with its magic recipe of sophistication, adventure, and service. Headlining a rare private beach, this massive resort boasts five-star service for all ages, including the kids, and even offers babysitting.
A dynamic spa team takes care of soothing the parents, while the younger citizens get to explore more than 40 activities with the Coral KidZ Club (ask about NEOS electronics combining video games and aerobics).
Another family friendly option in Cancun is The Grand at Moon Palace on the more quiet south shore, just 10-minutes from the airport. The luxe all-inclusive hotel has lots of family amenities including a kids play zone with bumper cars, climbing ropes course, and glow-in-the-dark mini golf among other activities. There is also a bowling alley on the grounds and water features from slides to a wave pool and lazy river.
Rooms come in a variety of sizes including some with swim-up access. Suites add living space for the kids. There are 10 restaurants and all meals are included. The resort is right on the beach and has paddleboards and kayaks available for guests to use free of charge.
Where to Stay in Cancun for Romance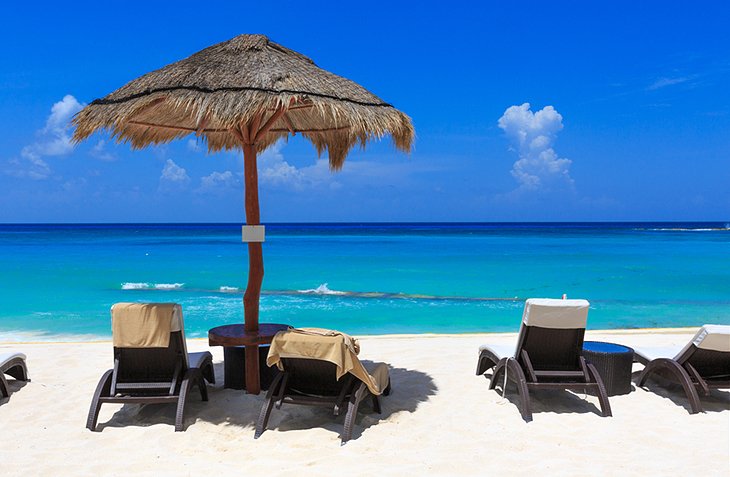 Le Blanc Spa Resort exceeds most visitors' expectations, and with a popular adults-only policy, beckons the romantics from every corner of the globe. Whether booking your wedding group or simply a much-needed spa resort escapade with your favorite other half, this property is obviously out to impress.
Take the wellness center, for example, nourishing guests with hydrotherapy sessions, a variety of massage techniques, or their beauty salon makeovers. Or treat yourselves to the sublime romance of in-room fine dining 24 hours per day, capped by indulgent desserts.
JW Marriott Cancun Resort & Spa boasts prime white sandy real estate framed with a rich garden, plus a bonanza of well-priced guest offerings. Suites are chic and adorned with an exhaustive chorus of amenities sure to service and soothe even the most traveled partner. Dining options range from casual to refined, while the mythical Caribbean waters sparkle from private balconies, and time seems to have disappeared.