10 Top-Rated Resorts in Rosarito
Just 40 minutes from the California border with Mexico, Rosarito is one of northwestern Baja's most beloved beachfront locations. Known for its beautiful beaches, epic surf, fantastic restaurants, and oceanfront resorts, Rosarito has been a popular vacation destination for both residents of Mexico and those from the U.S. and Canada.
It's easy to find a resort for every style and budget in Rosarito. From historic beachfront resorts that have played host to celebrities and A-listers to more affordable, yet comfortable, city resorts, Rosarito is well-equipped to handle any type of traveler. You'll find everything from massive mega resorts to more intimate and quiet boutique hotels, too.
Condo-style hotels are the norm here, with rooms having fully equipped kitchens and laundry facilities. It's not difficult to get comfortable in Rosarito.
Take a look at our list of the best resorts in Rosarito to help spark inspiration when planning your next Baja California beach getaway.
1. Rosarito Beach Hotel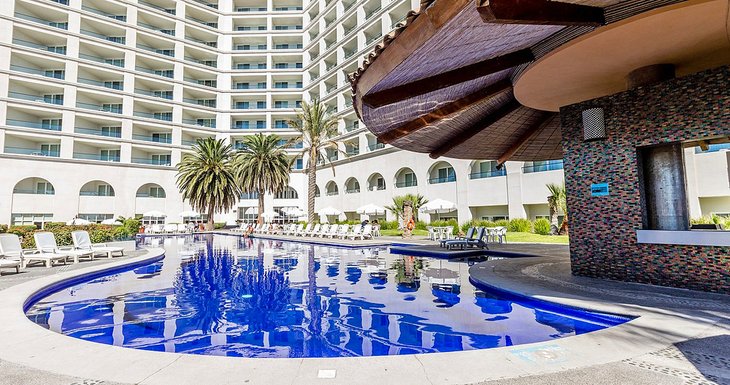 Accommodation: Rosarito Beach Hotel
The Rosarito Beach Hotel is one of the most famous and recognizable resorts in Rosarito. Opened in 1924, it has played host to a long list of A-listers, which has included everyone from international glitterati (like Frank Sinatra and Marilyn Monroe) to presidents of the United States. In fact, it is said that the birth of Rosarito Beach began with this resort.
The hotel features 500 rooms spread across three towers that overlook the Pacific Ocean, though some may feel a bit dated. All feature balconies and flat-screen televisions, while suites have kitchenettes. Suites also have separate showers and tubs. Most rooms, however, have phenomenal ocean views.
Rosarito Beach Hotel is known for its location and wonderful amenities. In addition to a picture-perfect beachfront location, the resort has an outdoor pool and hot tubs, as well as a gym and a beautiful spa. The Casa Playa Spa is packed with history, with much of the design and decor dating back to the heyday of the 1930s. When guests book any spa service, they have access to the sauna, steam rooms, and Jacuzzi, as well.
Dining options include the Azteca Mexican restaurant, as well as Chabert's, which is an absolute treat. Chabert's is a fine-dining restaurant set within the hotel owner's 1935 mansion. It's a step back in time to the age of old-world glamor, with menu highlights including Caesar's Salad (individually prepared), and a decadent Chateaubriand.
Address: Blvd. Benito Juárez 31, Playas Rosarito, 22710 Rosarito, B.C.
2. Las Olas Resort & Spa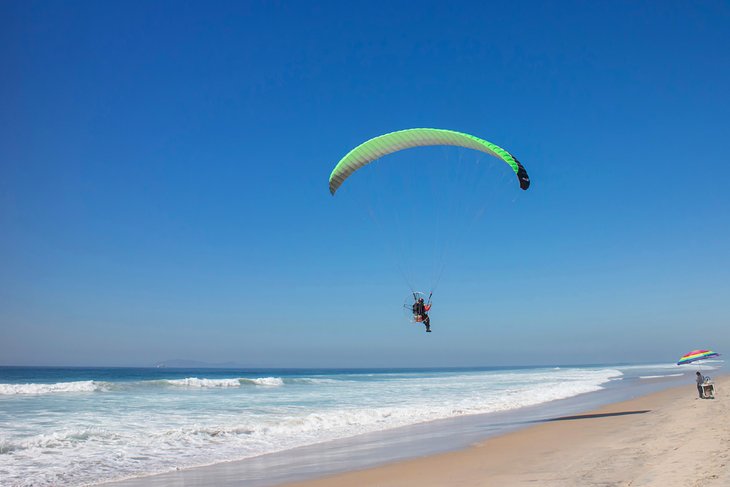 Accommodation: Las Olas Resort & Spa
A bit outside of downtown Rosarito, Las Olas Resort & Spa is blessed with some of the best views in the area. The upscale resort features condo-style rooms with a beautiful beachfront location.
The vibe at Las Olas Resort & Spa is laid-back, yet chic and comfortable, with lots of natural light and beautiful views. The outdoor features here are what really make this property pop, like its fire pits and outdoor pools.
Rooms are configured in two and three bedrooms, all with separate living rooms, fully equipped kitchens, and furnished balconies. Ask about which rooms feature private infinity pools.
What keeps guests coming back time and time again is the location, though at a 20-minute drive from downtown Rosarito, you may want to consider renting a car if you plan to go back and forth to the city. The beachfront here is quite beautiful, and the sunset scenes are next-level.
Every room has a kitchen, but the resort does provide an on-site restaurant, which serves breakfast, lunch, and dinner. Other amenities include a spa and fitness center.
Address: C/ Libre Rosarito-Ensenada Km. 35.16 , Rosarito , Mexico , 22710
3. Vista Hermosa Resort & Spa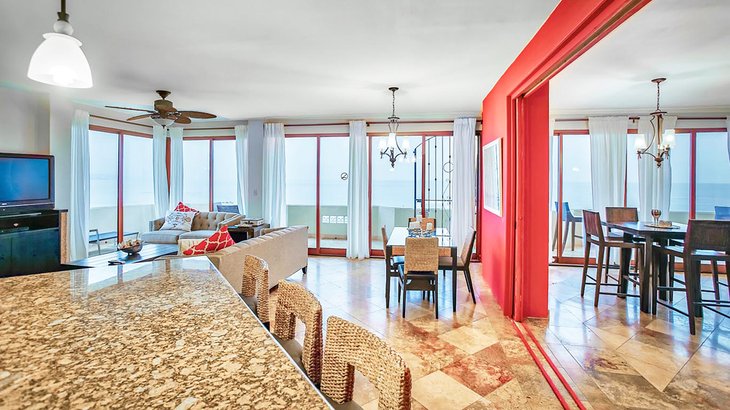 Accommodation: Vista Hermosa Resort & Spa
Vista Hermosa Resort & Spa is an oceanfront condo-style resort, with fantastic views and top-notch amenities. With a beachfront view and a large variety of room types, this top Rosarito resort has a little something for everyone.
Rooms begin with studios, which have ocean views and balconies. Casitas are a bit larger, with living rooms and kitchens. Plaza rooms are even larger, with living rooms and kitchens, as well as a private plaza area, and villas are expansive, with fireplaces, kitchens, outdoor furniture, and ocean views. The resort also has condos, Junior Penthouses, Executive Suites, and a Presidential Suite.
While most rooms do have kitchens, the resort features a restaurant that serves breakfast, lunch, and dinner. Vista Hermosa also has a luxurious spa, which features a variety of packages, massages, and body treatments.
Address: Carretera Libre, Rosarito - Ensenada Km 43, Vista Hermosa Resort, 22700 Puerto Nuevo, B.C.
4. Las Rocas Resort & Spa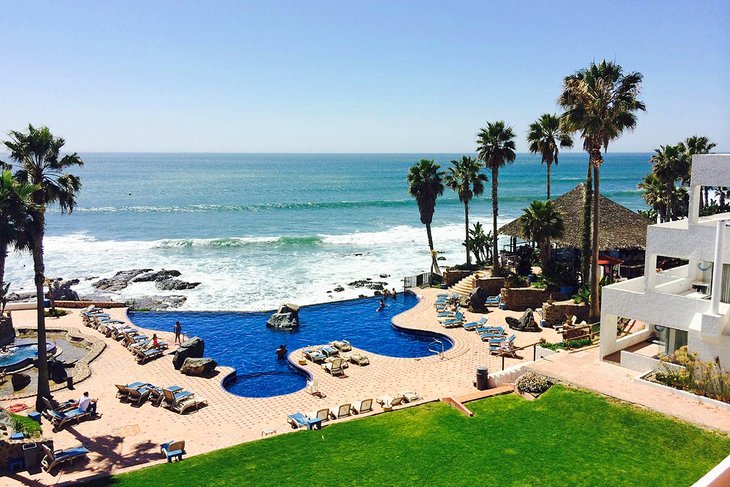 Accommodation: Las Rocas Resort and Spa
South of Rosarito on the way to Ensenada is Las Rocas Resort and Spa. This four-star resort offers a prime beachfront location and is not far from the small fishing village of Puerto Nuevo (known for its fabulous restaurants).
Las Rocas features less than 100 rooms, which keeps it pretty intimate. All of its rooms and suites feature ocean views and traditional Mexican decor. Think dark woods, exposed brick and wooden beams, and pops of color from woven textiles. Color also comes from the bright blues of the ocean, which can be seen from every room. The largest rooms are the Seagull Suites, which also offer a fireplace.
Several restaurants are available on-site, like the colorful Ursula restaurant, serving steaks and seafood, or Cafe Del Mar, which serves traditional Mexican cuisine. Las Rocas also has a holistic spa, which offers massages and treatments, plus sauna and steam room facilities.
Address: Tijuana-Ensenada Free Highway Km. 38.5, Rosarito, BC 22710, Mexico
5. Puerto Nuevo Baja Hotel & Villas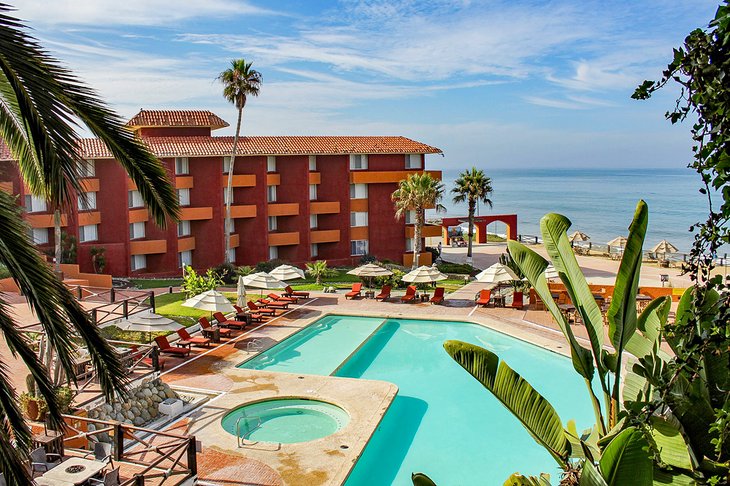 Accommodation: Puerto Nuevo Baja Hotel & Villas
About 15 minutes from Rosarito, closer to Puerto Nuevo, the Puerto Nuevo Baja Hotel & Villas is a relaxed, laid-back resort with water views, oceanfront condos, and multiple pools. The landscape of the mid-sized resort is evocative of Baja itself, with jungle and desert foliage and direct views out to sea.
What makes this resort such a solid option is its location and the amenities. It has both indoor and outdoor swimming pools, as well as hot tubs, a children's play area, fire pits, and a playground for kids. Note: While the resort may be oceanfront, it does not have access to the beach.
Its on-site Puerto Nuevo Restaurant features a menu of Mexican cuisine and fresh seafood. One of its most popular events is the weekly Sunday Brunch, which is always accompanied by live music.
The La Vid Spa has three massage rooms, relaxation areas, and a salon that offers manicures and pedicures.
The rooms at Puerto Nuevo Hotel & Villas are expansive and feature remarkable views.
Address: Km. 44.5 Carretera Libre Tijuana-Ensenada, 22712 Puerto Nuevo, B.C.
6. Castillos del Mar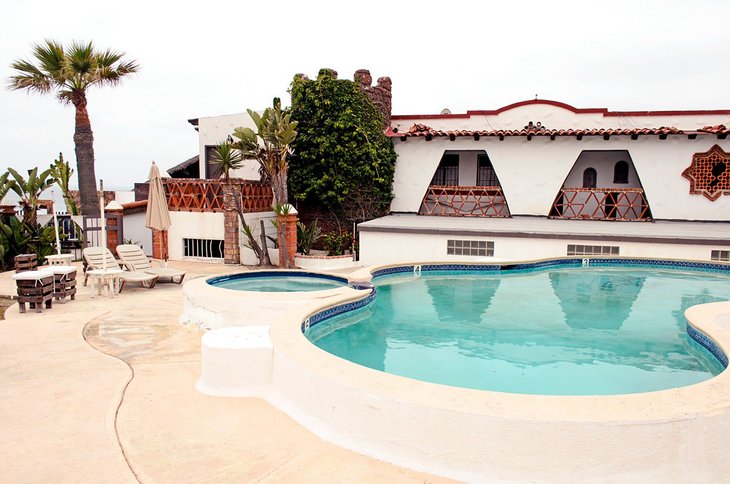 Accommodation: Castillos Del Mar
Just south of Rosarito's beating heart, Castillos Del Mar is a beachfront resort with a spectacular location, offering ocean views and easy access to the bustling downtown. The lovely hacienda-style resort features 33 rooms and a lovely stretch of beach. Popular for weddings and events, this is certainly one of the prettiest resorts in Rosarito.
Rooms are decorated with pops of bright color and tile. Some of the lower category rooms may appear a bit outdated, but the higher category rooms are more modern. The resort even has a beach house to book, which can sleep up to six people.
Guests can dine at Restaurante Sunio, which is open for breakfast, lunch, and dinner. Coming soon, Cafe Lulu will open as an additional option. Castillos Del Mar has a spa, as well, with several packages that include facials, massages, and other body treatments.
Address: Carretera Tijuana-Ensenada Km. 29.5, Castillos del Mar, 22711 Rosarito, B.C.
7. Oceana Rosarito Inn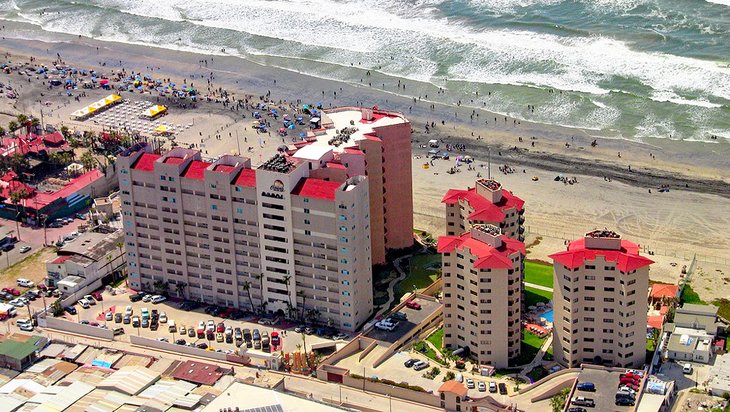 Accommodation: Oceana Rosarito Inn
Three oceanfront towers stand overlooking the shoreline, just a few steps from the bustling downtown of Rosarito. The Oceana Rosarito Inn is nothing if not in a fabulous location. Known for its condo-style accommodations, this beachfront resort is incredibly popular for travelers who want fantastic views and a stellar address.
The condo-style rooms at Oceana Rosarito Inn come in configurations that go up to four rooms, though the two- and three-bedroom oceanfront condos are the rooms to beat here. Each room has homestyle amenities, like fully equipped kitchens and washer/dryers.
The amenities at Rosarito Inn are really robust, as well. First of all, the resort has a beachfront location, so travelers will not have to go far to get a good beach day in. Additional amenities include a Clubhouse with grills and a pool table, a Mexican restaurant, and spa.
Address: 907, Blvd. Benito Juárez Local 24, Rosarito, B.C.
8. Los Pelicanos Hotel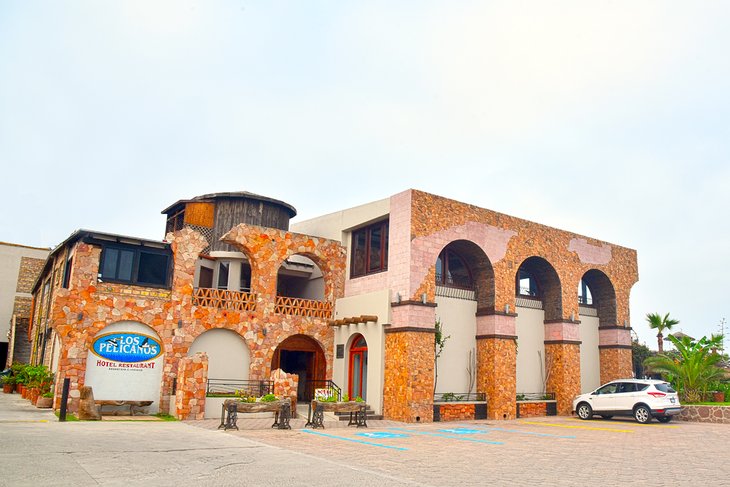 Accommodation: Los Pelicanos Hotel
Perched on the beach, right in the heart of downtown Rosarito, Los Pelicanos Hotel is a small, comfortable, and rustic-styled resort with beautiful oceanfront views. Mexican-inspired in terms of design, with adobe-style decor, cactus lamps, and stone and wood accents, the hotel is a cozy and convenient option for those who want to be close to the action.
The restaurant at the hotel is one of its top selling points, known for its fabulous Mexican-style breakfasts. Tip: the huevos rancheros are particularly delicious.
But the rooms here are quite comfortable, as well. Decorated in a traditional style, with bright fabrics, exposed stone, and dark furniture, the rooms have plenty of natural light and balconies overlooking the sea.
The oceanfront pool is yet another favorite spot for guests, as is the beach, which is just steps out the back of the hotel. Enjoy the sweeping views up and down the shoreline and, of course, those legendary Pacific sunsets.
Address: Del Cedro #115, Centro, 22700 Rosarito, B.C.
9. Del Mar Inn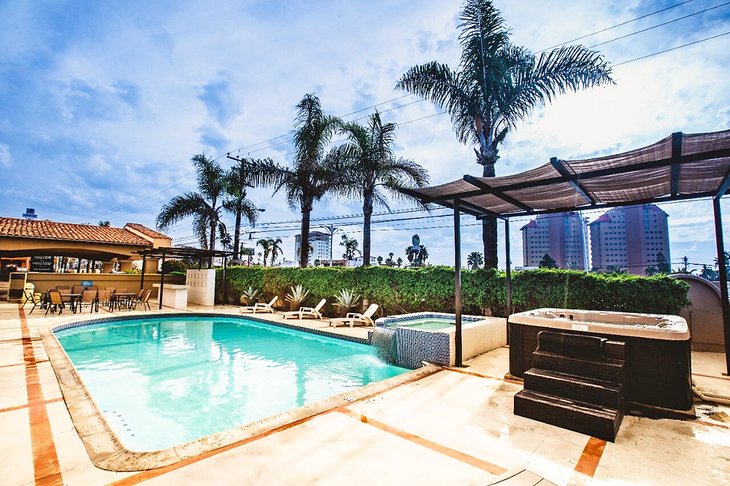 Accommodation: Del Mar Inn
The Del Mar Inn is one of Rosarito's more affordable (though convenient) hotel options. Modest in design, this no-frills inn is preferred for its downtown location. Though not technically on the beach, the Del Mar Inn Rosarito is just a few blocks from Rosarito's main beach.
Rooms at the Del Mar Inn are basic, but comfortable and clean. The largest rooms here are the Junior Suites. Decor is simple, but rooms have plenty of natural light, as well as renovated bathrooms.
The Del Mar Inn has an on-site restaurant, the Mar Inn restaurant, which serves Mexican-style breakfast, with a few American classics, as well. The inn is also within walking distance of many of the fabulous restaurants that downtown Rosarito is known for.
Address: Blvd. Benito Juárez 22, Centro Carretera, 22710 Rosarito, B.C.
10. City Express Rosarito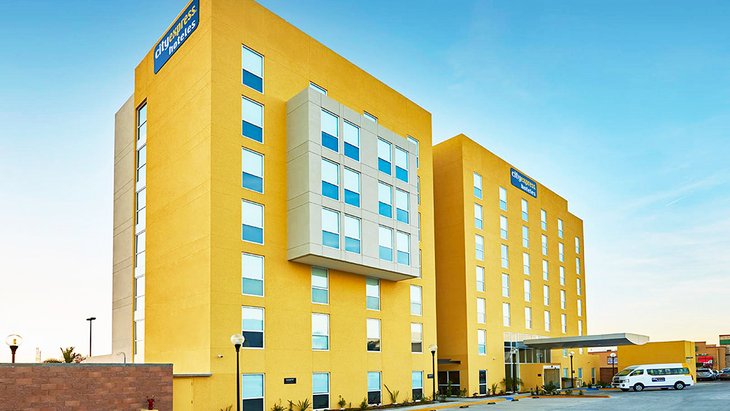 Accommodation: City Express Rosarito
City Express is a popular hotel chain with comfortable and clean hotels all across Mexico. Rosarito's City Express is no exception. These affordable hotels all come with modern rooms, great locations, and reliable amenities. They may not be as charming as the more boutique options, but guests come for the reliability, the prices, and the locations.
City Express Rosarito is not located on the beach, but it is within a few minutes' drive from Playa El Bebe, north of the city center, within the Colonia Reforma neighborhood. Rooms come in three categories, all with plenty of natural light, simple and modern decor, and free Wi-Fi.
City Express Rosarito has a lovely outdoor pool, a breakfast area, and a gym. All rooms come with free breakfast and free parking, as well.
Address: Carretera libre Tijuana - Ensenada 362, Reforma, 22710 Rosarito, B.C.
Map of Resorts in Rosarito