11 Top-Rated Resorts in Huatulco
What's incredible about Huatulco, on the coast of Oaxaca, is that travelers get so many experiences in one. The destination's full name is Bahias de Huatulco, and it is named for nine bays that make up the entire area. Each bay has its own distinct vibe, beaches, and ambience, which means that when you search for top resorts in Huatulco, you're looking at so many different factors.
Some of the best resorts in Huatulco are perched high on the hilltops, giving a bird's-eye view of the stunning beaches below. Others are directly on the golden, sandy beaches, offering that quintessential beach escape. Huatulco is certainly a popular tourist destination, but compared to other more traversed beach getaways, it is still somewhat of a secret to those in the know.
Still, for a relatively lesser traveled destination in Mexico, the top resorts in Huatulco cater to nearly every traveler, from sprawling all-inclusive resorts to more intimate boutique resorts that cater to a luxury crowd. In fact, keep your eyes open for the best all-inclusive resorts in Mexico.
Whatever type of vibe you're seeking from Huatulco, you're sure to find a hotel to suit with our list of the top resorts in Huatulco.
1. Celeste Beach Residences & Spa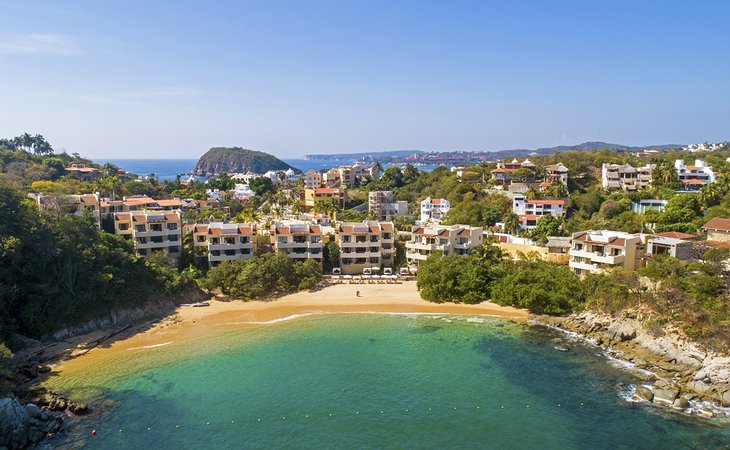 A dose of luxe intimacy awaits from the hilltop perch at the Celeste Beach Residences and Spa. One of the top resorts in Huatulco, this 21-room condo, boutique resort is all about exclusivity. It sits behind the gates of a private community just outside of Santa Cruz with views overlooking Conejos Bay. Because of its location, protected by nature, it feels as though you have the entire area and beach to yourself.
The 21 condos at Celeste Beach Residences and Spa are in two- or three-bedroom configurations. All suites have expansive terraces with views over the beautiful bay. Good to know: Motorized water sports are not allowed on Conejos Bay, so you'll have peace and tranquility all day long.
Features abound at this beautiful property, from beachfront cabanas to kayaks for rent. The resort has its own infinity pool that overlooks the bay, as well as an open-air restaurant. Guests can keep fit at the gym, or book a relaxing treatment at the spa.
2. Dreams Huatulco Resort & Spa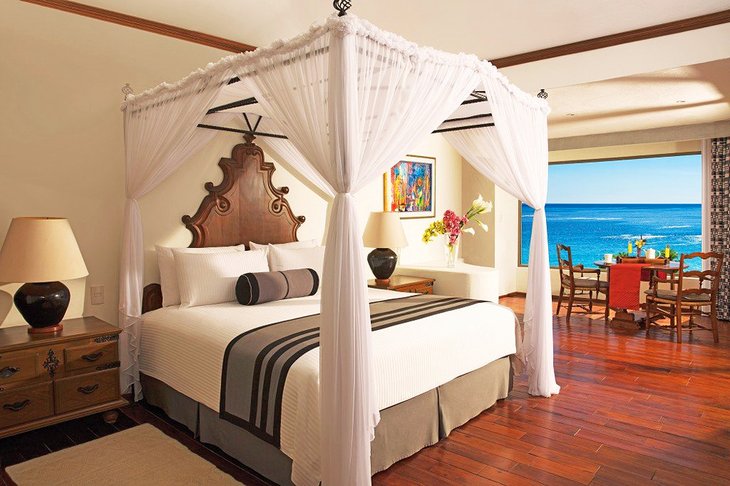 What makes this one of the top resorts in Huatulco, especially for families, is its picture-perfect location on the gold-colored sand of Tangolunda Beach – one of the top beaches in Huatulco. The 421-room, all-inclusive resort is brimming with amenities that the entire family will enjoy.
Rooms are spacious and comfortable, with balconies and bright decorations. Some have ocean views, while others are tropical garden rooms. Bathrooms are spacious, and guests should ask about which rooms have whirlpools.
Dining options are plentiful at the resort, from international themed buffets to a la carte options. But the resort isn't far from La Crucecita, which has many local favorite restaurants to choose from. Still, because of the all-inclusive plan, guests find themselves staying on property more than venturing out.
Undoubtedly the best feature at Dreams Huatulco Resort and Spa is its location on the beach. The hotel provides thatched umbrellas and lounge chairs. It's a popular beach for locals and visitors alike to try their hands at surfing or kayaking. But for those who want to stay closer to the property, Dreams has six pools, and three are infinity pools that overlook the ocean. Four pools are family-friendly, while two are only for adults.
Additional amenities include a fitness center and spa, as well as a kids' club.
3. Quinta Real Huatulco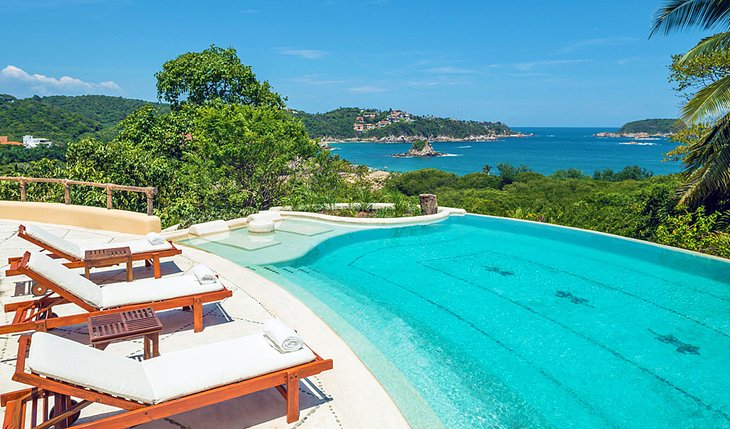 Laid-back, yet elegant, the intimate 27-room Quinta Real Huatulco combines privacy and ocean views with amenities and much to do. The resort sits up on a hill overlooking Playa Tangolunda. The design is something truly special, with soaring domes, rounded archways, palapas over nearly every structure – it's beachy, yet decidedly upscale.
While the resort does not have direct beachfront access (it's a 10-minute walk or quick shuttle ride), a beach club absolutely gives guests the beach resort vibe they're looking for.
Rooms at this top resort in Huatulco are outstanding. All rooms have balconies with partial sea views. The decor is Mexican traditional with an elevated twist – think wrought iron, wood, and traditional textiles with high thread counts, and air-conditioning. Bathrooms feature marble finishes and hot tubs. If you really want to splurge, the rooms with private pools are top-notch.
The main dining venue is Las Cupulas, named for the domed ceilings that are iconic to the resort. Here, you'll be able to sample sumptuous Mexican breakfasts and vibrant, international-style dinners. For sunset head over to the Sky Lounge, which has a straight view line out to sea.
For a hotel that seems to have it all, the one thing it misses is wellness. A beach club is available down on Playa Tangolunda, but the resort itself lacks a fitness center or spa services.
4. Hotel Binniguenda Huatulco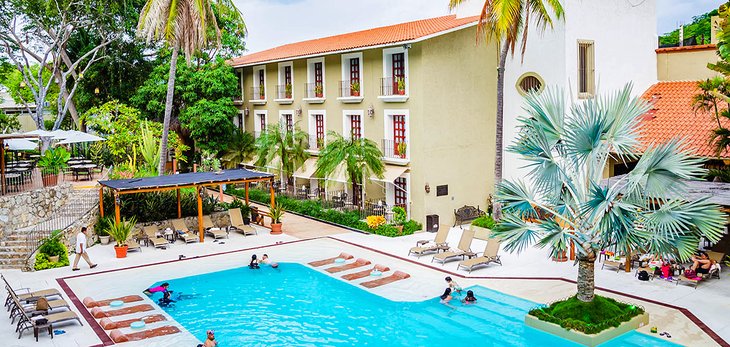 Of the top resorts in Huatulco, Hotel Binniguenda Huatulco is a great option for families. The all-inclusive rates make it easy to keep the family in one place, while the roster of amenities means everyone in your travel party will stay entertained.
The resort is located along one of the main arteries in bustling Santa Cruz. The resort itself is not directly on the beach, but a five-minute shuttle ride will take guests to the private beach club. On property, guests will find a lively pool deck, kids' club, restaurants, and a rotating calendar of entertainment events.
Binniguenda has 77 guest rooms. The starting category are the Deluxe rooms. The most spacious is the Master Suite, which has two private rooms and the most amenities. Select Rooms are only for adults.
As for things to do, guests will find plenty of restaurants. Additional amenities include the private beach club, a small gym, and a menu of massages and relaxation treatments.
5. Las Brisas Huatulco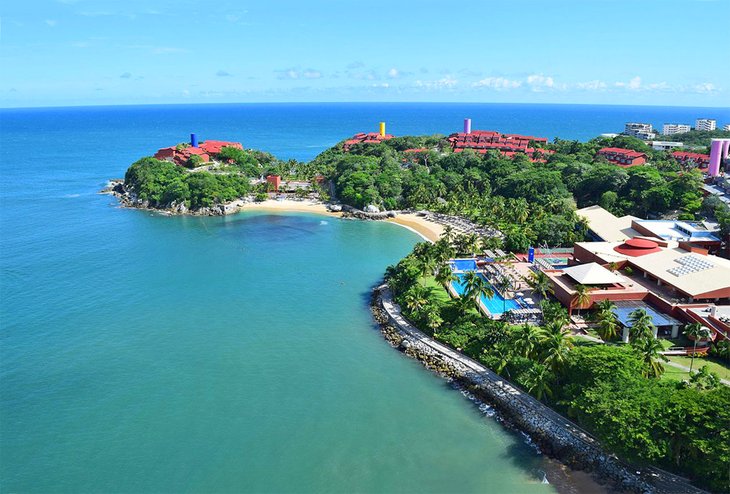 Checking into Las Brisas Huatulco is like checking into a small city. You truly never have to leave. With three private beaches, eight restaurants, three pools, entertainment, and activities, you've got the best of Huatulco all on one compound.
The sprawling resort has 492 rooms, which for many beach towns may seem small in size, but for a place like Huatulco, this is certainly one of the larger resorts in the area. But devotees of Las Brisas know that what they have done, they have done well. The all-inclusive resort spreads across several hilltops that overlook the Pacific Ocean. The vibe is lively and energetic, and you're certain to find guests who return year after year.
Rooms are spread across several different "Pueblas." Deluxe rooms start at 387 square feet, while Brisas Beach Club Honeymoon Suites are 732 square feet and feature a private Jacuzzi and ocean views.
Given the size of the resort, visitors will always be able to find something to do, and no restaurant ever feels too crowded, as guests have so many to choose from. The main beach here is Manzanilla Beach, and it will be easy to see which it is. A sea of loungers is spread across the sand, and you'll find many people splashing and swimming in the water.
Ventura Beach is a quieter beach where you'll find snorkelers, while Tornillo Beach is for motorized water sports.
6. Secrets Huatulco Resort and Spa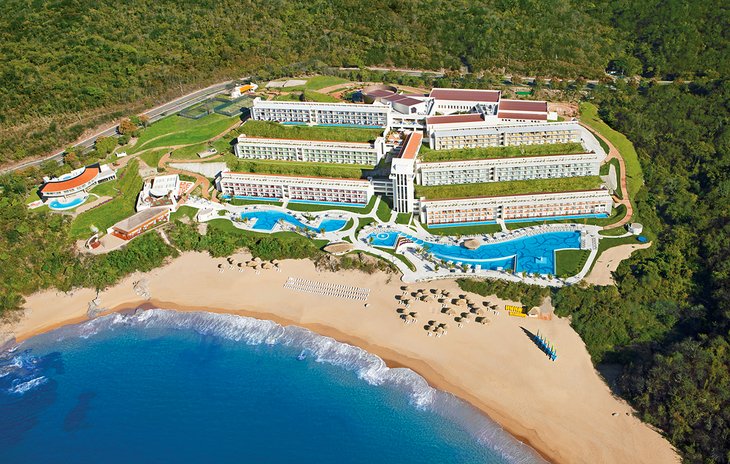 Secrets Huatulco Resort & Spa is one of the top adults-only resorts in Huatulco. Designed specifically for couples, the Tangolunda-located all-inclusive resort has plenty to keep couples occupied, all in an upscale, understated setting not far from the many beautiful bays and beaches.
The resort is in the hills overlooking Conejos Bay, which means it is far enough away from the noise and action of Huatulco, but still provides the amenities of a big, name-brand resort. It is five minutes from the town of Tangolunda, 15 minutes from La Crucecita, and just up the hill from Playa Conejos.
Fans of Secrets resorts will recognize the design of the rooms, with a color palette that swings bold reds offset against neutral creams and wood tones. All rooms have at least a partial ocean view, and some even have hot tubs or swim-out access to semi-private pools. Bathrooms are large and have rainfall showers and bathtubs.
The all-inclusive couples resort is chock-full of amenities, as well, from the fitness center and spa to the two infinity pools. Beach access to Playa Conejos is available, but many guests prefer to stay near the tranquility of the pools. Games include ping-pong and archery.
Several dining options include Mexican fare; casual barefoot grills; Italian, French, and Asian cuisine.
7. Barcelo Huatulco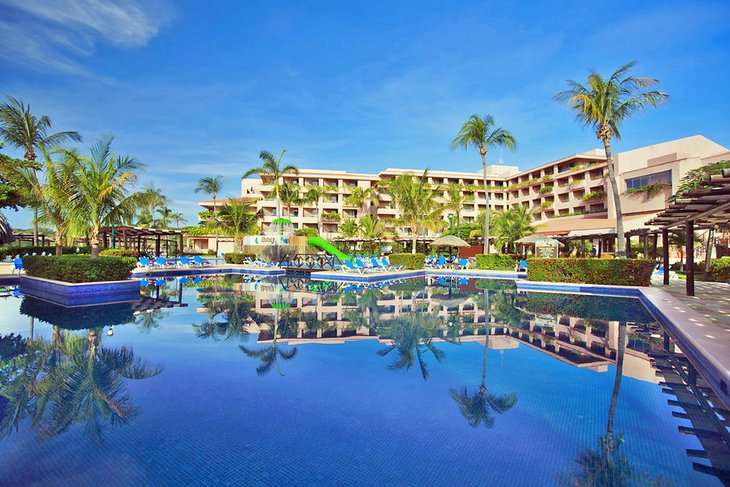 Popular Spanish hotel chain, Barcelo, has resorts all over Mexico and the Caribbean. But it is one of the few major hotel brands to have an outpost in this part of Mexico. The sprawling resort has 351 rooms, 11 restaurants, three pools, and tons of options for families to be entertained.
While Barcelo does not always equate itself with glitz and glamor, what it does provide is affordable, reliable accommodations that are comfortable, clean, and good for families. The lobby has an open plan, and guests have a clear shot out to the pool terrace. The resort itself is close to Tangolunda Beach, which is known for its resort-friendly features, including the 18-hole Las Parotas Golf Course, which happens to be a five-minute drive from the hotel.
Rooms at Barcelo are on the large side, even if the decor may be in need of an update. All rooms have balconies, and many have ocean views. Some rooms even feature outdoor hammocks.
Among the many features are access to Tangolunda Beach and three pools, including a kids' pool, adult pool, and activity pool. Other entertainment options include a spa, fitness center, tennis, and basketball courts.
Eleven restaurants leave little to be desired. Four of these options are a la carte, and most restaurants have dress codes. Reservations are required at most restaurants.
8. Camino Real Zaashila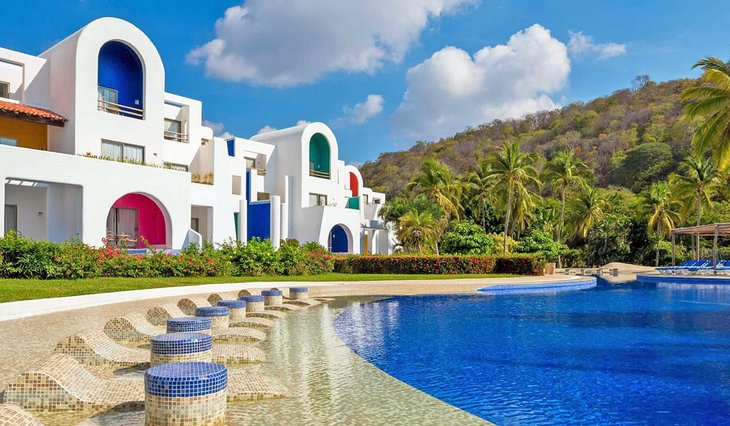 The sister property to the luxurious Quinta Real Huatulco, Camino Real Zaashila is the mid-range counterpart. It offers 151 rooms on Tangolunda Bay on the beaches of Rincon Sabroso. The property is also close to the town of La Crucecita for guests who want to get out and about.
The hotel design is all about nature, peppered with tropical gardens and flowers all throughout the property. The resort almost looks Grecian in design, with whitewashed buildings that climb up the hillside. Guests have a lot of choice when it comes to selecting their rooms, whether they want a private pool, a suite, or to be close to the beach. All rooms, however, have balconies or terraces.
As far as facilities, the hotel has many, from the beach to the main pool, which overlooks the sand. Guests can choose from four different restaurants, as well. For fitness options, the resort offers a small fitness center, as well as a tennis court.
9. Princess Mayev Hotel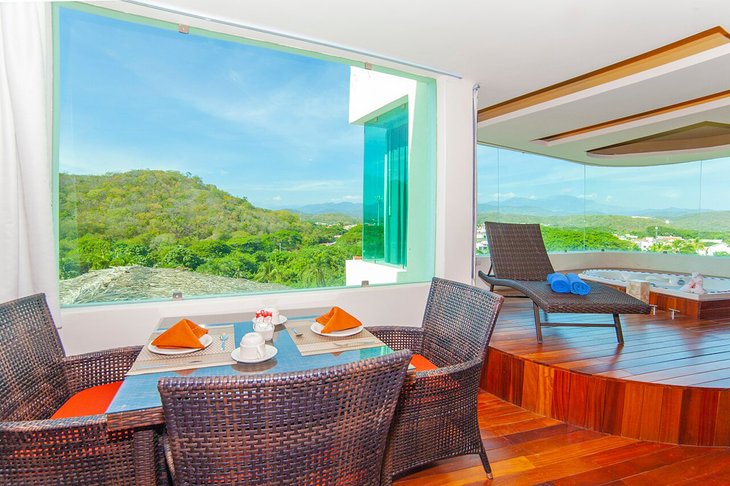 High on a hill overlooking Chahue Bay, Hotel Princess Mayev Huatulco offers a laid-back, chill vibe that is tucked away from the energy of the bustling beach towns. The resort itself is not on the beach, but it's only a 10-minute walk to the golden-hued sands of Chahue Beach. It's also a close walk to La Crucecita, should guests want to go venture to the restaurants and shops of the village.
All rooms are similar in style, but some rooms offer city views, while others offer ocean views. All rooms, however, have balconies or patios, and rooms on the ground floor lead right to the pool. Some rooms have more amenities, like kitchens and mini fridges.
Hotel Princess Mayev is intimate in size and offerings. It has only one restaurant, but the vibe is relaxed, and the menu swings Mexican in flair. Underneath the restaurant is the infinity pool that overlooks the bay.
10. Hotel Villablanca Huatulco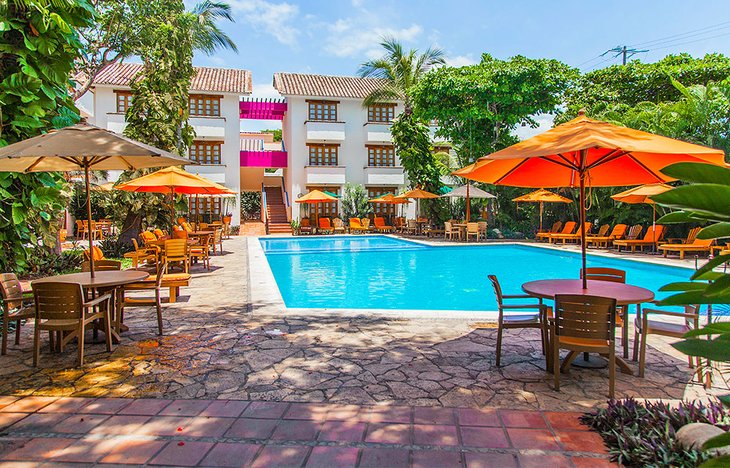 It's easy to find a sense of place at Hotel Villablanca Huatulco. The laid-back, relaxed boutique hotel features 61 simple, yet traditionally decorated rooms, all with balconies and air-conditioning. Located just outside La Crucecita, the resort is within close distance to the activity, restaurants, live music, and shops of one of Huatulco's most popular towns.
Rooms at Hotel Villablanca Huatulco are simple, but clean, and decorated in the traditional Mexican style – think talavera tiling; yellow, purple, red, and wood tones; and lovely Mexican textiles.
The resort has an on-site restaurant, Restaurant Jacarandas, which overlooks the pool and serves Oaxacan specialties. A second restaurant, Restaurant Parota, serves international cuisine.
Additional amenities include a pool terrace, a game room, and a partnership with the off-site Xquenda Huatulco Spa. You can even try a traditional temazcal here, which is an ancient Mexican ritual steam bath.
11. Park Royal Huatulco
Perched on a hilltop overlooking Tangolunda Bay, Park Royal Huatulco is a family-friendly, all-inclusive resort located right in La Crucecita.
The resort features 103 rooms, each of which has its own terrace. The design of the rooms is sleek, but cozy with Mediterranean vibes. Think white walls and ceramic tile floors and pops of color like blues and orange. Rooms come in different categories, the largest of which is the Royal Master Suite Ocean View with 764 square feet.
One of the main perks of booking this resort is its prime location, with sweeping panoramic views over the bay.
But in addition to its next-level views, Park Royal also has two outdoor pools and a beach area that is sectioned off for its guests. Guests should note, though, that the resort is not located directly on the beach; however, it is only a five-minute walk and does provide a free shuttle from the hotel to the beach area.
The resort is well-equipped for families, with three kids' pools and a children's area. Adults can use the tennis courts sand fitness center. Park Royal Beach Huatulco is just 20 minutes from the airport in Huatulco, as well.
Map of Resorts in Huatulco