11 Best Resorts on Isla Mujeres
Author Meagan Drillinger has spent nearly 15 years writing about and traveling around Mexico.
Across the bay from the glittering high-rise-hotel Cancun skyline is the small, tranquil Caribbean Sea island of Isla Mujeres. Visually, it looks Caribbean, from the turquoise water to the bleached white sand and green, swaying palms, but Isla Mujeres is, without a doubt, Mexican to its core. It is one of the most laid-back destinations in Mexico, especially when compared to its neighbor across the water.
The beautiful beach resorts on Isla Mujeres make for ideal getaways, whether you're tacking Isla Mujeres on to the end of a Cancun getaway or making it the prime destination.
The best resorts on Isla Mujeres run from couples-only all-inclusive to boutique family-friendly resorts that are shrouded in jungle foliage. No matter the resort, guests are all within close proximity to some of the best beaches in Mexico, particularly Playa Norte, which is known for its shockingly white sand and string of beach hangouts that dot the sand.
On the southern end of the island, the vibe is much more slow-paced but equally stunning. The island is so small that visitors tend to rent golf carts to explore the entire island.
Get ready to uncover one of the best-kept secrets in Mexico, which sits in the shadow of one of its most popular tourist destinations. Here is our list of the best beach resorts on Isla Mujeres.
1. Impressions Isla Mujeres by Secrets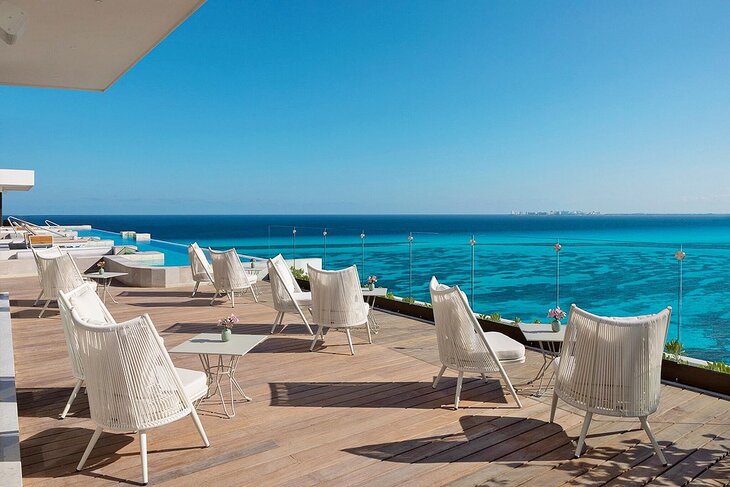 Overview
The newest resort to open on Isla Mujeres, Impression Isla Mujeres by Secrets has been turning heads. Its gorgeous aesthetic, five-star all-inclusive services and amenities, and jaw-dropping views from its coastal cliff perch have skyrocketed this Isla Mujeres resort to the top of the list.
Rooms
The resort has a total of 125 luxury suites, each with ocean views and a long list of the signature Endless Privileges inclusions that are part of the Secrets Impression brand. Amenities include butler service, private balconies, twice daily refreshed mini-bar, in-room personal fitness equipment on request, and no check-in or check-out time.
Suites start at the Junior Suite King, but I recommend booking a Signature Junior Suite King Ocean View with Hot Tub. These 764-square-foot rooms offer a hot tub for two, a hammock, and spectacular ocean views.
For couples, the Honeymoon Ocean View is perfect, with an expansive 1,281 square feet of space, a separate living area, and a private balcony.
All rooms are designed with a sandy, neutral color palette, with notes of cream and natural wood. It's a rustic, boho-chic style that is equally elevated and elegant.
Restaurants
One thing is for certain at Impression Isla Mujeres — you will never go hungry. The resort has 12 dedicated restaurants and lounge areas, each one offering something truly unique. The Top is one of the most popular places on the property, as it features a rooftop pool and spectacular views out over the Caribbean Sea. Unik The Kitchen is also up on the roof, serving light tapas during the day and an a la carte menu at night. Guests can also tuck into succulent steaks at Wildfire Grill.
One of the cool things about Impression Isla Mujeres is that it has its own private dock, and those who arrive by their own sailboat or yacht have access to the Yacht Welcome Lounge, which is a very chic, exclusive touch.
Spa
Pure Spa facilities are available for an additional charge, but it will be worth the splurge. Every guest begins their spa journey with a 20-minute welcome wellness experience before moving on to their main event. A long list of spa treatments includes massages, facials, Hammam therapy, and even Floatarium pods. All treatments end with a dip in the soaking tubs.
Activities
Isla Mujeres lacked a selection of true luxury, all-inclusive resorts. But Impression Isla Mujeres by Secrets truly has filled that void. Spend the day snorkeling, or take a plunge down its four-story waterslide. Guests can also lounge by one of the tiered infinity pools that overlook the ocean. The resort also offers live rooftop shows and discounted green fees at the Puerto Cancun Golf Course.
Address: 009, Manzana 055, 77400 Quintana Roo, Q.R., Mexico
2. Ixchel Beach Hotel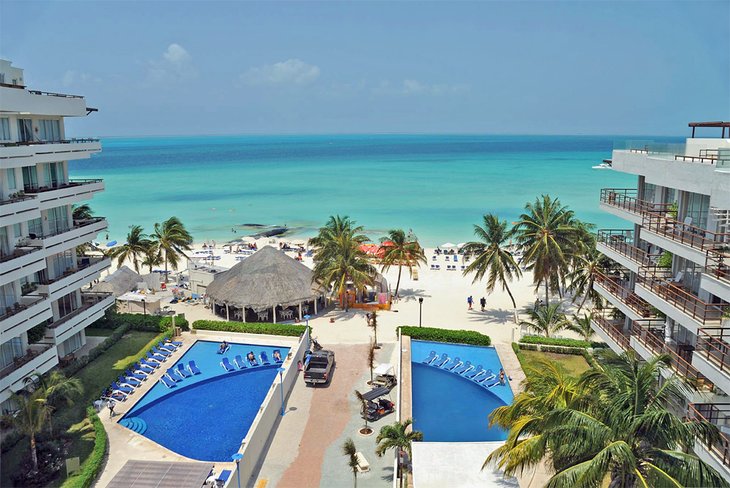 Overview
Perched directly on the fluffy white sand of North Beach, Ixchel Beach Hotel has one of the best locations in Isla Mujeres. While you may not be booking this hotel for its luxury services and amenities, what you are booking it for is one of the very best beachfront locations in Isla Mujeres.
Rooms
This mid-range hotel has 100 supremely large rooms and suites. Though the decor may be a bit spartan, the oversized rooms have kitchens and balconies, which make the hotel a great option for families on a budget. Rooms to book for extra space are the one- and two-bedroom suites, which have living rooms, kitchens, and spacious terraces.
Beach and Pool
The most popular hotel feature is its beachfront location, which has a private beach area for guests, with sun beds and umbrellas. A beachfront pool is available for guests, as well. The hotel has two towers, and guests can find an air-conditioned gym in the West Tower. Wi-Fi is also included.
Restaurants
As for dining, Kalak Restaurant serves up a nautical theme, with traditional Mexican dishes. But because of the resort's location on North Beach, you're never very far from the great restaurants and eateries in the heart of Isla Mujeres.
Address: Playa Norte Centro S/N, Centro, 77400 Q.R., Mexico
3. Izla Hotel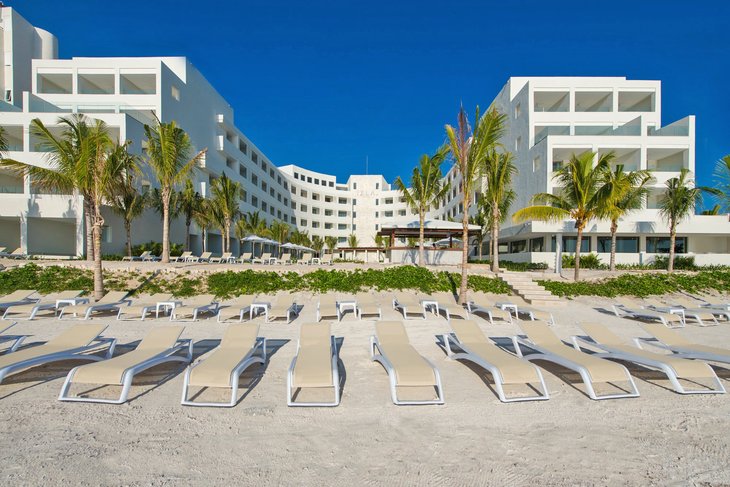 Overview
Chic, modern, and minimalist, Izla Hotel looks like it's straight off the shores of South Beach, Miami. The all-white hotel features distinct pops of turquoise, whether it's from the view of the Caribbean Sea out back to the center pool, or the stunning rooftop infinity pool that offers 360-degree views.
Rooms
The resort has 123 spacious rooms, all with large balconies and many with ocean views. Izla Hotel has three different room categories, including the Ocean Front Superior Honeymoon Rooms, Deluxe Ocean View Rooms, and Regal Chamber Ocean Front with Plunge Pool. All rooms have minimal furniture, with light, airy color palettes, furnished balconies, and soaking pools or tubs.
Restaurants
Dining at Izla Hotel is truly memorable, particularly at Izla Cafe, which offers all-day dining and a fantastic traditional Mexican breakfast. I recommend a seat outside on the terrace if the weather is not too hot. The water is calm and quiet here, and it's a very relaxing place to enjoy breakfast or a leisurely lunch. Numa is the dinner restaurant, which specializes in elevated Caribbean fare.
Beach and Pool
The main activity is down at the central pool, or up at the rooftop infinity pool. The rooftop infinity pool has some of the very best views in town. The beach is small, but clean and calm, with a few lounge chairs and day beds. Izla Hotel is located on the southern end of Isla Mujeres, so guests can expect a quiet, tranquil atmosphere with plenty of opportunities to relax. You can also rent golf carts from the hotel if you want to explore the island or head into town.
Address: Carr. Sac Bajo, Fraccionamiento Lagunamar, 77400 Isla Mujeres, Q.R., Mexico
4. Hotel Secreto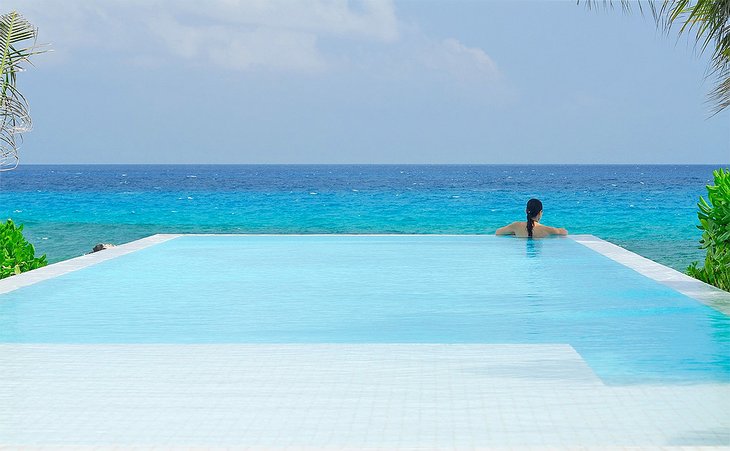 Overview
Unbelievably chic and stylish, Hotel Secreto is true to its name: the best-kept secret on Isla Mujeres. Known for its elegant infinity pool, contemporary and upscale decor, and intimate 12 suites, this is one of the best resorts on Isla Mujeres that flies under the radar.
Rooms
Designed for travelers who love an intimate experience, the 12-room property is known for its colorful artwork, plush furniture, and light-flooded rooms and public spaces. Perched on Playa Norte, the hotel has a small stretch of beachfront right out front.
The rooms are split into three categories, including Super Junior Suites, Deluxe Junior Suites, and Executive Junior Suites. All suites have large balconies with daybeds, tables, and chairs.
The best room in the house is no doubt the Beach House called Casa Aqua. Located just steps from the hotel in its own separate structure, the beach house has four bedrooms and three bathrooms, as well as a kitchen and a private swimming pool.
Restaurants and Dining
Hotel Secreto does not have any dining on-site, but it is within walking distance to many popular restaurants near Playa Norte. The hotel can also help to arrange deliveries from nearby restaurants, whether they are looking for room service or food to eat by the pool.
Amenities
Other amenities include a gym and a spa. But the hotel's most attractive feature is its stunning 20-meter lap pool that looks out over the sea.
Address: Seccion Rocas Lote 11, Q.R., 77400, Isla Mujeres, Q.R., Mexico
5. Mia Reef Isla Mujeres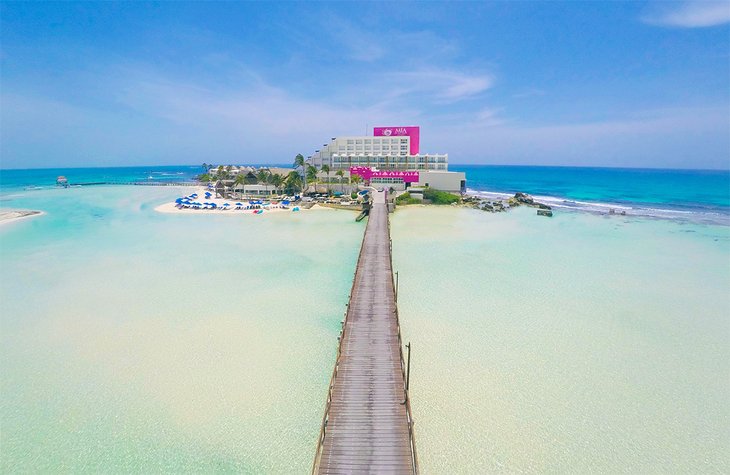 Overview
Mia Reef Isla Mujeres is in the heart of the action, right off Isla Mujeres' boisterous Playa Norte. Technically the hotel sits on its own tiny island but is considered to be part of Playa Norte.
The trendy all-inclusive property underwent a massive renovation in 2016 and reemerged with a whole new design, from pop art decor to electric-colored accents, hanging glass lights, and, most importantly, more restaurants and brighter spaces.
Rooms
Mia Reef has 156 guest rooms, all with a white color base and pops of electric pink, blue, and orange. Deluxe Ocean View rooms offer balconies and superior rooms, while Deluxe Jacuzzi Ocean View Rooms have additional amenities like a two-person whirlpool on the terrace. For something truly spectacular, guests can book a villa or suite at the back end of the island, which offers more space and seclusion and even whirlpools on the terrace.
Beach and Pool
Even with the new renovations and deluxe amenities, the main attraction at Mia Reef is, of course, its stunning stretch of beach. Seeing as it is on its own private island, the beach is seemingly private to the resort, which is almost unheard of in Mexico. The pristine water is perfect for snorkeling right offshore. A central pool is also available, though it is considered small by resort standards. Other amenities include a spa, sauna, and small fitness center.
Address: Islote El Yunque, Zazil-ha s/n, Centro - Supmza. 001, 77400 Isla Mujeres, Q.R., Mexico
6. Privilege Aluxes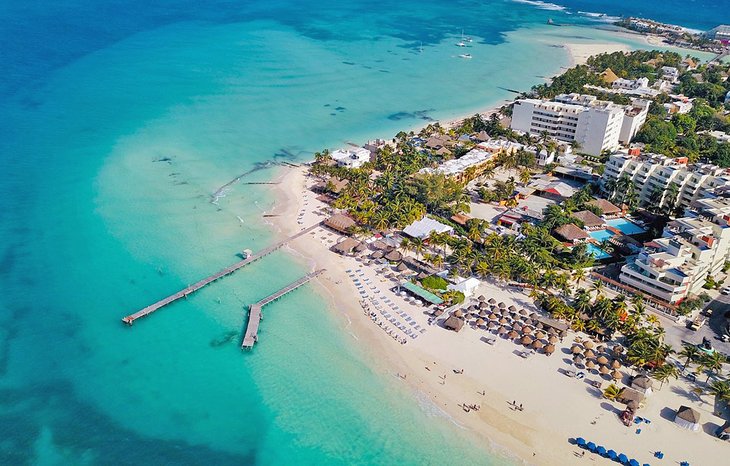 Overview
Privilege Aluxes is an adults-only, all-inclusive-optional resort in Playa Norte, Isla Mujeres. Directly across from the gorgeous, iconic beach, the 124-room resort is intimate in size but packs a punch for amenities.
The marble lobby welcomes guests to the upscale resort experience. The entire property feels clean, sleek, and tropical, from the wood and stone accents to the poolside thatched palapas. A 2016 renovation resulted in an upgraded color palette, mattresses, and guest room linens.
Rooms
Guest rooms range from the standard rooms, which run on the small side, to a Presidential Suite. The most popular rooms are the Wow Rooms, which sit on the top floor and have full ocean views and spacious balconies. Guests can also book Superior Rooms, which have balconies with two-person whirlpools, or Deluxe Suites, which come with kitchenettes.
Beach and Pool
While the resort isn't directly on the beach, the property has its own private beach club, which is on Playa Norte and is free for guests. On property, guests will find the main pool, circled in cabana beds. Other amenities include a spa and salon, as well as a gym.
Restaurants
Four restaurants cover everything from buffets to Chinese-Japanese fusion.
Address: Adolfo López Mateos S/N, Centro, 77400 Isla Mujeres, Q.R., Mexico
7. Zoetry Villa Rolandi Isla Mujeres Cancun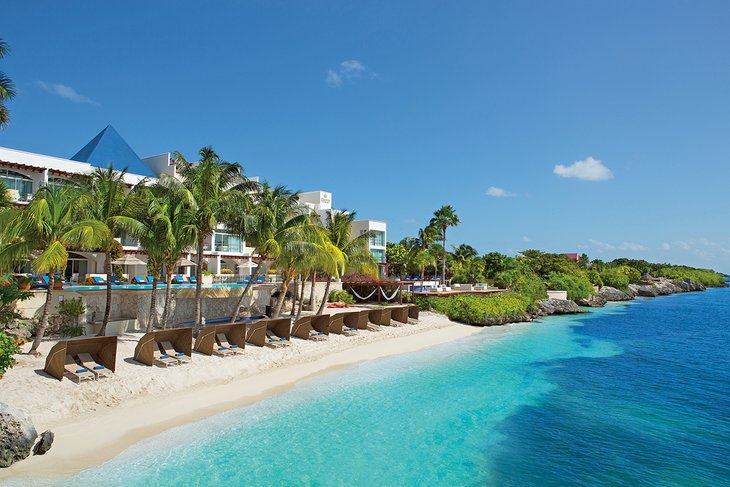 Overview
What is now one of the most sought-after resorts in Mexico has humble beginnings as a modest hotel and restaurant that dates back to the 1980s. Back in 2015, AMResorts purchased the hotel with the intention of elevating it to its highest Zoetry brand, while still maintaining its original authenticity and integrity. Mission accomplished. What remains is one of the most luxurious all-inclusive resorts in Mexico, with a Mediterranean, barefoot luxe vibe that is as approachable as it is exclusive.
Rooms
The open-air design is integral to the resort's ethos, which blends indoor and outdoor spaces with luxe touches like stained glass and domed brick ceilings. The resort is located on the eastern side of the island, nestled between the ocean and a lagoon. Only 35 suites are available, and all are oceanfront, with canopied beds, marble floors, and welcome goodies for every room.
Pool and Beach
Zoetry Villa Rolandi has three pools, all facing the ocean, and surrounded by sunbeds. A pool concierge is on hand to bring refreshments throughout the day. One of the pools is a Thalasso Pool, meaning it is filled with seawater and is slightly effervescent. The beach area is small, but as private as can be, with calm turquoise water and lounge chairs with umbrellas.
Restaurants
Harkening back to the hotel's roots is the Casa Rolandi restaurant, which has been serving haute cuisine to well-heeled travelers for more than 30 years. Picture homemade pasta, fresh fish, and an Italian-focused menu. The other option is Le Metissage, which serves Mexican-French fusion.
All-Inclusive Amenities
As part of AMResorts' brand standard, a room rate is part of the Endless Privileges all-inclusive program, which includes all food and beverages and a free spa treatment, as well as access to the gym, kayaks, paddleboards, and boat transports from Cancun.
Address: Fracc. Laguna Mar, SM 7, MZ75, L15/16, Carr. Sac Bajo, 77400 Isla Mujeres, Q.R., Mexico
8. Hotel Belo Isla Mujeres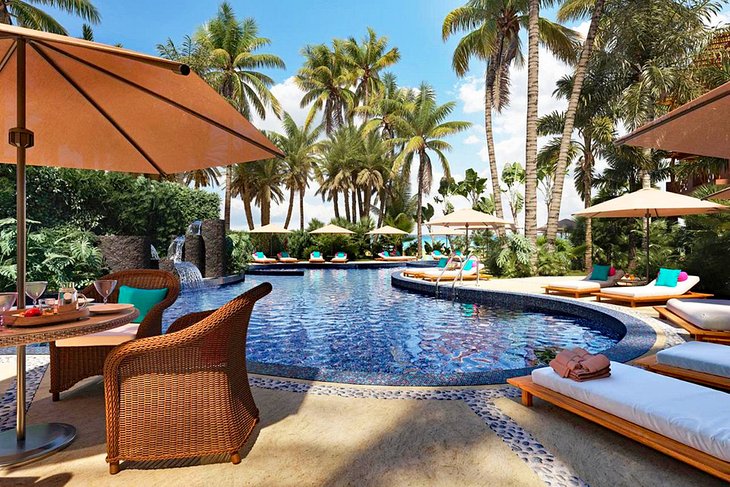 Overview
Hotel Belo is a newer addition to Isla Mujeres on the island's southern end in a quiet area. The luxury boutique property has just 70 rooms and suites and is located right on a small stretch of white-sand beach.
Rooms
Rooms come in a variety of shapes and sizes, but all are done up with marble floors and contemporary decor. The wood furniture and bright-colored throw pillows on the comfy beds are two nice design elements. The junior suites are the entry-level rooms and come with either king or double beds.
There is also an oceanfront villa perfect for families, as it comes with two bedrooms (one with a king, the other with two double beds), as well as living and dining space and a kitchen. If you are celebrating your honeymoon or a romantic occasion consider the presidential suite. It has a rooftop garden, where you'll find a Jacuzzi and sun loungers under a palapa.
Amenities
The hotel can be booked as all-inclusive or room only. There are two restaurants on-site. 140° serves gourmet Mexican fusion fare. The Palm is a beach and poolside restaurant, and it offers a mix of snacks and Mexican and American fare. It is only open for breakfast and lunch, however.
9. Hotel Bahia Chac Chi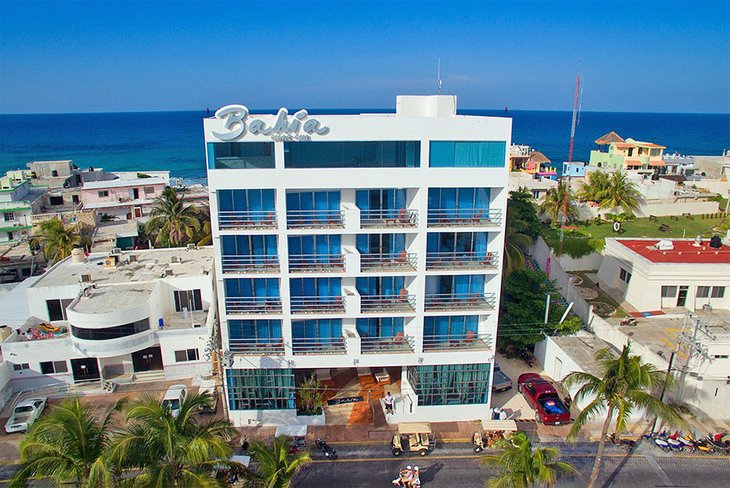 Overview
The 25 rooms of Hotel Bahia Chac Chi are at the perfect intersection between activity and tranquility. The resort is just two blocks from the ferry port, and a short walk to the beach and downtown. The resort embraces an open-air concept, which is fitting for the tropical paradise. Much of the hotel can be described as bland, due to the lack of thoughtful touches and artwork, but the convenient location and price are what puts this hotel on the list.
Rooms
The 25 rooms are simple and clean, all with balconies, and some with ocean views. The rooms are fairly spartan, with just the basics in amenities like hairdryers, safes, and flat-screen televisions. But those who are coming to Isla Mujeres are likely not spending much time in the room.
Pool and Beach
The public areas are where this hotel shines, from its chic pool to its top-floor restaurant. The proximity to the beach is a big selling point, as well, and the hotel has pool and beach towels available for a deposit.
Address: Av Rueda Medina MZ 8-LT 12, Centro - Supmza. 001, 77400 Isla Mujeres, Q.R., Mexico
10. Hotel Cabanas Maria Del Mar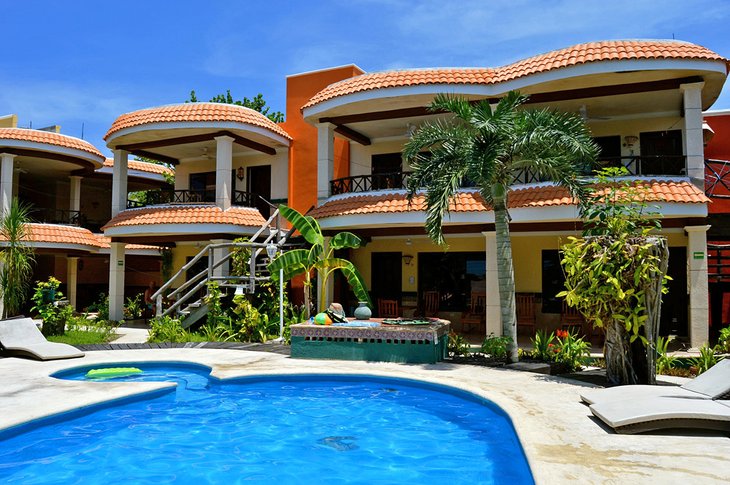 Overview
Tropical in every way, the pale pink Hotel Cabanas Maria Del Mar is a 73-room boutique resort just steps from Playa Norte. The charming beach resort on Isla Mujeres is classic Mexico Caribbean in design, with tile and wood accents, an oasis-type pool area, thatch-roofed palapas, and red terra-cotta tiles.
Rooms
The rooms are divided into three sections: Tower, Castle, and Cabanas. All have private bathrooms, air-conditioning, and private terraces or balconies. Still, the design of the rooms seems to have been an afterthought, and there is not much remarkable about the individual rooms. Guests staying at Hotel Cabanas Maria Del Mar do so for the quiet, yet centrally located address.
Dining
While the hotel does not have an on-site restaurant, it has partnered with Buho's, which is an open-air, toes-in-the-sand beach restaurant. A simple breakfast is included in the room rate. The resort is also partnered with Casa de Luz, a nearby spa, where guests can arrange treatments.
Address: Avenida Arqueologica, Carlos Lazo #1, 77400 Isla Mujeres, Q.R., Mexico
11. Nautibeach Condos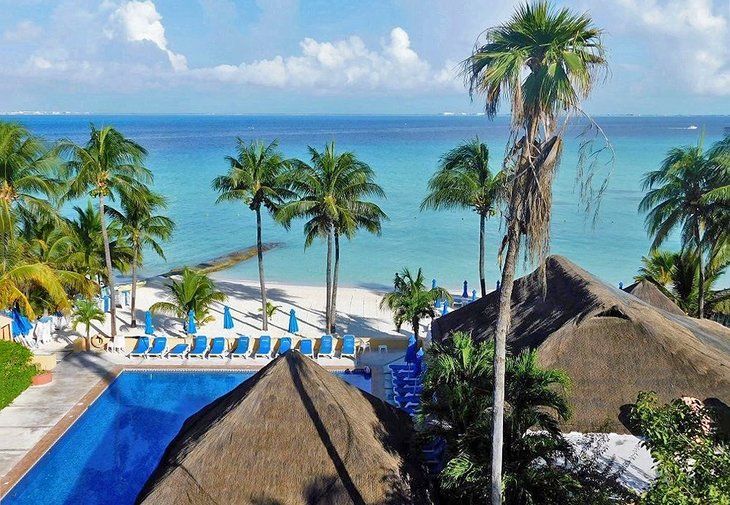 Overview
Shrouded in tropical plants and veined with sand pathways, Nautibeach Condos offers a perfect location right on Playa Norte, within walking distance to all the activity of this part of Isla Mujeres. The 23 condos look out over a central pool area, which is fringed with palapa-style huts. The pool has the best view in the house - a direct shot out to the Caribbean Sea.
Rooms
Since Nautibeach's rooms are privately owned condos, the design and style of each differs from room to room. Still, wood furniture and a beachy color palette seems to be the standard. The largest rooms available are the Two-Bedroom Suites, which have their own kitchens, as well as a living room, balconies, and dining areas.
Additional amenities include in-room massages and DVD rentals. Wi-Fi is only free by the pool.
Address: Av Rueda Medina 7, Centro, 77400 Isla Mujeres, Q.R., Mexico
Map of Resorts on Isla Mujeres
Isla Mujeres, Mexico - Climate Chart
Average minimum and maximum temperatures for Isla Mujeres, Mexico in °C
J
F
M
A
M
J
J
A
S
O
N
D

27

19

28

20

29

22

29

23

31

25

32

26

32

26

32

25

32

24

31

23

29

22

28

21

PlanetWare.com
Average minimum and maximum temperatures for Isla Mujeres, Mexico in °F
J
F
M
A
M
J
J
A
S
O
N
D

81

67

82

68

84

71

85

73

88

77

89

78

90

78

90

77

89

76

87

74

84

72

82

69

PlanetWare.com