8 Best All-Inclusive Resorts in Tulum
Author Meagan Drillinger spends many months of the year living in and traveling throughout Mexico. She visited Tulum in 2022 as part of her travels around the country.
There are small, bohemian beach towns in Mexico, and then there is Tulum. Splashing the pages of luxury travel magazine after luxury travel magazine, Tulum has set the standard for tropical Mexican beach vacations, thanks to its impossibly soft sand; sparkling turquoise sea; and laid-back beachfront lined with gorgeous resorts, boutique hotels, and a few notable all-inclusive resorts.
Long ago, Tulum was a coastal fortified Mayan city. Later it quieted down to a small, sleepy fishing village with a subdued town center. But once backpacking bohemians left the quickly growing beaches of Playa del Carmen in search of more tranquil, beach-meets-jungle vibes, the fate of Tulum was sealed, and it was only a matter of time before design hotels, farm-to-table restaurants, and high-end galleries began to follow. Today, it is by far one of the most luxurious destinations in Mexico, heralded for its barefoot luxury, fine dining, and quality hotels.
While most hotels in Tulum swing a la carte and boutique, it is possible to find all-inclusive options if you know where to look. These range from family-friendly, sprawling mega-resorts to intimate and highly luxurious villas that you can book exclusively for your party. No matter the style or vibe of the Tulum vacation you're looking for, an all-inclusive resort is there to deliver.
The only stressor about Tulum will be deciding where to stay. If you're ready to begin booking your dream vacation, check out our list of the best all-inclusive resorts in Tulum.
1. Dreams Tulum Resort & Spa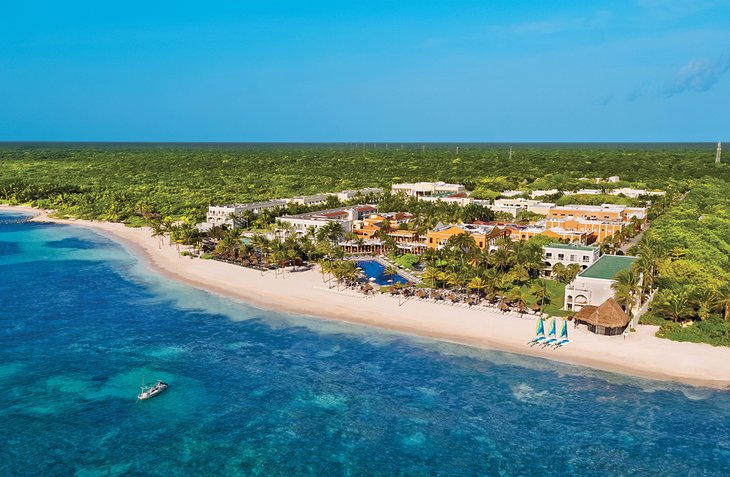 Highlights: Powder-soft sand and activities for the whole family
Just 15 minutes from Tulum, Dreams Tulum Resort & Spa is a colonial estate oasis perched right on the sugary shores of the Riviera Maya. The 432-room resort offers direct beach access, as well as a lush jungle environment, as the grounds are shrouded in more than 5,000 plants, lined with stone pathways, and percolating with bubbly fountains.
Rooms are incredibly spacious, and each one has a private balcony or terrace. The vibe swings traditional hacienda, with earth tones, marble or wood flooring, leather headboards, and wrought iron accents. Guests staying in the Deluxe level rooms have garden views or ocean views. But an upgrade to a Deluxe Junior Suite will result in a larger space. A Preferred Club Deluxe Garden View Swim Out adds the additional perk of a shared swim-out pool and garden area.
Of course, the rooms to beat are the Preferred Club Hacienda Suites and Hacienda Presidential Suite, which have hammocks on their terraces.
The biggest draws to this part of Mexico are the powder-soft beaches, and Dreams Tulum is no exception. This quiet stretch of sand is positively stunning and is peppered with lounge chairs for guests to use. Additional amenities include two pools that face the beach, a jungle-set spa, a kids' club, a chapel, and plenty of water activities included.
Address: Carretera Chetumal-Puerto Juárez Km. 236.7, No. 1, Col. Tankah, 77761 Q.R., Mexico
2. Kore Tulum Retreat and Spa Resort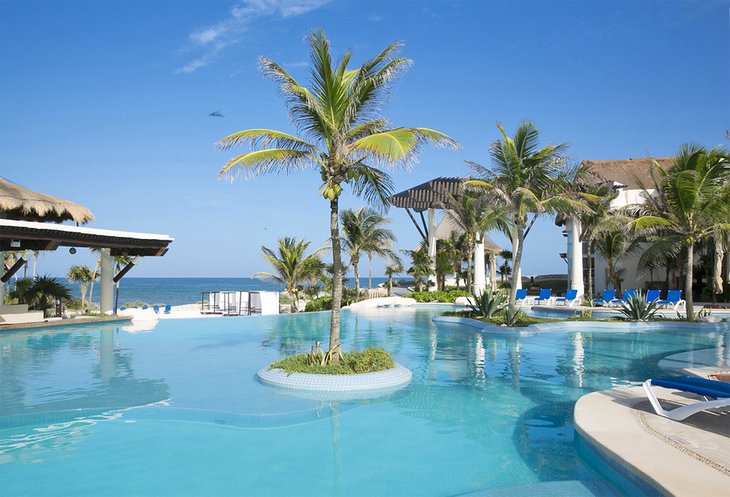 Highlights: An intimate resort with a spectacular spa and two-level infinity pool
The intimate Kore Tulum Retreat and Spa is small for all-inclusive standards, with just 94 rooms. But this is fitting for the vibe and ethos of Tulum, which is all about intimacy and attention to detail. The resort is located right at the splitting point between Tulum town and the famous Hotel Zone, giving it the best location for travelers who want a little bit of both atmospheres.
Rooms are contemporary and modern, with tile floors, high ceilings, and separate living areas. Larger rooms have outdoor spaces with hot tubs, while Master Suites have Jacuzzis in-room.
The highlight of the resort is its central pool, which is a two-level infinity pool surrounded by lounge chairs. The resort is directly on the beach, but the beach can be rocky and is not ideal for swimming.
Additional features include an impressive wellness center with 10 treatment rooms, a steam room, sauna, and beauty salon.
Address: Carretera Tulum-Boca Paila Km. 3.8 Lote 48 Admo, México 180D, Playa, 77780 Tulum, Q.R., Mexico
3. UNICO 20°87° Hotel Riviera Maya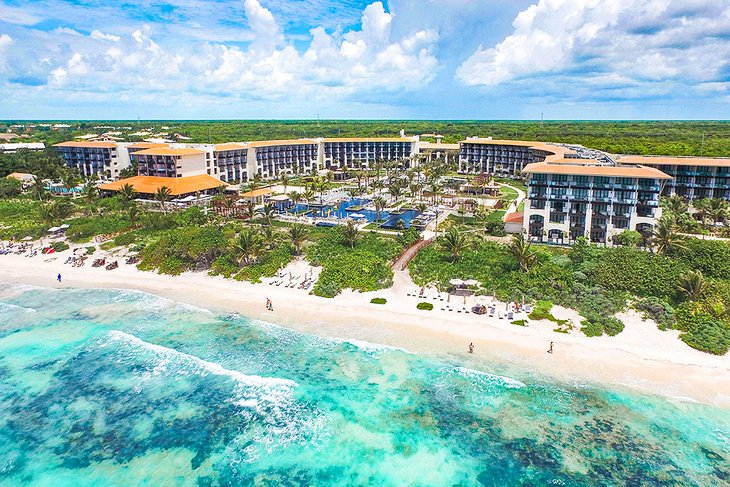 Highlights: Fantastic restaurants and a semi-private beach, with rooms that have either a soaking tub or a swim-out pool
About 25 minutes north of Tulum proper is arguably one of the very best all-inclusive resorts in Mexico. UNICO 20°87° Hotel Riviera Maya raised the bar on all-inclusive luxury when it opened in 2017 and continues to impress travelers — many of whom are repeat guests.
The resort has less than 450 rooms and sits on a quiet stretch of beach in a protected bay, meaning the water is always gentle, warm, and perfect for swimming. But the real activity is at the pools. The resort features two pools – one for activity, and one for peace and quiet.
All the rooms have either a terrace with a soaking tub or direct access to a plunge pool. The vibe here is high-end but effortlessly approachable. For example, the robes in the room are essentially floor-length hoodies and are a total crowd-pleaser.
The spa features a variety of signature treatments, like an Age Defying facial or a Volcanic Massage. A small gym has plenty of equipment and does a spin class, too. Restaurants range from Japanese cuisine at Mura House to Italian at Mi Carissa. A steakhouse and Mexican restaurant are also available.
Address: México 307 KM 260, SOLIDARIDAD, 77710 Q.R.
4. Bahia Principe Luxury Akumal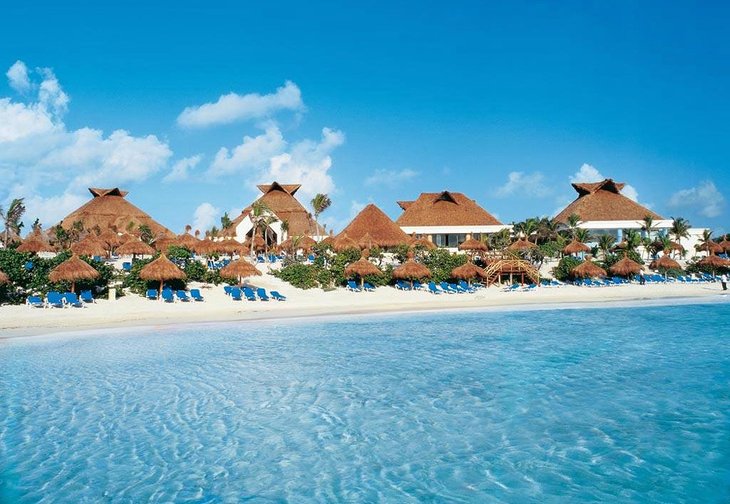 Highlights: An intimate, upscale resort-within-a-resort perched on a white-sand beach; a water park; golf course; and spa
Part of a sprawling four-resort complex, the Luxury Bahia Principe Akumal is, unequivocally, the best of the bunch. Thanks to its prime beachfront location and upgraded services and amenities, it's no wonder guests with a little extra money to burn opt for the Luxury Bahia Principe Akumal. It's good to know that guests of this resort have access to the other three resorts' restaurants, activities, and amenities, as well. The only exception is the private beach section at Luxury Bahia Principe Sian Ka'an.
Though the one main lobby serves all four resorts in the complex, the Luxury Bahia Principe Akumal has its own statement lobby with soaring ceilings and high columns. The family-friendly resort is relaxed and laid-back, with exclusive services and offerings, and an enviable beachfront location. Room categories start at the Junior Suite level and have canopy beds, couches, and outdoor space. Bathrooms are clad in marble, complete with separate tubs.
But the main reason you're booking this resort is because of the beach - an expansive swath of soft, white sand and uninterrupted views out to sea. The pool is equally impressive with a sweeping pool deck peppered with loungers. Additional amenities include spa treatment areas and sports activities, from volleyball and dance to golf. A Kids' Club and a Teen Club are on-site, as well.
As for dining, the main buffet at the Akumal resort is impressive by buffet standards and does an international flex several nights a week with themed menus. There are small a la carte restaurants that specialize in Italian, seafood, and gourmet cuisine.
All four resorts on the property have some shared amenities, like the Riviera Maya Golf Club with 18- and 9-hole courses. There is a cenote on the property, as well as a shopping area, a live music section, and a Dolphinarium. A kids-only water park is one of the main highlights for families.
Address: Playa Aventuras, Chetumal-Cancun km. 250, Solidaridad, 77760 Akumal, Q.R., Mexico
5. Bahia Principe Luxury Sian Ka'an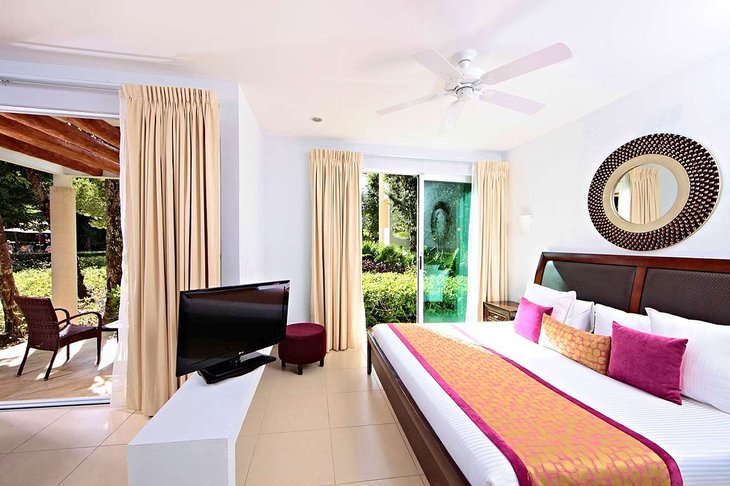 Highlights: An upscale vibe complete with three pools, rooms with private balconies, and Junior Suites with rooftop terraces
Equally as upscale as Bahia Principe Luxury Akumal, Bahia Principe Luxury Sian Ka'an has only one downside: it's not located on the beach. But guests don't seem to mind, as its amenities and services seem to make up for that loss. That and the resort has a private, roped-off section of beach reserved exclusively for its guests when they do decide to make their way over.
Down a long, winding road away from the main lobby, visitors are met in the exclusive lobby with marble floors; a bubbling fountain; complimentary welcome snacks; and an elevated, yet laid-back, calm vibe.
Rooms are modern and bright with private balconies or terraces. Guests can level up by booking the Deluxe Penthouse Junior Suites, which have rooftop terraces, personal hot tubs, loungers, tables, and chairs.
But back to the beach, or lack thereof. It's true that only two of the four resorts in the complex have direct beach access. Sian Ka'an does not score that particular piece of real estate, but it does have free shuttles that leave every five minutes and drops guests off at an exclusive stretch of beach that is reserved for Sian Ka'an guests. On the property are three pools, including two relaxing pools and one where most of the daytime activity happens.
As for dining, the food at Sian Ka'an is a cut above. The main buffet restaurant serves breakfast, lunch, and dinner, while a la carte options include Japanese and international gourmet.
Address: Chetumal-Cancun Km 250, 77780 Akumal, Q.R., Mexico
6. Bahia Principe Grand Tulum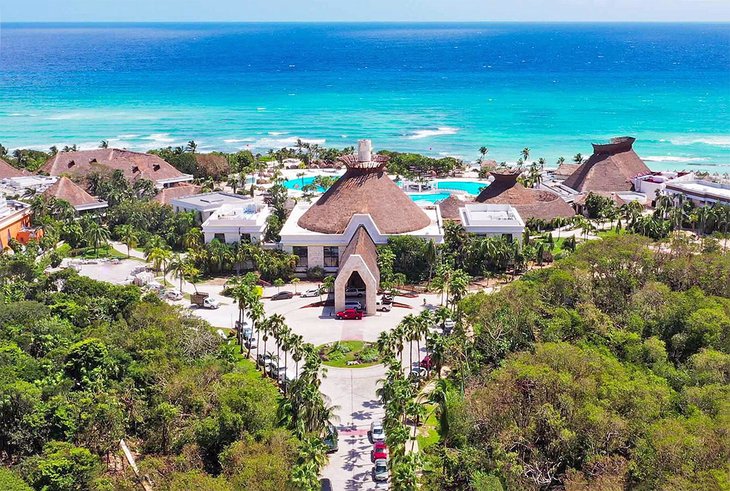 Highlights: A young and vivacious energy with nonstop entertainment, a spa, and a sprawling stretch of beach
The Bahia Principe Grand Tulum welcomes visitors to its signature circular lobby, surrounded by columns and topped with a sky-high thatched palapa. The Bahia Principe Grand Tulum is the most youthful of the resorts in the complex, meaning it draws a younger crowd, typically made up of young couples or singles. It has the majority of activities, as well, which makes this resort feel like the center of this Bahia Principe world.
Rooms are spacious and clean but lack a lot of bells and whistles. Still, guests can expect private outdoor space, sitting areas, and marble bathrooms. Junior Suite Superior rooms have the perk of hydromassage tubs.
As to be expected at any sprawling all-inclusive complex, the entertainment scene is vibrant, from daily exercise classes and dance to a kids' club and Dolphinarium. There is a spa on the property, as well. But the main draw here is the stretch of beach at the Bahia Principe Grand Tulum, which has the largest stretch of beach of the four resorts.
For as big as the property is, the pool scene leaves something to be desired. There are only two pools, which can often make them feel crowded when a resort this size is at maximum capacity.
Within the complex, and open to all resorts, is a golf club, a jungle area, on-site cenotes, shopping, and areas for live music.
Address: Carretera Federal Chetumal- Benito Juarez Km. 250, 77760 Tulum, Q.R., Mexico
7. Bahia Principe Grand Coba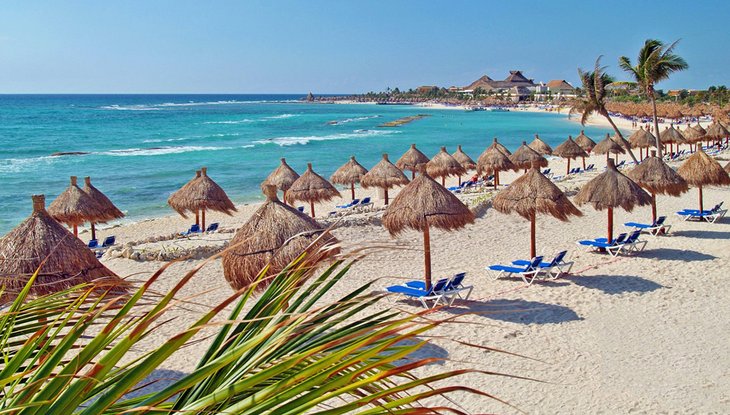 Highlights: A budget-friendly all-inclusive with two pools, a water park for kids, and an expansive spa
The Bahia Principe Grand Coba is the final property within the four-resort Bahia Principe complex, and it is the largest of the bunch, with more than 1,000 rooms. In fact, it is so large that many guests opt to use the resort-designated golf carts that shuttle people from property to property. Designed for families, this resort has everything you need to entertain everyone in your traveling brood.
All the rooms across the Coba property are garden-facing, but the entry-level is a Junior Suite. Rooms swing traditional in style, with ceramic tile floors, wooden headboards, and earth tones combined with bold fabrics.
Only two resorts in the complex have direct beach access: Tulum and Akumal. But a free shuttle takes guests from Coba to a strip of sand that is reserved just for them. But Coba has two pools on the property, which families seem to love - especially the kids-only water park, which is replete with slides, waterfalls, and shallow pools.
While the kids are splashing around in the water park, parents may want to check out the spa, which has a delightful hydrotherapy circuit, as well as rooms for body treatments. If guests want to book an outdoor treatment, that is possible, as well.
As for dining, guests can choose the Kukulcan restaurant for breakfast, lunch, and dinner buffets. Six a la carte restaurants are on-site, as well, featuring Italian, Mediterranean, seafood, Japanese, gourmet fusion, and more.
Like the other resorts in the complex, guests at Bahia Principe Grand Coba have access to the resorts' golf courses, Dolphinarium, shopping, and live music venues.
Address: Carretera Federal Chetumal- Benito Juarez Km. 250 Local B Municipio, 77760 Akumal, Q.R., Mexico
8. Playaakun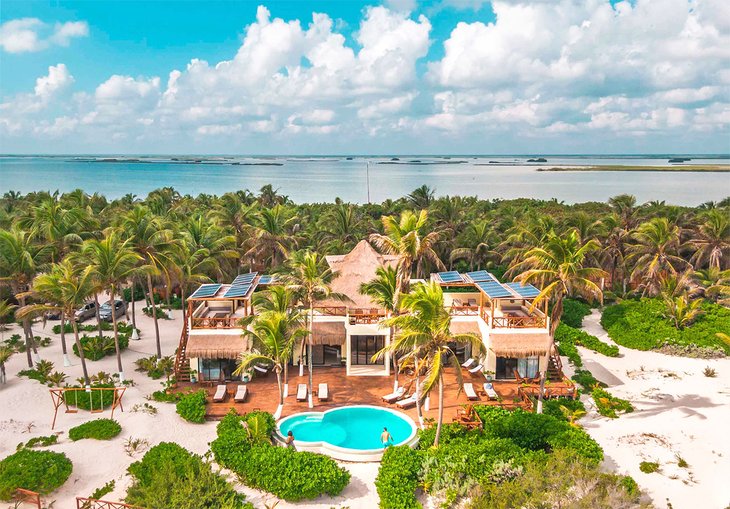 Highlights: A barefoot luxury escape with prime beachfront access and a secret jungle location within a protected reserve
Tulum has been splashed across the pages of luxury travel magazines all over the world, and the reason why is because of places like Playaakun. This all-inclusive luxury villa is ideal for a group of friends or a family that wants to travel to their own personal retreat.
Minimalist in design, but undeniably elegant, Playaakun is a collection of eco-luxury rooms (in fact, the entire property is carbon-neutral) perched right on the sand, shrouded in the lush jungle of the Sian Ka'an Biosphere. The compound can accommodate up to 14 people and has its own pool; indoor and outdoor lounges; kitchen; TV room; and private stretch of quiet, sun-bleached beach. The house features four oceanfront bedrooms and one garden view room.
Included in the rate is a personal manager/concierge, housekeeper, security guard, Master Chef who will prepare three meals a day for guests and two snacks, and a staff that is available from 6am to 10pm. For an extra fee, guests can arrange to have the villa pre-stocked and book massages, shuttle services, tours, and extended services.
Address: Reserva de la Biosfera de Sian Ka'an, Carretera Tulum-Boca Paila, 77760 Tulum, Q.R., Mexico
Map of All-Inclusive Resorts in Tulum
Best Time to Visit All-Inclusive Resorts in Tulum
Tulum is a year-round destination, but the best times to visit are when you can expect the sunniest days and most activity. For Tulum, that time is December, January, February, March, and April when the days are warm, the nights are a bit cooler, the humidity is low, and the calendar is packed with festivals and events.
Average weather between December and April hovers between 82 degrees Fahrenheit and 88 degrees Fahrenheit. December through April also receives a low amount of precipitation, so you're almost guaranteed to have the most beautiful sunny weather every day of your trip.
But Tulum's shoulder season is also a good time to visit for those on a budget, when prices and crowds tend to be lower. That said, the shoulder seasons can also be the hottest (and wettest) times to visit the Mexican Caribbean in general.
Tulum's shoulder season is July and August. The temperature in July averages around 92 degrees Fahrenheit, and 91 degrees in August. Precipitation is low in July at about 2.24 average inches. This nearly doubles in August, however.
Moving into September and October, Tulum is deep into the throes of hurricane season, which lasts until early November. During this time, expect rain to be nearly nine inches on average throughout the months, and temperatures still sticky hot and muggy at 91 and 88 degrees, respectively.