12 Best All-Inclusive Resorts in Ixtapa
Ixtapa, a beachfront resort destination in Mexico's state of Guerrero, is a paradise for all-inclusive hotels. Developed exclusively for tourism, Ixtapa's heart and soul beats around its thriving hotel scene. From towering skyscrapers to intimate beachfront escapes, Ixtapa knows a thing or two about all-inclusive resorts.
Half a century ago, the area where Ixtapa sits now was simply a field of coconuts and palm trees overlooking the sea. But recognizing the stunning natural beauty and oceanfront potential, Mexico's government decided to develop this stretch of Pacific coast for tourism. And the bustling resort town of Ixtapa was born.
Today it retains its resort-forward ethos, from modest mid-level resorts to more high-end all-inclusive resorts. The beachfront hotels are mostly within a short distance to the bustling heart of Ixtapa's restaurant and shopping scene, as well as its golf courses; secluded coves; and sleepy nearby sister village, Zihuatanejo.
If you're planning a trip to Mexico's Pacific, here are the best all-inclusive resorts in Ixtapa.
1. Club Med Ixtapa Pacific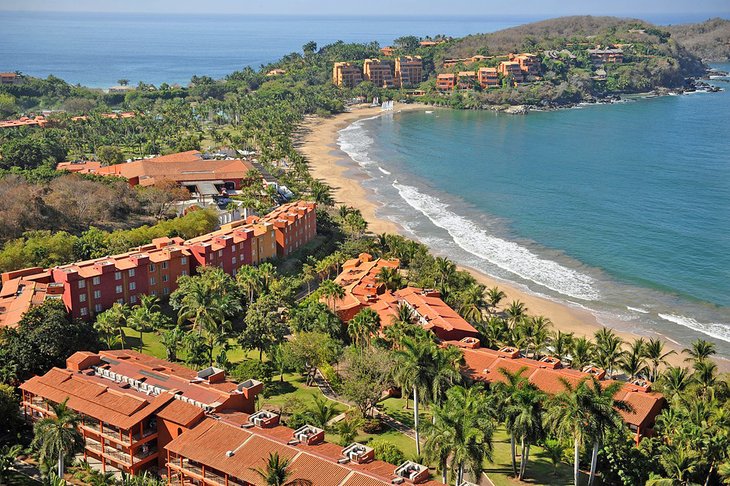 Accommodation: Club Med Ixtapa Pacific
When it comes to selecting the best all-inclusive resorts in Ixtapa, you will certainly succeed with Club Med Ixtapa Pacific. The well-rounded, family-friendly resort has a little bit of everything (combined with a privileged location) to offer quite a bit of something for everyone.
The all-inclusive resort in Ixtapa is perched on a hill in a gated area, overlooking Playa Quieta, one of the best beaches in the area. The 516 rooms are all spacious and modern, with flat-screen televisions and generously sized bathrooms.
The real stars of Club Med Ixtapa Pacific are its amenities and activities, including a kids' club (and a restaurant just for kids), three pools, a spa, a fitness center, and evening entertainment. Other activities include a trapeze set-up, archery, and tennis.
The resort is a 10-minute drive to the main downtown of Ixtapa, and a 22-minute drive to the sleepy fishing village, Zihuatanejo.
Address: Playa Quieta, 40880 Zihuatanejo, Gro., Mexico
2. Azul Ixtapa Grand Spa & Convention Center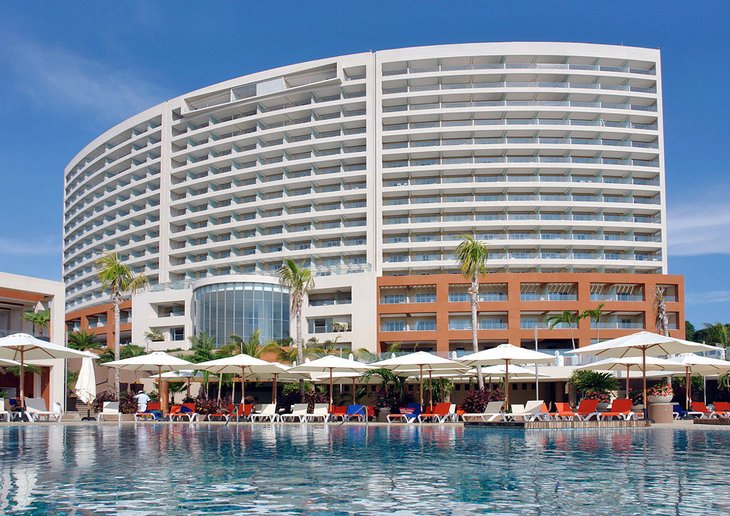 Accommodation: Azul Ixtapa Grand Spa & Convention Center
With one of the top reputations in Ixtapa, the Azul Ixtapa Grand Spa & Convention Center is one of the best all-inclusive resorts in the area. Upon arrival, guests are greeted underneath the lofty ceilings of the sleek and minimalist lobby. The atmosphere is elegant, tasteful, and bubbly. Although the resort is family-friendly, it is far from overpowering or overly noisy.
Rooms are divided into four categories, with the starting category being a Luxury Suite. These start at 700 square feet and are among the largest starting suites in Ixtapa. The Presidential and Honeymoon Suites have more than 2,000 square feet of space and full kitchens.
The public spaces at the resort are truly impressive, from the three zero-entry pools and hot tub to the small, sandy beach that overlooks a quiet section of the Pacific. One of the perks of this beach is that it is free from the incessant stream of beach vendors who seem to be ubiquitous at other beachfront resorts.
Azul Ixtapa Grand Spa and Convention Center has one of the largest spas in the city, as well. Measuring at 15,000 square feet of space, it offers 18 rooms and a long menu of treatments.
Address: Paseo, Punta Ixtapa Lote 2, Zona Hotelera, 40880 Ixtapa Zihuatanejo, Gro., Mexico
3. Pacifica Resort Ixtapa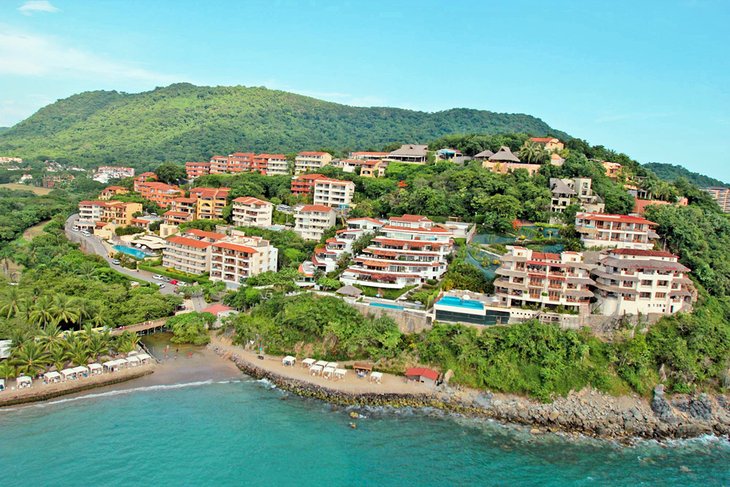 Accommodation: Pacifica Resort Ixtapa
With 222 rooms, the Pacifica Resort Ixtapa is teeming with amenities and offers incredible views of the Pacific Ocean and surrounding hills. The design and decor swings classic Mediterranean, from stucco walls and columns to clay tile roofs.
Inside, room decor swings traditional Mexico with red-tile floors, white-washed walls, and colorful pottery. The list of room categories is lengthy, but essentially the rooms are broken down into Luxury Suites and Premium Suites. Amenities include full kitchens, dining and living areas, and private balconies. Luxury Suites, however, start at 1,300 square feet and have blue-tile plunge pools
On property, guests will find five pools, seven restaurants, a beach, and a spa. The main pool is designed for activities, while other quieter pools are scattered throughout.
Just out front of the resort is the beach, but the hotel's space is a bit cramped as it's not far from the waterline to the hotel. That said, the water is calm and the location is convenient for those who need their ocean time.
Five minutes from the hotel are restaurants, shopping, and the 18-hole Campo de Golf Ixtapa.
Address: Paseo de la Colina S/N, Vista Hermosa, 40880 Ixtapa Zihuatanejo, Gro., Mexico
4. Emporio Ixtapa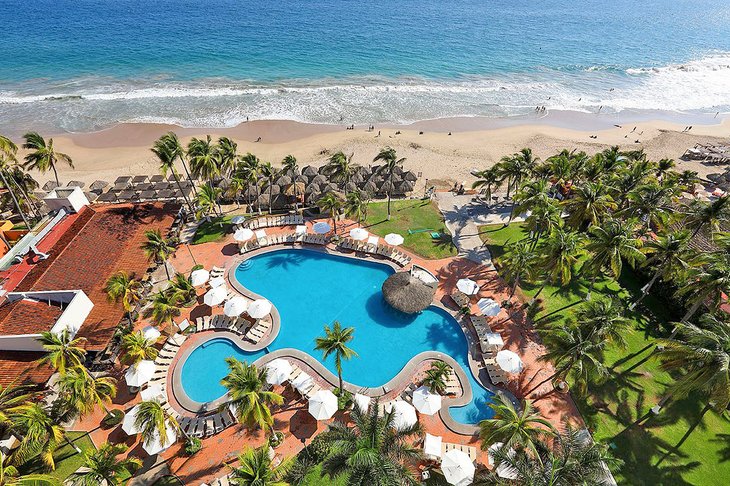 Accommodation: Emporio Ixtapa
Intimate in size, the Emporio Ixtapa is known for its retro 1980s-style architecture and minimalist decor. But what it lacks in pomp, it makes up for in location. The resort is in Ixtapa's most popular tourist district on Boulevard Paseo, five minutes to the bustling shops and restaurants.
Standard Rooms are small in size, so guests may want to upgrade to a Junior Suite. Of course, you can always splurge with the Gobernador Suite, which has three bedrooms, a balcony, and kitchenette.
The resort is perched on Playa Palmar, and has two restaurants, a gym, and a small pool. The best place to hang out at this property has to be the beach, which is the central area for socializing at the resort.
One of the top features at the property is its spa, which is decidedly modern compared to the rest of the property. A menu of treatments is available, along with a sauna, steam room, and hot tub.
Address: Blvd. Paseo Ixtapa s/n, 40884 Ixtapa Zihuatanejo, Gro., Mexico
5. Barceló Ixtapa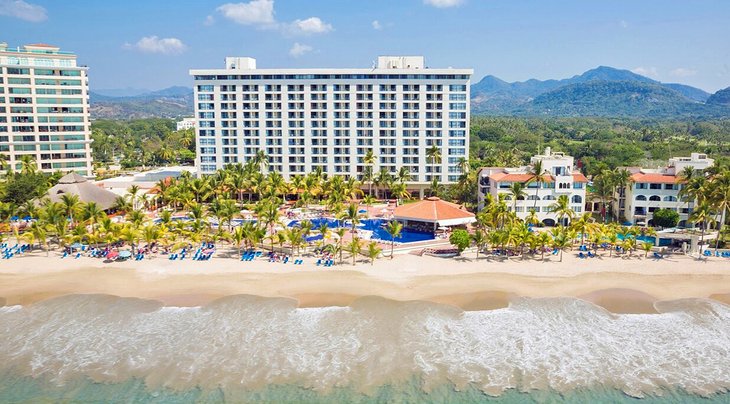 Accommodation: Barceló Ixtapa
Barcelo Hotels & Resorts is a fan-favorite resort chain across Mexico and the Caribbean. In Ixtapa, the Hotel Barcelo Ixtapa Beach Resort is that iconic beachfront all-inclusive resort that boasts the quintessential family-friendly vibe.
The resort features nearly 400 rooms with private balconies that offer sea and mountain views. Seven room categories run the gamut, from entry-level Superior and Superior Sea View rooms all the way up to the flagship Premium Club Rooms. These are dedicated to the higher floors and max out at the 1,300-square-foot Presidential Suite, which has its own private hot tub.
Features include a fitness center, tennis courts, a kids' club, and game room. The property has two main pools and a third adults-only pool. A fourth kiddy pool is closest to the beach and has a small waterslide.
The resort is perched on Playa Palmar, and has a sizable number of lounge chairs - perfect to accommodate the number of rooms.
Four restaurants include two a la carte and two buffet restaurants. The U-Spa has four treatment rooms and a beauty salon.
Address: Blvd. Paseo Ixtapa S/N, zona hotelera, 40880 Ixtapa Zihuatanejo, Gro., Mexico
6. Sunscape Dorado Pacifica Ixtapa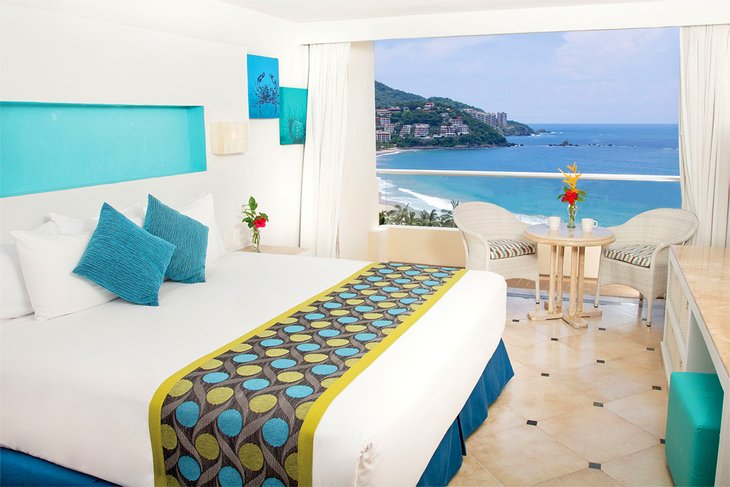 Accommodation: Sunscape Dorada Pacifica Ixtapa
Despite its slightly dated exterior, the Sunscape Dorado Pacifico Ixtapa is decidedly modern inside, and is one of the grand resorts in the Ixtapa area. The large resort welcomes guests through its marble-floored lofty atrium, which is flooded with natural light and decorated with lush hanging vines.
The family-friendly resort is energetic, but never over the top, and enjoys a gorgeous location right on the beach on the Boulevard Paseo. Rooms are spread across eight categories, but all rooms have private balconies with partial or full ocean views. The rooms to beat are the Sun Club Honeymoon and Sun Club Presidential Suites, which have an additional balcony, separate living, dining, and sleeping areas, and a walk-in closet.
Down in the public spaces, the resort has one large pool for the entire resort. But when we say large, we mean large, with plenty of seating to accommodate practically everyone. A kids' area has two waterslides.
Four restaurants are on property, as is a spa and fitness center, though the spa is far more impressive than the tiny gym.
Address: Blvd. Paseo Ixtapa s/n, 40884 Ixtapa Zihuatanejo, Gro., Mexico
7. Hotel Fontan Ixtapa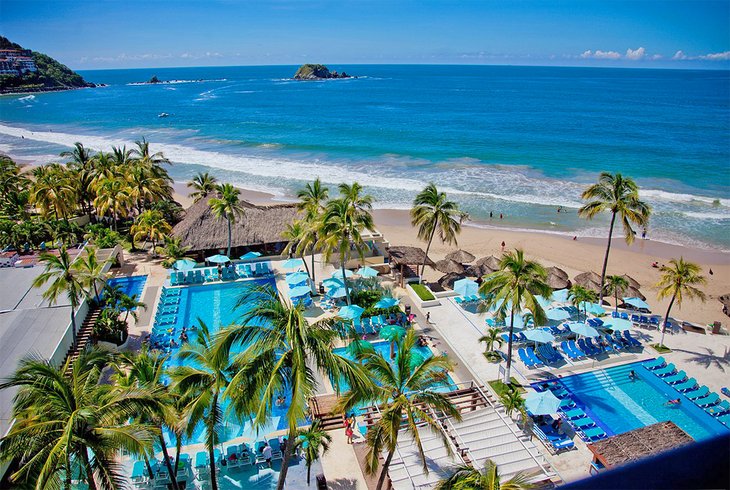 Accommodation: Hotel Fontan Ixtapa
The large Hotel Fontan Ixtapa offers nearly 500 rooms and a beachfront location. Set on Playa Palmar and Boulevard Paseo, the resort has some of the best real estate in Ixtapa.
Rooms are a little lackluster, but they are clean, bright, and airy. What you're coming to Hotel Fontan Ixtapa for is the beachfront location and variety of restaurants and activities. Three restaurants, two pools, and the sandy beach are some of its main selling points. Private, guest-only palapas and lounge chairs are available right on the sand.
For those who wish to explore, Ixtapa's restaurants, cafés, and markets are a five-minute walk away.
Address: Blvd. Paseo Ixtapa S/N, Fontán, 40880 Zihuatanejo, Gro., Mexico
8. Holiday Inn Resort Ixtapa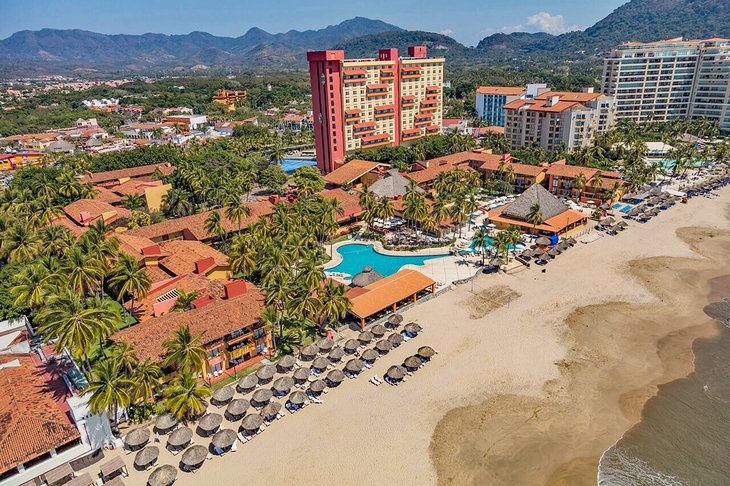 Accommodation: Holiday Inn Resort Ixtapa
Packed with amenities, the 420-room Holiday Inn Resort Ixtapa is a great wallet-friendly all-inclusive resort that boasts an enviable location. Guests will pick up on the "grand" vibe from the get-go, thanks to the massive, Mayan-inspired entrance and lobby.
The resort features 420 rooms that are clean and bright, all with private balconies, many of which have ocean views. The largest room category is the Presidential Suite, housed in a two-story villa with a long list of amenities, such as an additional terrace and soaking tub.
Features of the resort include a large outdoor pool, three restaurants, and direct beach access to Playa Palmar. A kids' club features a playground, idea games, and toys.
Three restaurants serve the resort, and there is a basic fitness center available free of charge.
Address: Blvd. Paseo Ixtapa S/N, 40880 Ixtapa Zihuatanejo, Gro., Mexico
9. Las Brisas Ixtapa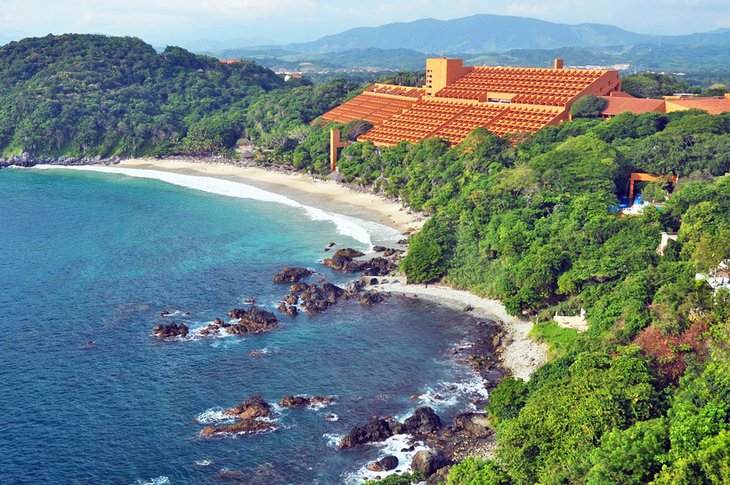 Accommodation: Las Brisas Ixtapa
Las Brisas Hotel Group is one of the premiere resort companies in Mexico, with high-end resorts across the country. Las Brisas Ixtapa lives up to the brand's reputation. It starts with the gorgeous location on the edge of the main tourist zone. A grand, pyramid-inspired lobby welcomes guests to the sprawling resort.
More than 400 rooms overlook four pools and a beautiful stretch of beach. The design of the rooms blends Mexican designs with contemporary colors, from earth tones with pops of bright colors to stucco walls and marble floors. One-bedroom Junior Suites offer outdoor whirlpools, while the Presidential Suite spans 6,000 square feet and has its own private outdoor pool.
Additional features include four pools and a wide, private beach, which is rare for hotels in the tourist area. The resort has five restaurants to choose from, as well. Las Brisas Ixtapa is a stone's throw from the 18-hole Palma Real Ixtapa golf course.
Address: Paseo Playa Hermosa s/n, 40880 Ixtapa Zihuatanejo, Gro., Mexico
10. Tesoro Ixtapa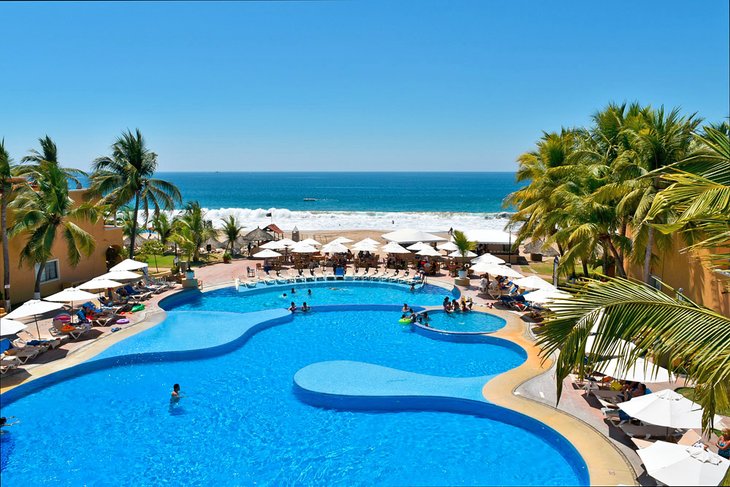 Accommodation: Tesoro Ixtapa
Ixtapa's main heyday was in the 1980s, and many of its resorts reflect that era of architecture. Tesoro Ixtapa is one that has a bit of a dated feel on the outside, but still offers the amenities and services expected from a beachfront all-inclusive resort. The resort offers a convenient location, right on Boulevard Paseo, walking distance to the restaurants, shops, and markets.
Rooms are divided into five categories, starting with the Deluxe Garden View and Deluxe Partial Ocean View Rooms. The rooms to beat, however, are the villas, which are adjacent to the pool. Each has a tri-level floor plan with three bedrooms and two and a half bathrooms.
Tesoro Ixtapa has only one pool, which means it can become a bit crowded when at maximum capacity. Still, the pool serves as the social center for the resort and is often pumping with DJ music.
The hotel sits on a wide stretch of soft sand along Playa Palmar, though similarly to the pool, it can feel a bit crowded at times. Other amenities include a fitness center and a spa, as well as two restaurants and a snack shack.
Address: Blvd. Paseo Ixtapa LT 05, Zona Hotelera, 40880 Ixtapa Zihuatanejo, Gro., Mexico
11. Posada Real Ixtapa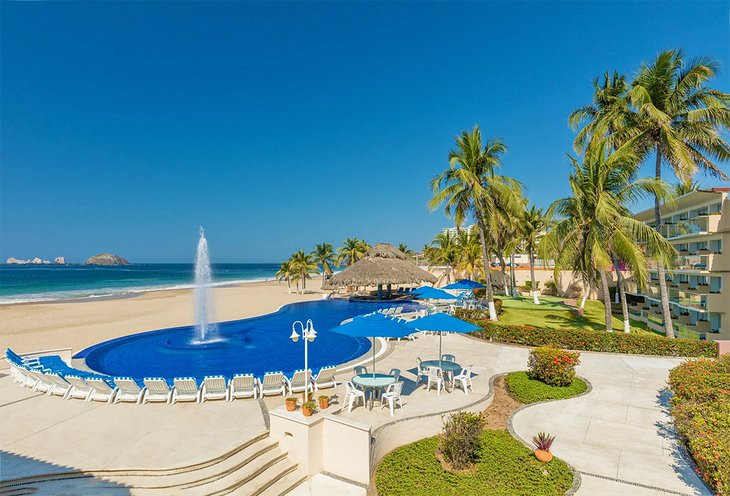 Accommodation: Posada Real Ixtapa
Intimate in size, the 110-room Posada Real is a budget-friendly, all-inclusive resort in Ixtapa. In fact, for the price range, it offers one of the best locations in the beach town, directly on the sand.
Guests can choose from either King or Double rooms, some of which have terraces or balconies. The resort isn't big on amenities, however its beach location and price tends to make up for that.
The Ixtapa Tropicana restaurant is open-air, clean, and decent, serving breakfast, lunch, and dinner.
Two large pools are available, including a stunning infinity beach pool. A second family pool can be found on the property, as well.
Address: Blvd. Paseo Ixtapa S/N, Zona Hotelera, 40884 Ixtapa Zihuatanejo, Gro., Mexico
12. Park Royal Beach Ixtapa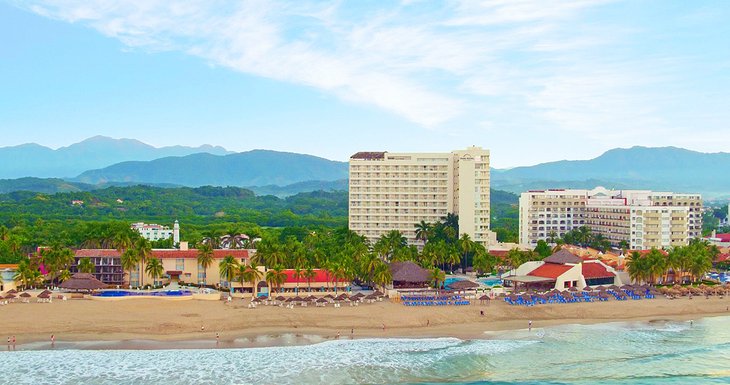 Accommodation: Park Royal Beach Ixtapa
Perched on the powder-soft stretch of Playa el Palmar, Park Royal Beach Ixtapa is a mid-sized all-inclusive resort with nearly 230 rooms. It's easy to spot this Ixtapa all-inclusive – it's one of the tallest buildings along the hotel strip, which means rooms on the higher floors have magnificent views.
Guests are greeted by a lobby washed in natural light from the all-glass walls. After check-in, guests are then taken to their room, which will have either a king-size or two queen-size beds. Rooms are simple and clean, with a white, brown, and beige color scheme. All rooms have balconies with either ocean or garden views.
The list of activities at this resort is traditional, meaning guests will have their choice of beach or pool (with plenty of lounge options at either), as well as a fitness center and a small spa. Of course, the all-inclusive rate also applies to the restaurants, from La Veranda and El Pescador to the Italian-themed restaurant, El Italiano.
Address: Blvd. Ixtapa, Lote 5-A Zona Hotelera S/N, 40884 Ixtapa Zihuatanejo, Gro., Mexico
Map of All-Inclusive Resorts in Ixtapa
Ixtapa, Mexico - Climate Chart
Average minimum and maximum temperatures for Ixtapa, Mexico in °C
J
F
M
A
M
J
J
A
S
O
N
D

29

20

29

21

29

22

29

23

30

24

31

25

32

24

31

24

31

24

31

23

31

22

30

21

PlanetWare.com
Average minimum and maximum temperatures for Ixtapa, Mexico in °F
J
F
M
A
M
J
J
A
S
O
N
D

85

68

84

70

84

71

85

73

86

75

88

77

89

76

88

76

88

76

88

74

87

72

86

70

PlanetWare.com