12 Best All-Inclusive Resorts in Cozumel
We may earn a commission from affiliate links ()
As far as Mexican islands are concerned, there is, and always has been, a frontrunner. Isla Cozumel is a picture-perfect Caribbean-meets-Mexico-style island just off the coast of Playa del Carmen.
Despite being one of the largest cruise ports in the Caribbean, what is unique about Cozumel is that it manages to retain its local vibe, especially on the eastern side of the island, where the beaches are a little less developed and a little more rugged.
Tourists flock to Cozumel to gape at its palm-fringed, sugary shores and relax at the resorts. Just off the coast is one of the most beautiful reefs in the world, packed with colorful coral; tropical fish; and larger marine life like manta rays, turtles, and nurse sharks. Excursions and tours will take you to interesting places around Cozumel
The island is popular for cruisers and day-trippers from Playa del Carmen, but is packed with a plethora of all-inclusive hotels and resorts that have made it a destination in its own right.
All-inclusive resorts are a great option for an island like Cozumel, which is known for its natural beauty. Guests love that they can check in and leave the rest up to the resorts. But with so many great options to choose from, the only question left to answer is, which one is right? Find a great place to stay with our list of the best all-inclusive resorts in Cozumel, Mexico.
1. Secrets Aura Cozumel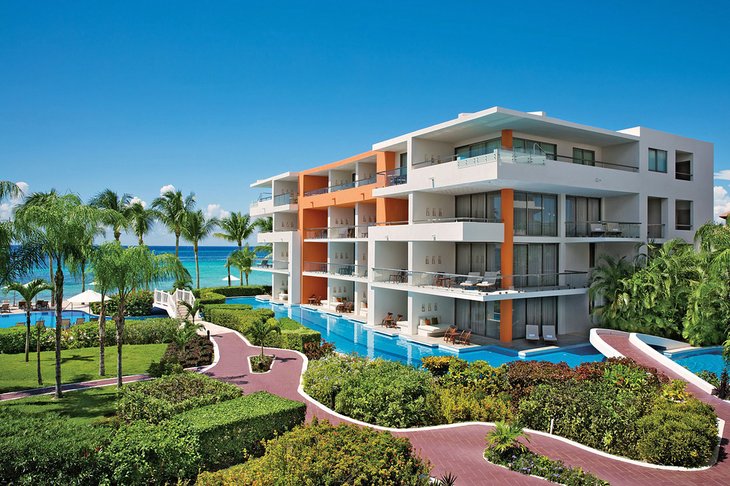 Accommodation: Secrets Aura Cozumel
Secrets Aura Cozumel is all about elevating romance. The luxury all-inclusive sets the tone upon arrival with the open-air lobby, complete with fountain and soft lighting.
The resort is located on the southern edge of the island, with a beach that is remote enough to feel like it's completely private to the hotel. Note that Secrets Aura Cozumel is designed for couples who are looking to stay put and relax, as it's not as convenient to get to town from this point on the island.
The resort offers 266 suits, each with a private terrace or balcony, as well as a full bathroom with a whirlpool. If you really want to level up, spring for one of the Preferred Club rooms, which come with additional privileges, like personalized check-in and checkout, special concierge services, upgraded bath amenities, and rooms in premium locations.
The spa is sprawling, however it's not located directly on the property. It's located next door at the Sunscape Sabor Cozumel, the family-friendly sister property to Secrets. The 14,000-square-foot spa has treatment rooms for singles and couples; a step room; sauna; and a menu with treatments like salt glows, sea facials, hot stone massage, and seaweed wraps.
Address: Km 12.9, Carretera Costera Sur, Zona Hotelera Nte., 77600 San Miguel de Cozumel, Q.R., Mexico
2. Iberostar Cozumel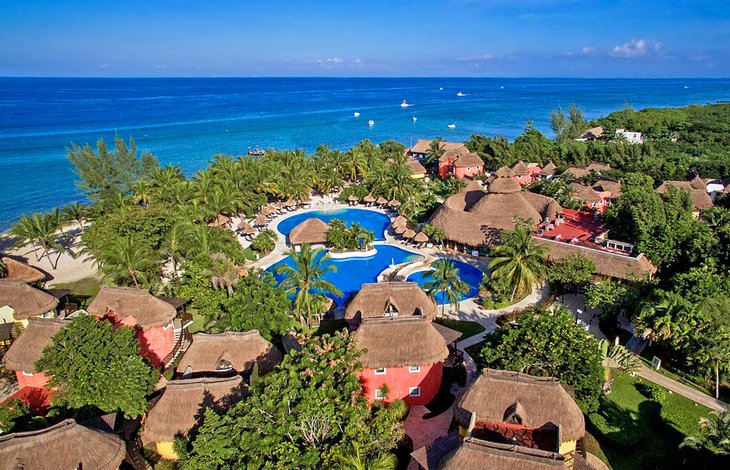 Accommodation: Iberostar Cozumel
Scuba divers looking for an intimate vibe will feel right at home at the Iberostar Cozumel. With 306 rooms, and the world's second largest coral reef right out the front door, the resort is all about showing off the natural beauty for which Cozumel is known. In fact, the property has its own PADI-certified dive center, as well as wildlife that roams the property, from flamingos and iguanas to peacocks.
Families are well-suited to the Iberostar Cozumel, with the bungalow-style suites. Each room or suite has its own balcony or patio. Ocean-view suites are the largest rooms you can book at this resort, and they have sun loungers on the private balcony.
Did you know that you can reserve your room online before you get to the resort? Iberostar uses a My Room Online service that allows travelers to choose the number and location of their room after the booking is confirmed.
In addition to diving, facilities include four restaurants, two pools, a beach, kayaks, windsurfers, tennis, volleyball, fitness classes, and much more. A full-service gym has cardio equipment and weights, while a spa has a menu of aromatherapy, massages, and beauty services. A kids' club is available for kids ages four to 12.
Address: Carretera Costera Sur Km. 17 782, 77600 San Miguel de Cozumel, Q.R., Mexico
3. Cozumel Palace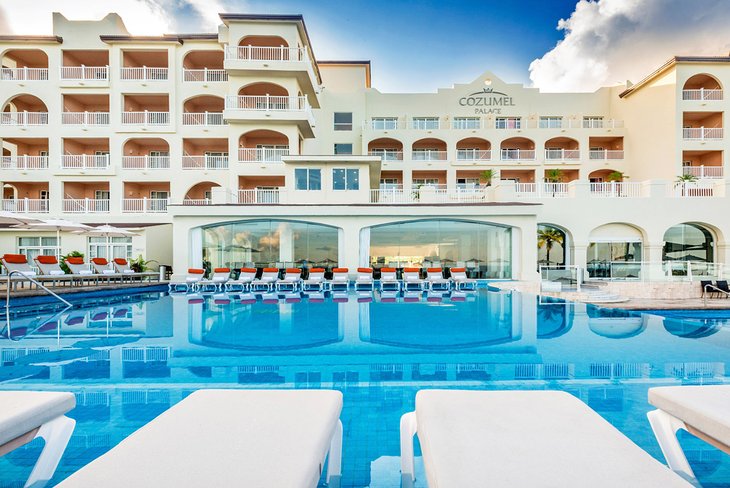 Accommodation: Cozumel Palace
The upscale Cozumel Palace is a relatively small, family-friendly all-inclusive resort directly on one of Cozumel's western white sandy beaches. Not far from the cruise port, it provides a convenient option for cruisers who are staying longer on the island.
The resort has 169 rooms, all of which have Caribbean Sea views, but guests can upgrade to Concierge Level or Loft Suites for even more space or extra amenities. The Loft Suites are duplex rooms with double whirlpool tubs and balconies.
The ultimate room is the Presidential Suite, which features two bedrooms, a double whirlpool tub, and dining area. It's large enough to accommodate six guests, which makes it perfect for families or friends traveling together.
The all-inclusive plan includes all food and beverages; accommodation; room service; Wi-Fi; and snorkeling, which is available right off the resort's private dock.
Additional entities include a spa, SCUBA equipment, nightly shows, and fitness center.
Address: Sur Avenida Rafael E. Melgar Km 1.5.55 Zona Hotelera, Centro, 77600 San Miguel de Cozumel, Q.R., Mexico
4. Occidental Cozumel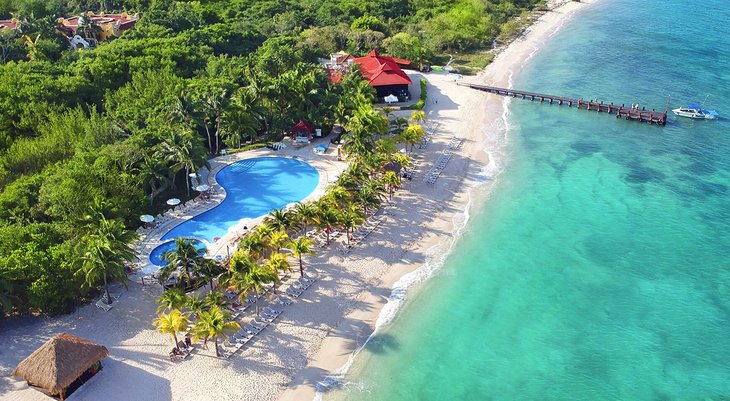 Accommodation: Occidental Cozumel
What sets Occidental Cozumel apart from other all-inclusives on the island is its location. South of the cruise port, close to the quieter, secluded beaches, the Occidental Cozumel is bright and airy with a decidedly Mexican vibe. Picture traditional artwork, textiles, and pottery. Plus, the lobby is evocative of an outdoor Mexican market, complete with a tree-lined courtyard.
Rooms all have local touches, from brightly colored walls to lovely patterned textiles. All rooms, no matter the category, have spacious bathrooms and non-alcoholic minibars.
As for amenities, the resort sits in front of a dreamy strip of sand in front of the Palancar Reef, which is one of the best near the island for snorkeling. On the property itself are three pools, including a dedicated kids' pool, which is near the kids' club.
A full-service spa is available for guests, as well as a fitness center and tennis courts. Six restaurants are on the property, serving everything from Mexican to Mediterranean.
Address: Carretera Costera Sur Km 16.6 Col. El Cedral, 77600 San Miguel de Cozumel, Q.R., Mexico
5. The Explorean Cozumel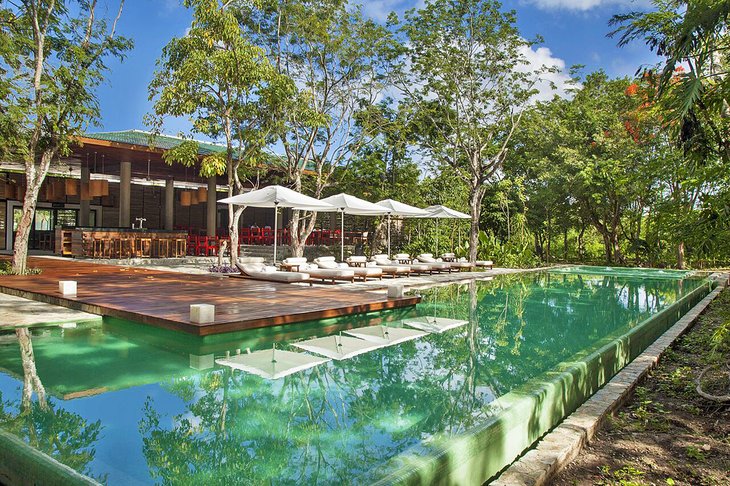 Accommodation: The Explorean Cozumel
Designed entirely for the active traveler who is obsessed with local immersion, The Explorean Cozumel is a whole different kind of all-inclusive resort. The luxury-level brand is only a few years old and was designed with a sharp focus on activities and exploring – hence, the name.
The tiny all-inclusive is just behind the Fiesta Americana (they share a parent company, by the way), with just 56 rooms shrouded in jungle foliage. Guests of the resort have access to the pool, beach, and restaurants of the Fiesta Americana.
But the real reason people book The Explorean Cozumel is that it focuses on embodying the destination. All the activities are included in the price of the room, from island jeep tours to the wilder sides of the island to paddleboarding, roebuck riding, sailing, archaeological tours, and more.
Address: Chankanaab km 7.5, Zona Hotelera Nte., 77600 San Miguel de, Q.R., Mexico
6. Grand Park Royal Cozumel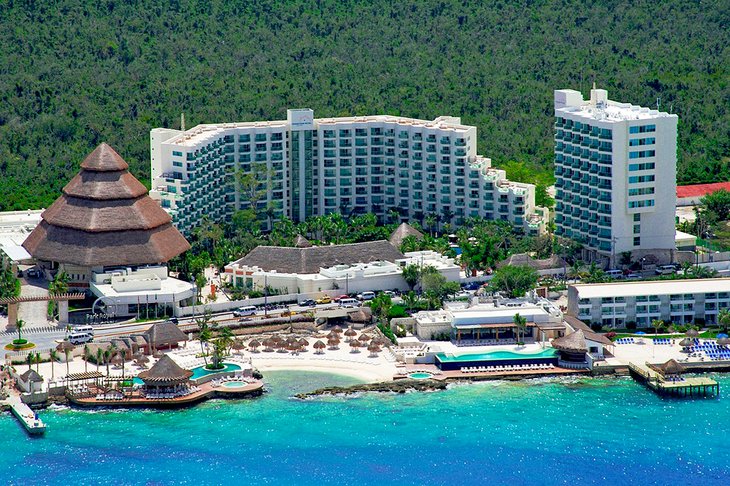 Accommodation: Grand Park Royal Cozumel
What puts the Grand Park Royal Cozumel on the map is, quite literally, its location. This is one of the best all-inclusive resorts in Cozumel if you are most interested in being on the beach.
The 348-room resort sits on prime beachfront location, exuding a laid-back vibe, multiple dining venues, open-air atmosphere, and proximity to the main cruise terminal. Rooms are somewhat lackluster in terms of decor, but all have private balconies and the Family Suites are large enough for families with children.
The all-inclusive package at this resort includes accommodations and all meals, as well as the nightly entertainment in the open-air amphitheater. It also includes non-motorized water sports and access to the three pools and two whirlpools. The rate includes Wi-Fi in the lobby, but Wi-Fi in the rooms comes at an additional charge.
Address: Playa Paraiso Km. 3.5 Chankanaab Sur Zona Hotelera Norte, 77675 San Miguel de Cozumel, Q.R.
7. Fiesta Americana Cozumel All-Inclusive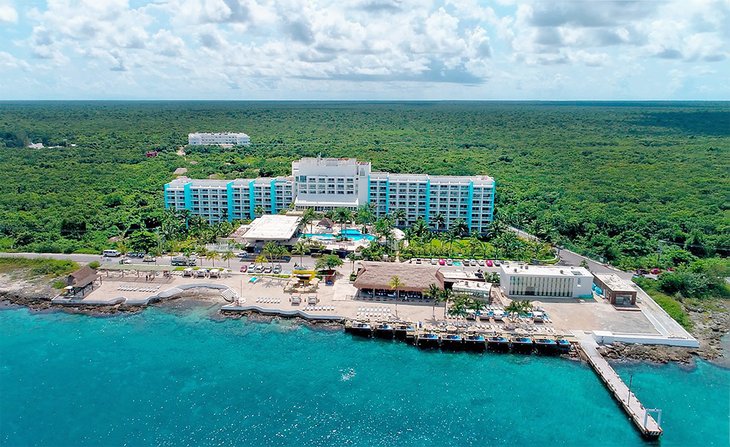 Accommodation: Fiesta Americana Cozumel All Inclusive
Fiesta Americana Cozumel All Inclusive has a convenient location, just a few minutes from the cruise port. Intimate in size, with just 102 rooms, the resort has stunning views of the Caribbean Sea, and is backed by the island's thick, lush jungle.
Inside the hotel, the vibe is ultra modern, with plenty of open-air spaces and a white color palette accented with pops of color. Each room has a furnished balcony, and many rooms have views of the ocean or terraces with private pools.
The resort doesn't boast the most expansive beach, but the small beach area does have a private dock with day beds and direct access to the ocean. The resort has two outdoor pools, one for laps, as well as a main pool. A small gym is available, as well as a spa with steam baths, massage rooms, and a hot tub.
Four restaurants are included in the room rate, and there is a kids' club, as well as a calendar of daytime and evening events.
Address: Chankanaab KM 7.5, Zona Hotelera Nte., 77600 San Miguel de Cozumel, Q.R., Mexico
8. Cozumel Hotel & Resort, Trademark Collection by Wyndham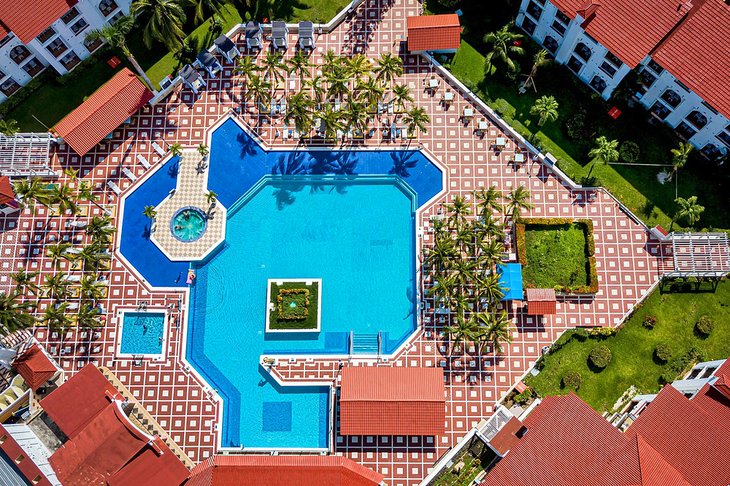 Accommodation: Cozumel Hotel & Resort, Trademark Collection by Wyndham
If you are in search of a fabulous pool scene, the Cozumel Hotel & Resort is the Cozumel all-inclusive to consider. The pool is simply massive and equipped with plenty of seating – no need to scurry down to the pool super early to save the good chairs.
The resort is relatively small for all-inclusive standards, with only 181 rooms, all of which offer free Wi-Fi and flat-screen televisions. The decor is spartan at best, but each room has a furnished terrace.
A beach is available at the resort, but guests will have to walk through an underground tunnel that goes underneath the road to reach the small, sectioned-off beach on the other side. A beach club is available for guests, but you have to enter the water from ladders or steps off a stone pier.
Several restaurants are included in the all-inclusive package, but room service costs an additional fee.
Address: Kilometro 1.7, Carretera Costera Sur, 77600 San Miguel de Cozumel, Q.R.
9. Melia Cozumel Golf All Inclusive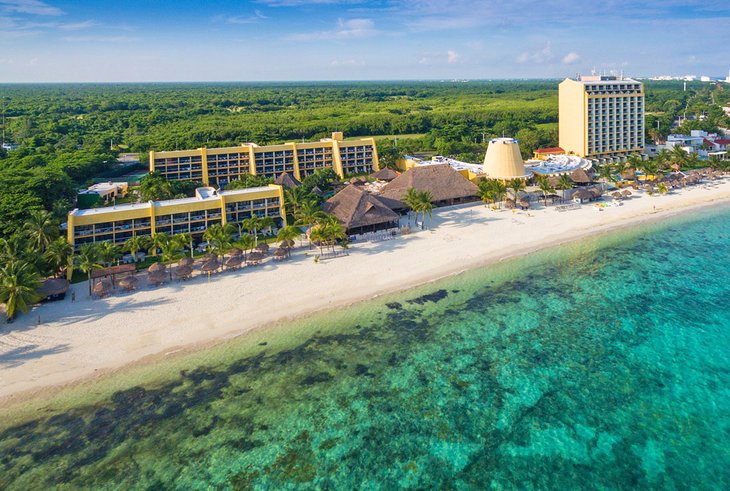 Accommodation: Melia Cozumel Golf All Inclusive
Perched on Santa Pilar Beach, Melia Cozumel Golf All Inclusive is a smaller all-inclusive, with a low-key family vibe. The real selling point of the resort, however, is its prime location on one of the most beautiful beaches in Cozumel's North Hotel Zone.
Rooms are clean and comfortable, though a bit basic. But ones with an ocean view are certainly worth it for the sweeping turquoise views.
Where Melia Cozumel exceeds expectations are in its suites, like the Royal Suite with Golf. This massive ground-floor suite has a private terrace with a whirlpool, as well as unlimited golf during your stay. Those who don't golf are given a $35 spa credit per person per day. The Cozumel Country Club, which is the only course on the island, is just across the street.
The resort has two pools: one for adults and one for families. The adults-only pool is located right off the lobby and has cabanas with ocean views. The family pool is near the kids' club.
Address: Carretera Costera Norte, Zona Hotelera Nte., 77600 San Miguel de Cozumel, Q.R., Mexico
10. El Cozumeleno Beach Resort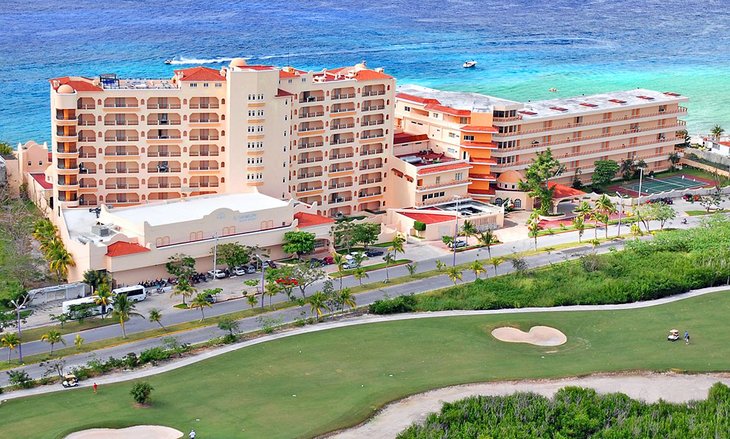 Accommodation: El Cozumeleno Beach Resort
Checking into El Cozumeleño is like checking into a bit of Cozumel history, as it was one of the first resorts built in the Northern Hotel Zone. This does mean that parts of the resort can be a bit dated, but guests are coming here for the sweeping ocean views (from every room, mind you,) and the value for money.
The resort is great for families, as it's brimming with kid-friendly features, like large rooms that can fit four people, a kids' club, mini-golf, and a game arcade. Note: Parents who enjoy a round of golf will also have their fun here, as the resort is across the street from the island's golf course, and all guests receive discount passes.
The property has five pools, plus an indoor pool for those rainy days, theme nights, bike tours, snorkeling, kayaks, volleyball, and more. For an additional fee, guests can arrange for diving tours, fishing trips, Jet Skis, parasailing, and spa services.
Address: Playa Santa Pilar KM 4.5, Zona Hotelera Nte., 77600 San Miguel de Cozumel, Mexico
11. Sunscape Sabor Cozumel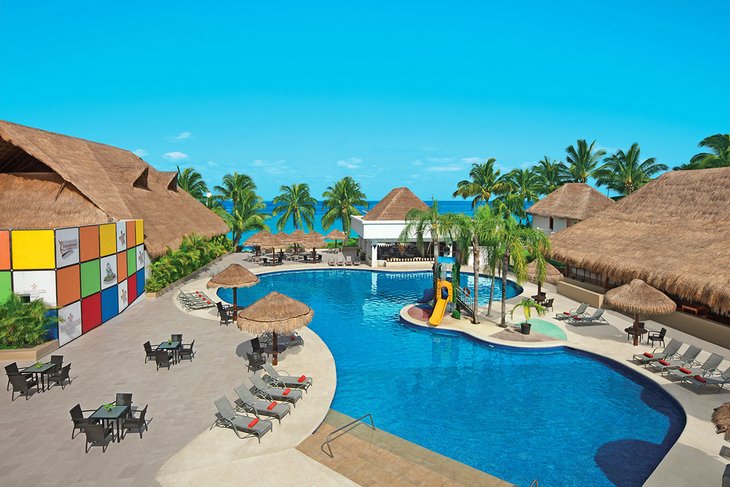 Accommodation: Sunscape Sabor Cozumel
While Secrets may cater to the adults-only crowd, its sister resort, Sunscape Sabor Cozumel is the perfect counterpart for families. Thatched roofs and a beachfront location really sell the tropical island getaway vibe.
The resort is on the southern end of Cozumel, which means the beaches are more quiet and private, but this also means it's a bit of a drive to San Miguel. Still, for guests staying at an all-inclusive, distance to restaurants or other off-property activities may not matter.
The best room for families is the Family Suite, which measures 1,250 square feet and has its own kitchenette, private terrace, or balcony.
Kids have use of the kids' club facilities, which include weekly campout adventures, a playground, arts and crafts, and movie nights. Teens have activities geared to them, as well, from karaoke nights and billiards to guided bicycle tours and sports competitions.
The hotel also has a calendar of daily activities, from beach volleyball and nightly entertainment, to fitness classes and non-motorized sports.
Address: Carretera Costera Sur KM 12.9, Zona Hotelera Nte., 77600 San Miguel de Cozumel, Q.R., Mexico
12. El Cid La Ceiba Beach Hotel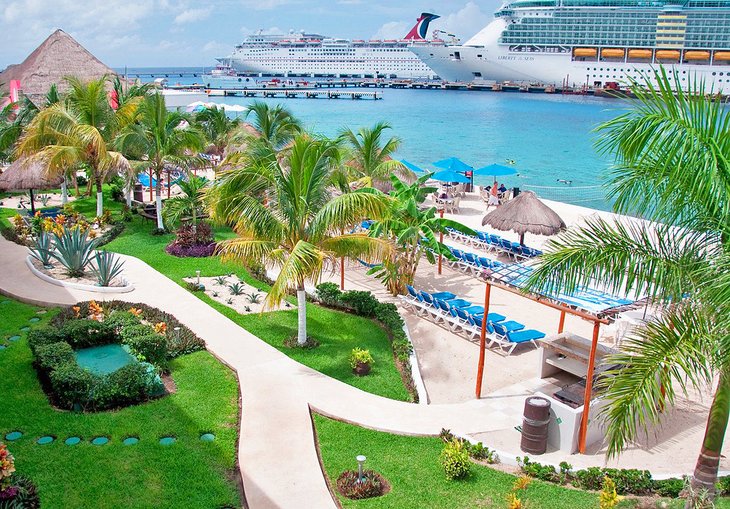 Accommodation: El Cid La Ceiba Beach Hotel
Just outside downtown San Miguel, El Cid La Ceiba Beach Hotel is a centrally located all-inclusive resort, with access to the cruise port, airport, town, and beaches. The resort is divided into two towers, complete with an outdoor swimming pool and two man-made beaches.
Rooms include smaller Deluxe Rooms with kitchenettes, or the Suites, which seem more like full-scale apartments with one, two, or three bedrooms. These apartments also have kitchenettes that are fully equipped, in case guests feel like cooking for themselves.
The grounds of the resort are definitely worth exploring. Families love the beach areas (one has its own huge waterfall), while the pool tends to be more popular for cruise guests who come by for the day with day passes. The resort has a great location for snorkeling as well.
Guests do not have to opt for the all-inclusive plan here, as the resort also offers a pay-a-la-carte option. However, the all-inclusive plan does cover all food and beverages, snorkel gear for 90 minutes, taxes, and gratuities.
There is an elite all-inclusive plan that folds in special amenities like room service, tennis court use, a welcome basket with chocolate-covered strawberries, and preferred restaurant seating.
Address: Km 4.5, Av. Rafael E. Melgar, 77600 San Miguel de Cozumel, Q.R., Mexico