12 Top-Rated Tourist Attractions in the Yarra Valley and Dandenong Ranges
"Heading for the hills" of the Yarra Valley and Dandenong Ranges, just 35 kilometers from Melbourne, is the ideal city escape if you're seeking inspiration and pure indulgence. Thanks to the region's rich soil and agreeable climate, many European immigrants settled here during the 19th century, creating what became known as "the food bowl of Victoria." Many of these original farms and gardens are still productive today, and tasting their farm-fresh produce and artisan foods is a highlight for both locals and tourists.
Green thumbs will be in heaven with a bevy of beautiful gardens to explore, flaunting everything from rainbow-hued rhododendrons to fiery fall colors. Other popular things to do in the Yarra Valley and Dandenong Ranges include visiting evocative art galleries, wildlife experiences, exploring quaint country villages, dining at gourmet Yarra Valley restaurants, and soaking up the stunning scenery on a historic steam train.
For more than a century, the area has been one of the most rewarding weekend getaways from the city, attracting artists, nature lovers, and foodies. Plan your Yarra Valley itinerary and find out more about the best places to visit with our list of the top tourist attractions in the Yarra Valley and Dandenong Ranges.
Note: Some businesses may be temporarily closed due to recent global health and safety issues.
1. Healesville Sanctuary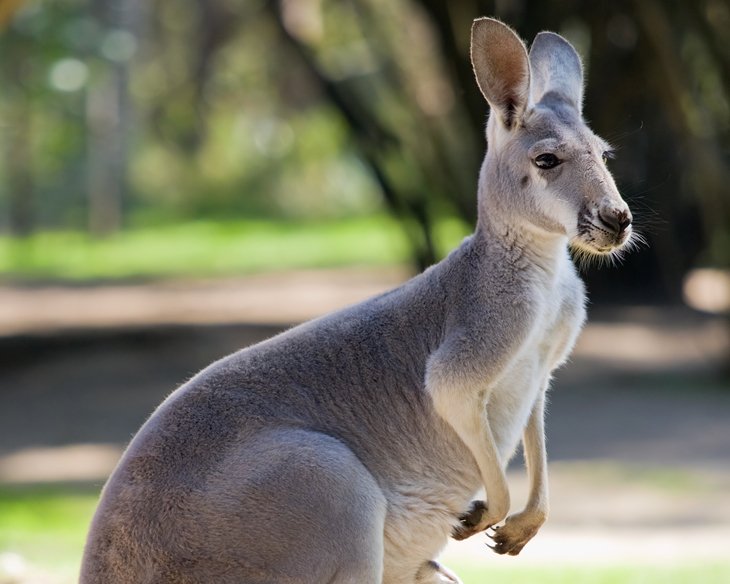 Officially called Sir Colin Mackenzie Sanctuary, Healesville Sanctuary is the perfect place to check out the full range of unique Australian animals in one compact place. Set in a typical Australian landscape, the 30-hectare park offers tourists the opportunity to see the animals up close and personal. "Meet the handler" encounters include kangaroos, wombats, koalas, emus, dingoes, and platypuses and take place at various times throughout the day.
"Spirits of the Sky" offers a chance to see birds of prey, featuring the majestic wedgetail eagle, soar through the air. With several healthy dining options, Healesville Sanctuary is also a great place to take in the best of the region's gourmet delicacies.
Address: Badger Creek Road, Healesville
Official site: http://www.zoo.org.au/healesville
2. Dandenong Ranges National Park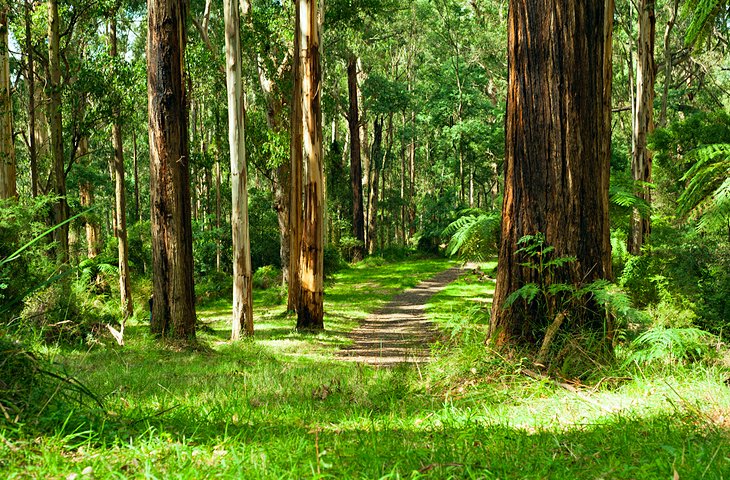 Exploring all the rewarding things to see and do in Dandenong Ranges National Park requires time and planning. Covering 3,215 hectares, the park is rich in walking trails, wildlife, lush fern gullies, and forests of towering mountain ash.
The best way to experience the park's beautiful scenery and abundant wildlife is on the network of scenic hiking trails. Tree goannas, echidnas, and black wallabies inhabit the park, and at night you might even catch a glimpse of feather-tail gliders or yellow-bellied gliders soaring across the forest canopy.
Other popular things to do in the park include horseback riding, cycling, and birding. Keep an eye (and ear) out for the superb lyre bird, which mimics the calls of other birds.
Although the Dandenong Ranges restaurants are excellent, many people enjoy packing a picnic. Grant's Picnic Ground is a must do for tourists interested in birds. Located in the heart of Sherbrooke Forest, the area is known for its dense population of native species, including many cockatoos and rosellas. Popular hiking trails also branch out from this area.
Another tourist-orientated area is the Sherbrooke Picnic Ground, where hikers can experience the easy 2.4-kilometer round-trip trail to the impressive Sherbrooke Falls.
For a more rigorous walk, the 1,000 steps Kokoda Track Memorial Walk is a commemoration of Australian troops in Papua New Guinea during the Second World War.
Official site: http://parkweb.vic.gov.au/explore/parks/dandenong-ranges-national-park
3. Puffing Billy Steam Train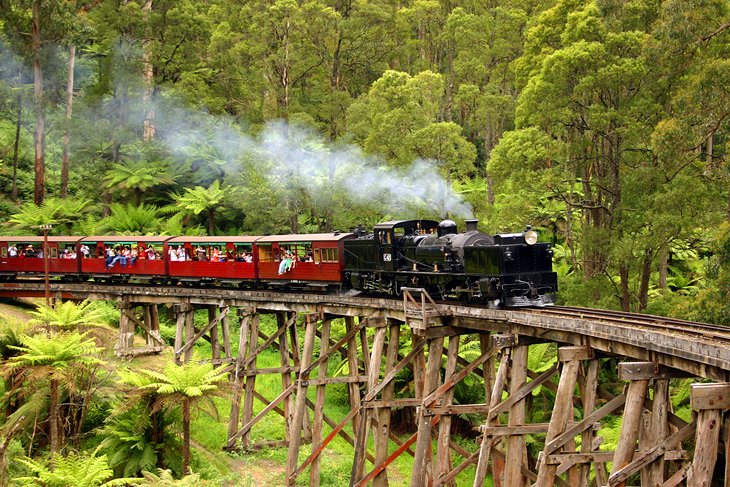 The romance of days gone by comes alive with a nostalgic ride through the Dandenong Ranges on the century-old steam train, Puffing Billy. Considered one of the best steam trains in the world, it runs every day of the year (except Christmas Day) along a 40-kilometer track under the steam of a large team of volunteers.
Traveling from Belgrave to Gembrook, the train chugs through spectacular scenery. Along the way, you'll pass through towering indigenous eucalyptus forests featuring the magnificent mountain ash trees, over historic wooden bridges, and through quaint villages. With open-air carriages, the fresh scent of eucalyptus adds another sensory dimension to this popular Dandenong Ranges attraction.
Address: 1402 Mt. Dandenong Tourist Road, Mt. Dandenong, Victoria
Official site: http://puffingbilly.com.au/
4. Dandenong Ranges Botanic Garden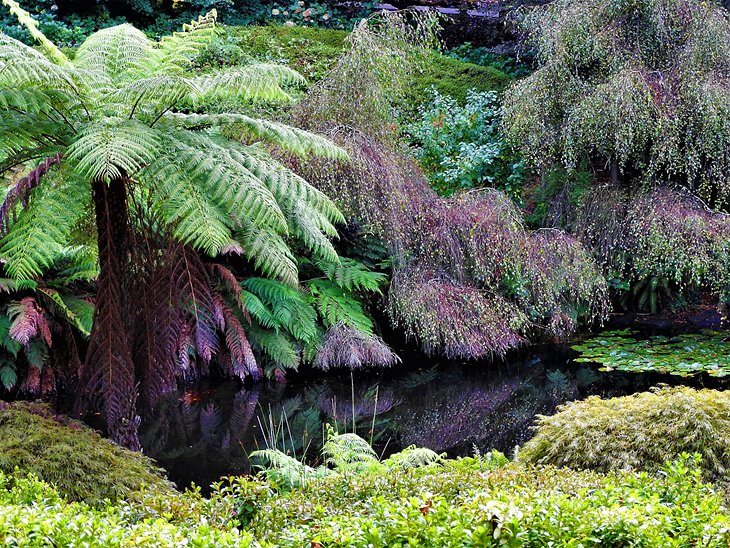 Thousands of blooms in vibrant pinks, purples, blues, and reds greet you in these gorgeous gardens (formerly known as the National Rhododendron Gardens), about 500 meters from Olinda Village. This is one of the most popular places to visit in the Dandenong area.
Camellias, daffodils, azaleas, and cherries and, of course, rhododendrons provide most of the color in the spring and early summer, but come in the fall to see the fiery reds and oranges of the changing leaves.
You can focus on one area of the garden if you feel like a gentle stroll, or hike the entire five kilometers round-trip through rock gardens, fern gullies, and sprawling lawns. The views of the Yarra Valley and its distant peaks are breathtaking.
Enhance your experience here with a visit to the sensory garden, where you can inhale the fragrance of fresh blooms, touch the textures of ruffled bark, hear the crunch of leaves underfoot, and even taste some of the plants.
Changing with every season, the gardens are a delight for photographers and anyone who appreciates the colors of nature. The best time to visit is earlier in the morning, when the light is soft and it's easier to find a parking spot. Entry is free, and tours in an electric shuttle are available for a small fee.
Address: The Georgian Road, Olinda, Victoria
Official site: https://parkweb.vic.gov.au/explore/parks/national-rhododendron-garden
5. Coombe Yarra Valley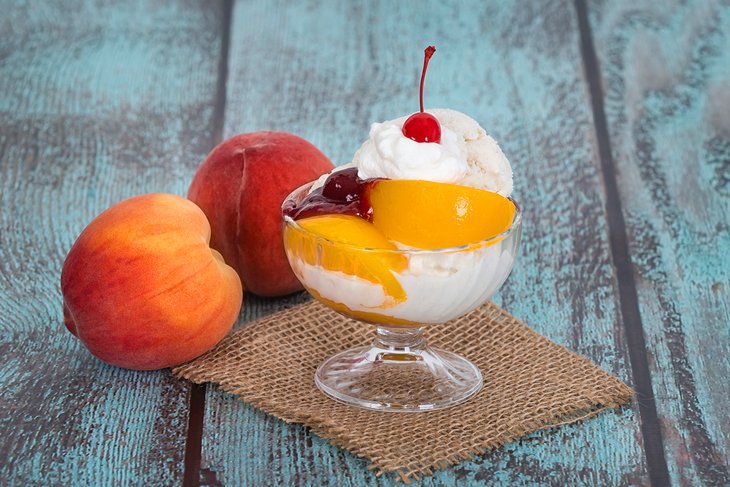 Ever wondered what it was like to be an Aussie diva in the 1900s? Now you can find out at this popular Yarra Valley attraction. The famously flamboyant Aussie opera singer Dame Nellie Melba once lived on this elegant estate, and you can gain fascinating insight into her life on a guided tour of the serene seven-acre gardens and a gallery spotlighting artwork from her private collection.
Designed more than 100 years ago, the gardens are internationally inspired. Highlights include an Italianate garden; French-style rose garden; and, reputedly, Australia's oldest swimming pool, where Charlie Chaplin was said to have taken a dip—all bordered by a 10-meter-high cypress hedge.
The gallery provides the most revealing glimpse of the famous diva. Exhibits including her fashion, jewelry, and objet d'art, as well as paintings by Hans Heysen and Arthur Streeton.
Dame Melba was friends with the renowned French chef, Auguste Escoffier, who concocted the Peach Melba dessert in her honor, a sublime mingling of peach, raspberry, and vanilla ice-cream. You can taste this and other gourmet treats spotlighting fresh produce grown on the estate at the light-filled restaurant overlooking the gardens.
Tour packages include either a delicious Devonshire tea or a three-course gourmet lunch, and you can opt for a tour only—if you can resist the mouthwatering food.
Address: 673 - 675 Maroondah Hwy, Coldstream, Victoria
Official site: https://coombeyarravalley.com.au/melba-estate
6. William Ricketts Sanctuary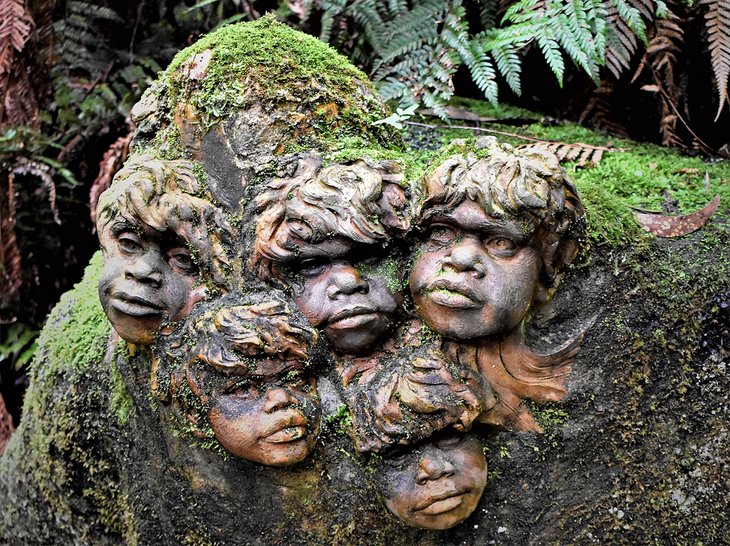 Hidden from the world in a small garden of ferns, mountain ash trees, and rocky outcrops, William Rickett's Sanctuary is one of the best kept tourist secrets in the Dandenong Ranges. Blending with the natural environment, more than 90 intricate ceramic sculptures representing the Aboriginal culture of the area are creatively displayed among the foliage.
The namesake creator of these gardens spent many years living with aboriginal communities, and the gardens celebrate their deep spiritual connection with Mother Earth. Immersed in the cool, dark forest surrounded by the beauty of nature and art, you can't help but feel a sense of peace here.
This is one of the many rewarding free things to do in the Dandenong Ranges. Many tourists combine a visit here with a picnic and stroll at the nearby Alfred Nicholas Memorial Garden.
Address: 1402 Mt. Dandenong Tourist Road, Mt. Dandenong
7. Olinda Village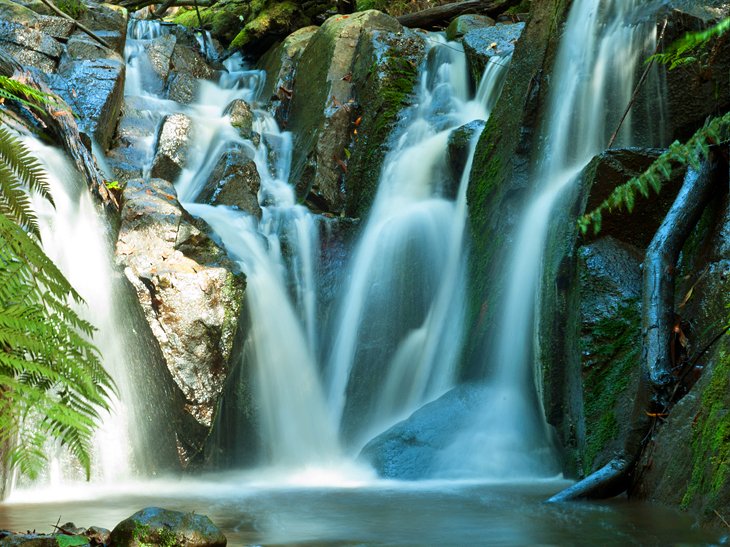 In the "garden belt" of the Dandenong Ranges, Olinda is a great overnight stop for visitors. At 569 meters, this cute country town is the highest village in the Dandenong Ranges, and staying here puts you near some of the region's top attractions. In Olinda village, the narrow streets are filled with galleries, quaint bed-and-breakfasts, wonderful restaurants, wellness centers, day spas, and boutique shops.
And then there are the gardens... Nearby, you can visit the inspirational Cloudehill Nursery and Gardens and the magnificent Dandenong Ranges Botanic Garden. If you're looking for more green space to stretch your legs, you can hike the scenic trails and soak up beautiful views at the R.J. Hamer Aboretum, which is particularly lovely in the fall.
Olinda also has a flourishing arts community. It was once the home of the acclaimed Australian artist Arthur Streeton, who depicted the beautiful scenery in many of his paintings, and today you can admire some of the local artwork at shops and studios in the village.
8. Alfred Nicholas Memorial Garden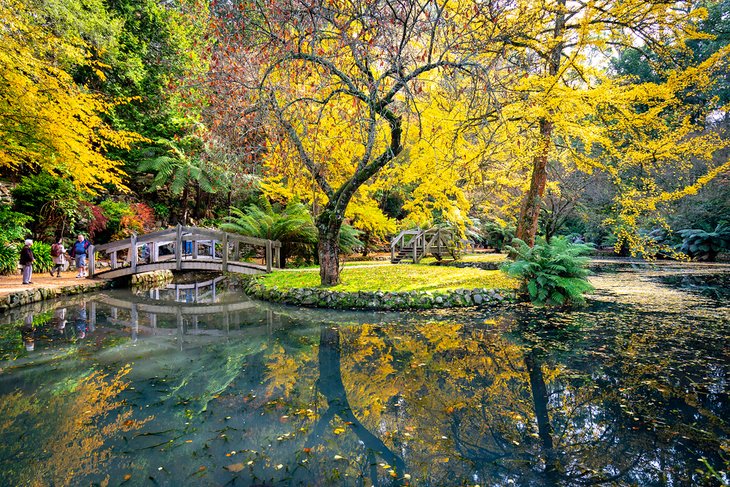 Alfred Nicholas Gardens, named after its philanthropist owner, is the perfect garden for all seasons. Blanketed with rhododendrons and azaleas in spring, hydrangeas and native ferns in summer, vibrant foliage of beech and maples in autumn, and sometimes a dusting of snow in winter, the garden attracts more wedding photographs than any other place in the Dandenong Ranges.
In particular, the gardens are known for their evocative water features, including a fern-fringed lake with a boathouse and soft-flowing waterfalls. Paths weave around these features under towering mountain ash trees, making this a peaceful spot for a stroll.
Address: Sherbrooke Road, Sherbrooke
9. Yarra Valley Dairy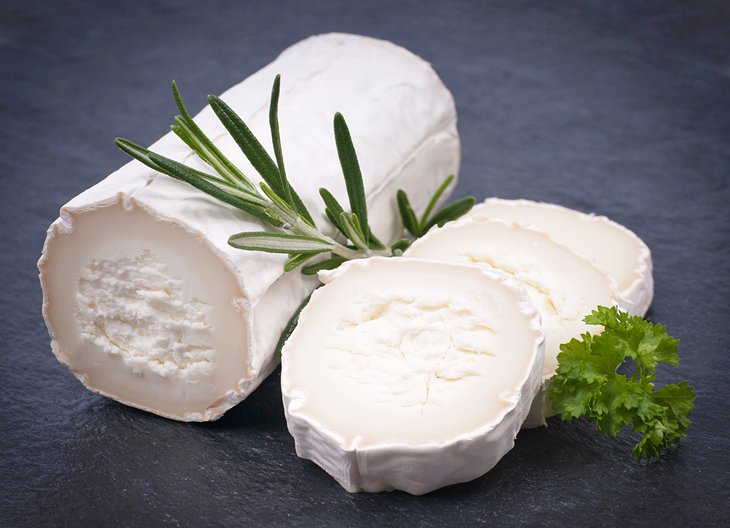 Rich, creamy cheeses are one of the specialty foods produced in the fertile Yarra Valley, and tasting some of these mouthwatering varieties is a must-do during your visit. At Yarra Valley Dairy, cheese tastings are available in the farm's delightfully dilapidated 100-year-old milking shed right next to the cheese factory.
Both cow's and goat's milk is used for the signature range of cheeses, which includes an Ashed Pyramid goat's cheese, marinated cow's milk cheeses with chili and saffron, and a Persian feta with thyme and garlic, all served with fresh-baked breads and crackers. You can also order locally produced charcuterie items and award-winning jams and relishes to accompany the cheeses. After your tasting, you can stock up on local goodies from the gift shop to take with you.
Address: McMeikans Road, Coldstream, Victoria
Official site: http://www.yvd.com.au/
10. Cloudehill Gardens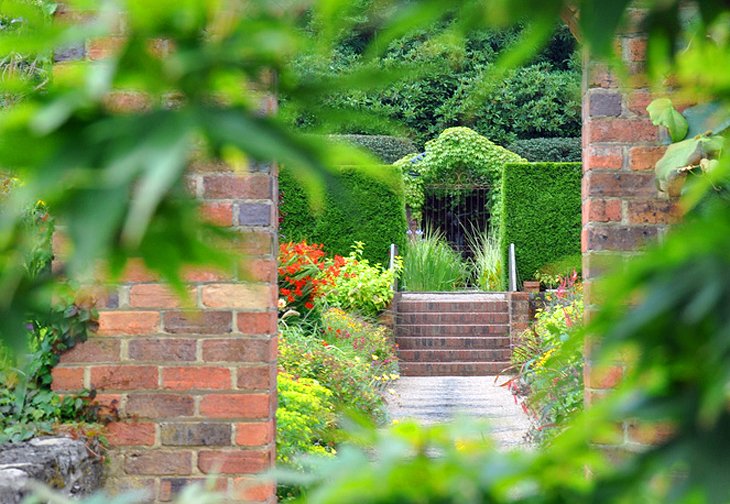 With a history dating back to the 1890s, Cloudehill Gardens offer a magical experience for anyone who loves nature. On an eastern slope of the Dandeonongs, the gardens are laid out in a series of "garden rooms" separated by stone walls and finely-clipped hedges. Highlights include the vibrant copper beech trees, the flower-flecked meadows, and the Water Garden.
Photographers will find a world of beauty here to capture with their cameras. Paths meander by billowing shrubs; water features; and clusters of colorful calla lilies, tulips, and rhododendrons. Sculptures grace the gardens, and a dazzling array of birds, butterflies, and bees dart from bloom to bloom. It's easy to lose track of time here.
Although spectacular in every season, the ancient Japanese maples in autumn lure many tourists. Innovative sculpture exhibitions and musical performances are often held in the gardens, particularly in summer.
After your visit, stop by the little shop to buy rare seeds and green-thumb-related gifts, or enjoy a sweet treat at the little café.
Address: 89 Olinda Monbulk Road, Olinda
Official site: http://www.cloudehill.com.au/
11. TarraWarra Museum of Art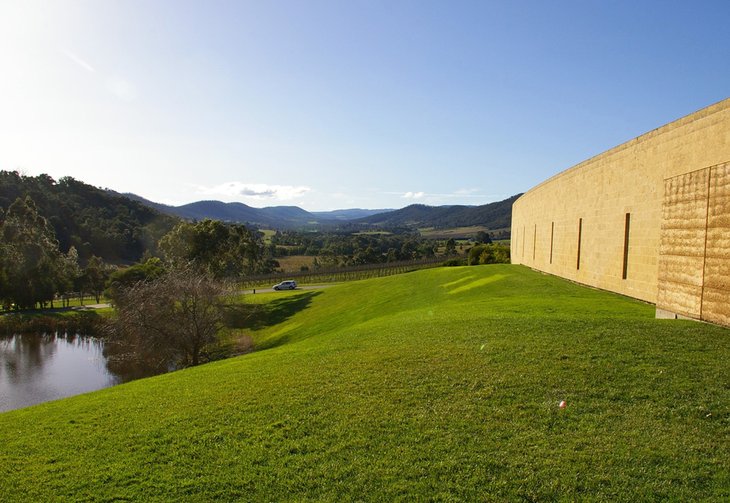 Specializing in Australian art from the 1950s onwards, TarraWarra Museum of Art is a stunning example of modern architecture, with beautiful views of rolling green hills from every window. Blending with the environment, yet breaking new ground, the museum offers tourists the opportunity to view a permanent collection filled with iconic artists, such as John Brack, Brett Whiteley, and Russell Drysdale. Temporary exhibitions are also held throughout the year in a range of different mediums.
After viewing all the provocative modern art, spend some time exploring the building and lingering in the outdoor spaces here to really appreciate the picturesque, peaceful setting.
Address: 311 Healesville - Yarra Glen Road, Healesville
Official site: http://www.twma.com.au/
12. Sassafras Village
Sassafras is a model village oozing charm and history. Every day of the week tourists delight in the collection of antique shops, cosy cafés, and art galleries. Taking in a morning or afternoon tea at Miss Marple's Tea Room is considered the quintessential Dandenong Ranges experience, and tea aficionados can stock up on supplies at Tea Leaves Australia, offering a wide range of teas and teapots.
Other highlights are Geppetto's Workshop, a quirky toyshop specializing in wooden toys, including a colorful collection of marionettes and hand puppets, and Sassafras Sweet Co., an old-fashioned candy shop.
If you'd like to stay in the area, you'll find a range of accommodation in the village and immediate surroundings.
More Related Articles on PlanetWare.com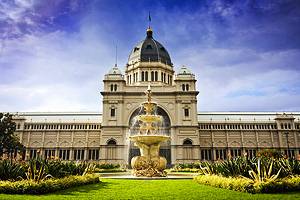 Multicultural Melbourne: For a city fix, stay a while in the state capital of Melbourne. Dine your way around the world at the fabulous restaurants, see world-class art at the excellent museums, and catch a match at the legendary Melbourne Cricket Ground. You can also explore beaches, national parks, and wildlife sanctuaries on rewarding day trips from Melbourne. And if you're looking for a great base for your adventures, see our article on the Top-Rated Places to Stay in Melbourne.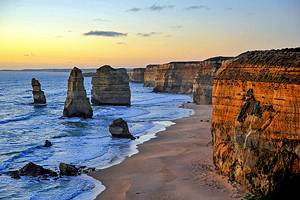 Exploring Victoria: The Aussie state of Victoria offers so many things to see and do. Drive along the edge of the continent on the spectacular Great Ocean Road, bask on the gleaming beaches of the Mornington Peninsula, and find more places to visit with our article on the Top-Rated Weekend Getaways from Melbourne—from lovely Lorne to the day spas of Daylesford.