11 Top-Rated Hotels in Nantucket, MA
We may earn a commission from affiliate links ()
As the quintessential New England island, Nantucket is a favorite vacation spot for families, couples, and those looking for a luxurious beach getaway. Originally founded as a fishing village and whaling capital of the world, Nantucket has kept much of its original late-18th- and early-19th-century charm, so much so that it was designated a National Historic Landmark District. Some of the city's best hotels are located in historic properties.
The retreat, located thirty miles off the coast of Cape Cod, is comprised of a historic downtown district and surrounding beach areas throughout the island. Staying at a hotel in the historic downtown district puts most of Nantucket's attractions within walking distance, and is centrally located to the shops, restaurants, and harbor. Both Wauwinet and Sciasconset offer an alternative respite to the bustling town center area.
Fall is an especially beautiful time to visit, and the island tourism board has created many special festivals throughout the year, making the Faraway Isle more than just a summer destination.
With its rose-covered, grey-shingled cottages and simple shell country lanes, the 50 square miles making up this sandy shoal will allow visitors to enjoy the sounds of the ocean all day long no matter where they choose to stay. For accommodation ideas, see our list of the best hotels in Nantucket.
1. The Wauwinet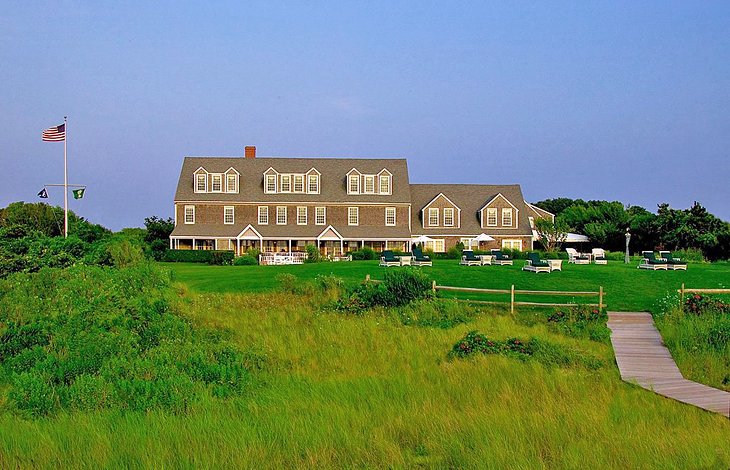 Accommodation: The Wauwinet
Located between the ocean and Nantucket Bay, the Wauwinet offers the discerning traveler a resting and relaxing stay. Known as a dream wedding destination, this property offers the most luxurious stay on the island. Some might call it isolated; most call it paradise.
With the picturesque Coskata-Coatue Wildlife Refuge as its neighbor and an adults-only policy, the Wauwinet is the perfect place to stay if you are looking to recharge, whether traveling solo for peace and quiet or as a couple looking for a romantic getaway. The Wauwinet is known for its outstanding service, delicious cuisine, and breathtaking views.
This property was recently renovated to upgrade the guest rooms and bathrooms. Luxurious modern furnishings were added, but the charm of the property has stayed true to it origins. Guests have a choice of a luxury room or cottage. They are both appointed with Pratesi linens, fresh wildflowers, and other special touches that make guests feel truly welcome. A tour aboard a luxe Hinkley yacht is a special way to see the island and is available for a fee.
Although the private beach is one of the biggest draws, if you decide you want to explore the quaint seaside village, rent a bike and head into town to explore or enjoy one of the trails at the Coskata-Coatue Wildlife Refuge, and reconnect with nature. Guests can also enjoy the complimentary water taxi into town. The views from Nantucket's waters offer another dimension to your Nantucket stay.
Address: 120 Wauwinet Road, Nantucket, Massachusetts
2. White Elephant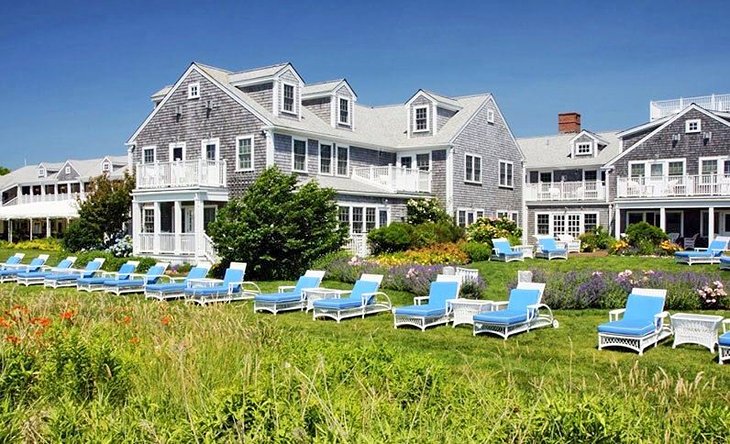 Accommodation: White Elephant
Nantucket is well known as a playground for the rich and famous, and there are many accommodations for those wanting a luxurious stay. The White Elephant is perhaps one of the most famous on the island. This resort is a historic waterfront property filled with all the amenities of a 5-star hotel. It offers a concierge service, beach and ferry shuttles, and special touches like luxury bedding and L'Occitane toiletries.
Located on the harbor overlooking the many yachts frequenting the island, the waterfront views can't be beat. Dining at the Brant Point Grill caps off the stay with excellent steaks and seafood along with a setting just off the water. The tables are roomy and spacious-it's one of the few restaurants on the island to offer an uncrowded setting.
Address: 50 Easton Street, Nantucket, Massachusetts
3. Union St. Inn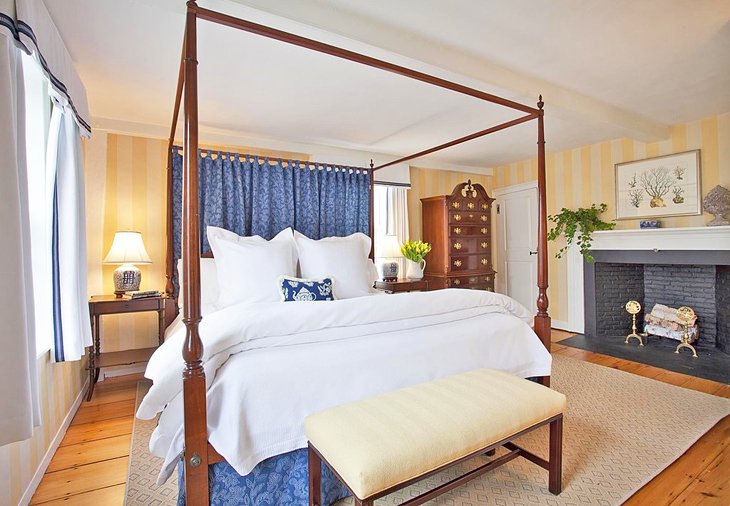 Accommodation: Union Street Inn
If you are looking for exceptional service and a relaxing stay from the hotel that was named the #1 Small Hotel in the US, book a room at the Union Street Inn. This award-winning hotel is best described as New England dipped in Provence and is located at the epicenter of the historic village. The charm extends from its classic Nantucket architecture straight through to the delightful interior.
The rooms are a mix of patterns and pastels, highlighted with unique artwork, and feature a host of amenities. Not one of the 12 guest rooms are the same, which adds to the unique character of the hotel.
No detail is left unnoticed: a "News Letter" greets guests each day and outlines daily events in town, and the home-cooked breakfast on the garden patio is excellent.
Union Street Inn is just steps away from shops and restaurants in the historic village, and it's close to the WAVE shuttle, which transports guests all around the island.
Address: 7 Union Street, Nantucket, Massachusetts
4. White Elephant Village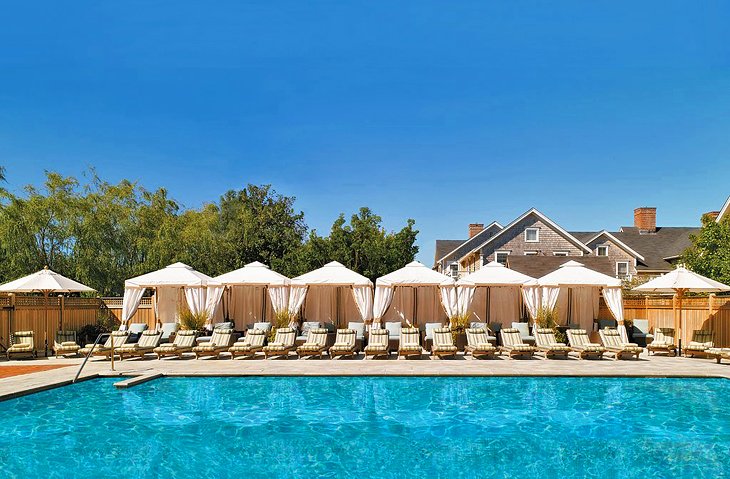 Accommodation: White Elephant Village
Apart from the main hotel, and another of the Nantucket Island Resorts, the White Elephant Village is an ideal location for families. A landmark in Nantucket, the brand has been offering guests one-of-a-kind experiences for decades.
Surrounded by the island's natural beauty, it offers a few different experiences depending on the vacation you desire. You can choose between downtown lofts, charming cottages, luxurious residences, or your traditional hotel experience above.
Just steps from Children's Beach, the resort offers many activities for kids. For adults wanting to explore, it is close to Brant Point Lighthouse and town. If you want to relax at the resort, you can rent one of the private cabanas and lounge at the heated pool or just get some "me time" at the award-winning spa.
The staff at White Elephant goes above and beyond to make sure your stay is as comfortable as possible, with amenities like their grocery service to keep all your favorite things stocked in your room, twice a day housekeeping, and a world-class concierge.
Address: 19 N Water Street, Nantucket, Massachusetts
5. 76 Main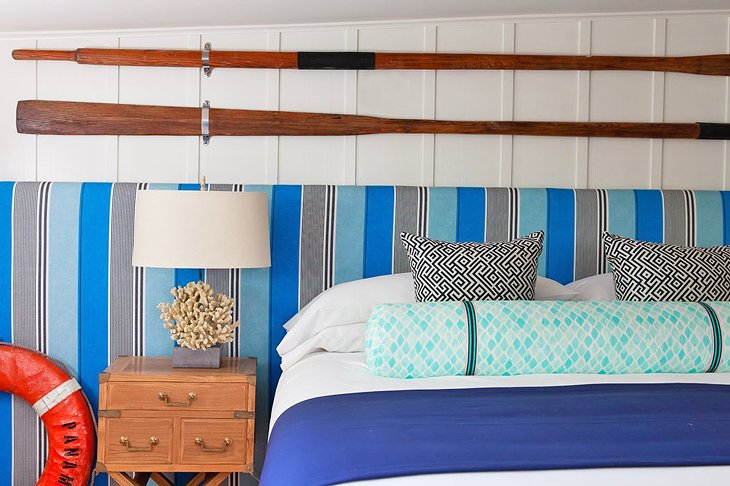 There is no denying the starry-eyed pull of Nantucket. Many resorts here cater to couples, and for a twosome longing for romance, a stay at 76 Main is an excellent choice. This chic property features spacious, relaxing rooms and special packages focused on reconnecting with your partner in a gorgeous landscape. With a convenient in-town address, Nantucket attractions are just a stroll away.
The design team has decorated a property accented in dreamy shades of blue, with accents that pay homage to Nantucket's nautical heritage. The tailored rooms are all unique, and luxe waffle robes ensure relaxed lounging.
The on-site café offers beverages and baked goods. Complimentary breakfast and light afternoon snacks are available. In the evening, an outdoor fire pit will be calling your name.
Address: 76 Main Street, Nantucket, Massachusetts
Accomodation: 76 Main
6. The Nantucket Hotel & Resort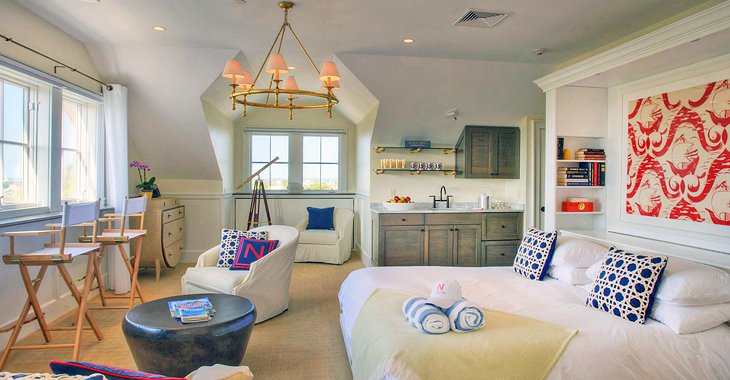 Accommodation: The Nantucket Hotel & Resort
The Nantucket Hotel & Resort is a great choice for families. Their award-winning kids' camp will keep the little one's busy for hours with interesting aspects of island offerings. Best of all, they offer nighttime hours, so Mom and Dad can enjoy an evening out in one of the many excellent dining establishments. In addition, there are family-friendly activities on the beach.
You'll know you're in the right spot when you see the bright red antique fire truck parked out front. Everyone will want to take a ride and experience some old-fashioned fun during a complimentary ride.
The location at the edge of town makes it a bit quieter but still very convenient. Rooms are airy with a coastal vibe and nautical accents. Choose from rooms and cottages that can sleep up to eight. Visitors can also book a "home within the hotel" that accommodates up to 16 adults and nine children, making it a perfect spot for a family reunion or special group occasion.
Address: 77 Easton Street, Nantucket, Massachusetts
7. Greydon House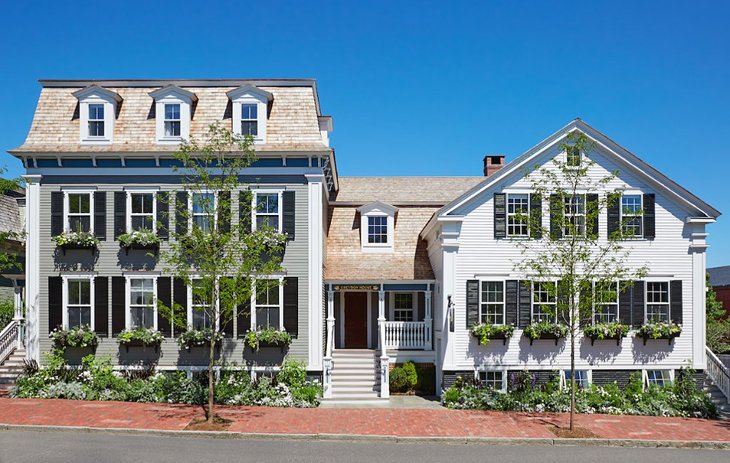 Accommodation: Greydon House
Greydon House has been creating buzz since they arrived on the island. Travelers will be especially seduced by the worldly inspiration of the luxurious décor. Located centrally in the historic district and just a stone's throw from the Whaling Museum, the tasteful property mixes antiques with unique accents from around the globe. Two elegant suites complement the additional assortment of eighteen chic guest rooms.
Amenities include plush robes; John Robshaw and Frette linens; complimentary morning coffee; and beach bags with everything one could need for an ocean visit, including flip flops and portable Bose speakers.
The house restaurant is sure to please guests with the maritime flavors on the menu. Bonus points for the seasonal fare featuring the best of the local farms. Seating options include cozy dining rooms or people watching from the elevated exterior deck.
Address: 17 Broad Street, Nantucket, Massachusetts
8. Hotel Pippa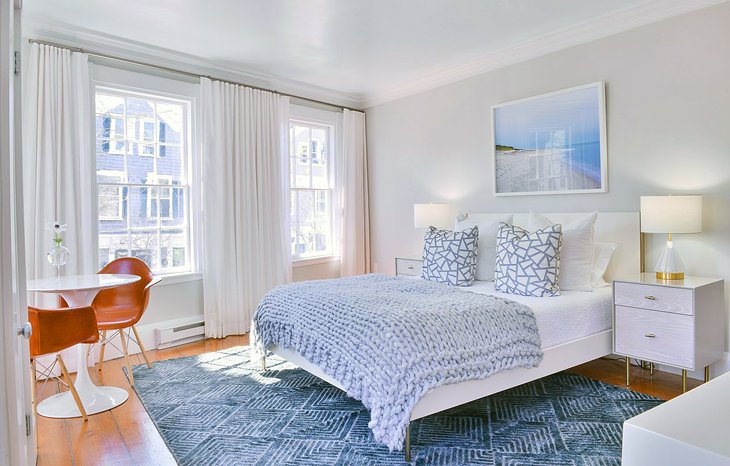 Accommodation: Hotel Pippa
If you are looking for a unique stay, one of the newer boutique properties on the island, Hotel Pippa, is the place to book. Located in the center of the historic district, guests will discover a playful interior housed in a traditional Nantucket saltbox complete with the requisite weathered shingles.
No detail is left unattended, all with a creative eye. From the minute you walk through the doors, you will be greeted with warm hospitality, calming colors, and amenities that an experienced traveler would expect.
Hotel Pippa takes pride in staying true to its Nantucket roots, with local residents' artwork gracing the walls in the rooms and adding a pop of color. The décor is light and airy, with rich linens that envelope guests as they sink into the comfortable beds after a day of exploring or beaching.
Breakfast is included with your stay. The experienced conceirge service can assist with dining reservations and activities off the beach.
Address: 5 Chestnut Street, Nantucket, Massachusetts
9. Jared Coffin House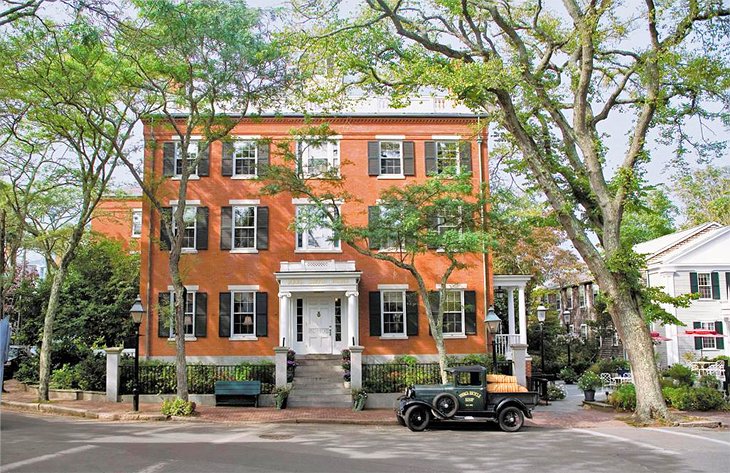 Accommodation: Jared Coffin House
Nestled in the historic district, the Jared Coffin House is one of the oldest hotels in Nantucket; the main house dates back to 1845. This property offers personalized service in the former mansion of one of the original Nantucket families.
The classically decorated accommodations feature traditional New England charm with lots of period reproductions and actual antiques. Both the library and garden offer plenty of spots to curl up with a good book. Guests will appreciate the complimentary Wi-Fi, bicycles, and afternoon coffee with snacks. Especially important is the included parking with a stay. Finding a spot during peak season can be a bit of a nightmare.
In addition, they provide beach, chairs, towels, and umbrellas, as well as a Barton & Gray Hinkley cruise for a fee. Nantucket Prime, the on-site steakhouse, has an outdoor terrace with primo seats for people watching.
The location is also prime-out the door, visitors are just cobblestoned steps away from museums, beaches, and shops. Be sure to check out the Whaling Museum just down the street towards the water, and the excellent shopping on Petticoat Row, once the home of female entrepreneurs who ran shops for income just in case their husbands were lost at sea.
Address: 29 Broad Street, Nantucket, Massachusetts
10. 21 Broad Hotel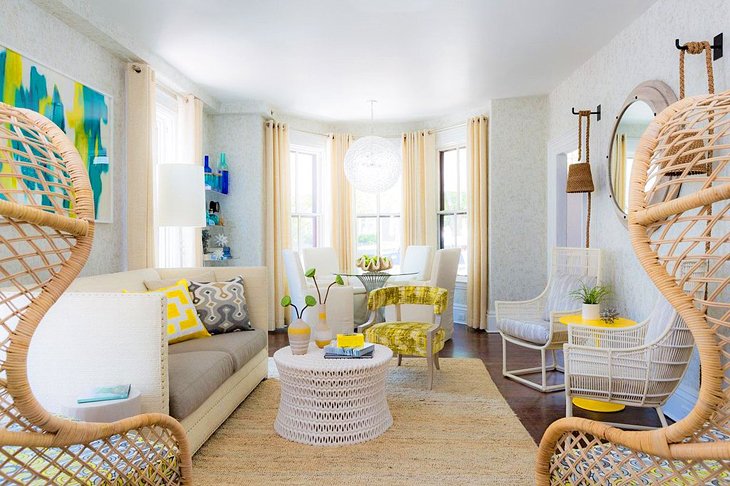 Accommodation: 21 Broad Hotel
If you are looking for a cozy stay in a smaller hotel, 21 Broad Street is a great choice. The Lark Hotel property features the same chic design aesthetic and modern amenities guests have come to expect when visiting. Bright white rooms are accented with vibrant coastal colors and a feeling of calm.
Visitors will find many of the same world-class amenities of the larger resorts, but with the boutique feeling of only 27 guest rooms. The rooms are appointed with conveniences like plush linens, a Vitamin C shower, and every technology to stay connected.
21 Broad is located in one of the most vibrant areas in Nantucket and is just a short walk from the Steamship Authority Ferry and the Whaling Museum. An old-fashioned ice-cream shop will be recognized by the line stretching outside the screen door and around the block. And yes, it's worth waiting, or having ice-cream for breakfast to avoid the crowd.
When the leaves start to change, 21 Broad's covered porch and fire pit are wonderful spots to curl up and hang out with a good book.
Address: 21 Broad Street, Nantucket, Massachusetts
11. Cliff Lodge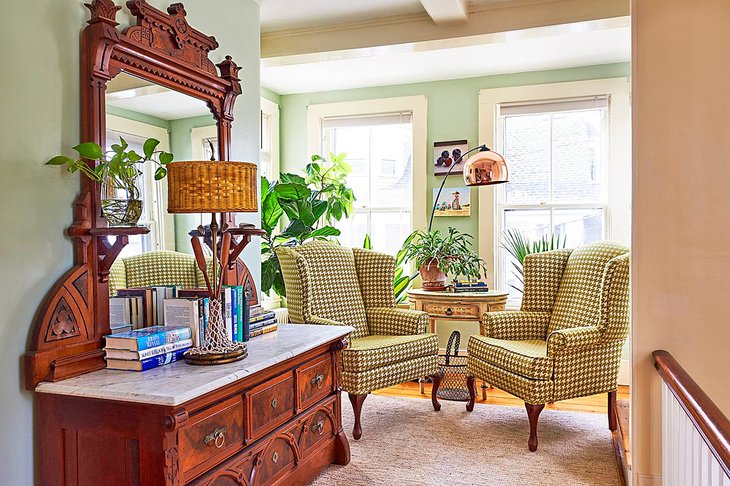 Accommodation: Cliff Lodge
For a historic hotel stay, book the Cliff Lodge, which is located inside a building dating back to 1771. Within a short walk of the ferry and the downtown area's shops, restaurants, and museums, the building was originally constructed for a whaling master.
Today the bed and breakfast has charming rooms in a variety of sizes. All are individually decorated and feature original art by local artists, hand-picked furniture and memory foam mattresses draped in high-quality Matouk linens. Bathrooms feature Matouk linens and Grown Alchemist toiletries.
Room 12 is a full apartment if you need more space. It has a full kitchen, a sleeper sofa in the living room, and a queen bedroom, and it also has a private porch.
Away from the rooms, you'll find a lovely garden patio and a roof walk with panoramic Nantucket vistas. A gourmet breakfast is served complimentary each morning. The inn's owners are also very attentive and happy to answer questions or make dining and activity recommendations.
Address: 9 Cliff Road, Nantucket, Massachusetts