13 Top-Rated Hotels in Boston, MA
We may earn a commission from affiliate links ()
An estimated 10 million people visit Beantown each year, and after spending a day or two here, it's easy to see why. Boston has forged itself as a world-class travel destination. The most populated city in New England is filled with a rich history dating back to colonial times, and beautiful hotels to host travelers who want to explore the sites.
Tourists will find world-class galleries and museums, five-star restaurants, some of the best hotels in the state. Add into the mix the city's legendary sports teams, and you'll discover offerings for every interest and taste. Although this century-old city was one of the first in the nation, it offers the modern traveler all the conveniences they are looking for when it comes to luxury accommodations.
For ideas on where to stay, read our list of the best hotels in Boston.
1. Four Seasons Hotel One Dalton Street, Boston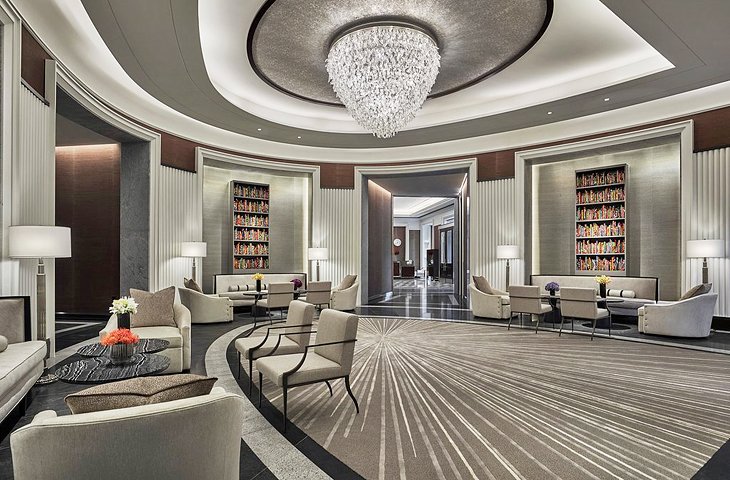 Accommodation: Four Seasons Hotel One Dalton Street, Boston
For a hip and stylish stay in a brand known for elegance, look no further than the Four Seasons Dalton. As the tallest residential building in New England, this landmark skyscraper makes a statement as soon as you arrive. Both architecture and design embody an urban chic, which captures the city's energy and fresh New England panache.
The Four Seasons spa is absolutely stunning and occupies an entire Wellness floor in the hotel. Expect a pampering paradise with treatments that run the gamut. Make sure to pack your swimsuit for a dip in the curved pool offering spectacular views of the city.
Outside the doors of the hotel is the renowned Christian Science Plaza, a complex housing the Mary Baker Eddy Library and the famous Mapparium. Inside, visitors will find a breathtaking stained-glass globe just waiting for all who enter to take a walk inside and explore the world.
Address: 1 Dalton Street, Boston, Massachusetts
2. XV Beacon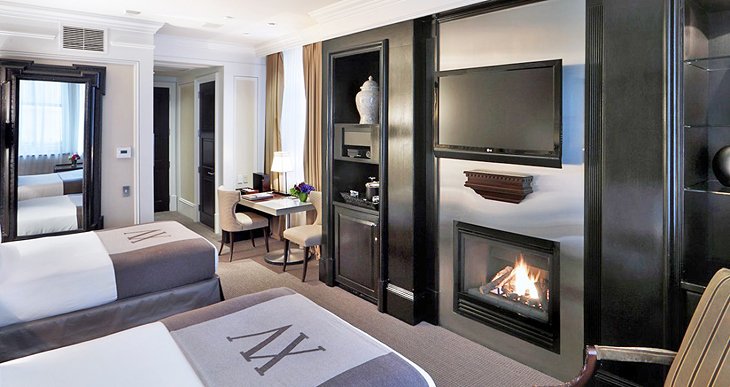 Accommodation: XV Beacon
The award-winning XV Boston, is constantly topping "Best of" lists, and after a stay at this elegant property, guests will have no problem understanding why.
Its namesake street address is a few doors from the Public Garden and the golden-domed State House. Inside the property, the original glass, caged elevator takes guests to their rooms and reminds visitors of the Beaux Arts building's historical significance in the city. Rumor has it that George Washington might have even slept here. Modern furnishings and all the conveniences today's traveler is looking for balance the grand structure.
Cashmere throws and a fireplace make for cozy winter visits. When the weather in Boston shines, so do the many attractions within easy walking distance of the property, including the promenade along the Charles River.
Address: 15 Beacon Street, Boston, Massachusetts
3. The Ritz-Carlton, Boston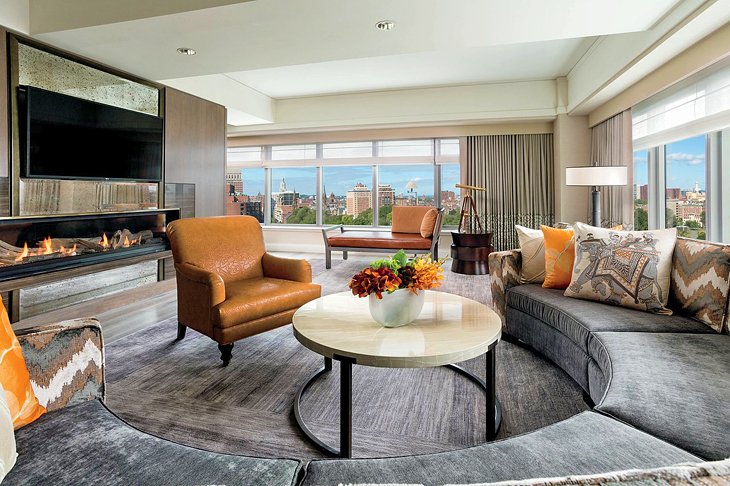 Accommodation: The Ritz-Carlton, Boston
There isn't a name better associated with luxury than the Ritz Carlton, and the Boston property lives up to that luxe reputation. Located across from the famous Boston Common, the Ritz Carlton is the perfect place to stay if you are craving a little something more on your next vacation.
This 5-star, 193-room hotel is renovated in a sleek, mid-century modern design and offers guests amenities like access to the spa and fitness facilities of the Equinox Sports Club. A focus on wellness and a full-service salon further enhance the experience for guests.
The rooms are tranquil and luxurious, designed with the guests' every need in mind. Clean, contemporary design and cutting-edge technology combine for a feel of modern luxury. And of course, there are the amazing views!
Just outside your doors is the vibrant midtown and the theater and financial districts, where you have your pick of restaurants, shops, and attractions like the Public Gardens and the Boston Opera House. Visitors must walk at least a portion of the nearby 2.5-mile Freedom Trail.
Address: 10 Avery Street, Boston, Massachusetts
4. The Whitney Hotel Boston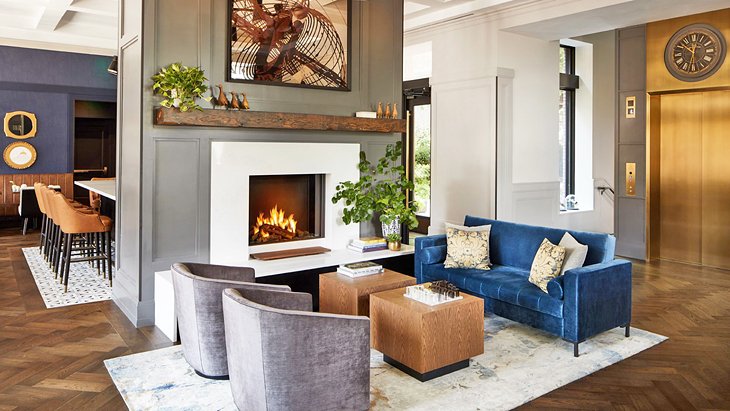 Accommodation: The Whitney Hotel Boston
A welcome addition to the bottom of storied Charles Street is the Whitney Hotel Boston. This boutique charmer retains a strong sense of place while incorporating a modern flair into the Beacon Hill neighborhood. Named after railroad industrialist, Henry Melville Whitney, the 65-room hotel is filled with elegant, calming rooms and social spaces that encourage gathering with friends and neighbors.
Luxury décor-think monogrammed linens, velvets, and herringbone throws-exude timeless charm at this Boston Brahmin location. But stuffy? Oh no! A modern reception station greets guests, and the space is filled with local art and a cozy fireplace. Just outside, a luxe garden welcomes visitors with several seating areas.
Amenities at this pet-friendly hotel include complimentary bikes, access to a fitness studio complete with a state-of-the art Hydrow machine, organic toiletries, a daily newspaper, and hi-speed Wi-Fi.
The on-site restaurant Peregrine comes with a strong pedigree; the proprietors are well connected to the Boston dining scene. Expect a modern take on traditional Italian cuisine from the country's Catalonia coast and southern islands.
Address: 170 Charles Street, Boston, Massachusetts
5. Battery Wharf Hotel, Boston Waterfront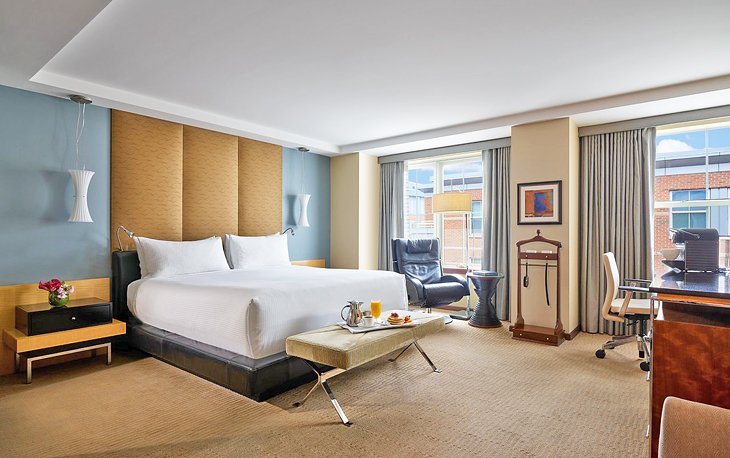 Accommodation: Battery Wharf Hotel, Boston Waterfront
The Rose Kennedy Greenway offers a breath of fresh air and green space right across the street from this waterfront hotel. Get in the spirit of Boston's enchanting harbor by taking a water taxi from the airport to check in. Historic Rowes Wharf once welcomed maritime trade and now gives guests a dramatic entrance to this 5-star hotel.
Coastal colors influence the décor in a setting that is at once welcoming and sophisticated, accented by gorgeous floral arrangements. Water lovers make sure to ask for a room with a harbor view.
This is a great spot to try a few of the many food trucks in the city frequently parked across from the hotel on the Greenway. Keep your eyes peeled for the four-wheeled kitchen of the Cookie Monstah, a sure pleaser for kids of all ages. In addition, the hotel's on-site restaurant has world-class seafood selections.
Address: 3 Battery Wharf, Boston, Massachusetts
6. Mandarin Oriental, Boston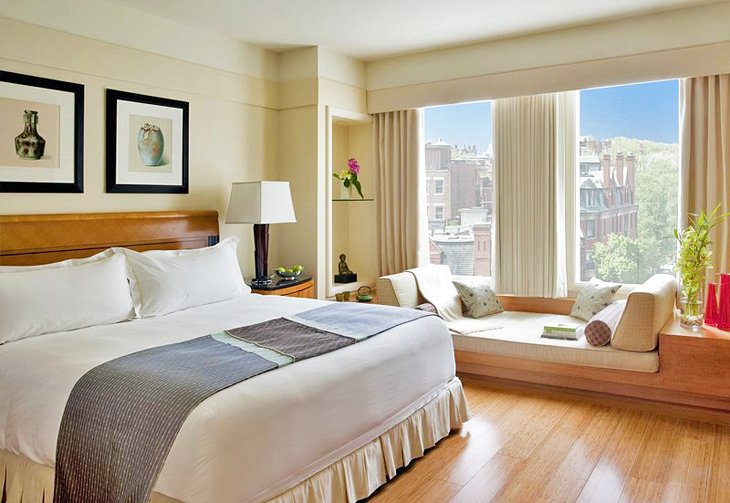 Accommodation: Mandarin Oriental, Boston
The Mandarin Oriental, Boston is located in the desirable Back Bay neighborhood. Within a short walk, you have access to everything that the Back Bay has to offer, like the Boston Public Library, Newbury Street, and access to boutiques, fine dining, and more!
Holding both the AAA Five Diamond and the Forbes Five-Star awards, the Mandarin Oriental, Boston offers the perfect blend of modern luxury and style in its 148 comfortable guest rooms. The on-site, award-wining, French-style bistro, is well known for it's fine dining, fresh seafood, and extensive charcuterie.
The rooms at the Mandarin Oriental, Boston are spacious and comfortable, accented with Art Deco accessories. Many of the rooms offer garden or city views.
The rooms and property boast a host of services for every traveler. One of those most inviting amenities is the holistic spa. As the only Forbes-awarded 5-star spa in Massachusetts, expectations are high. After a walk through the spectacular green stone entrance, any tension melts quickly away. With an extensive menu of treatments, some unique to the Boston property, guests can easily spend a few hours or, of course, the entire day luxuriating in self care.
Address: 776 Boylston Street, Boston, Massachusetts
7. InterContinental Boston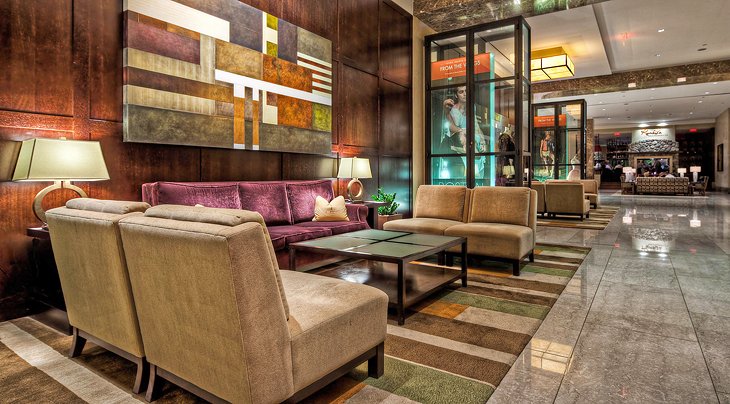 Accommodation: InterContinental Boston
The InterContinental Boston stands out on the Boston waterfront. This 424-room hotel is the epitome of luxury. With sweeping skyline and waterfront views, guests enjoy well-appointed rooms with modern amenities that appeal to business and personal travelers alike.
Large flat-screen TV's, comfortable workspaces, and relaxing décor greet guests. Every part of the hotel and rooms contribute to a pleasurable experience, including the original artwork, rich furnishings, and impressive bathrooms with large soaking tubs.
When you stay at the Intercontinental Boston, you are just steps away from the best the waterfront has to offer. Take a stroll along the historic harbor on the HarborWalk just outside the door. If you don't feel like leaving the hotel, you can take advantage of the full-service spa and 45-foot heated pool.
Several dining options allow visitors many options, but don't miss Miel Brasserie Provençale for a menu infused with southern French flavors and honey from the rooftop hives.
While visiting, you can explore the nearby attractions of The Freedom Trail, Aquarium, and Faneuil Hall. If you'd like to venture further afield, the nearby ferry docks can bring visitors to the Harbor Islands and beyond.
Address: 510 Atlantic Avenue, Boston, Massachusetts
8. Kimpton Nine Zero Hotel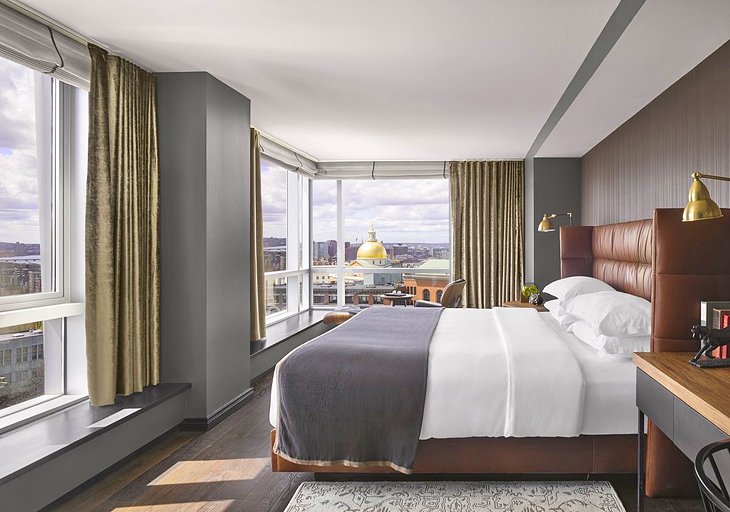 Accommodation: Kimpton-Nine Zero Hotel
The Kimpton Nine Zero Hotel is a one-of-a-kind boutique hotel nestled in the heart of downtown. Outside, guests are just steps from Boston Common and some of the city's best restaurants, shops, and galleries. The brand is known for their unique take on design and creating a sense of place in their properties. Nine Zero is no exception, and the historic provenance of the city is featured in much of the décor.
From the leather accents to the floor-to-ceiling windows, which let light stream through the spacious rooms, your stay at the Kimpton Nine Zero Hotel, will be a one-of-a-kind experience. There are 190 guest rooms, all created with relaxation in mind, whether you are traveling for business or pleasure.
For those in town on business, technology and office needs are full service. Those traveling for pleasure can take advantage of the hotel's loaner bikes and explore the city and surrounding areas while taking in the views.
If you want a quick bite and a flavorful drink, head to the second floor to Better Sorts Social Club. Sink into one of their comfy leather booths while you enjoy great conversation, refreshments, and shareable plates of tasty flavors.
Address: 90 Tremont Street, Boston, Massachusetts
9. Fairmont Copley Plaza, Boston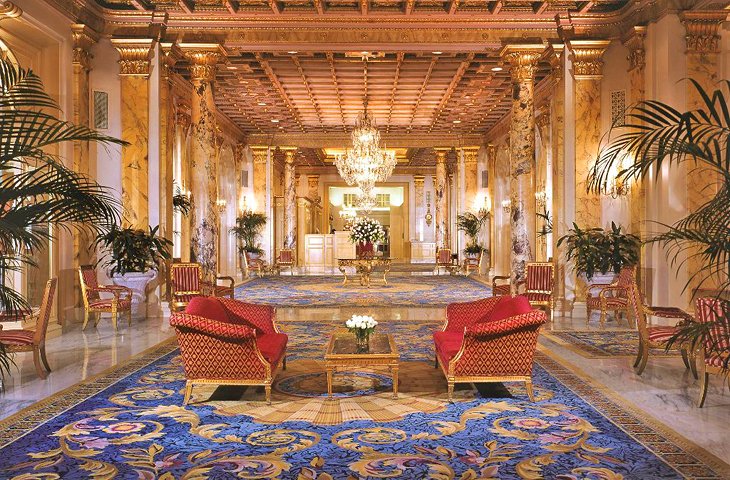 Accommodation: Fairmont Copley Plaza, Boston
Welcoming guests since 1912, the Fairmont Copley Plaza, Boston is steeped in cultural history and elegance. The gracious tone is set upon entry as a friendly, red-uniformed bellman welcomes you. The revolving door brings visitors into a fairy-tale-like space, with grand, sparkling chandeliers; elegant carpets; and furnishings that you might expect in a European property.
Hosting celebrities, foreign dignitaries, and US presidents since its beginning days, the Fairmont is centrally located in the heart of the city. Across the street from the not-to-be-missed Boston Public Library, the luxurious property is walking distance from many historic and popular sites, including Newbury Street, the best shopping Boston has to offer.
Although there are excellent restaurants in the area to accommodate all tastes and price points, the in-house restaurant is a warm and sophisticated favorite featuring seasonal ingredients and creative beverages.
The rooftop health club gets high marks and comes with views overlooking Back Bay. Perhaps the best amenity of all from the dog friendly Fairmont is their canine ambassador, the black lab Carley Copley. Often, she greets you upon arrival. Guests who are missing their own pet can even request to take Carley for a walk, an excellent perk for a grand home away from home.
Address: 138 St. James Avenue, Boston, Massachusetts
10. The Liberty, a Luxury Collection Hotel, Boston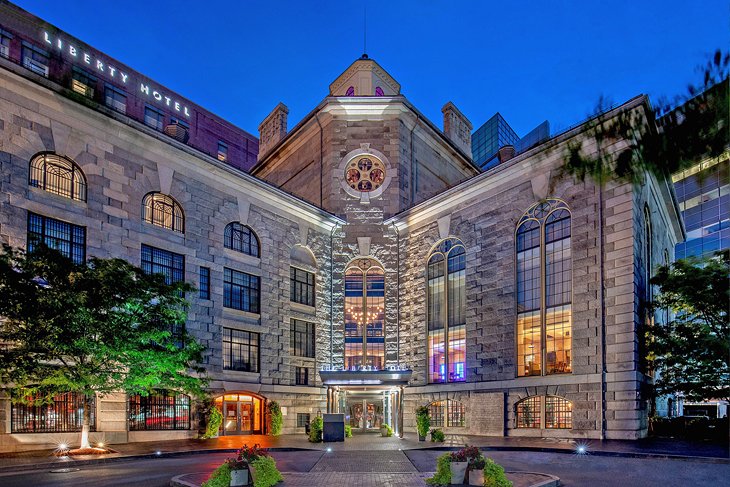 Accommodation: The Liberty, a Luxury Collection Hotel, Boston
Overlooking the Charles River in Boston's Back Bay, The Liberty offers a peek into a property with a storied past. Formerly the Charles Street Jail, this repurposed stone building has been preserved and transformed into a luxury destination with a spirited nod to the past.
Iron catwalks greet guests in the soaring lobby. Modern rooms and décor have sweeping views of the city. Clink, the hotel's restaurant, serves up area seafood and New England fare, while former prison cells add additional seating space. It's all in good fun from a hotel that provides a luxury stay without taking itself too seriously.
Address: 215 Charles Street, Boston, Massachusetts
11. The Eliot Hotel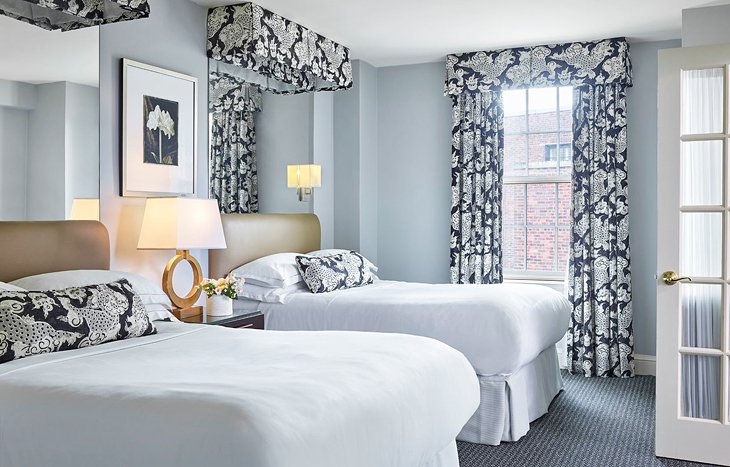 Accommodation: The Eliot Hotel
One stay at The Eliot Hotel, and you will realize why it's frequently ranked as one of the top hotels in Boston. The Eliot is reminiscent of a Parisian hotel with its rich European charm. Nestled in the picturesque Back Bay neighborhood of Boston, The Eliot Hotel is situated perfectly for the modern traveler who desires comfort, style, and world-class attractions at their doorstep.
The European feel is carried through the common areas into the rooms, which are decked in luxurious materials like linen toile, ikat, and marble. The plush bedding offers a comfortable place for the busy traveler to relax, and amenities including turndown service, shoe shining, and the luxurious bathrobes make this a delightful Boston stay.
The Eliot Hotel is also known for its award-winning restaurant, UNI, which has garnered national attention. You can head downstairs for a taste of incredible seafood or have one of their decadent meals delivered to your room if you prefer to stay in.
The Eliot Hotel is within walking distance of Fenway Park and the shops at Copley Place. The area's most prestigious universities, like Harvard and MIT, are just across the river. It also has easy access to a plethora of restaurants, galleries, museums, and restaurants.
Address: 370 Commonwealth Ave., Boston, Massachusetts
12. Seaport Hotel and World Trade Center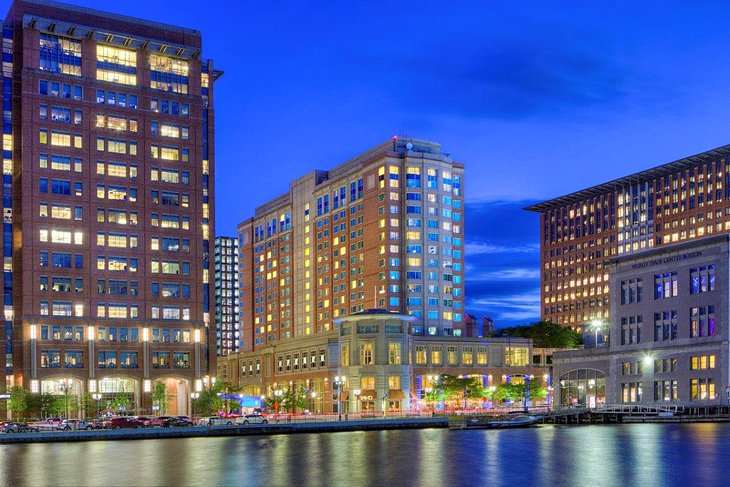 Accommodation: Seaport Hotel and World Trade Center
This luxurious hotel is located in the heart of the Seaport District and gives you unparalleled access to everything that South Boston and this newly minted area has to offer. In addition, downtown and central Boston are just minutes away.
The Seaport Hotel and World Trade Center is convenient to the airport, restaurants, and shops, and within walking distance of popular attractions like Harborwalk, the Boston Tea Party Ship and Museum, the Institute of Contemporary Art, and the Children's Museum.
From the minute you walk into the impressive lobby, you will be greeted by warm and inviting decor, which carries over to the comfortable 458 hotel rooms and suites. The beds are covered with plush linens and boast beautiful city or harbor views. The property has all the comforts of home and then some with a rain shower, concierge, and luxury toiletries. Guests will appreciate the well-equipped health club, indoor heated pool, and free Wi-Fi.
Even though there are dozens of restaurants within a few blocks, three on-site restaurants take care of a variety of tastes. TAMO Bistro is a great place to grab some locally sourced food inspired by Boston's diverse cultures. More casual fare rounds out the other two spots.
Address: 1 Seaport Lane, Boston, Massachusetts
13. The Godfrey Hotel Boston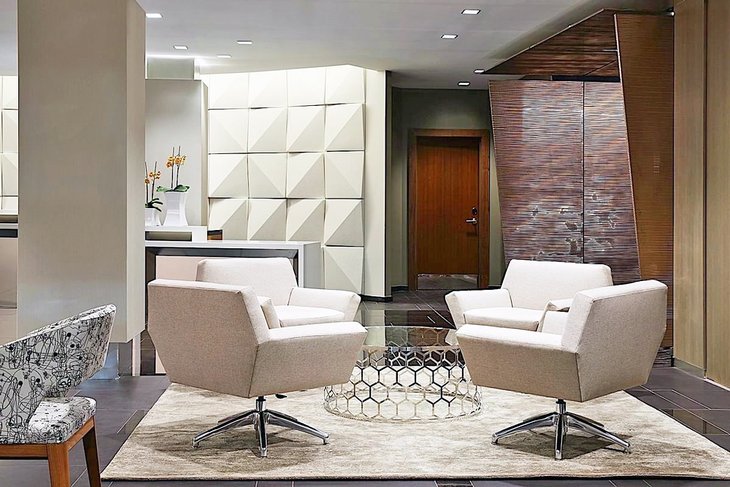 Accommodation: The Godfrey Hotel Boston
With a Gothic Revival facade, the boutique Godfrey Hotel is inside a circa 1908 building and has a sophisticated yet relaxed ambiance about it. In the mostly pedestrian Downtown Crossing district in Boston's heart, it is a great choice if you are looking to do some serious shopping.
The rooms come in a variety of sizes, but all are well-appointed and comfortable. Decor is contemporary, with mostly neutral colors, but pops of brightness appear in chairs and artwork. For fantastic panoramic views book the corner king lofts that are surrounded by windows.
Rooms also feature BOSE Bluetooth speakers, smartphone-to-TV streaming capabilities, and Heely of London bath products. If you are on a health-focused vacay, the Stay Well rooms have lots of extra wellness features.
Amenities here include a restaurant serving Peruvian-Japanese fare, as well as a coffee shop. There is also a fitness center, valet parking, and a 24-hour front desk.
Address: 505 Washington Street, Boston, Massachusetts
More Related Articles on PlanetWare.com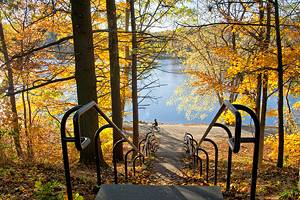 Exploring Boston: Boston is a delight to visit with plenty to see and do. Plan out your sightseeing with our list of the top tourist attractions in Boston. If you are in the city between spring and fall, you may also enjoy having a look at some of the best walks and hikes in the Boston area.