11 Best Resorts in Martinique
Whether you're looking for an intimate, romantic getaway or a resort packed with activities for the whole family, the Caribbean island of Martinique offers resorts for all budgets, as well as fantastic locations overlooking the sparkling sea. Martinique resorts are mostly smaller boutique hotels, as the island does not have very many large-scale, all-inclusive resorts. Most resorts in Martinique are smaller and family-run.
Many of the properties are more budget-friendly, as Martinique is not necessarily a luxury destination, unlike nearby islands like Saint Lucia, Dominica, or St. Vincent and the Grenadines. Still, there are a smattering of high-end, eclectic resorts that will cater to even the most discerning of tastes.
For an intimate, high-end experience, you'll want to check out the modern and festive La Suite Villa, or the chic Hotel French Coco. Families will love the Club Med Les Boucaniers or the Carayou Hotel & Spa.
Visitors who come to Martinique are encouraged to explore the island and all the natural beauty it has to offer. When choosing a hotel, bear in mind that it will likely be a home base from which to discover all the things to do in Martinique.
Start your planning with our list of the best resorts in Martinique.
1. Le Cap Est Lagoon Resort & Spa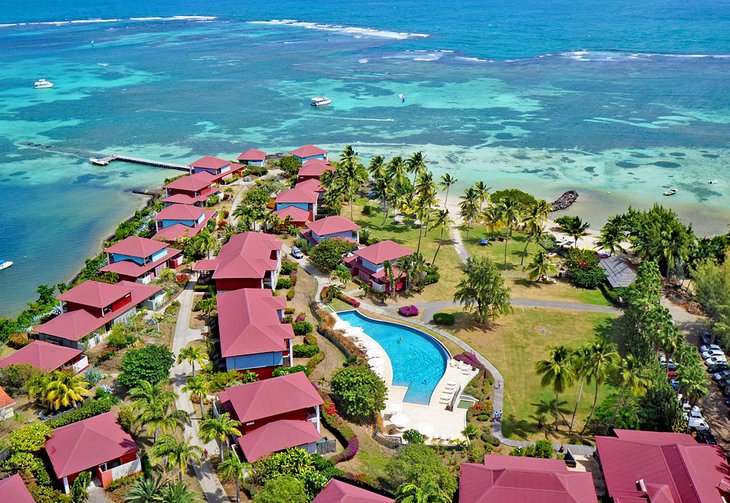 Accommodation: Le Cap Est Lagoon Resort & Spa
Highlights: The premiere luxury resort on Martinique, with 50 suites, two restaurants, a spa, and an infinity pool
Le Cap Est Lagoon Resort & Spa is one of the only genuine luxury resorts in Martinique. Its vibe is all about understated elegance, surrounded by nature. The resort is tucked away and secluded, leaving guests to truly disappear into the fold of the impressive banyan trees that surround it.
A relatively muted lobby gives way to an explosion of tropical colors in the back. The outdoor space is perfumed with brilliant bougainvillea, hibiscus, and jasmine. The design of the buildings is slightly Asian in influence, giving visitors a feeling that they've really disconnected and checked into an oasis of calm.
There are 50 suites on the property, with the Executive Suites being the largest. These rooms have private terraces and their own plunge pools. Bathrooms have double marble vanities, deep soaking tubs, and outdoor showers.
Deluxe amenities abound on the property, including two restaurants, a small spa with Guerlain products, a fitness center, and a tranquil infinity pool.
The resort has its own private dock, as well, where guests can book a boat to take them to explore lagoons and the Francois Isles, which are known for their natural swimming pools.
Address: La Prairie, Le François 97240, Martinique
2. Hotel French Coco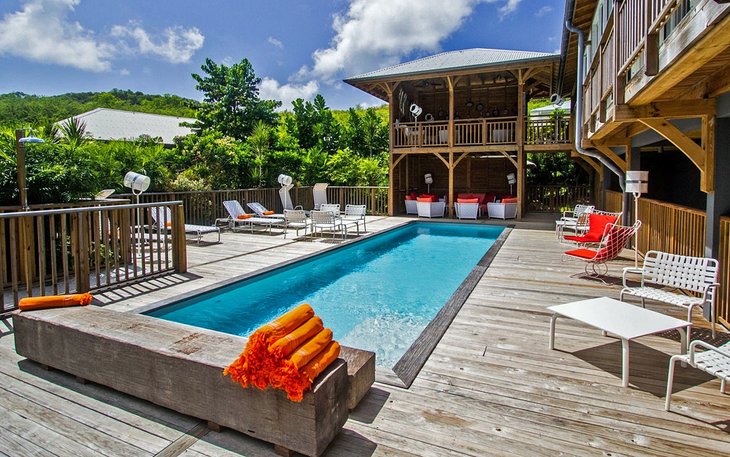 Accommodation: Hotel French Coco
Highlights: An intimate room count with a minimalist vibe and a lengthy list of activities
A vision of lovely - this is the perfect way to describe French Coco, a Martinique luxury boutique hotel and member of Small Luxury Hotels of the World. Just steps from the Atlantic Ocean, the all-suite hotel located in Tartane is tucked within the nature reserve that blankets the Caravelle Peninsula.
With just 17 rooms, the property is truly an intimate experience, known for its elevated rustic decor, with plenty of natural wood, minimal design, and a lovely pool.
The most impressive suite is the Presqu'ile Suite, which has a spacious bedroom, lounge area, separate dressing room, and its own spacious terrace with a private pool.
Through the concierge, guests can book activities like spa massages, surfing, boat tours, hiking, guided tours, and more. The resort has a team of hydrotherapists, who are available for one to three hours on reservation for a menu of treatments and massages, all provided in-room.
Address: 33 la Distillerie, Tartane La Trinité MQ 97220, La Trinité, Martinique
3. La Suite Villa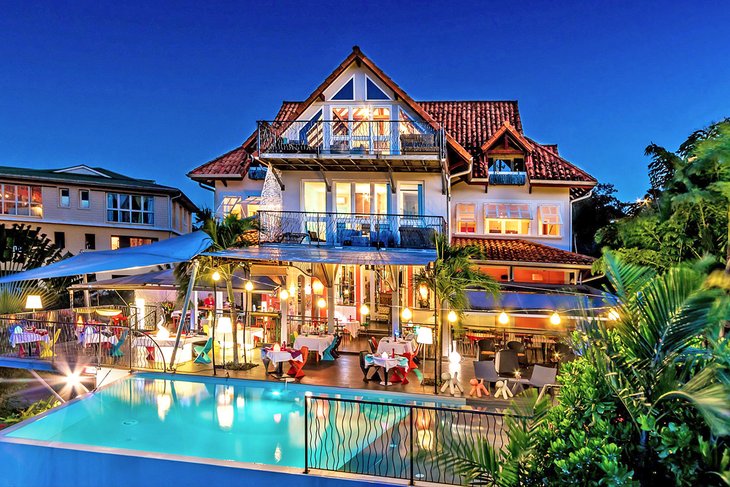 Accommodation: La Suite Villa
Highlights: A living work of art with extravagant artwork and decor, a world-renowned chef, and a sea-facing spa
Eclectic and colorful, La Suite Villa is an artistic expression wrapped in the bones of a boutique hotel. Unlike the other traditional French Creole-style hotels on the island, La Suite Villa breaks the mold, with opulent artwork and eye-popping decor. Think chandeliers, a red giraffe art piece, and a black-velvet chair.
Guests are greeted by a brilliantly colored mural splashed near the entrance, which eventually leads to a three-story lobby.
Inside the hotel is Le Zandoli restaurant, headed by chef Ivan Duchene, who has trained in the kitchens of A-listers like Alain Ducasse and Jocelyn Herland.
The hotel is a kaleidoscope of color and texture at every turn, from the pink, yellow, and aqua chairs to the brightly painted walls and textiles. The hotel has six suites and nine villas, all of which have private Jacuzzis and views over the bay and Fort de France. Each room has its own style and decor.
The hotel has teamed up with L'Occitane for its amenities in the spa, which overlooks the sea.
Address: Route du Fort d'Alet, Anse Mitan, Les Trois Ilets 97729, Martinique
4. Club Med Les Boucaniers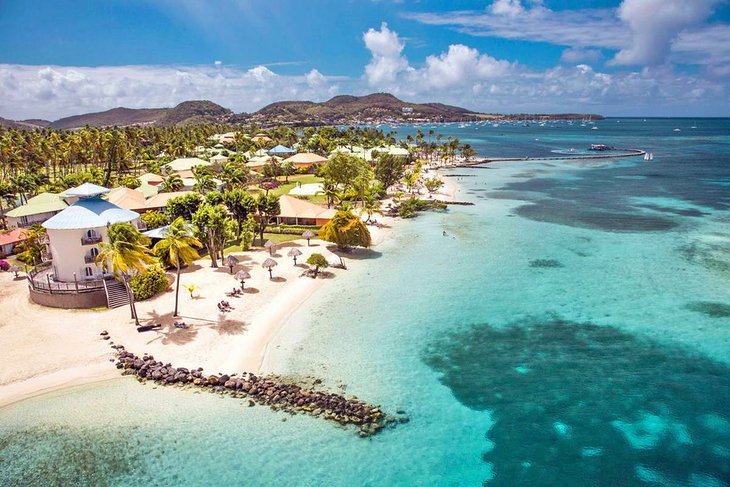 Accommodation: Club Med Les Boucaniers
Highlights: A family-friendly all-inclusive with open-air restaurants, an infinity pool, and a host of amenities
Club Med is by no means a small family-run operation, but its worldwide reputation has made Club Med Le Boucaniers one of the most famous and preferred resorts of the island.
Convenience is king at this sprawling, all-inclusive resort. The various buildings are splashed in pastel colors, though the interiors range from recently renovated to a tad clunky and outdated. Still, the beach, infinity pool, and open-air restaurants are bustling and energetic and give Club Med devotees exactly what they're looking for.
The resort has almost 300 rooms, which are divided into three categories, from Deluxe Rooms to Suites. All rooms have a private balcony, flat-screen TVs, and free Wi-Fi.
When it comes to amenities, Club Med is packed, starting with the expansive stretch of beach, waterfront infinity pool, two restaurants, spa, and massive gym. Families will not lack things to keep them busy and happy in one place at this popular Martinique beach resort.
Address: Pointe du Marin, 97227 Sainte-Anne, Martinique
5. Hotel Bakoua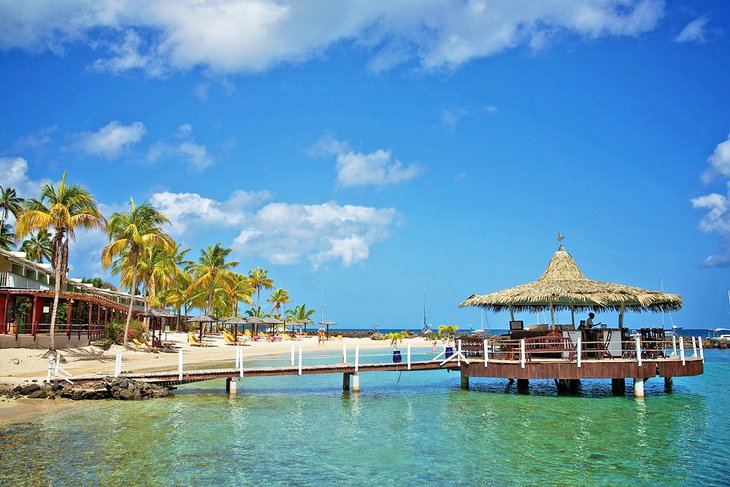 Accommodation: Hotel Bakoua
Highlights: Spectacular views over Fort de France; an infinity pool; and a fabulous, romantic restaurant
Hotel Bakoua is Trois Ilets best-known hotel and one of the most picturesque, with views overlooking Point du Bout and Fort de France. The open-air lobby gives way to the infinity-edged, circular infinity pool, which has sweeping views of the bay.
From the pool terrace, steps lead down the hillside to La Sirene, the hotel's main restaurant, which drips with romantic charm, from the flickering candles to the views over the lights of Fort de France.
The 4-star resort offers 138 rooms organized into a few different categories, but all are decorated in colonial style, with dark wood furnishings and nautical accents. The Superior Rooms are the most basic accommodations, with views of the gardens and a terrace. Luxury Rooms have direct beach access, and feature wooden floors and Nespresso coffee machines.
Guests can arrange several excursions, like catamaran rides around the island or a trip across the bay to the capital, Fort de France.
Address: Pointe du Bout, Les Trois-Îlets 97229, Martinique
6. Hotel Plein Soleil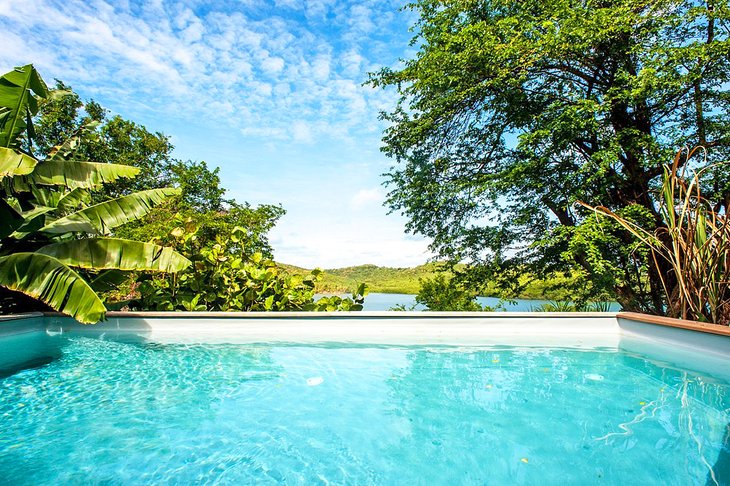 Accommodation: Hotel Plein Soleil
Highlights: A gorgeous, tropical setting on the rugged eastern coast with 16 main house rooms and five stunning villas
If you are looking for an off-the-beaten-path location for your Martinique vacation, and you don't care if you are on the beach, then the 4-star Hotel Plein Soleil might be the right choice for you. Set on a hilltop facing the Bay of Francis, the grounds here are full of rolling grass, bright-hued flowering plants, and swaying palm trees. It is a lovely country retreat with a romantic ambience, although children are welcome.
You will want your own transportation if you are staying here. The resort is at the end of a rough stretch of a dirt road surrounded by banana trees on Martinique's east coast. The boutique property accommodation is in 16 art-filled rooms in the main house or in five Caribbean, Creole-style villas. Some of the villas have their own swimming pools. There is an eclectic art collection on display in the public spaces as well.
Amenities include a living room and loft space in the main house, with lots of books. There is also a very good restaurant on-site, helmed by a local chef who trained under Alain Ducasse in France. There is also a large swimming pool.
Address: Pointe Thalemont Mansarde Rance, Le Francois 97240, Martinique
7. Carayou Hotel & Spa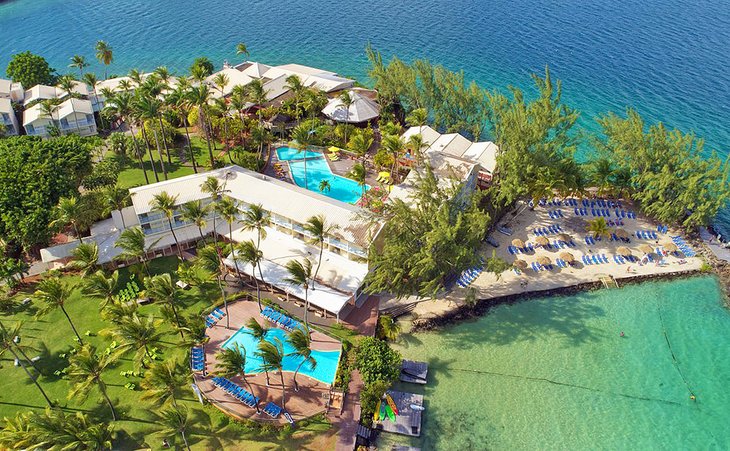 Accommodation: Carayou Hotel & Spa
Highlights: A spectacular seafront location with traditional French-Creole style, two pools, and a small beach
The main selling point at Carayou Hotel and Spa is its unbeatable location, perched on a peninsula in Point du Bout, overlooking the sea. The 132-room hotel caters predominantly to budget-conscious travelers, especially because it is an all-inclusive property.
Rooms are decked out in the French Creole style, with painted shutters and beach-themed art. All rooms have small terraces and views of either the garden or the sea.
On the property, guests will find two pools and a small beach, but the windy location can make swimming difficult. Kitesurfing, however, is at its best here. Guests can sign up for lessons and equipment rental. There is also a tennis court, volleyball, basketball, and a game area with ping pong and billiards.
Tap into tranquility at Le Spa Josephine, which has a range of treatments and four treatment rooms, as well as a steam room, sauna, and whirlpool. The restaurant on the property has amazing views and serves up local, Creole-influenced cuisine.
Address: La Pointe du Bout 97229 Les Trois-Îlets Martinique
8. La Pagerie Tropical Garden Hotel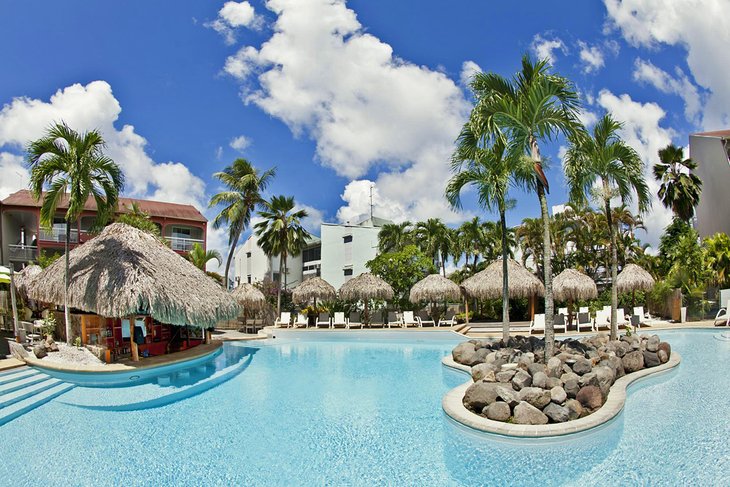 Accommodation: La Pagerie Tropical Garden Hotel
Highlights: Vibrant and energetic, with a beautiful pool, garden, and Creole-style restaurant
Located in Trois Ilets, Martinique's most popular resort town, Hotel La Pagerie is fun and colorful, with an enviable address. The resort is close to the marina and the famous Creole Village, as well as the beaches.
The heart of the resort is its beautiful pool and garden area. Hand-thatched palapa roofs drape over poolside chaise lounges. There is even a poolside palapa for outdoor spa treatments.
The resort has 96 rooms, each with air-conditioning. Classic Rooms view the colorful and historic Creole Village, while Comfort Rooms offer views of the pool and gardens. A Superior room has private outdoor space and recently renovated bathrooms.
Le Pitaya restaurant serves up a daily full continental breakfast, as well as a savory Creole buffet on Wednesdays and Sundays, which is really wonderful for travelers who want to taste the local cuisine. In the evenings, Le Pitaya opens its doors to both hotel guests and visitors serving Creole specialties. Guests who want something a bit more romantic can book a Romantic Table for a six-course private dining experience.
Address: Rue du chacha, la pointe du bout, Les Trois-Îlets 97229, Martinique
9. Karibea Sainte-Luce Hotel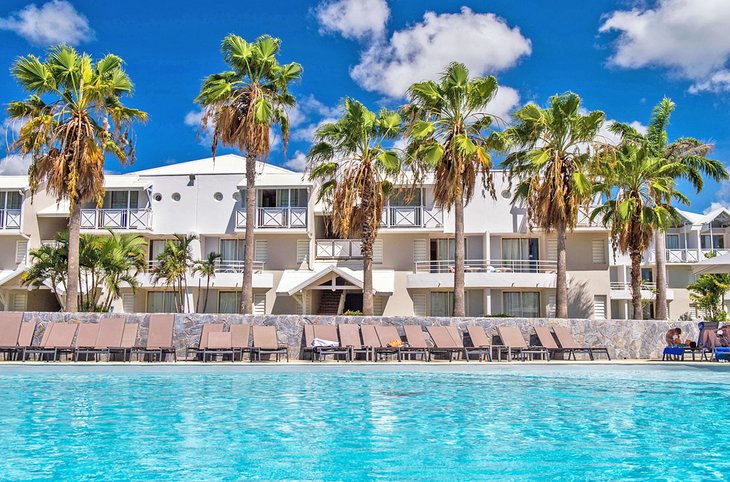 Accommodation: Karibea Sainte-Luce Hotel
Highlights: A two-minute walk from Anse Corps de Garde Beach, a garden-view restaurant, and three swimming pools
Perched on Martinique's southern coast, overlooking the Caribbean Sea, the Karibea Sainte-Luce Hotel is a great option for families. This 3-star hotel has its own beachfront and is just a two-minute walk from the bleached-white Anse Corps de Garde Beach.
Rooms are basic but colorful and clean, starting with the Standard Room Amandiers, which have balconies with garden views. There are a variety of higher categories, ranging from rooms with private terraces, kitchenettes, and balconies. A portion of the hotel has 73 apartment rental-style accommodations, as well.
For dining, guests have La Yole restaurant, which is tucked in the resort's garden and overlooks the Caribbean Sea. It has a combination of buffets with live cooking stations, as well as an a la carte menu.
Karibea Sainte-Luce has three swimming pools, including the sprawling main pool, which overlooks the sea. The rental area of the resort has an infinity pool, which offers AquaGym fitness classes. The resort is complete with a tennis court, fitness trail, wellness center, and a kids' club.
The village of Sainte-Luce is known for its gorgeous beaches, as well as offshore diving. Karibea Sainte-Luce has a partnership with Natiyabel Club, which offers scuba diving, as well as certification training for all levels of PADI.
Address: Quartier Désert - 97228 Sainte-Luce, Martinique - Antilles Françaises
10. Hotel La Bateliere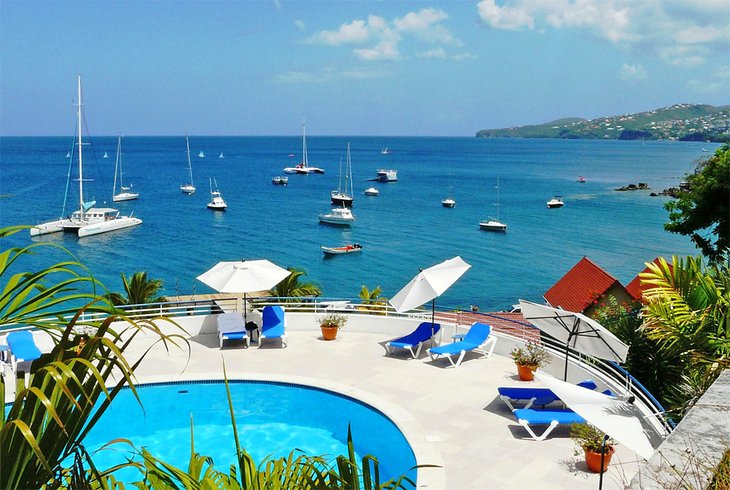 Accommodation: Hotel La Bateliere
Highlights: A stunning hilltop location with spectacular views, an on-site restaurant, and an intimate spa
Hotel La Bateliere is all about the dramatic sea views. It sits perched on a hill overlooking the sea, with a small, but lovely, beach at its base.
The resort has 195 rooms, including five Junior Suites and three Senior Suites. Some of the suites are duplexes, with private terraces offering either sea or garden views. Decor of the rooms is a bit dated and basic, but the views of the sea cannot be beat. There are flat-screen televisions and free Wi-Fi, as well.
The main restaurant is Le Bleu Marine Restaurant, which serves American breakfast and international dinner. A Creole-focused menu is served once a week. Down by the beach, guests can find Lili's Beach, which serves light beach fare with views of the sea.
The resort has a small spa that specializes in Asian-style treatments, from Japanese Kobido facials to Indian Abhyanga massages.
Address: 20 Residence les Alizes de Bateliere, Schoelcher 97233, Martinique
11. Residence Hoteliere Les Cayalines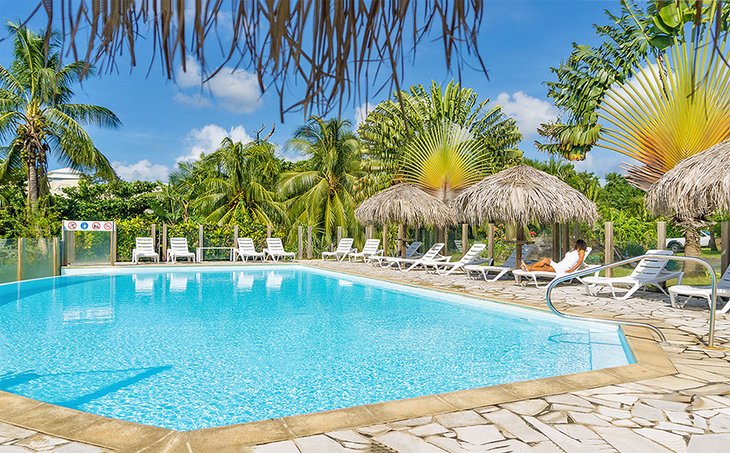 Accommodation: Residence Hoteliere Les Cayalines
Highlights: A budget-friendly hotel with a fantastic beachfront location
Clean and simple - that's the best way to describe Residence Hoteliere Les Cayalines. But when you're just three minutes from one of the most beautiful beaches in Martinique, it's doubtful you'll be spending much time in your room.
The vibe here is true Caribbean, with bright colors and tropical details. The rooms are a bit outdated in terms of furniture, but basic is the point since most guests prefer to spend their time exploring Martinique's attractions. There are two room categories available: Standard View Studios have indoor kitchenettes, and Garden View Studios have kitchenettes on the outdoor balcony.
A small pool is available with a few palapas and lounge chairs, but there is no pool menu or service. The property does have direct access to the pristine, white sandy beach.
Nearby amenities include scuba and snorkel facilities, local shopping, hiking, sportfishing tours, kitesurfing, and restaurants.
Address: Quartier Désert Plage, 97228 Sainte-Luce, Martinique
Map of Resorts in Martinique
Best Time to Visit Resorts in Martinique
Martinique is a year-round destination, but the best time to visit resorts in Martinique is undoubtedly in the month of May. May has a beautiful average temperature of 86 degrees Fahrenheit and is one of the drier months.
December, January, February, March, and April are also excellent months to visit Martinique for the same beautiful weather and low precipitation. But huge events like Carnival often cause hotels to drive up their prices. Plus, the frigid northern winters often mean that these months are the most crowded.
June, July, August, September, October, and November are considered to be the lower season. This is when the rains are most intense and, often, many hotels in Martinique close their doors during these months. Those that remain open, however, offer room rates at very attractive price points. But be prepared to deal with extremely rainy days.