12 Best Beaches in Malta
Malta is a paradise for sun-worshipping beach lovers. Blessed by a balmy Mediterranean climate, the Maltese islands boast more than 300 days of sunshine a year.
In addition to ideal beach weather much of the time, Malta features gorgeous scenery along its diverse coastlines. Each of the islands has its own distinct landscape.
On the Island of Malta near the capital city of Valletta and the resorts of Sliema and St. Julian's, the beaches are rocky, narrow, and not particularly attractive. However, these beaches still draw crowds because the area is a trendy summertime holiday destination. Much more beautiful sandy beaches are found in other parts of Malta, especially along the northwest coast.
For a more idyllic beach vacation, visitors should head to the Island of Gozo, which is prized for its charming rural landscape. The coastline is fringed with long stretches of sublime sandy beaches, tucked behind farmlands and nestled in quiet coves.
The Blue Lagoon on the Island of Comino is a world-famous destination worth visiting, despite the mobs of tourists.
The Maltese islands offer an incredible variety of beaches for every type of traveler. Whether you are seeking family-friendly recreation or a lively seaside scene, check out our list of the best beaches in Malta.
1. Golden Bay Beach, Island of Malta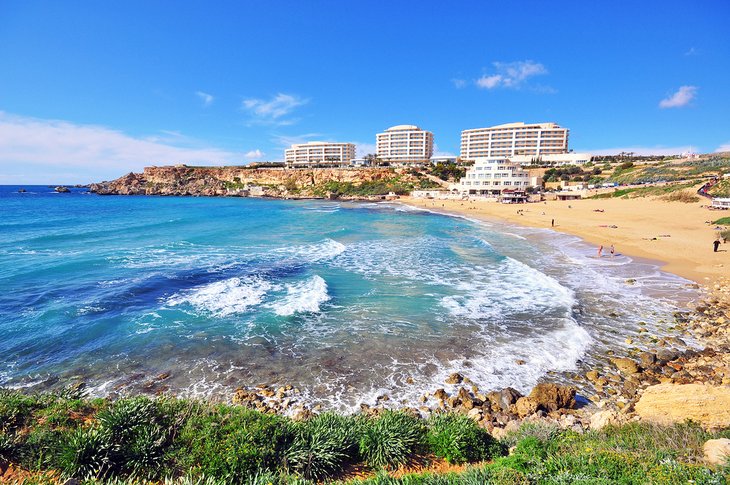 This picturesque family-friendly beach offers the best of both worlds: the top-notch amenities of a well-developed tourist destination and the pristine environment of an unspoiled nature site.
Set along a small bay on the mountainous northwest coast of Malta Island, the fine golden-sand shoreline of Golden Bay is quite expansive. There's plenty of room for visitors to spread out while sunbathing.
Shrub-covered cliffs and hillsides enclose the beach, providing shelter against the wind. The peaceful rural surroundings also give the place a secluded feel. The nearest road is not visible from the shore, and there is no traffic noise to obscure the relaxing sound of gently crashing waves.
Golden Bay Beach is prized for its crystal-clear turquoise waters. Generally, the conditions are ideal for swimming and snorkeling. The beach uses flags to indicate safety warnings, and lifeguards survey the beach during the high season.
The beach has excellent facilities, including public restrooms, changing rooms, and a stand that rents out lounge chairs and beach umbrellas. There's also a beachfront snack bar that serves sandwiches, snacks, and coffee drinks on a patio with fabulous sea views.
Romantics will appreciate Golden Bay Beach for its gorgeous sunsets, a highlight for those spending the night here.
2. Ir-Ramla il-Hamra, Island of Gozo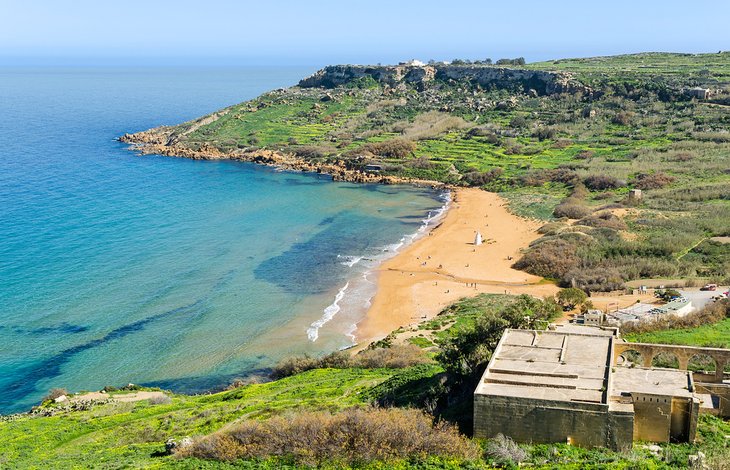 A lovely bucolic setting makes Ir-Ramla il-Hamra a truly special beach. The wide shoreline is tucked into a fertile valley amid undulating hills where farmlands flourish. The surroundings are completely undeveloped, without any restaurants or hotels.
Steep cliffs frame the coastline leading to the beach and provide stunning scenery for those who hike here from Nadur, a historic hilltop village with stunning sea views, or the village of Ix-Xaghra which is near the UNESCO-listed Ggantija Temples. It only takes about 45 minutes to walk from Nadur or Ix-Xaghra to Ir-Ramla il-Hamra beach.
Ir-Ramla il-Hamra, also known simply as Ramla Bay, is the largest beach on Gozo Island. The beach features a long, wide shoreline of fine reddish sand and some pebbles near the shore breaks.
A statue of the Virgin Mary (Our Lady of Hope) stands at the center of the beach. This statue dates back to 1881.
Because the beach is located in a sheltered bay, the waves are gentle and safe for swimming and snorkeling. Another advantage is that the seabed is shallow, which makes the beach ideal for children to splash around.
Amenities at Ramla Bay include public restrooms and changing rooms. During summertime, there are snack bars, ice cream vendors, and stands that rent out lounge chairs and beach umbrellas. Ir-Ramla il-Hamra beach uses flags to indicate water safety and has lifeguards on duty during the high season.
3. Ghajn Tuffieha Bay, Island of Malta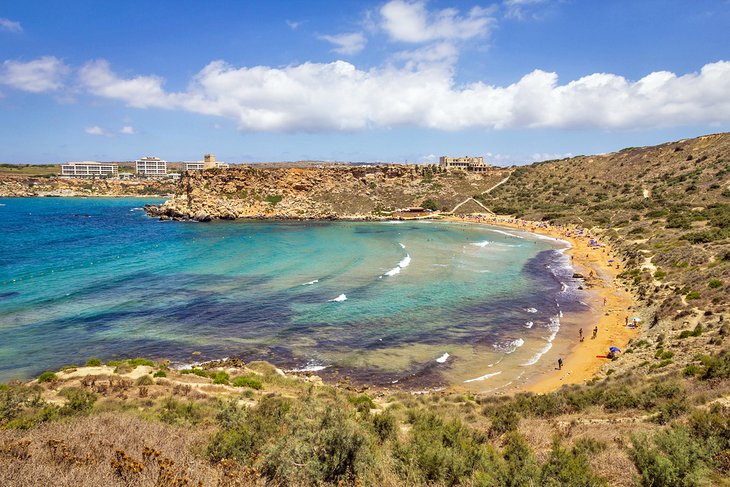 This sublime stretch of shoreline is found in a spectacular setting just two kilometers from Golden Bay. Steep cliffs and hillsides surround the beach, creating the impression of an untouched natural environment. The beach also seems isolated because it is only accessible by hiking down a staircase of 200 steps.
Ghajn Tuffieha Bay has basic amenities for visitors, including public restrooms, a snack bar, and lounge chairs and beach umbrellas for rent. Lifeguards are on duty during the summer months.
This beach is ideal for those who prefer a quiet, peaceful atmosphere. The waters are generally safe for swimming. However, the beach can sometimes have strong currents (indicated by a red flag warning).
4. Mellieha Bay, Island of Malta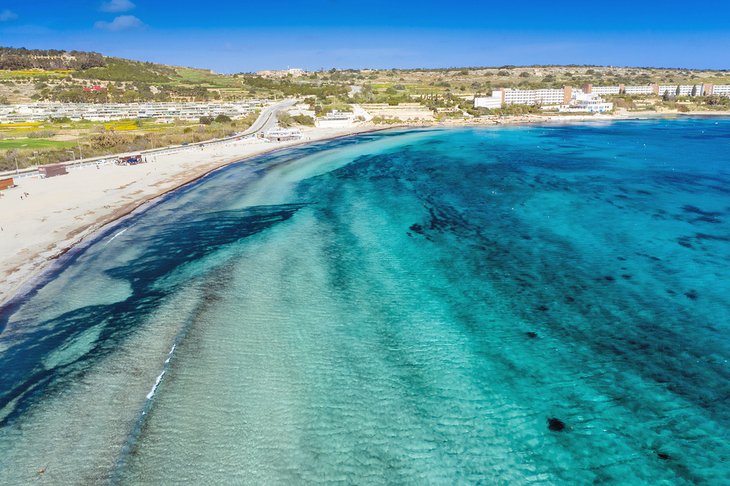 This family-friendly beach boasts a fine sandy shore and gentle waves with no undercurrents. The shallow seabed extends for quite a distance. In fact, the waters are no more than knee deep for about 50 meters offshore, which makes it safe for children to splash around and swim here.
For added security, the swimming zone is cordoned off from the boating area. Lifeguards are on duty during the high season (June through September), and they keep a close watch on children as they swim around in the bay.
As Malta's largest beach, Mellieha Bay (also called Ghadira Bay) is one of the most visited beaches on the island. Thanks to its spaciousness, the beach rarely feels crowded except on the busiest summer weekends.
Mellieha Bay is a top destination for water sports, such as windsurfing, water skiing, and kayaking. The beach has a Blue Flag label for its water safety, environmental quality standards, and services.
Nature lovers and bird-watchers also enjoy visiting the Ghadira Nature Reserve across the street from the beach. The Ghadira Nature Reserve provides habitat for approximately 140 different species of migrating birds.
An advantage of Mellieha Bay over other beaches on Malta's northeastern coast is the wide range of hotel options, which makes it ideal for a week-long or weekend beach holiday. Tourists can choose an upscale four-star resort or more basic accommodations.
As a day trip, tourists can take a ferry from Mellieha Bay to the Island of Gozo and the Island of Comino. The Oh Yeah Malta ferry departs at 10am, stops at Gozo Island, then at the famous Blue Lagoon on Comino Island for swimming and snorkeling, and returns at 4:30pm. There's also a ferry service, departing and returning around the same time from Mellieha Bay, for a leisurely day of sunbathing and swimming at the Blue Lagoon and the Crystal Lagoon on Comino Island.
5. Gnejna Bay, Island of Malta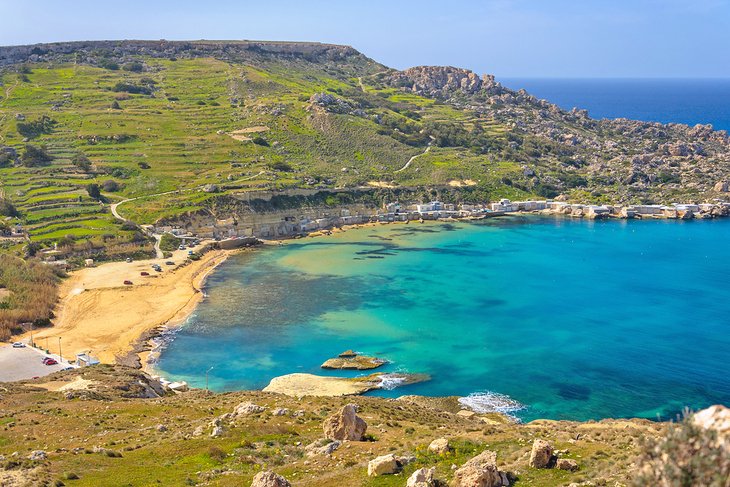 Continuing from Ghajn Tuffieha Bay seven kilometers through the countryside is Gnejna Bay, near the rural town of Mgarr. Gnejna Bay has a remote feel, similar to Ghajn Tuffieha Bay, since it is protected by steep cliffs.
To reach the Gnejna Bay beach, visitors must hike down a steep staircase through the hillside to the shoreline. Nature lovers are delighted by the expanse of fine golden sand and the crystalline waters.
Gnejna Bay is a wonderful quiet beach, ideal for sunbathing, swimming, and snorkeling. However, there are no lifeguards.
Facilities include public restrooms, snack bars, and stands that rent out lounge chairs and beach umbrellas.
6. Blue Lagoon, Island of Comino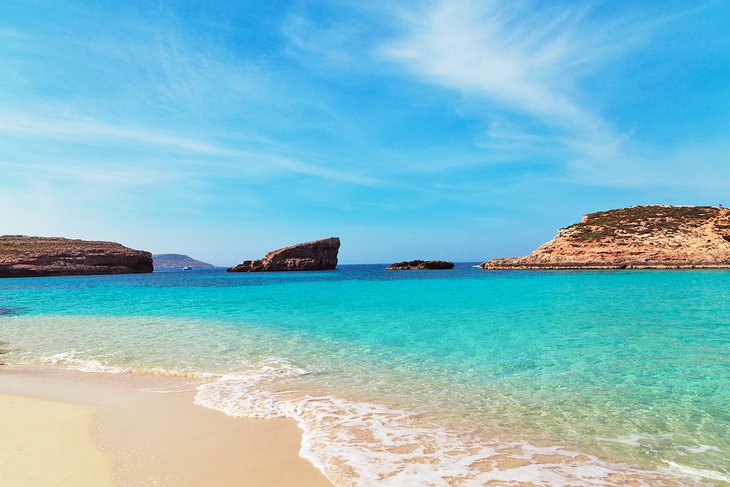 In the off-season, the Blue Lagoon feels like paradise. Crystal-clear turquoise waters exude a tropical quality, as gentle waves lap against small white-sand beaches.
During summertime, visitors should brace themselves for the crowds. Throngs of sunbathers fill up the shaded lounge chairs that are available in the morning hours. After that, visitors can only find spaces to stretch out in on the rocky hillside above the beach, which is in the direct sun.
It's easy to see why the Blue Lagoon attracts so many visitors. The natural lagoon is so calm and crystal clear that it resembles an enormous swimming pool. On hot summer days, with kids floating on inflatable tubes, the lagoon appears to be a giant recreation center.
Facilities at the Blue Lagoon include public restrooms and snack bars. There are lounge chairs and beach umbrellas for rent, but these are often sold out before noon on busy days. The Blue Lagoon does not have lifeguards.
To arrive at the Blue Lagoon, tourists can take a ferry from Mgarr on Gozo Island or from Marfa, Mellieha Bay, or Cirkewwa on Malta Island.
7. Pretty Bay in Birzebbuga, Island of Malta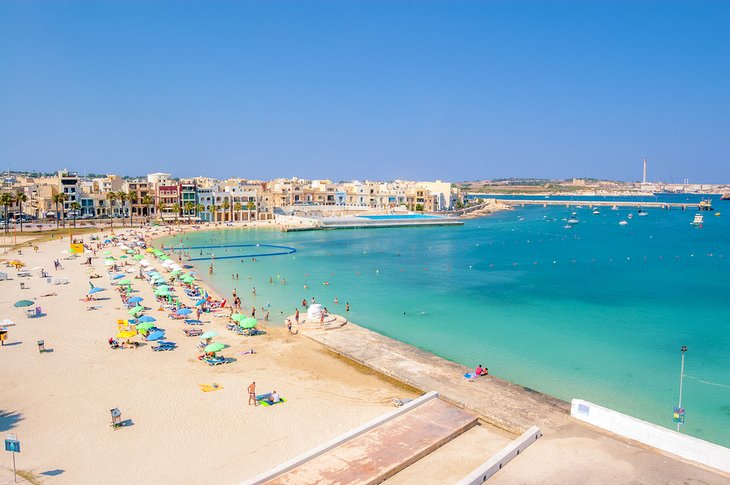 The sandy beach at Pretty Bay in Birzebbuga was created by developers rather than nature, but that doesn't take away from its beauty and charm. As one of the rare beaches on the southern coast of Malta that has a sandy shoreline, it's a favorite locals' destination.
A lively scene during summertime, the Pretty Bay beachfront is framed by a garden and a commercial street lined with restaurants, cafés, snack bars, and ice cream shops.
Facilities at Pretty Bay beach include public restrooms and refreshment stands. There are no lifeguards.
8. Armier Bay, Island of Malta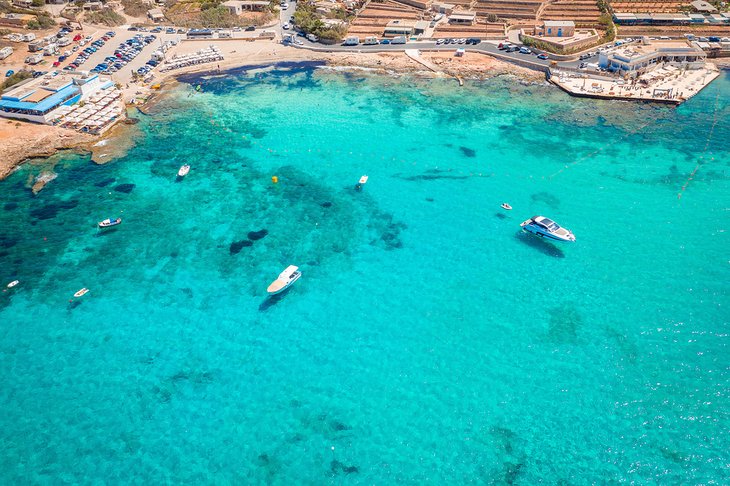 On the northern coast of Malta, this tranquil family-friendly beach is a nice alternative to the more crowded Mellieha Bay that is just three kilometers away. Armier Bay has a serene ambience because of its remote location in the countryside and away from the road.
Armier Bay's beautiful sandy shoreline is lapped up by translucent turquoise waters. The sea is clean and crystal clear, with gentle waves.
Tourist facilities are somewhat limited compared to Mellieha Bay, but visitors can find a few snack bars, refreshment stands, and restaurants. It's also possible to rent water sports equipment, as well as lounge chairs and beach umbrellas.
Armier Bay is exposed to the open sea, which means that there can be dangerous undercurrents. It's a good idea to ask locals about safety before entering the water. There are no lifeguards at Armier Bay.
Thanks to its situation on Malta's northernmost tip, the beach affords fabulous views of Gozo and Comino islands in the distance.
9. St. Peter's Pool, Island of Malta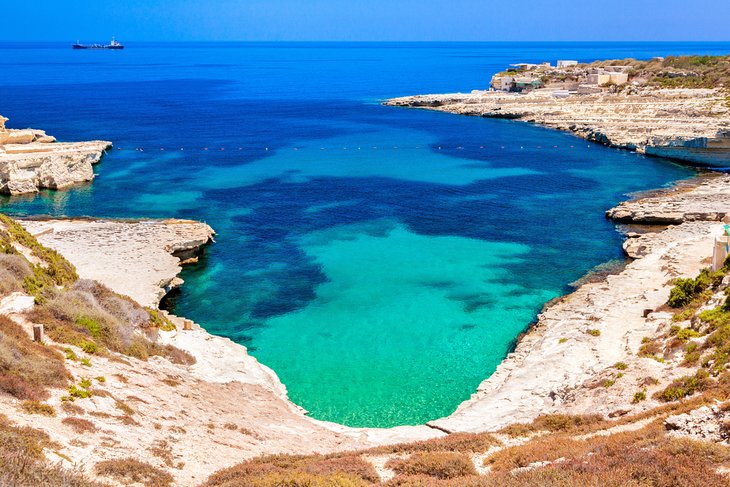 This natural pool is a favorite destination for many tourists. The unique spot is found at Delimara Point, a remote location on the southwest coast of Malta Island. The traditional fishing village of Marsaxlokk is a short (six-kilometer) drive away.
In a calm protected cove, smooth rocks surround the translucent sea, which is as placid as a swimming pool. Sunlight illuminating the water reveals mesmerizing hues of turquoise and azure.
The site has no facilities, except for ladders that provide access to the sea, and there are no lifeguards. Visitors should bring their own beach gear, snacks, and refreshments, and use caution when swimming here.
10. Mgarr ix-Xini Bay, Island of Gozo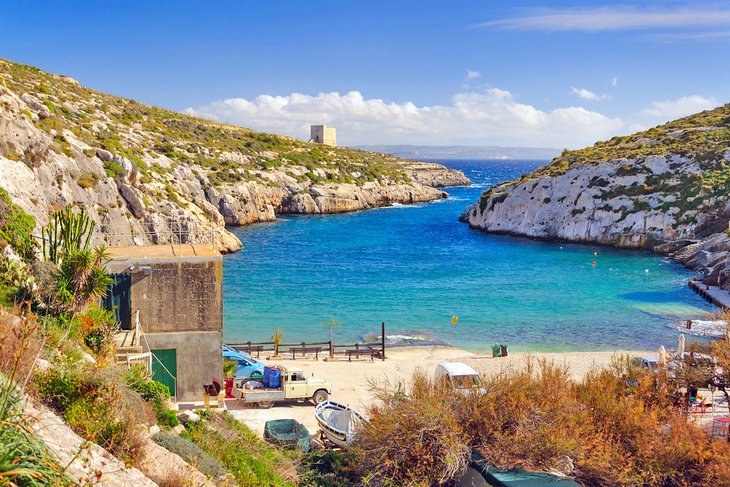 Mgarr ix-Xini Bay is a tiny inlet surrounded by steep, barren hillsides. This secluded spot wows visitors with its distinctive beauty and tranquility.
The crystal-clear waters at Mgarr ix-Xini Bay are great for snorkeling and scuba diving. The hillsides are popular for rock climbing.
There's not much of a beach at Mgarr ix-Xini Bay except for a small pebble shoreline. The unique scenery makes up for the lack of beach.
This location does not have lifeguards or any facilities for visitors. Tourists should come prepared with their essential gear.
11. St. George's Bay, Island of Malta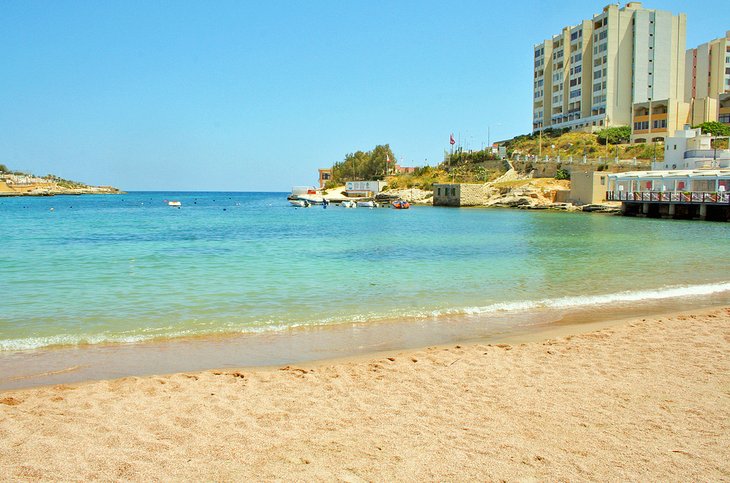 St. George's Bay has recently made a splash in the happening St. Julian's resort area. Until several years ago, there wasn't a decent sandy beach in the area, despite the fact that St. Julian's is a hub for summertime vacations among college students and twenty somethings.
The beach at St. George's Bay was created by the local council using sand imported from abroad. The result is a beautiful stretch of shoreline that fits the bill for the many sunbathers who visit during the high season.
During the summer, St. George's Bay is a marvelous place for swimming. There are lifeguards on duty during summertime to ensure safety.
Surrounding St. George's Bay are many restaurants, cafés, and hotels. Beach lovers and water sports enthusiasts can also find a beach club, a shop that rents water sports equipment, and a scuba diving center nearby.
12. Xlendi Bay, Island of Gozo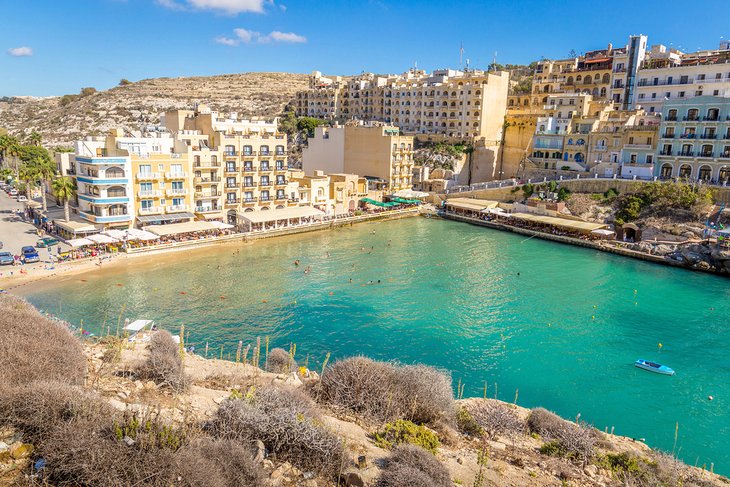 Xlendi is a small seaside resort town that was once just a tiny fishing village. Steep cliffs enclose the town, which sits in a ravine overlooking a peaceful bay. Colorful fishermen's boats are still seen bobbing up and down in the bay's marina.
Appreciated for its crystal-clear waters and pristine natural environment, Xlendi Bay is a wonderful spot for swimming, snorkeling, scuba diving, and sunbathing.
A pleasant waterfront promenade invites visitors to take a leisurely stroll and enjoy the picturesque scenery.
Map of Beaches in Malta
Malta - Climate Chart
Average minimum and maximum temperatures for Valletta, Malta in °C
J
F
M
A
M
J
J
A
S
O
N
D

15

9

16

9

17

10

19

12

23

15

28

18

31

21

31

22

28

20

24

17

20

14

17

11

PlanetWare.com
Average monthly precipitation totals for Valletta, Malta in mm.

89

61

41

23

8

3

0

8

41

89

79

112