12 Top-Rated Family Resorts in the Maldives
While the Maldives are well known as one of the most romantic destinations in the world, this elysian archipelago is a haven for families.
Turquoise lagoons welcome snorkelers young and old to explore their vibrant marine life, while soft, white-sand beaches beg little ones to build sandcastles. Plus, a multitude of family resorts are on hand to ensure a perfect stay for guests of all ages.
The best part about these resorts? They don't skimp on luxury. Five-star service and high-end accommodations welcome children and their parents to enjoy the best the Maldives has to offer. We're talking beautiful overwater bungalows, plush spas, vast water sports centers, and drool-worthy cuisine served in the most remarkable locations—from under the sea to high in the trees.
The best family resorts in the Maldives are also home to some pretty impressive kids' clubs. From giant pirate ships to water parks to cooking lessons to guided snorkeling tours and surf lessons, little ones will be happily entertained.
Traveling with teens? They'll be well catered to as well. From movie nights to surfing lessons to guided snorkeling tours, they won't be at a loss for fun things to do in the Maldives.
Choose your next bucket-list vacation destination with our list of the best family resorts in the Maldives.
1. Soneva Fushi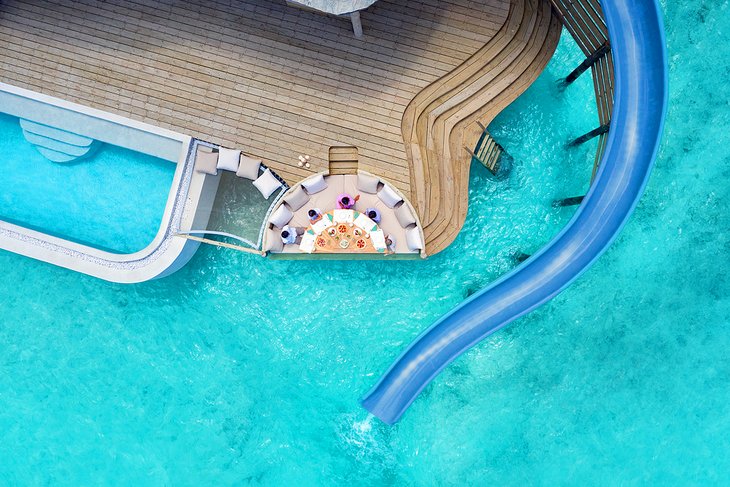 Accommodation: Soneva Fushi
Be prepared to get spoiled at the divine Soneva Fushi resort. Home to some of the best overwater bungalows in the world, this glamorous spot is so gorgeous, you'll think you've arrived in a postcard. A crystalline turquoise lagoon, tall, waving palm trees, and the softest white sand surround the island, which is peppered with jaw-droppingly gorgeous villas.
While you salivate over the immaculate grounds, your kids will be more impressed with the massive kids' club. The Den is a haven for little ones who love to be entertained.
The largest children's club in the Maldives and South Asia, the Den covers 1,365 square meters and boasts enough activities to ensure kids are happy for hours. We're talking cooking classes, a cinema for movie nights, a room dedicated to Lego and Duplo, a giant piano on the floor, a playground, two kids' pools, a playground, and a pirate ship.
Teens will be happy here as well. The Soneva Academy connects older children with experts to learn more about the culture and environment of the Maldives.
Non-motorized water sports, family picnics, and guided snorkeling tours are also popular activities on offer at this stunning resort.
While the kids are entertained, adults can spend some alone time in their swanky villa (complete with pool), grab a quiet bite in one of the phenomenal on-site restaurants, or enjoy an ice cream they don't have to share from the So Cool ice cream parlor.
Book a three-bedroom beach retreat with pool if you're vacationing with a bunch of kids. You'll love having the extra space, and the large pool and sunken outdoor couch make it easy to stay "in" all day. Kids won't fight bath time when they get to clean up in the outdoor tub and shower. Some of these villas also boast a children's splash pool.
Address: Kunfunadhoo Island, Baa Atoll, Maldives
2. Pullman Maldives Maamutaa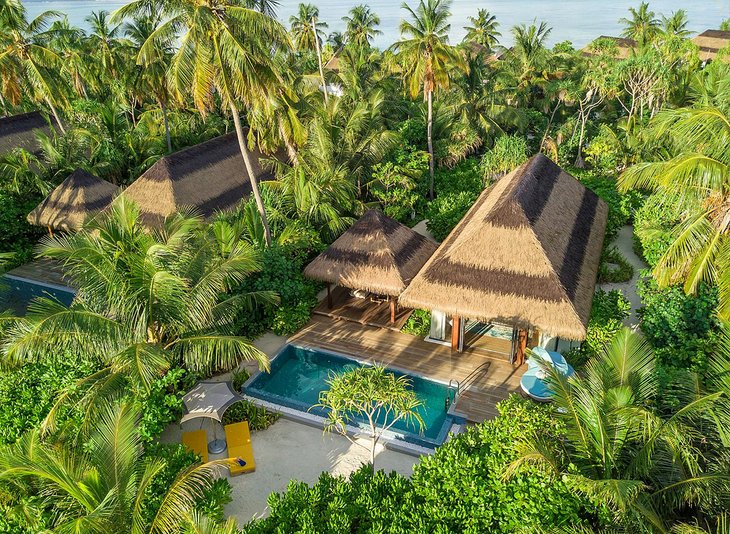 Accommodation: Pullman Maldives Maamutaa
Want your kids to love you forever? Book a vacation to the family-friendly Pullman Maldives resort. Their Pullman Kids' Club is fantastic enough to make little ones beg to return day after day. From a kids' pool to waterslides to endless activities, they'll never be at risk of whining—until you tell them it's time to leave, that is.
Teens will flock to the Skillz Sports Centre, an area designed just for them. It features snooker, table tennis, a golf simulator, and board games, among other fun activities. Did we mention there are two karaoke rooms on the property? Even you will love those!
The fact that this five-star resort boasts an extensive all-inclusive package makes it one of the best family resorts in the Maldives. No need to worry about how many juices your children order while they're running around the property; all drinks are included. So, too, is the food.
Three restaurants boast delectable fare ranging from locally inspired dishes to Middle Eastern cuisine and Italian delicacies.
When you aren't stuffing your faces on the complimentary meals, head out on a guided family snorkeling tour or a dive with the resort's PADI Dive Center (for kids 10 and up). Families can also enjoy water sports, play volleyball, cycle around the island, or participate in treasure hunts.
When the kids' feet are too tired to walk back to your plush villa, one of the uber-friendly staff members will drive you in a buggy.
The family beach pool villa is hard to beat. A thatched roof beauty, this spacious spot boasts its own pool; a contemporary master bedroom with floor to ceiling windows that open directly onto a private, beachfront porch; and a separate children's room with bunk beds.
Address: Maamutaa Island, Gaafu Alifu Atoll, Maldives
3. Anantara Kihavah Maldives Villas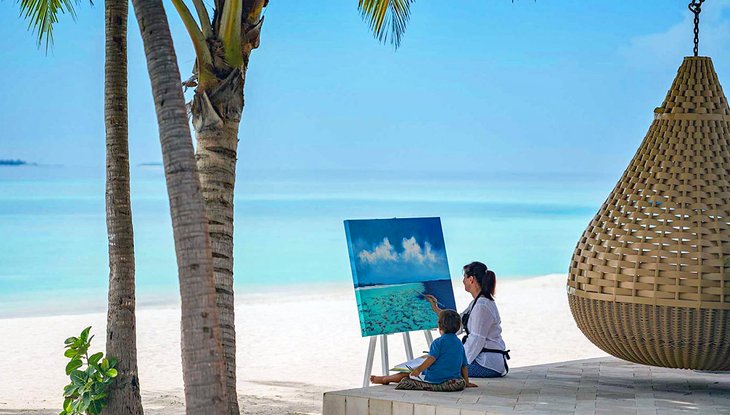 Accommodation: Anantara Kihavah Maldives Villas
A word of warning: a stay at the Anantara Kihavah Maldives Villas will ruin all other resorts. In fact, this is the resort your kids will compare all other vacations to for the rest of their lives.
In addition to its remarkable surroundings—it's set on a private island on the Baa Atoll in a UNESCO Biosphere Reserve—kids will go crazy over the fun Thithithi Boli Kids' Club.
A haven for those aged 4 to 12, this club boasts endless activities and excursions, as well as teen-centered activities in the recreation area.
Bikes are available to help guests of all ages explore the eco-friendly resort. Be sure to note the lush trees, none of which were cut down during the creation of this five-star property, which is one of the best resorts in the Maldives for good reason.
Families can snorkel together in the incredible house reef, one of the best coral reefs in the Maldives. They can stargaze in the Sky Observatory, the Maldives' first overwater observatory, and they can head out on a pirate cruise.
When the kids are happily occupied, parents can salivate over a delectable meal at SEA, the Maldives' first underwater restaurant, or enjoy a bite at the other five-star eateries on site. The spa is also worthy of a relaxing visit.
When it comes time to turn in for the night, head back to a two-bedroom family beach pool villa. It comes with two large en-suite bedrooms that are interconnected and share a sundeck and private infinity pool. Indoor and outdoor rain showers, kids' amenities, a romantic al fresco soaking tub, and a 24-hour private villa host will make this a stay so fabulous, you won't want it to end.
Address: Kihavah Huravalhi, Maldives
4. Jumeirah Maldives Olhahali Island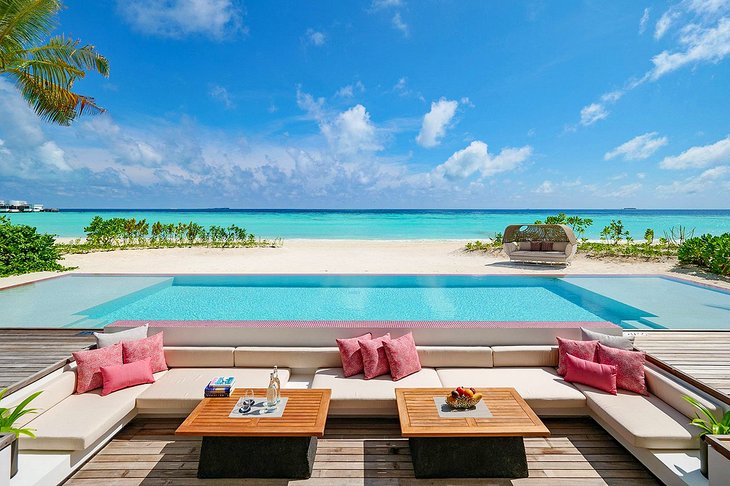 Accommodation: Jumeirah Maldives Olhahali Island
Kids won't complain about joining their parents on a luxurious vacation at the Jumeriah Maldives Olhahali Island resort. First, they'll be treated like royalty, as will their accompanying adults. Second, they'll get to stay in a villa so glamorous, they'll measure all future resorts against it.
The three-bedroom beach villa retreat with pool is as plush as you'd expect from a luxury resort in the Maldives. It comes with a private infinity pool, rooftop terrace, and direct beach access. Kids can get clean either outside or in, depending which rain shower they choose, and there's a large living area with floor-to-ceiling windows that slide open to let the ocean breeze waft in.
In terms of keeping them occupied outside your glamorous quarters, this fab resort boasts a kids' club for little ones aged 3 to 11, as well as a beachside splash park and plenty of fun activities ranging from cake boss cake decorating competitions to movie nights under the stars.
Teens from 12 to 17 are invited to get up close and personal with the underwater world on guided tours.
Play tennis, head out in a kayak, or sail around the area. Take your vacation fun to the next level with an experience the kids won't forget—a trip in a semi-submersible boat that allows you to see the underwater world without getting wet.
When all that water-based fun has you hungry, dine by the pool, enjoy a Peruvian and Japanese meal in a stylish seaside restaurant, or order a floating breakfast to your private pool. There is no lack of options for tasty fare.
Forgot your baby monitor at home? No worries. The resort has thought of everything you may have missed and supplies them for use during your stay, bottle warmers and strollers included.
Address: Olhahali, North Malé Atoll, Maldives
5. Ayada Maldives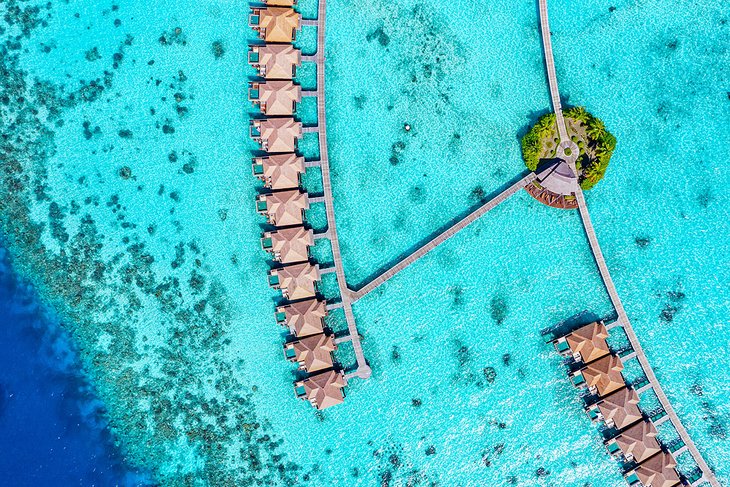 Accommodation: Ayada Maldives
While Ayada Maldives is home to some of the best overwater villas in the Maldives, it's the beach family suite that will have your family begging to head back to the room.
Two beach suites are connected, which means guests are presented with two bedrooms with a large veranda each, two private plunge pools, two bathrooms with indoor and outdoor showers, a large bathtub, plus direct access to the beach.
As appealing as the suite may be, kids will clamor to join the activities offered at the Zuzuu kids' club. It features a dedicated children's pool, playground with a jungle gym, and a nanny room for the littlest guests (babysitting for those under 4 comes with a fee). Activities are plentiful and include everything from face painting to educational classes to t-shirt design.
The use of snorkeling gear is complimentary, as is access to kayaks, day and evening entertainment, and the Bodu Beru show. The yoga studio, tennis court, and fitness center are other options for staying busy, but it's the 3,500-square-meter AySpa that will have parents feeling fully blissed out.
Eight eateries are on hand to quell hunger pangs and if you choose the all-inclusive package, meals and beverages are included (except for à la carte restaurants, Kai and Ocean Breeze).
Address: Magudhuva Island, Gaafu Dhaalu Atoll, Maldives
6. Amilla Maldives Resort & Residences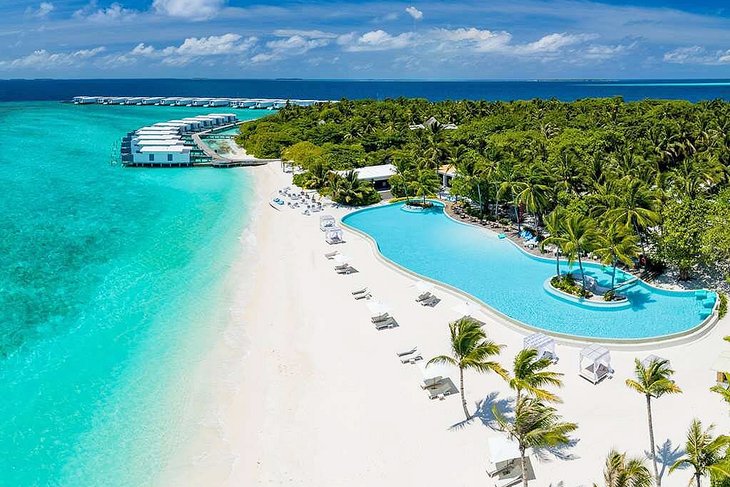 Accommodation: Amilla Maldives Resort & Residences
It's easy to get back to nature at the Amilla Maldives Resort & Residences. A phenomenal five-star resort, this gem boasts 23.5 hectares of space, 70 percent of which lies untouched.
The softest white sand and most stunning forest blanket the island, offering guests a sanctuary they'll be sad to leave.
Book a beach residence for the most private and plush experience. Set on a separate side of the island from the main buildings, these large, luscious villas include glass balconies, a games terrace, a private beach area, and an infinity pool.
Don't feel like walking over to the restaurants? A private chef can create a tasty masterpiece in your fully equipped kitchen.
Otherwise, choose the all-inclusive, Dine Around package to take the eek out of your end-of-trip bill. You'll get free ice cream, most beverages, and three meals a day at some on-site restaurants. Snorkeling equipment and non-motorized water sports are also included, as are certain excursions.
As for the kids? They'll love it here. The Mini Marine Biologists Programme uses interactive methods to teach little ones about the local environment and marine life. They'll be granted access to the coral nursery, given a snorkeling lesson, and can play for hours at the Sultans Village Kids' Club.
Here, they can participate in beach games, build sand sculptures, head out on eco scavenger hunts, take yoga and cooking classes, and dance the night away at a kids' night disco.
Address: Baa Atoll, Maldives
7. COMO Maalifushi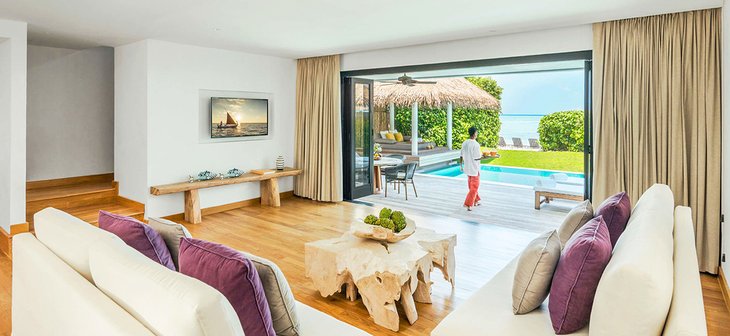 Accommodation: COMO Maalifushi
It's impossible to feel stressed while staying at the COMO Maalifushi. Whether they choose to spend their time snorkeling with whale sharks, swimming in the lagoon pool, biking along wooden walkways, or enjoying a holistic therapy at the COMO Shambhala Retreat, guests of all ages are primed for relaxation.
The littlest visitors to this stunning resort can add fun activities at Play by COMO Kids' Club and low-key yoga classes to their to-do lists. Also, non-motorized water sports and complimentary equipment rentals are available at the marine sports center to keep them entertained.
If you'd prefer your children to have a more individual experience, hire a babysitter. They can watch your kids either in the room or on the property while you luxuriate in your family-friendly villa. A teens' room is also on hand to give older kids a fun place to while away a couple of hours.
The two-bedroom beach villa is ideal for families. The open-plan concept makes it easy to know where your kids are at all times, and the floor-to-ceiling windows and giant French doors bring the outside in. Most come with a private plunge pool and sundeck. While the overwater villas are spectacular, they're also incredibly open, which means it's easy for little ones to fall into the waves below.
Address: Thaa Atoll, Maldives
8. Lily Beach Resort & Spa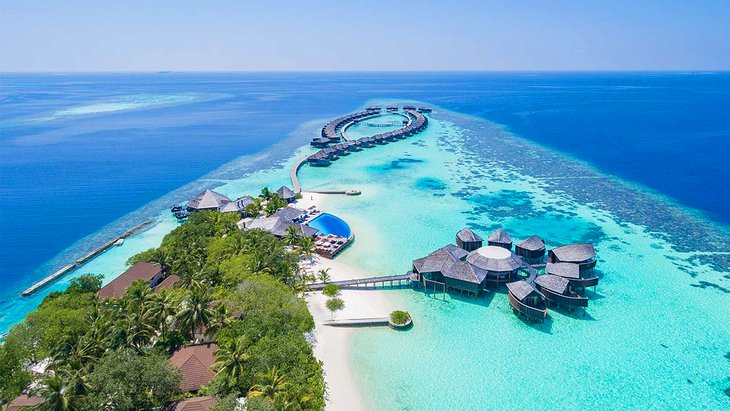 Accommodation: Lily Beach Resort & Spa
Welcome to Paradise, or in this case, the Lily Beach Resort & Spa. A lavish family resort set on the private island Huvadhendoo in the South Ari Atoll, this is the place where dreams come true for both kids and grown-ups.
The surroundings are breathtaking and uberluxe. The restaurants are drool-worthy and boast kids' menus, and the service is top notch. Scuba diving, snorkeling, playing tennis, taking a yoga class, and unwinding with a spa treatment are popular activities, but no one will blame you if you choose to stay in your plush villa.
Beach family villas consist of two interconnected villas, which means you'll have a ton of space to stretch out. They're as chic and elegant as you'd expect from a five-star resort, and boast an outdoor bathroom with a Jacuzzi bathtub, a private deck with direct beach access, one room with a queen bed, and another with twins.
Keep control of your budget with the Platinum Plan, an all-inclusive option that allows everyone to enjoy complimentary meals, three excursions, and activities for one base price. This has been dubbed one of the best all-inclusive resorts in the Maldives for good reason.
A haven for families, this resort features the Turtle Kids' Club, a fab spot with fun activities like crab races and treasure hunts.
There's a family-friendly Vibes pool area featuring a shallow pool and plenty of water sports like stand-up paddleboarding and kayaking, not to mention Discover Scuba Diving lessons and snorkeling excursions.
Address: Huvahendhoo, South Ari Atoll, Maldives
9. JW Marriott Maldives Resort & Spa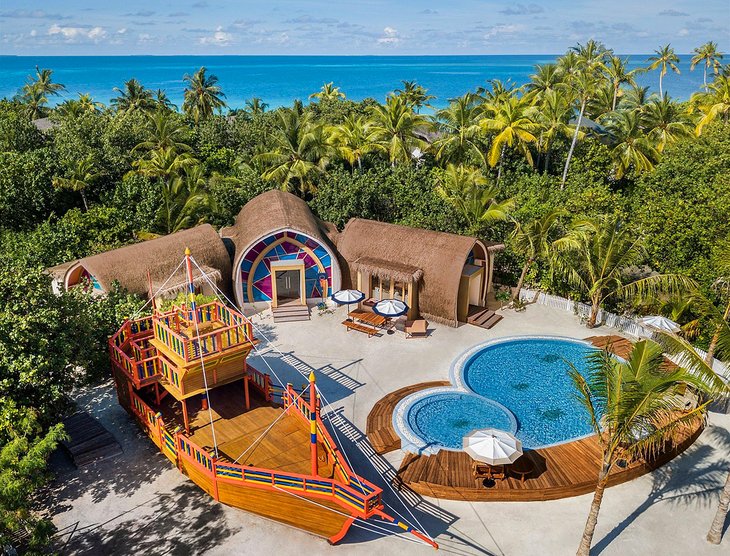 Accommodation: JW Marriott Maldives Resort & Spa
The Little Griffins Kids Club is a big selling feature for families looking for a resort in the Maldives.
In addition to its babysitting services, dedicated children's pool, and daily activities for kids three and up, this supreme club boasts a 43-foot pirate ship so authentic, your kids will unleash their inner Jack Sparrow. No wonder so many families choose to stay at the JW Marriott Maldives Resort & Spa for their Maldives vacation.
Family fun includes beach Olympics (including sack and egg and spoon races), family balloon twisting classes, kite flying, and science experiments. There are so many ways to enjoy quality family time on this glorious property.
The dive and water sports center is on hand to ensure no-one is bored, while the swanky villas are so fab you'll be more than happy to stay put.
The Duplex Beach Pool, two-bedroom villa is the best option for families. They come with impeccable water views, a separate living area, private pool, patio, and a pool cabana. Evening turndown and butler service are included.
You won't be at a loss for good food during your stay. The various restaurants serve food ranging in both cuisine and experience. Choose an elegant fine-dining experience at Shio, an al fresco buffet breakfast or à la carte meal at Aailaa, or dine on Thai food in the treetops for lunch at Kaashi.
If you're hoping to enjoy a treatment at the spa, you're in luck. There are plenty of worthy ways to relax, and your kids can enjoy child-centric spa treatments during your visit.
Address: Vagaru Island, Shaviyani Atoll, Maldives
10. Four Seasons Resort Maldives at Kuda Huraa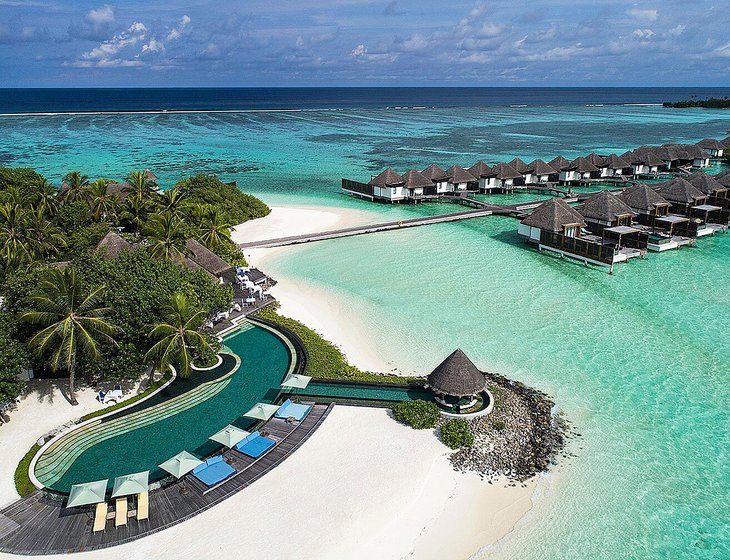 Accommodation: Four Seasons Resort Maldives at Kuda Huraa
You know you're in for some serious spoiling at a Four Seasons resort. In addition to palate-pleasing restaurants, elegant accommodations, and five-star amenities, the smiling staff are on hand to see to your every need—including those you didn't know you had.
As for entertainment, there's no lack of things to do at this family resort. The Marine Discovery Centre is filled with interactive exhibits and activities to teach families about the importance of protecting the delicate Maldivian ecosystem.
You'll likely spend much of your time enjoying the Recreation Centre. It's here that families can partake in unforgettable experiences like dolphin cruises, shark safaris, fishing trips, snorkel tours, and turtle encounters.
That's not it for fun on this pristine island resort. Guests of the Four Seasons Resort at Kuda Huraa can learn to scuba dive and get gnarly on a surfboard with expert-led clinics. Plus, the Water Sports Centre offers everything from kayaks and catamarans to X-Jetpacks and Hydrofoils to help keep visitors of all ages entertained.
Drop your little ones for a few hours of fun in the Kids for all Seasons Club. They'll feed fish, take a surfing lesson, build a coral reef, attend a bubble-making workshop, and paint, among other exciting activities. In the mean time, you can partake in some alone time to enjoy treatments at the luxurious spa, which is located on its own island.
Rooms come with a welcome gift for children and plush amenities. The Sunrise Family Water Villa with Pool is so swanky, you'll want to extend your stay. Set at the far end of a wooden jetty, this extravagant retreat features private access to the lagoon, fantastic ocean views, an infinity pool, a large bathroom with a deep soaking tub, and overwater nets.
Address: Kuda Huraa Island, Maldives
11. Kurumba Maldives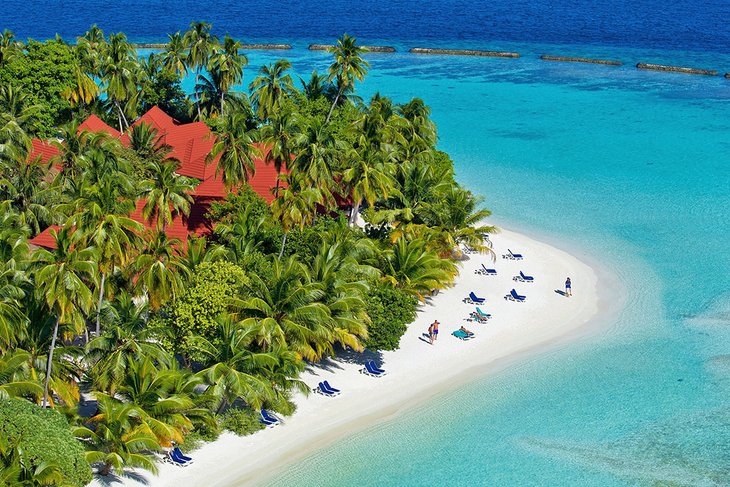 Accommodation: Kurumba Maldives
While Kurumba Maldives may be the country's first resort (it opened in 1972), there's nothing outdated about this luxurious property.
Here, you'll find first-class amenities, five-star service, chic design, plush linens, and a relaxing spa, all located on a pristine island that's a mere 10-minute boat ride from the airport.
Kids are a beloved addition to any vacation at Kurumba Maldives. The Majaa Kids Club welcomes those aged 4 to 13 to enjoy fun indoor and outdoor activities, lessons, and crafts from 9am to 6pm. Whether they want to feed fish, play sports, or learn to speak Dhivehi, they'll find something to excite them in this happy environment.
The excitement doesn't stop there. Kurumba is home to two pools and an extensive water sports center offering activities for kids aged 8 to 17 that include kayaking, wakeboarding, sailing, tubing, and windsurfing. Glass-bottom boat tours, sunset and dolphin discovery cruises, and guided snorkeling tours are also available.
Looking to enjoy a kid-free dinner? Babysitting services are available for a fee. If you love having the kids around for every meal, you'll be more than pleased with the children's menus available at the multiple on-site restaurants. The full board meal plan is your best bet if you're hoping to leave all stress where it belongs—in your real life back home.
Family villas are spread out on two levels and feature a king bedroom and bathroom upstairs, and living room downstairs. There's also a private pool, roofed patio, and a terrace. Roll-away beds or cots can be added.
Those looking for more space should book a two-bedroom Kurumba Residence. These feature two rooms, two private pools, a large sitting and dining area, and a large outdoor patio.
The best part? This is one of the most affordable family resorts in the Maldives.
Address: Vihamanaafushi, Maldives
12. Niyama Private Islands Maldives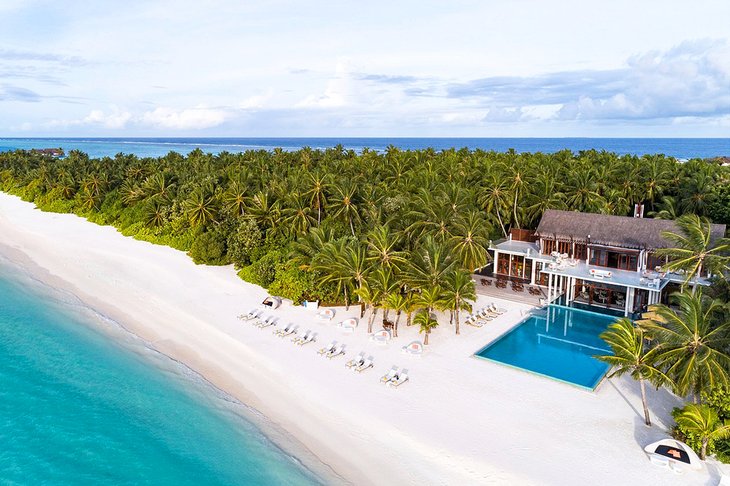 Accommodation: Niyama Private Islands Maldives
It only takes 45 minutes to arrive at Niyama Private Islands Maldives by seaplane from Velana International Airport. Once here, guests can choose the type of vacation they'd like.
Set upon two islands, Chill and Play, this luxury resort is organized to ensure each guest has the vacation of their dreams.
Families lean towards Play, the more adventurous side of the resort, where guests can try their luck at the football and golf simulators, ride bikes, play ping-pong, or challenge each other to a game of pool.
The Pump fitness center is gorgeous and filled with state-of-the-art equipment, as well as classes in everything from Pilates to circuit training. Children's Zumba and Teen fitness classes are also on offer.
The Family Beach Pool Villa is spectacular. Kids will love showering outdoors, and the open-air bathroom is highlighted by marble accents and lush greenery. The villa boasts a pool, large outdoor patio, direct beach access, and immaculate ocean views.
That said, it's hard to beat the Two Bedroom Ocean Pool Pavilion, a 515-square-meter haven featuring picture-perfect views, direct access to the lagoon, a private infinity pool, and Jacuzzi. They come complete with a personal host, bicycles for kids and adults, in-villa breakfast, spacious bathrooms, and an outdoor patio.
The Explorer Kids' Club lies on Play as well. It boasts a kitchen for cooking lessons, a water park, playground, and plenty of comfortable and fun indoor space to enjoy. Kids are divided into four groups, depending on their age. Those aged 1 to 12 are welcome to enjoy the activities, which also include a trampoline, performance stage, and expert-led "safaris."
Chill is where parents can go to unwind when their kids are happily occupied. This is where you'll find a stunning infinity pool, luxury Drift Spa and Subsix, the resort's spectacular underwater restaurant. Edge is a must-visit for a meal you won't forget. It's located above the water a half kilometer into the ocean. You can only reach it by boat.
Another memorable meal can be had in Nest, a tree-top dining destination open for dinner. Kids will favor Blu, the family-style dining area set on Play. It features an ice-cream parlor by the pool and Mediterranean cuisine.
Address: Dhaalu, Maldives
Map of Family Resorts in the Maldives