Review of Kurumba, Maldives: A Luxurious All-Inclusive Family Resort
We may earn a commission from affiliate links ()
Nestled amid turquoise-blue waters laced with sandy white shores, Kurumba is the first ever resort to be established in the Maldives Islands. The resort, which celebrates its 47th anniversary in 2019, dates back to 1972 when it was the only luxury resort of its kind. Its history lends itself well to the exclusive way in which visitors to the Maldives are made to feel welcome and cherished.
Upon arrival at Male International Airport, guests quickly gain a sense of the impeccable service and hospitality that is so characteristic of Kurumba. The hotel staff are warm, welcoming, and helpful as they greet visitors at the airport and assist them with the onward journey to the resort. All matters pertaining to arrival are handled efficiently and seamlessly, allowing guests to relax and enjoy the relatively short speedboat ride to the resort grounds.
Kurumba's proximity to Male airport gives it an advantage over other resorts in the Maldives that may require an additional seaplane transfer from the domestic airport, making it the ideal all-inclusive luxury resort for families traveling with young children.
Arrival at Kurumba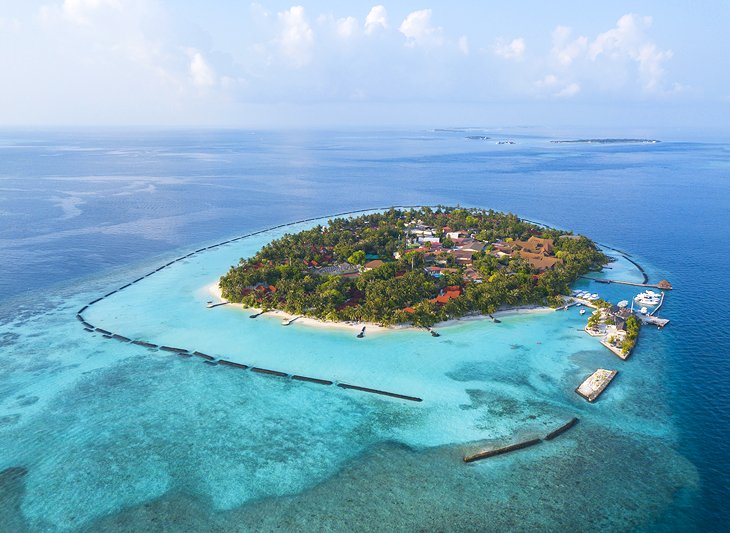 As the boat arrives at the resort, guests are welcomed with Kurumba's signature coconut sorbet and wet towels, both of which are a refreshing treat in the island heat. Immediately, guests are fascinated by the incomparable natural beauty of this Maldivian Island. Picture-perfect views of the Indian Ocean, coupled with the lush green of tropical flora, adorn the resort, and the distinctly warm and hospitable service at Kurumba make the immediate promise of a truly blissful vacation.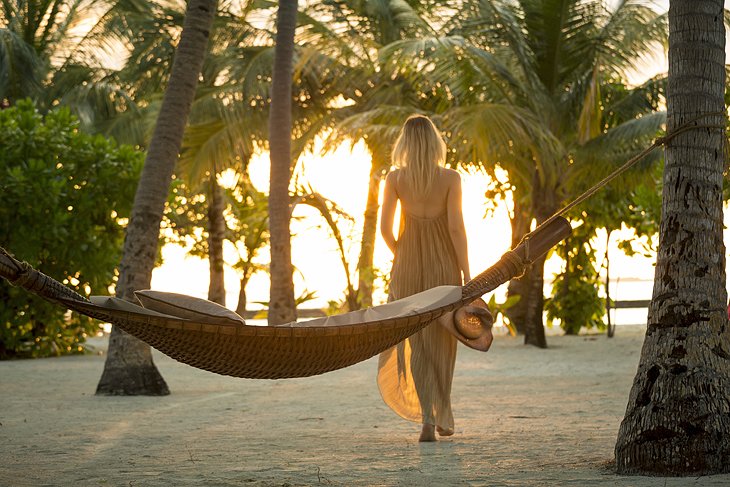 While rooms are prepared to perfection for arrival, guests are consulted with regard to personal preferences or requests that they would like catered to during their stay, with particular emphasis on diet preferences, sensitivities, and allergies so as to make the stay enjoyable and worry-free. The hotel staff confirm room reservations upon arrival, and guests are given a quick tour of the resort facilities before settling into their room.
Rooms and Suites
Superior Rooms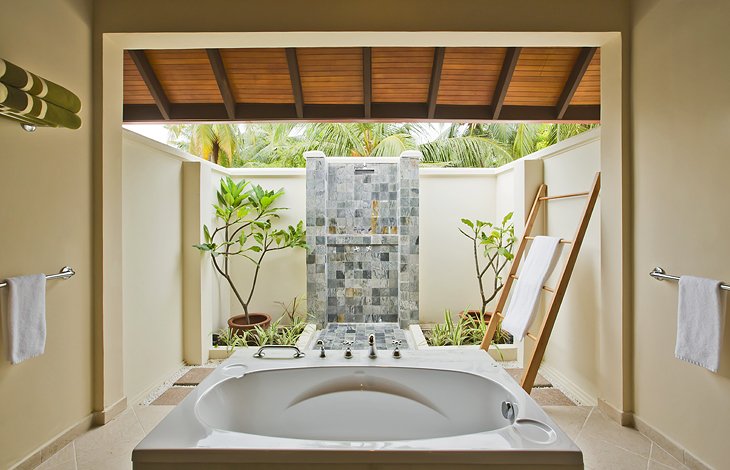 Kurumba offers a variety of room types. The beach-facing Superior rooms, of which there are 38 across the resort, is most popular with families, as they feature four interconnecting rooms per block. The rooms on the top floor have balconies that boast beautiful views of the beach, and the rooms on the ground floor include beach-facing verandas.
Rooms are spacious, measuring 74 square meters in size, and are bright and well positioned. The rooms include outdoor bathrooms with rainfall showers and a range of the Kurumba in-house-brand bathroom amenities.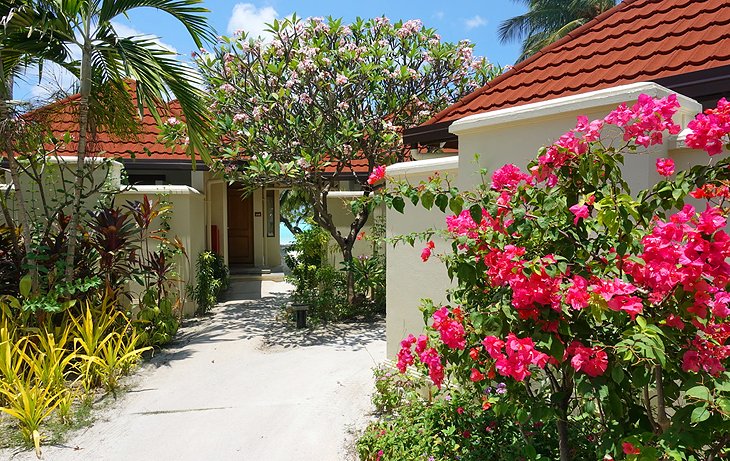 All superior rooms are located within close proximity to the resort's water sports center and the euro dive center, making them a great pick for avid snorkelers and water-sports enthusiasts who will be frequenting these facilities for equipment rental and information related to water sport activities.
Beachfront Deluxe Bungalows
The beachfront deluxe bungalows are similar to the superior rooms at Kurumba, however these rooms offer direct access to the beach for the ultimate convenience. They also feature more premium Molten Brown bathroom amenities and have an upgraded feel when compared with the superior rooms.
Deluxe Pool Villas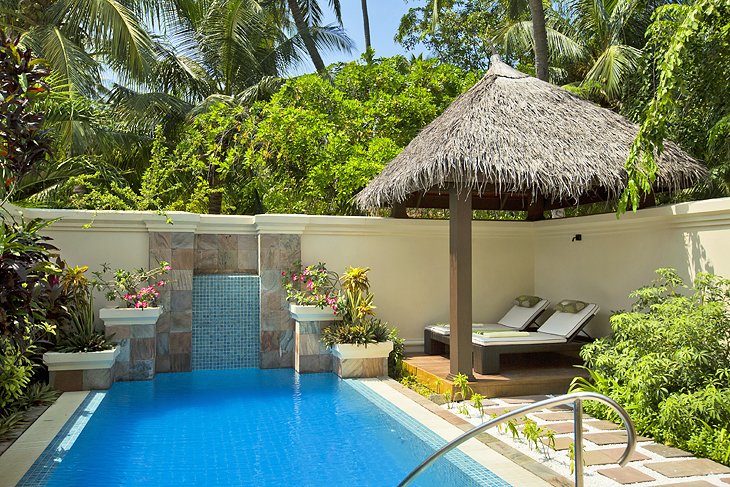 For those seeking more premium and spacious accommodation with increased privacy, the deluxe pool villa is a suitable option. These villas offer plenty of space and comprise a large bedroom, a separate living room, as well as a private pool, an enclosed outdoor lounging area, and rainfall shower for those who prefer privacy and seclusion. The indoor bathroom is decked with Molton Brown amenities and features an indoor shower, a bathtub, and an enclosed toilet. As a bonus, this room type offers eligibility for breakfast at Kurumba's more exclusive Thilia restaurant. Also included in the deluxe pool villa room rate is access to the White Cellar.
Presidential Pool Villas
Kurumba's Presidential Pool Villas are the ideal choice for families in search of a good mix between private and communal accommodation. The house-style layout of the presidential pool villa is spread across two floors, with a living room and lounging area on the top floor, and spacious bedrooms on the ground floor. These units are the perfect choice for families who wish to enjoy some time together in a common lounging area and still have the option to retreat into the privacy of their bedrooms.
Royal Residence
Activities for Families and Children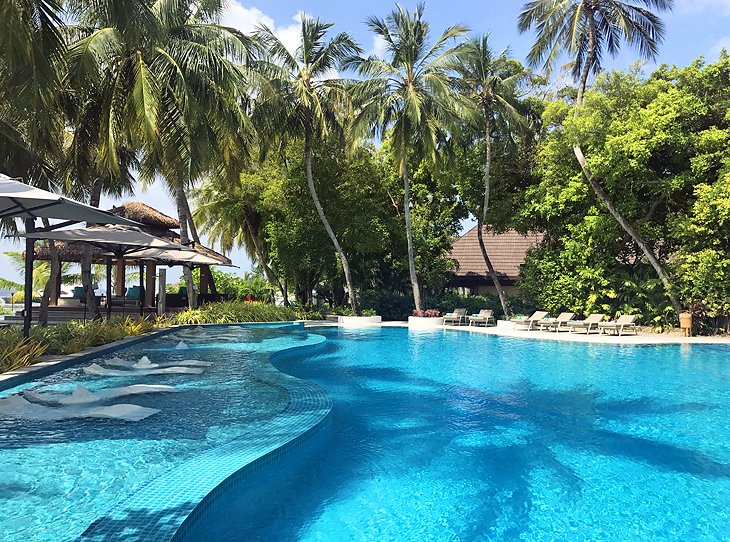 Perhaps one of the most distinct elements of the resort is how well it caters to families. With a full range of activities, excursions, and amazing recreational facilities, there is never a dull moment at Kurumba. Whether it's enjoying family fun in Kurumba's strikingly large swimming pool, positioned like a crown jewel in the forefront of the property, or a more adventurous excursion out in the ocean, there is plenty to choose from.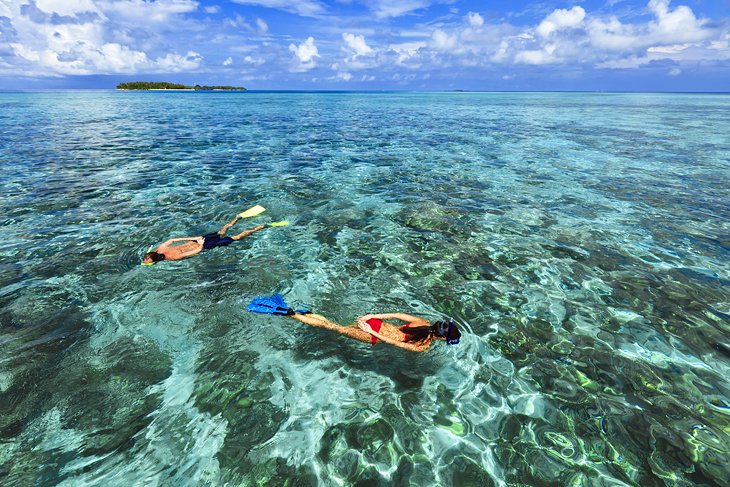 The fun doesn't stop there. Kurumba facilitates a range of water sports activities, including canoeing, kayaking, fun tubing, wakeboarding, jet skiing, parasailing, night snorkeling, and banana boating. Additionally, guests have an opportunity to take windsurfing, sailing, and snorkeling lessons should they wish to do so.
In addition to a range of water sports, the resort also offers wellness and fitness activities, including yoga and meditation sessions, as well as sports such as table tennis and air hockey. The resort's Majaa recreation facility also boasts two tennis courts, a basketball court, and a dedicated outdoor playground and indoor play area for kids.
Excursions and Tours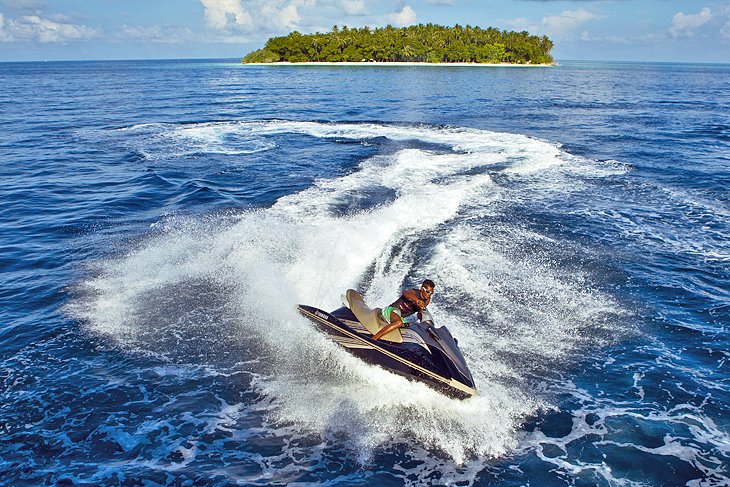 The resort offers a multitude of magical experiences for visitors of all ages. Families can enjoy various excursions together, from touring the island in Kurumba's glass-bottom boat for beautiful views of life under the ocean to experiencing breathtaking sunsets over the ocean on the sunset dolphin discovery cruise as the delightful dolphins of the Maldives come out to play. Seasoned swimmers and keen snorkelers would enjoy the snorkeling safari excursion, which gives visitors the chance to witness the diverse species of rich marine life in a choice of two different locations.
Fishing enthusiasts will find their fit in the sunset fishing excursion, which promises splendid views of the Maldivian sunset as visitors try their hand at catching fish. For those with more experience in fishing, the big game sportfishing excursion is a thrilling experience.
For a taste of the local Maldivian culture, visitors can take a tour of Male Island with an experienced local tour guide who helps navigate through mosques, museums with historical relics, and iconic sites, as well as restaurants, cafés, and souvenir stores. To take things up a notch, visitors have the option of coupling a tour of the local Maldivian island with a snorkeling experience as part of the Maldivian experience excursion.
For an unforgettable romantic experience or to celebrate a special occasion, Kurumba offers the sandbank picnic excursion, where a picnic-style meal is served amid pristine, sandy beaches in the seclusion of a remote Maldivian island, a short boat ride away from the resort.
Accommodation: Check prices and availability for Kurumba Maldives
Kids' Club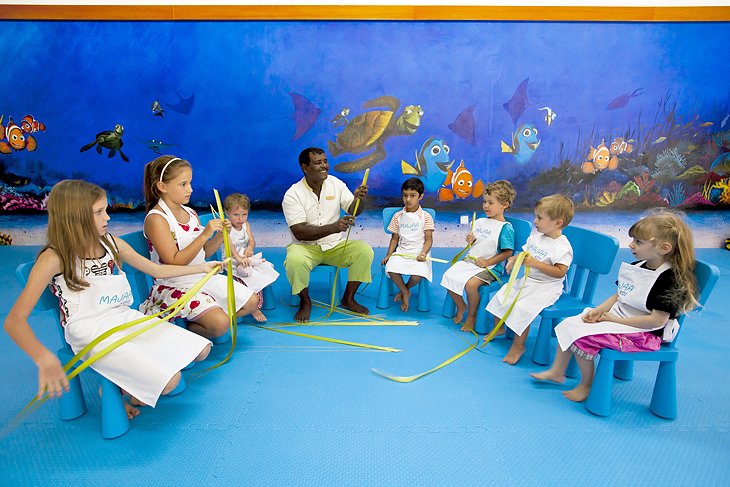 The indoor kids' club is inviting, with popular rhymes and songs playing in the background, brightly painted walls adorned with murals, and a colorful and clean space where kids can enjoy themselves. Scheduled activities include paper crafts, leaf painting, coconut painting, rock painting, napkin folding, board games, and mocktail mixing.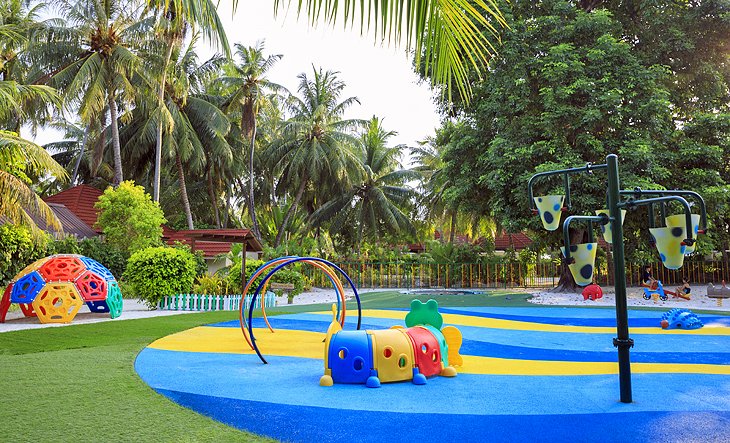 Outdoor activities include splash fun in the resort's outdoor play area and snorkeling lessons in a dedicated kids' pool. The supervisors at the kids' club are calm and in control of the kids, ensuring their safety and keeping them engaged, so parents can relax and know their little ones are well looked after.
The Grounds
For some low-key relaxation, Kurumba's artfully manicured grounds offer charmingly quaint walking trails through the resort. The well-landscaped greenery and the abundance of flora and fauna lend a tropical charm to the island. While strolling through the resort, Kurumba's Bageecha rock garden, home to beautiful orchids among other floral varieties, is not to be missed.
Visiting the Spa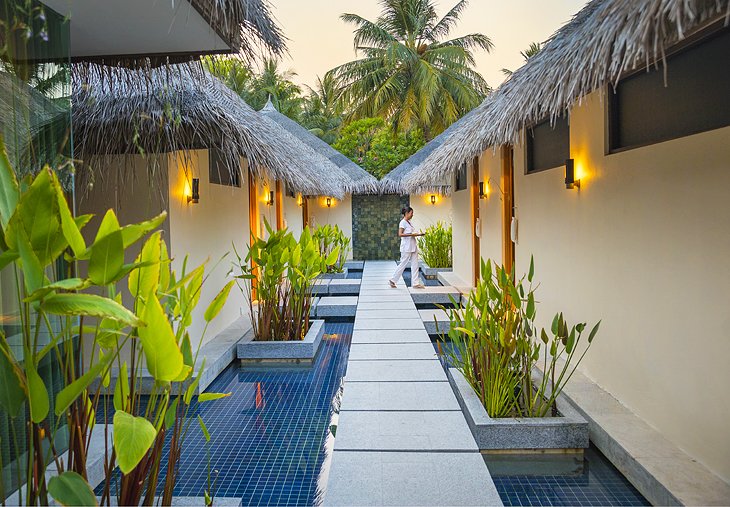 Kurumba's serene and comforting Veli Spa offers the ultimate in relaxation, with an extensive spa menu featuring authentic Maldivian massage techniques and practices. Several of the massages include use of the signature Maldivian sandbag, which is heated with steam and used during the treatment to relax and ease sore muscles. Treatments are conducted in a considerate and careful manner in accordance with the visitor's personal preferences.
Treatment rooms at Veli Spa have a rustic, earthy feel in alignment with the nature-inspired decor throughout the resort. After the massage, visitors are sheltered from the heat of the island sun in an enclosed relaxation zone, where a comforting cup of tea is served on lounging beds to promote further relaxation.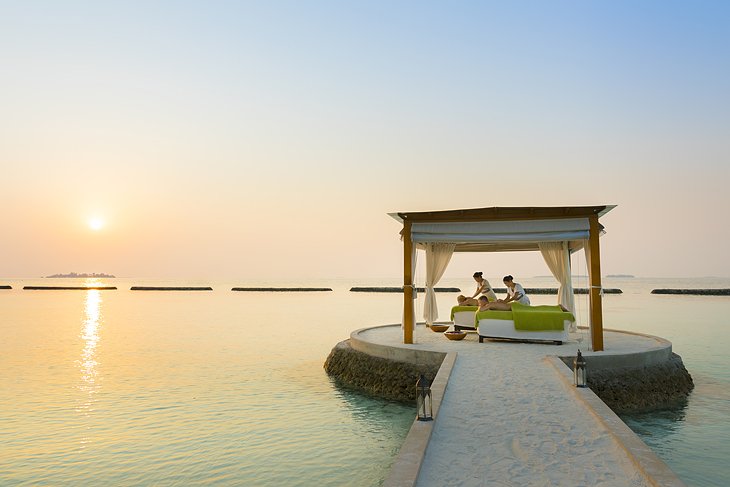 For an unforgettable experience, Veli Spa offers the delightful Spa Under the Stars menu in which treatments are performed in an outdoor pavilion amid the beautiful backdrop of the beach and the soothing sounds of the ocean waves. The spa also has a range of high-quality spa products derived from local ingredients for those who wish to take home a souvenir.
Accommodation: Check prices and availability for Kurumba Maldives
Dining at Kurumba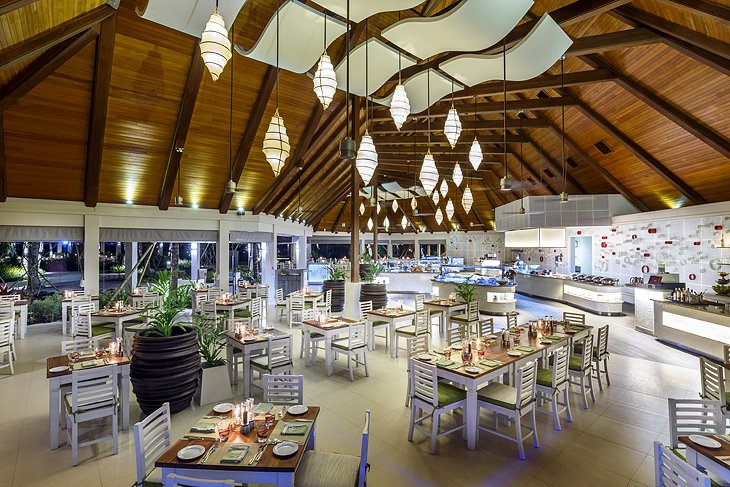 Among the strengths of the resort is its wide variety of restaurant offerings and the unmistakably high quality of food across the board, which sets it apart from other Maldivian resorts. With seven restaurants to choose from, visitors to Kurumba are spoiled for choice.
For guests who opt for the full board option, meals are served primarily at the Vihamanaa restaurant–the resort's main dining hall for breakfast, lunch, and dinner. Visitors can expect a warm and friendly welcome at the restaurant, as greeters help find seating and take drink requests.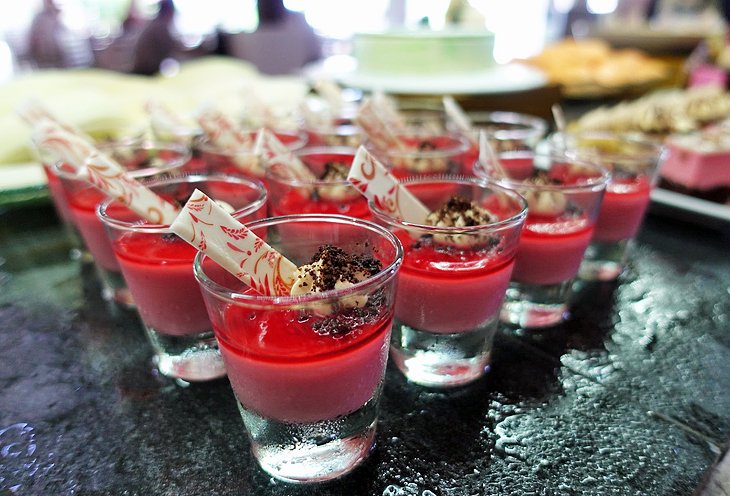 Breakfast at Vihammana is intercontinental and always includes Indian, Asian, American, and European staples to cater to the diverse tastes and preferences of guests. In addition to the egg station and the large selection of fruit, cereals, and fresh-baked breads, other daily breakfast buffet options include freshly-made waffles, crepes, and pancakes, as well as a variety of juices. Despite such a large selection of items at breakfast, quality is never compromised, and food scores high on the taste meter.
In keeping with Kurumba's excellent customer service, chefs on-site make a special effort to check in with guests at every meal and ensure that everything is to their liking. Where applicable, suitable meal options or substitutes are suggested for guests with dietary concerns, and specific requests are accommodated.
Lunch and dinner also feature a diverse range of options, from vegetarian and non-vegetarian to kid-friendly options, as well as entrees from around the world. Almost always, the chefs at Vihamanaa will host live cooking stations and offer new and unique dishes in accordance with the cuisine-theme of the night.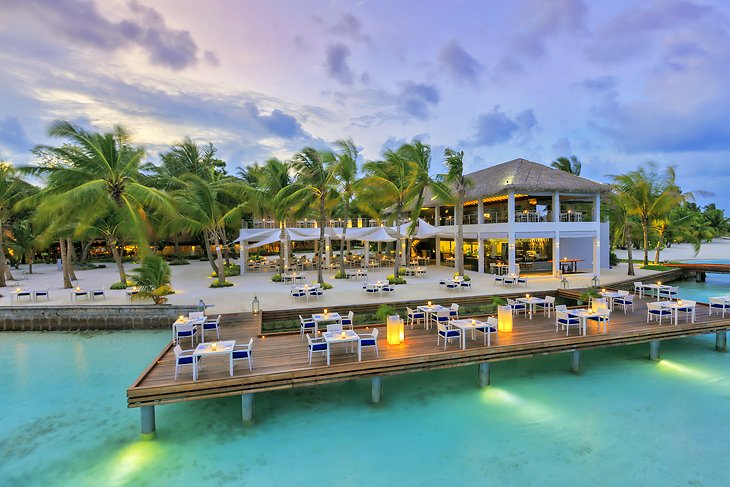 Kurumba's contemporary, award-winning, ocean-facing Thila Restaurant is sure to impress. The a la carte menu at Thila offers a curated selection of breakfast favorites, among which the French toast (dressed with crushed raspberries, lime mascarpone, and slivered pistachios) and the vanilla hotcakes (embellished with a generous drizzle of Nutella and a sprinkling of toasted hazelnuts) are worth a mention. The menu also has several options of savory entrees, as well as a buffet-style setup with more breakfast staples, including cereals, exotic fruit, breads, pastries, and fresh juices.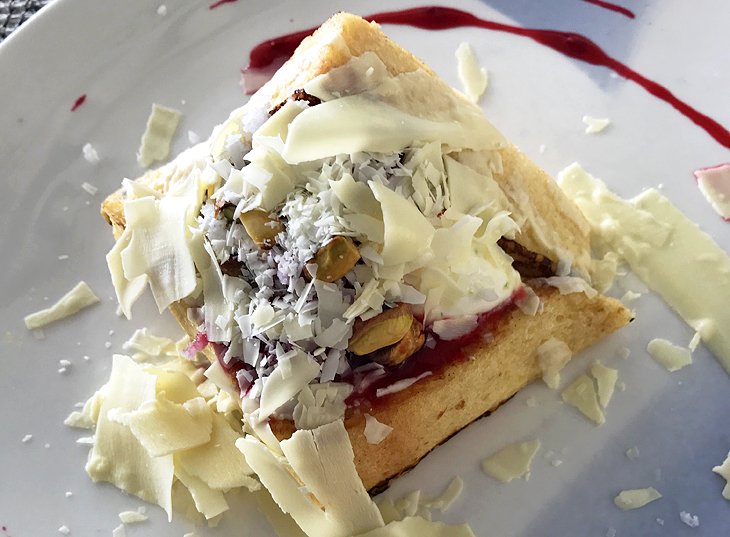 A reservation is required for dinner at Thila Restaurant, which has a fine offering of continental appetizers, entrees, and desserts, all of which boast gastronomic excellence. The steak and seafood entrees at Thila are among the best at Kurumba, and the contemporary twists to other classic offerings on the menu make for an interesting dining experience.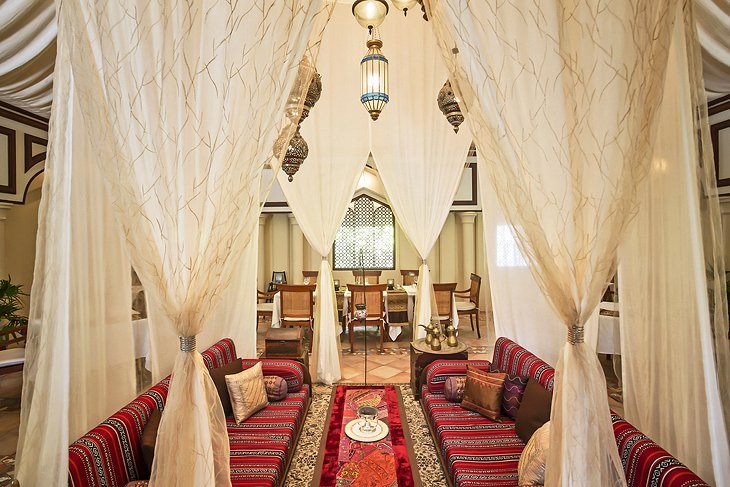 In addition, visitors have the option of dining at the resort's other cuisine-specific restaurants. These include Al Qasr, an opulently decorated Middle-Eastern-inspired restaurant serving typical Arabic fare; Hamakaze, an overwater teppanyaki restaurant with a distinctly Japanese vibe; and Mahal, an Indian restaurant featuring decor and delicacies inspired by the Mughal era, as well as delicacies from southern India.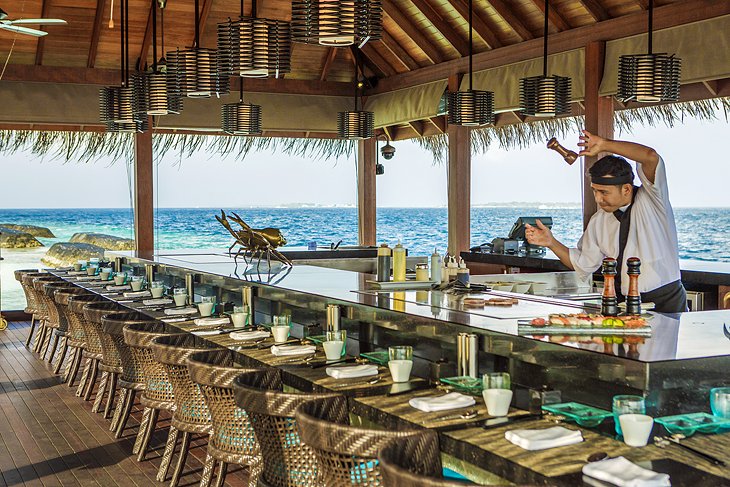 Carb lovers can indulge at Isola, an Italian restaurant that promises a contemporary and laid-back dining experience with Italian classics, such as pasta, risotto, and tiramisu on the menu. Those with a love for Thai food will find their match at Khing Thai, which offers a delightful choice of distinctly aromatic Thai dishes.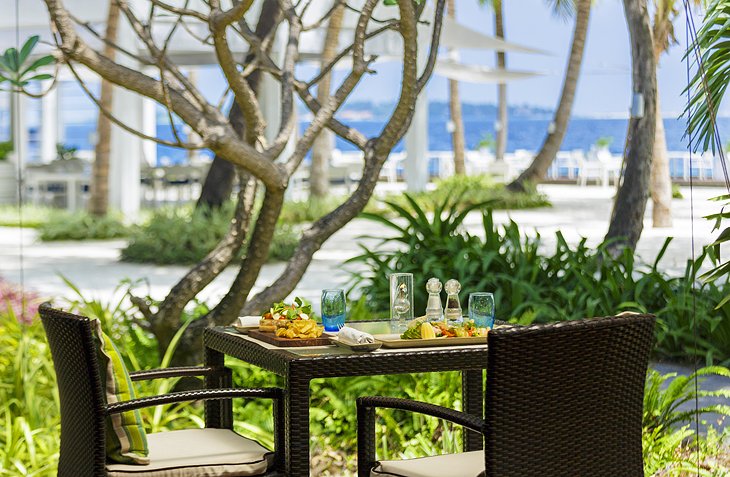 For a quick snack in between meals, or a lighter more casual dining experience, the pool-facing Cafe at Kurumba features vegetarian snacks, soups, salads, sandwiches, wraps, burgers, and pasta dishes, as well as a dessert menu and separate kids' menu.
Loyalty Program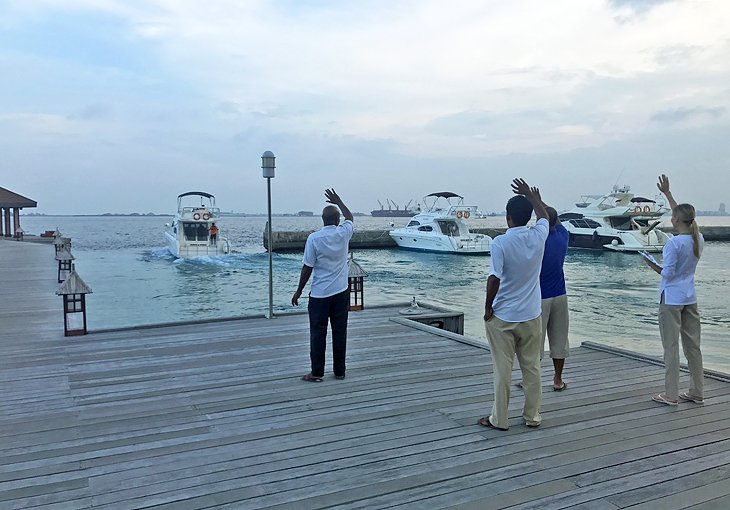 Another notable feature of the resort is that it offers a loyalty program for future stays and regular visitors. Perhaps this is just another reason why guests at Kurumba often return to the resort year after year for more of the impeccable service, incredible hospitality, positive ambience, fantastic food, and fun-filled activities that make this resort so memorable.
Hotel staff gather for a touching send-off as they help guests onto the speedboat headed towards Male airport, and wave endlessly as it disappears out of sight on the beautiful, blue Indian ocean, leaving visitors with a wealth of treasured and unforgettable moments to cherish forever.
Accommodation: Check prices and availability for Kurumba Maldives